Buckle up folks, we're at the time of the month where we reflect upon our wallets, look at the games we'd like to play this August 2022 and cry. The hype this time around is real as many varieties of tactical, arcade fun fighting, campus building, rollerblading, and many more are coming our way this month of August. It's a great time to be playing and digging through our wallets. These are the games I would like to play, and hopefully, I will get to play some or even all of them.
---
GigaBash
Top-down casual kaiju/monster fighter GigaBash, developed by Passion Republic Games will be heading our way on August 5th release on PC, PlayStation 4, and PlayStation 5. Go full mayhem as you, I, and our friends battle each other in a multiplayer arena brawler with destructible environments. This is a definite must-buy as it looks as fun as hell.
For more previous posts and gameplay, check out the links below:
Two Point Campus
Theme hospital and Dungeon Keeper were one of my favorite pastimes, therefore Two Point Campus by Two Point Studios is one of the simulation games that would get my undivided attention once it is available on August 9th. So design a campus for your fellow students to graduate from, be it a spy, wizard, or robotics course, and as they graduate, rinse and repeat.
For more previous posts and gameplay, check out the links below:
got these through today 👀

12 DAYS! pic.twitter.com/cuegv1RTlI

— Two Point Studios (@TwoPointStudios) July 28, 2022
---
Hard West 2
Developer Ice Code Games and Publisher Good Shepherd Entertainment portrayal of a Cowboy tactical RPG, Hard West 2 will be released on August 5th, 2022 on PC via Steam & GOG.com.
I do enjoy my time with the demo (available now) of Hard West 2, rekindling moments of Heroes Of Might And Magic exploration mixed in with Final Fantasy Tactics-based combat with a dash of ricochet bullets during combat. Suffice to say, this Hard West 2 certainly has my attention, combating humans and the supernatural set in a Wild West world.
Crash course on Bravado: you kill a guy, you get another turn. You kill THAT guy? You get another turn after that. How many can you pull off? Hard West II comes to Steam on August 4th: https://t.co/u11e60t3yM pic.twitter.com/NqsVhrpl8v

— Hard West 2 – Coming Aug 4, 2022 (@HardWest2) July 22, 2022
---
Thymesia
The dark souls-like genre fills a void for players who have finished the Elder Ring and are still hungry for more action RPGs. Fear not, as Thymesia will be here soon on August 18th, 2022 on Xbox Series X|S, PlayStation 5, and PC, as announced by developer OverBorder Studio and publisher Team17. Slash, dash, and parry your way against enemies in fast-paced combat and an intricate plague weapon system.
Details as shared on Steam:
Seen as the answer to all the kingdom's ailments, alchemy became a widely used practice across the land, with denizens welcoming it into their homes, using it to enhance and heal as they saw fit. When the price of alchemy became too steep, attempts to halt its use were made, each as woefully unsuccessful as the last, with the catastrophic consequences felt across the realm. Within days, the kingdom fell to chaos, infected monsters prowling the blood-soaked streets, all hope of a cure lost.
Corvus is the kingdom's final hope, the fate of Hermes resting in his feathered hands. The truth is buried deep in the memories Corvus left scattered throughout the punishing world, and only by collecting these lost memories can the kingdom be saved, but each time he dives back in, trying to piece together the truth, all he finds is more secrets.
Key Features
Harness the plague: Seize plague weapons from gruesome bosses and formidable enemies, wielding them as deadly weapons. Giving enemies a taste of their own medicine will be the only way to survive the horrors that lurk in the shadows of the once thriving kingdom
Embrace the Raven: Shift into your raven form during battle, throw feathers like daggers to interrupt your enemies' attacks, and perform executions with the swiftness of a raptor.
Fight your way: Upgrade and modify Corvus' basic movements and plague weapons, build your very own playstyle, and prepare for the challenges that await in your own unique way.
Unforgiving enemies: Corrupted by the plague, and mutated into monsters, enemies are twisted and incredibly hostile, challenging your ability at every turn.
Shattered memories: Piece together Corvus' past as you dive back into his memories, trying to uncover the truth hidden in the past.
---
Cult Of The Lamb
Cult-based gameplay, building sim with a mix of cute sheep to the slaughter? Count me in! As Cult of the Lamb will be starting their ritual sacrifice this August 11th on Nintendo Switch, PS, XB, and PC as announced by developer Massive Monster and publisher Devolver Digital.
Details and features as shared on Steam:
Start your own cult in a land of false prophets, venturing out into diverse and mysterious regions to build a loyal community of woodland Followers and spread your Word to become the one true cult.
A portion of every Cult of the Lamb sale goes to lamb charities but the rest goes to cults so take that as you will. pic.twitter.com/rfRFVOmoSz

— Devolver Digital (@devolverdigital) July 29, 2022
BUILD YOUR FLOCK
Collect and use resources to build new structures, perform dark rituals to appease the gods, and give sermons to reinforce the faith of your flock.
DESTROY THE NON-BELIEVERS
Explore a sprawling, randomly generated world, fight off hordes of enemies and defeat rival cult leaders in order to absorb their power and assert your cult's dominance.
SPREAD YOUR WORD
Train your flock and embark on a quest to explore and discover the secrets of four mysterious regions. Cleanse the non-believers, spread enlightenment, and perform mystical rituals on the journey to become the mighty lamb god.
---
Stay calm, skate stylishly and shoot (with bullet time). As Private Division and Roll7's next game title Rollerdrome is skating its way on a digital release on August 16th, 2022, on PlayStation 4, PlayStation 5 system, and PC (Steam).
Details as shared on Steam:
Rollerdrome is a single-player third-person action shooter that seamlessly blends high-octane combat with a fluid motion to create an action experience like no other. Dominate with style in cinematic, visceral combat where kills net you health and pulling off tricks and grinds provide you ammunition, in this adrenaline-pumping action shooter.
The year is 2030. In a world where corporations rule and the lines between reality and performance are blurred, the public is kept distracted by the violence and excess of a brutal new blood sport — Rollerdrome. Will you have what it takes to become the Rollerdrome champion and unravel the mysteries behind the Matterhorn corporation's true intentions?
From Roll7, the minds that brought you the award-winning and critically acclaimed OlliOlli series come Rollerdrome, an intense shooter-skater hybrid set in an evocative retrofuture.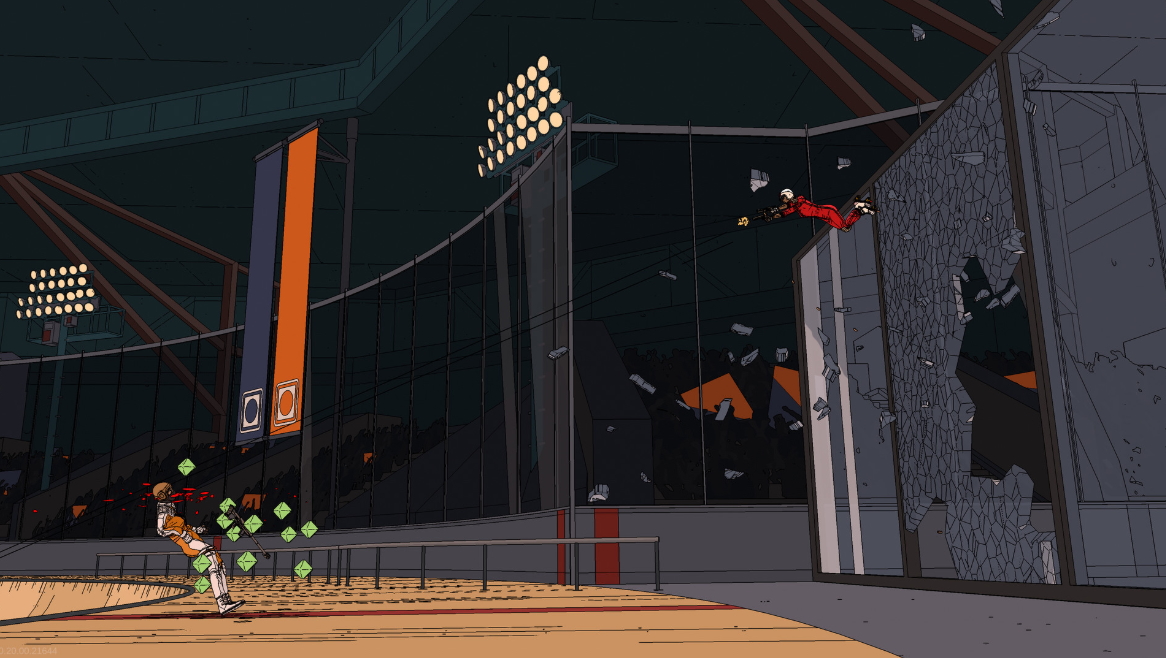 Key Features:
A third-person action shooter like no other – an original hybrid shooter-skater that blends high octane, visceral combat with fluid movement and tricking mechanics into one complementary and challenging whole.
A test of skill – Take on a unique challenge throughout the Rollerdrome tournament. Establish your dominance in the field with online leaderboards and push yourself to the limit with the unlockable "Out For Blood" mode for the most extreme test of skill and agility.
An original identity – An all-new fully original soundtrack that merges iconic era sounds and tones with cutting-edge production to provide a heart-thumping backdrop to the carnage, brought to life with a unique comic-book-inspired art style.
A dark conspiracy – Discover a mysterious, sinister plot in this distinct retrofuture universe.
---
Soul Hackers 2
After my initial playthrough of Shin Megami Tensei V, this is definitely one of the JRPGs to look out for, I mean nothing could go wrong with Atlus' RPG formula so far. Soul Hackers 2 will be launching on August 26th, 2022, for next-gen platforms PlayStation 5, Xbox Series X|S as well as PlayStation 4, Xbox One, and PC.
For more previous posts and gameplay, check out the links below:
---
Scathe
If shooting demons and making a bloody mess in first person is your thing like myself aka Doom. Then Scathe by developer Damage State Ltd and publisher Kwalee will make you feel right at home locked and loaded. Scathe will launch on PC via Steam and Epic Games Store on 31st August 2022. The console versions will follow in early 2023.
Scathe is an adrenaline-fueled, classic FPS with big guns and even bigger demons. You play as Scathe, Enforcer of the legions of Hell, forged from the earth by the Divine Creator themself. And you, like your fallen kin before you, must prove your worth by navigating a deviously crafted maze, entangled with demonic evil at every twist and turn. So, grab your Hellhammer, lock'n'load, and get ready to unleash your almighty fury!
Key Features
ESCAPE THE MAZE – Your task is simple; collect the three Hellstones and get to the centre of the maze. Choose your own path by navigating expertly handcrafted zones – each filled with danger around every corner. Collect runes the need to progress, and smite all that stand in your way.

BULLET HELL – Scathe is not your ordinary FPS… Get ready for bullet hell where you must dodge countless waves of deadly projectiles. By utilizing Scathe's incredible speed, you can dash through attacks, leaving you unharmed. Keeping on the move is the key to survival.

LOCK'N'LOAD – Rip through your enemies with Scathe's insanely powerful arsenal of weapons, each equipped with a devastating secondary fire. Spew hellfire with the Hot Hatch or slice through endless evil with the buzz saw launcher, Bow Blade.

DROP IN/DROP OUT ONLINE MULTIPLAYER – Scathe will support full cross-play online multiplayer where players can drop-in and drop-out at any time. Already lost deep within the labyrinth? Call upon up to three friends to join the fight. Choose your kin wisely, because, in Scathe, everyone shares the same pool of lives.
Keep your wits sharp and your aim sharper with the Bow Blade 🏹

Check out the lore and specs behind this devilishly deadly weapon in our latest Steam deep dive 👇

👀 Read Me: https://t.co/4q7Mw6Snlb #SCATHE #wishlistwednesday #ue4 #unreal #gamedev pic.twitter.com/gQX81DoMn6

— Scathe – WISHLIST NOW 🔥 (@ScatheFPS) July 27, 2022