Razer has announced two additions to the popular DeathAdder line – the Razer DeathAdder V3 Pro Faker Edition and the Razer DeathAdder V3.
Designed in collaboration with world renowned esports player and League of Legends icon Lee "Faker" Sang-Hyeok, the DeathAdder V3 Pro Faker Edition showcases a unique personalized design for the Unkillable Demon King, while equipped with high-performance hardware. The cult-favorite esports mouse has always been Faker's weapon of choice, with the DeathAdder V3 Pro Faker Edition as a testament. Separately, the DeathAdder V3 presents a wired option updated with Razer's latest mice technology, for the best advantage in competitive play.
"We believe in creating the ultimate gaming peripherals that help esports athletes achieve victory,"

"The Razer DeathAdder V3 Pro Faker Edition celebrates our long-standing friendship with Faker since 2016, giving him a version of his own favorite mouse that has accompanied his legacy as an esports legend."

Flo Gutierrez – Director of Global Esports at Razer
For The Unkillable Demon King
Armed with a DeathAdder mouse, Faker made history by winning three world championships in 2013, 2015, and 2016 – respectively – a feat shared by only one other player. Touting it as the only mouse for him, Faker has long championed Razer's most popular esports mouse line. With the DeathAdder as his weapon of choice, Faker has dominated the competition, being the only player to achieve multiple feats including over 500 wins and 2,600 kills across all League of Legends Champions Korea competitions and over 100 wins across international competitions.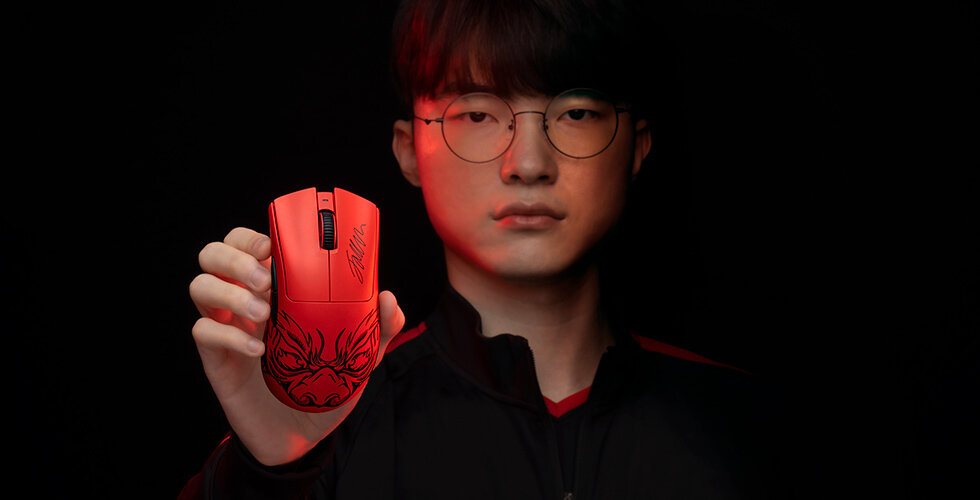 ""This is a special moment for me. I've always dreamed of having my own mouse and now I can share it with my family, friends, and fans,"

"I love the design and the performance is unparalleled. Huge thanks to Razer for all their efforts and working with me on this amazing project."

Lee "Faker" Sang-Hyeok
Completing all the hallmarks that have made it a well-loved mouse by fans worldwide, the Razer DeathAdder V3 Pro Faker Edition features all the best-in-class technology offered by the brand. This includes the Razer Focus Pro 30K Optical Sensor, Razer Optical Mouse Switches Gen-3, Razer HyperSpeed Wireless. Upgradable to true 4000 Hz polling rate with the Razer HyperPolling Wireless Dongle, and it continues to sport a 63g ultra-lightweight design while retaining its refined ergonomic form factor.
A New Favorite, For The Pro
The cult-favorite, Razer DeathAdder V3 Pro, is now available as a wired option. Introducing the DeathAdder V3, which is packed with Razer's flagship technologies such as the Razer Focus Pro 30K Optical Sensor, Optical Mouse Switches Gen-3 and true 8000 Hz HyperPolling Technology. It provides gamers with unrivalled performance, speed, and reliability. While being ultra-lightweight at 59g, the Speedflex cable enables minimal drag and quick swipes to take out the competition. The all-new smooth touch texture is comfortable to use and does not compromise on grip for easy handling.
The DeathAdder V3 Pro Faker Edition and the new Razer DeathAdder V3 collectively complete Razer's latest iteration of their best-selling mice.
ABOUT THE RAZER DEATHADDER V3 PRO FAKER EDITION
• Optimized with a 63g ultra-lightweight design for long hours of play (excluding cable)
• Razer Focus Pro 30K Optical Sensor
• Wider surface compatibility – Sensor tracks on clear glass at least 4mm thick
• Razer Optical Mouse Switches Gen-3 rated up to 90 million clicks
• Upgradable to 4000 Hz with the use of the HyperPolling Wireless Dongle, sold separately
• Five independently programmable buttons, and additional DPI button
• Up to 90 hours of battery life
• USB Type C charging and a Speedflex cable for fluid movements
• Approximate size: 68 mm / 2.67 in (Width) x 44mm / 1.73 in (Height) x 128mm / 5.00 in (Length)
ABOUT THE RAZER DEATHADDER V3
• Optimized with a 59g ultra-lightweight design for long hours of play (excluding cable)
• Razer Focus Pro 30K Optical Sensor
• Wider surface compatibility – Sensor tracks on clear glass at least 4mm thick
• Razer Optical Mouse Switches Gen-3 rated up to 90 million clicks
• Razer 8000 Hz HyperPolling Technology
• Five independently programmable buttons
• Speedflex cable for fluid movements
• Approximate size: 68 mm / 2.67 in (Width) x 44 mm / 1.73 in (Height) x 128 mm / 5.00 in (Length)