After scoring seven awards at last week's Golden Joysticks for their game, Baldur's Gate 3, and securing 8 nominations at The Game Awards later this year, Larian Studios has revealed an upcoming physical edition of Baldur's Gate 3: Deluxe Edition for PC, PlayStation 5, and Xbox Series X, slated for release in the first quarter of 2024 at a price point of $79.99.
This physical release will cater to different platforms, with the PS5 version featuring two discs and the Xbox version a substantial three discs to accommodate the extensive game content. PC users will find a DVD containing a custom installer and a Steam key.
Michael Douse, Director of Publishing at Larian, described this endeavor as an experiment that reflects their vision of the future of physical media distribution. Drawing from their experience with the Collector's Edition, they aim to provide exceptional value with this standard physical version. Douse emphasized their commitment to physical media while acknowledging the challenges posed by archiving games in this format.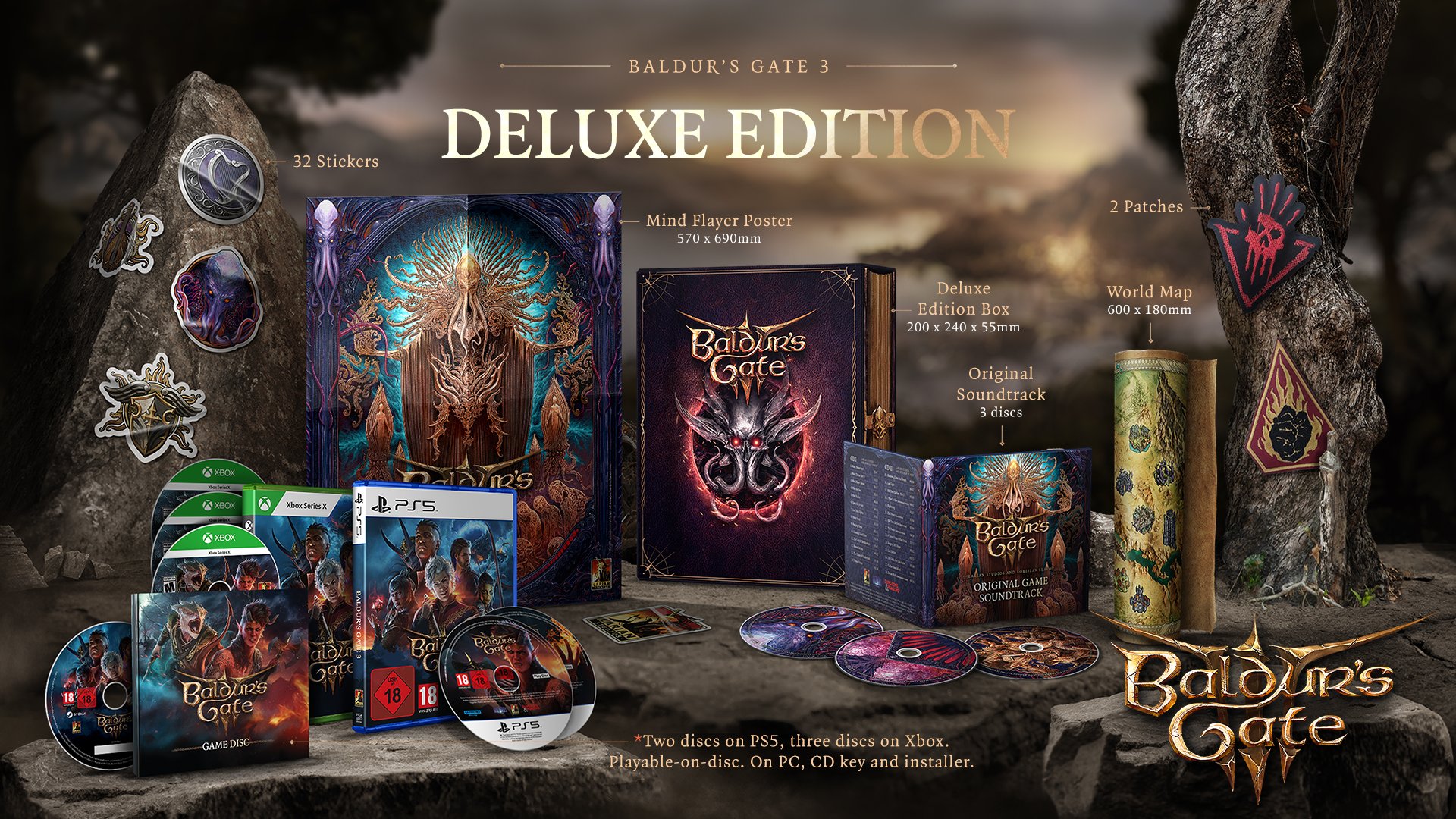 The Baldur's Gate 3: Deluxe Edition will be exclusively available through Larian's dedicated store and will be restocked. It's important to note that this edition is distinct from a Collector's Edition, meaning that players who miss out on the initial batch need not worry.
While the release of each version of the Deluxe Edition is scheduled for the first quarter of 2024, Larian Studios has promised to unveil the release date for the highly anticipated Xbox digital version of Baldur's Gate 3 at The Game Awards on December 7.
Players can already pre-order the Deluxe Edition, which includes a game disc for their chosen platform, presented in an oversized exclusive game box designed to complement their classic Baldur's Gate collection.
Additionally, the Deluxe Edition offers a range of physical and digital extras, including:
Physical Extras:
Original Soundtrack on 3 CDs
Cloth World Map
Two Fabric Patches
Thirty-two Stickers
Baldur's Gate 3 Art Poster
Digital Extras (included in the Deluxe Edition):
Divinity Item Pack
Bard Song Pack
Exclusive Dice Skin
Paintings from Rivellon
Adventurer's Pouch
Digital OST (Original Soundtrack)
Digital Artbook
Digital Character Sheets
---
For those eager to embark on their Baldur's Gate 3 journey, the game is already available on PC, Mac, and PS5, offering both digital and physical experiences to cater to diverse player preferences.
Pre-orders for Baldur's Gate 3: Deluxe Edition is available now for $79.99.