The ASUS ROG Zephyrus G14 has made quite a name for itself in the gaming community as a highly sought-after laptop. Boasting impressive specifications and cutting-edge features, it has captured the attention of gamers and tech enthusiasts alike. In this review, we will delve into the key aspects of the Zephyrus G14 and explore why it has gained such popularity.
Our focus will be on examining the laptop's performance, display quality, cooling system, and overall design. We'll take a close look at the AMD Ryzen™ 7 7735HS Mobile Processor and NVIDIA® GeForce RTX™ 4050 Laptop GPU, analyzing their capabilities in handling demanding games and tasks. Additionally, we'll explore the ROG Nebula HDR WQHD Screen and its stunning visuals, as well as the advanced cooling system that ensures optimal performance during intense gaming sessions.
Specifications
CPU
AMD Ryzen™ 7 7735HS Mobile Processor
(8-core/16-thread, 16MB L3 cache, up to 4.7 GHz max boost)
GPU
NVIDIA® GeForce RTX™ 4050 Laptop GPU
ROG Boost: 2405MHz* at 120W (2355MHz Boost Clock+50MHz OC, 95W+25W Dynamic Boost)
Display
ROG Nebula Display 14-inch
QHD+ 16:10 (2560 x 1600, WQXGA)
IPS-level
Anti-glare display
DCI-P3: 100%
Refresh Rate: 165Hz
Response Time: 3ms
G-Sync
Pantone Validated
MUX Switch + NVIDIA® Advanced Optimus
Support Dolby Vision HDR : Yes
RAM
16GB DDR5 on board
Max Capacity: 32GB Support dual channel memory
Storage
512GB PCIe® 4.0 NVMe™ M.2 SSD
IO Ports
1x 3.5mm Combo Audio Jack
1x HDMI 2.1 FRL
2x USB 3.2 Gen 2 Type-A
1x USB 3.2 Gen 2 Type-C support DisplayPort™
1x Type C USB 4 support DisplayPort™ / power delivery
1x card reader (microSD) (UHS-II)
Camera
1080P FHD IR Camera for Windows Hello
Audio
Smart Amp Technology
Dolby Atmos
AI noise-canceling technology
Hi-Res certification
Built-in 3-microphone array
4-speaker system with Smart Amplifier Technology
Network
Wi-Fi 6E(802.11ax) (Triple band) 2*2 + Bluetooth® 5.3 Wireless Card
Battery
76WHrs, 4S1P, 4-cell Li-ion
Power Supply
240w 20V adapter , 100W 20V Type C adapter
Weight
1.72 KG
Dimension
31.2 x 22.7 x 1.95 ~ 2.05 cm
Bundled in box
ROG Zephyrus G14 Sleeve (2022)

ø6.0, 240W AC Adapter
Output: 20V DC, 12A, 240W
Input: 100~240C AC 50/60Hz universal

TYPE-C, 100W AC Adapter
Output: 20V DC, 5A, 100W
Input: 100~240V AC 50/60Hz universal

Price
RM 7,499
Design and Build
As soon as I laid my eyes on the ASUS ROG Zephyrus G14, I was captivated by its sleek and clean design. The Moonlight White color option gave it an elegant and attractive appearance that stood out from the crowd. But what truly caught my attention was the perforated lid behind the monitor, featuring the mesmerizing AniMe Matrix. It was a head turner, and I couldn't help but admire its unique and individualistic design.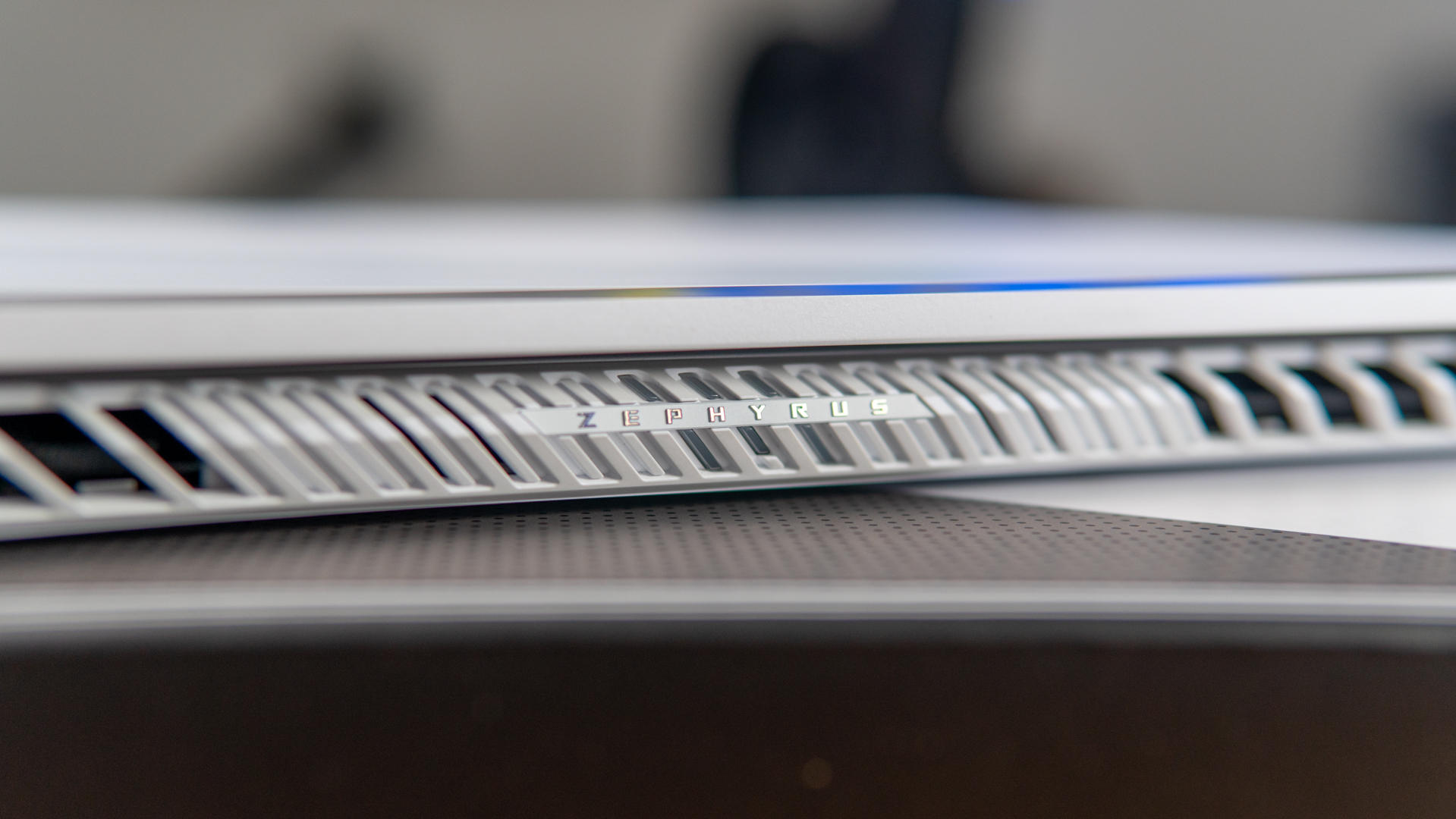 One thing that pleasantly surprised me about the G14 was its portability. As a gaming laptop, I expected it to be bulky and heavy, but to my delight, it was surprisingly lightweight. Weighing only 1.72 kilograms, it felt light and effortless to carry around. Its slim profile and compact dimensions made it easy to slip into my backpack without any added bulk. I could take it anywhere and enjoy gaming on the go without feeling weighed down.
What impressed me even more was the attention to detail in the design. The laptop had thoughtful ventilation throughout its body, ensuring that areas where my hands touched remained cool, even during intense gaming sessions. This clever design kept the heat away from the keyboard and touchpad, allowing for a comfortable gaming experience without any discomfort from overheating.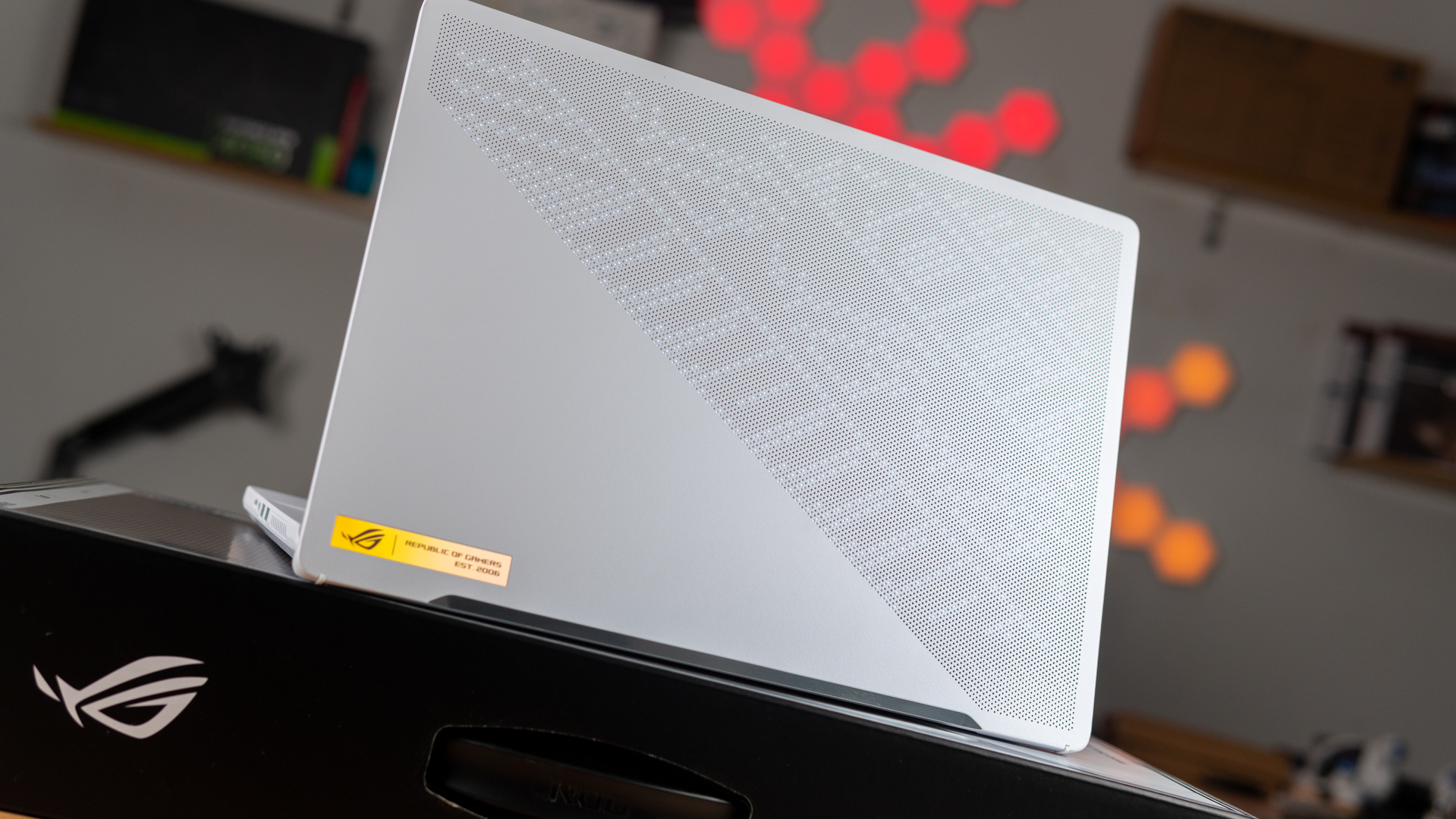 The overall build quality of the G14 was exceptional. Besides its striking lid design, the entire laptop had a matte surface that not only added a premium feel but also seemed to repel fingerprint stains. It felt durable and well-constructed, assuring me of its long-lasting performance. It was evident that ASUS had put careful thought into the design, making the G14 both visually appealing and practical.
Display and Graphics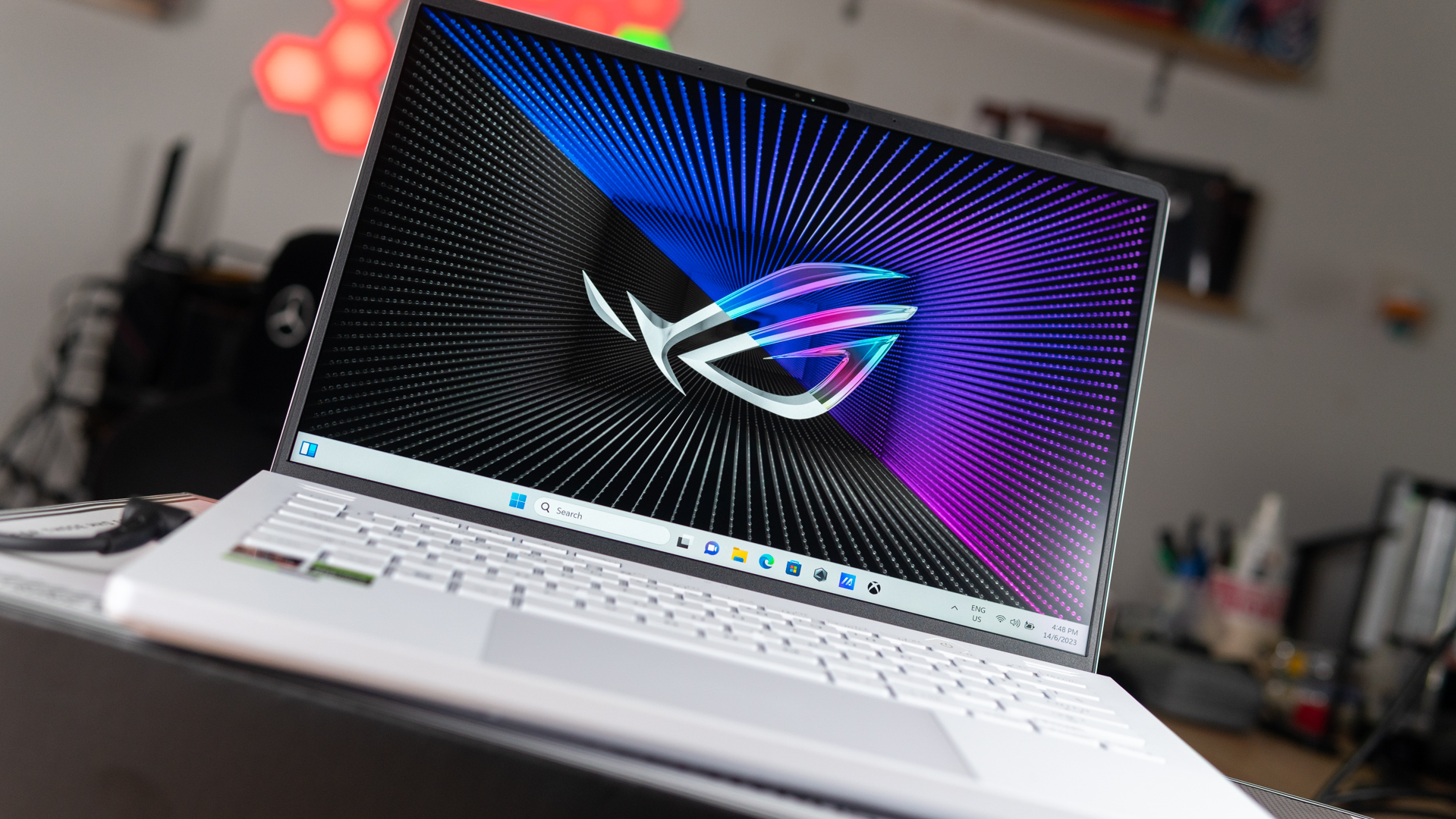 When I first powered on the ASUS ROG Zephyrus G14, I was awed by its stunning visuals and vibrant colors. The display quality of this laptop left me in awe. The WQHD+ resolution with its 16:10 aspect ratio provided a sharp and immersive viewing experience. Whether I was indulging in my favorite games or editing photos and videos, the level of detail and clarity on the screen was truly remarkable.
The G14's panel boasted impressive color reproduction and accuracy, delivering rich and true-to-life hues. It was a delight to witness every shade and gradient come to life with such precision. The wide DCI-P3 color gamut coverage ensured that I was able to enjoy vivid and accurate colors across various content types. With a peak brightness of 600 nits, the screen illuminated my gaming sessions with brilliance, making every scene pop.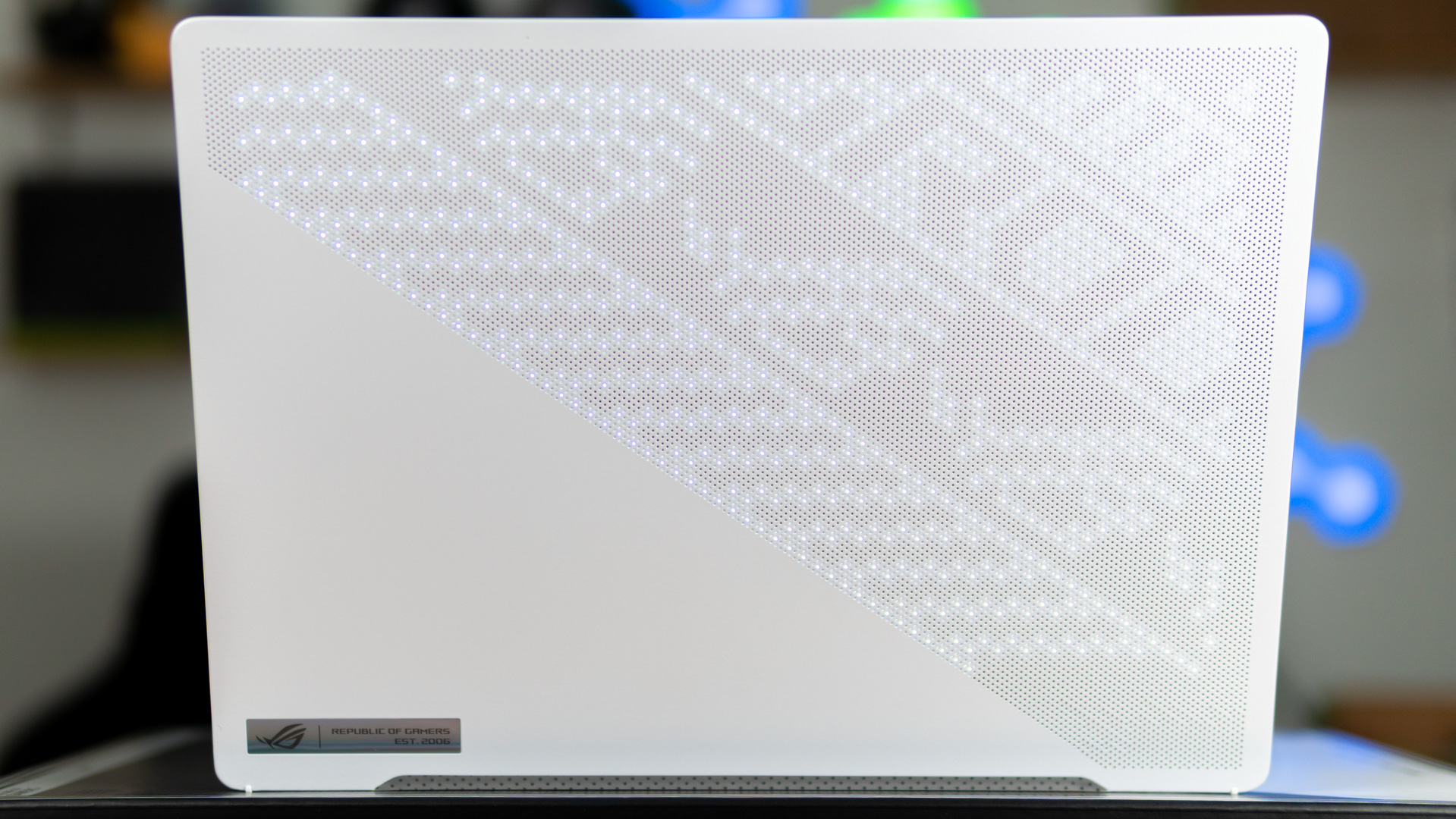 However, I must note that due to the sheer raw power of this laptop, it's not recommended for outdoor use, as it tends to generate significant heat. But for indoor gaming and content creation, the display's brightness level was more than sufficient to create an immersive and captivating experience.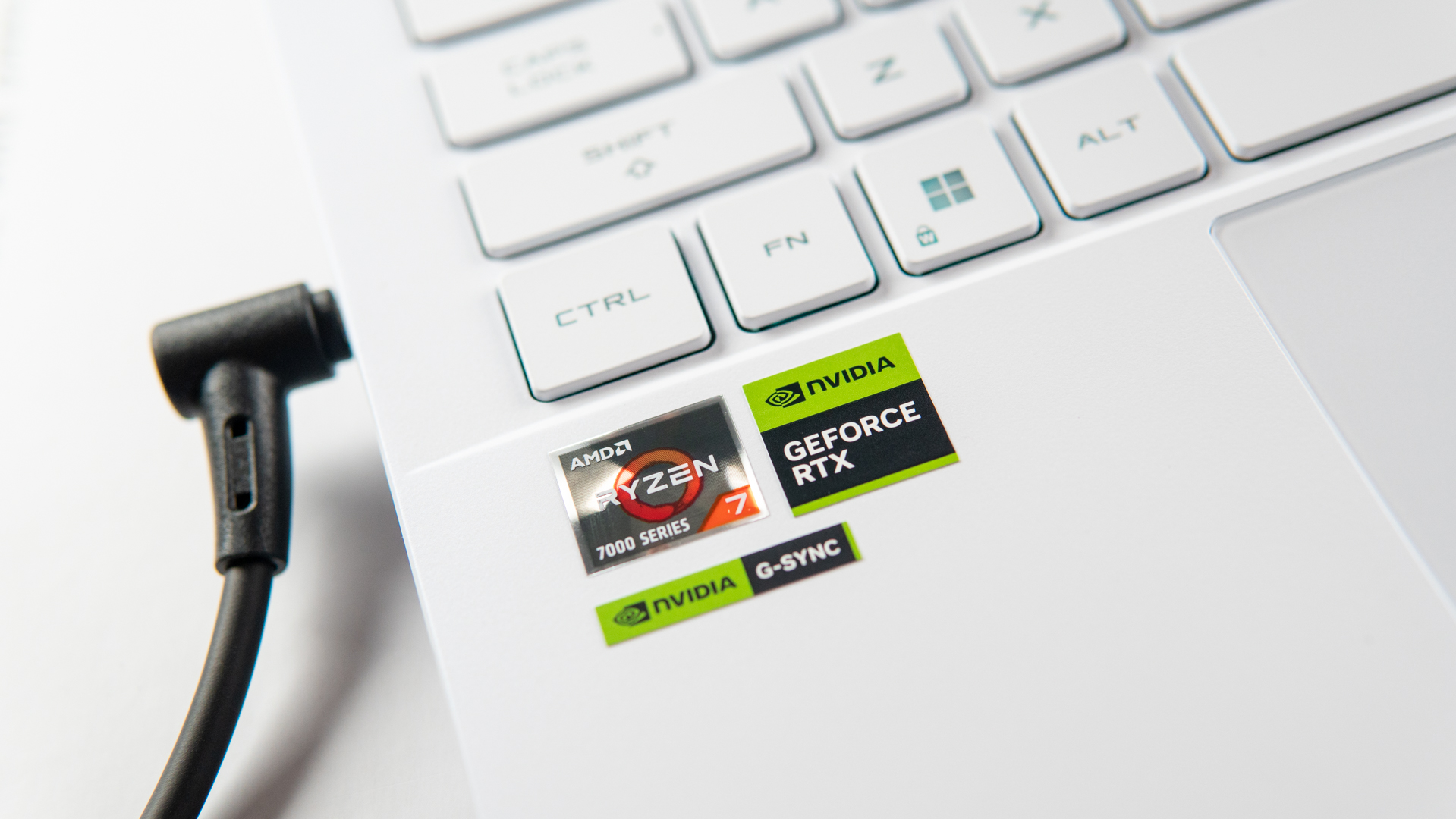 As a gaming enthusiast, I greatly appreciated the G14's high refresh rate. With a refresh rate of 165Hz, the screen provided smooth and fluid visuals, reducing motion blur and enhancing my gaming performance. The quick response time of 3ms ensured that fast-paced action sequences were rendered with precision and clarity, allowing me to react swiftly in intense gaming moments.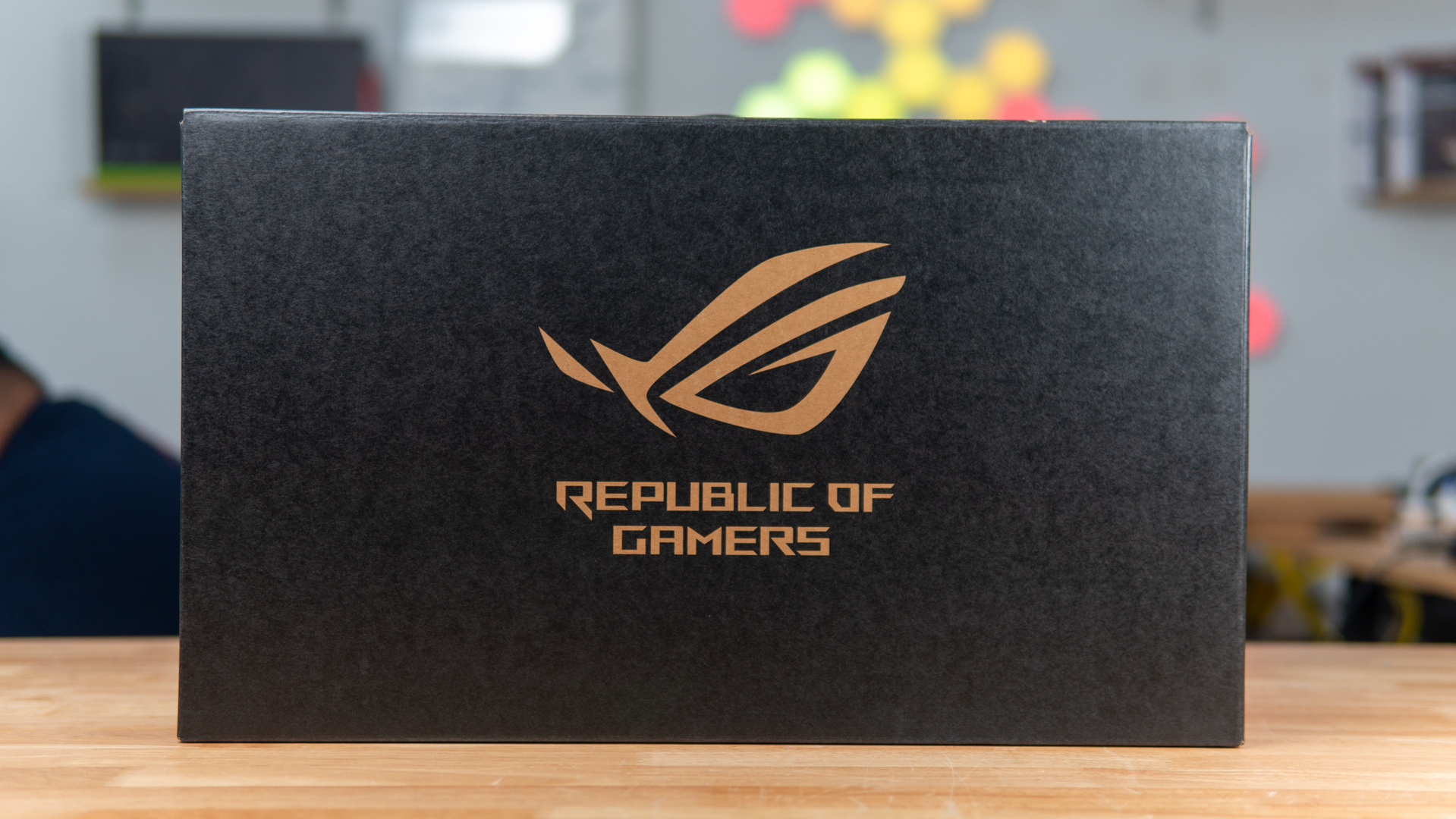 In terms of gaming, the RTX 4050 GPU performs rather well for a mid range GPU, providing a smooth and enjoyable gaming experience. The dedicated GPU, with its ample shaders and 6GBgraphics memory, allows for the rendering of stunning visuals and ensures that even demanding games run smoothly with the right settings. While it may not offer top-of-the-line performance compared to higher-end GPUs, it strikes a balance between affordability and satisfactory graphics capabilities.
Performance and Hardware
CPU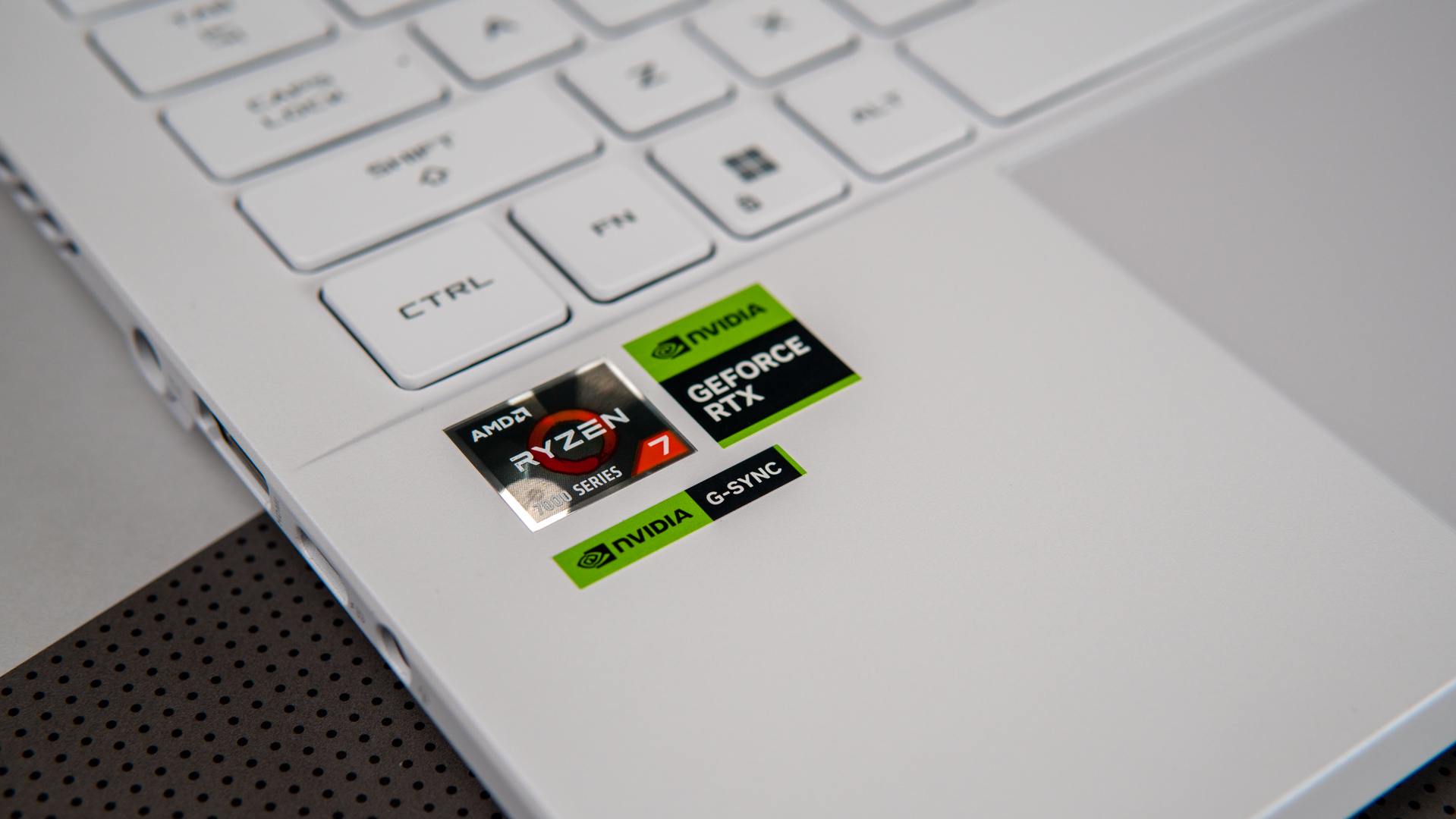 The ASUS ROG Zephyrus G14 is powered by the AMD Ryzen 7735HS which was released in early 2023. This processor is specifically designed for mobile computers and utilizes the advanced Zen 3+ microarchitecture. One standout feature is its unlocked capability for overclocking, allowing users to push the performance boundaries even further.
With a total of eight cores and 16 threads, the Ryzen 7735HS delivers impressive multitasking capabilities and processing power. Its base clock speed of 3.2GHz and maximum boost clock of 4.75GHz ensure smooth and responsive performance across various tasks. It's worth noting that unlike Intel's split performance and efficiency core model, all eight cores of the Ryzen 7735HS can run at their respective speeds until thermal throttling limits are reached at 95°C.
The integration of the AMD Radeon 680M graphics engine further enhances the overall computing platform. With 12 compute units and a clock speed of 2200 MHz, the GPU delivers impressive graphics performance for gaming and multimedia tasks.
Manufactured using TSMC's 6nm FinFET process, the Ryzen 7735HS strikes a balance between power and efficiency. With a power TDP ranging from 25W to 54W, it is tailored for laptop use, ensuring a balance between performance and battery life.
Synthetic Benchmarks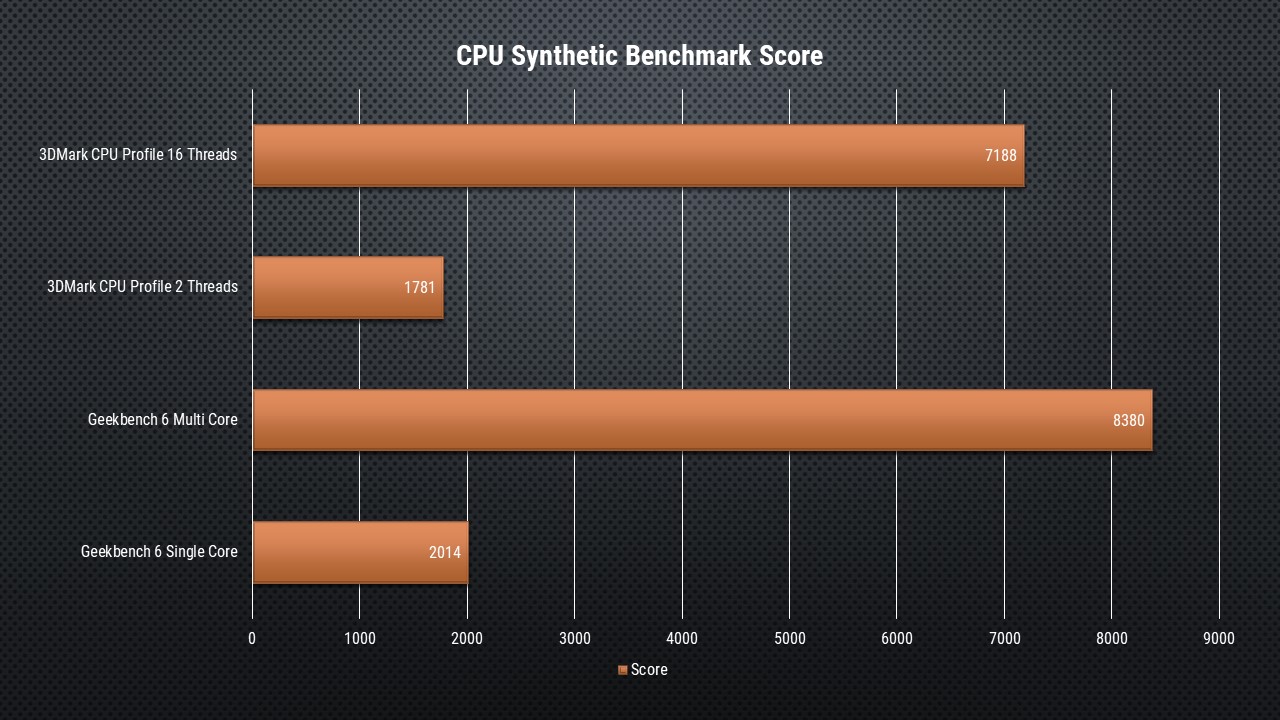 The ASUS ROG Zephyrus G14 exceeded my expectations in terms of performance, showcasing its CPU and GPU capabilities. The laptop's CPU benchmark results demonstrate its power, with a Geekbench 6 Single Core score of 2014 and a Multi-Core score of 8380. These numbers puts it in the performance range of a desktop Ryzen 5 5600 which translates to great processing power for various demanding tasks.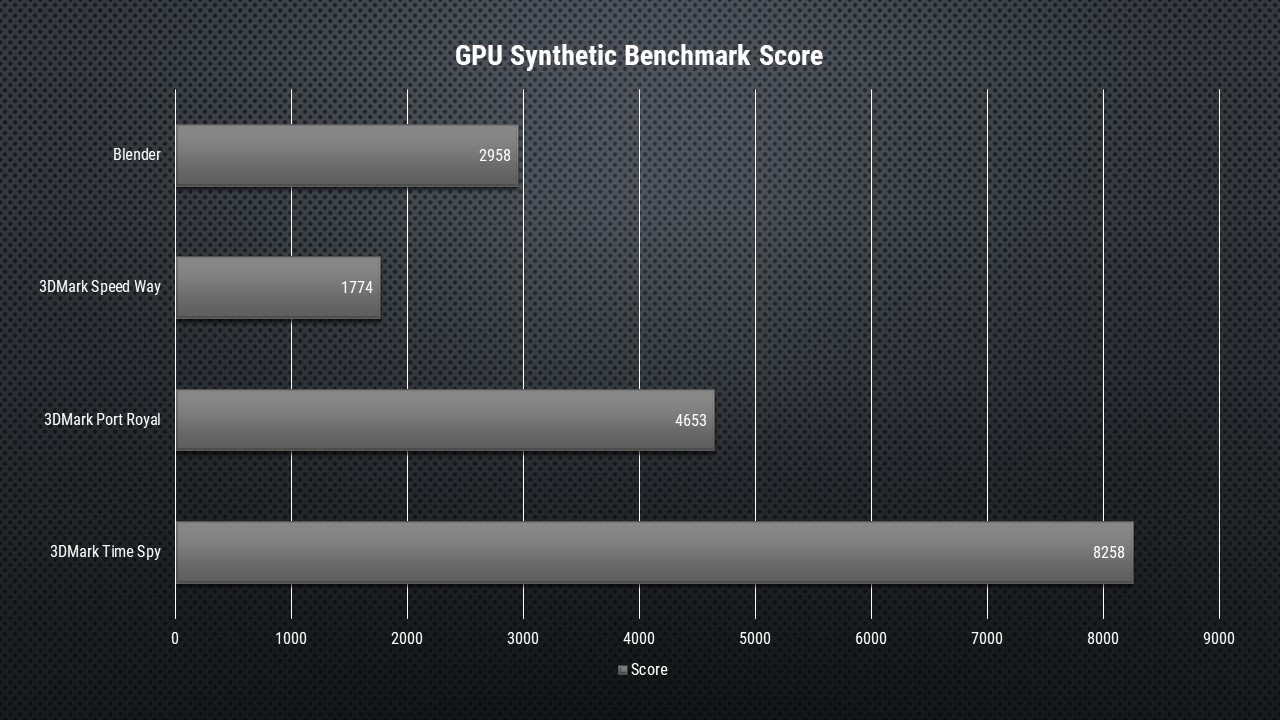 When it comes to graphics, the G14's GPU synthetic benchmark results are equally remarkable. Blender rendering tests yielded a score of 2957.73, completing the rendering of a classroom scene in just 31.714 seconds. Furthermore, in 3DMark tests, the G14 achieved an impressive TimeSpy GPU score of 8258, showcasing its ability to handle graphically demanding games and applications. The laptop also performed admirably in other benchmarks, with scores of 4653 in 3DMark Port Royal and 1774 in 3DMark Speed Way.
Gaming Performance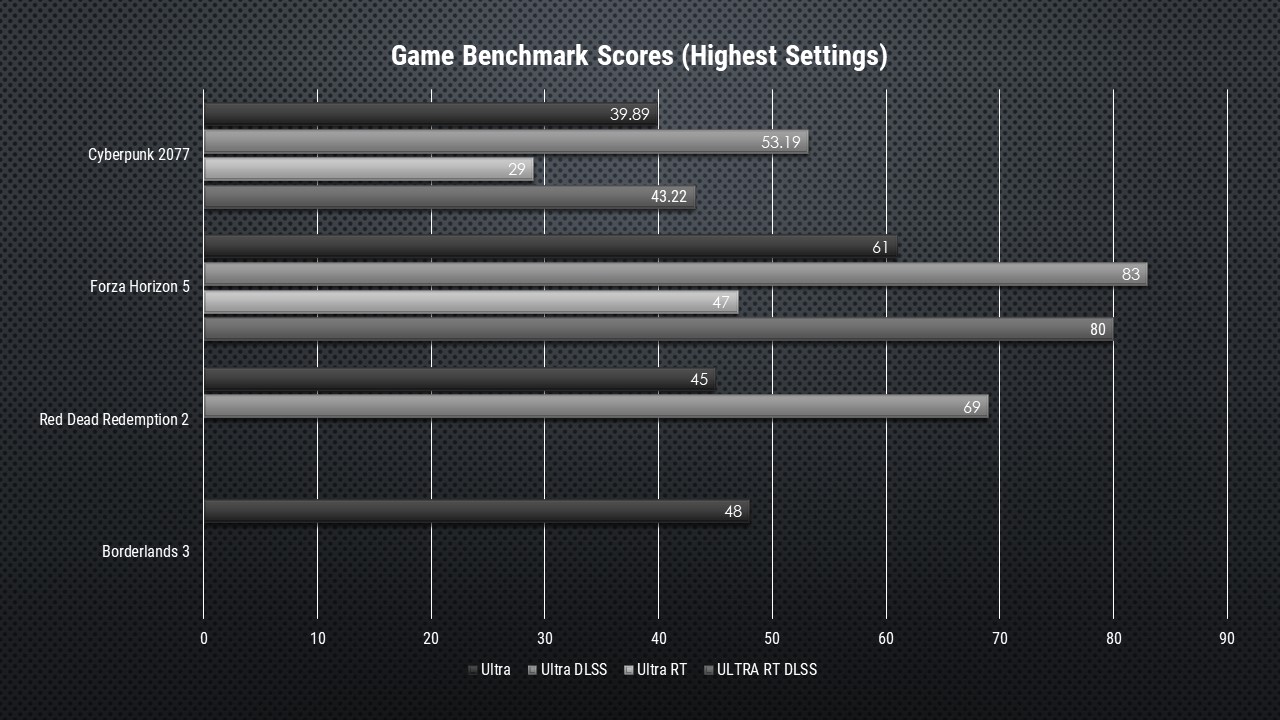 The ASUS ROG Zephyrus G14 performed remarkably well in game benchmarks, especially when utilizing DLSS (Deep Learning Super Sampling) support. The mid-range NVIDIA GeForce RTX 4050 Laptop GPU proves to be capable, delivering significant improvements in game benchmarks.
One notable example is Forza Horizon 5, where DLSS made a remarkable impact. With DLSS switched off, the game achieved a stable 61fps. However, enabling DLSS resulted in a substantial gain of 22fps, reaching an impressive 83fps. This corresponds to a percentage gain of approximately 36%. This boost in performance greatly enhances the gaming experience, allowing for smoother gameplay and more immersive visuals.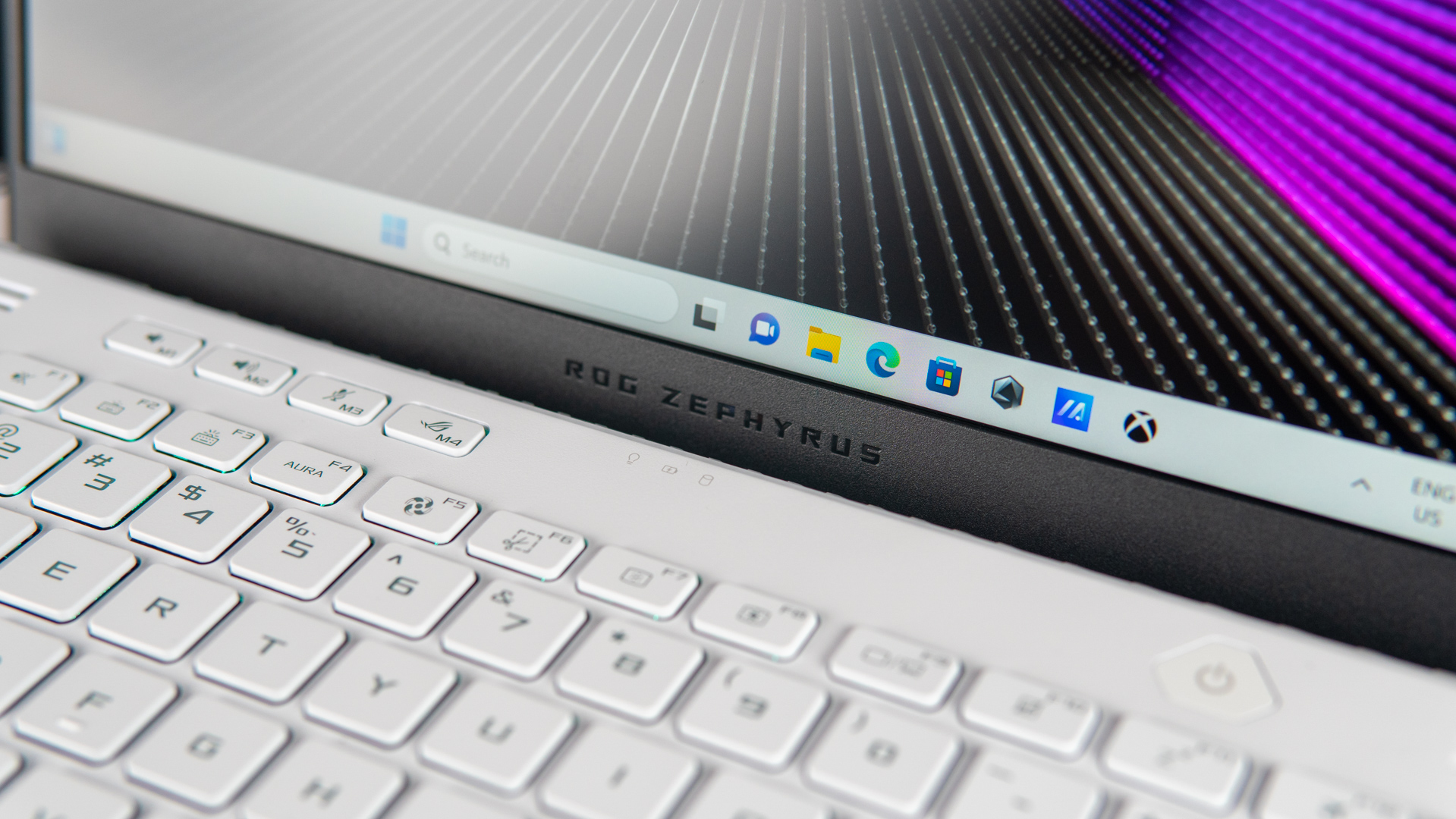 Similarly, in Cyberpunk 2077, enabling DLSS yielded noticeable improvements. Without DLSS, the game managed around 39.89fps. However, with DLSS activated, the frame rate jumped by 14fps, reaching a more satisfying 53.89fps. This increase of approximately 35% enhances both the fluidity of gameplay and the overall visual quality.
While DLSS-enabled games demonstrate the true potential of the G14's GPU, it's worth mentioning that for games without DLSS support, it is advisable to adjust the settings to ensure smooth performance. Opting for slightly less intensive graphics settings, such as medium, can strike a balance between visual quality and optimal frame rates, ensuring a enjoyable gaming experience.
Hardware
In addition to its benchmark achievements, the G14's hardware enhancements contribute significantly to its overall performance. The combination of a powerful CPU, generous RAM, and versatile storage options ensures seamless multitasking and swift application responsiveness. Whether I was working on resource-intensive projects or engaging in demanding gaming sessions, the G14 effortlessly met the challenge, providing a smooth and enjoyable user experience.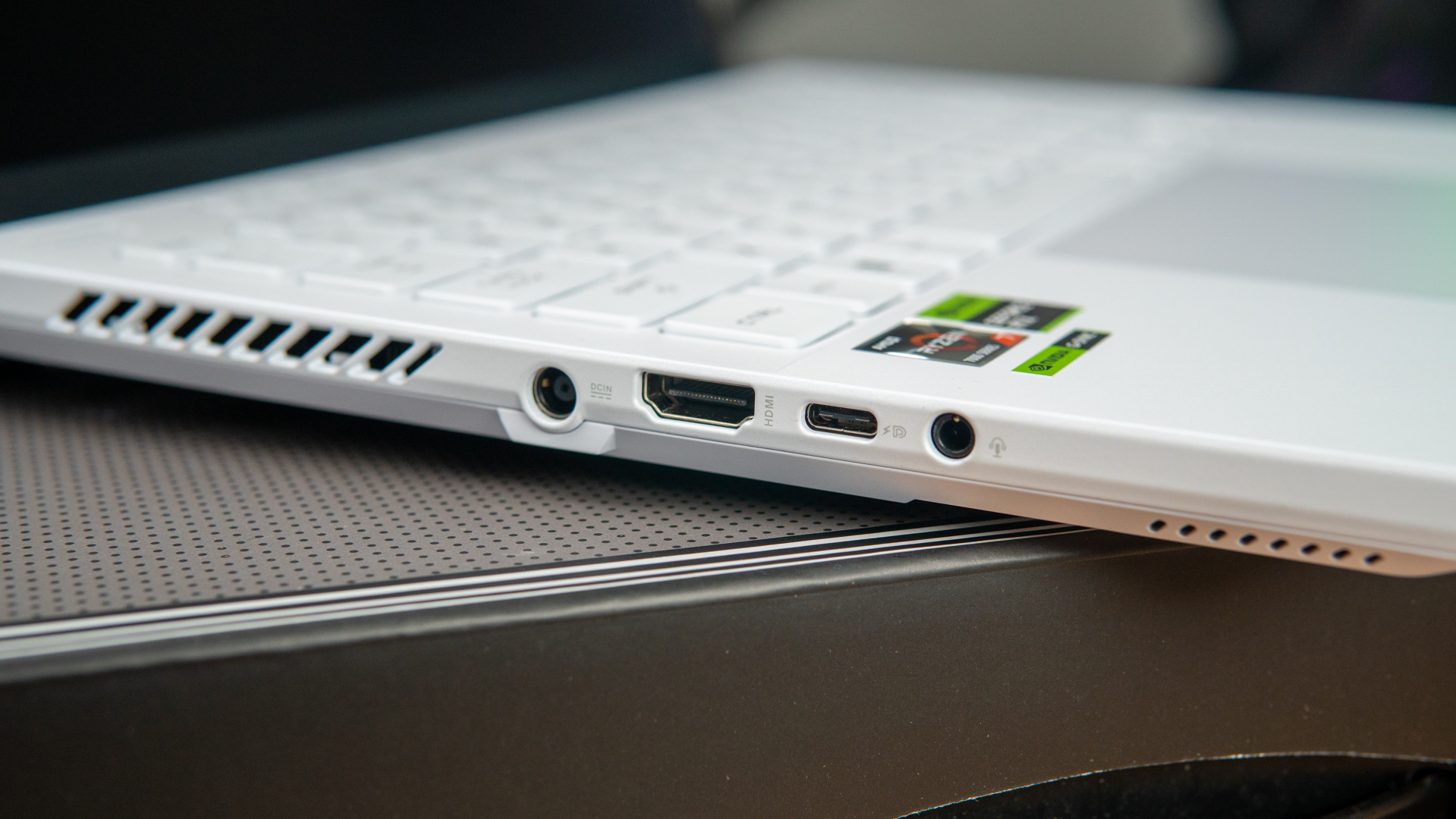 It's worth noting that the G14's exceptional performance is accompanied by efficient thermal management. Even during extended periods of intense usage, the laptop's cooling system effectively dissipates heat, preventing overheating and maintaining optimal performance levels. This feature is particularly valuable when pushing the laptop to its limits during gaming sessions or CPU-intensive tasks.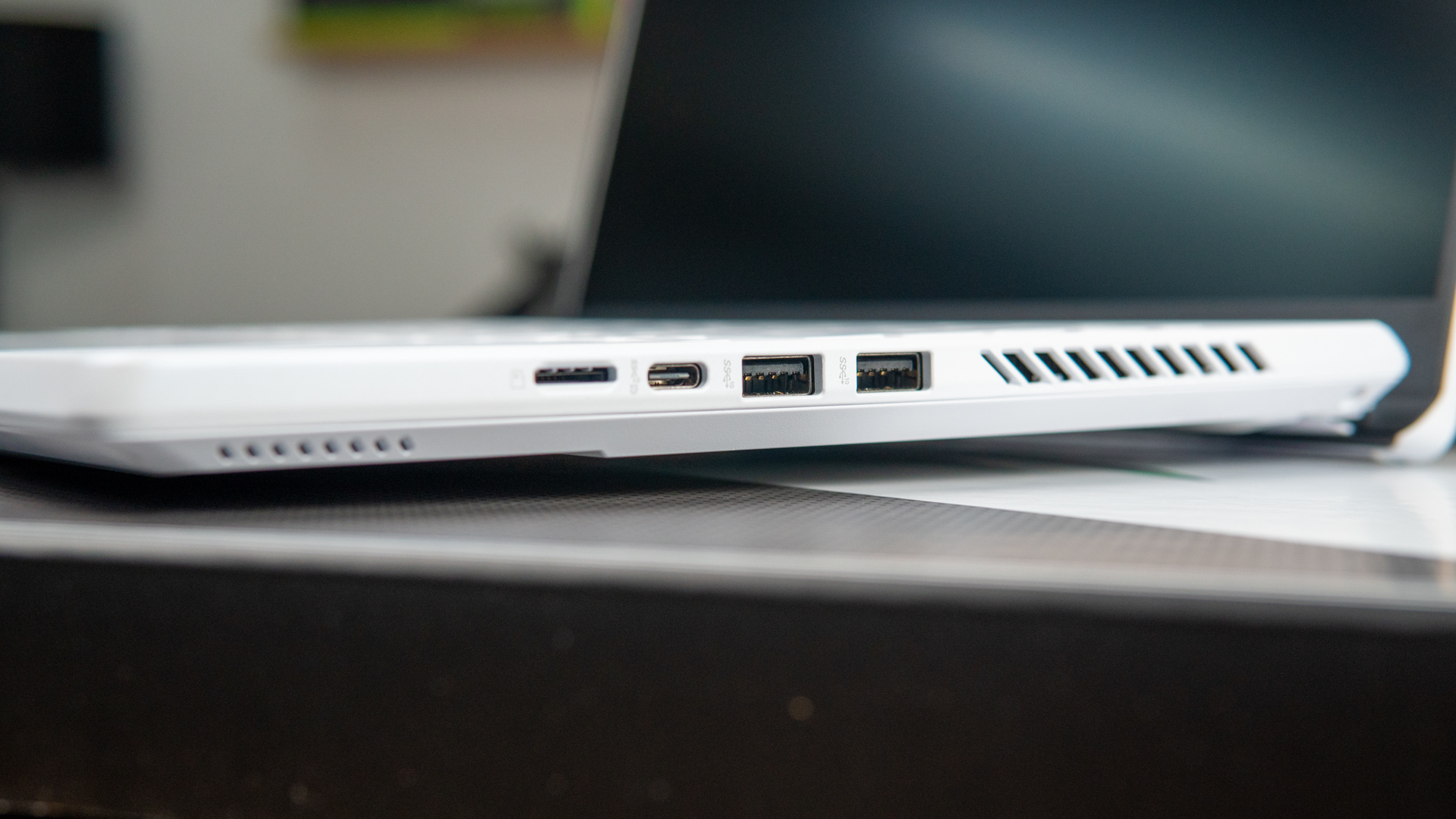 In terms of connectivity, the G14 offers a comprehensive range of options to cater to various needs. The inclusion of multiple USB ports, including USB Type-C and Type-A, ensured seamless connectivity with external devices and peripherals. The presence of an HDMI port allowed me to connect the laptop to external displays or projectors, expanding my viewing experience.
Moreover, the availability of a headphone jack provided a convenient way to connect my favorite headphones or external speakers for an immersive audio experience. In addition to these physical ports, the G14 also offered reliable wireless capabilities, including Wi-Fi and Bluetooth connectivity, enabling seamless wireless communication and device pairing.
Battery Life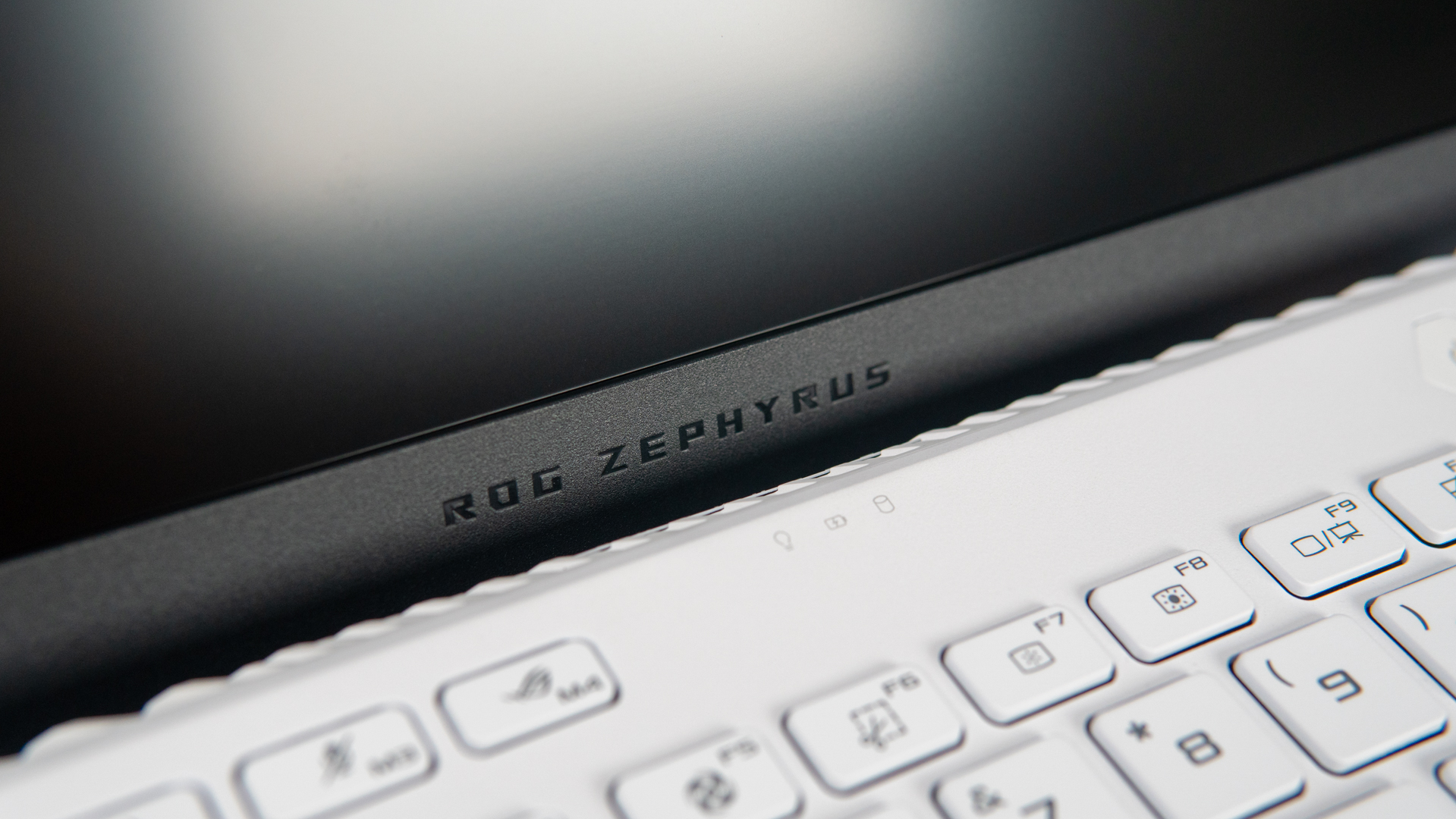 When it comes to battery life, the ASUS ROG Zephyrus G14 impressed me with its endurance, allowing me to stay productive and entertained for extended periods. The laptop is equipped with a high-capacity 76Wh battery, which provides a reliable power source throughout the day. Under daily task scenarios, such as web browsing, document editing, and multimedia consumption, I found that the G14 could easily last up to 3 hours*, exceeding my expectations.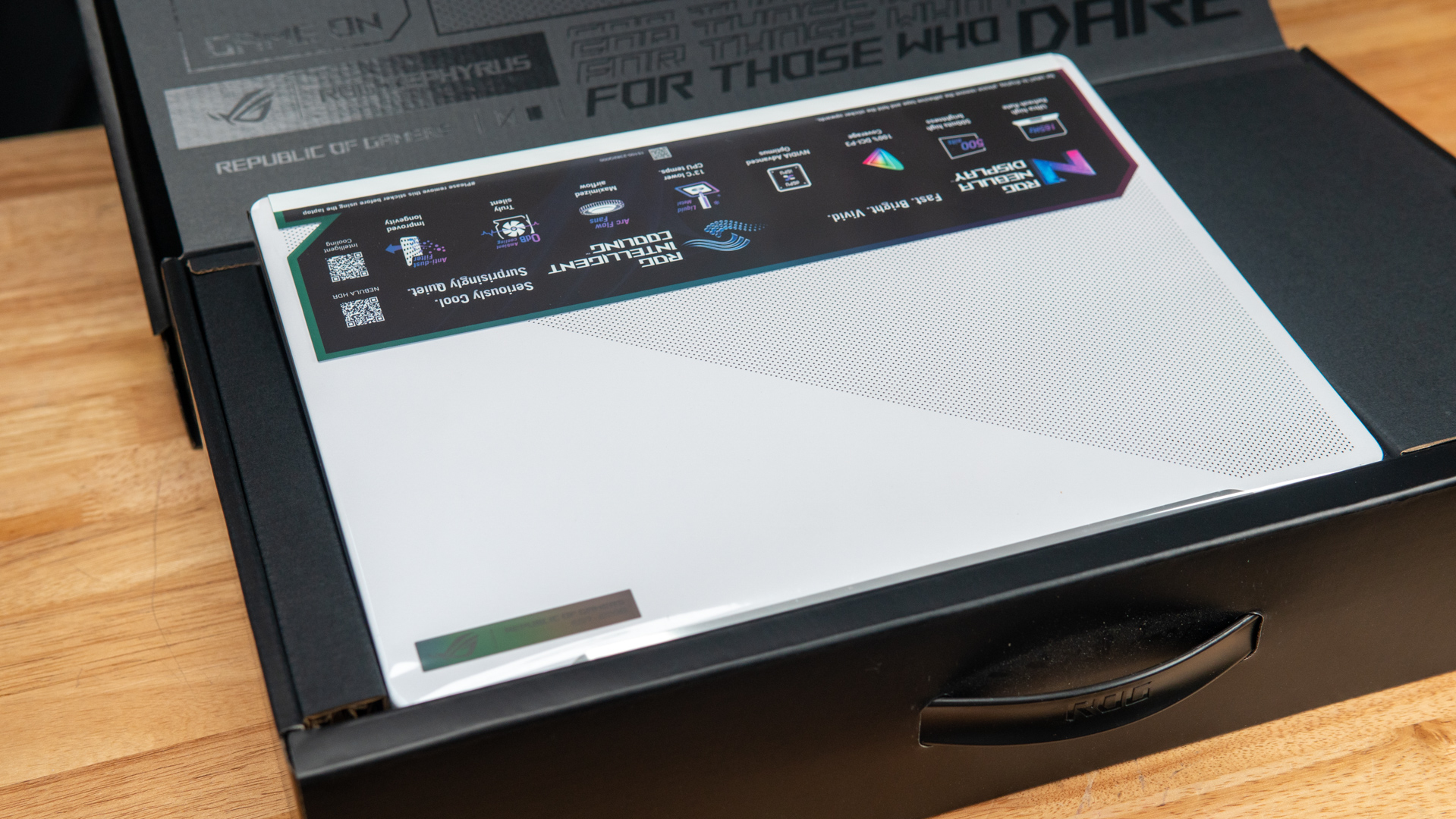 When it comes to gaming or resource-intensive tasks, the battery life naturally decreases as the laptop draws more power to support the demanding performance. The battery drain when it comes to these activities proves to still be a challenge to modern laptops. Without a direct power supply, the battery could sustain the laptop for a limited amount of time, accomodating up to 2 hours of intensive gaming at best.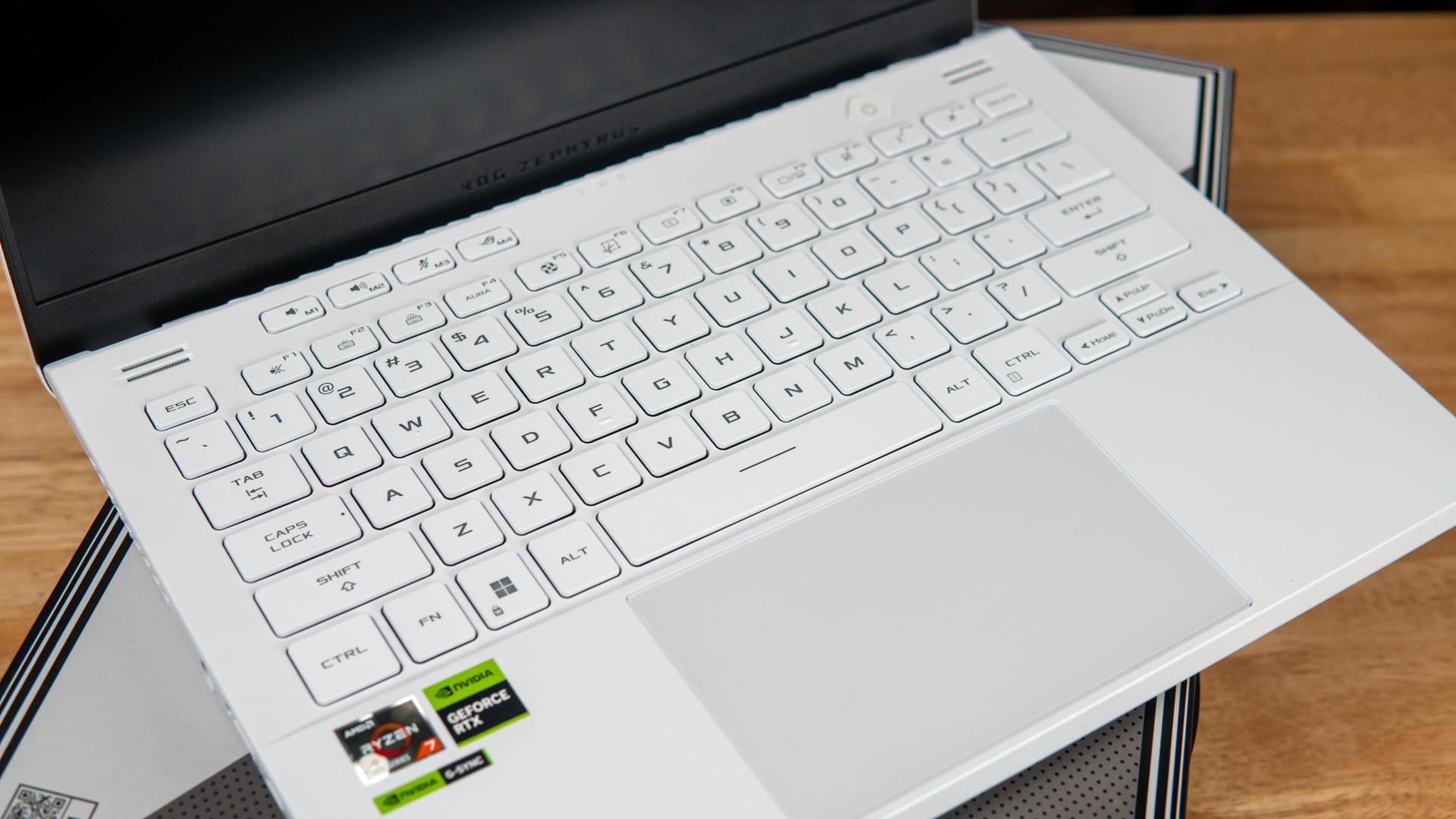 To further optimize battery life, the G14 offers power-saving features and optimizations. One notable feature is the Eco Mode available through Armoury Crate, which allows users to adjust power settings and conserve energy. When enabled, I experienced an impressive battery life of up to 4 hours*, ensuring that I could continue using the laptop even when access to a power outlet was limited.
Additionally, the Optimized Mode automatically adjusts performance between standard and eco depending on usage, striking a balance between power efficiency and performance. This mode provided an estimated battery life of around 3 hours, which is commendable considering the laptop's powerful hardware and capabilities.
*Battery performance results are based on my personal usage and may vary for different users. Factors such as screen brightness, application usage, and power settings can impact the actual battery life experienced.
---
What I Liked
The aesthetic details on this laptop is to die for.
Clean white finish with a premium feel.
The RGB lighting on the keyboards are not overglaring and over intrusive
Light but powerful, great for daily use and gaming on demand.
What I Wished Was Better
While the AniMe Matrix feature may turn some heads, I would prefer if ASUS drops this entirely. This will not only reduce the cost of manucturing, but a plain white lid on the G14 will make it fit better into the affordable gaming laptop sector with a sleek look to it.
512GB storage feels rather small. Modern games are taking up to 80GB of storage at the very least.
---
Verdict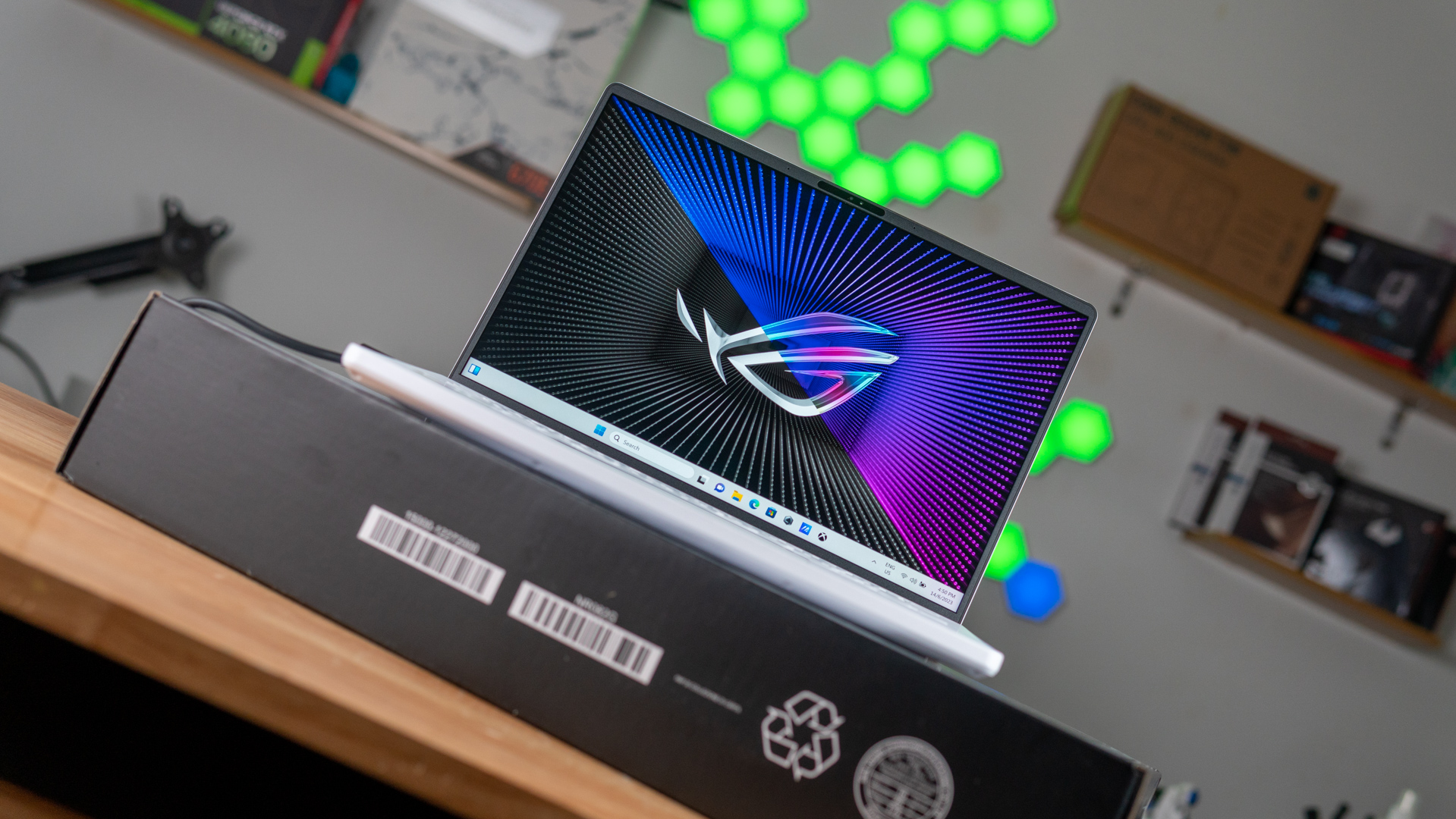 The ASUS ROG Zephyrus G14 has left a positive impression on me as a gaming-centric laptop that also excels in daily use scenarios. Its above-average gaming capabilities ensure an enjoyable gaming experience, although it is important to note that like most gaming laptops, it does tend to generate heat under heavy loads.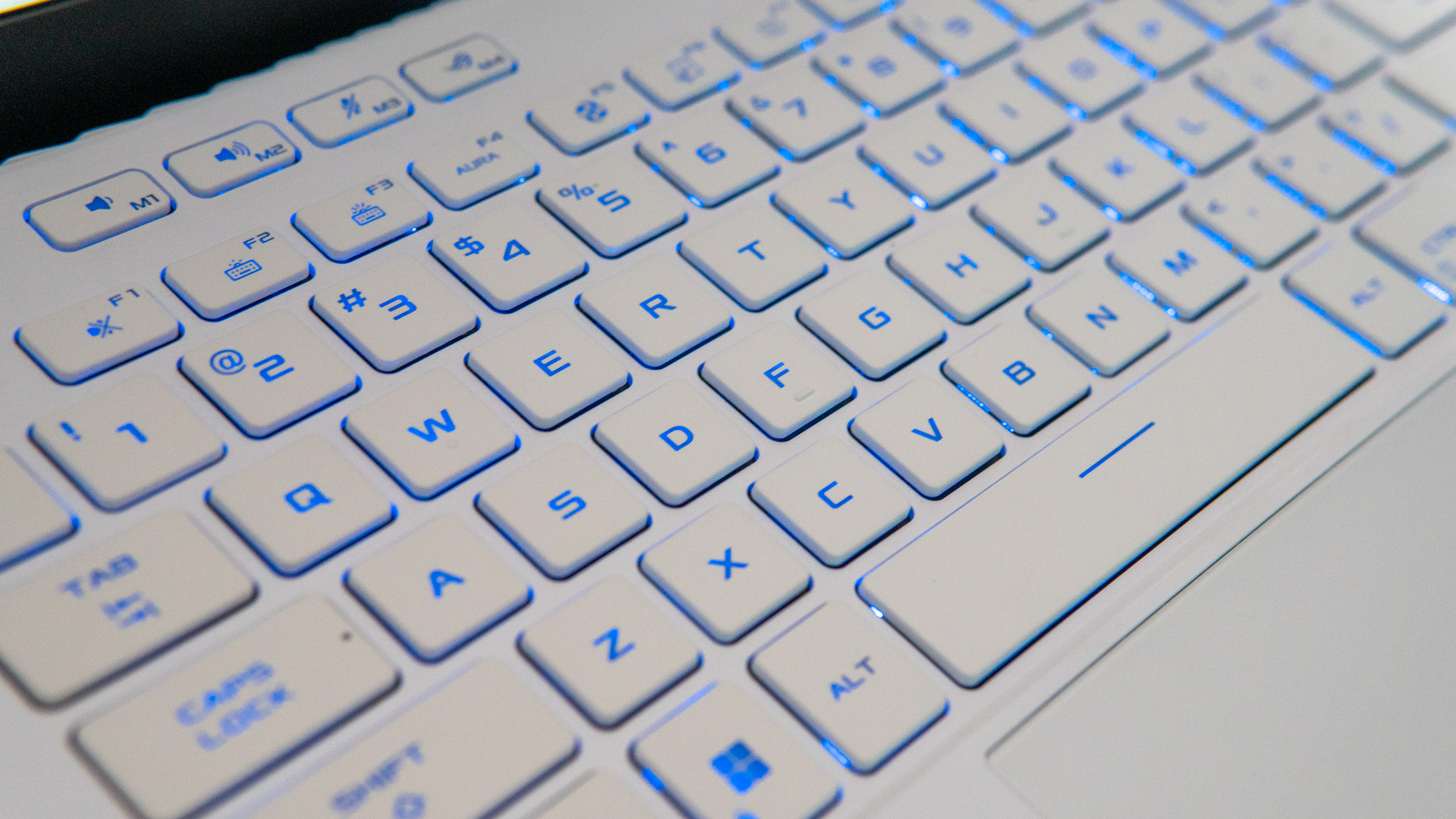 From an aesthetic standpoint, the G14 is visually appealing with its clean design and ample ventilation for heat dissipation. One standout feature is its lightweight nature, defying the typical weight of gaming laptops, which often exceeds 2kg. This portability factor adds to the laptop's appeal, especially for users who prioritize mobility. However, it would have been beneficial for the laptop to have thicker feet to increase the height and allow for better airflow, enhancing cooling performance.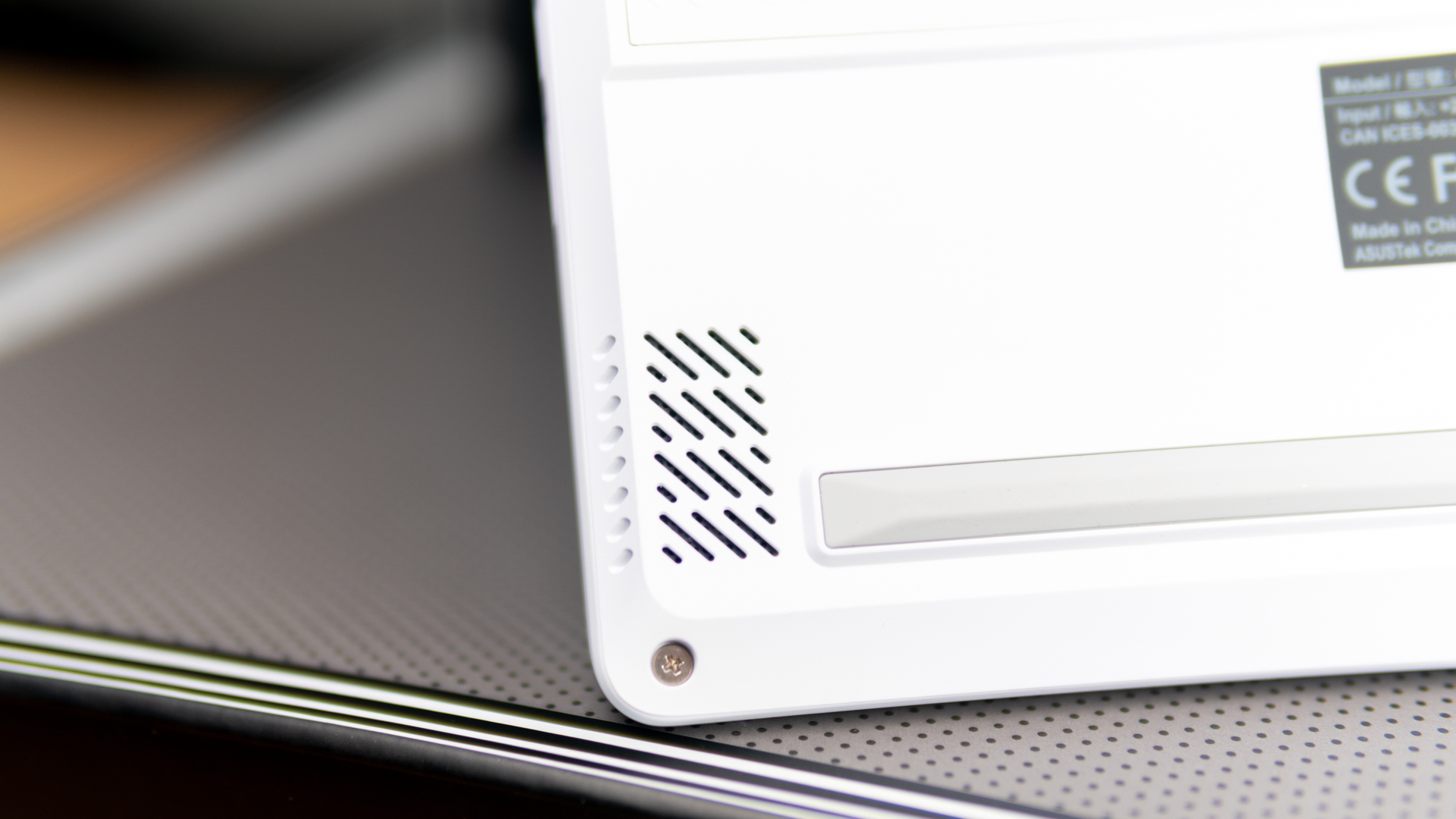 Priced at 7499, the G14 offers a competitive entry point into the gaming laptop market, making it an attractive choice for budget-conscious gamers. The inclusion of an anti-glare screen coating is also appreciated, ensuring comfortable viewing experiences in various lighting conditions.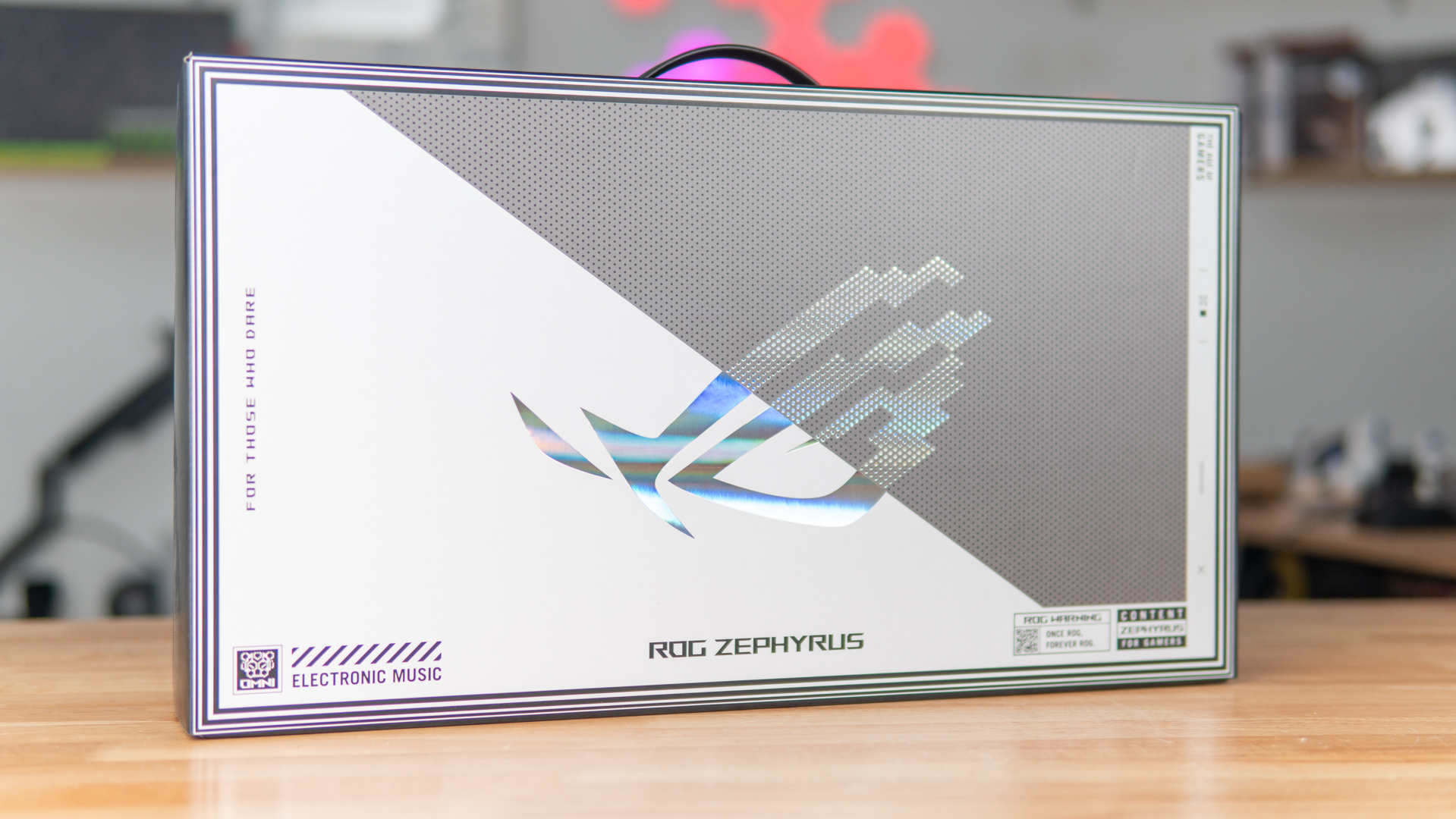 In light of these findings, I would recommend the ASUS ROG Zephyrus G14 to gamers, varsity students and individuals seeking a versatile laptop that balances gaming performance with daily usability (students especially). Its strengths lie in its above-average gaming capabilities, lightweight design, USB-C charging, and competitive pricing. While improvements could be made in terms of airflow optimization, the overall package offered by the G14 makes it a compelling choice in the entry level gaming laptop market.
Final Score : 9/10
---
Product Link : https://rog.asus.com/my/laptops/rog-zephyrus/rog-zephyrus-g14-2023-series/