Enter the new Galaxy Tab S9 FE+
If you are familiar with Samsung devices then you'd already know what the FE stands for and mean. For those who didn't know, FE basically stands for Fan Edition. FE series devices are modeled after the flagship release earlier in the year but are presented at a more affordable price tag.
The Galaxy Tab S9 FE+ is no different. It's crafted for those who yearn for flagship-level flair without the need for maximum horsepower, all while sporting a price tag that's a bit more down to earth. What this translates to is a careful balancing act—keeping the essence of the flagship alive while trimming specs just enough to make financial sense.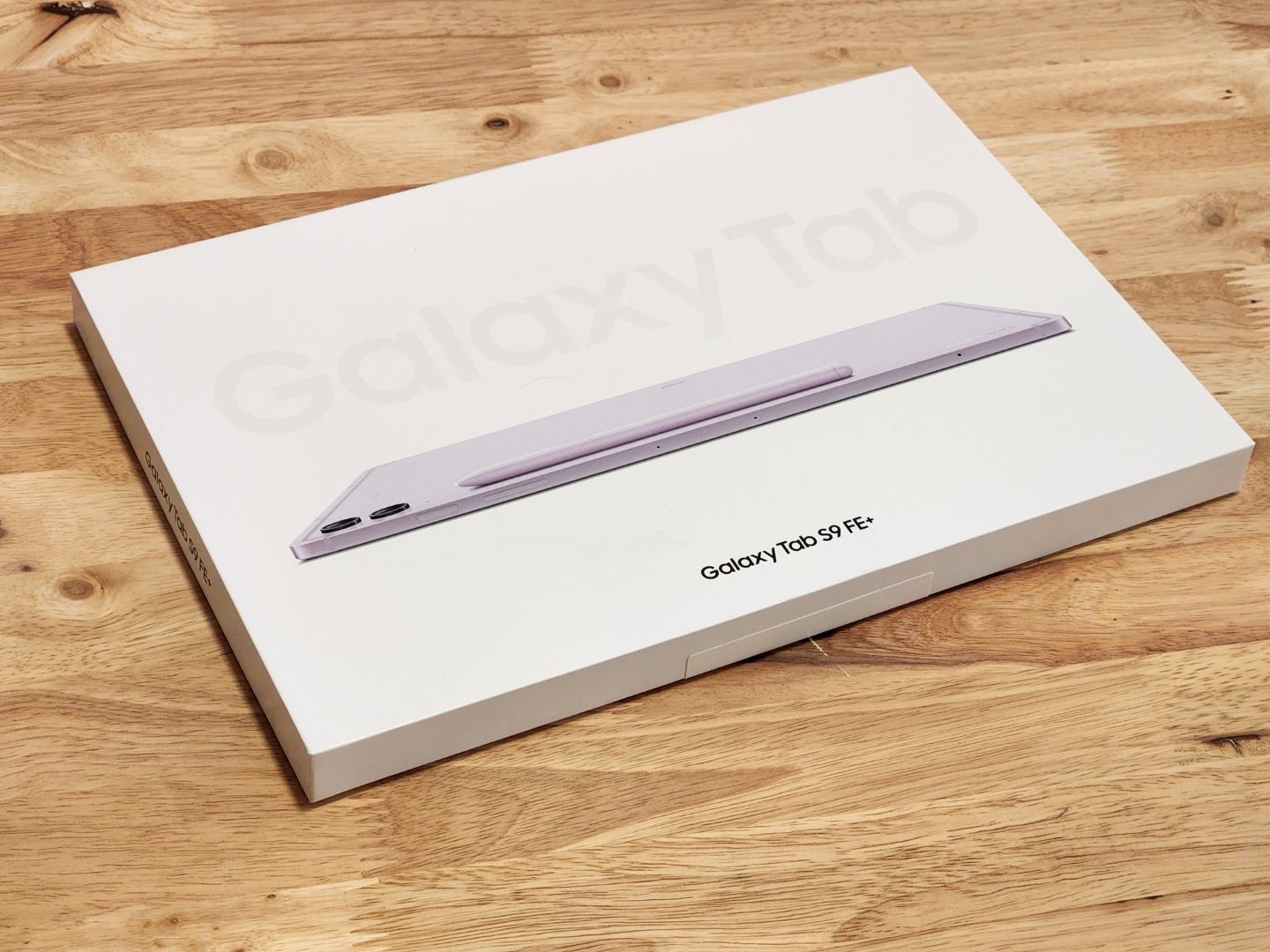 Price tags
| | |
| --- | --- |
| Galaxy Tab S9 FE (WiFi) 6GB+128GB | RM2,099 |
| Galaxy Tab S9 FE 5G 6GB+128GB | RM2,699 |
| Galaxy Tab S9 FE (WiFi) 8GB+256GB | RM2,399 |
| Galaxy Tab S9 FE 5G 8GB+256GB | RM2,999 |
| Galaxy Tab S9 FE+ (WiFi) 8GB+128GB | RM2,799 |
| Galaxy Tab S9 FE+ 5G 8GB+128GB | RM3,399 |
| Galaxy Tab S9 FE+ (WiFi) 12GB + 256GB | RM3,099 |
| Galaxy Tab S9 FE+ 5G 12GB + 256GB | RM3,699 |
Unboxing, Design & Build
The tablet arrives in Samsung's signature packaging, complete with the stylus and charging cable well-organized within, offering a sleek unboxing experience right from the moment the cover is lifted.
The specific unit we received for review was the Galaxy Tab S9 FE+ (WiFi) in a Lavender hue, configured with 12GB | 256GB. This tablet is also available in 12GB | 128GB, and alternative colour options for the WiFi model include Mint, Gray, and Silver. Those opting for the 5G variant will have a choice between Mint and Gray.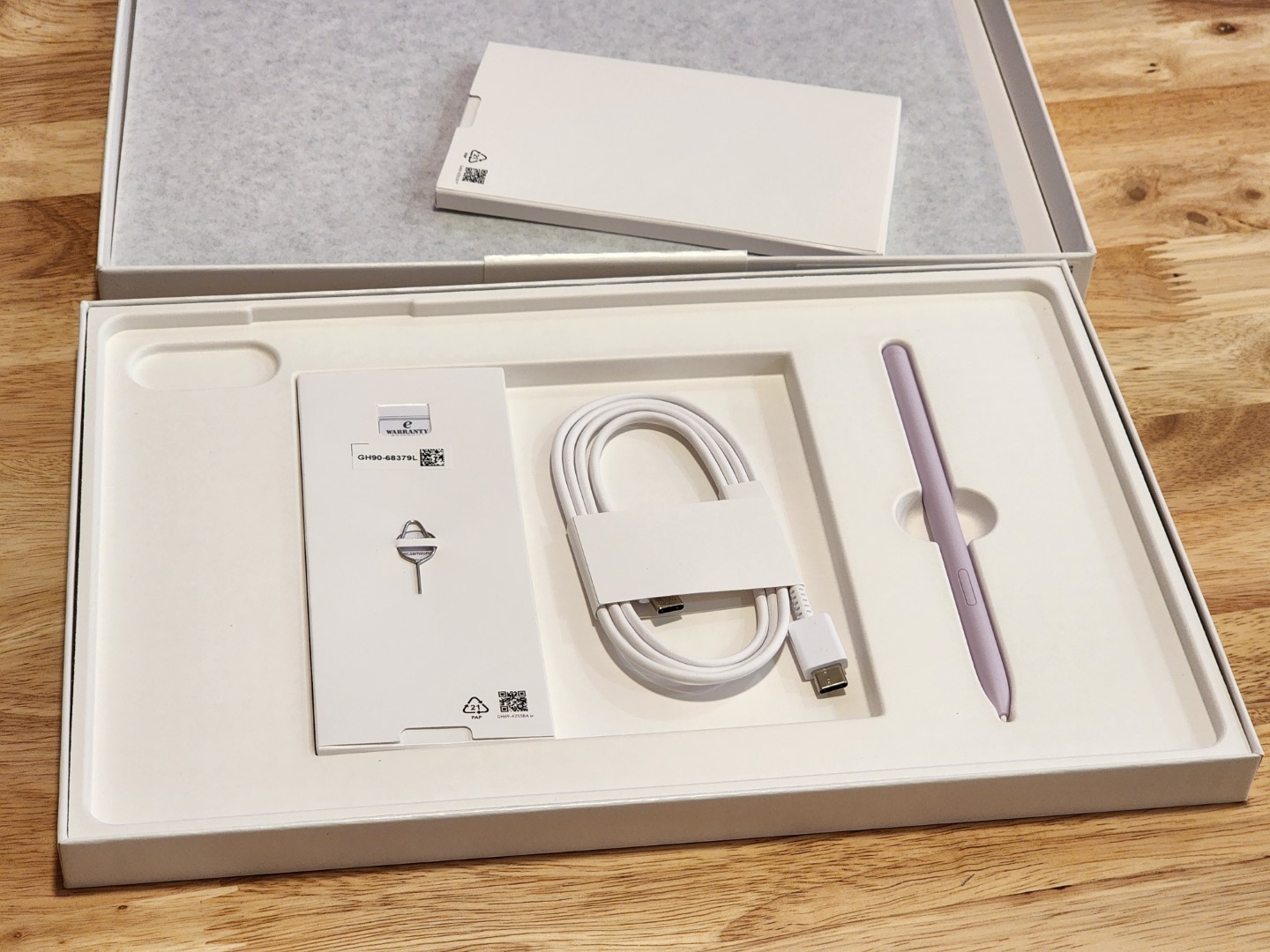 The aesthetics of the Lavender variant are impressive both visually and to touch and feel. Boasting a 12.4-inch display, the dimensions of the tablet are measured at 285.4mm by 185.4mm by 6.5mm, highlighting its slender build. It's so thin that one might feel more secure using a protective case with it.
Constructed with an aluminum back and frame, the tablet gives a premium feel while offering a degree of durability. It also boasts an IP68 rating, indicating that it is dust and water-resistant, capable of withstanding immersion up to 1.5 meters for 30 minutes—though I wouldn't challenge its limits intentionally.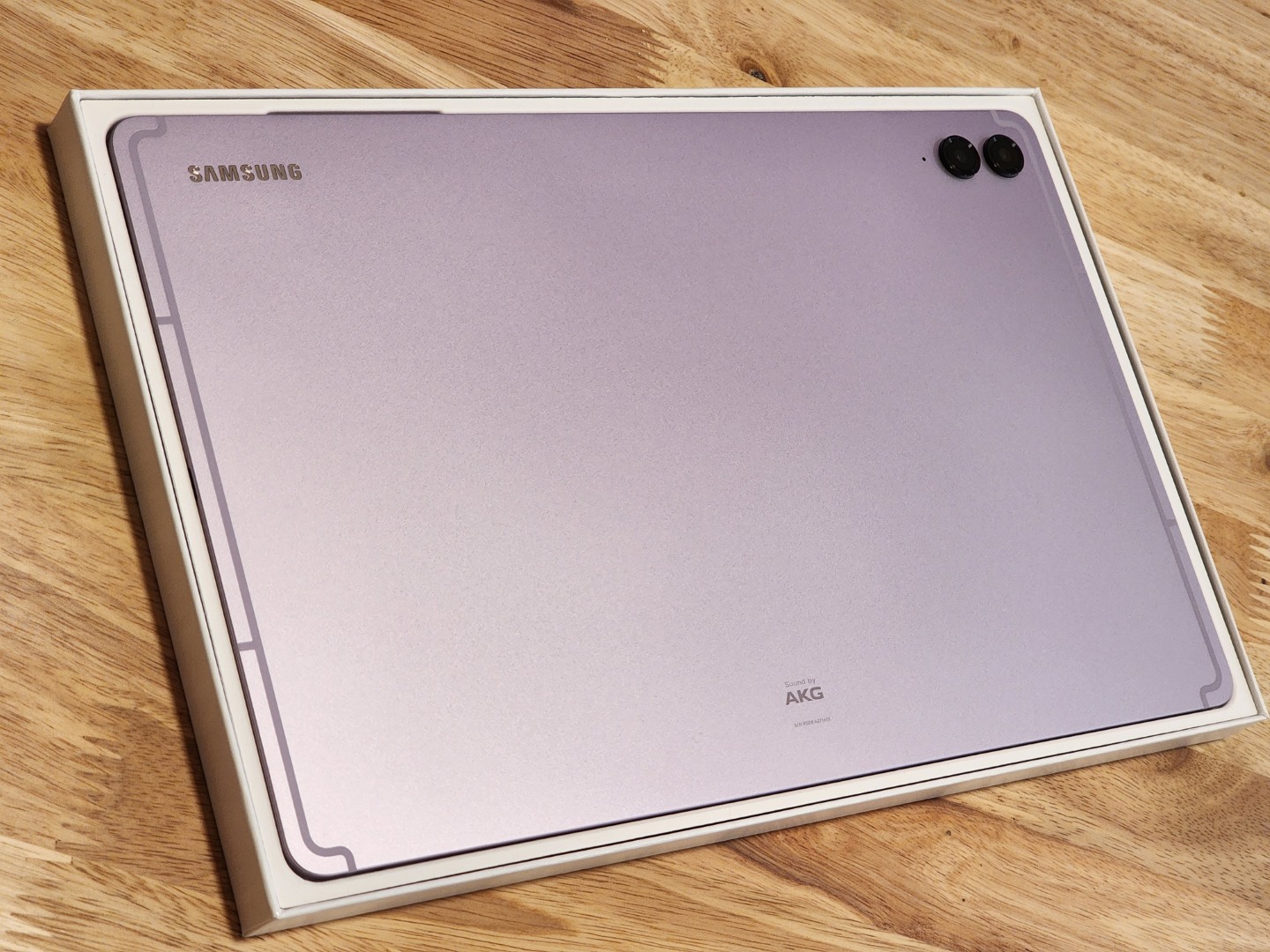 In terms of design and tactile experience, the Galaxy Tab S9 FE+ stands out as an elegant piece of technology, but there's more for us to go before calling it a day.
Panel and display
The tablet comes with a 12.4-inch IPS LCD display, boasting a resolution of 1600 x 2560 pixels. This screen size and clarity make it a competent device for various entertainment needs and content consumption.
It offers a refresh rate of up to 90Hz, which, while not reaching the 120Hz offered by its flagship counterpart, still provides a reasonably smooth scrolling experience. The difference in refresh rates is subtle and may not be immediately obvious to most users unless directly compared side by side.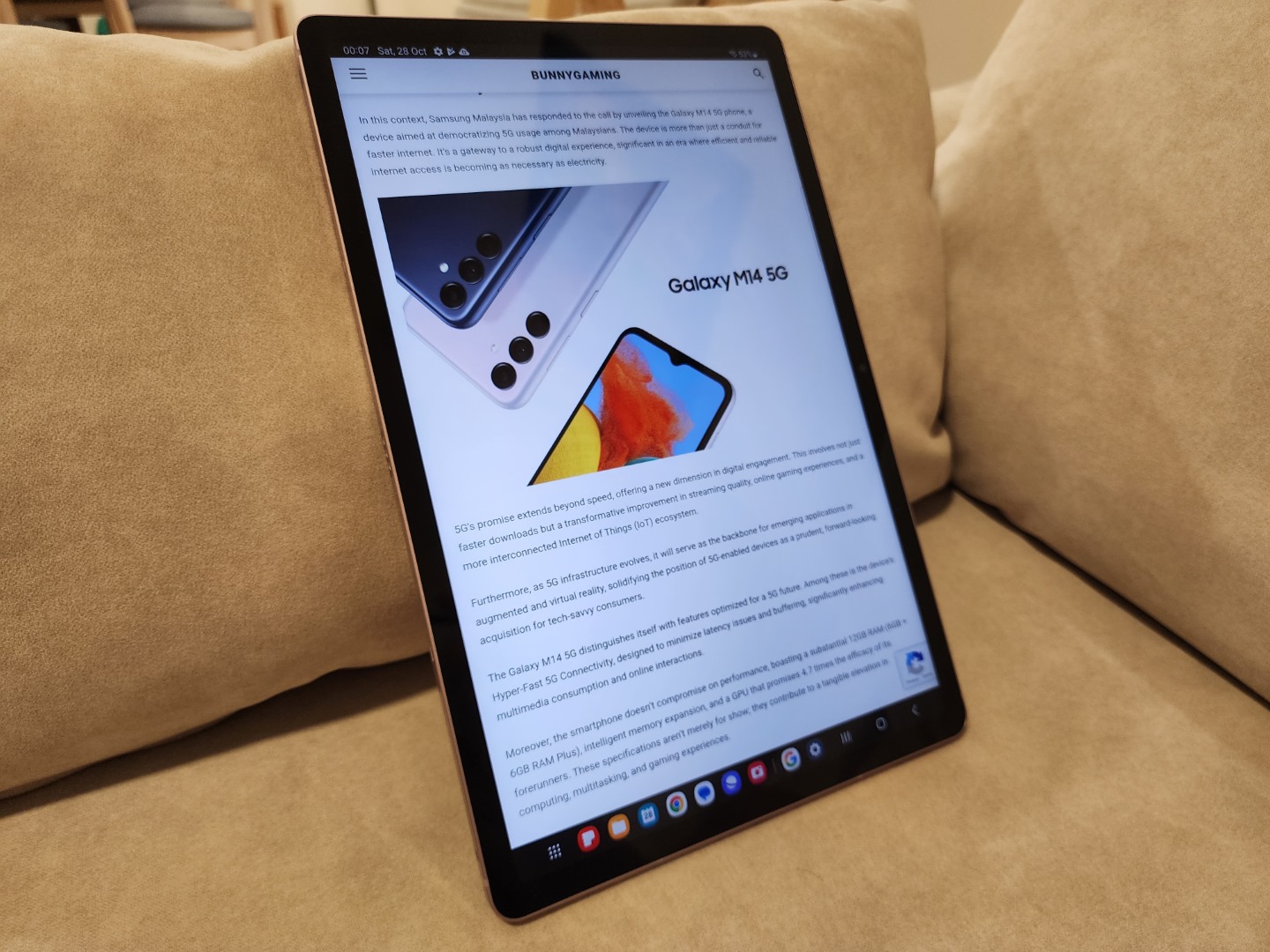 Performance so far
As I started to get acquainted with the tablet I didn't really have the chance to put it through its paces—yet. From what I've seen so far, though, it's been handling my day-to-day tasks with ease.
The stylus that comes along with it? It's a nice touch. I've only played around with some doodles up to now, but I'm keen to see how it fares with more detailed artwork in the near future.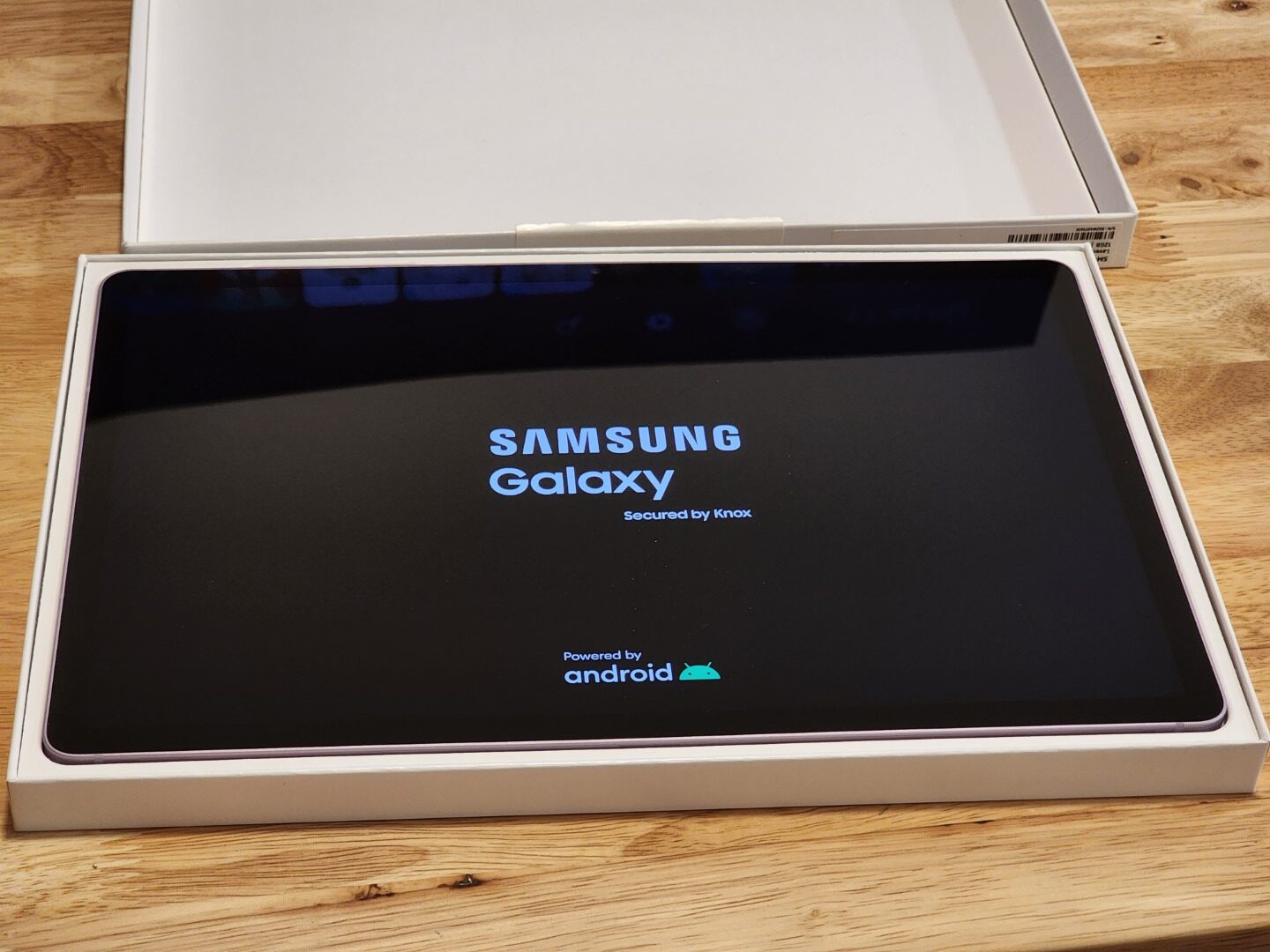 Under the hood, we've got the Exynos 1380 5nm processor, and the tablet is running the fresh-off-the-press Android 13 with a layer of One UI 5.1.1 on top. Paired with a solid 12GB of RAM, I'm expecting this tablet to handle more demanding tasks with a certain grace, but let's not get ahead of ourselves—I'll definitely be putting that to the test.
The storage situation looks pretty good, too. With 256GB onboard, it's likely to take a while before you're looking for extra space. But should that day come, there's a slot for a microSD card to pile on up to a whopping extra 1TB.
Camera and Audio
Camera-wise, we're looking at a fairly straightforward setup. There are a couple of 8MP shooters on the back—wide and ultra-wide—and they do what they need to: simple snapshots and decent video at 1080p and 4K, albeit capped at 30fps.
No flashy features like the LED Flash, HDR, or Panorama you'd find on its more upscale sibling, the flagship S9+. Upfront, the 12MP ultra-wide lens is pretty much what you'd expect for casual video chats or the occasional selfie.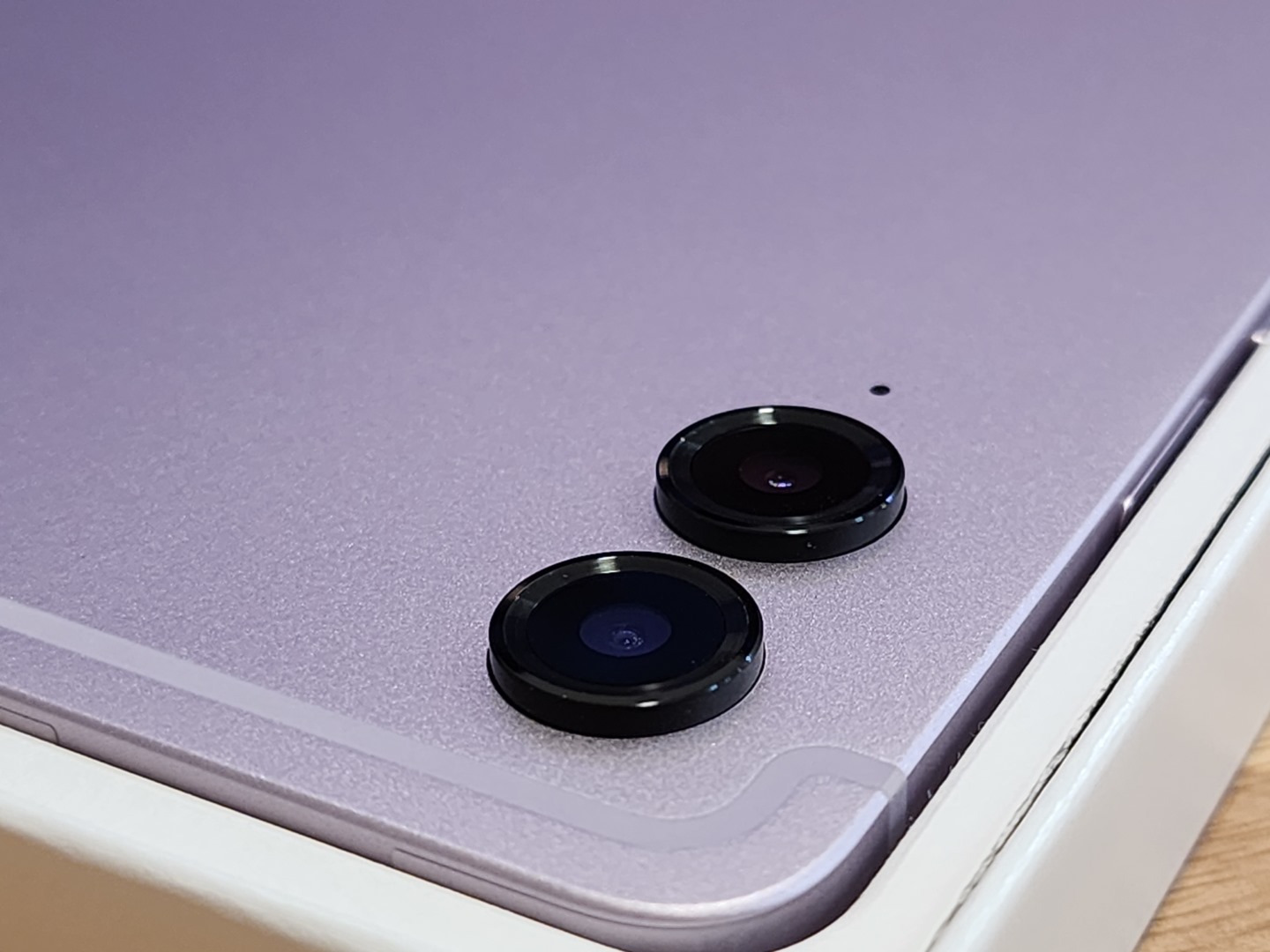 The audio experience on the Galaxy Tab S9 FE+ deserves a shout-out. It's equipped with stereo speakers that have been fine-tuned by AKG. From the movies I've watched to the occasional music streaming, the sound quality has been more than satisfactory.
Battery
In the battery department, it has a huge 10,090mAh unit powering the device. The number is assuring but there's the power management question to address – how well is the Exynos 1380 handling this area? I'll share it with you once I find out.
The tablet is also charged at 45W, which is great by Samsung's standards. But keep in mind that the battery size on this tablet is twice that of a Samsung flagship phone, charging at the same capacity/speed.
---
Full review coming soon
There's a whole checklist of things I'm itching to dive into before I can offer a comprehensive review of the Galaxy Tab S9 Plus. I've got to spend more quality time with the stylus, really get into the thick of multitasking, and see how the tablet stands up to a barrage of apps running simultaneously. Then there's the battery life to scrutinize—how it holds up under heavy use and how swiftly it can recharge its reserves.
I'm particularly excited about the gaming prospects. I mean, let's see how this beauty fares with the graphics-intensive and processor-demanding games. As I'm penning this, 'Tower of Fantasy' is just about ready to roll, and the queue is lined up with heavy hitters like 'Genshin Impact' and 'Honkai Star Rail,' among others. It's shaping up to be a thorough trial by fire.
So, bear with me while I get down to the nitty-gritty. Keep this page bookmarked and swing by for the full showtime —I'm aiming to have all my thoughts and findings lined up for you in the next few days. Stay tuned!