A Happy New Year to all our readers, what I have here is the new Alphacool Core Ocean T38 All In One(in short AIO) liquid cooler in the 240mm form. This is a cooler which is slightly cheaper than it's counterpart the Alphacool Eisbaer AIO. A few corners have been cut to keep the retail price of this cooler at RM350 but lets just dive right in with an unboxing.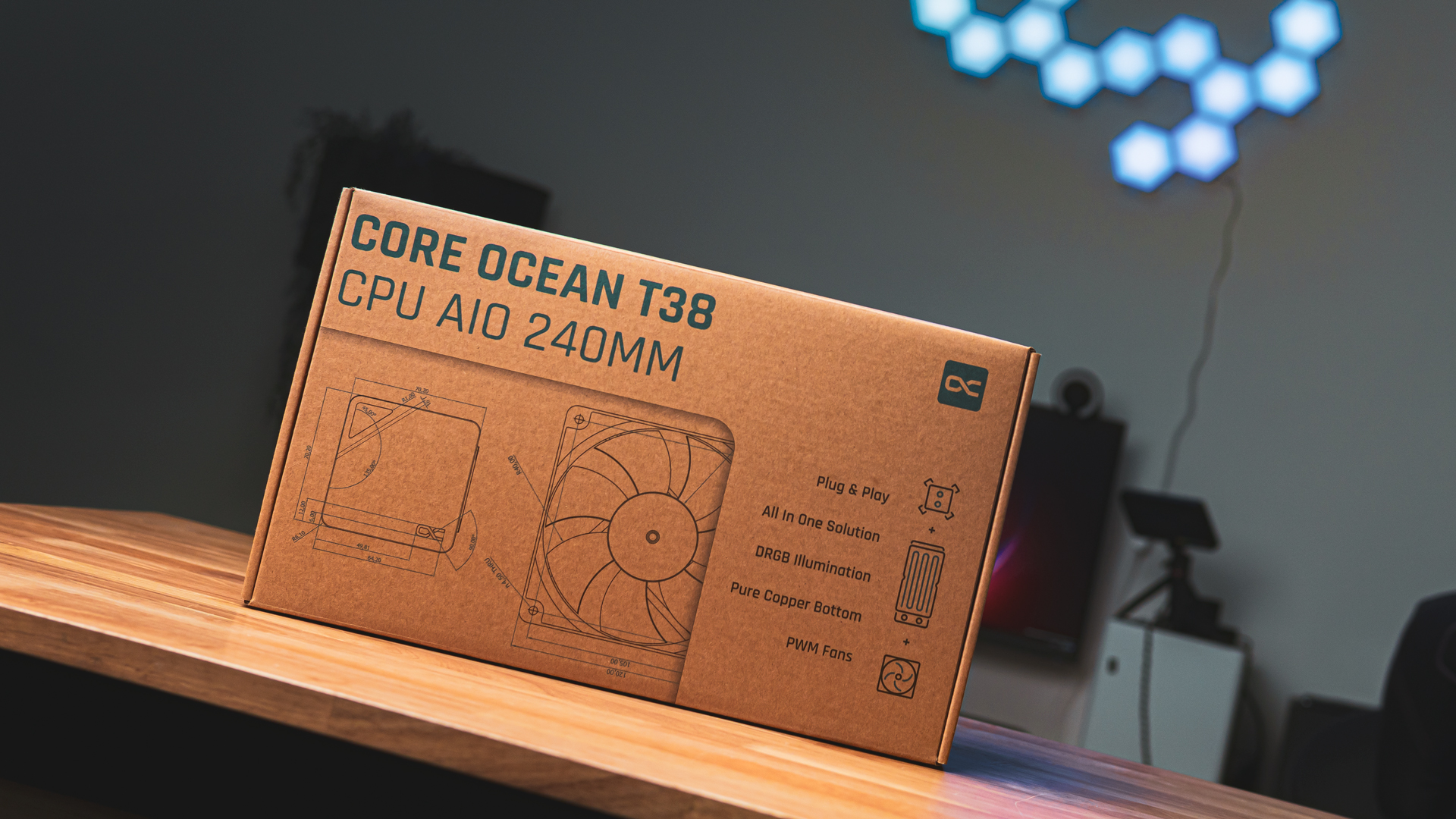 First Look
The cooler comes with your regular mounting kit for both AMD and Intel sockets, 2 units of Alphacool Core 120 fans(these little devils are fast) and the cooler itself.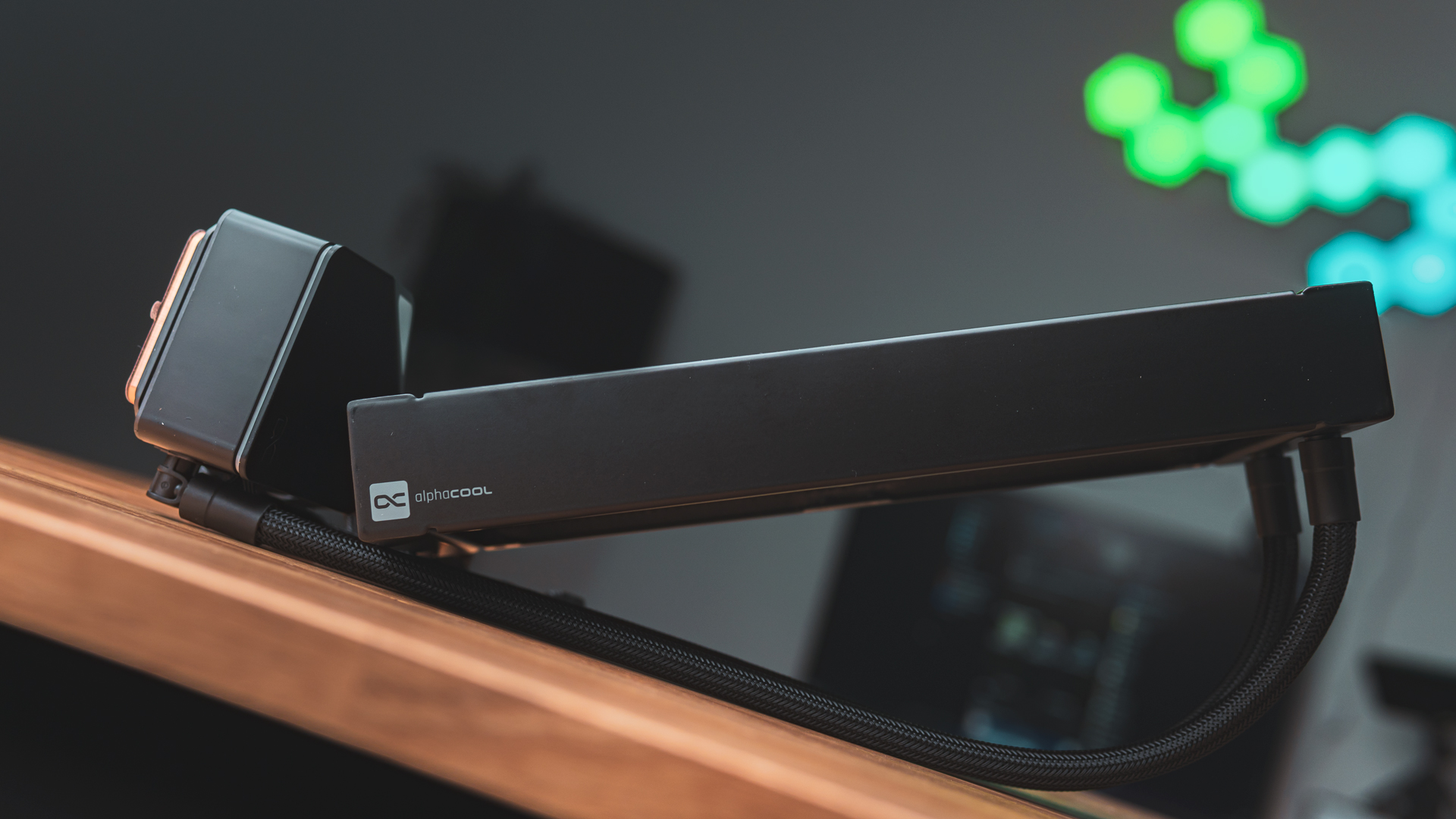 Decked out in an all black layout with only a tinge of RGB present on the CPU Block, this is a sure sight to behold for many. This will definite be seen as a value proposition for enthusiasts and consumers who are after the minimalistic looks of less RGB or those that are after stealthy builds. Furthermore, the CPU block supports all sockets from mainstream AMD and Intel processors and this includes AM5 and LGA 1700 out of the box. The base material of the block is copper.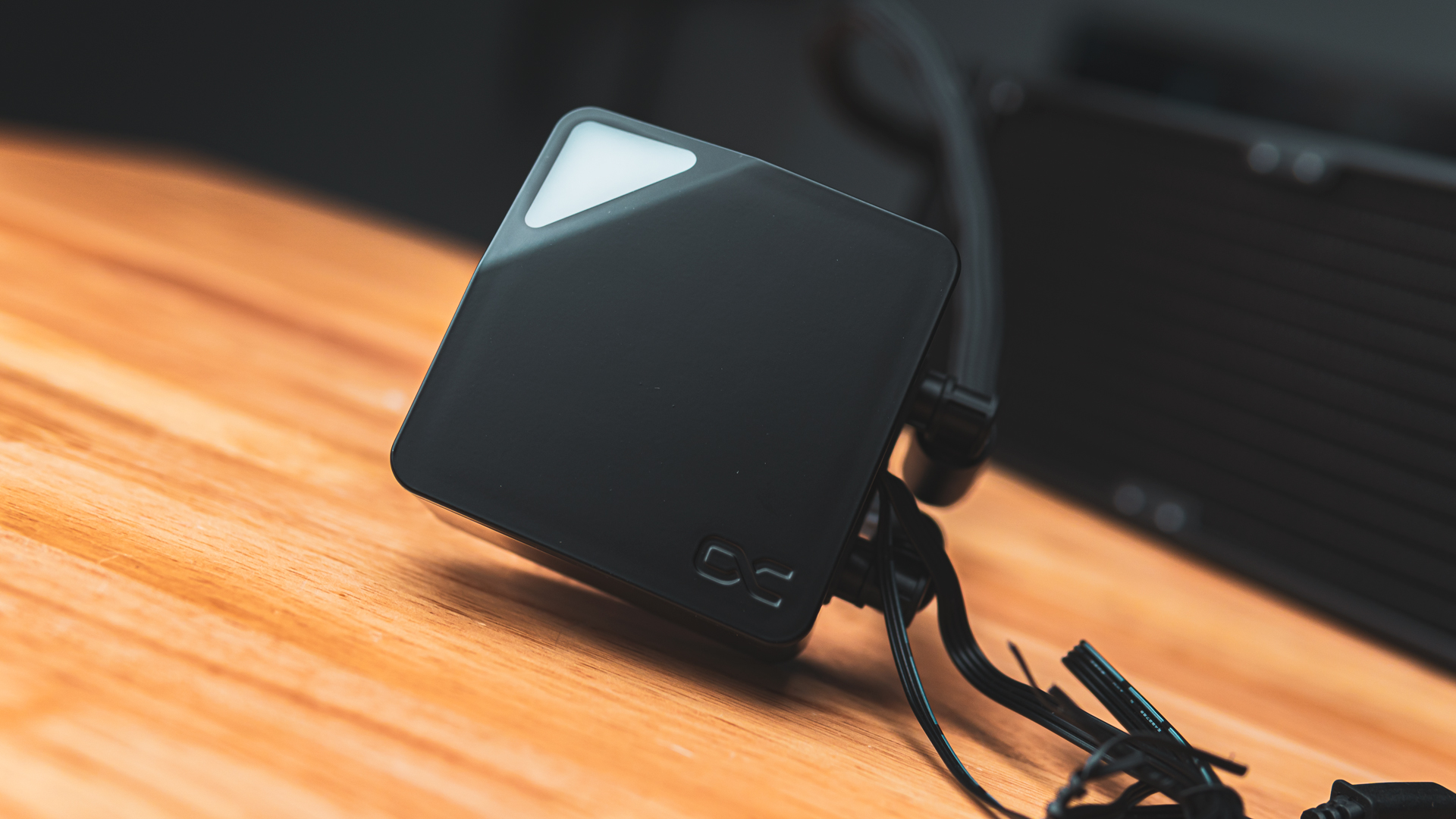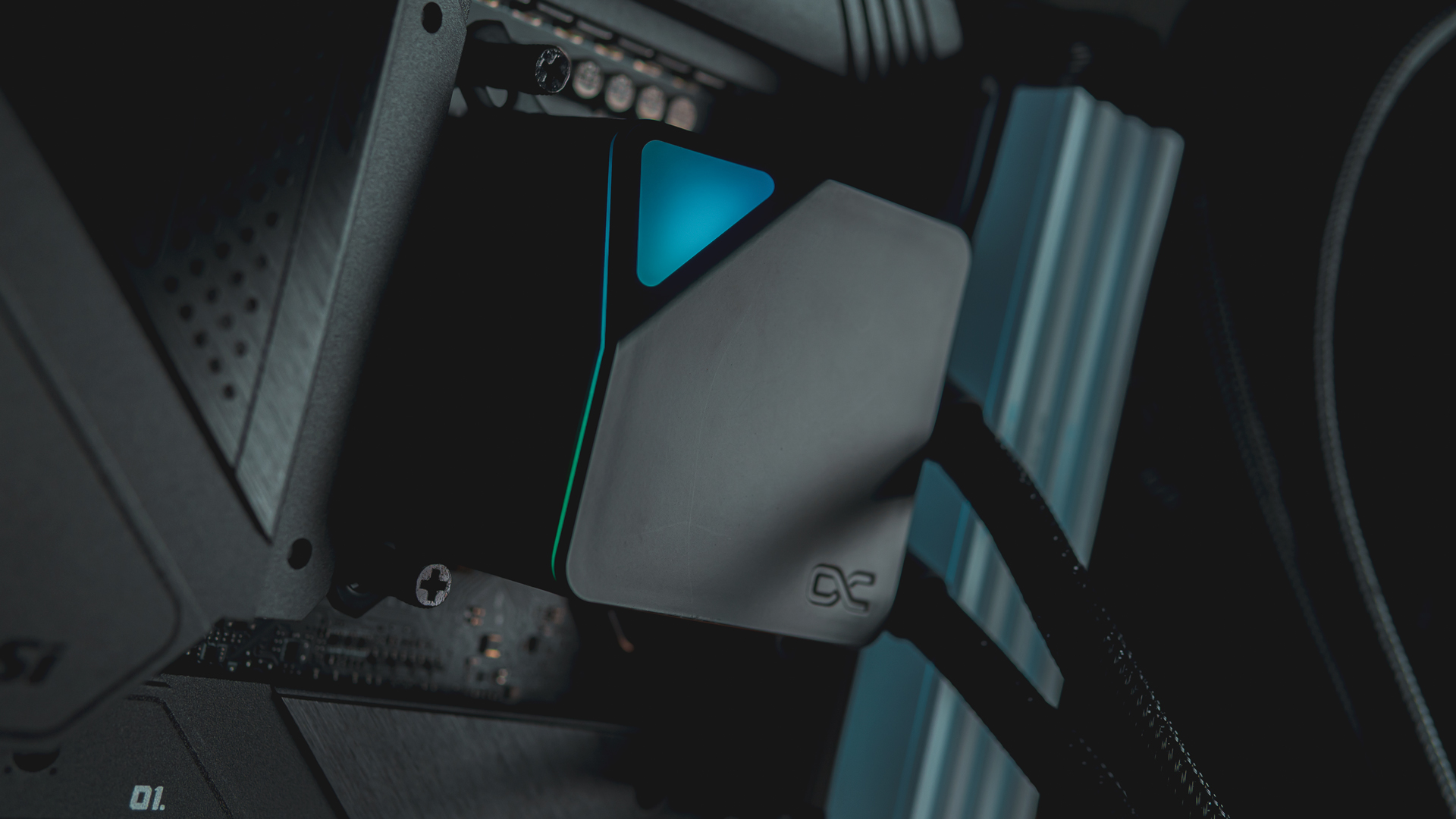 Additionally, this cooler also is available in the forms of 240mm, 280mm, 360mm, and a whopping 420mm in radiator sizes. Do however take note that these coolers are only available with an aluminium radiator and not copper unlike the Eisbaer AIO. The Core 120 fans that will be attached to the radiators are rated to spin at a maximum RPM of 2500. This is indeed insanely fast and almost reaching the territory of the Noctua IPPC3000 Industrial. One thing to remark here is that with faster fans, the louder they tend be and we will be analysing this later on.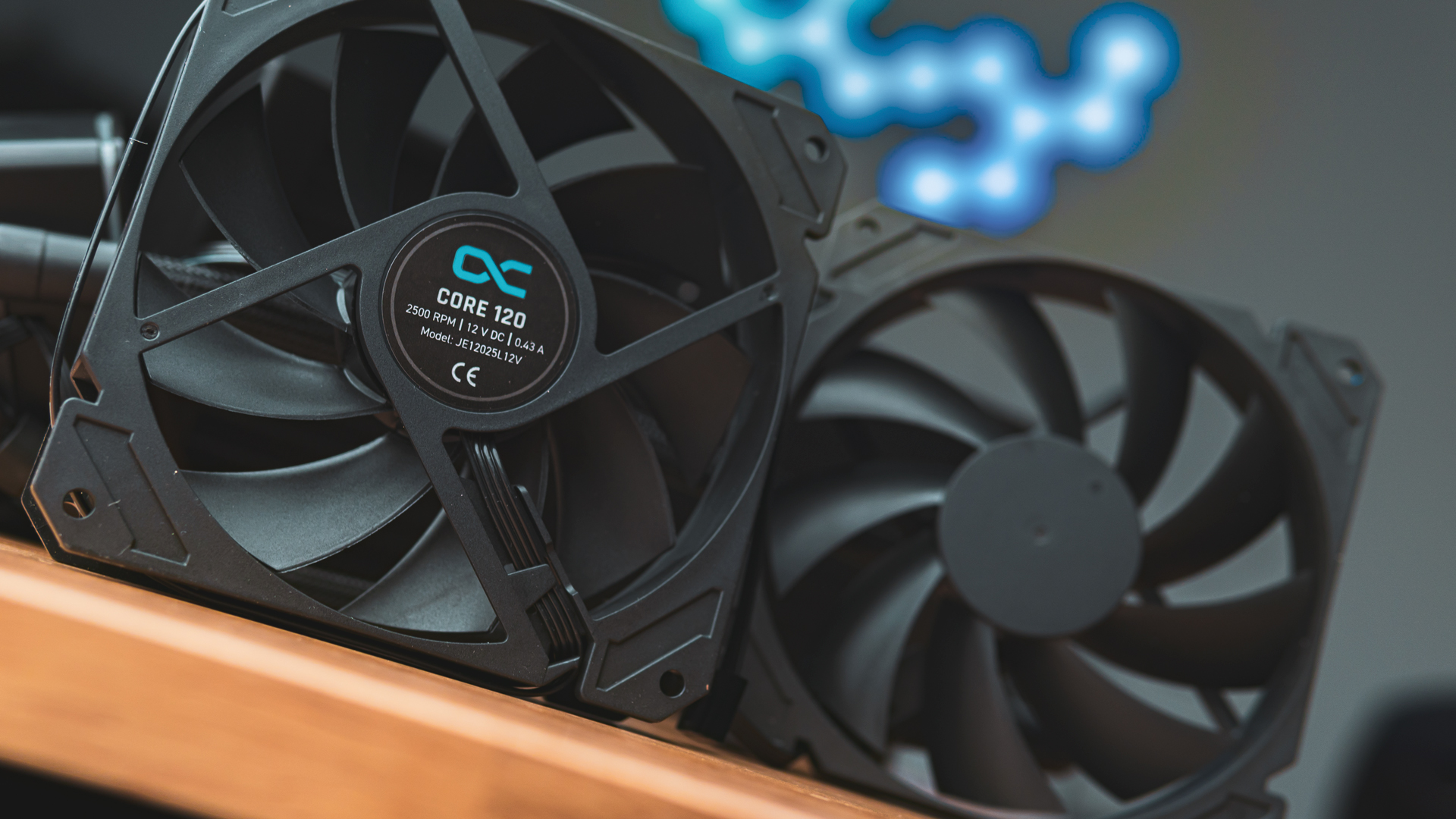 To keep the cost down, Alphacool has gone with the less is best approach. The bundled fans are not some eye catching fan design like the Lian Li Unifans or EKWB Vardar DRGB units, but they are crisp, plain and simple in design, and rely heavily on the premise that they can go up to the advertised rpm rate of 2500 as a selling point. The thickness of the radiator is also eye catching. Measuring at 38mm thick, the radiator of the cooler stacks up side by side with the industry's best AIO cooler currently, the Arctic Liquid Freezer. Going for a thick radiator is bound to tick all the right boxes for enthusiasts out there. The T38 in the product name finally makes sense as I was bummed at to what the T38 stood for since Alphacool does not go about naming their products like this.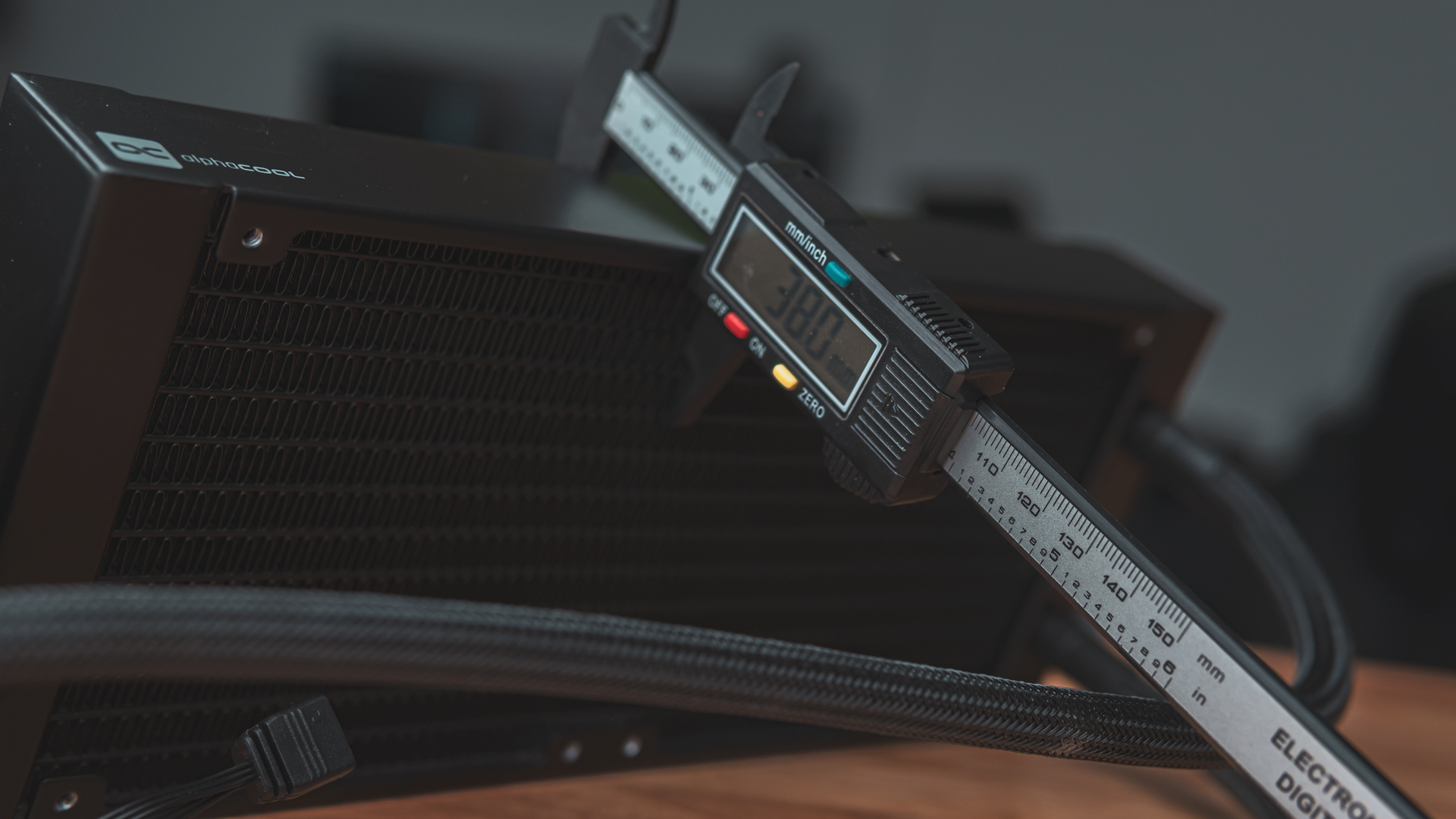 Alphacool claims that the radiator to have a fin per inch level of 19, but my measurement was only 16. Regardless of that, with lesser fins per inch, more air can actually pass through to further aid the cooling of the coolant flowing through and thus, faster cooling times for our processors.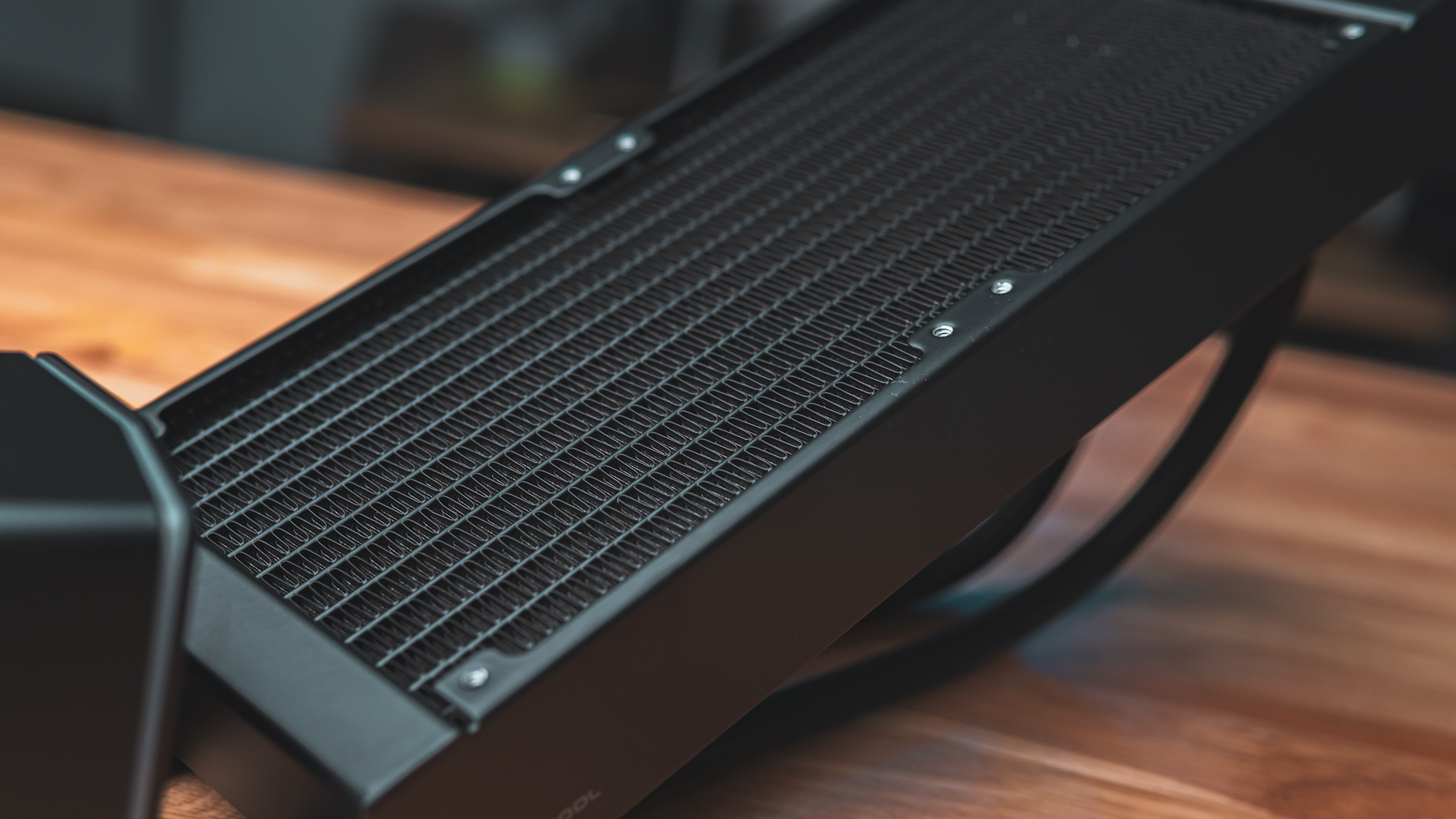 Test Setup
Our testing methodology is to analyze the fan noise levels in relation to it's fan speed, the link between fan speed corresponding to the highest temperature recorded, and lastly an individual fan test on the volume of air that can pass by a stationary point.
Below are the specs of our test bench:
Processor : Intel i9 12900K
Motherboard : MSI Z690 Tomahawk Wifi
Ram : T-Force Xtreem ARGB 3600mhz 16GB X4
Storage : Sabrent Rocket 4 Plus NVME 1TB
GPU : Zotac GeForce RTX 3080 Trinity OC
PSU : Cooler Master MWE Gold 1050W V2 PG5
Results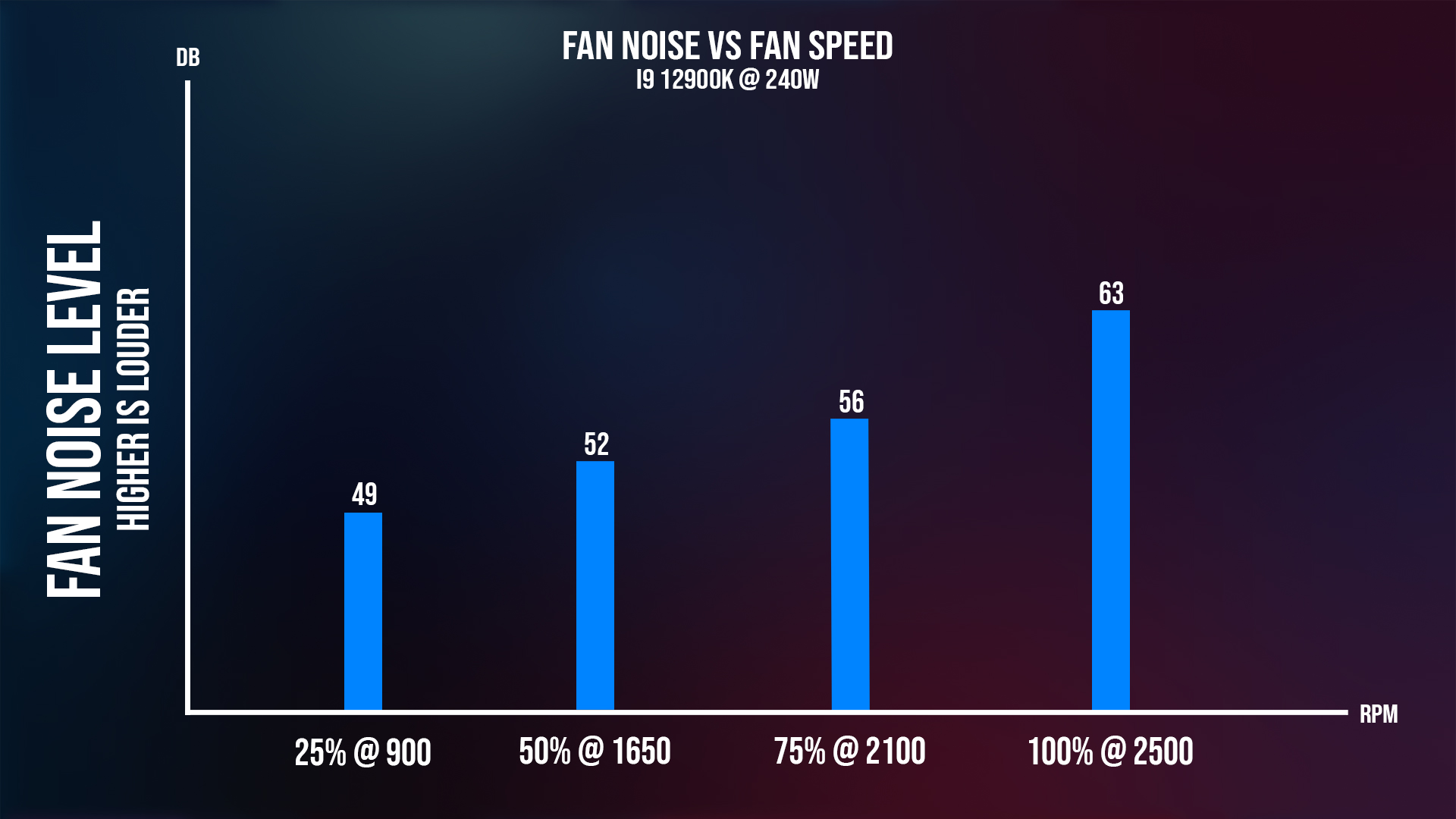 Our ambient noise levels were in the region of 38dB – 41dB, the test was carried out by measuring the noise output from the fans on the radiator via a decibel meter which was placed 15cm away from the configured setup. As per logic, there is an increase in noise levels as the fan speed ramps up, and the maximum recorded level was 63dB when the fans were cranked up to revolve at 2500rpm. Some of you out there may find this hard to deal with but for me this is rather okay as I am quite used to the noise levels of the Noctua IPPC3000.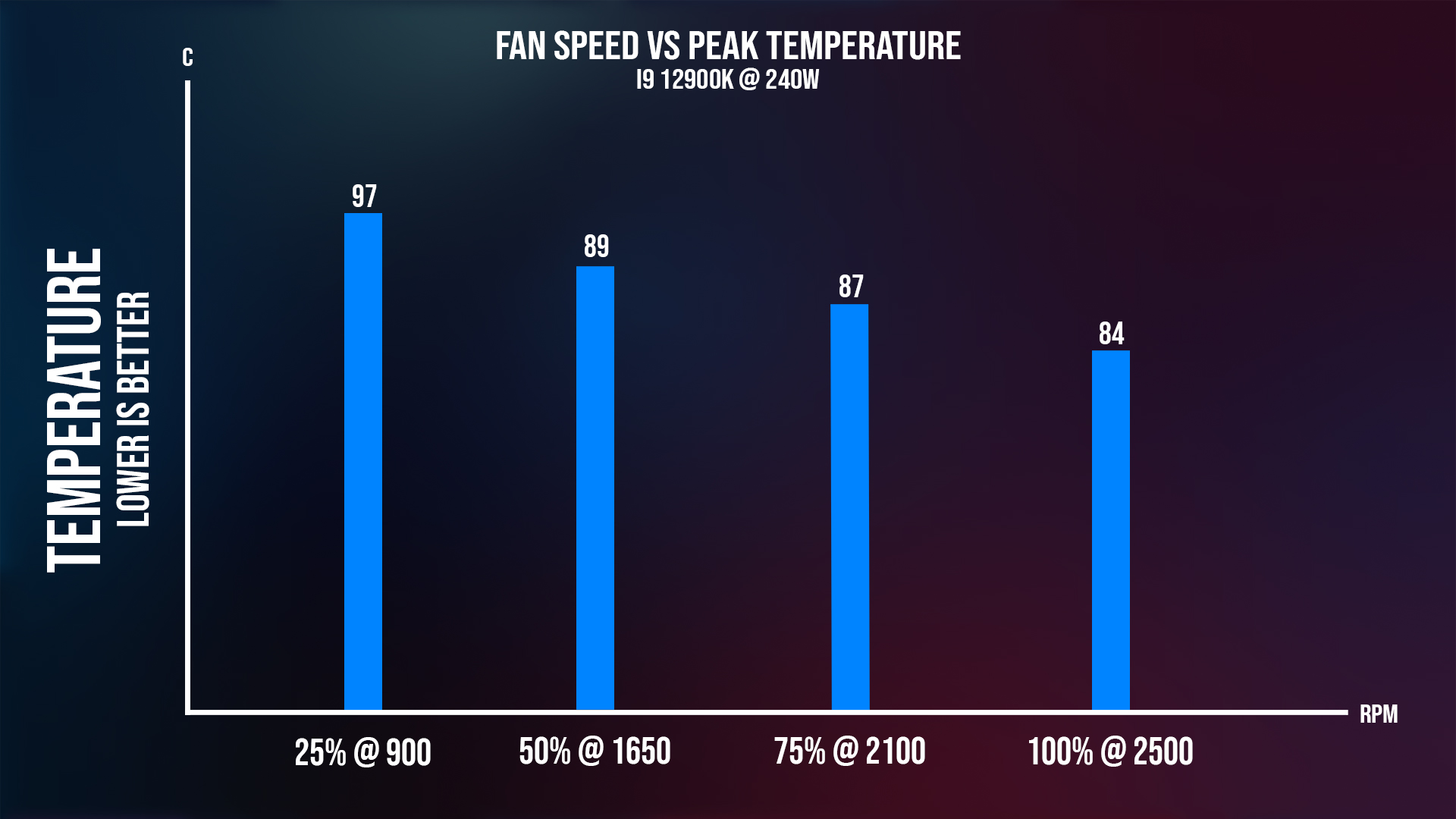 Moving on to our second test, where we look out for the highest temperature obtained in relation to the fan speed. Our unit of the Intel Core I9 12900K draws out 240W of power constantly when we run this test. What amazes me here is that, when the fans are running at a bare minimum of 25% or 900rpm, the processor is managed to be kept at a max temp of only 97°C. Please bear in mind that this is an I9 12900K and the maximum temperature recorded when the fans were running at full speed was a mere 84°C while drawing up to 240W of power. The ability to actually keep this beast in control is a tremendous statement of cooling capacity in my honest opinion. A huge Kudos goes to Alphacool for this sincerely.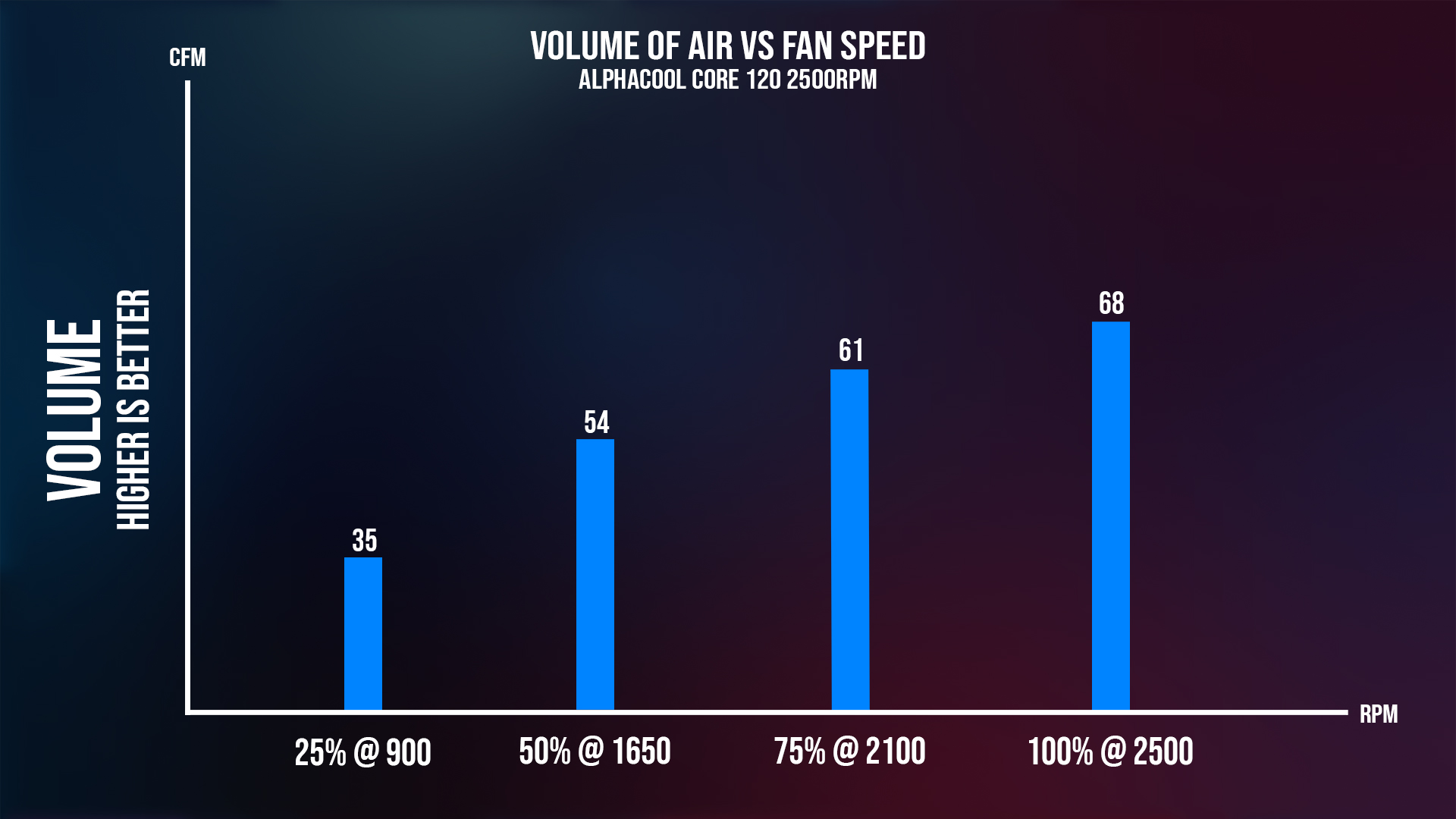 Our final test was to measure the volume of air flow. This was done by constructing our square duct for the fan to project into and placing an anemometer at the end of the duct. The formula to calculate the required data is as follow:
Air Flow in CFM = Flow Velocity in Feet Per Minute x Duct Cross Sectional Area
Alphacool claims that the Core 120 fans generate a CFM reading of 62.8 CFM. We managed to reach a maximum CFM of 68 when the fans were running at full speed while the lowest CFM recorded was 35 at 25% speed or 900rpm. The only caveat for many users or consumers out there is the fan noise when it runs at full speed, so one should take note of this if one is not a fan of loud noises.
---
What I Liked
Affordable price tag. RM350
Sleek and stealthy look.
Easy assembly and installation
Blazing fast fans
Tremendous performance
What I Disliked
Cheap looking fans.
Aluminium radiator.
Whine noise when the pump has to increase its flow rate.
---
Verdict
The Alphacool Core Ocean T38 is indeed a great product. It slots in perfectly in Alphacool's already condensed portfolio and is exceptionally priced well. As for value for performance, I dare concur that this particular all in one liquid cooler sits right there at the top alongside many great coolers such as the Arctic Liquid Freezer II, the Enermax LiqTech II and few others. I only wish Alphacool would reflect on the products shortcomings and be sure to update the cooler and its accessories to stand toe to toe with flagship coolers from competing brands. For this edition of my review, I would love to award this cooler the new BG Best Value Award for All In One Liquid Coolers.