ARCTIC is a well-recognized name in the realm of PC Cooling and Thermal Pastes. Renowned for their ARCTIC P12 fans, MX-5 thermal pastes, and the highly acclaimed Freezer 34 Esports Duo air cooler that made waves in the market. But now, they've taken things to a whole new level with the Liquid Freezer II 360 AIO (Abbreviated to LFII360 in this review). This cooler isn't just their top performer; it's also their most prestigious offering, designed to take on the mightiest of modern CPUs.
In this review, we'll explore the cooler's specifications, break down its unique design, put it through rigorous testing to gauge its performance, and of course, discuss how it stacks up against AMD Ryzen™ 9 7900X. If you've been following ARCTIC's journey like I have, you'll know that they've consistently delivered impressive cooling solutions, and this one is no exception.
Specifications
Socket Compatibility
1700, 1200, 115X, 2011-3*, 2066* *Square ILM, AM4, AM5
VRM Fan Speed
40 mm, 1000—3000 rpm (PWM controlled)
Pump Speed
800—2000 rpm (PWM controlled)
Fan Speed
200—1800 rpm
Fan
ARCTIC P12 PWM A-RGB – 120 mm Fan x3
Airflow
48.8 cfm
Static Pressure
1.85 mmH2O
LED
12 A-RGB LEDs per Fan
Cold Plate
Copper, Micro-Skived-Fins
Thermal Paste
ARCTIC MX-5 0.8g x 1
Power Consumption
Copper, Micro-Skived-Fins
Radiator Dimensions
398 (L) x 38 (W) x 120 (H) mm
Pump Dimensions
78 (L) x 53 (W) x 98 (H) mm
Connectors
Cooler: 4-Pin PWM Connector
LEDs: 3-Pin 5 V-DI-GND Connector (ARGB 3Pin)
Warranty
6 Years
First Impression & Installation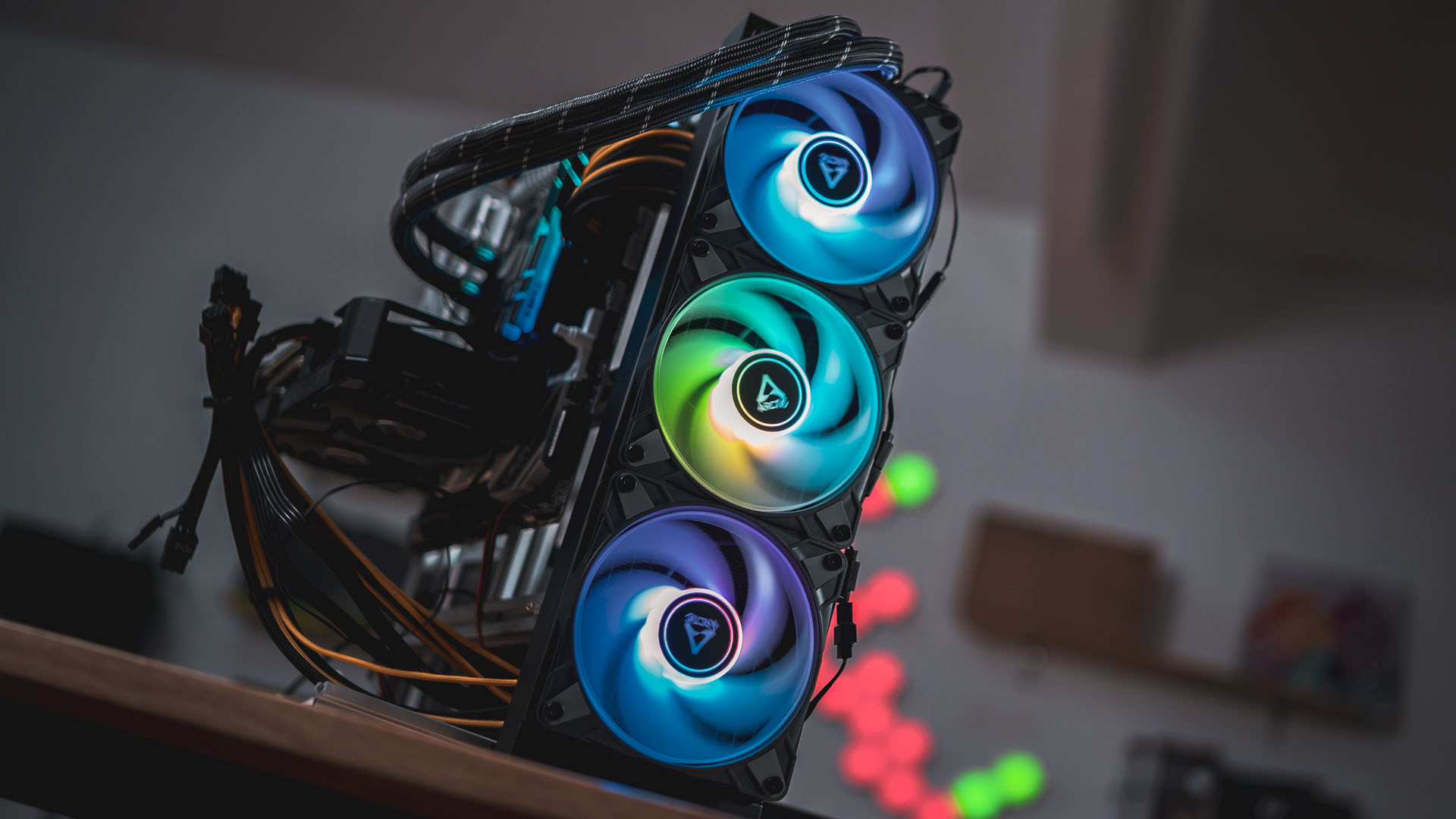 One thing that immediately caught my attention is the fact that the Liquid Freezer II 360 A-RGB isn't just about raw performance – it's also visually rugged. ARCTIC has poured their expertise into crafting a cooler that not only tames the heat but also adds a bold touch to your rig with its design.
Unboxing the LFII360 presents a refreshingly straightforward experience. As you open the package, you'll find the AIO accompanied by three pre-assembled fans and cables smartly arranged along the side profile – perfect for those who dislikes the cable management process. Moreover, inside the box, you'll discover a comprehensive set of assembly plates designed to cater to both Intel and AMD sockets mentioned above, and a tube of ARCTIC MX-5 thermal paste.
ARCTIC has taken a modern approach by forgoing a printed assembly manual. Instead, they've integrated a QR code that can be scanned to access the online assembly manual. This digital resource is just a scan away, providing convenience and eco-friendliness while ensuring that you have all the information you need at your fingertips.
Installation
As the fans are already pre-installed, all that was needed is to mount the pump on to the motherboard. Following the instructions, I simply assembled the AM4/AM5 mounting plates and secured the pump. Notably, the AM4/AM5 plates feature an offset placement for enhanced cooling. This feature is worth highlighting due to the chiplet architecture of AM5, where the majority of heat emanates from the chip's south side.
Features
European Hardware Awards 2022 – Best CPU Cooler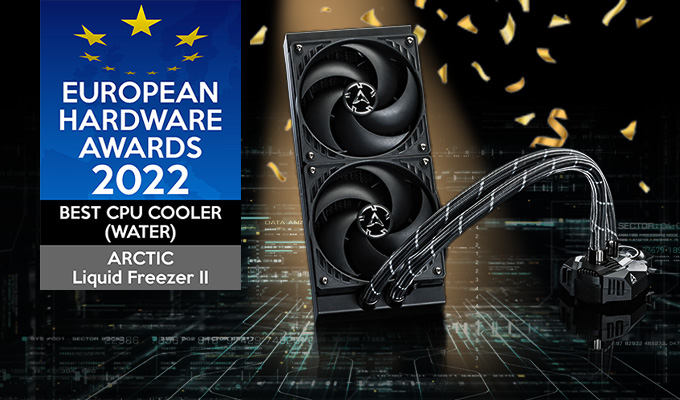 Here's a fun fact that underlines the excellence of this cooler: the Liquid Freezer II 360 A-RGB proudly clinched the European Hardware Award 2022 for the best CPU water cooler. That's no small feat and speaks volumes about the innovative engineering and dedication that ARCTIC has put into designing this.
Versatile and Optimized Design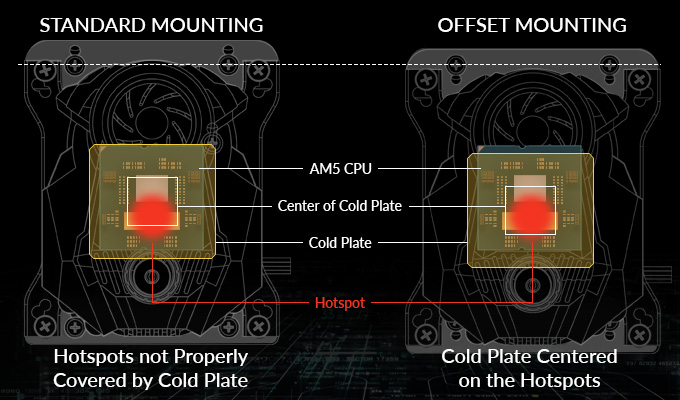 The ARCTIC Liquid Freezer II 360 A-RGB showcases versatility by embracing a wide range of processor compatibility. Additionally, the package includes a specific mounting plate catered to AMD Ryzen's latest processors, featuring an offset arrangement for improved performance. This design caters to the unique layout of the AM5 processors, ensuring optimal positioning of the cold plate over the CPU's hotspot. By directing cooling precisely, this feature enhances thermal performance and facilitates efficient heat dissipation.
Quieter Operation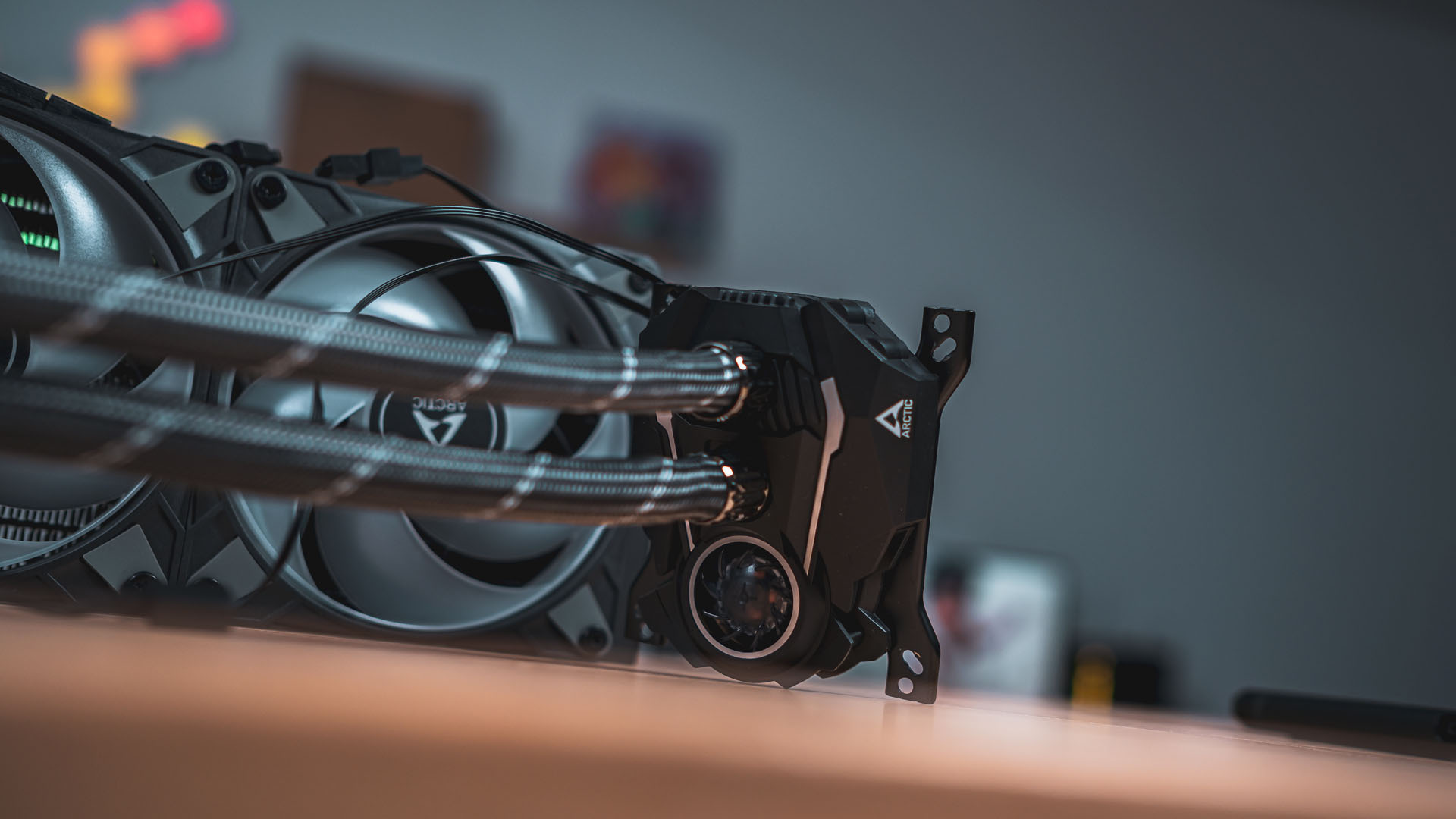 At the core of the Liquid Freezer II 360 A-RGB lies an efficiently silent PWM pump engineered for optimized cooling power. Complementing this, the package includes a 40 mm VRM fan, strategically designed to enhance thermal management.
From a theoretical point of view, this design provides some airflow to the components around the CPU, which includes the MOSFETS and VRM heatsinks. In cases of overclocking or limited airflow, this fan steps in to reduce temperatures. Such a feature contributes to sustained performance and system stability under varying loads – which we will verify in this review.
Peak Performance Radiator and Fan Precision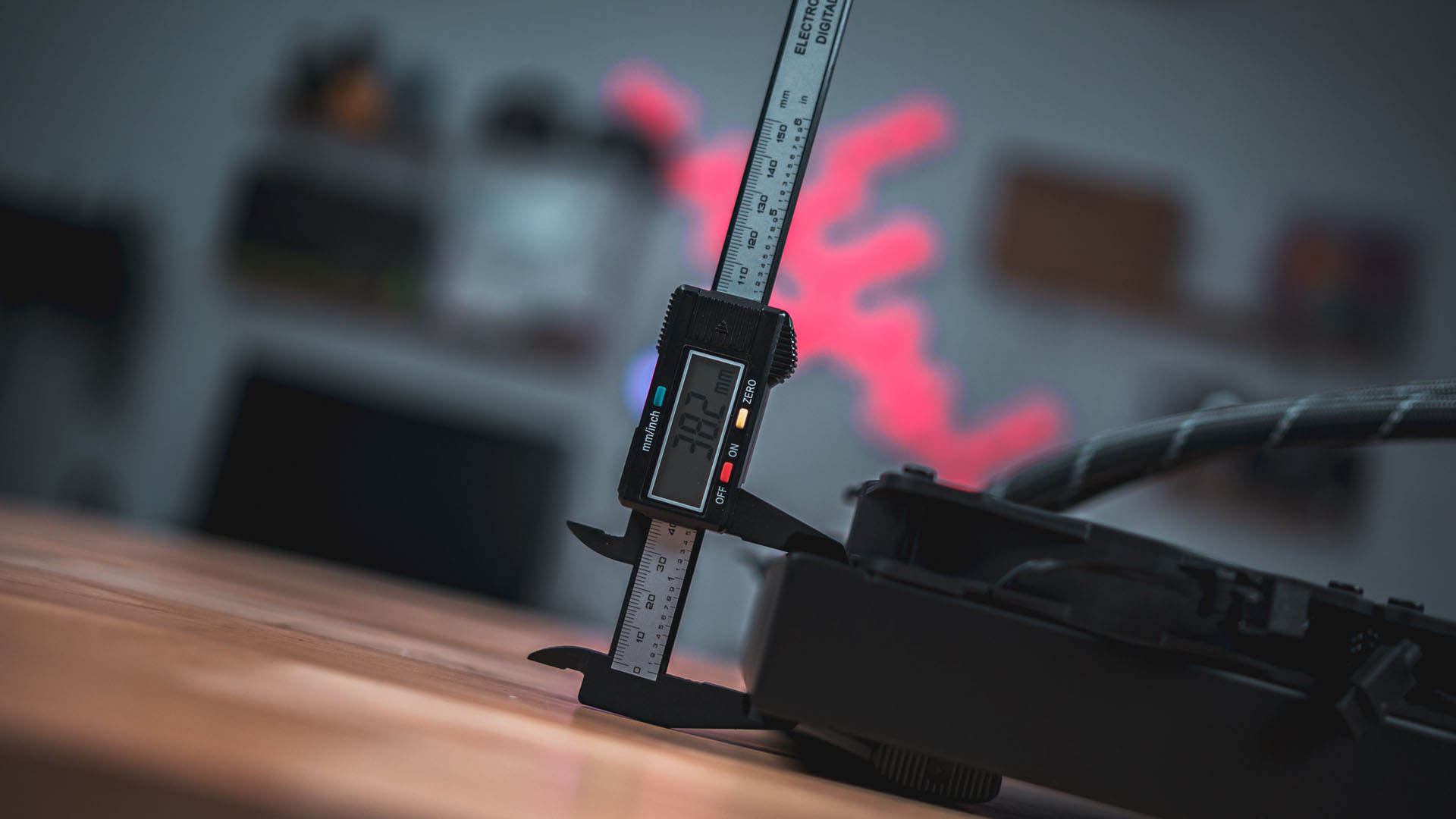 The Liquid Freezer II 360 A-RGB's cooling efficiency is underscored by its radiator design and fan precision. The radiator boasts a generous 38 mm thickness and a high fin density. This deliberate design choice aims to increase the water volume used and subsequently increase the cooling surface area. The objective is to minimize temperature increases, even when the CPU is operating in turbo mode.
Paired with the radiator are three ARCTIC P12 fans. These fans are known for their impeccable performance, making them well-suited static pressure configurations.
Performance
AM5 processors are embracing a new normal at 95°C, and only a handful of coolers can effectively counteract this rising heat under load. Custom liquid cooling or power limitations tend to be the go-to solutions for taming these processors' temperatures. This situation itself sets a challenge to be tackled by high-performance coolers.
For this test, we'll run Cinebench R23 benchmarks under three power setups: without any restrictions, limited to 190W, and at 170W (which is the standard power level for the AMD Ryzen 9 7900X).
Testbench Setup
| | |
| --- | --- |
| CPU | AMD Ryzen 9 7900X |
| Motherboard | ASUS Prime X670E Pro WiFi |
| RAM | 2 x 16GB Kingston FURY Renegade DDR5 RGB 6400 MT/s |
| Storage | Kingston FURY Renegade PCIe 4.0 NVMe M.2 SSD 2TB |
| GPU | AMD Radeon RX 7600 |
| PSU | Phanteks REVOLT SFX 750 Gold |
| Case | Open bench |
| Cooler | ARCTIC Liquid Freezer II 360 A-RGB |
Results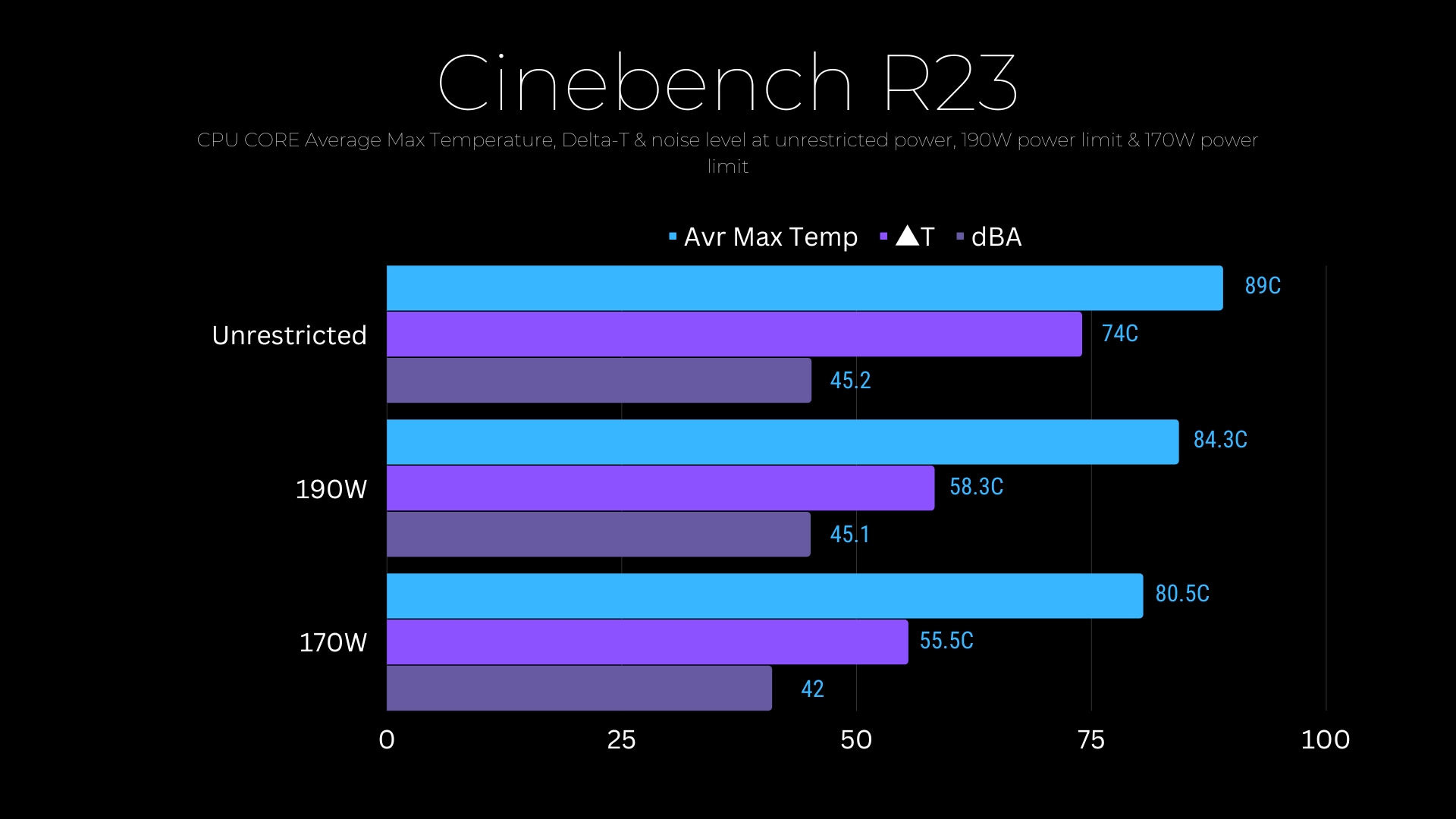 Operating within the motherboard's default fan curve, which synchronously manages the pump and fans through a single cable due to daisy chaining, the Liquid Freezer II 360 A-RGB has adeptly maintained the AMD Ryzen 9 7900X below the 90°C threshold during the strenuous 10-minute Cinebench R23 throttle test. This setting has also pushed the fans to max revolutions with a noise level of 45.2 dB(A) in an open bench setting.
Shifting focus to the 190W and 170W power limit scenarios, we observe a substantial temperature reduction of at least 15°C in Delta-T. These outcomes not only position the Liquid Freezer II 360 in the category of high-performance coolers but also align it with the effectiveness of custom liquid-cooled setups with lower density radiators.
Throughout the testing phase, I carefully monitored VRM temperatures using both an IR thermometer and the on-board VRM sensors. When comparing setups with and without a VRM Fan, we observed significant differences. Surface temperatures showed variances of up to 10°C, while sensor readings indicated smaller differences of around 3°C.
---
What I Liked About The Liquid Freezer II 360 A-RGB
Fast and easy assembly as it comes with pre-assembled fans and cable management.
Paired with good fans – ARCTIC P12.
Decent noise level on an open bench, even better in an enclosed case.
Outperforms its price bracket.
Offset mounting option for AM5. Compatibile with a wide range of Intel sockets as well.
Non ARGB options are also available at a lower price.
What I Wished Was Better
While the VRM Fan feature is a plus point for performance, this also makes it less compatible with a range of motherboards. Incompatibility list can be found on their online manual – https://support.arctic.de/en/lf2-360-argb
I would've prefered if the triple p12 fans are not daisy chained to the pump so that I can have more freedom in running different speed settings for both the pump and fans.
---
Verdict
In conclusion, the Liquid Freezer II 360 A-RGB emerges as a strong contender in the high end AIO segment. Its blend of innovative engineering, versatile design, and impressive performance places it not just in the category of high-performance coolers but also alongside custom liquid-cooled setups.
While there's room for improvement, the cooler's achievements and capabilities are undeniably commendable, solidifying ARCTIC's position as a leading player in the cooling solution landscape.
Retailing at the MSRP of RM688, the ARCTIC Liquid Freezer II 360 A-RGB is probably the best bang for the buck in that segment. For those with lighter or heavier configurations, the ARTIC Liquid Freezer II series also comes in 240, 280 and 420 sizes with non ARGB options as well.
Final Score : 8.5/10
---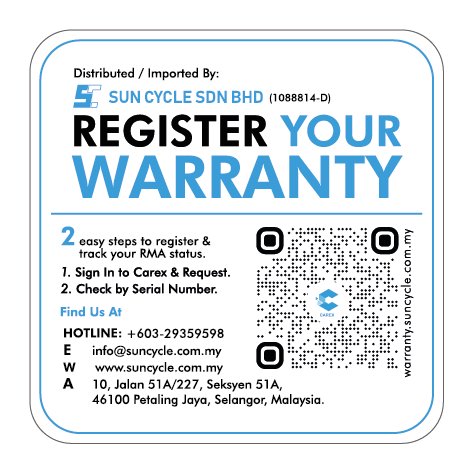 For Malaysians, officially distributed ARCTIC products will carry the sticker above and the ARCTIC Liquid Freezer II 360 A-RGB can be purchased from the retailers listed in the link below :
https://www.suncycle.com.my/where-to-buy
Official ARCTIC product page : https://www.arctic.de/en/Liquid-Freezer-II-360-A-RGB/ACFRE00101A