The ROG Cetra true wireless earbuds are a set of gaming earbuds developed by ASUS' Republic of Gamers (ROG) division. Originally available in a sleek black color, we see a newer Moonlight White variant which was launched in the late quarters of 2022. These earbuds were designed specifically for gamers, with a focus on providing high-quality audio, low latency, and a comfortable fit. In this review, we'll take a closer look at the design, features, performance, compatibility, and overall value of the ROG Cetra true wireless earbuds, highlighting both the positive and negative aspects of the product.
Design & Battery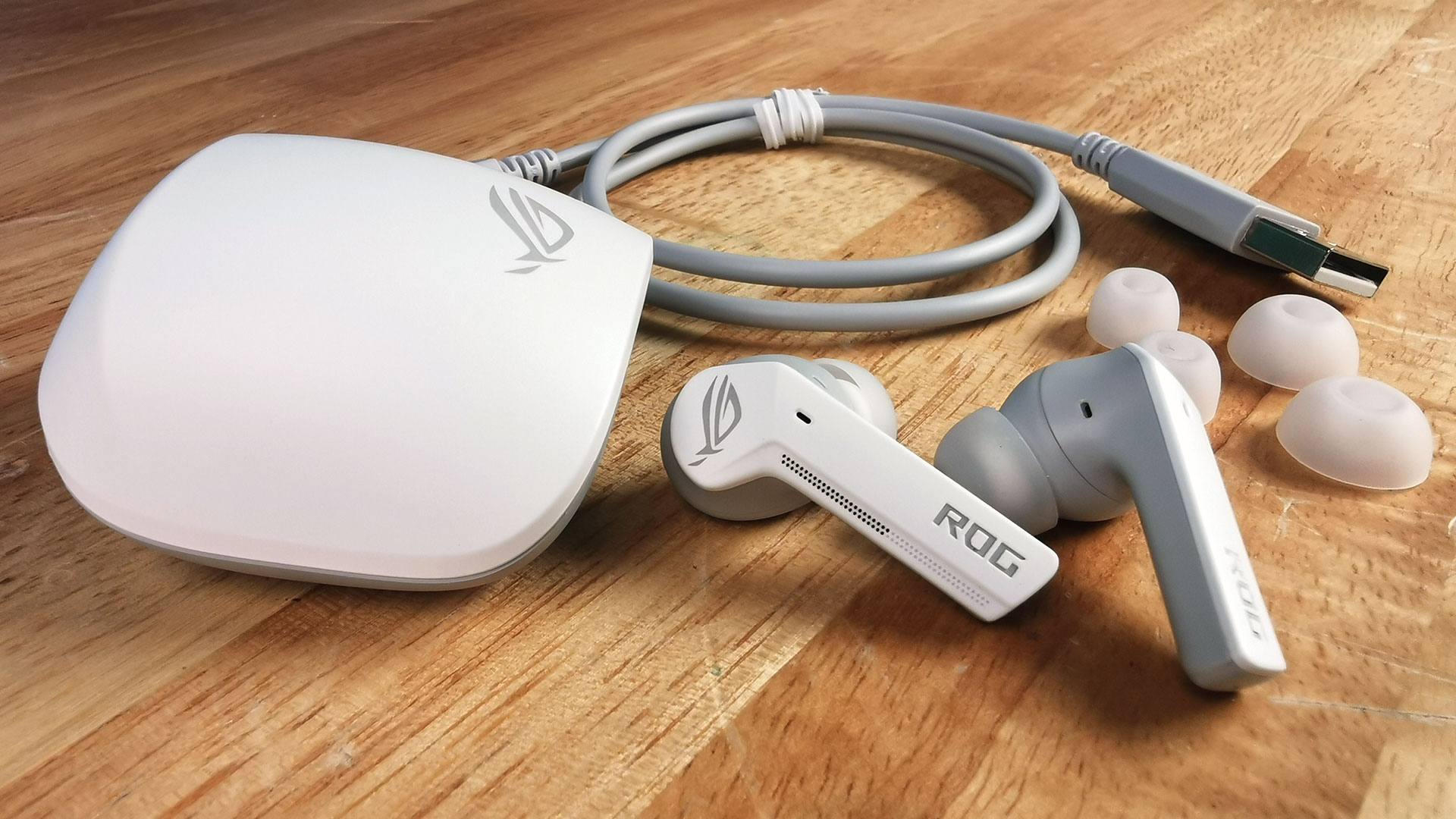 Interface
Wireless
Connector
Bluetooth 5.0
Support Platform
PC
MAC
PlayStation® 4
PlayStation® 5
Nintendo Switch
iPad
iOS
Android
Bluetooth device
Driver Material
Neodymium magnet
Driver Size
10 mm
Headphones Impedance
32 Ohm
Headphones Frequency Response
20Hz – 20KHz
20 Hz – 20 KHz
Microphone Pick-up Pattern
Omnidirectional
Microphone Sensitivity
Microphone Frequency Response
100Hz – 10KHz
Channel
Stereo
Battery
4.8 + 17 hours (ANC On)
5.5 + 21.5 hours (ANC Off)
4.5 + 17 hours (ANC On)
5.5+ 21.5 hours (ANC Off)
Wireless Charging
Yes – On Compatible Charge Pads
Weight
Headphone(each side) 5g
Charging case 42 g
Headphone(each side) 5g
Charging case 42 g
Total 52g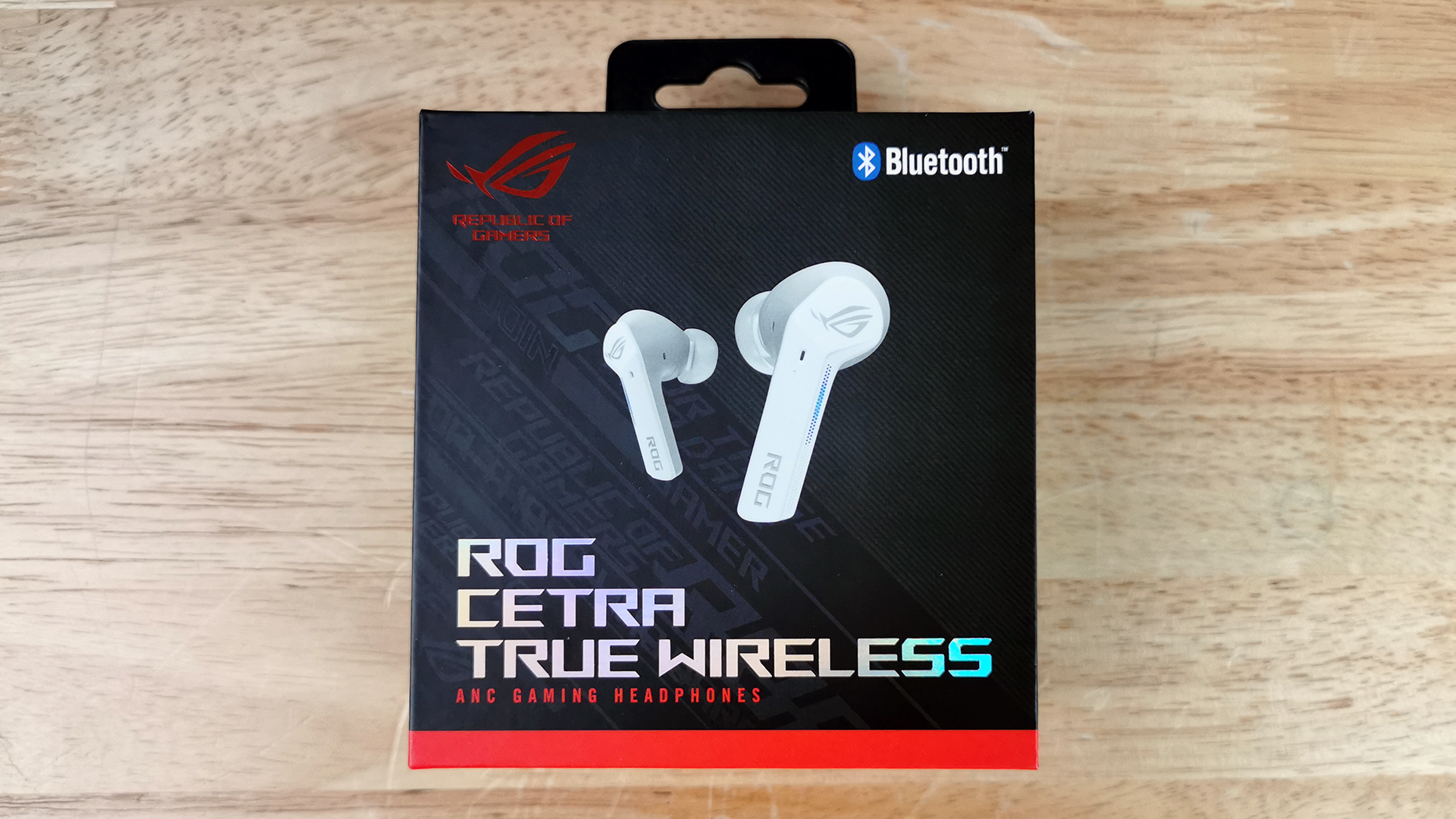 One of the standout features of the ROG Cetra true wireless earbuds is their design as a whole. The charging case itself has a sleek, futuristic look – resembling an aerodynamic weapon pod that belongs in sci-fi settings. While the ROG logo on the outer part of the casing doesn't light up, the logo on the inside is a matrix led array that is customizable via the Armory Crate App. On the front is the battery and connectivity LED indicator and the back is a singular USB-C charging port.
The earbuds themselves have a classic in-ear design with a long stem that positions the microphone closer to the mouth, with the "ROG" text at the bottom end of the stem and an ROG logo in on the top end. The stem also comes with an LED indicator which flashes when removed from the charging case, but as of the current firmware, it doesn't light up when worn. The stem that extends out from the earbuds houses touch-sensitive controls, the left stem for ANC and Voice Assistant controls and the right stem for track controls and alternating audio modes.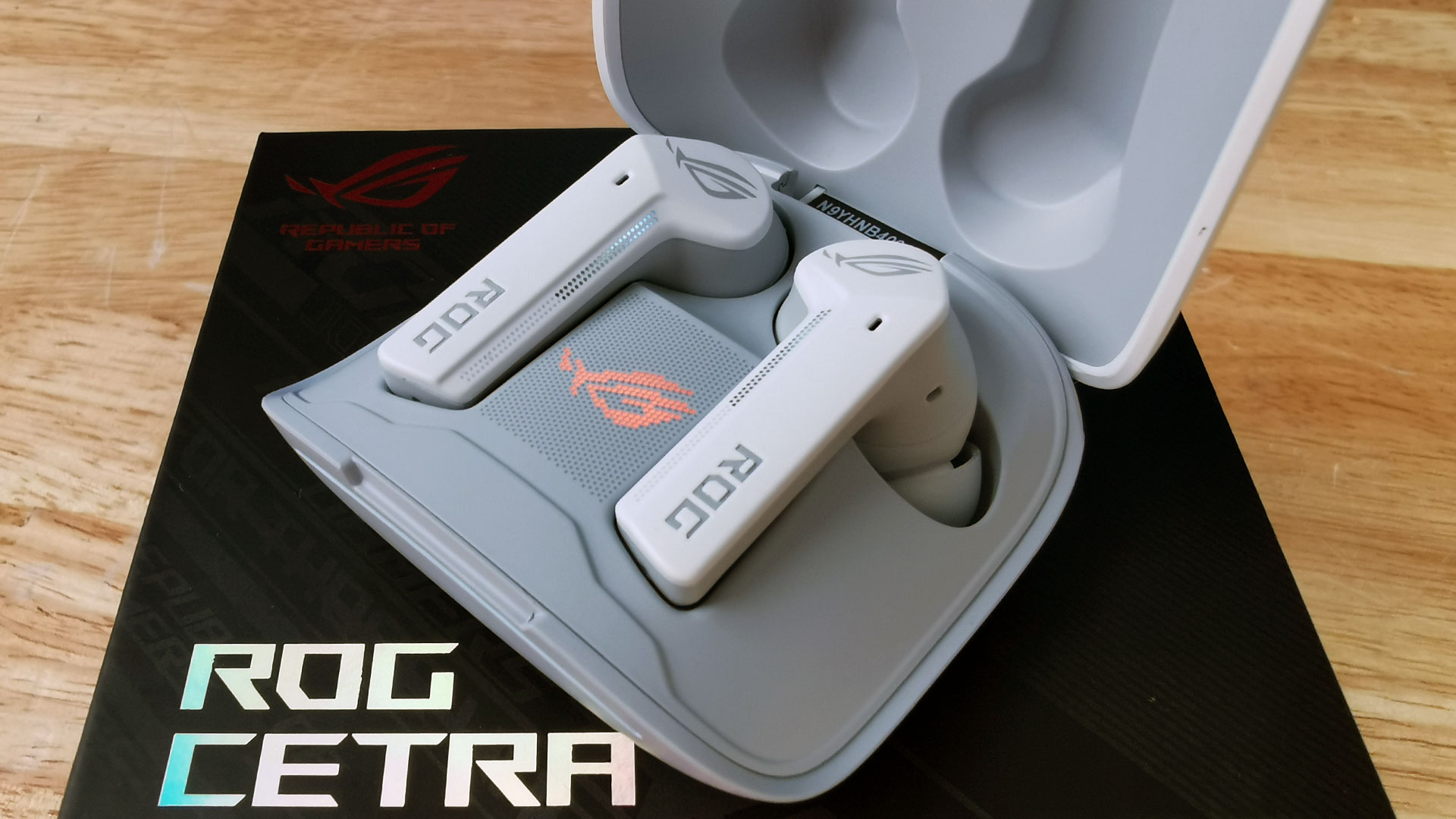 The earbuds are comfortable to wear and have a secure fit thanks to their unique shape, which was designed to fit snugly in the ear. The small, circular shape earbuds fits snugly in the ear and the earbuds are lightweight and comfortable to wear, making them a good option for extended gaming sessions.
The charging case can hold up to about 20 hours of additional battery life. With our testing based on maximum ANC settings at varying volume, the earbuds are capable of producing up to 4 hours of activity per charge and the casing can provide an additional 17 hours. They also have fast charging, with the ability to charge up to 2 hours of listening time in just 15 minutes.
Performance & Features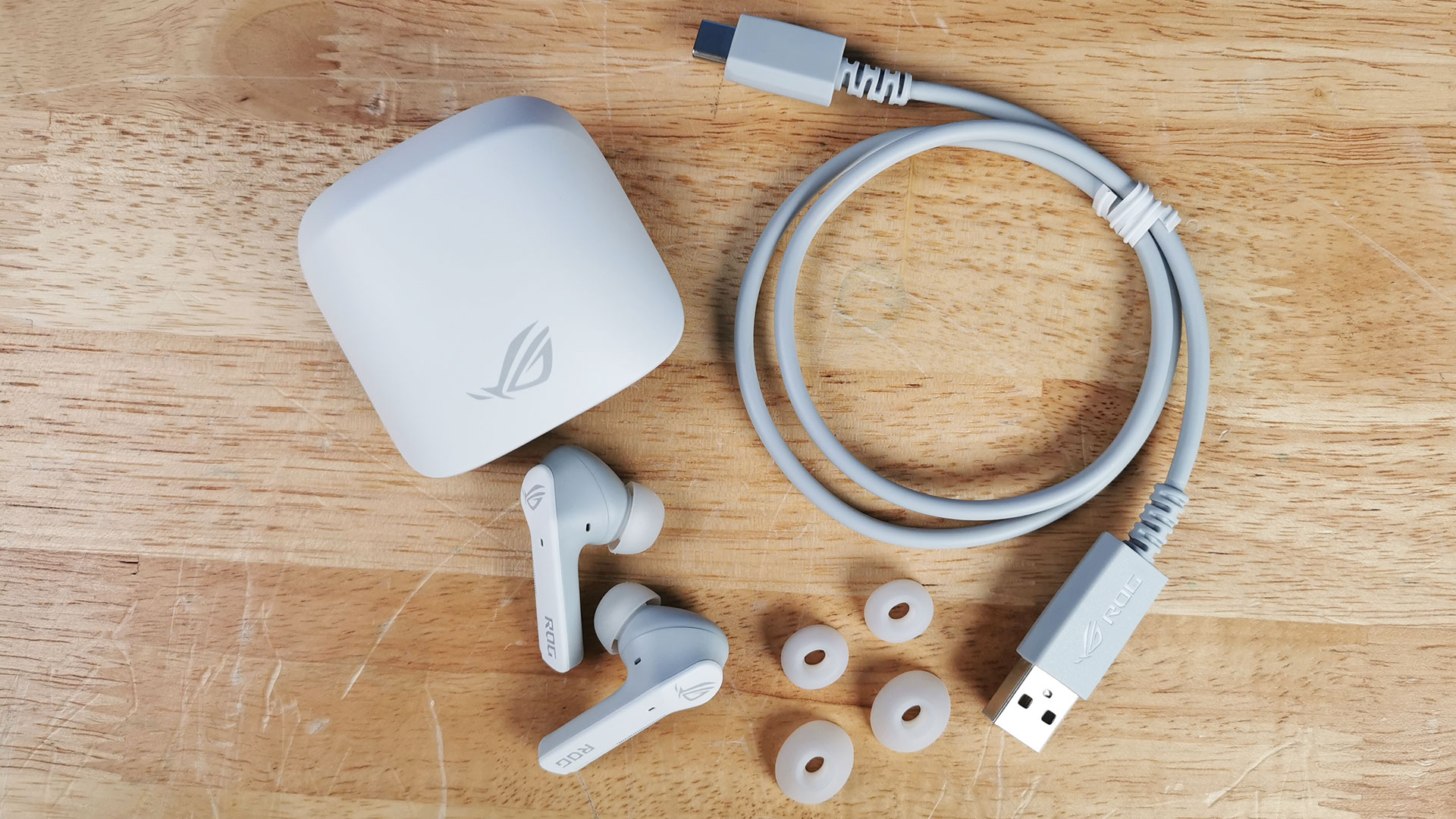 The ROG Cetra true wireless earbuds have a range of features that make them well-suited for gaming. They have low latency audio, which means that there is minimal delay between the audio and what is happening on screen. This is important for gaming because it helps to ensure that the audio is in sync with the gameplay, providing a more immersive experience. Running on BT 5.0, the earbuds have a very stable connection even when used at a distance from the device.
The earbuds also have acceptably high-quality audio for both both music and gaming communication, thanks to their 10mm drivers and omnidirectional mics. The are capable of delivery clear, detailed sound with deep bass and crisp treble. They also have an ambient mode and two levels of active noise cancelling (ANC), which helps to block out external distractions and allow you to focus on the game or vice versa. On the highest level of ANC, it's capable of filtering out most ambient noise, but not to the point where it gets overwhelmingly silent. This makes them a good option for use in a variety of gaming situations, whether you're at home, in the office, or on the go.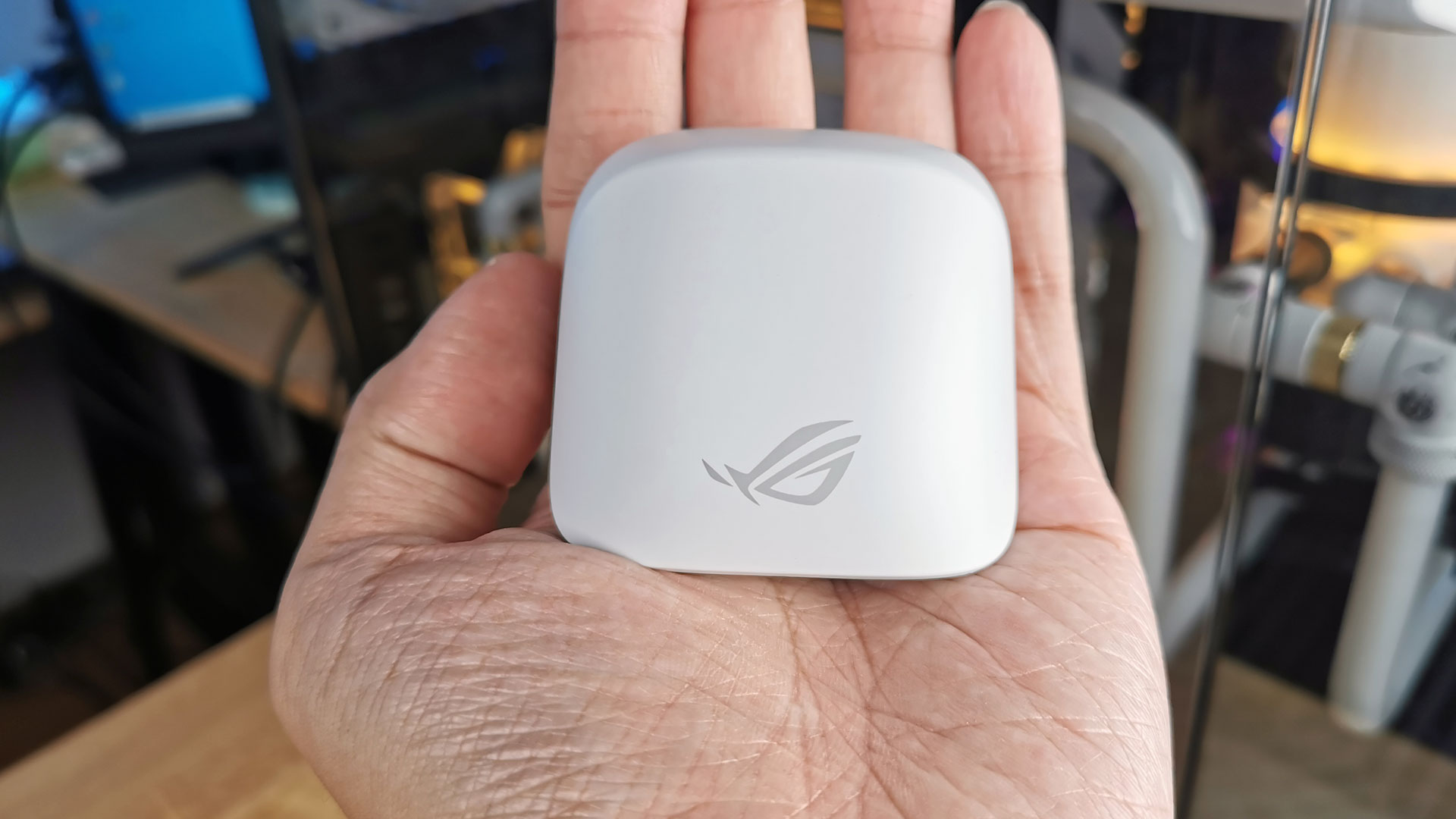 The team behind ROG have also created an accompanying app called the "Armory Crate" that allows you to customize and optimize your audio settings, lighting effects, and even monitor the battery life. The app also provides access to various EQ presets, giving you the ability to tune the audio to your preference. Additionally, it also allows you to set up a gaming profile that includes your preferred settings, making it easy to switch between different gaming situations.
---
What I Liked
Great audio quality for gaming
Really nice aesthetics
Good battery life
Decent ANC
Straightforward controls
Highly customizable with Armory Crate
1 Click Game Mode
What I Wished Was Better
No audio slider
A little too pricey
no aptX support
---
Verdict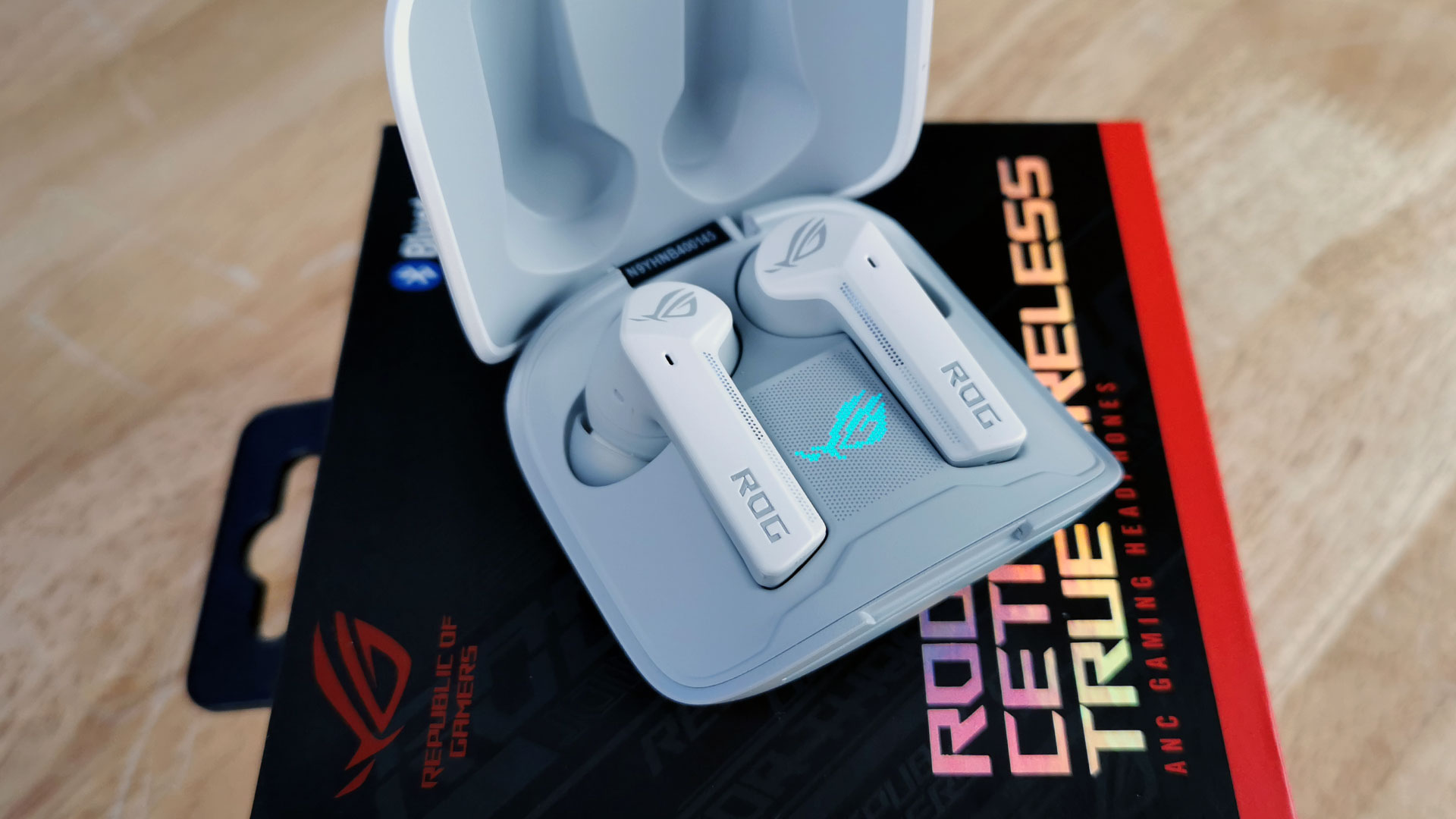 Overall, the ROG Cetra true wireless earbuds offer a high level of performance and reliability for gaming. They have a sleek design, excellent audio quality, and a range of useful features that make them well-suited for gaming. The compatibility with both Android and iOS devices is a big plus. However, some users may experience issues with fit and the touch controls, which can be frustrating.
The new white variant gives an option to match other ROG devices such as the ROG Phone series which are also available in white. The Armory Crate app is also a good added feature as it allows users to customize their audio settings and monitor battery life. However, they may not be the best option for everyone, as they may have some issues with fit and controls.
The ROG Cetra true wireless earbuds are priced at RM 599. This may seem steep for a pair of earbuds, but it's worth noting that they offer a number of features and benefits that make them a good value for the price. In addition to their excellent audio quality and low latency, they also have a long battery life, fast charging, a new white variant and the added convenience of the Armory Crate app. Overall, they are a solid choice for gamers looking for a reliable, high-performing set of true wireless earbuds.