Alphacool has launched their latest Core 1 CPU blocks for custom liquid cooling consumers and enthusiasts alike. The new blocks are also a new step in direction for Alphacool as they seek to rebrand themselves into a bigger industry player.
This new block is available in a few color variants with ARGB and without ARGB lighting. Alphacool will make the black and silver variants with ARGB, while the non ARGB variants will be available in the white, black, and silver color schemes.
A huge thank you for Alphacool goes out for including us in the preliminary testings and providing the retail units.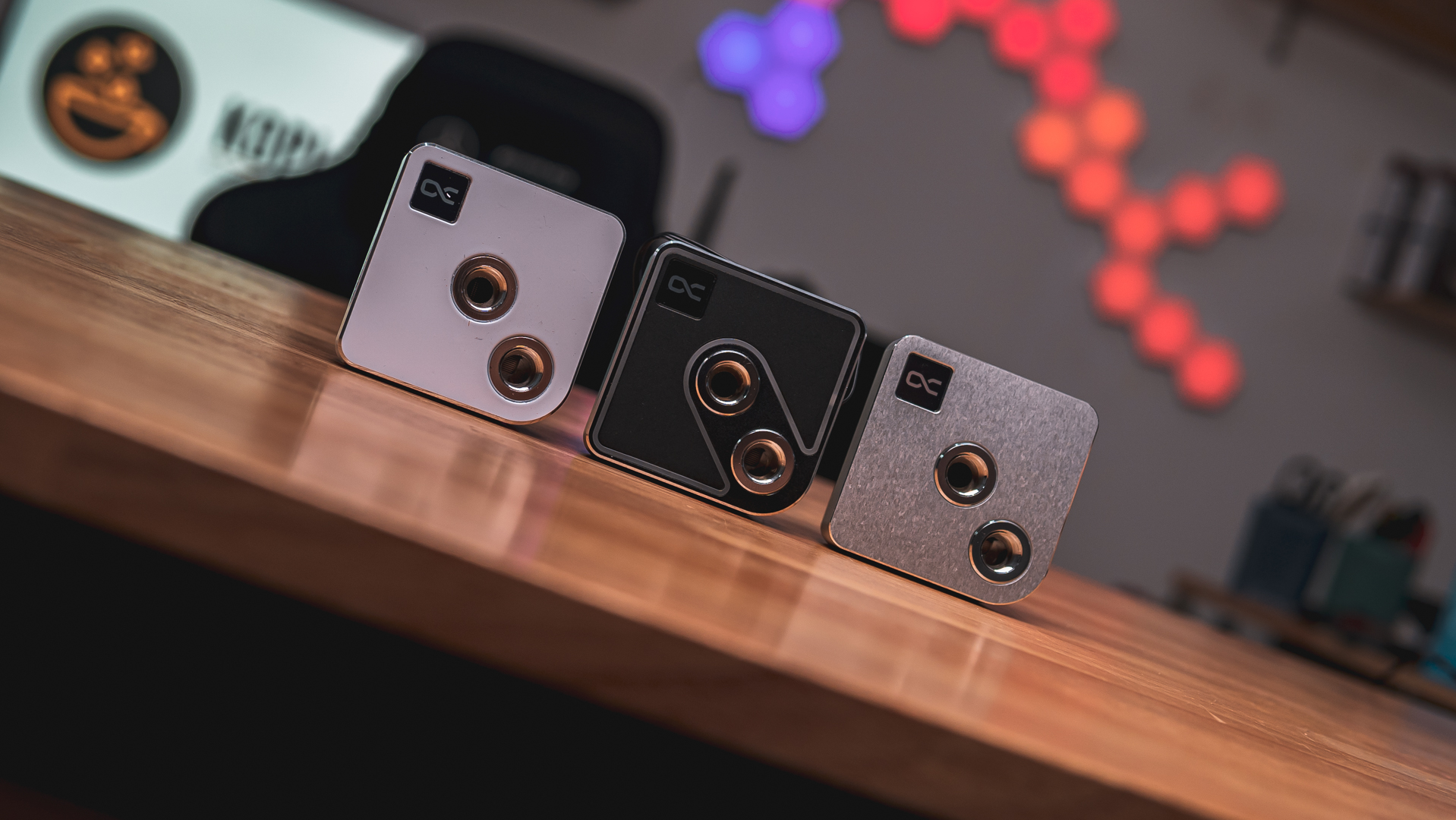 Packaging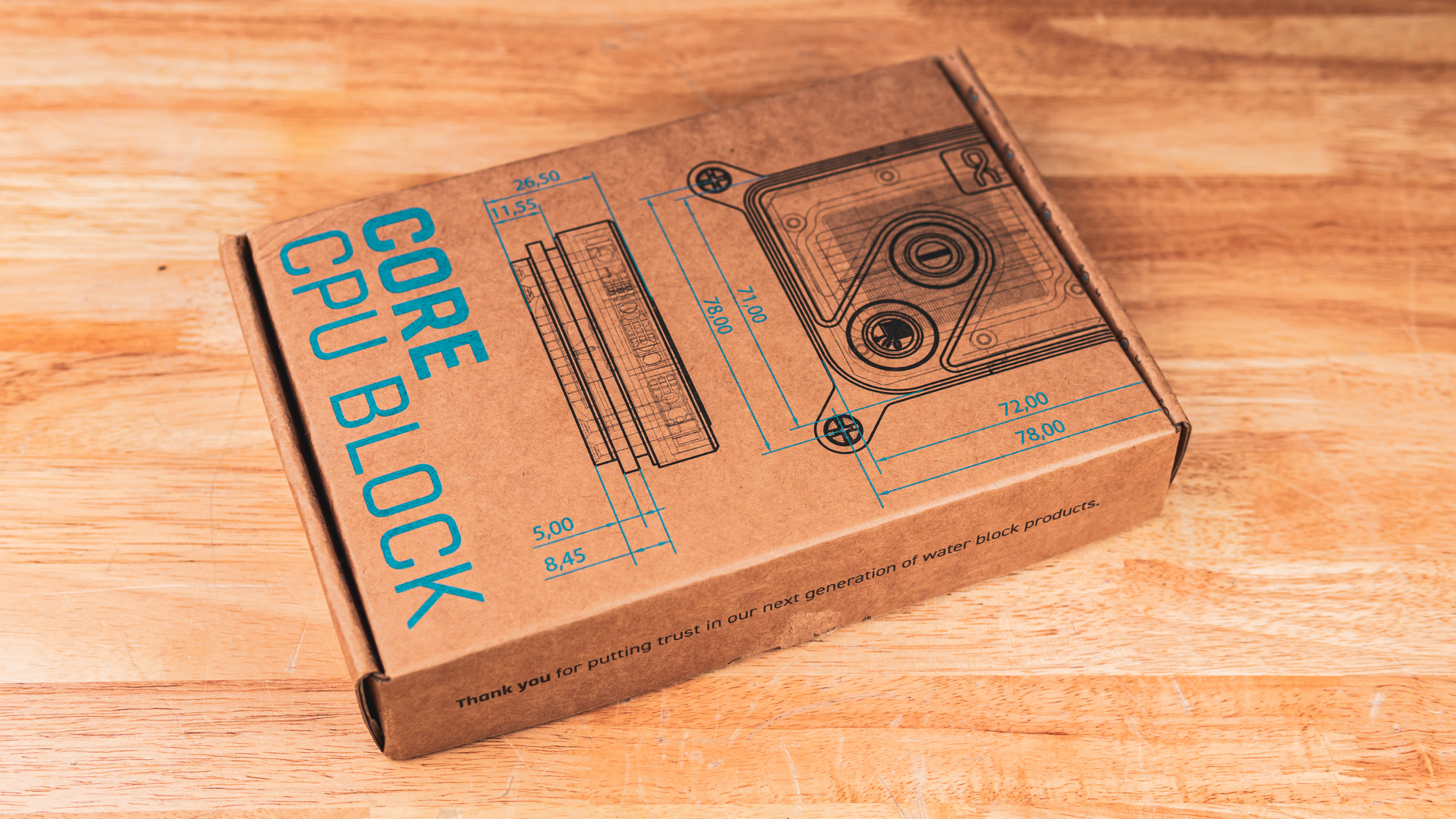 The Core 1 CPU block arrives in a modestly-sized box, striking a balance between being small and medium in dimensions. The box itself is crafted from brown cardboard and features the product name and dimensions printed in a tasteful combination of light blue and black colors. I find it refreshing that the packaging maintains a simple and unpretentious design, avoiding unnecessary extravagance. One notable detail to mention is that the entire package weighs approximately 1KG, providing an indication of the substantial build and materials used in the Core 1 CPU block.
Inside The Box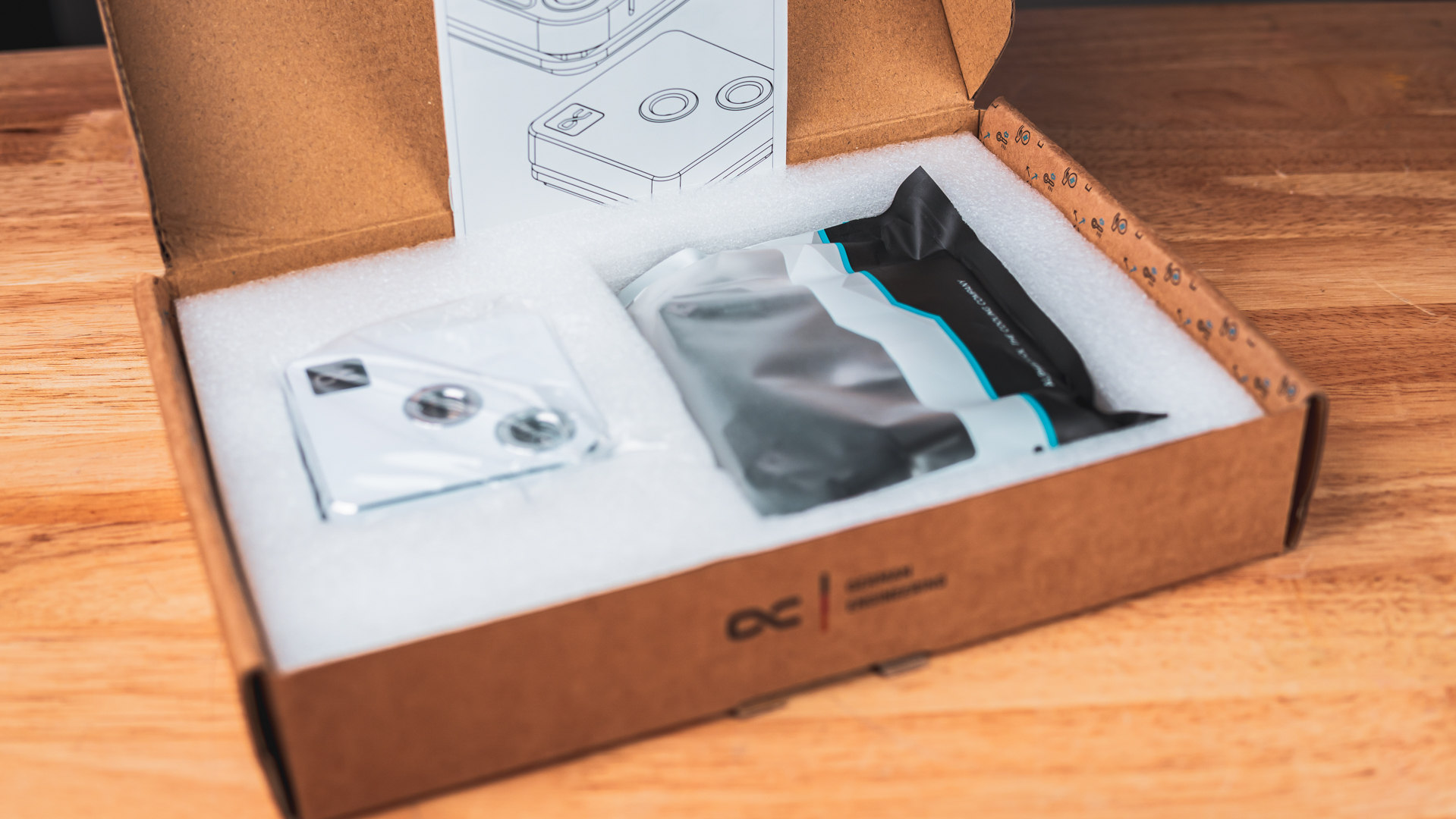 Inside the box, one would see that the Core 1 is neatly tucked on the left surrounded by thick heavy foam. While on the right the manual and accessories are placed within a zip lock bag.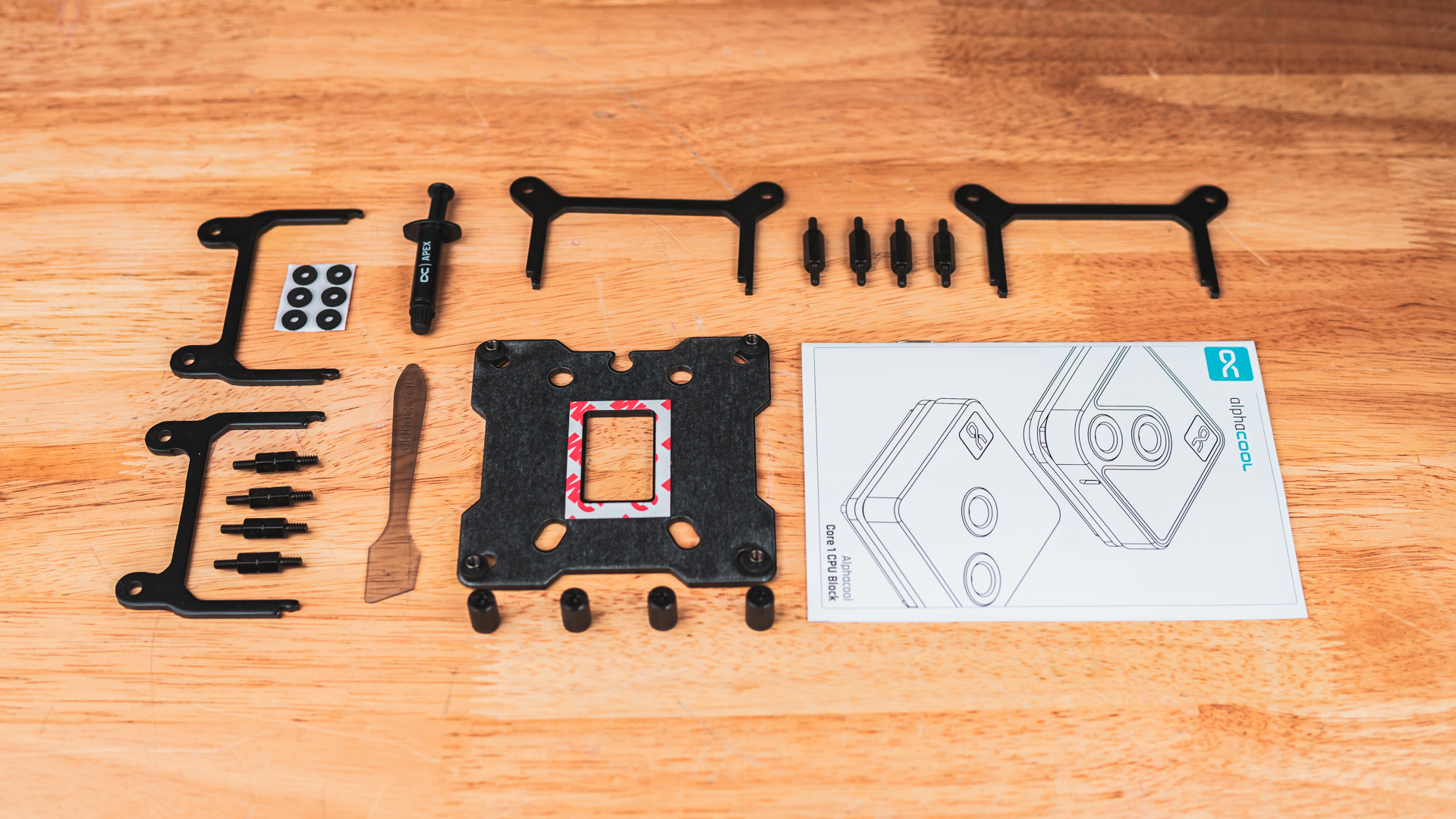 As we inspected the included accessories, we noticed that Alphacool has made a deliberate choice to no longer support older sockets like AM3, AM2, LGA 1151, and LGA 1200. Instead, they have focused on providing support for the latest platforms, including AM4, AM5, and LGA 1700, ensuring compatibility with the most up-to-date systems.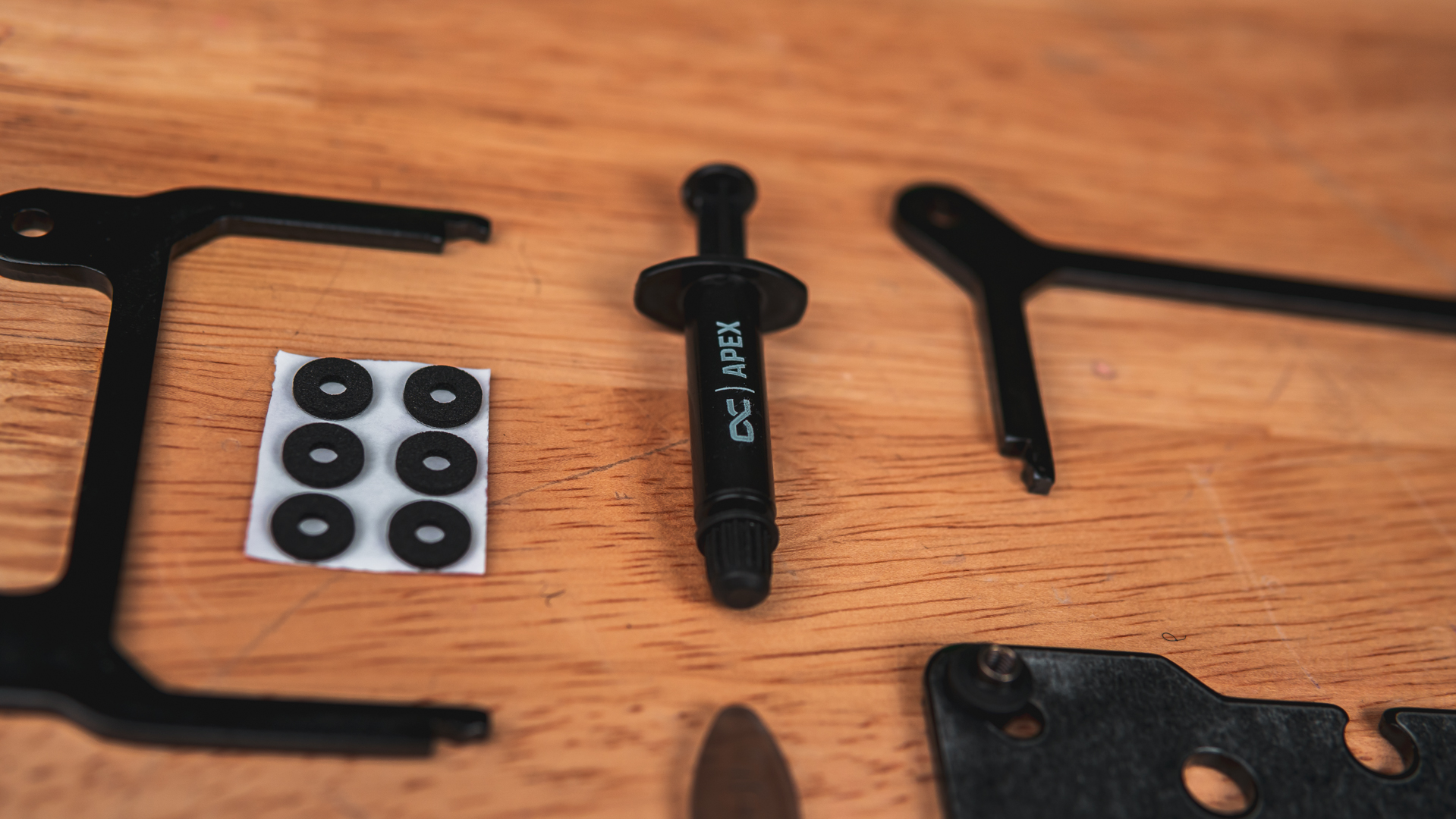 Additionally, each Core 1 CPU block is bundled with a 1g syringe of the highly rated Apex thermal compound, which boasts an impressive thermal conductivity rating of 17W/mk. This ensures efficient heat transfer and contributes to the overall cooling performance of the block, adding further value to the package.
List of Supported Sockets
| | |
| --- | --- |
| AMD | Intel |
| AM4 | LGA1700 |
| AM5 | – |
Additionally, Alphacool has completely redesigned their mounting mechanism, making it much simpler and more straightforward. Gone are the days of dealing with numerous bolts and washers like in their previous mounts. Now, installation is much easier and more user-friendly.There are no need for 1001 bolts and washers as per their previous mounts.
Design And Structure
Build
The Alphacool Core 1 CPU block boasts a high-quality construction that incorporates premium materials to ensure top-notch performance and reliability. The entire block top is crafted from brass, a durable and efficient material known for its excellent heat transfer properties. Complementing the brass top, the cold plate is made of nickel-plated copper, a combination that maximizes thermal conductivity while providing superior corrosion resistance.
One of the new features introduced in the Core 1 is the innovative 3D printed jet plate located within the block. This jet plate enhances coolant flow dynamics, optimizing cooling efficiency and promoting more effective heat dissipation. Additionally, the block's dual chamber design facilitates the separation of coolant flows with varying temperatures, further improving the overall cooling performance.
It is essential to note that Alphacool specifically designed the Core 1 CPU block to cater to the latest platform sockets of AMD AM5 and Intel LGA 1700. This specialized focus ensures seamless compatibility and optimal performance with the most current and powerful CPU configurations.
The meticulous attention to detail during the milling process results in a flawless finish, with no visible polishing marks on the block's surface. The outstanding workmanship is a testament to Alphacool's commitment to providing a product of exceptional quality and precision.
After some tinkering, I noticed that this robust design does come with a minor complication. Specifically, when opening it, great care must be taken to ensure the 3D jet plate's O-ring seal is correctly and entirely inserted. Even a slight misplacement of the O-ring can lead to a decrease in cooling performance, potentially affecting the overall effectiveness of the liquid cooling solution.
Weight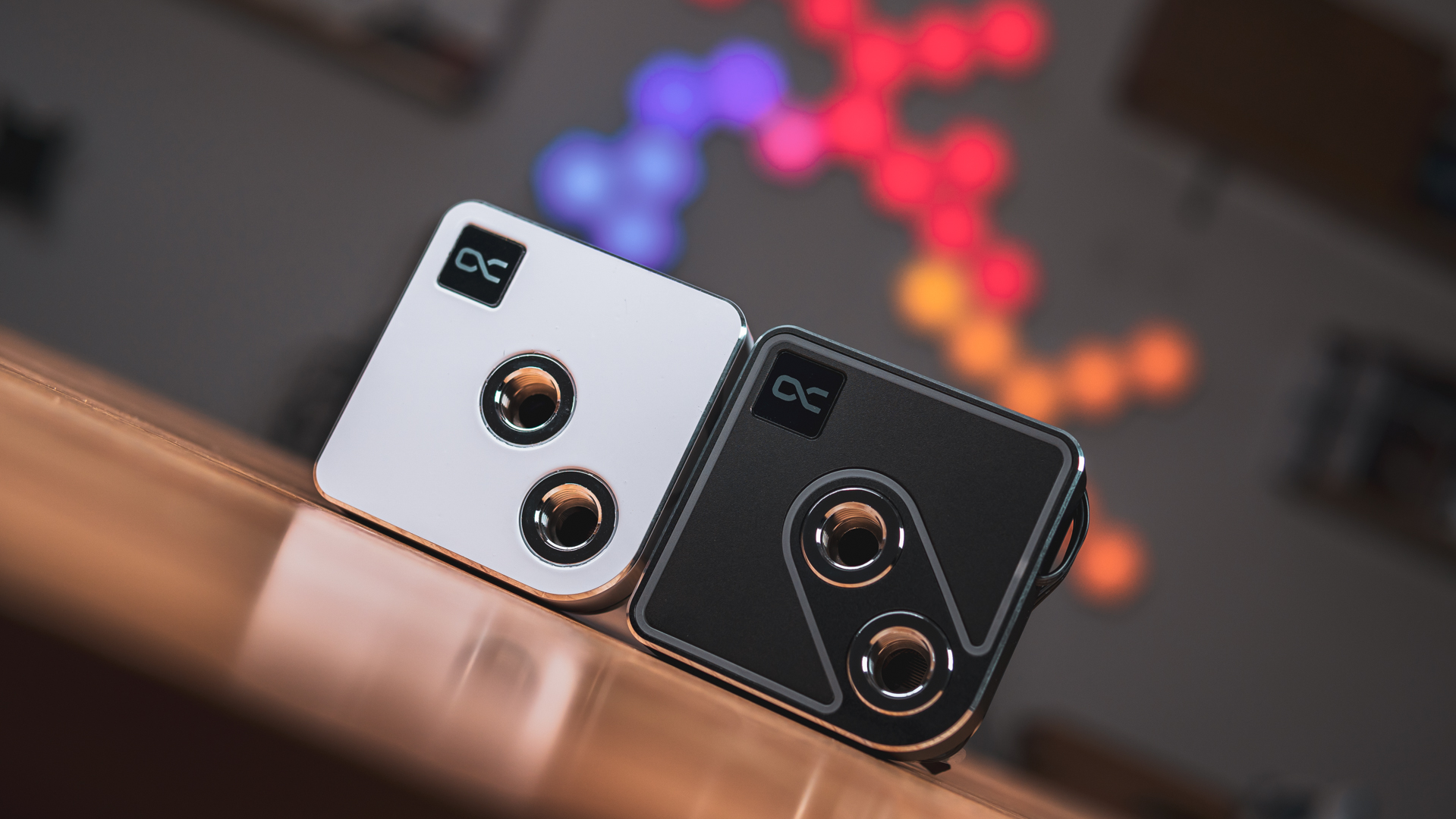 Across all five variants, the Core 1 blocks maintain a consistent weight level, showcasing Alphacool's commitment to delivering a well-balanced product lineup. The non-ARGB model, in particular, weighs approximately 500g, reflecting the careful consideration of materials and design to ensure a substantial and reliable build.
For those seeking the added flair of ARGB lighting, the ARGB version of the Core 1 is only slightly heavier than its non-ARGB counterpart. The incremental increase in weight is primarily attributed to the inclusion of the ARGB strip, which not only enhances the aesthetics but also allows users to personalize their liquid cooling system with vibrant lighting effects.
Dimensions
When comparing the new Core 1 blocks to the previous generation XPX Aurora Pro blocks, one notable improvement is their reduced size. Alphacool has designed the Core 1 blocks to be more compact, measuring at dimensions of 72 x 72 x 26.50mm, as specified by the manufacturer. This downsizing not only showcases advancements in engineering but also offers significant benefits during the assembly process.
With the smaller form factor, users can enjoy a more streamlined and efficient installation experience. The Core 1 blocks take up less real estate in the system, providing better compatibility with various configurations and setups. As a result, system builders can incorporate the Core 1 CPU block into tighter spaces or smaller cases without sacrificing cooling performance.
Performance
Methodology
To thoroughly test the Alphacool Core 1, we installed it alongside three other blocks on our test bench. The system underwent three consecutive runs of Cinebench R23, each lasting 10 minutes. We recorded the peak temperature for each run and calculated the average from the three readings. This testing methodology ensures a reliable and accurate assessment of the block's performance under high-performance conditions. Additionally, we ran the test environment on a integrated GPU to eliminate temperature fluctuations from a discreet GPU.
Test System
| | |
| --- | --- |
| CPU | AMD Ryzen 9 7900X(limited to 170W) |
| Motherboard | ASUS ROG Crosshair X670E Extreme |
| RAM | Kingston Fury Renegade 16GB X2 CL32 7000MHZ |
| Storage | 1TB Sabrent Rocket 4 Plus |
| GPU | – |
| PSU | FSP Hydro G Pro 1000W |
| Case | Open Bench |
| CPU Block | Alphacool Eisblock XPX Aurora Pro Full Brass / EKWB Quantum Velocity² / Bykski XPR CM / Alphacool Core 1 |
| Radiator | Alphacool NexXxos XT45 360mm (review here) |
Results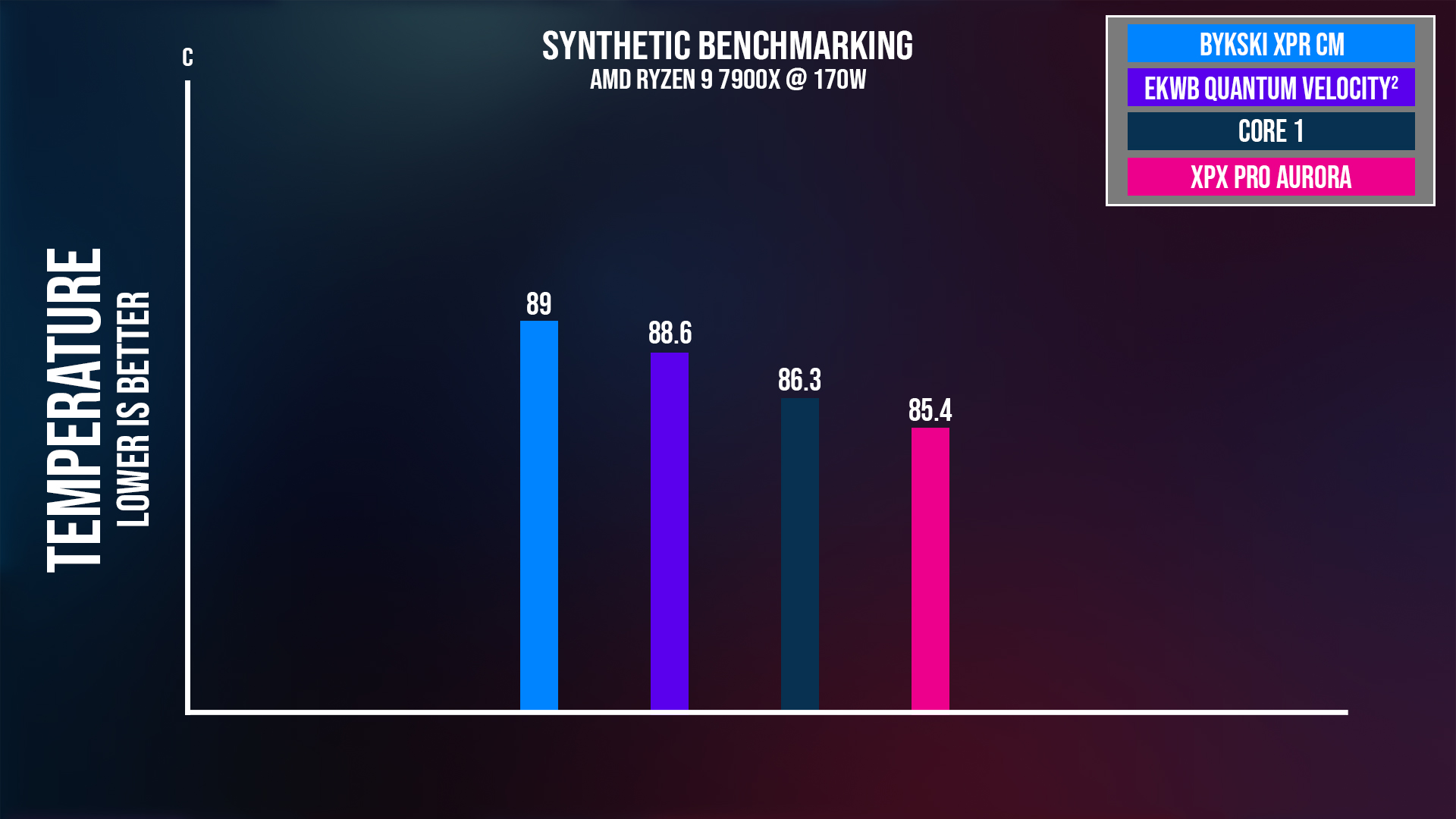 As witnessed above, the new Core 1 stands out on its own. Being priced cheaper than the XPX Pro, you do get a slightly higher temperature recording but around only 0.9C. Additionally when pitted against competitors, total annihilation occurs. Bear in mind that our tests are made to strain the processors and do not simulate real world situations. Making sure that it is highly unlikely that you will reach temperatures of such scenarios on a constant basis.
---
What I Liked About The Core 1
Full Brass Construction
ARGB and Non ARGB Models
Made specifically for the latest platform sockets
Improved mounting mechanism, making it simpler and more direct compared to their previous mounts.
What Could Be Better
The finishing on the white variant requires slight improvement.
Pricing, although cheaper feels slightly overpriced when compared to the price to performance ratio of the XPX Pro Aurora.
Reassembly after maintenance may require careful installation as the O-Ring seal requires precision placement.
---
Verdict
Alphacool's latest Core 1 CPU blocks represent an exciting advancement for the company, signaling their commitment to becoming a prominent player in the custom liquid cooling market. With a range of attractive color variants, including ARGB lighting options, consumers have the freedom to personalize their cooling setup to match their style preferences.
The packaging is well-designed, ensuring the Core 1 arrives safely and securely. Inside the box, the product is thoughtfully nestled in thick foam, while the accessories and manual are neatly organized in a convenient zip lock bag.
Crafted with precision, the Core 1 showcases exceptional build quality, combining a brass top with a nickel-plated copper cold plate. The addition of a 3D printed jet plate and a dual chamber design maximizes cooling performance, catering specifically to the specified AMD AM5 and Intel LGA 1700 sockets. The exclusion of support for older sockets streamlines the design and allows for more innovative features.
Alphacool's revamp of the mounting mechanism further enhances user experience, simplifying installation and eliminating unnecessary components. Additionally, the inclusion of the highly rated Apex thermal compound, boasting a thermal conductivity rating of 17W/mk, ensures efficient heat transfer.
In the pricing segment, Alphacool has taken care to offer the new Core 1 CPU blocks at a reasonable range, which is commendable given the impressive build quality and inclusion of ARGB lighting.
| | |
| --- | --- |
| Core 1 Black/Silver | RM 514 |
| Core 1 White | RM 565 |
| Core 1 Aurora | RM 616 |
With such competitive pricing and a combination of outstanding features, including ARGB lighting and top-notch performance, the Core 1 becomes a compelling choice for consumers. It sets a positive example for other manufacturers to follow, inspiring them to prioritize quality improvements in their own products, just as Alphacool has done.
In performance testing, the Core 1 CPU block shines, delivering remarkable results that outperform competitors. Even under high-performance conditions, the temperature differences compared to more expensive alternatives are minimal, making the Core 1 a compelling choice for users seeking reliable cooling solutions.
Overall, Alphacool's Core 1 CPU block offers a compelling package, combining outstanding performance, striking aesthetics, and user-friendly design. It's an excellent choice for custom liquid cooling enthusiasts and reflects Alphacool's commitment to pushing the boundaries of liquid cooling technology.
________________________________________________________________________
Product Page : Alphacool Core 1 CPU Block
Home Page : Alphacool Core Lineup