With the launch of FIFA 23 just around the corner, we've talked about the Top 25 players in 5 leagues in terms of their OVR points, as well as the top players in various disciplines including Pace, Dribbling, Passing, 5-Stars Skills, Under-21, and more.
But with the aid of FIFA 23's full database, we've compiled a list of the Twelve Best Strikers you'll find in FIFA 23 who are over 85 OVR for those of you who intend to go into the Manager Career in the game. so let's take a look to see if they are worth your in-game money to invest in them.
These players are known for their reliability in front of the goal and some of them, depending on which team you manage and the size of your club's coffer, may or may not be out of reach for you in the first season.
However, do keep in mind one thing, players' stats and OVR will degrade as they age so don't ignore this important element to avoid yourself the risk of overpaying for a player who cannot be a part of your long-term plans.
The degradation usually happens around 30-31 years old so even if your player looks mighty in OVR 90 now, don't be surprised when you see him shrinking to 89 as time goes by.
We've included players who play in the position of Strikers and those in the Center Forward role for this list. The highest recorded OVR in career mode is 91, and we have 3 players on the list who carry this rating. We'll start with the top 5 players and work our way down the list.
---
#1 OVR 91 – Karim Benzema – Real Madrid – Age 34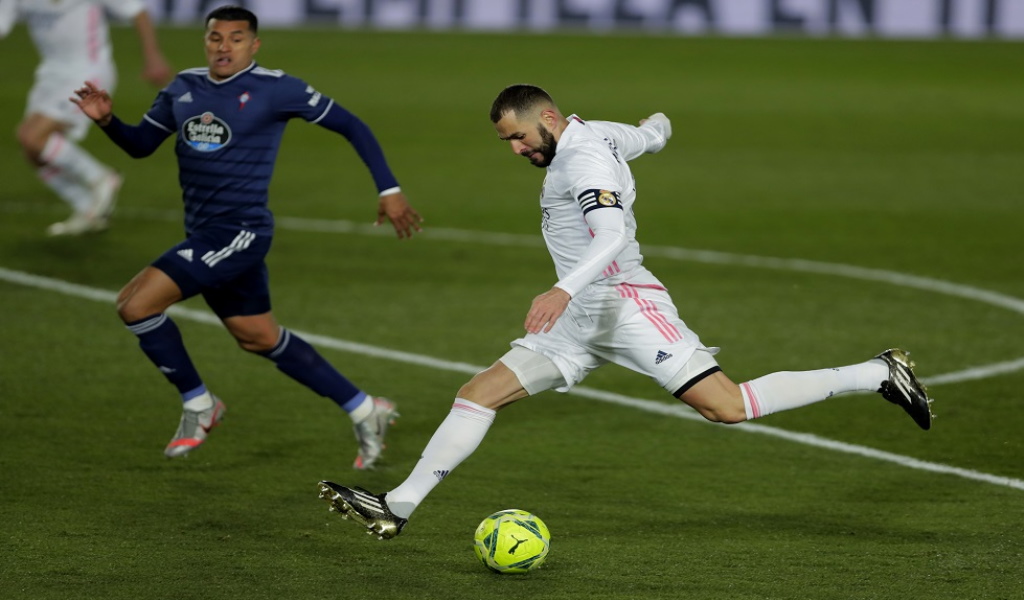 In the top 5, we have Real Madrid's Center Forward Karim Benzema topping the list. He scored 44 goals in 46 appearances for this club last season across 3 major competitions – the LaLiga, Champions League, and Supercopa. On top of his goals, Benzema added 15 assists to his accomplishment, making him directly responsible for at least 59 goals. It makes sense that he tops the list considering his goals were vital in securing Madrid its 35th LaLiga title, as well as the highly-coveted Champions League trophy for a record 14th time last season. Benzema's Minutes Per Goal was 89-minutes last season.
Should you get him?
That depends. Are you okay with the fact that Benzema will start losing his prime qualities soon? He will be 35 in December and I have serious doubt he'll age as well as Ronaldo (in the game). If you are managing a club that can afford him in the first season like PSG, City, or Barcelona, then you'd already have a striker close to his quality if not better. If you are running a small club, you won't have enough funds for him immediately meaning you have to wait for another season or two which also means his OVR would have dropped by then.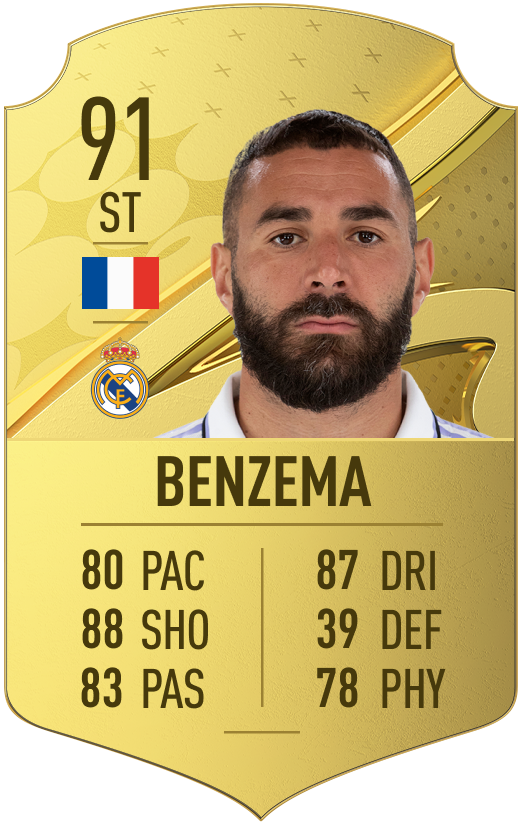 With 82 Stamina, he will be reliable on the field for a full 90 minutes but tread carefully because he is just rated 80 on Pace. His 92 on Positioning and Finishing means any decent pass to him at the right time should easily convert into goals. Header-wise, his Heading Accuracy sits confidently on 90 but with a Jumping rate of only 79. So don't expect him to win all of the aerial duels but in the event that he does, you should find the ball on target most of the time.
---
#2 OVR 90 – Robert Lewandowski – Barcelona – Age 34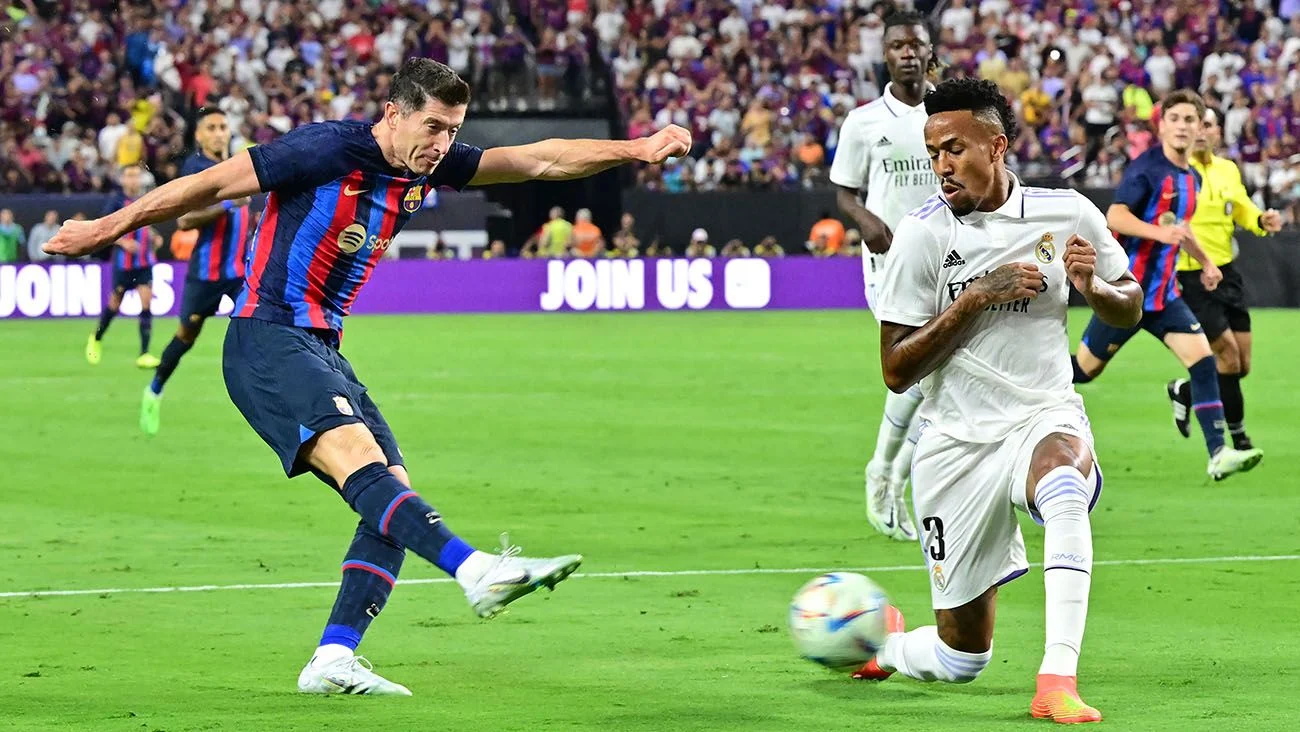 Closely behind Benzema in number #2 is former Bayern Munich Striker, Robert Lewandowski. Now playing for Barcelona since his highly publicised move to the Catalan side, he scored an impressive 50 goals and 7 assists for his former club in 46 appearances and won with them the Bundesliga title for the 10th year in a row. He is not showing any signs of slowing down since the move and has scored 11 goals and served 2 assists across 8 games for his new club this season. Lewandowski's Minutes Per Goal was 80-minutes last season.
Should you get him?
He had just arrived at the Nou Camp this season so the soonest you can get him would be the January transfer window, that is if you can afford the buy and you are saving the bulk of your funds until then for him. He will turn 35 years old in August 2023, letting you enjoy a whole good season with him if you are managing Barcelona, lesser if you buy him for another team later.
Again, keep in mind the age degradation. With 76 Stamina, don't over-pressure him unless you have someone on the bench who's fast and clinical in front of the goal to bring on near or after the 70th-minute mark.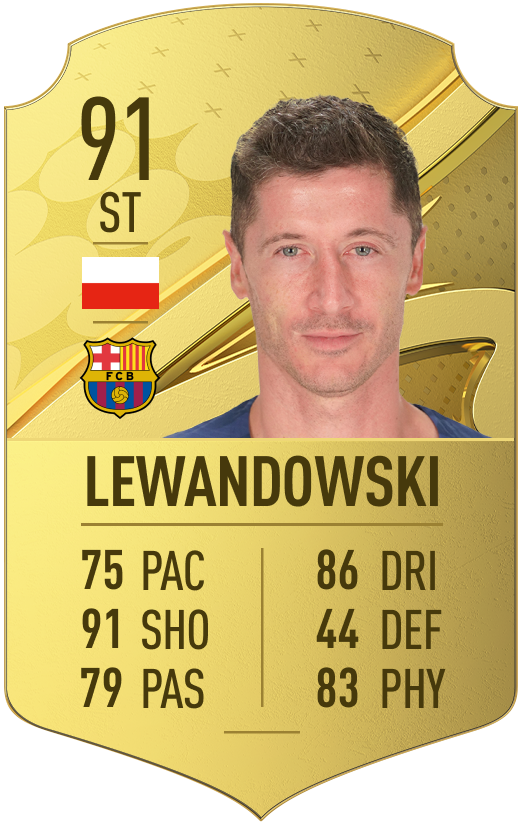 With an Acceleration of 76 and Sprint Speed of 75, Lewandowski is hardly Usain Bolt but you'll benefit a lot from his 94 Positioning and 94 Finishing. He is also a reliable Penalty taker with 90 on the skill and 85 for Free Kick Accuracy, making him an important set-piece specialist for your team. With 85 on Jumping and 91 on Heading Accuracy, Lewandowski is the full package when it comes to finishing.
---
#3 OVR 90 – Kylian Mbappe – PSG – Age 22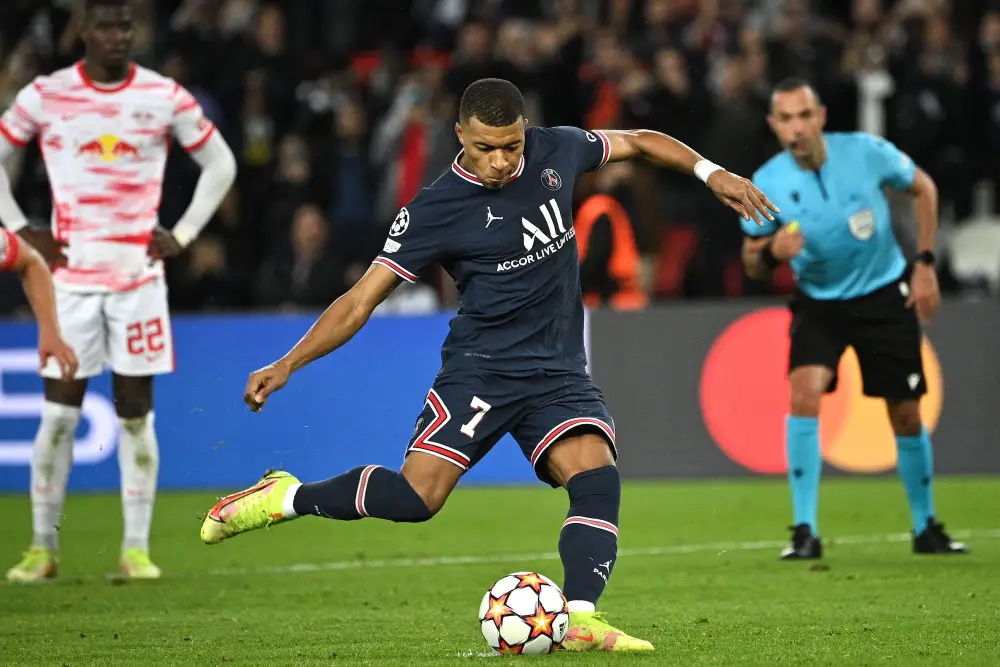 Sitting at third place but is perhaps the most exciting player of the top 3 strikers due to his young age is Paris Saint Germain (PSG)'s Striker, Kylian Mbappe. Aged just 22 last year, Mbappe scored 39 goals in 46 games for PSG which doesn't sound like a lot compared to the first two players, but if you add in his 26 assists into the count, that makes Mbappe directly responsible for at least 65 goals last season, more than Benzema's 59 and Lewandowski's 57 goals involvement. Mbappe's Minutes Per Goal was 100-minutes last season.
Should you get him?
Expect PSG to say no to any offers below their ridiculous valuation for him in the first few seasons because PSG won't part ways with their jewel on the crown so easily. Mbappe will cost you a lot and looking at the situation in #1 and #2, I expect Real Madrid and Barcelona will make a move for Mbappe soon but not as soon as Bayern Munich would considering the German club is currently without a notable Striker after Lewandowski left for Barcelona.
It will be a race for his signature but at the same time, time is on your side. He is only 22 years old with many good years ahead of him. Go for him if you can, you won't go wrong but again, he will cost you a lot of money because on top of his transfer fee, there is his wage demand that I reckon would take at least 400-500k per week (Sterling Pound) to meet.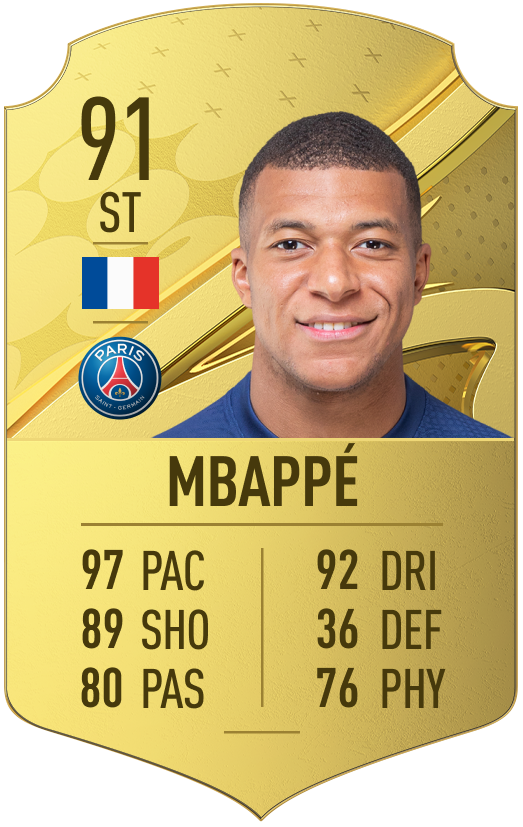 With 87 Stamina, he is a machine on the field and allows you to put his 97 Pace to good use. He will outrun most defences if you thin them enough and his 5-Stars skill rating will allow you some flashy play. With 92 in Positioning, he'll cleverly find space and his 93 on Finishing will reward any well-timed pass handsomely.
His set-piece abilities aren't interesting with just 80 on Penalties and 69 on Free Kick Accuracy so you can't really rely on him for free kicks. His Jumping at 77 and Heading Accuracy at 72 also don't make him the best candidate to send a high-cross to but don't write him off completely, with his crazy high Pace, he may just make it to the ball first with a rush header if you send the ball forward enough.
---
#4 OVR 90 – Christiano Ronaldo – Manchester United – Age 37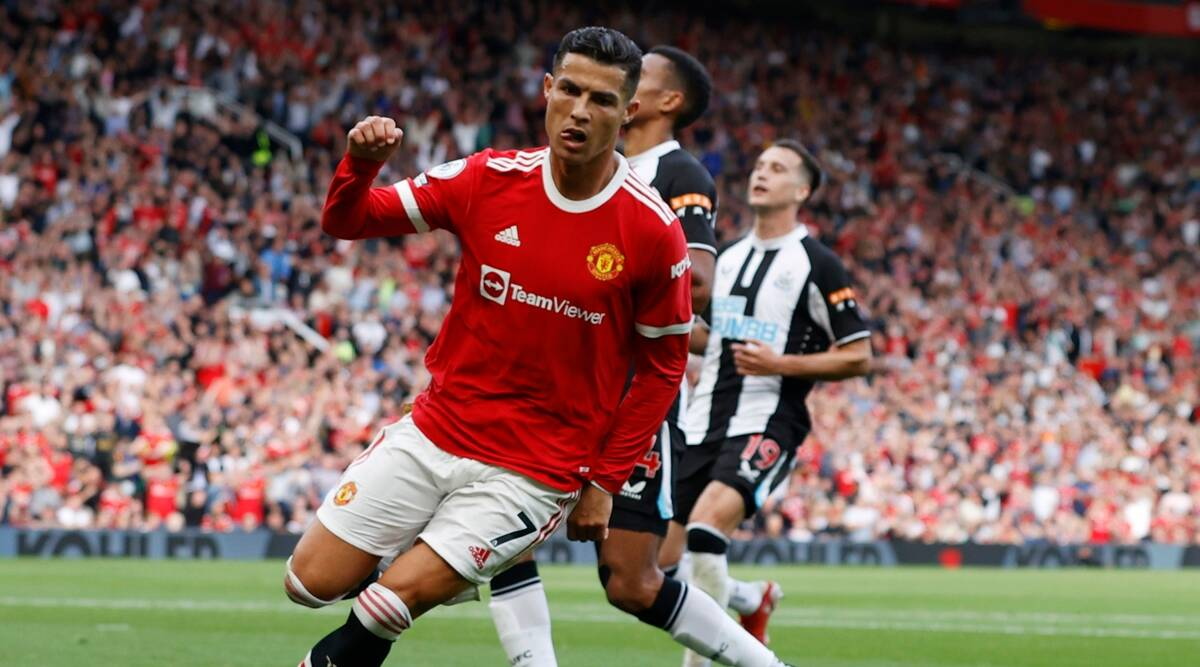 In the fourth place is our Football superstar, Manchester United's Christiano Ronaldo. In 39 appearances, including that one time in Serie A for his former club, Juventus, Ronaldo has scored 24 times while managing 3 assists for the Old Trafford outfit. Still deadly in front of the goal no doubt, however, I have some reservations regarding his OVR being at 90. There is just this feeling that EA puts him at 90 for commercial purposes rather than his on-field performance truly warranting such a rating. I could be wrong. But in any case, Ronaldo is still a great striker in FIFA 23 although at 37 years old, I doubt he is worth heavy investments. Ronaldo's Minutes Per Goal was 134-minutes last season.
Should you get him?
The only reason I would get Ronaldo is if I am managing an EPL team and I want to deny United of Ronaldo's aerial prowess and set piece qualities. He is also amazing with positioning and finishes but his age would prove to be the hardest pill to swallow. He is 37 this year and may just decide to retire in the next season or few. But the good news is, I don't think he will cost a bomb to entice United to a trade. If you are a huge Ronaldo fan who wants to collect him or use him for specific situations, go ahead and get him.
He is a wonderful all-rounder player and with 76 in Stamina, he will last you quite a while if you don't tire him out unnecessarily. With 88 in Ball Control, 85 in Dribbling, and 5-Stars in Skills, Ronaldo can dribble past any defences if you use him right and find him the space to make use of his 93 Finishing.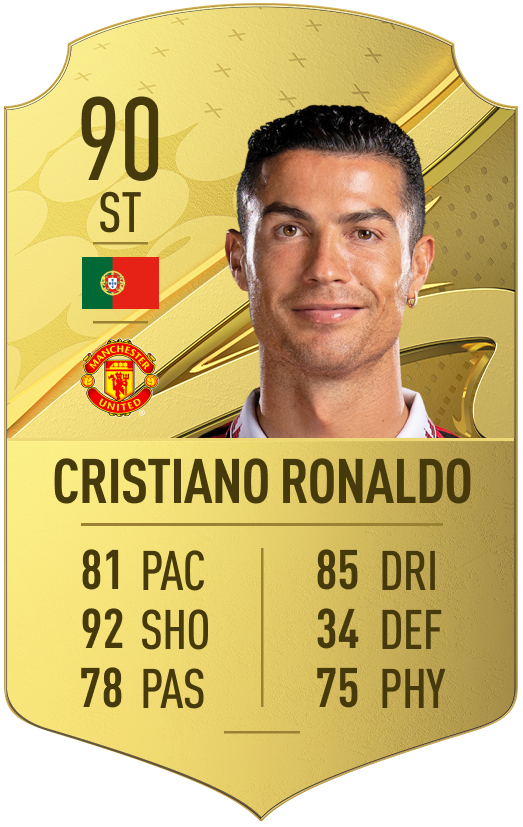 His 90 in Heading Accuracy and 95 in Jumping make him the best Striker in the game in terms of Aerial prowess. Make smart use of him and you'll get your goals. This may be the last season we see Christiano Ronaldo in a FIFA game, he may or may not retire next season. So maybe for that reason alone, he's going to be worth a buy for some managers.
---
#5 OVR 89 – Harry Kane – Tottenham Hotspurs – Age 29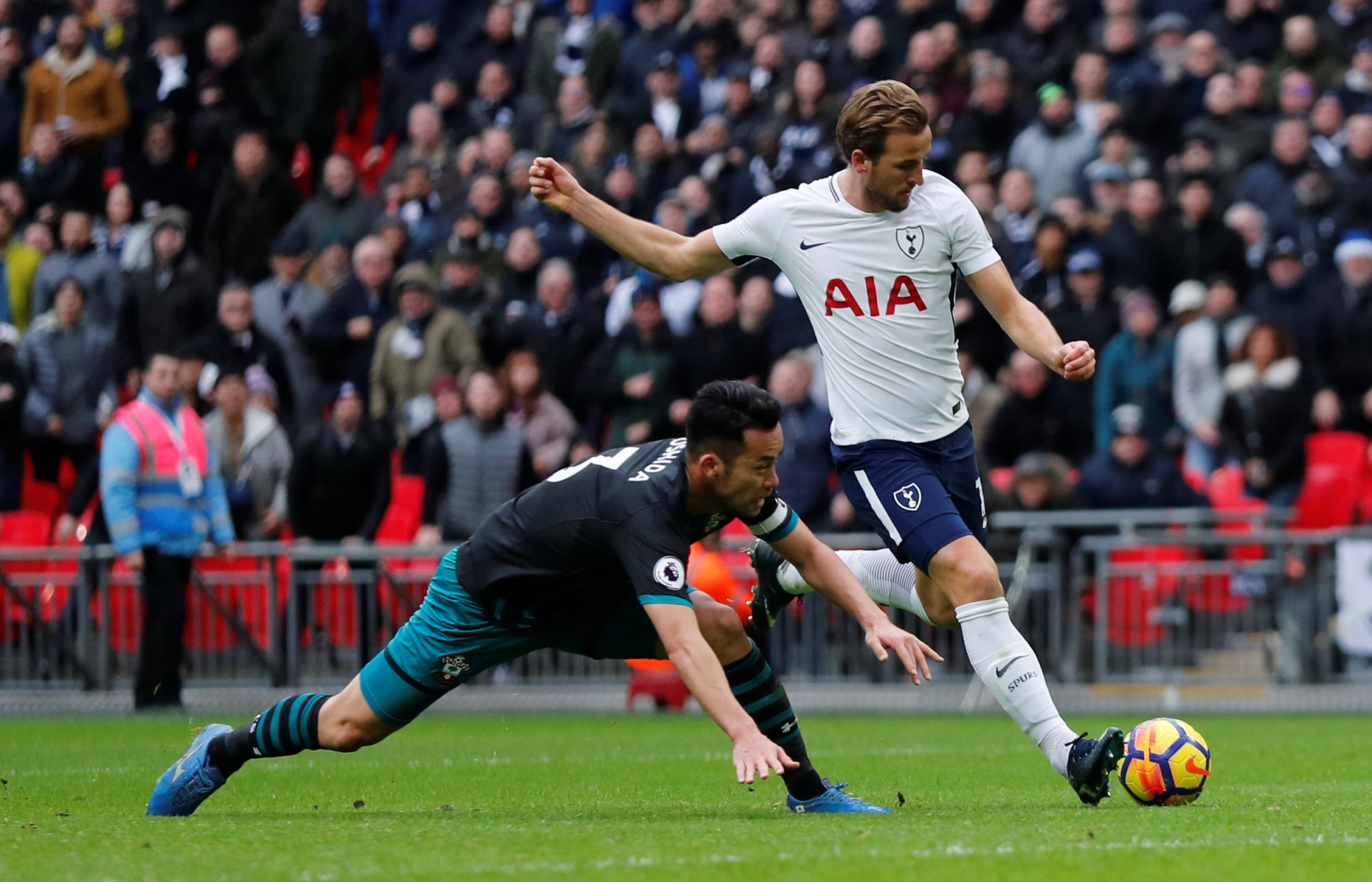 Tottenham Hotspurs' talisman Harry Kane is the fifth best striker in FIFA 23. He has an OVR score of 89 and appeared for his club 50 times last season where he netted 27 times and dished out 10 assists across the EPL and 4 competitions. In a better team, he would have probably scored more. Amongst the top 5, Kane has won the least trophies in real life but here's hoping you can get him some in the game. Kane's Minutes per Goal was 157-minutes last season.
Should you get him?
Kane is a clinical finisher and deadly in front of the goal be it a long or short distance. It will be hard to convince the Spurs to trade with the team depending on him so much. But the good news is, Kane will be available early on in the first transfer window if you can afford him. If you take him from Spurs, the team will lose one of its three fangs (Son Heung Min and Richarlison being the other two) and you'll gain yourself a good weapon against any defences in the EPL and other competitions.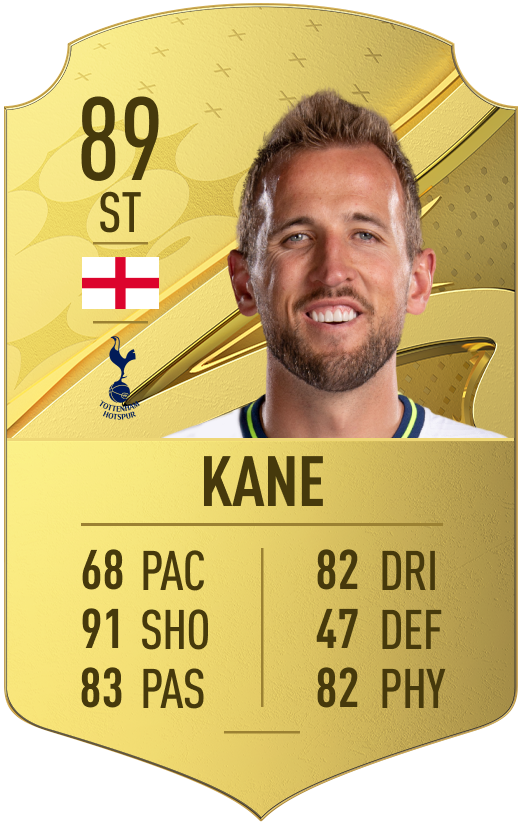 With 83 in Stamina, Kane won't tire out so easily but he is also not quick on his pace with both acceleration and sprint speed below 70. So don't expect him to speed dribble because he can't (only 3-Stars in skills) or you'll tire him out early on from the duels. He is a good buy if you're going for volley finishes because he is rated 87 in this aspect. Furthermore, Kane's 5-Stars in Weak Foot will allow you some elements of unpredictability thanks to his flexible range.
Header-wise, Kane's jumping isn't great at 79 but he does have a Heading Accuracy of 85. You need to win the ball for some great results here and that also depends on who was marking Kane.
---
#6 OVR 88 – Erling Haaland – Manchester City – Age 22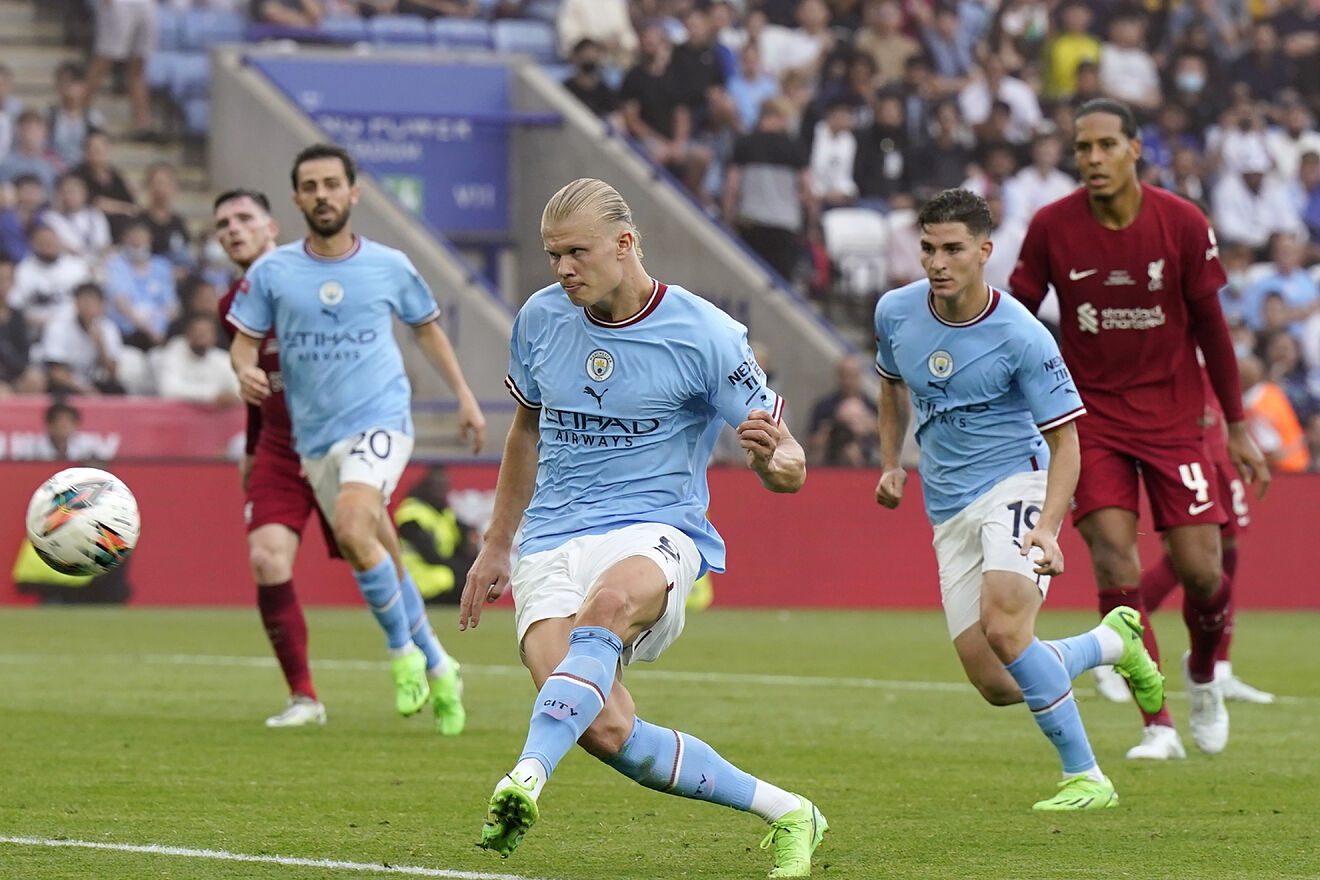 Occupying spot #6 is Manchester City's new exciting signing, Erling Haaland with OVR 88. Haaland found the net 29 times last season for Borrusia Dortmund in 30 games, while also setting his teammate up for scoring 8 times. This is a mighty feat for a striker so young, as young as Mbappe, in fact, at just 22 years old. His impressive form continues into this season, already benefiting City with 14 goals including 2 in the Champions League and 1 assist in just 10 games into the season. If it were up to me, Haaland would deserve a spot in the top 5 FIFA 23 strikers, ahead of Ronaldo and Kane even. Haaland's Minutes Per Goal was 82-Minutes last season.
Should you get him?
Even if you want to and I suspect many of you do – Having just arrived at the Etihad side this season, Haaland won't be available until the January transfer window. Will City part ways so easily with their brilliant striker? Hardly so, unless you make an offer City cannot refuse which may end up costing you too much.
But if you do get him, Haaland should produce an immediate impact on your side with his 94 rating on both Shot Power and Finishing. Speed-wise, he isn't the best runner on the field with 89 Pace but his 89 rating in Positioning should see him cleverly finding space to safely receive a pass.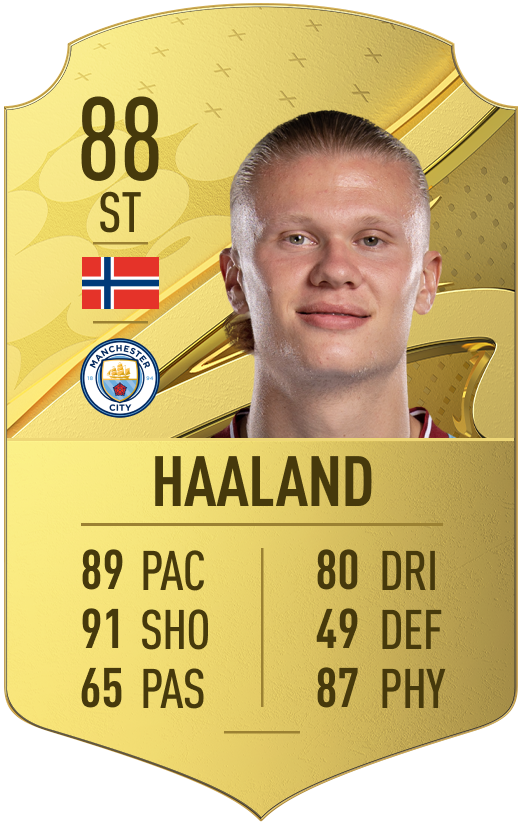 With 81 in Stamina, Haaland will miss some games if your club is competing in the EPL where the focus on stamina and physical play is heavier than in others. Expect yourself to be managing his field time to keep him fresh for the more important games like a run-in against the top 6 clubs – City, United, Liverpool, Chelsea, Arsenal, and Spurs, plus the various English Cup competitions, and UCL games. My recommendation is, to get yourself a good secondary striker to allow Haaland some resting time.
In terms of aerial efficiency, Haaland's 79 in Headers Accuracy and 74 in Jumping is just decent and will probably be out-powered by better-built defenders. But at just 22 years of age, Haaland still hasn't reached his prime and it is for this reason that he and Mbappe are both high on the list for those looking at long-term plans.
---
#7 OVR 86 – Christoper Nkunku – RB Leipzig – Age 25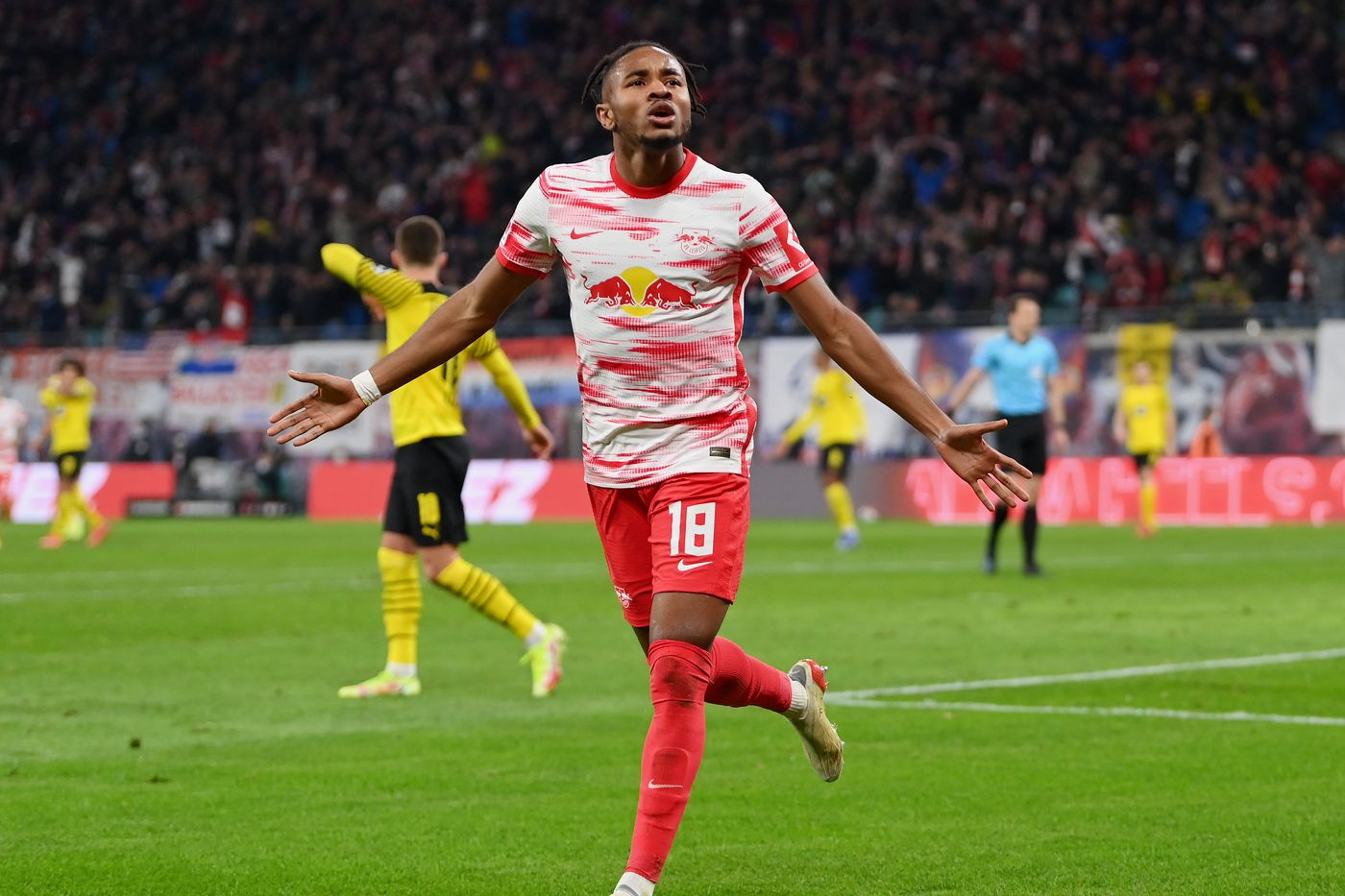 RB Leipzig's Christopher Nkunku is the 7th best striker in FIFA 23 and he has played an impressive 52 games last season for his club, scoring 35 goals and providing 20 assists. We know at least from the 52 games he played that he isn't injury prone, in fact, Nkunku has played more games than all the Strikers we've mentioned so far. With 50 goals involvement last season, RB Leipzig won't be tempted by lowball offers for this young lad. Nkunku's Minutes Per Goal last season was 156-Minutes but with the right team composition and smart strategy, you can easily get more out of him in your play.
Should you get him?
Nkunku's aerial abilities are close to nill with only 61 in Heading Accuracy and 59 in Jumping, leaving him little chance to win an aerial duel in FIFA 23. So, if you are taking a corner, make sure you crowd the box with enough tall guys with better ratings on the two qualities I mentioned to close the gap he makes. He is also rather weak in Penalties with only a 67 on this quality.
But here is why he is the 6th best striker in the game – Nkunku has some consistently favourable ratings where finishing with his foot is concerned (except for Penalties). His 88 Pace, 89 Dribbling couple with 5-Stars Skills will get you out of duels and speed away easily. In the event of a physical challenge, his 90 in Balance should still let him keep the ball easily from forceful prying.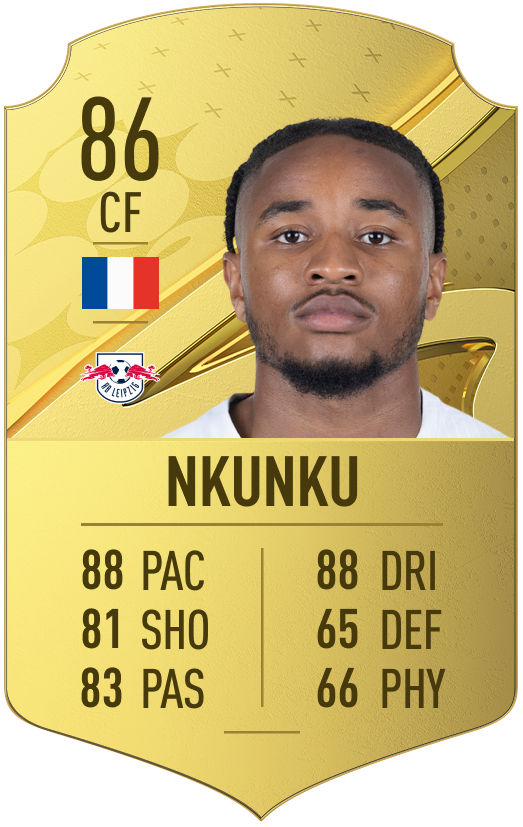 He has 86 in Finishing but only 79 in Shot Power and 78 in Long Shots. So I really won't count on long-distance shots to hit especially against highly rated goalkeepers but nevertheless, his passing abilities in Short Passes and Vision are both at 85, making him an effective unit to tear defences open and creating rooms and chances for his teammates. If you have at least 1 or preferably 2 other players with high ratings in Positions and you'll see how Nkunku can shine.
With just 78 in Stamina, understandably Nkunku won't be fit for the entire match but he can still last a full 90-minutes depending on your play style. I do imagine him being a nightmare to defend against if he comes on as a super-sub especially after tiring out an opponent's defender.
---
#8 OVR 86 – Lautaro Martinez – Inter Milan – Age 25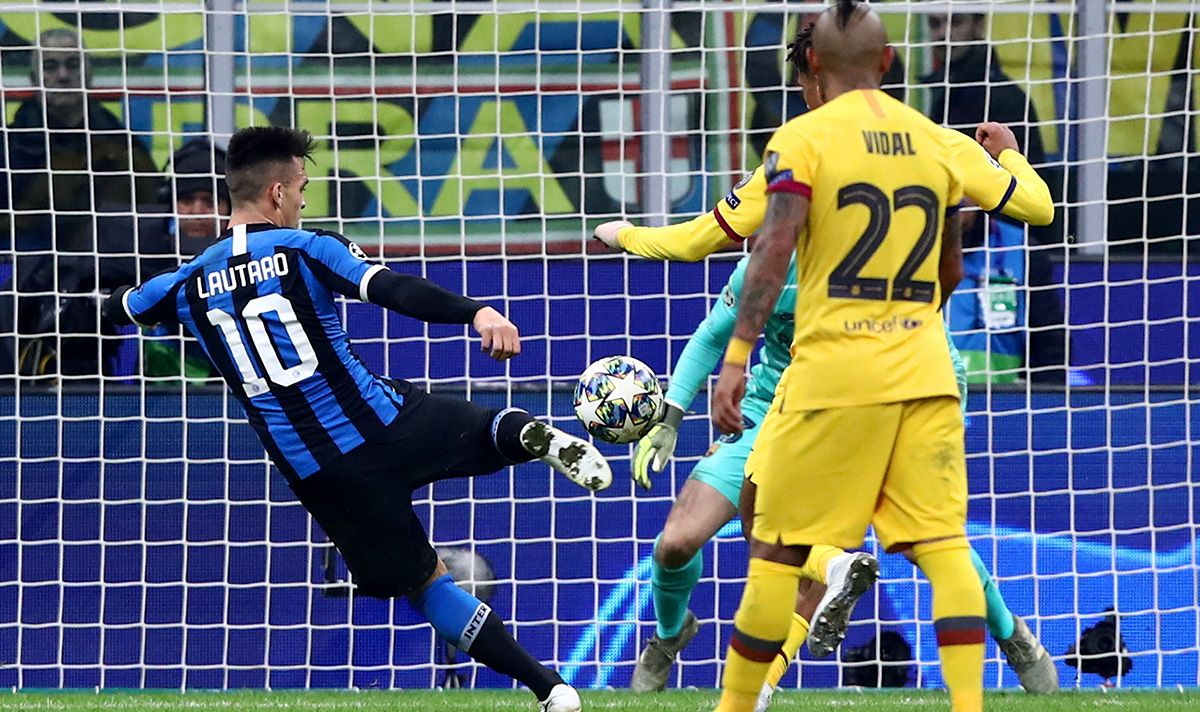 Number #8 in the list and the first Serie A Striker in the list so far is Inter Milan's, Lautaro Martinez. Arriving at the club in 2018 then age 21, the youngster scored 9 goals and bagged himself 1 assist in his first year for the San Siro outfit. Last season, he scored 25 goals and created 5 chances for his teammates in 49 games. Martinez's Minutes Per Goal last season were 132-Minutes
Should you get him?
It depends on how much you can get Inter to agree on his transfer fee. Inter Milan currently has two strikers in the team, one being Martinez, and the other being Lukaku. Both of these players have an OVR of 86 and under real-world circumstances, the team would consider the fact that Lukaku is only in Inter on a loan basis from Chelsea. So, unless they are buying him off Chelsea, there's nay chance they will let Martinez go so easily. But in FIFA 23, how the AI sees it could be different and there's a chance the AI would completely ignore the fact that Lukaku is not a permanent asset and will just be interested to sell Martinez to you at a good price. And in the event that this is true (low chance), Martinez can be a good buy.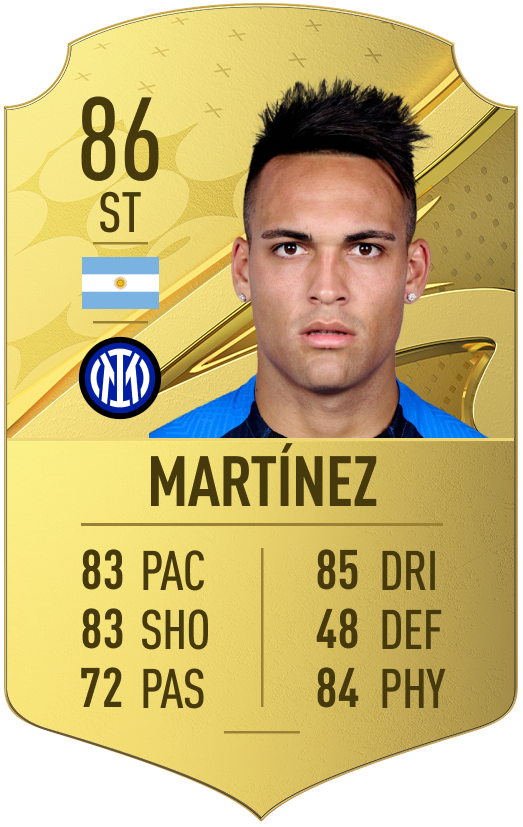 Acceleration 86, Sprint Speed 80, Positioning 86, Shot Power 80, Volley 90, and Finishing at 88 makes Martinez a good striker in the traditional sense. His 4-Stars in Skills and Weak Foot and 84 in Dribbling will allow him some flashy dribbling and open up some space. He doesn't have the best stats but he is a good lock-and-load package who'll hit the field running. Bear in mind, he is only 25 years old so his best years are still ahead of him, it all depends on how you play and develop him into the perfect piece. He has 80 in Stamina and like I've advised in the case of Erling Haaland, get yourself a secondary striker and prepare to manage Martinez's game time to keep him fresh.
With a Heading Accuracy of 84 and Jumping at 89, Martinez can be reliable when it comes to aerial action and his 90 in Aggression will make it hard for defenders to suppress him. It could be just me, but if Martinez is available to me for the same price as Nkunku, I might just be tempted to go for Martinez albeit his slower pace and dribbling because I can compensate for a striker with a slow Pace and inability to do flashy dribbles with my left and right-wingers, but it won't be as easy to get a frontman with good aerial abilities.
---
#9 OVR 86 -Paulo Dybala – Roma – Age 29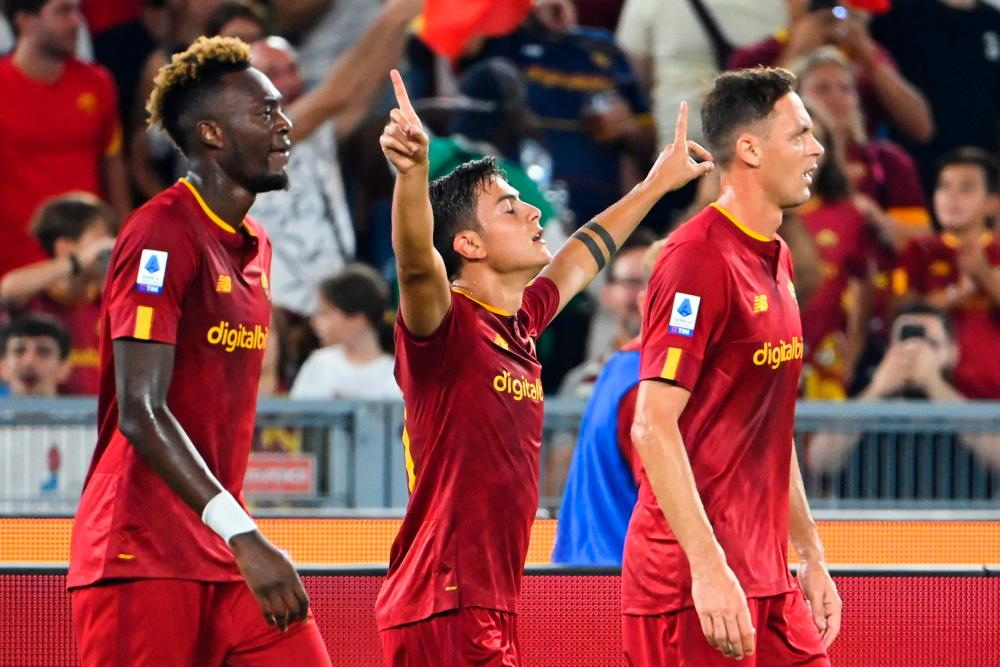 9th on the list is Roma's new Center Forward, Paulo Dybala. He had just arrived at this club this season after completing a transfer from fellow Serie A club, Juventus so he's got a lot to prove this season. But while he was still in Juventus last year, he scored 15 times for the Old Lady and raked up 6 assists in 39 games, which is a huge improvement over his performance a season before in 2020/2021 where he only scored 5 times no thanks to a lengthy hiatus owing to injury that saw him missing 21 games for Juventus. Dybala's Minutes Per Goal last season was 174-Minutes.
Should you get him?
His stats look good on paper and his skilful dribbling is not unknown to those who know what he is capable of the game reflects this quality of his with a rightful rating of 90 in Dribbling. But I'm a bit hesitant to subscribe to his role as Center Forward as defined in the game.
Dybala has 84 in Acceleration giving him an admirable burst of speed when you need him to albeit his Sprint Speed capping at just a decent rating of 76. He has 84 in Shot Power, 83 in Finishing, 82 in Positioning, and 88 in Volleys so I understand how this can mean Dybala is a good CF/ST candidate but he also has a huge weakness.
With only 68 in Stamina and 60 in Strength, he is not going to survive any challenges from the defenders. His Composure at 79 means he won't withstand high pressures which is almost always the case in FIFA 22, and I fully expect the trend to continue in FIFA 23. Yes, if you are skilful enough to avoid tackles with skill-play, you'll probably get through but still, you won't succeed all the time, especially against a tightly packed penalty box. His low stamina makes me doubt if he can even remain effective past the hour mark, let alone finish a full game. I don't know about you but I would hate to form a habit of locking down a substitute for this position for every game. And if you have to get a backup player to substitute for him all the time, why not just give the role to another player to eliminate your worries?
His Jumping is 74 which doesn't sound so bad until you realise his Heading Accuracy is 58, which would instantly make you regret sending the ball to him up high. That is not to say this player is unusable because he can still be deadly, just not as a CF in my opinion. I'd re-develop him into a CAM where I think he'll shine better and make use of his 89 rating in Long Shots, 86 in Short Passing, and 89 Curve to create chances for my teammates. His Ball Control at 93 and Dribbling at 90 would also allow him to terrorise defence and become an effective playmaker. Dybala also has 88 in Free Kick Accuracy and 84 in Penalties, so if you need a set-piece expert who can also do other things albeit not for too long, then Dybala is your man.
---
#10 OVR 86 – Ciro Immobile – Roma – Age 32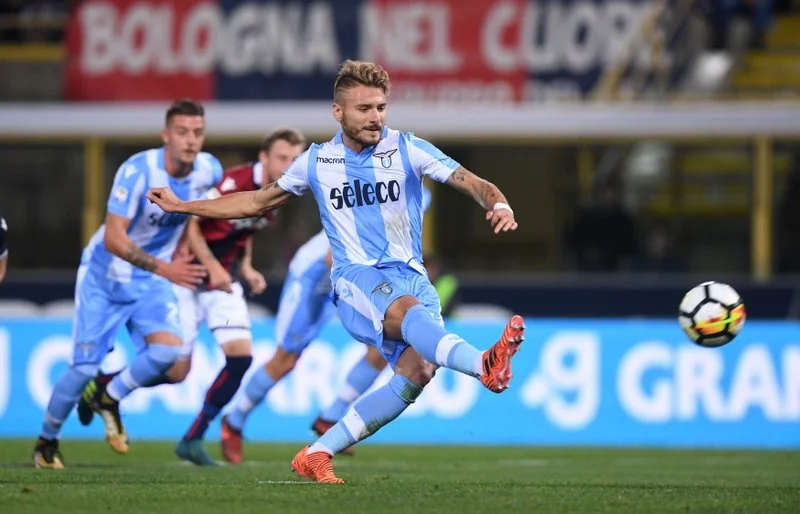 Taking the #10 spot is Lazio's Ciro Immobile who had a good year last season, having played 40 games for his club in which he scored 32 goals and bagged 4 assists. His age factor will come into mind for many managers because at 32, there isn't much he can offer for long-term plans but at the same time, he can also be a quick fix if you need a good striker leading your front. The tricky part is, can you convince Lazio to sell him off so easily? They don't have many options for strikers so they would probably put their foot down and say no. So make your offer attractive by adding in a player of your own to swap plus a transfer fee maybe? – Immobile's Minutes Per Goal last season was 105-Minutes.
Should you get him?
Immobile's stats this year show that he is a classic finisher. He has powerful shots at 86, Pace at 85, Long Shots at 80, Volleys at 85, and Finishing strong at 91. You can't let him take your Free Kicks because with his FK accuracy at 58, he'll send the ball to Spain. But with Penalties at 88, he's your champ whenever you need a penalty taken.
His Short Passing is decent at 79 but I'd still watch the gap when making one because 79 is okay, but it won't be enough against top teams with better defenders. His Long Pass rating is like his FK Accuracy, Spain-level, at 57. His aerial feats are much better with Jumping at 82 and Heading Accuracy at 81 so we know he can be reliable when it comes to headers.
With Dribbling at 79 and rated with 3-Stars in skills, Immobile can dribble when you need him to although he won't overly confident and flashy he'll get the job done if you time your input correctly. His 78 Stamina is fine if you are just expecting him to finish but you need to decorate his left and right flanks with reliable wingers, or a good CAM behind him to keep him fed.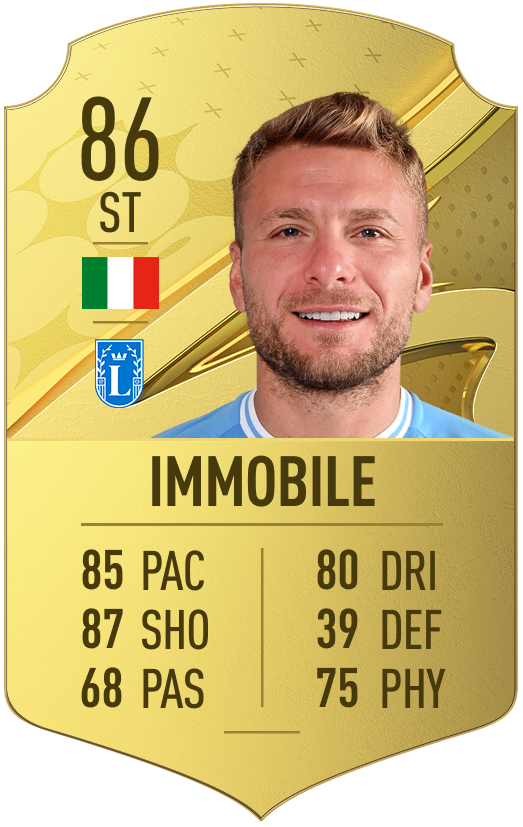 As I said, he is a classic finisher, send him the ball right and you'll get your goals. But do keep in mind his age. He'll be 33 in February 2023 and won't escape from OVR degradation. It'll take time before he loses his relevance but if you buy any players at his age, the likelihood is they'll end up retiring at your club unless you can trade them via a player swap.
---
#11 OVR 86 – Romelu Lukaku – Inter Milan – Age 29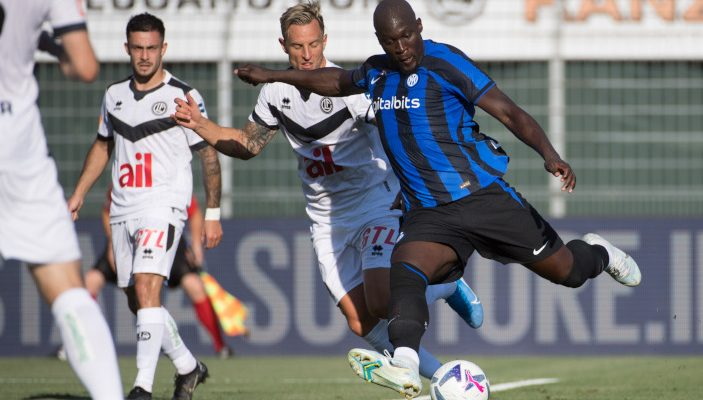 If you are a Lukaku fan who wants his service immediately, then you need to start your game by either managing Inter Milan or Chelsea from the beginning. Although he's donning Inter's jersey now, Lukaku is in fact a Chelsea player currently on loan to the Italian side. So by managing Inter, you get direct access to him now and can strike a deal with Chelsea at the end of the season to make the move permanent. Or, you start with Chelsea immediately and trigger the option to recall him back to the club for the rest of the season. Otherwise, you'd have to wait until the end of the season to buy him from Stamford Bridge to yours. But keep in mind that he would be 30 years old by then. He had a slow season last year – appearing 44 times but only managed to get on the score sheet 15 times plus 2 assists for Chelsea. Here's hoping you'd get better numbers out of him. – Lukaku's Minutes Per Goal last season was 183-Minutes.
Should you get him?
Assuming you start with Inter Milan or Chelsea immediately, you'd be getting the best Lukaku FIFA 23 can offer you at the moment. There is little room and hope for his OVR to improve from hereon considering his age (hitting 30 next season) and at this age, you are looking into fully utilising him until he retires or you trade him off by topping up some money for a better player. The good news is, if you are getting him in your second season, he shouldn't be expensive for you to get.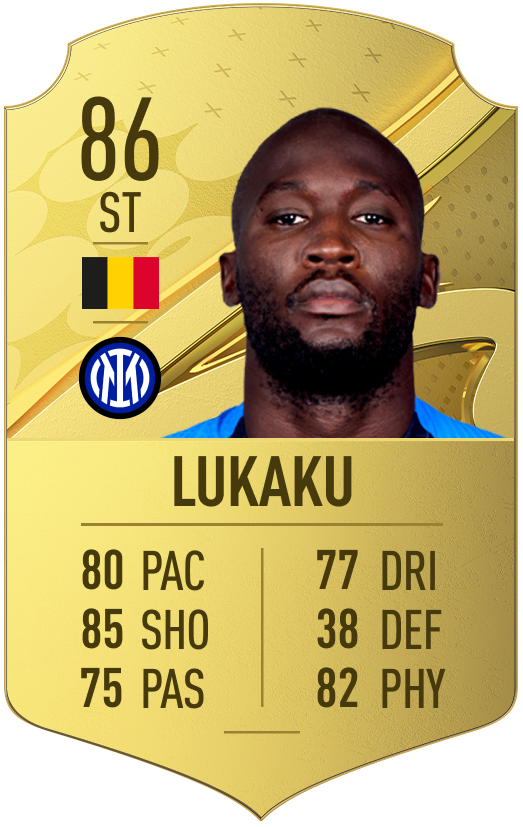 His vital stats are mostly good with 86 in Positioning, 88 in Finishing, 87 in Shot Power, 88 in Penalties, and 95 in Strength. He'll score many goals easily with these numbers backing him if you have a good playmaker consistently supplying him with an opportunity to finish. But the problem is, like Dybala, my primary concern with Lukaku is his worrying low Stamina rating at just 67 and he is at the age where this rating will only continue to drop.
With 82 in Dribbling and with a 3-Stars rating in Skills, he can be relied on to make use of his 86 Sprint Speed to get away from some defenders, but keep in mind that his Acceleration is only 72, so he'll take time to reach his top speed. I admire many of his qualities but his low Stamina would be the dealbreaker for me.
---
#12 OVR 85 – Diogo Jota – Liverpool – Age 26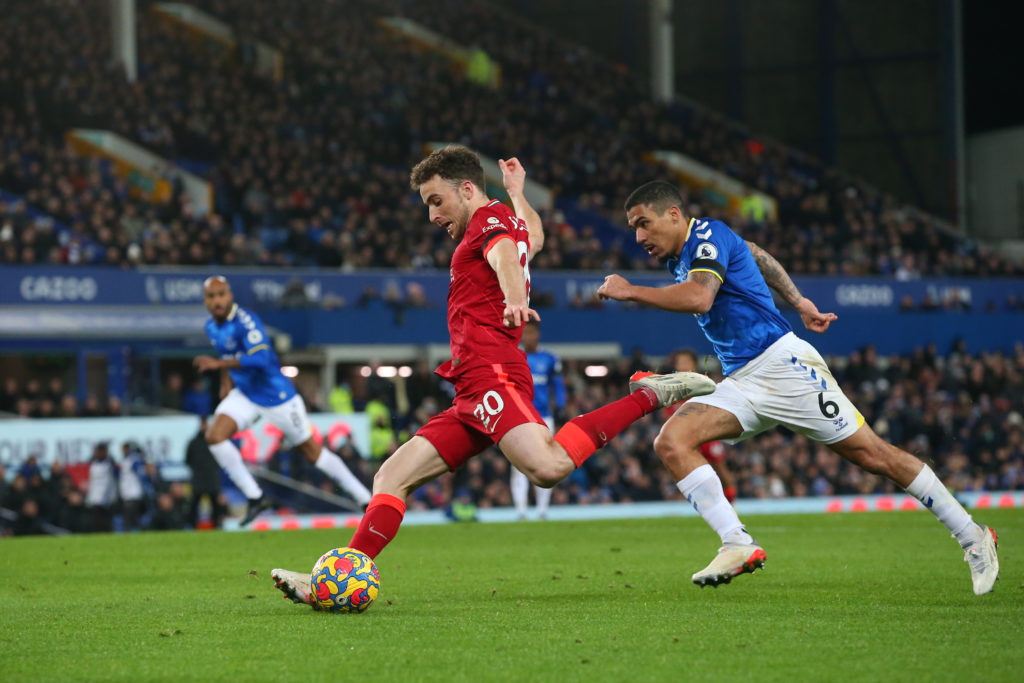 The list should have stopped at #10 actually but I accidentally did until #11. I didn't want to waste the information, so I included Lukaku but then I realised that #12 is actually a better choice than #11 in terms of longevity and practicality so here we are.
Liverpool's Center Forward is the last on the list of our top 12 and anyone who's been following his progress would know how this young lad converted the traditionally conservative Anfield crowd into his huge supporters. He is quick, he is hardworking on the field, and most importantly, he is versatile. He was rated with an OVR of 82 and labelled as a Left Winger in FIFA 22 before Jurgen Klopp played him as a CF for most of the last season hence his new position as a CF in FIFA 23. He scored 21 goals last season, bagging himself 8 assists in 55 games. Jota's Minutes Per Goal last season was 170-Minutes.
Should you get him?

If you were going for Lukaku, Immobile, or Dybala for the front position then I'd say Jota would be a better candidate than them due to two main factors – Age and Stamina. Jota would be 26 this December and there is still plenty of room for him to grow as a player. He has a Stamina of 83, which is higher than almost all of the players on the list except for Mbappe at 87. This stat alone gives you a forward who'll terrorise your opponent full-time. At OVR 85, he is only 1 point behind 5 strikers on the list all the way up to Nkunku at number 6th.
Jota doesn't have a killer top speed at only 82 on Sprint Speed, but his 88 Acceleration should give you a quick burst that'll allow you to quickly create a distance. His 4-Stars in Skills will give you a good range of flashy moves and no matter which foot you're shooting from, his 5-Stars Weak Foot will give you a good radius.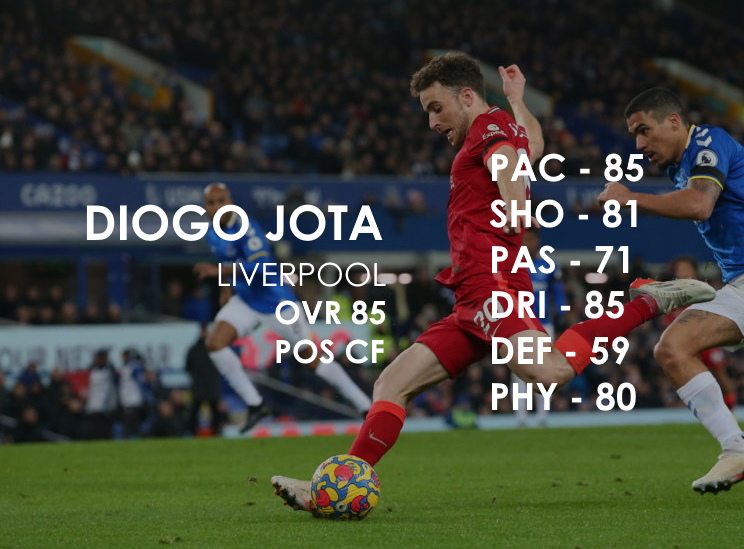 With 89 in Positioning, 86 in Finishing, 85 in Shot Power, 75 in Long Shots, and 79 in Volleys, Jota is a confident striker the closer he gets to the goal. His lineage as a winger affords him the ability to dribble with 85 points on this rating and with 80 on Composure, he'll withstand some pressures from the Defenders just fine. He has good aerial capabilities too although not great, with 84 on Heading Accuracy and Jumping at 81. Though I won't send him too many high crosses because, at just 178cm tall, I don't expect him to win duels most of the time.
Jota is also labelled a High in both Attacking Work Rate and Defensive one, meaning he'll be going back and forth participating on both ends like a machine if you don't customise his role to stay him at the front during defence. Only Jota and Kane have High on these two work rates in the list. His versatility on the field plus his ratings and stamina is one reason why I would pick him over some above. I also don't think he'll cost too much to get considering Jota is marked as a CF and Liverpool already has two other players in a similar role in Roberto Firmino and Darwin Nunez
---
That's the top 12 strikers you'll see in FIFA 23 and if you are a Manager Mode player heading into the game, I hope the list and breakdown above have provided you with some decent insights for your planning.
Just take note that the perfect striker for you may not even be on this list because how well a striker fits into your team depends on the team you are managing, the formation you are using, your playstyle, and your individual skill as a player.
This is why if you noticed, I emphasised a lot on Stamina rating because my playstyle requires dominance over my opponent with speed and regular full press (and I need high Stamina players to achieve this).
I wish I could give you a longer list than this but you can always refer to the full FIFA 23 database for more information. This is a useful database because it actually saves you time from 'Scouting' in the game if you just want to see their full card in the first season.
FIFA 23 is launching on the 30th of September this year on PlayStation, Xbox, Switch, PC, and Stadia.