Reminding its users to take a break from the hustle and bustle, play a game and socialize to reconnect with others for better wellbeing, PUBG MOBILE is rewarding its active players with extravagant rewards through the PUBG MOBILE Rabu Padu campaign.
In light of the increasing prices of food and other items across most industries, the Rabu Padu campaign aims to provide some support to the community through partnerships with various brands. Through the campaign, PUBG MOBILE seeks to reward players with vouchers and other prizes so they can enjoy their favorite items for free or at a discounted price.
Kickstarting on August 17th to November 1st, 2022, PUBG MOBILE fans participating in the Rabu Padu campaign can stand a chance to win special items from partnering brands including ASUS ROG, Monster Energy, Tealive, Genting Malaysia Bhd, Sooka, GoTifi and foodpanda.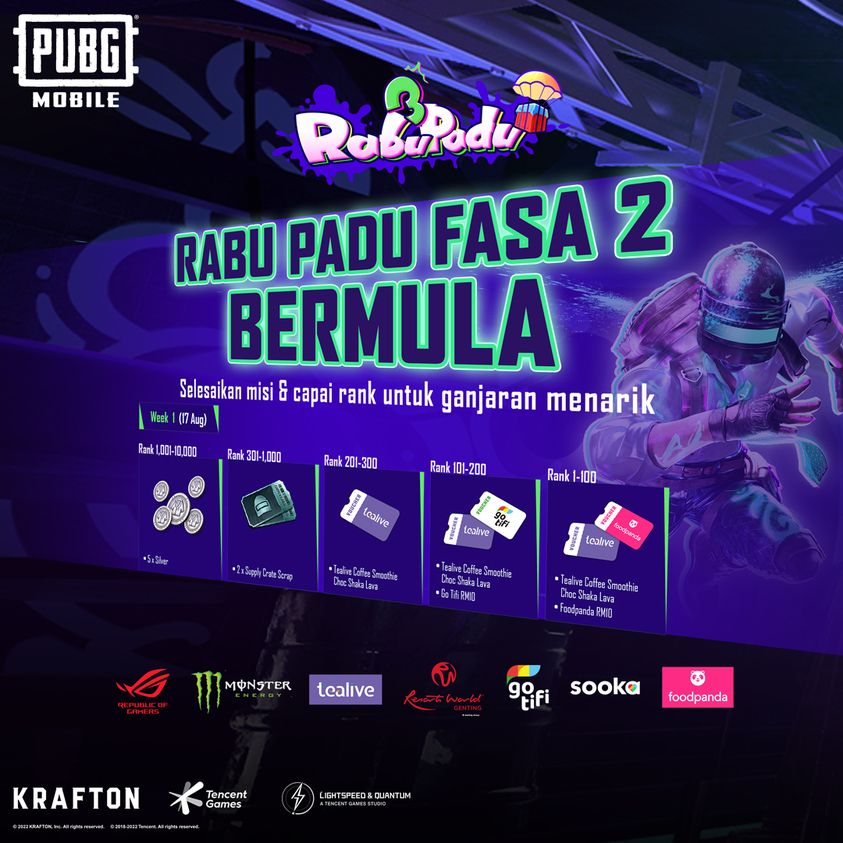 To stand a chance to win these rewards, PUBG MOBILE players simply need to login to the game daily and complete weekly missions including staying online in-game to accumulate the most points. On Wednesdays, players can earn 2x more points!
The leaderboard will refresh itself every Wednesday and points will be calculated based on one cycle (12AM on Wednesday to 11.59PM on Tuesday). The Top 100 players accumulating the highest points at the end of the campaign will walk away with exclusive prizes including the latest ROG Phone 6, Monster Energy mystery box, tickets to Genting SkyWorlds Theme Park, Tealive vouchers and sooka vouchers. PUBG MOBILE will also be giving away prizes to the weekly Top 200 PUBG MOBILE players which consists of special cash or drink vouchers from partnering F&B brands.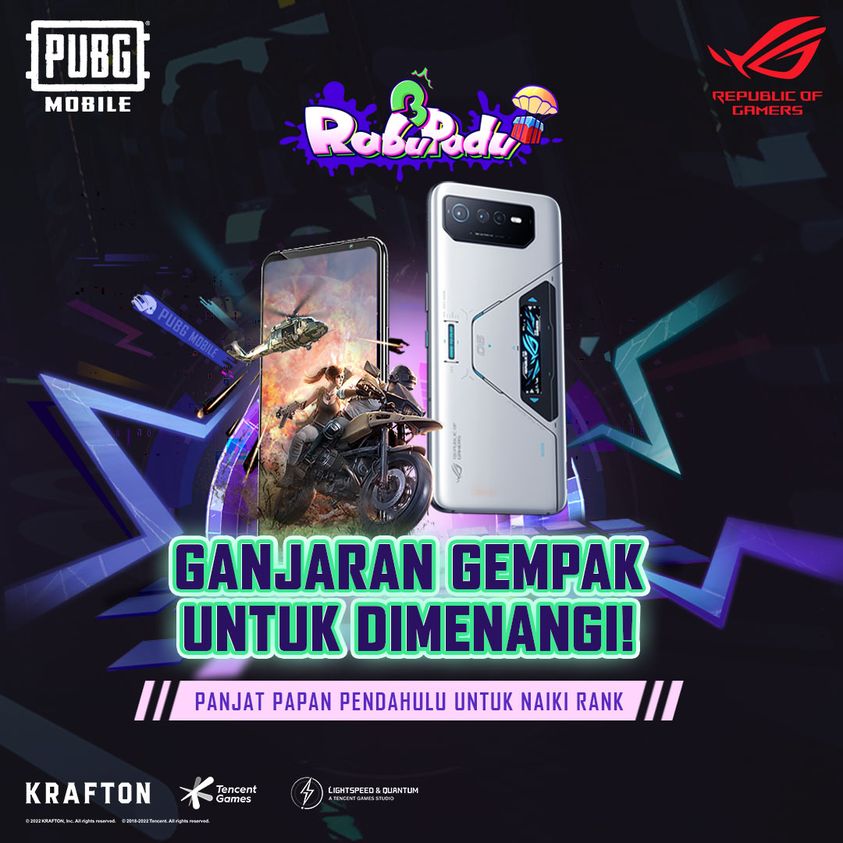 Here's how to win:
Login to the PUBG MOBILE game every day. (Earn 2x points on Wednesdays)
Complete missions within the week, to accumulate points.
The top 200 players on the leaderboard for each week will win weekly prizes. The final Top 100 players at the end of the Rabu Padu campaign will walk away with even bigger prizes.
Winners (weekly Top 200 and final Rabu Padu Top 100 after 1st November 2022) will be notified and receive prizes on the "Rewards History" page within the game.