Bandai Namco unloaded the animated opening scene by Japanese Animation Studio Ufotable whose previously has worked on several projects such as " Fate/Zero" and "God Eater anime". The anime shows the transition of the protagonist from being just a prisoner to taking on Aragami itself, featuring a few more key members training and fighting as well. The theme song is done by "Stereo Future" by BiSH, do check it out:
Bandai Namco has also shared a few glimpses on a mysterious girl name Fim with details about Burst Art Effects in this week's Famitsu. More details will be shown soon.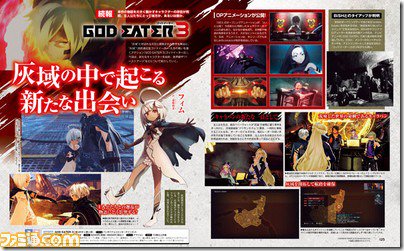 God Eater 3 will be launching in Japan for PS4 on December 13, 2018. Following up with the Worldwide release on PC and PS4 on February 8, 2019.