In conjunction with the coming Chinese New Year (5-6 February), Sony Interactive Entertainment Hong Kong Limited Singapore Branch (SIES) has announced the 'PlayStation Store Lunar New Year 2019 Offerings' for a limited period from January 31 – February 13, 2019.
Up to 80% Discount on Selected Titles on PS Store.
During the campaign period, customers may enjoy up to 80% discount on selected PS4 titles! PS Plus member can enjoy extra discount on some of the titles. Selected titles include best sellers such as: "God of War III Remastered" (80% off, extra 10% off for PS Plus member), "Assassin's Creed The Ezio Collection" (80% off), "PLAYERUNKNOWN'S BATTLEGROUNDS" (30% off).
For more details on the offer, please visit PS Store: https://store.playstation.com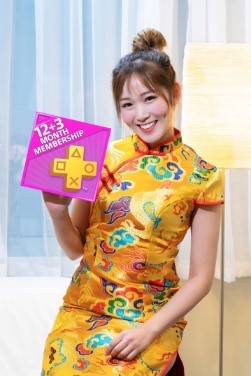 PS Plus 12-Month Membership + 3-Month Bonus Offer
PS Plus 12-Month Membership + 3-Month bonus offer will be launched exclusively on PlayStation Store from January 31, to February 13, 2019. Become a PS Plus member to enjoy online multiplayer with fellow players and more privileges, including free games, exclusive discounts, and priority access to special events!
PS Plus Monthly Free Game Line-up with For Honor and HITMAN – The Complete First Season
February free game will be available for members to download from February 7 – March 6, 2019, and the line-up includes: For Honor (PS4), HITMAN™ – THE COMPLETE FIRST SEASON (PS4), Hand of Fate (PS4), TORO PS4 Feb Theme (PS4), "KINGDOM HEARTS III" Avatars (PS4).
SNS Campaign – "PS Plus 2019 Lunar New Year Contest"
"PS Plus Lunar New Year Contest" will be launched on PlayStation Asia Official Facebook page (@PlayStation Asia) on January 31, 2019. Campaign posts will be posted at 12pm and members just need to take some simple steps as mentioned in the post to win a prize. Over 160 prizes included PlayStation 4, PlayStation VR, Wireless Headset-3D Surround Audio and PSN money vouchers will be given to PS Plus members.
All participants will be entitled to receive the code of "PlayStation 4 Toro Lunar New Year Theme".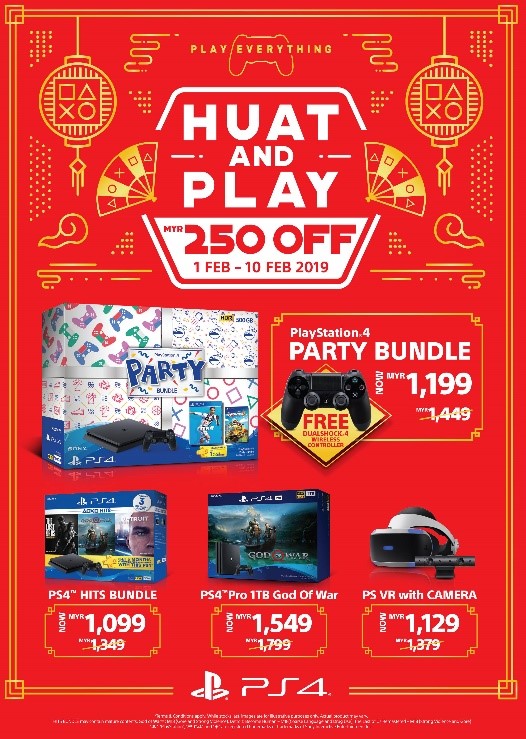 Huat ahh! – Lunar New Year 2019 Sales on PlayStation Hardware
From February 1 – 10, 2019, PlayStation Authorized Dealers, Sony Store, Sony Centre will offer discounts (MYR 250) on PlayStation hardware;
PlayStation 4 Party Bundle – MYR 1,199 (normal SRP*: MYR 1,449), includes additional free DUALSHOCK 4 Wireless Controller
PlayStation 4 HITS Bundle – MYR 1,099 (normal SRP: MYR 1,349)
PlayStation 4 Pro God of War Bundle (1 TB) – MYR 1,549 (normal SRP: MYR 1,799)
PlayStation VR with PlayStation Camera – MYR 1,129 (normal SRP: MYR 1,379)
*Selling Retail Price
---
NOTICE:
This announcement came directly from Sony Interactive Entertainment Hong Kong Limited Singapore Branch (SIES) and was directed at fans located within the service coverage of PlayStation R3 Region where the Chinese New Year Festive is commonly celebrated.
The currency reflected in this article (MYR) is the currency of Malaysia. The Exchange Rate at Press Time stands at – 1USD = RM 4.11, 1 EURO = RM 4.73, 1 POUND STERLING = RM 5.40
---