For the past five years, Sony Interactive Entertainment have been on a journey with accessibility organizations and experts to create a versatile controller kit that enables gamers with disabilities to play more comfortably and for longer periods, empowering more players to share in the joy of gaming. SIE is thrilled to announce that the Access Controller for PlayStation 5 will be available globally on December 6, with preorders kicking off on Friday, July 21.
Available for a suggested retail price (SRP) of SGD 128.90 / MYR 449 / IDR 1,649,000 / THB 3,090 / PHP 5,090 / VND 2,599,000, the Access controller lets you customize your layout with different button and stick caps in various shapes and designs, operate the controller from any 360° orientation, and connect third-party accessibility accessories using its four industry-standard 3.5mm expansion ports.
On your PS5 console, there are many settings for the Access controller that you can configure to meet your needs. You can map buttons to create up to 30 control profiles, adjust stick settings, toggle commands on/off, or disable buttons altogether to stop accidental pressing. You can even pair up to two Access controllers and one DualSense wireless controller together and use them collaboratively. Check out the video below for a sneak peek at the countless ways you can craft your own gaming experience through the Access controller:
Product Specifications & Contents
Let's take a look at the product specifications and what's included in the box:
Feature
Details
Access controller for PS5

Dimensions (w/h/d): Approx. 141 x 39 x 191 mm
Weight: Approx. 322 grams (0.7 lbs.)

(4) expansion ports

3.5mm industry-standard AUX ports for players to connect additional buttons, specialty trigger switches and other compatible accessories

(19) button caps

(1) wide flat button cap

(covers two button sockets)

(2) overhang button caps

(benefits players with smaller hands as they are positioned closer to the center)

(4) curve button caps

(can be pushed if placed along the top or pulled if placed along the bottom of the controller)

(8) pillow button caps
(4) flat button caps

(3) stick caps

(1) ball stick cap
(1) standard stick cap
(1) dome stick cap

(23) button cap tags

Swappable button cap tags for players to easily mark which inputs they map to each button

USB cable

1.5m USB Type-C to Type-C cable (Hi-Speed USB)

Quick start guide and safety guide

Instructions for setting up the controller, UI settings and button configurations on PS5
And, here's a visual breakdown: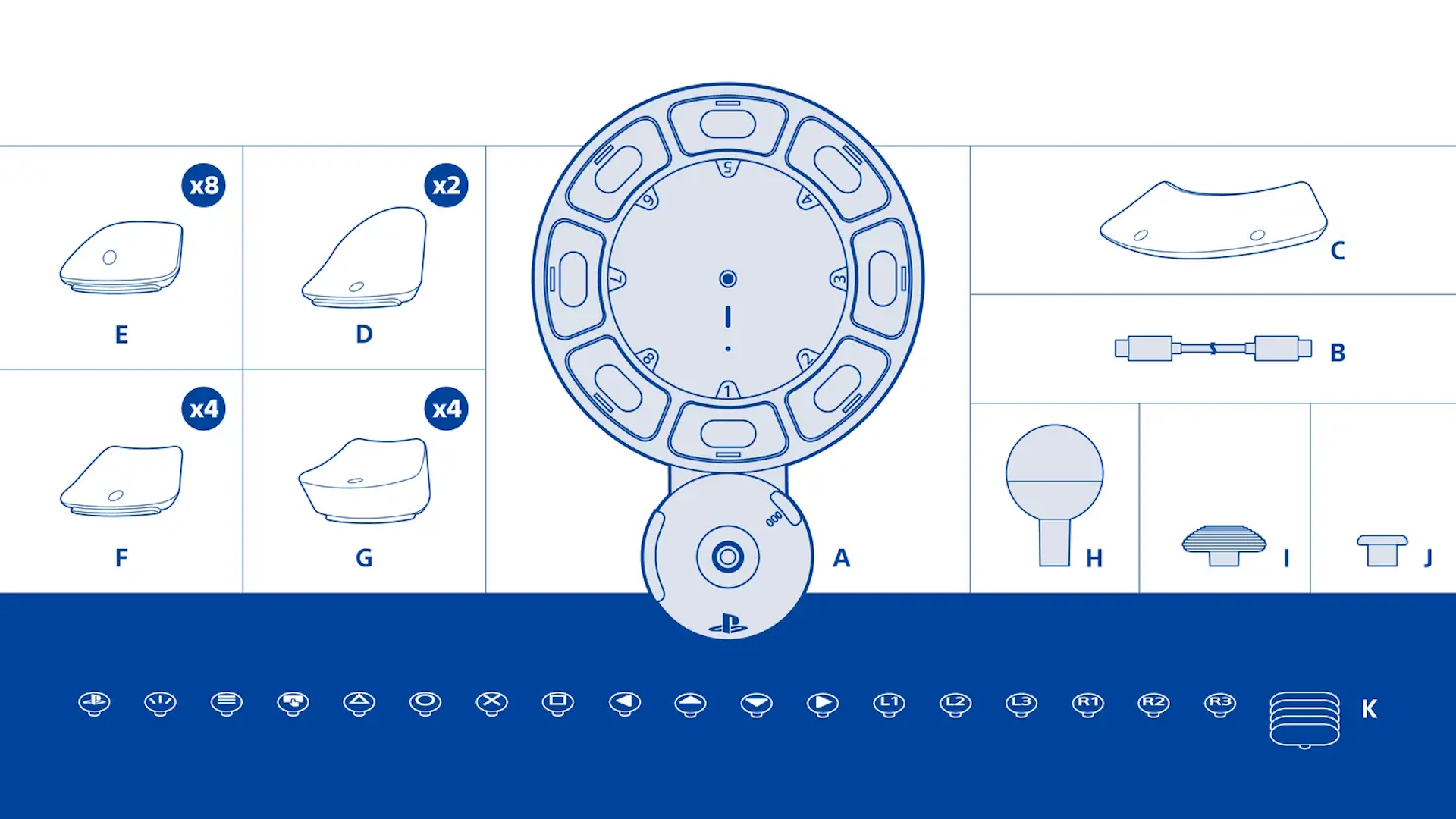 Preorders kick off on July 21 in Select Southeast Asia Countries
Starting Friday, July 21, players in Malaysia, Thailand, Indonesia, Philippines, and Vietnam will be able to preorder from select retailers. For Singapore, the pre-order will happen at a later date. The Access controller will launch globally on December 6.