Samsung has consistently led the way when it comes to innovative advancements in foldable technology. In 2019, they unveiled their foldable phone, which sparked a lot of excitement. In the years since the Z Fold series first appeared, there has been a great deal of debate about them and their subsequent generations. Samsung reaffirms its determination to advance the Fold series with the utmost seriousness and innovation with this triumphant launch.
A few days back, we got our initial glimpse of the Samsung Galaxy Z Fold5 (you can read about it here). Now, it's time to delve into a comprehensive review of the device, taking a closer look. To begin, let's start by examining the technical specifications.
Specs
Dimension
Unfolded: 154.9 x 129.9 x 6.1 mm
Folded: 154.9 x 67.1 x 13.4 mm
Weight
253 grams
Body
Glass front (Gorilla Glass Victus 2) (folded), plastic front (unfolded), glass back (Gorilla Glass Victus 2), aluminum frame
Display
Foldable
Dynamic AMOLED 2X, 120Hz, HDR10+
7.6 inches, 1812 x 2176 pixels
Cover
Dynamic AMOLED 2X, 120Hz,
6.2 inches, 904 x 2316 pixels
OS
Android 13, One UI 5.1.1
Chipset
Qualcomm SM8550-AC Snapdragon 8 Gen 2 (4nm)
GPU
Adreno 740
Memory
256GB, 512GB, 1TB
12GB Ram
Camera Rear
Photography :
50 MP, f/1.8 Wide
12 MP, f/2.2 123˚ Ultrawide
10 MP, f/2.4, Telephoto
Videos :
8K@30fps
4K@60fps
1080p@60/240fps (gyro-EIS)
720p@960fps (gyro-EIS)
HDR10+
Camera Others
Photography :
Under Display :
4 MP, f/1.8 WideCover camera :
10 MP, f/2.2, 24mm
Videos :
4K@30/60fps
1080p@30/60fps gyro-EIS

Connectivity
Wi-Fi 802.11 a/b/g/n/ac/6e, tri-band, Wi-Fi Direct
Bluetooth – 5.3 A2DP, LE, aptX HD
Battery
Li-Po 4400 mAh
Charging at 25W Wired
Protection
IPX8 water resistant (up to 1.5m for 30 min)
Colours
Icy Blue, Phantom Black, Cream, Gray, Blue
Price
256GB RM6799
512GB RM7299
1TB RM8299
Design & Construction
Starting off, Samsung has completely eradicated the gap that was present in previous Fold phones with the introduction of the new Flex Hinge. This innovative alteration not only addresses a multitude of user concerns but also enhances both aesthetics and screen protection. By removing the gap, the device's overall thickness has been remarkably reduced, going from 15.8mm on the Fold4 to an astonishingly slim 13.4mm.
This fundamental shift in design has effectively propelled the Samsung Z Fold5 from being characterized as a "Cool Device With Issues" to attaining the status of a "Premium Flagship." What's more, the slimmer profile has facilitated a reduction in the device's overall weight. The new Z Fold5 now tips the scales at a mere 253g, a notable improvement compared to the 263g weight of its predecessor, the Fold4.
Shifting our focus to the device's edges and sides, where you'll find just a handful of features and buttons. Positioned on the right side are the volume rocker and power button. At the top, one of the stereo speakers is located, while the left side houses the sim card slot. Moving to the bottom, you'll find the other stereo speaker half and the USB C port. Impressively, Samsung has opted for a minimalist design approach for this flagship product, maintaining a straightforward and uncomplicated layout.
Adding on, my take is that the device now sits firmly in your grip and does not feel like it's about to slide out. It feels firm and solid. Another key point to note here is that there is no sense of worry as to the possibility of forcefully bending the device now that the gap is gone.
Screen
The external screen boasts a compact 6.2-inch size and an aspect ratio of 23.1:9. Don't be deceived by its narrower form; this display brings robust specifications to the table. Boasting a refresh rate of 120Hz, it's a compelling choice for mobile gamers seeking smooth and fluid motion. In addition to its impressive speed, Samsung has equipped this display with Dynamic AMOLED 2X technology, while the application of Corning Gorilla Glass Victus 2 enhances its screen protection significantly.
On the internal front, the expansive main display measures a generous 7.6 inches. Just like its external counterpart, it features Dynamic AMOLED 2X technology and enjoys the safeguarding qualities of Corning Gorilla Glass Victus 2. This combination ensures that your viewing experience is not only immersive but also fortified against potential damage.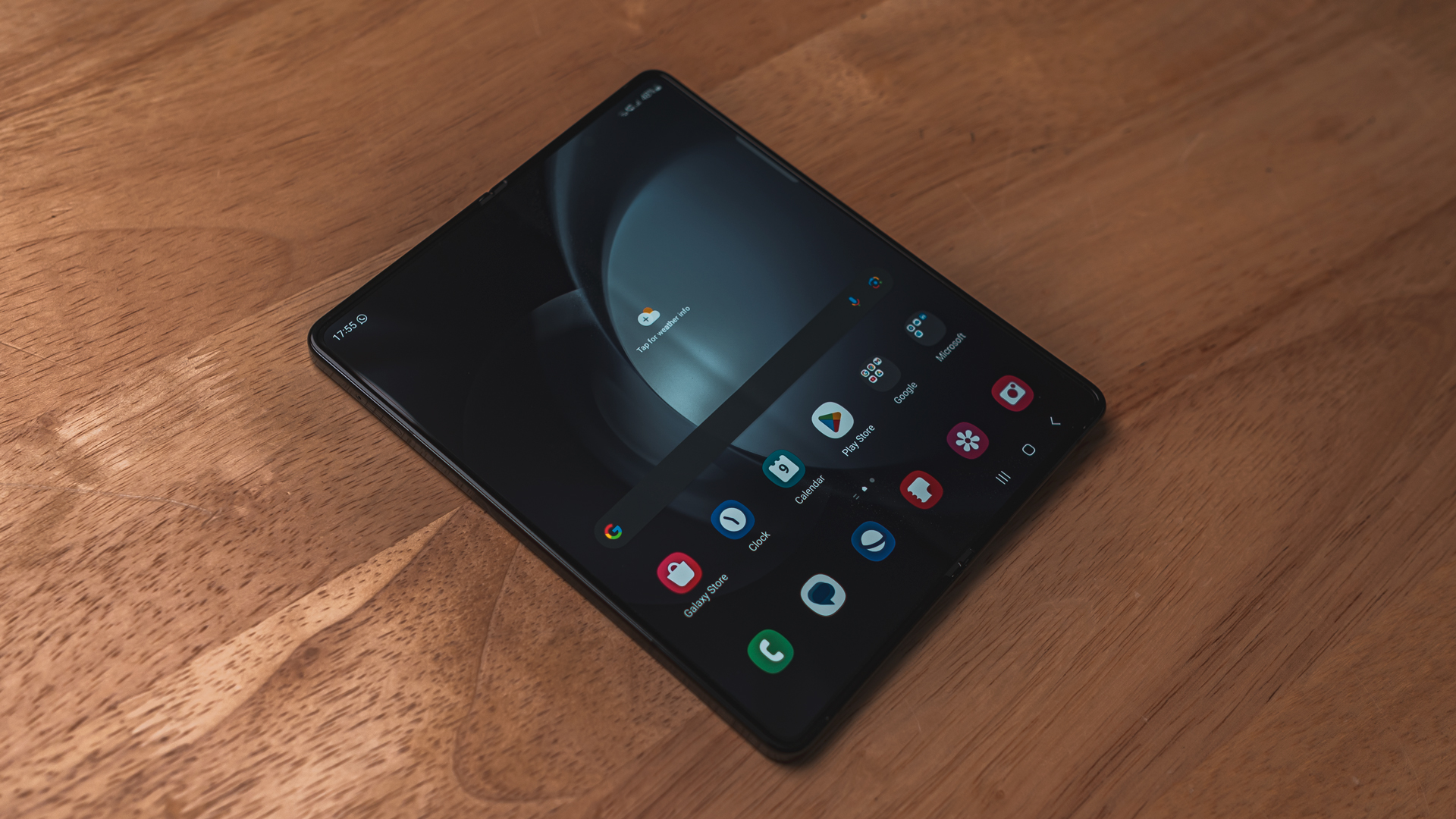 Moreover, both screens of the Z Fold5 have secured certification from VDE Germany for an impressive 100 percent Mobile Color Volume within the DCI-P3 color spectrum. This certification ensures that your visuals remain vibrant and lifelike, unaffected by variations in brightness. It's worth noting that the display can reach an impressive peak brightness of 1750 nits, intensifying the distinction between shadows and highlights in digital content, thereby elevating picture quality to a new level of brilliance. This enhancement is further amplified by a remarkable 3,000,000:1 contrast ratio, contributing to an immersive mobile experience that captivates your senses.
Adding on, both screens appear to be extremely vibrant and exudes elegance. They are sharp, bright, and colorful. The internal display significant caveat is the crease. The crease is there, prominent and highly visible. It is not going to disappear anytime soon. However, Samsung has clearly refined it and everyone who has used a Galaxy Fold for any length of time can attest to the fact that, after using one for a week or two, you stop noticing or feeling it.
Camera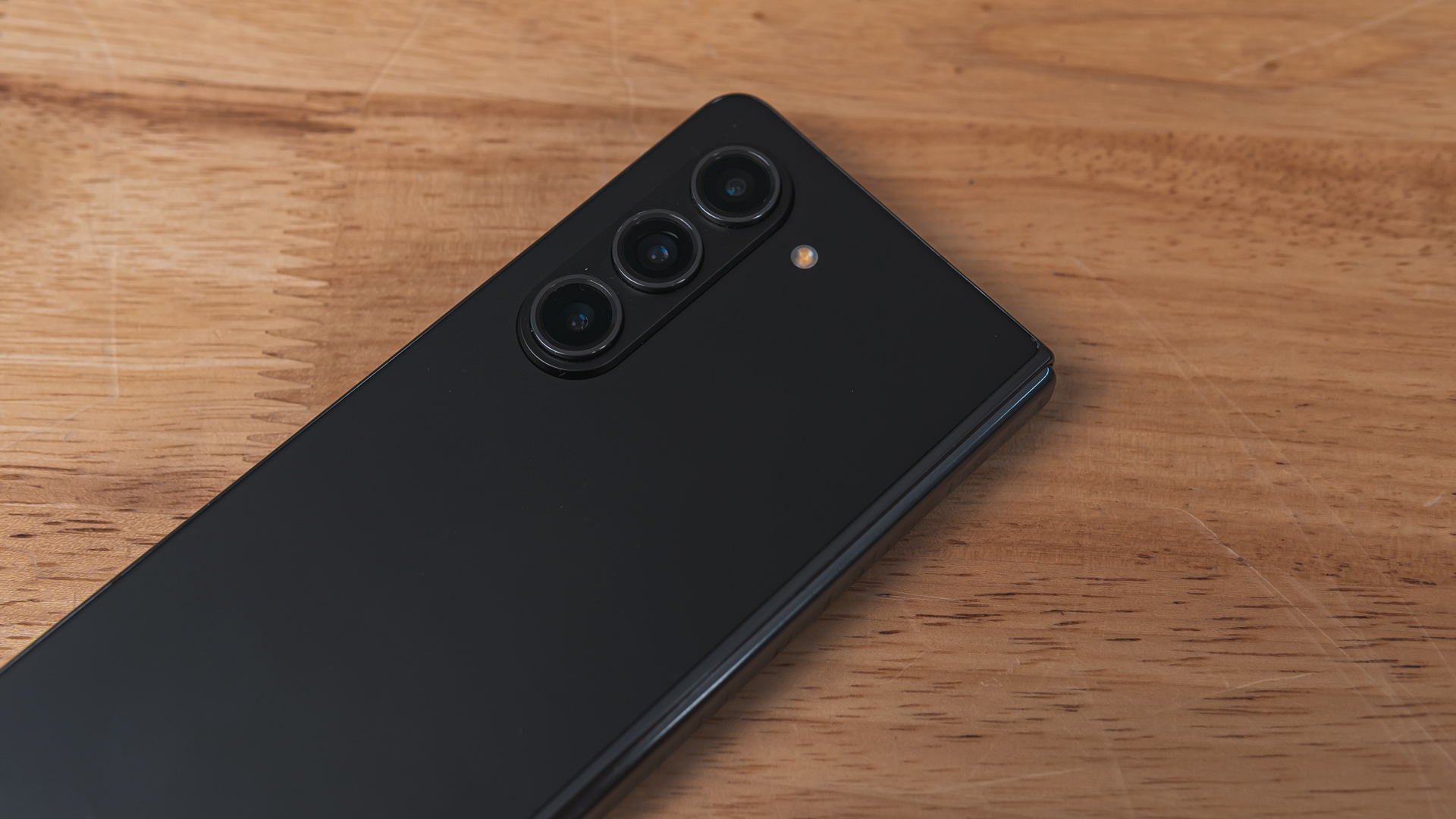 The rear side features a trio of cameras: a 50MP primary wide camera equipped with optical image stabilization (OIS), a 10MP telephoto camera with 3x optical zoom and OIS, and a 12MP ultrawide camera. Similarly, a 10MP selfie camera is discreetly placed within the perforated area of the cover screen, while a 4MP under-display camera, nearly imperceptible, is ingeniously positioned behind the foldable OLED.
Primary Cameras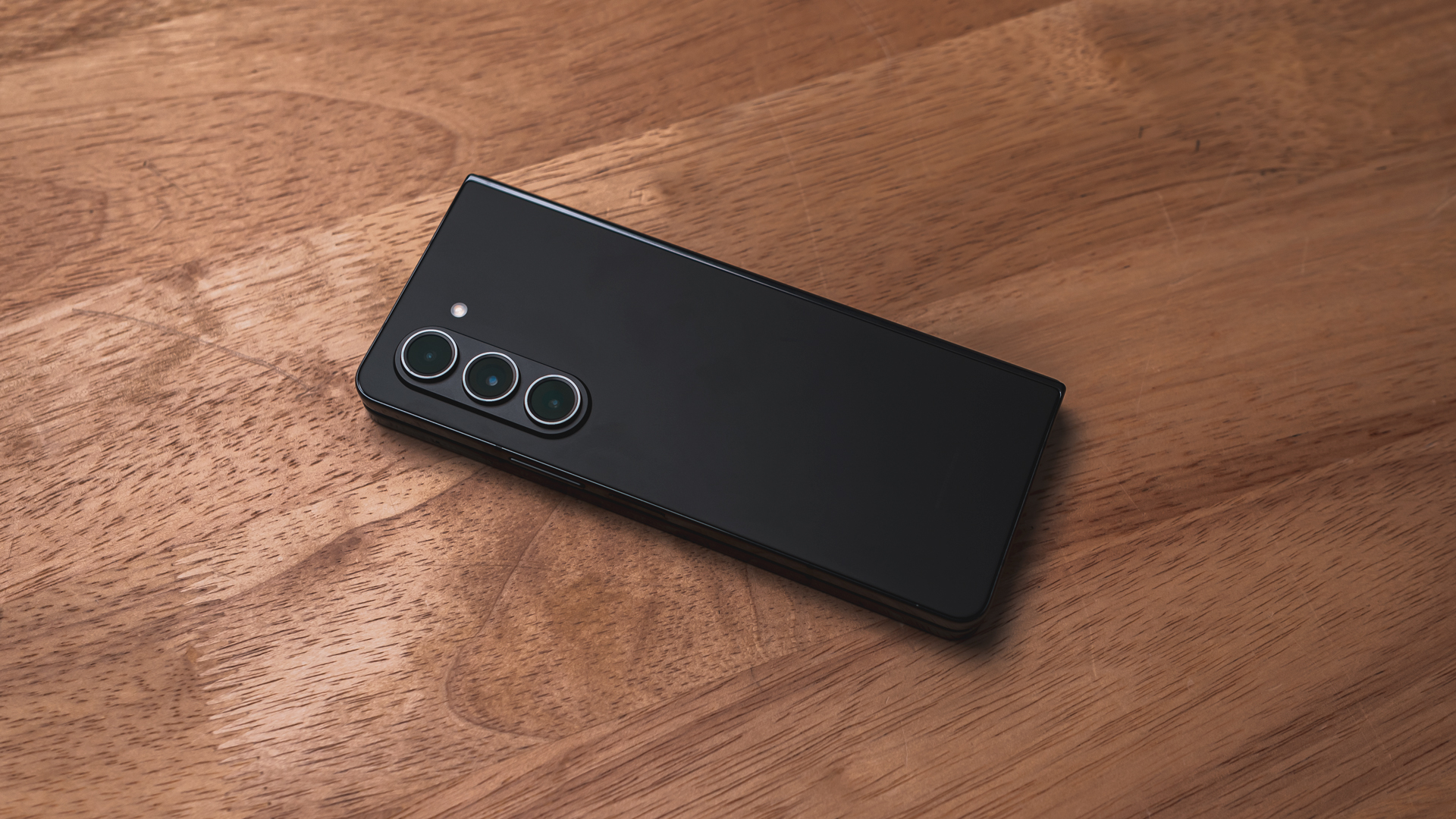 The primary camera, anchored by the 50MP Samsung GN3 sensor, captures images through a 1/1.56″ imager sporting 1.0µm pixels. The lens in play is a 23mm f/1.8, featuring stabilization (OIS), and boasts Dual Pixel autofocus capabilities. Moving along, the ultrawide camera taps into the 12MP Sony IMX 258 sensor, a tried-and-true component with a 1/3.06″ optical format and 1.12µm pixels. This sensor is paired with a 13mm f/2.2 lens. It's important to note that while the module has autofocus, the Z Fold5 itself doesn't support it in this context. Lastly, the telephoto camera draws its capabilities from the Samsung S5K3K1 sensor, sizing up at 1/3.94″ and boasting 10MP with 1.0µm pixels. This camera is fitted with a 66mm f/2.4 stabilized (OIS) lens to capture steady shots even from a distance.
Selfie Cameras
On the cover screen, you'll find a 10MP punch-hole camera unit. This particular unit employs the reliable Sony IMX 374 sensor, sized at 1/3″ and featuring 1.22µm pixels. It's paired with a fixed-focus lens that mirrors a focal length of 25mm and boasts an f/2.2 aperture.
Simultaneously, concealed beneath the folding screen lies the under-display camera, housing a 16MP sensor (IMX 471, 1/3″, 1.0µm). This camera delivers 4MP still images and 1080p video, maintaining the same 25mm equivalent focal length and f/1.8 aperture.
Pro Mode
The photography enthusiast within me is truly delighted by Samsung's Pro Mode. This impeccably designed feature obviates the necessity for me to lug around my separate cameras and lenses. The Pro Mode is an exceptional offering from Samsung, affording every user a diverse array of functions and features that effortlessly transform the art of capturing images into an enjoyable endeavor. Samsung's Pro Mode grants users full fledged control up to a certain limit though, it allows you to control white balance, focusing, shutter speed and iso levels. For those who are unhappy with standard point and shoots, going into this mode allows far greater output and better quality if you know what to do.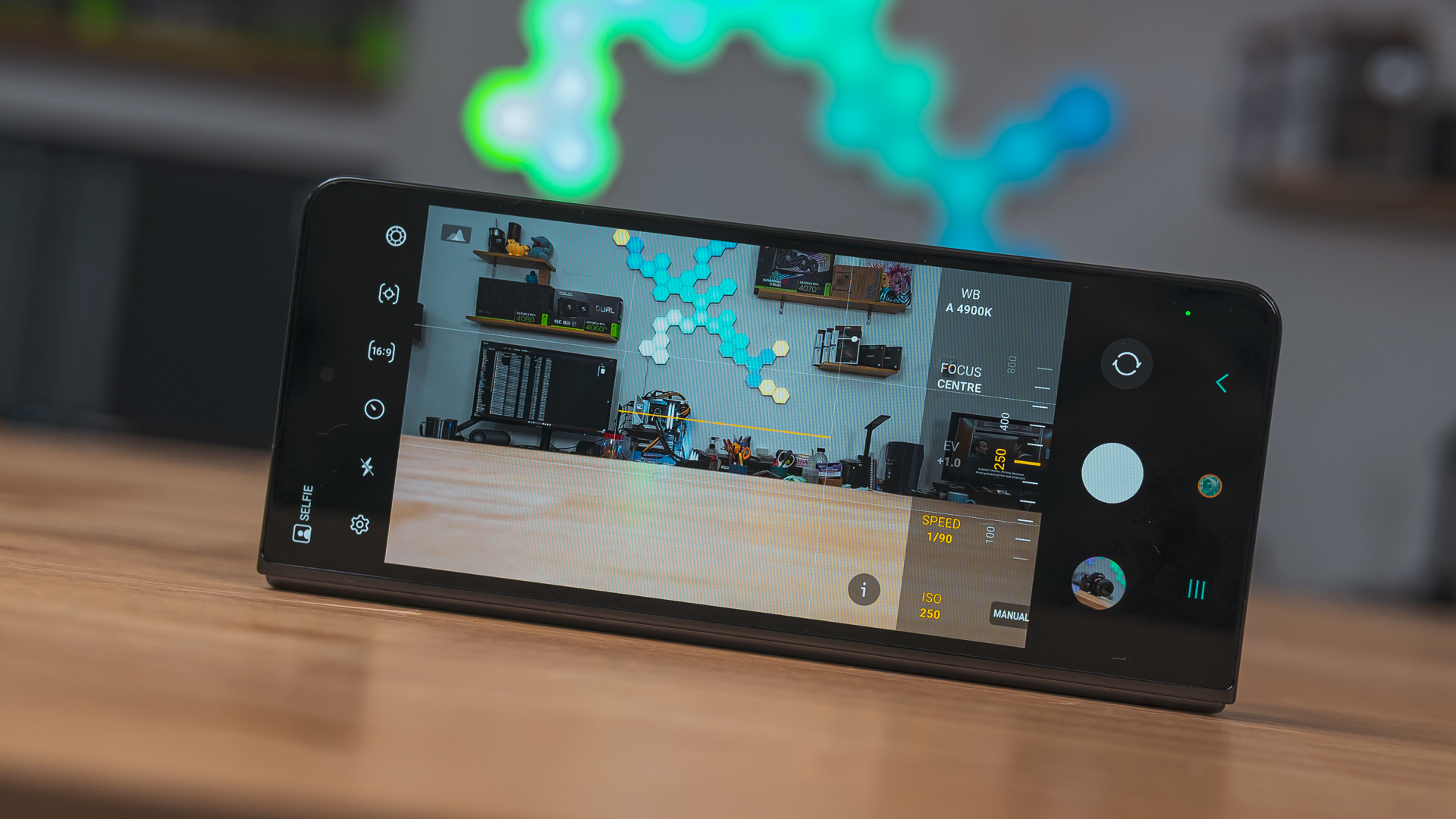 Commentary
The five cameras that make up the Fold 5's total number are nearly identical to those of its predecessor. Combining three excellent cameras on the back with a typical selfie camera in the outside screen and a 4MP camera hidden beneath the folding screen, which is only useful for video calls, still results in a pretty useful device I'd say.
In a variety of lighting situations, the primary cameras shoot really good quality pictures. The images are a little bit sharper and the night mode is noticeably quicker than on older models. The Fold5 still has a ton of features, like the ability to take selfies with the primary cameras and to prop it up to take pictures and videos while not using your hands.
It matters not if you are a casual or a hobbyist photographer, the Galaxy Z Fold5 has both the convenience and options for both crowds as the built-in AI and Pro mode grants both sets of crowds the utilities to take amazing and crisp looking pictures. I would certainly say that Samsung is sticking by the mantra of not fixing anything that is not broken.
Sample Photos
Portraits
Zoom Shots
Low Light
Selfie Cam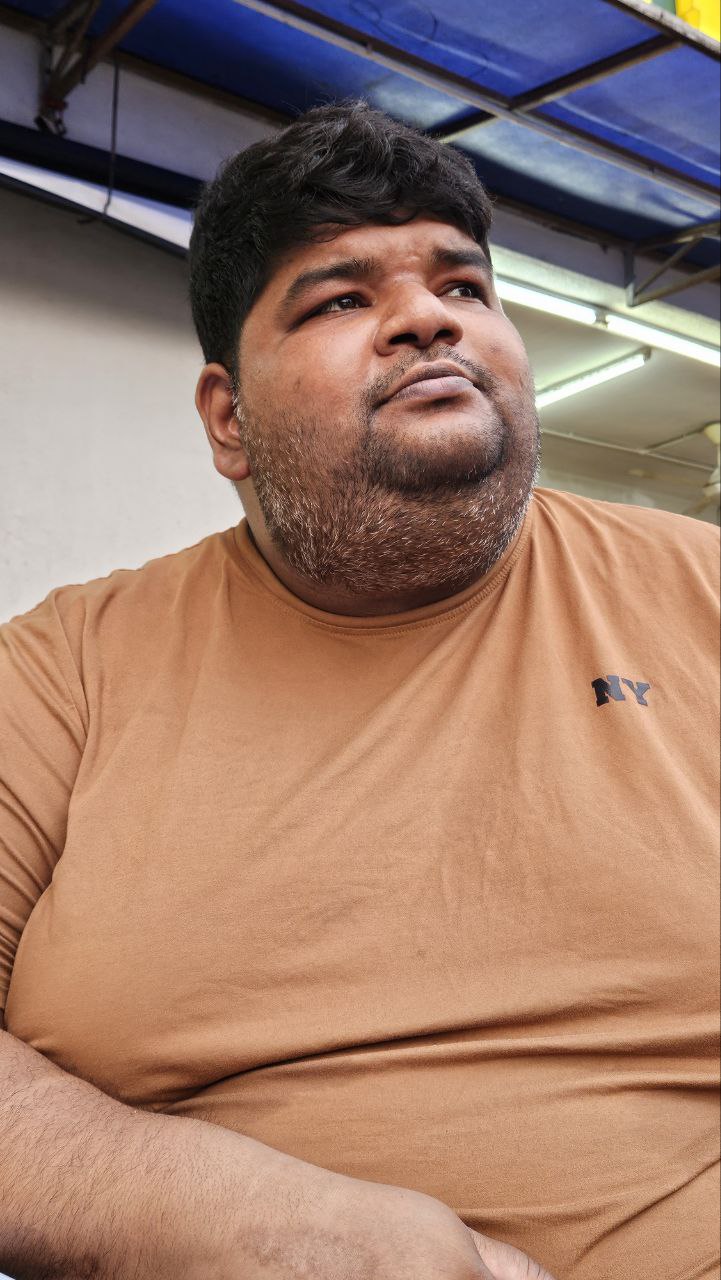 Battery
Battery Life
Much like it's predecessor the Samsung Z Fold4, this new Fold5 is also powered by a similar 4,400mAh battery. For the internal display, the Fold5 received a total endurance rating of 95 hours. Nearly 14 hours of continuous web browsing and more than 16 hours of continuous video playback were tested. Achieving good and satisfactory results much alike the Fold4.
Charging Speed
The Samsung Galaxy Z Fold5 supports up to 25W wired charging. 15W wireless charging is available, too, as well as up to 4.5W reversed wireless charging. Using an original 25W Samsung charger and the bundles USB C cable, the device recharges 30% of the Galaxy Z Fold5 battery in 15 minutes, while another 15 minutes will get you to 50%. A full charge requires 80 minutes.
Performance
Under the hood is a custom Snapdragon 8 Gen 2 chipset, aptly named the Snapdragon 8 Gen 2 for Galaxy. This platform shares its foundation with the one featured in the Samsung S23. Notably, this chipset flaunts a higher CPU clock speed and an added GPU core in comparison to the regular versions. Aligning with performance, Samsung has equipped the device with 12GB of LPDDR5X RAM across all capacities, ensuring a seamless and efficient multitasking experience.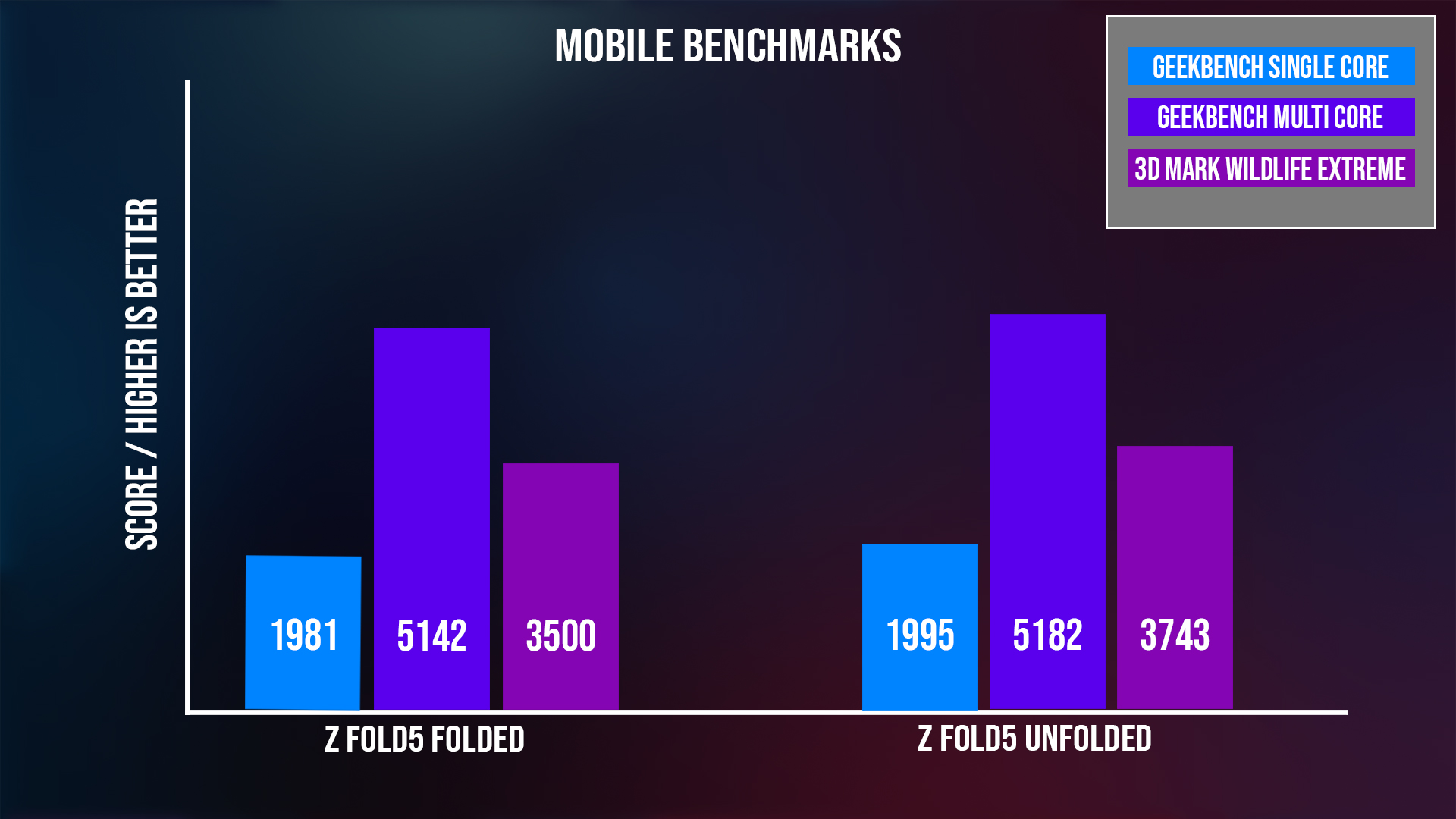 As shown above, the device underwent testing in both its folded and unfolded configurations. As expected, the device exhibited slightly superior performance when unfolded as opposed to when it's in the folded state. This disparity in performance can be attributed to the principles of physics, as the expanded surface area allows for more efficient cooling due to reduced compactness.
In addition, the benchmark scores position the Z Fold5 within the upper echelons of rankings, though not necessarily claiming the absolute top position. It's worth noting that the combination of specifications and performance levels aligns well, making a strong case for the device's sustained relevance over the next 2-3 years. This assertion remains valid despite any potential increase in system requirements for the latest applications.
Gaming
As shown in the video above, I thoroughly tested the capabilities of the Z Fold5 with three genres of games, and I was thoroughly impressed by its ability to handle them effortlessly, even when I pushed the settings to the max.
The gaming performance of this phone is genuinely remarkable. While I might not personally indulge in mobile gaming extensively, it's evident that the synergy between the Z Fold 5's spacious inner display and its custom Snapdragon 8Gen2 positions it as a top choice for mobile gaming. Moreover, the generously sized screen not only enhances the visual allure of games but also adds an enjoyable layer to the gaming experience. Who wouldn't opt for a larger screen compared to their friends' devices?
The Z Fold5 maintains a consistently comfortable temperature during extended gaming marathons, thanks to its improved cooling system. This, combined with the Snapdragon 8Gen2's efficiency, effectively prevents the device from heating up uncomfortably during prolonged gameplay sessions.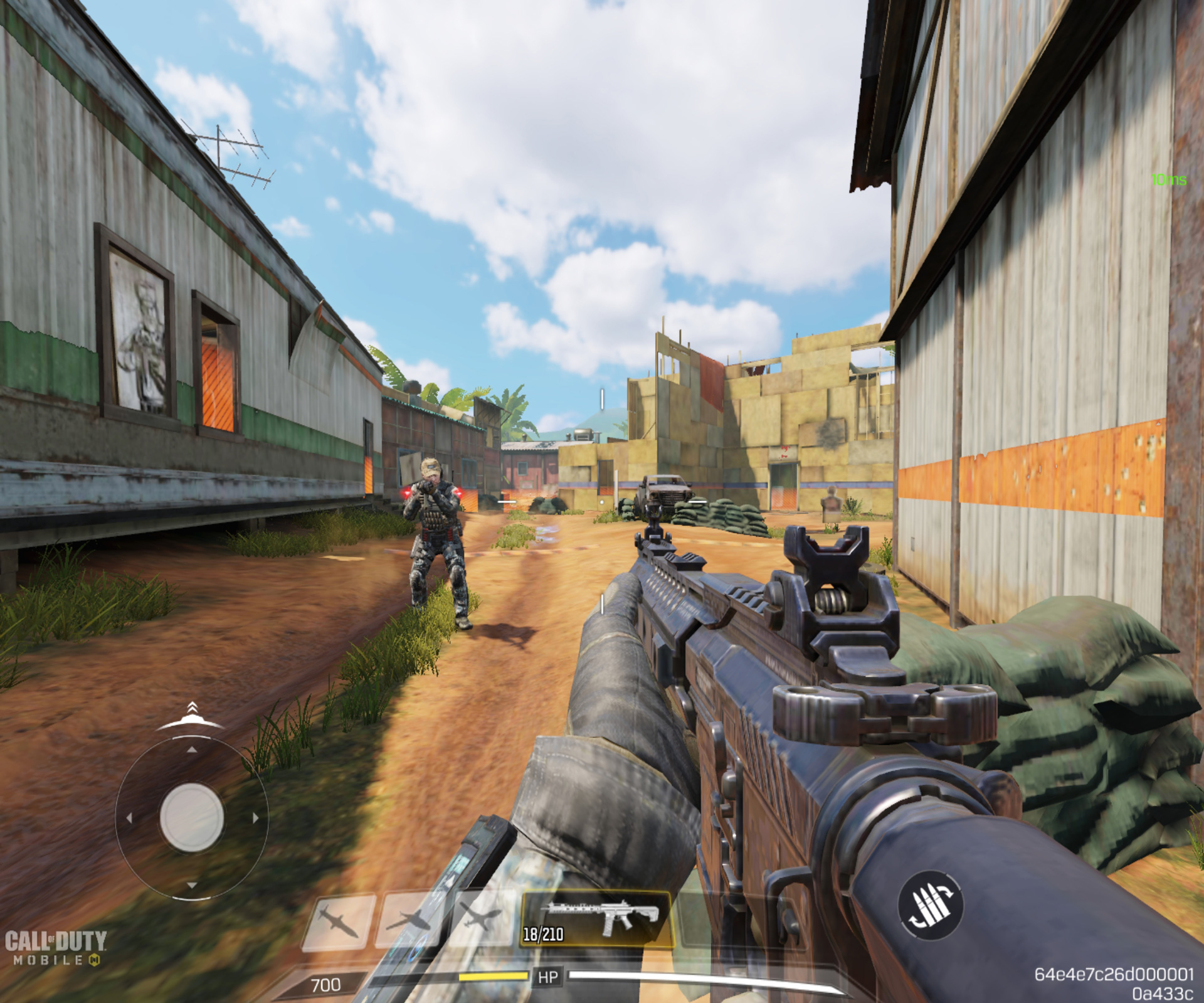 The most captivating feature of the foldable design, without a doubt, lies in the substantially larger screen when you unfold the device. This expanded display improves the immersive nature of gaming and elevates the gaming experience. Adding to this is the adaptive 120Hz refresh rate, contributing to gameplay that's both smoother and more responsive.
In addition to the refresh rate is its peak brightness, which has been raised to an impressive 1,750 nits. Personally, one aspect that truly stands out for me is the enhanced comfort of playing video games outdoors. The screen remains vividly illuminated, even in direct sunlight. This enhancement has notably extended the gaming experience to a variety of environments. Whether you're diving into the immersive realm of RPGs, engaging in the fast-paced intensity of FPS titles, or navigating through racing games teeming with intricate details, the Z Fold5 adapts seamlessly to ensure smooth gameplay and vibrant visuals that amplify your engagement across a diverse range of gaming genres.
However, it's important to consider the trade-off with battery life when the adaptive refresh rate is active. In my view, this minor drawback can be offset by simply keeping the device connected to a charger, especially since the battery drain isn't overly rapid, even during intense gaming sessions. The battery's longevity under gaming conditions far exceeds an hour, making the Z Fold5 a dependable companion for extended gaming adventures.
Notably, the improved lack of a crease on the screen is even more inconspicuous than before, and I'm pleased to confirm that it has no discernible impact on the gaming experience. Whether you're engrossed in an RPG's immersive narrative, engaged in the swift action of an FPS, or taking tight corners in a racing game, the experience remains seamless, ergonomic, and perfectly suitable for diverse game genres.
Last but not least, thanks to the Galaxy Z Fold 5's reduced weight, playing games on it for extended periods of time is much more comfortable. The Galaxy Z Fold 5 is less tiresome to hold in the hand because it is lighter than its predecessor. It is also slimmer when unfolded, which makes it more comfortable to hold and easier to grip.
Multi Tasking
The standout feature of the Z Fold5 lies in its exceptional multitasking capabilities, an area where it truly excels. Additionally, the Z Fold5 offers a distinctive feature—the Taskbar—that comes to life upon unfolding the device. This Taskbar, functioning akin to a dock interface, strategically arranges apps and software for convenient access. With the Taskbar at your disposal, you can effortlessly view and switch between up to 12 apps, ensuring a seamless multitasking experience.
Enhancing productivity on the expansive screen, Samsung has taken a step further by optimizing their operating system to introduce the innovative "two-handed drag & drop" feature. This function facilitates the effortless transfer of content—such as images and documents—between different apps and screens, all through multi-touch gestures. It's worth highlighting that this feature is as simple as long-pressing an image from the Gallery or Samsung Internet with one finger, while simultaneously tapping a new app with another finger. Following this, you can intuitively drag and drop the content to share it.
Additionally, the device's Multi Window Access allows you to run three apps concurrently, a practical solution for seamless multitasking. Whether it's watching YouTube videos while browsing the internet or managing your Instagram feed, the Z Fold5 ensures these tasks can be carried out without any disruptions.
---
What I Liked About The Samsung Galaxy Z Fold5
Easy to use UI
One UI 5.1.1 Plus Galaxy Interface
Jaw dropping Screen Real Estate
Remarkable temperature and batter levels
Amazing battery life
Flex Hinge to eliminate the gap
Feature-rich software with unmatched multi-tasking functionality
Pro Mode Camera
Excellent photo and video quality
What Can Be Better
No bundled casing in the box
Price Tag is on the higher spectrum
I hope the future versions of the Z Fold will come with the S Pen included
---
Conclusion
The Galaxy Z Fold5 emerges as the unequivocal champion in delivering an unparalleled foldable experience, outshining any competing device in its league. A pivotal factor behind this dominance lies in Samsung's ingenious reimagining of the software interface. Their meticulous adjustments to multi-touch interactions and multitasking functionality within the One UI 5.1.1 Plus mark it as a masterpiece in its own right. Undoubtedly, Samsung's strides have forged an indomitable path, establishing the Galaxy Z Fold5 as the ultimate benchmark against which all other contenders must measure themselves.
The upgraded hinge on the Z Fold5 is a development I've eagerly awaited. This recent enhancement doesn't just make the mechanism last longer; it also effectively shrinks the gap when folded and minimizes the crease that was noticeable in earlier iterations.
In conclusion, the Samsung Galaxy Z Fold5 stands alone in its class, showcasing an exceptional blend of innovation, performance, and design. For dedicated tech enthusiasts, this device undoubtedly holds a coveted spot as a must-have. The monumental challenge posed to competitors is undeniable – the Z Fold 5's supremacy is not easily contested, setting a formidable standard that will require an exceptional feat for any contender to match stride for stride.
Final Score : 9.5/10
---
Product Link : https://www.samsung.com/my/smartphones/galaxy-z-fold5/
---
More articles on the Samsung Galaxy Z Fold5
Unveiling of the Z Fold5 and Z Flip5 : https://bunnygaming.com/news/unveiling-the-samsung-galaxy-z-fold5-pre-order-campaign-flex-that-bigger-better-bolder-screen-on-the-galaxy-z-fold5/
Preorder Details : https://bunnygaming.com/news/samsung-galaxy-z-flip5-and-galaxy-z-fold5-heres-what-weve-seen-so-far/