In an exciting announcement, Samsung Electronics Co., Ltd. has introduced its fifth generation of Galaxy foldables, the Galaxy Z Flip5 and Galaxy Z Fold5. Boasting industry-leading form factors, these cutting-edge devices promise unique and personalized experiences, combining sleek designs, customizable options, and high-powered performance.
With the new Flex Hinge at the core of the foldable experience, these devices strike a perfect balance between aesthetics and functionality, unlocking exceptional camera capabilities through features like FlexCam. Whether open or closed, the Samsung Galaxy Z series sets new standards for what a smartphone can achieve.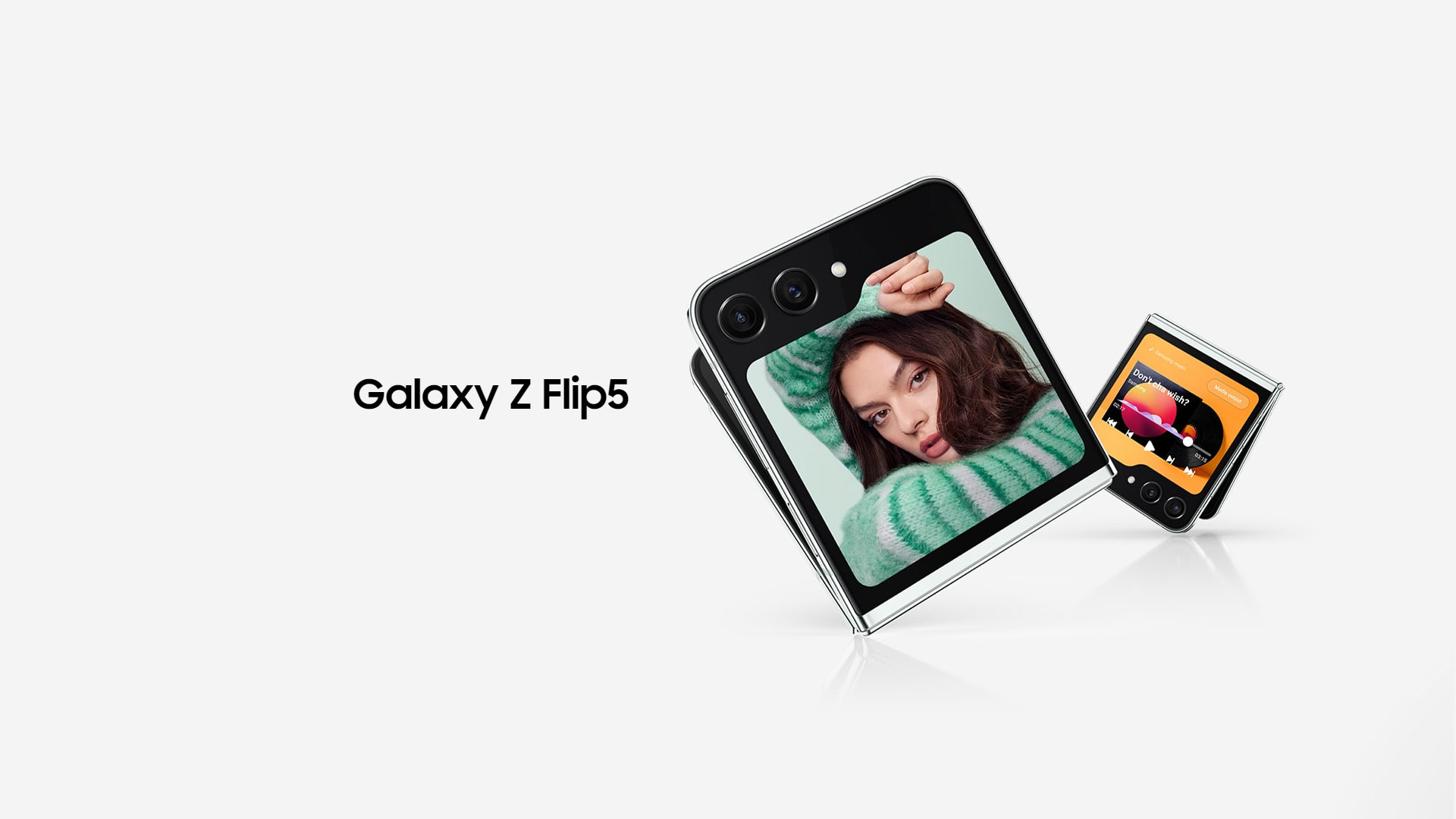 Galaxy Z Flip5: The ultimate pocketable self-expression tool without compromise
The Galaxy Z Flip5 redefines the foldable experience with its stylish and compact design, perfect for those seeking self-expression without compromise.
The enhanced Flex Window, now 3.78 times larger than its predecessor, offers a plethora of customization options, including informative and graphical clocks that can perfectly match the face design of the user's Galaxy Watch6 series. Adding to the appeal, the new Flipsuit Case ensures both device protection and personalization with its changeable NFC card, allowing users to coordinate their Flex Window and case design.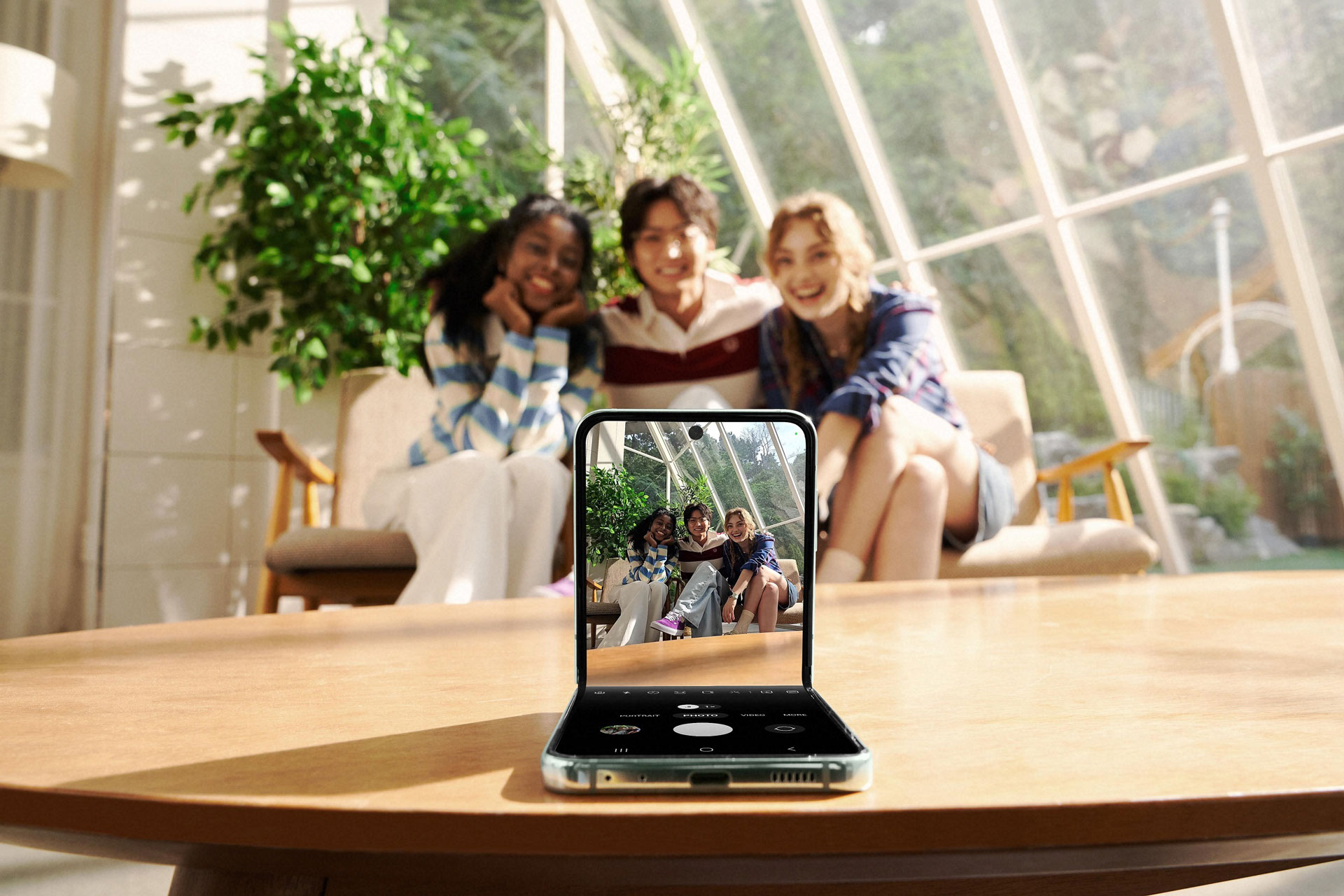 Even when closed, the Galaxy Z Flip5 doesn't compromise on usability. The Flex Window provides quick access to essential information, while Widgets allow users to control music playback, check the weather, and receive updates from the Google Finance widget, all with a simple pinch of the screen to activate Multi Widget View. The device also provides quick access to notifications, call history, and Quick Settings for Wi-Fi or Bluetooth, all without opening the phone. Responding to messages is a breeze with the full QWERTY keyboard and chat history visibility in Quick Reply mode. Additionally, the Samsung Wallet feature offers convenience for on-the-go payments, access to QR codes, coupons, boarding passes, membership cards, digital keys, and health passes.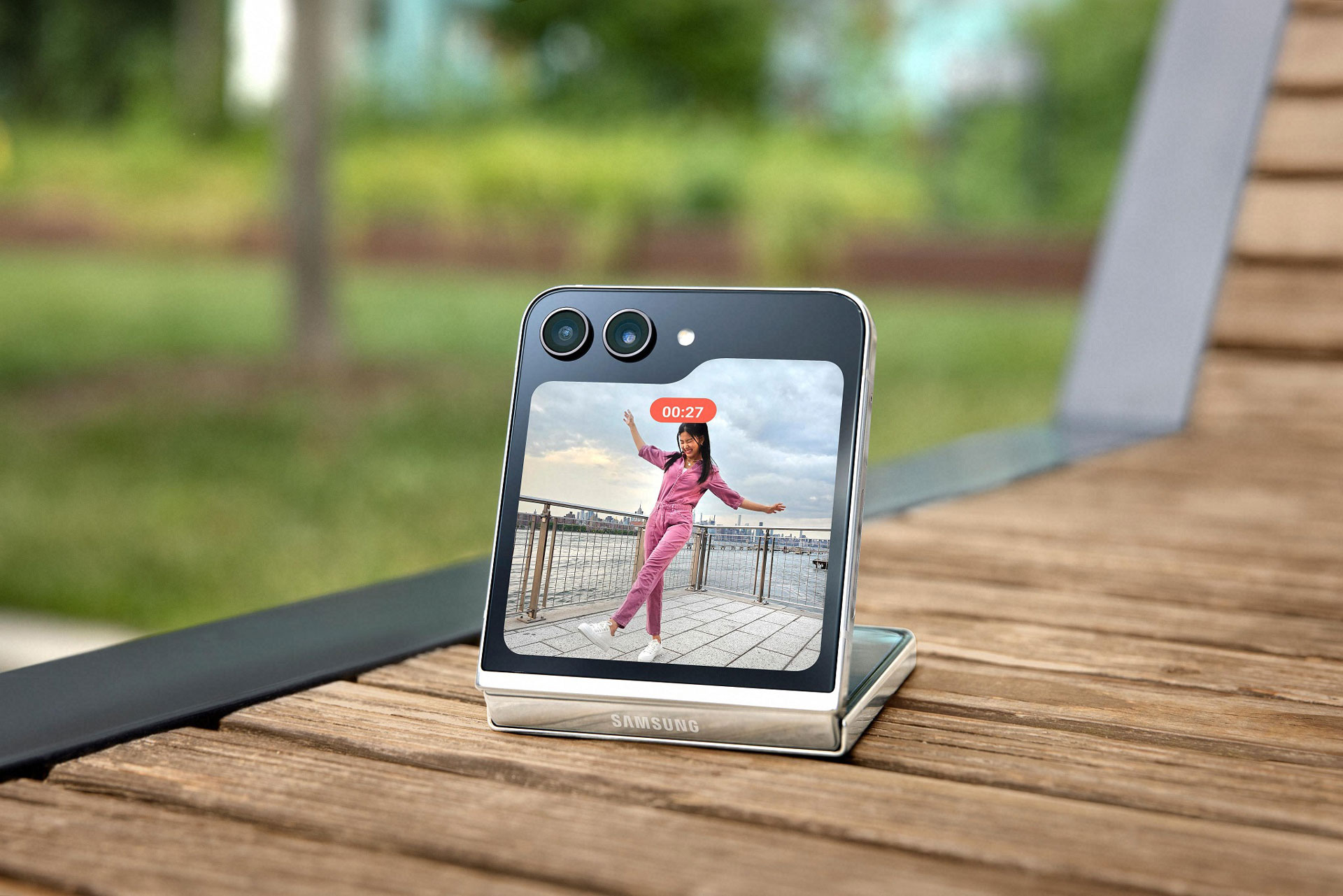 One of the standout features of the Galaxy Z Flip5 is its exceptional camera experience. The larger Flex Window allows for high-quality selfies with the rear camera, while FlexCam enables users to capture stunning hands-free photos from creative angles. The Flex Mode makes viewing and editing shots quick and straightforward, with the Flex Window serving as a convenient preview screen. For group photos, the Dual Preview feature lets subjects see themselves in the Flex Window for real-time adjustments. Other camera capabilities include camera-stabilizing Super Steady for smooth shots on the move and Auto Framing to ensure everyone is included in the frame.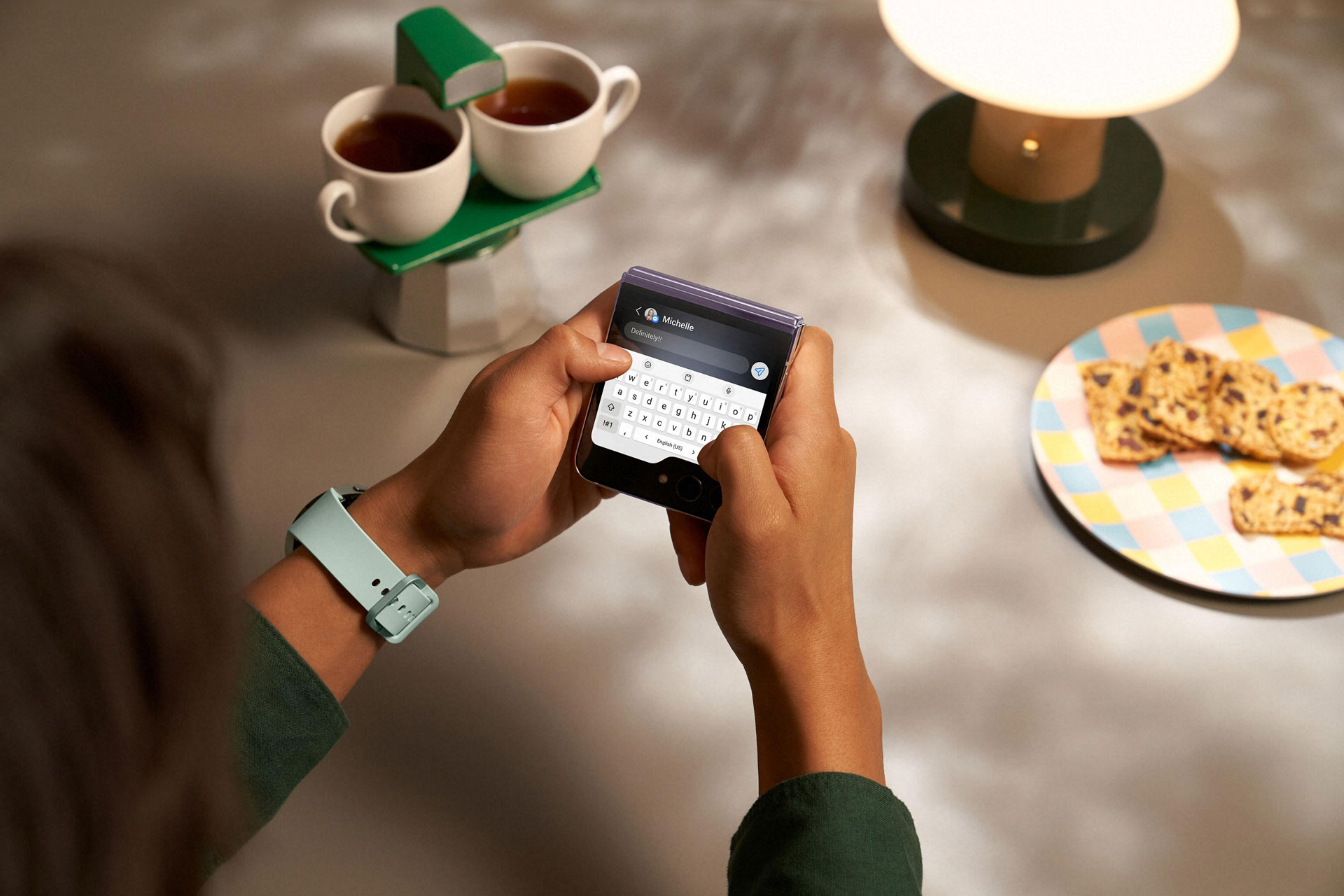 Samsung has also improved the AI-powered image signal processing (ISP) algorithm, enhancing low-light photography with the Nightography feature, and enabling clearer long-distance shots with digital 10X zoom.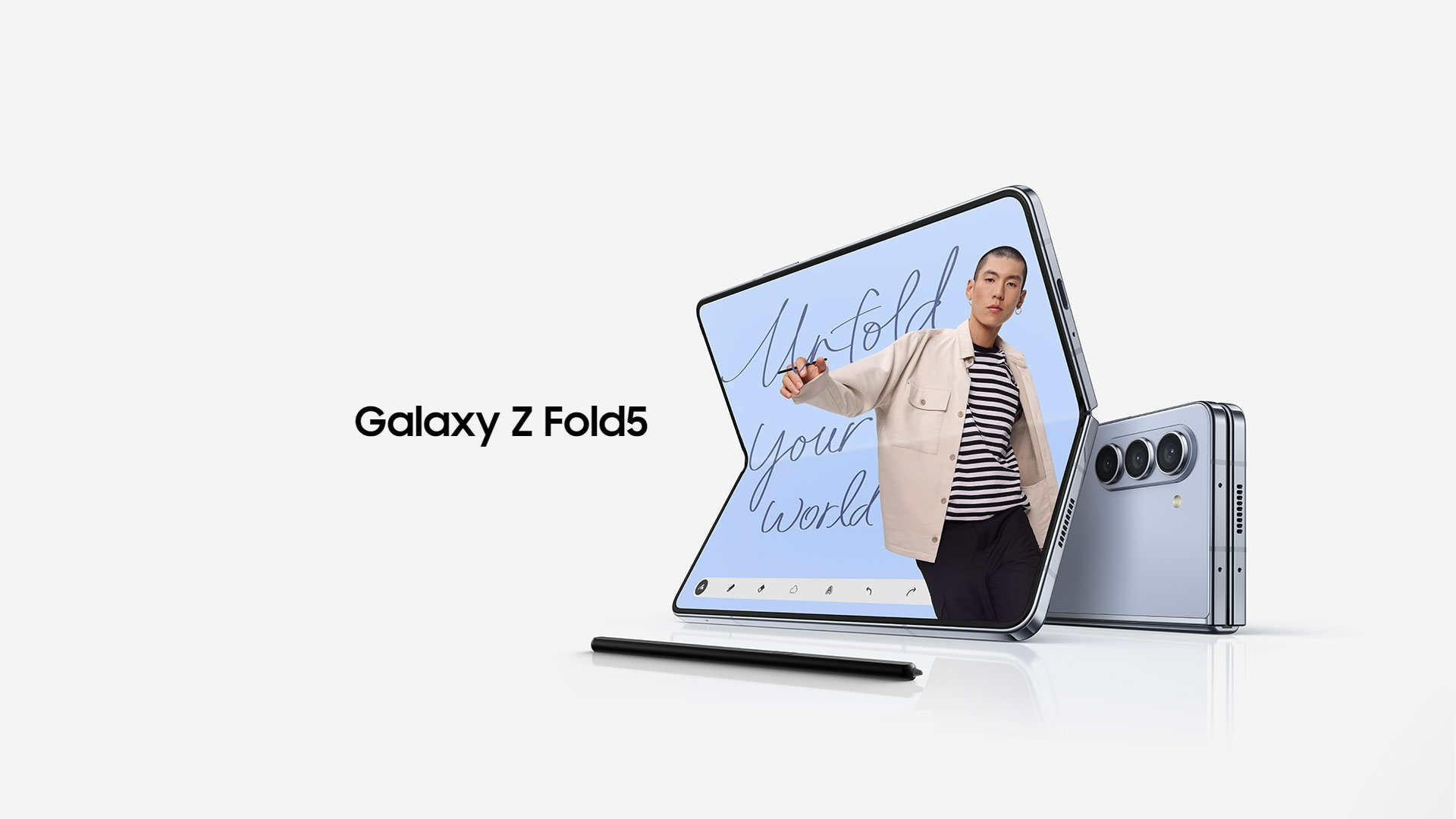 Galaxy Z Fold5: The ultimate productivity powerhouse with a large screen
For those seeking the ultimate productivity tool, the Galaxy Z Fold5 delivers an immersive experience with its large screen and long-lasting battery, all packed in the thinnest and lightest Fold yet.
The Galaxy Z Fold series has been a pioneer in redefining productivity on a big screen, and the Galaxy Z Fold5 continues this legacy. With features like Multi Window, App Continuity, Taskbar, and drag and drop, users can easily multitask and complete essential tasks from anywhere. The S Pen Fold Edition, fine-tuned for the Galaxy Z Fold5, offers a superior writing experience, making annotations and ideation a breeze.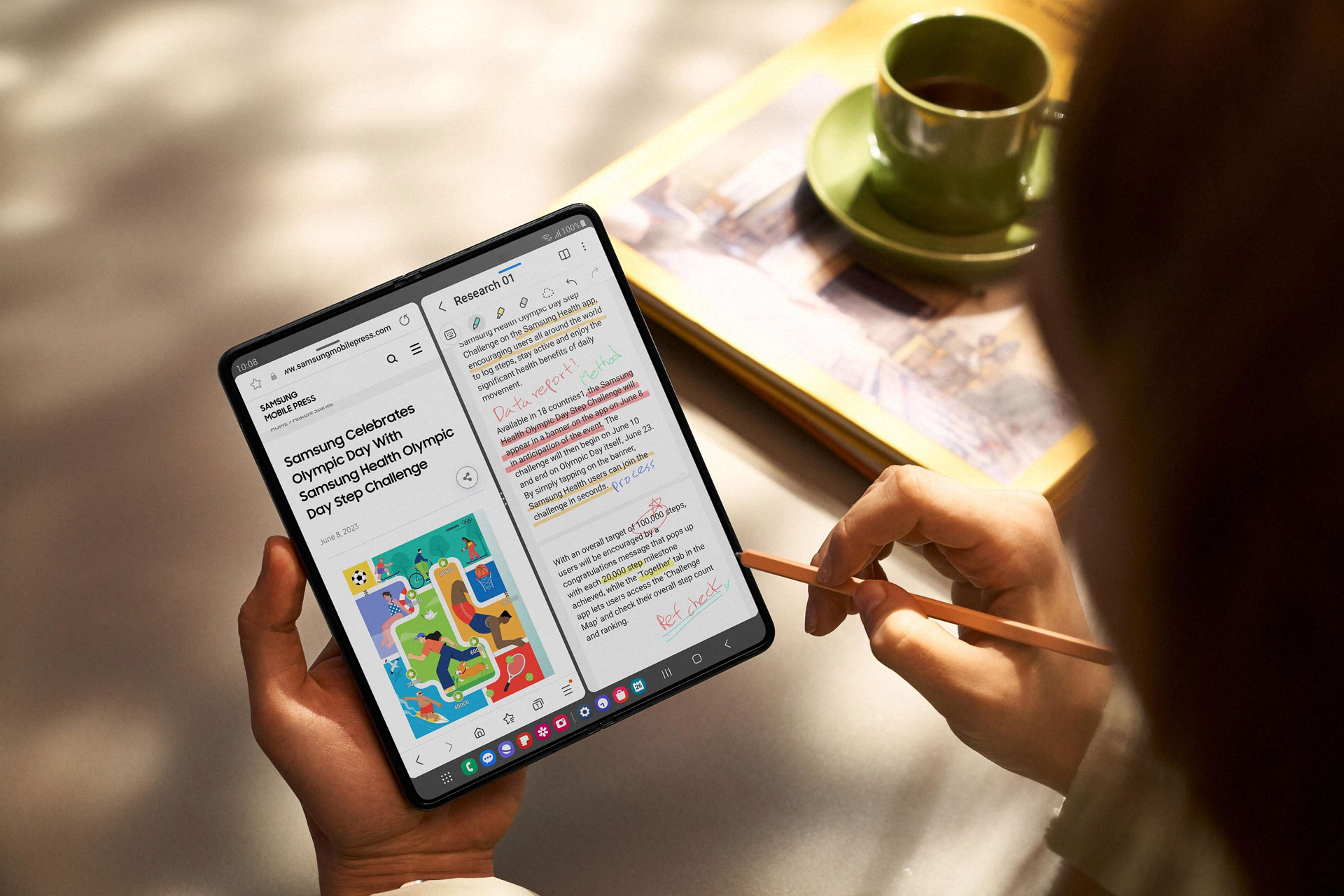 The improved Taskbar now allows users to switch between frequently used apps with ease, and two-handed drag and drop makes content movement between apps and screens seamless. The hidden pop-up feature lets apps run in the background while users watch videos or chat with friends, maximizing productivity.
The slimmer and more compact S Pen Fold Edition is designed for real-time annotations and fits comfortably in the pocket, with the Slim S Pen Case providing an alternate stylish storage solution.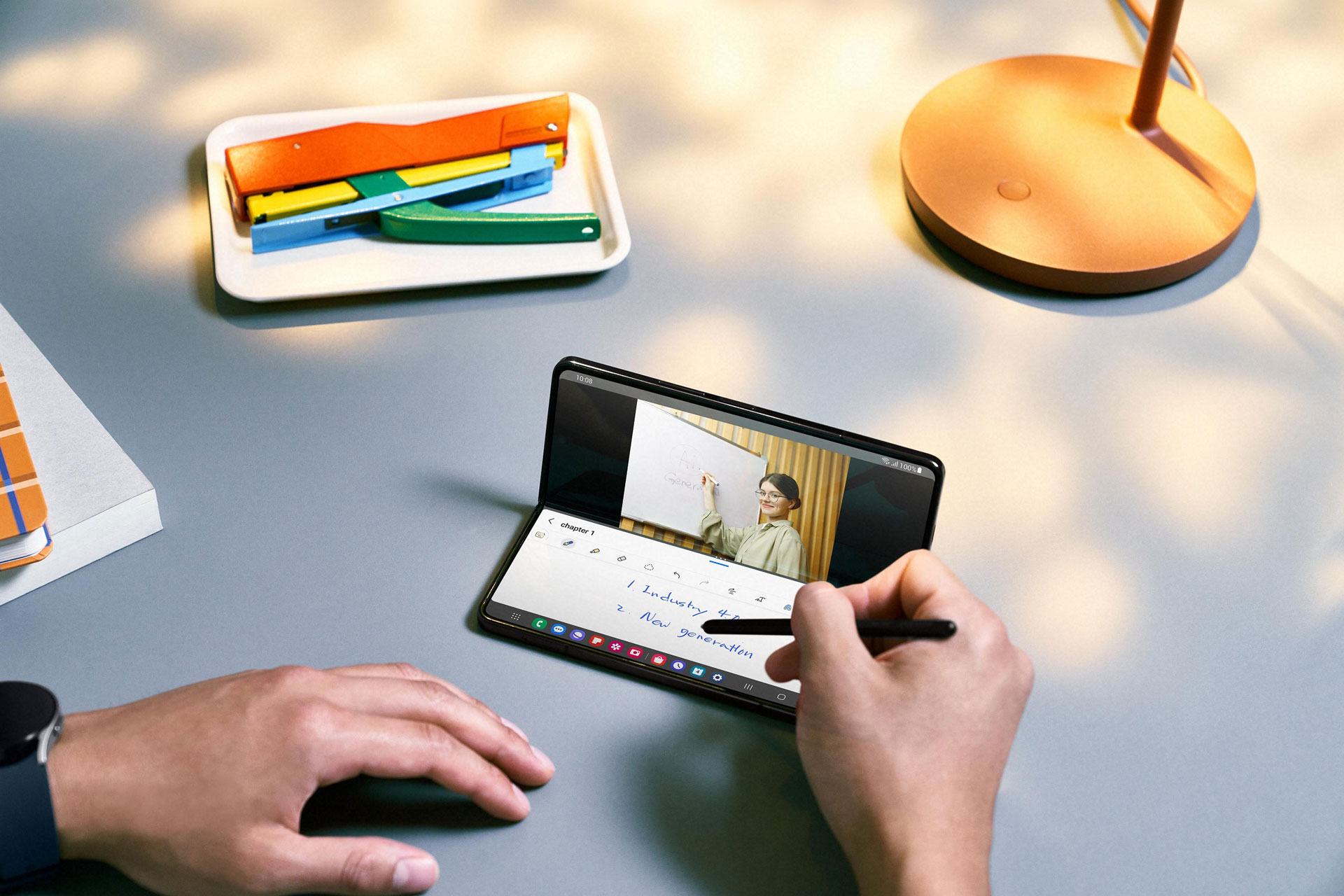 The expansive 7.6-inch Main Screen offers an uninterrupted viewing, perfect for enjoying favorite movies in portrait or landscape mode. With peak brightness increased by more than 30% to 1750 nits, the device ensures an optimal viewing experience even under bright sunlight.
For gamers, the Snapdragon® 8 Gen 2 Mobile Platform guarantees a great gaming experience with enhanced graphics, ray-tracing and AI-powered features, all supported by an advanced cooling system to avoid any performance drops during marathon gaming sessions.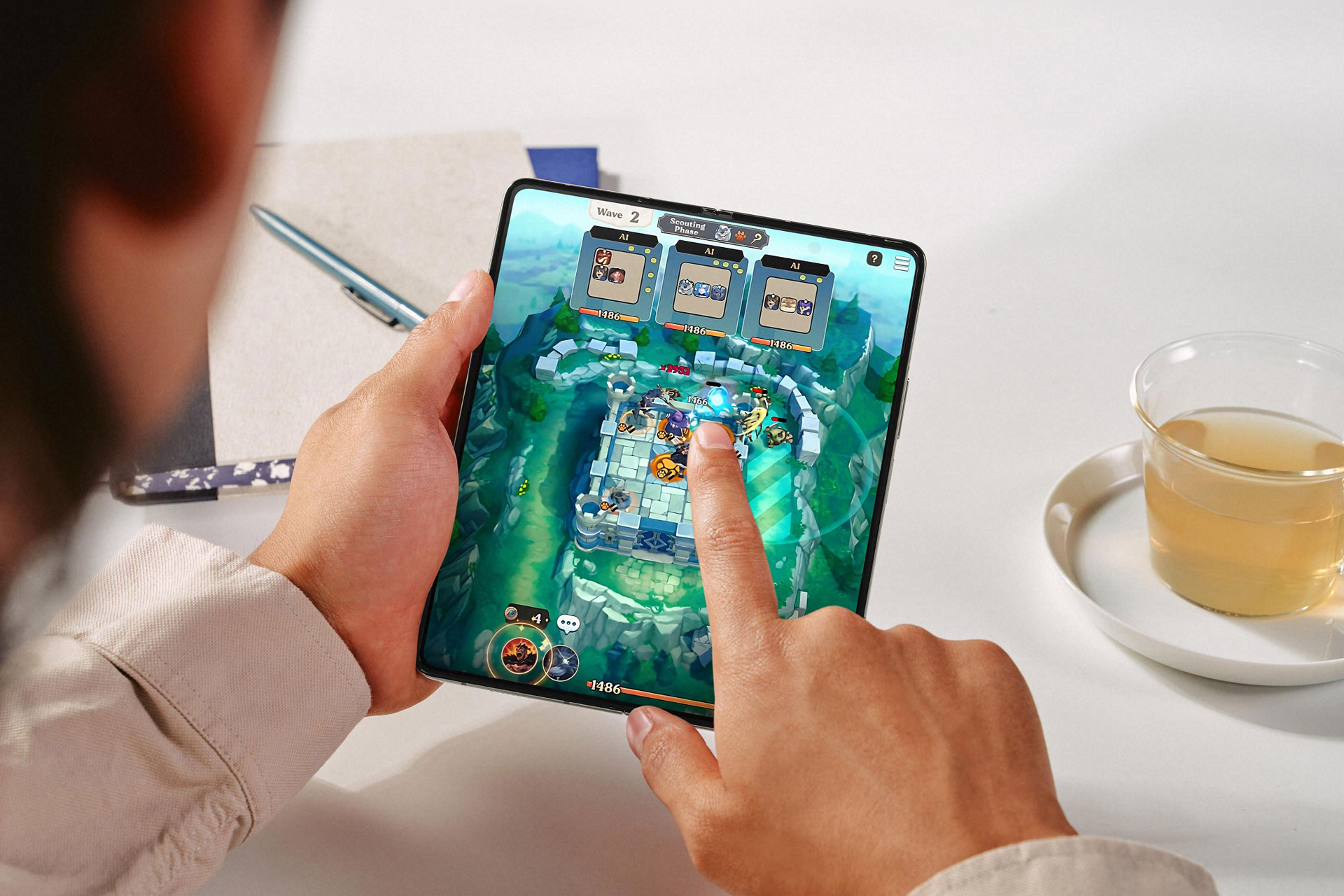 The Galaxy Z Flip5 and Galaxy Z Fold5 are set to revolutionize the smartphone landscape, offering users unparalleled experiences, extraordinary camera capabilities, and powerful performance. With their innovative designs and powerful features, Samsung's fifth generation of foldables promises to be a game-changer for smartphone enthusiasts worldwide.
---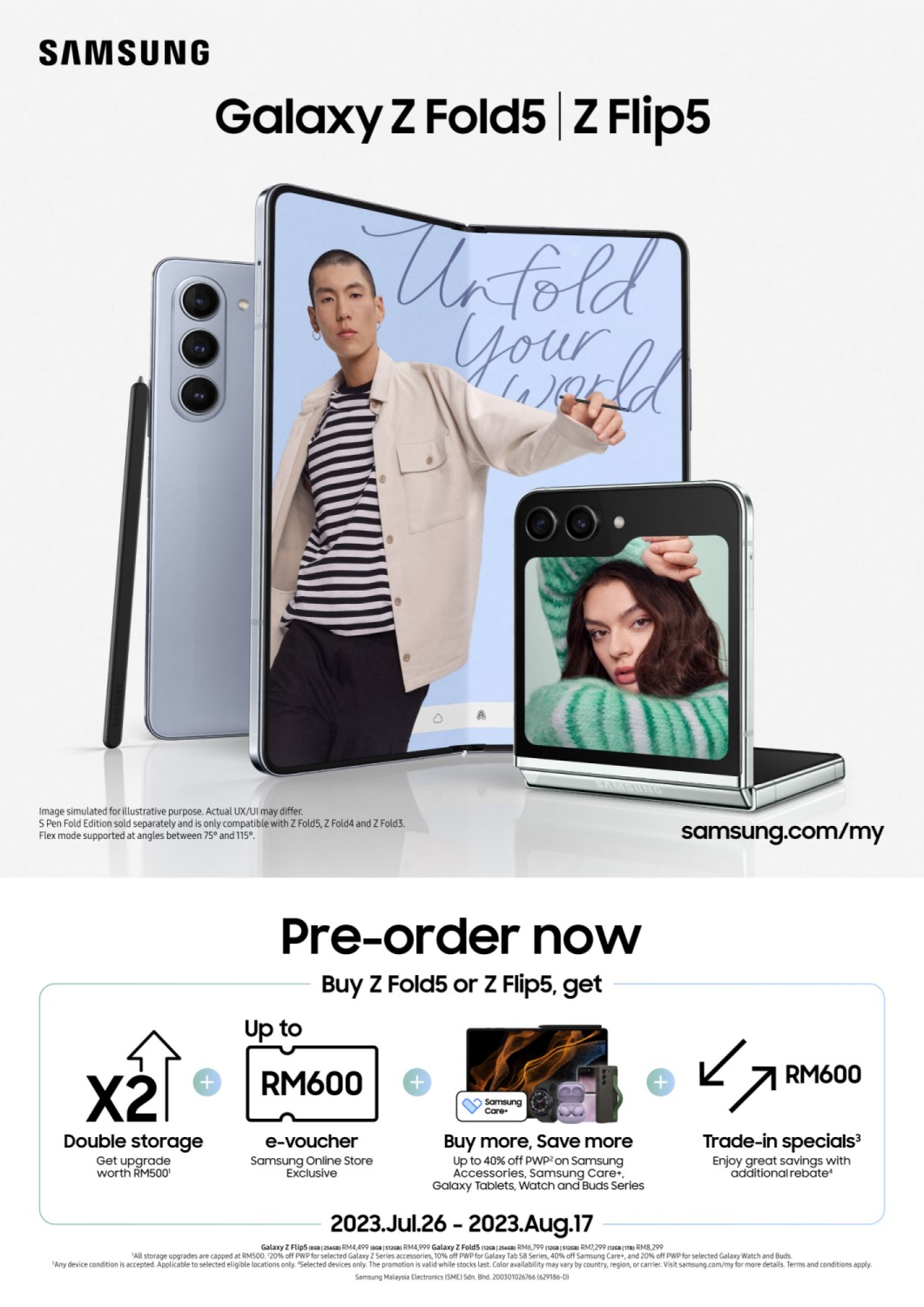 Starting from 26th July to 17th August 2023, you can now pre-order the Galaxy Z Fold5 and Z Flip5. The Galaxy Z Fold5 is available from RM6,799, while the Galaxy Z Flip5 starts from RM4,499.
Additionally, don't miss out on redeeming your e-voucher of up to RM400, which you received when you registered your interest.
---
The Galaxy Z Flip5 and Galaxy Z Fold5 will be available in Malaysia nationwide from 18 August 2023 onwards.

Models
RRP
Colours
Galaxy Z Fold5 256GB
RM 6,799
Icy Blue, Phantom Black, Cream, Online Exclusive Colours: Gray, Blue
Galaxy Z Fold5 512GB
RM 7,299
Galaxy Z Fold5 1TB
RM 8,299
Galaxy Z Flip5 256GB
RM 4,499
Mint, Lavender, Cream, Graphite,Online Exclusive Colours: Gray, Blue, Green, Yellow
Galaxy Z Flip5 512GB
RM 4,999
To find out more about the pre-order, go to: www.samsung.com/my/offer/flip5-fold5
Pre-order now:
• https://www.samsung.com/my/smartphones/galaxy-z-fold5/buy/
• https://www.samsung.com/my/smartphones/galaxy-z-flip5/buy/
To learn more about Galaxy Z Flip5 and Galaxy Z Fold5, please visit: https://www.samsung.com/my/smartphones/galaxy-z-flip5/ and https://www.samsung.com/my/smartphones/galaxy-z-fold5/