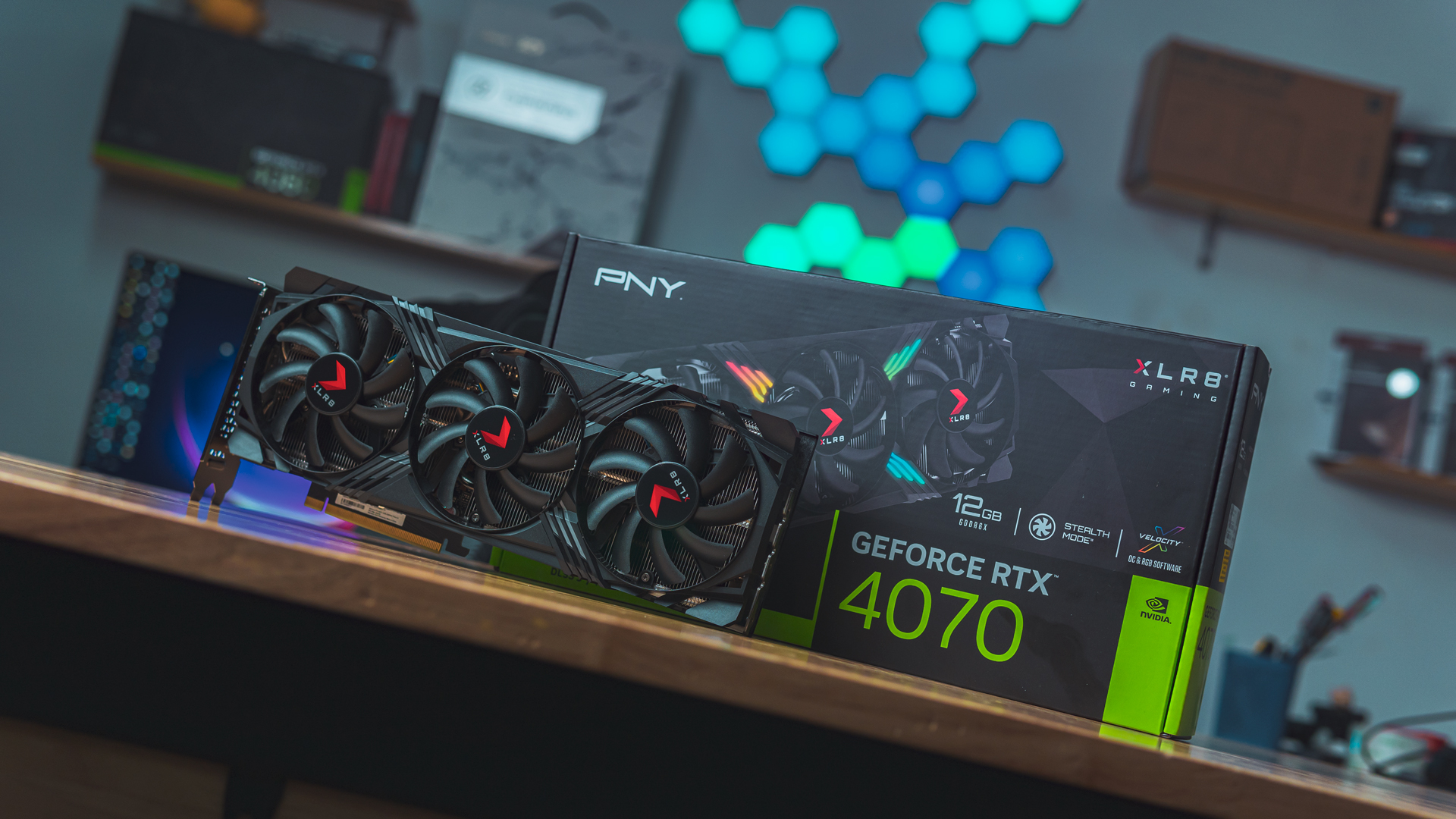 Last week, PNY Technologies sent us their PNY GeForce RTX 4070 12GB XLR8 Gaming VERTO™ EPIC-X RGB Triple Fan DLSS 3 (henceforth will be referred to as RTX 4070 Verto X). Adding on, with the launch of the RTX 4070 series, PNY Malaysia has brought in a total of 3 variants of the card. The one that we have received is the mid ranger. Whereas the top of the line RTX 4070 is the same except that it has been factory overclocked. The other variant is a dual fan Verto option. This GPU, also adheres to PNY's consistent naming nomenclature, which can be quite extensive and will definitely leave you breathless – if attempting to pronounce it in a single breath.
First Looks
Packaging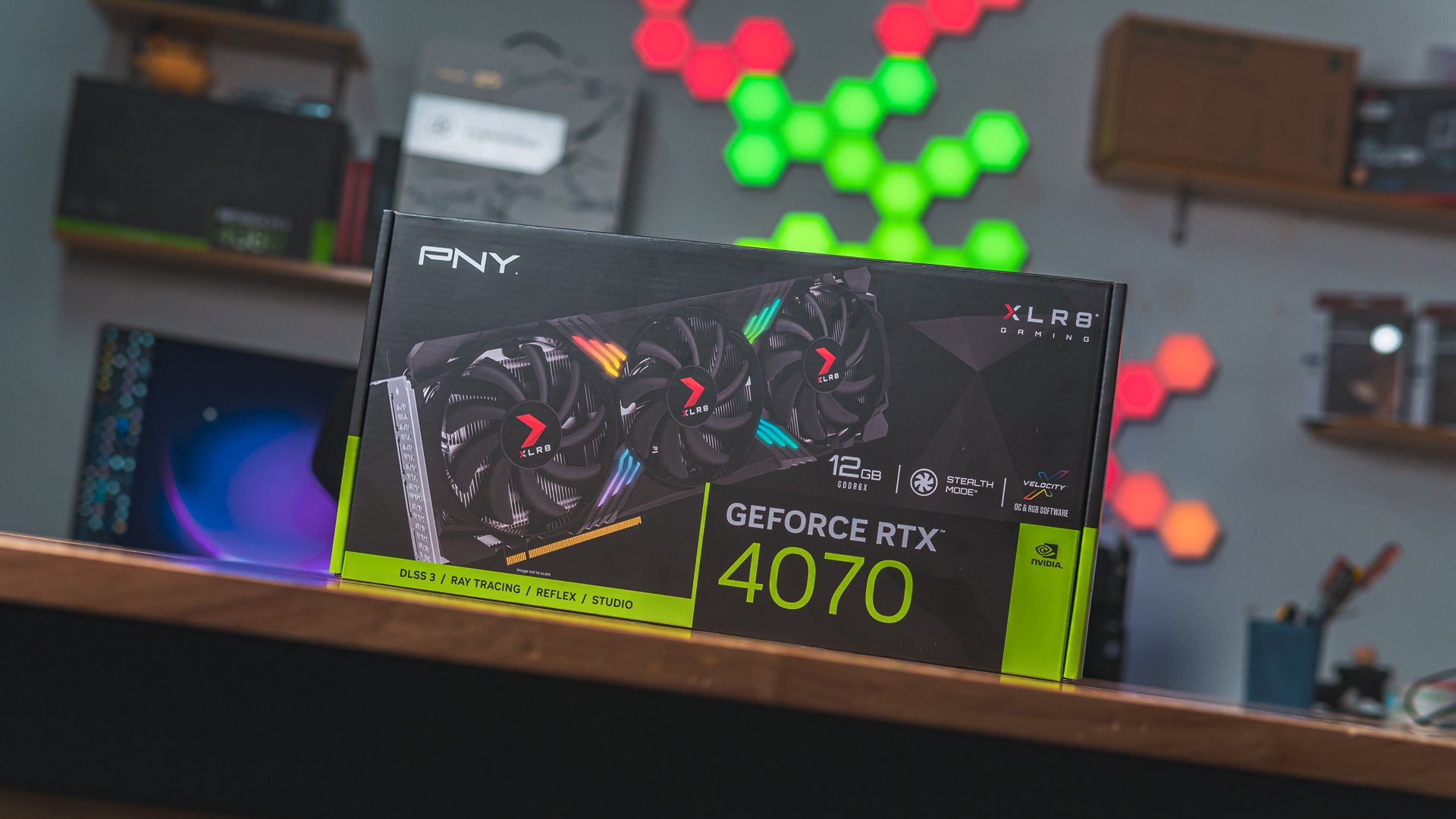 The GPU is packaged in the usual cardboard packaging, showcasing a sleek black exterior that is further enhanced with Nvidia GeForce RTX branding and corresponding colours. It is worth noting that the GPU is accompanied solely by essential components, namely the GPU itself and informative manuals. Interestingly, this deviates from the convention of excessively large packaging often associated with the RTX 40 Series.
Design & Aesthetics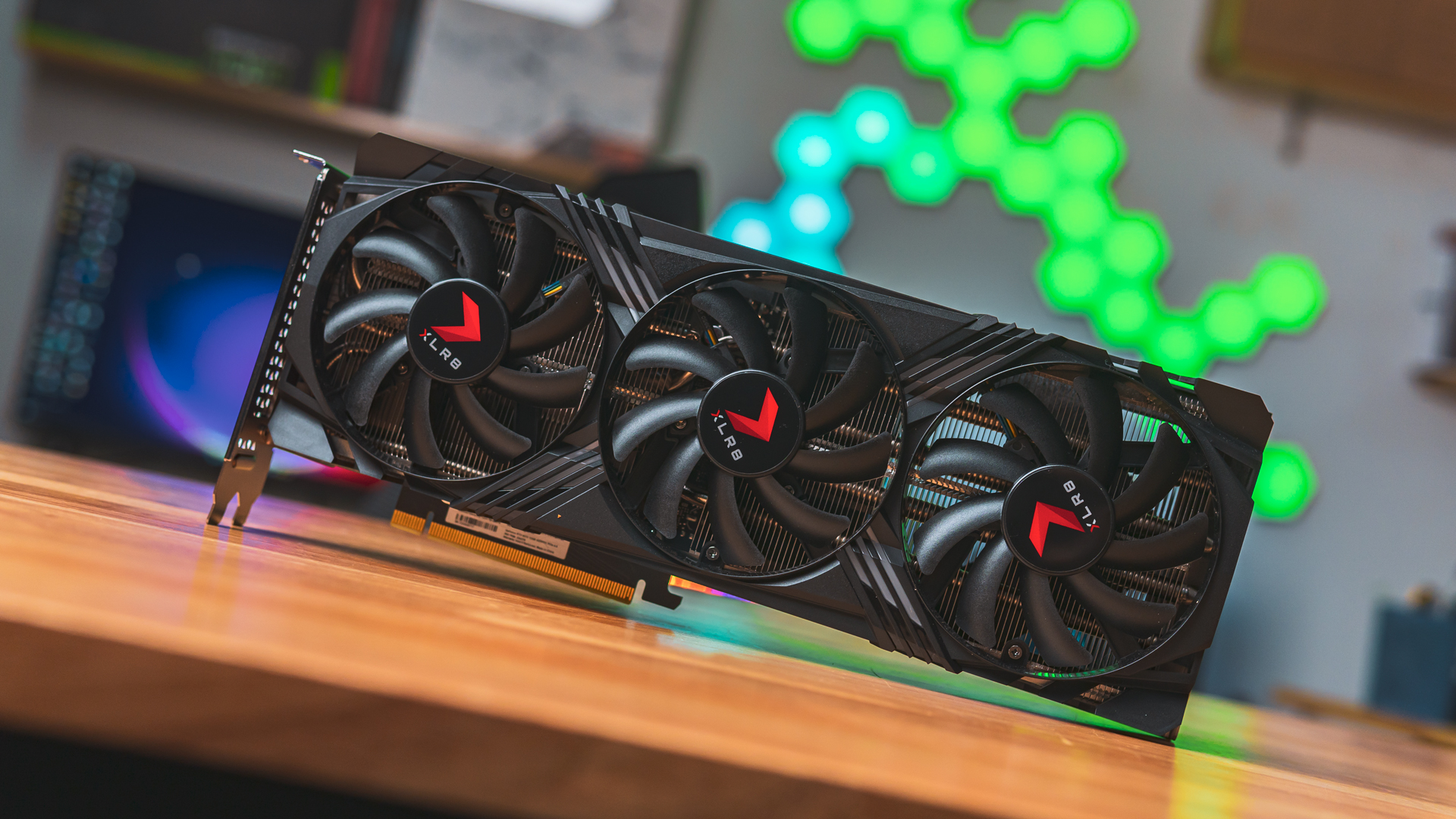 The shroud design of the GPU exhibits a sleek black color scheme and shares aesthetic elements with the rest of the XLR8 Verto series of graphics cards crafted by PNY Technologies. The highlight of it all is the centerpiece fan showcases an eye-catching X-shaped design that illuminates the ARGB strips positioned beneath the shroud. Furthermore, the XLR8 logo situated at the top of the card also illuminates, adding a personalized touch to the overall visual appeal.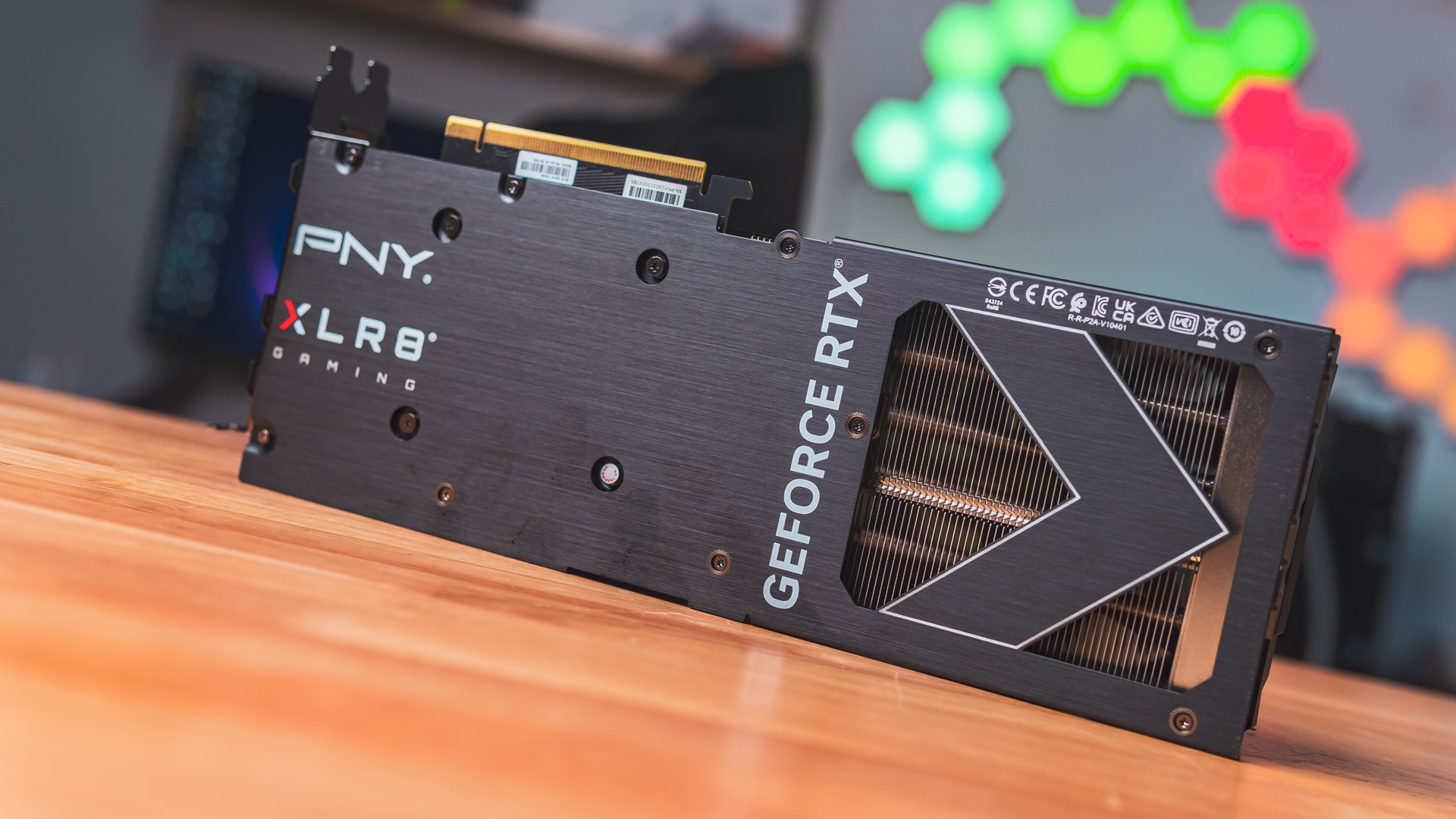 To enhance both the structural integrity and cooling capabilities of the GPU, an aluminum backplate has been thoughtfully incorporated on the rear side of the card. With the inclusion of this backplate, concerns related to GPU sag are effectively mitigated.
Additionally, the strategically placed cutouts on the backplate contribute to optimizing the cooling potential of the GPU, ensuring optimal performance even during demanding workloads.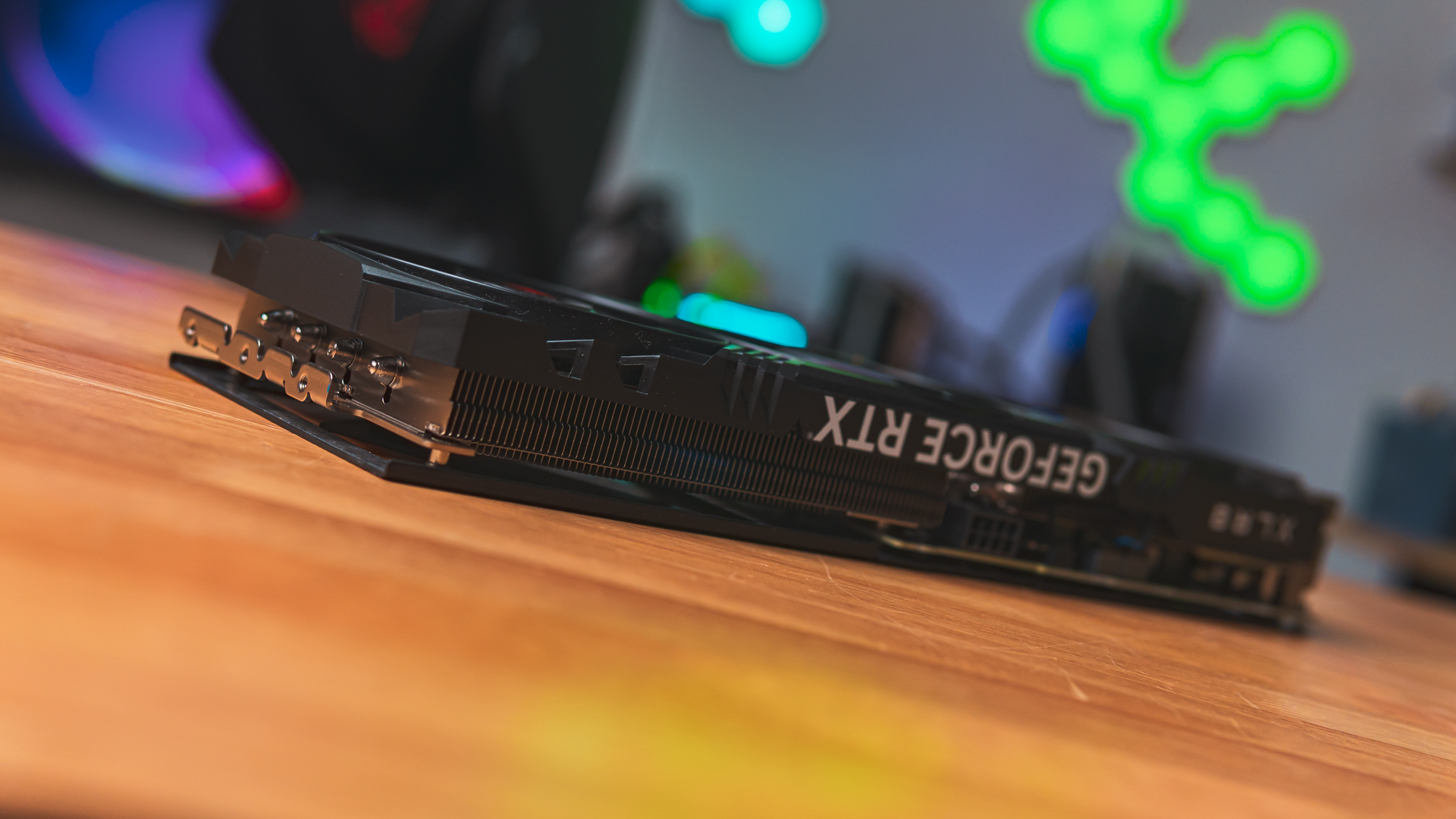 Impressively, considering the compact dimensions of the packaging, the GPU itself boasts a slim and sleek profile from the sides. Measuring at 305.1 x 119.4 x 40 mm, it occupies merely two slots within the PCIE bracket. This slender form factor, combined with its modern design, presents a visually captivating sight that truly captures the essence of the new era ushered in by the 40 series.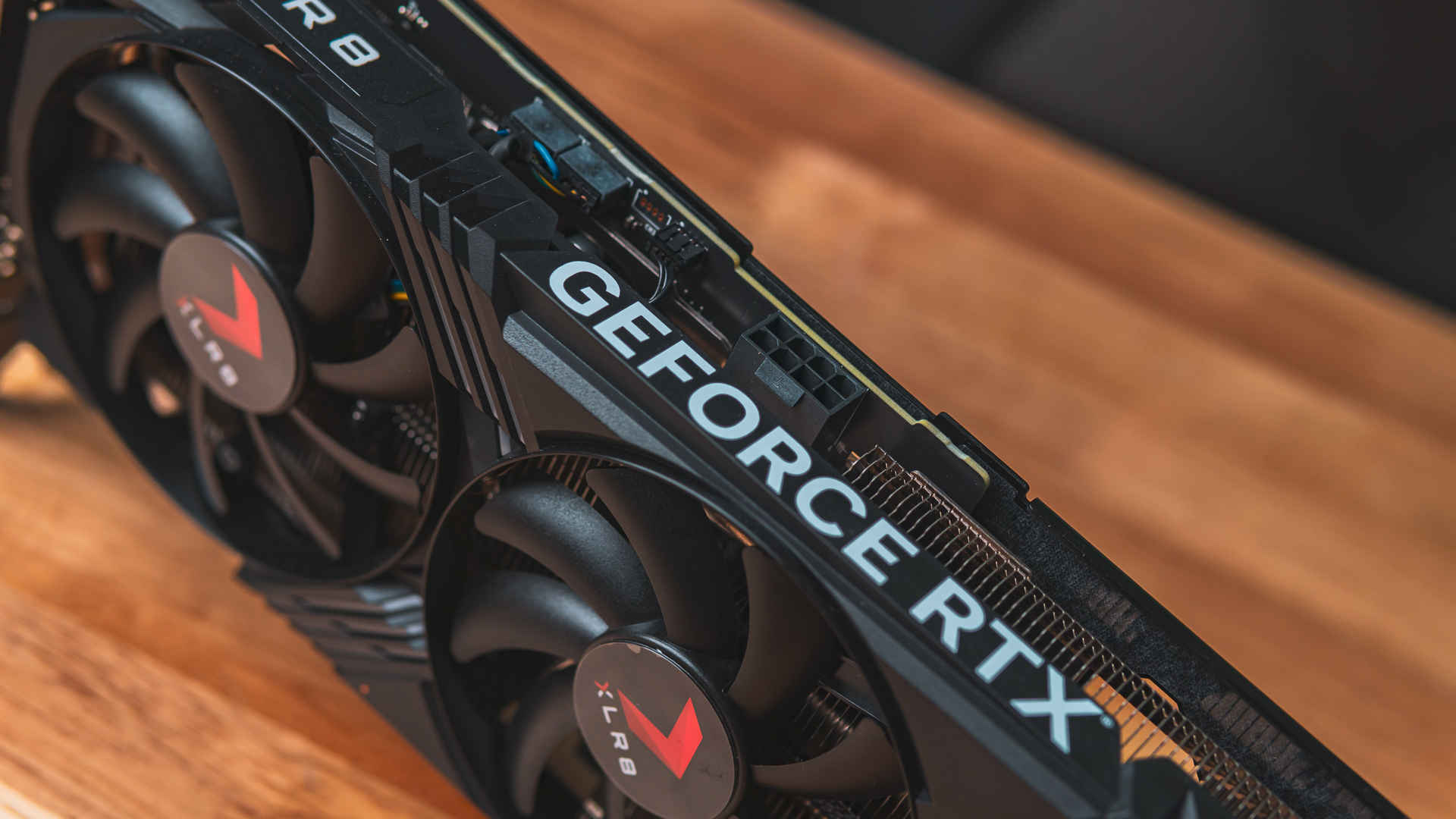 It is worth noting that the RTX 4070 Verto X, as declared by PNY Technologies, possesses a maximum power draw of up to 200W and it is powered by an 8-pin PCIE connector. This efficient power management is made possible by the fact that the 8-pin PCIE cable supplies 150W of power, complemented by an additional 75W supplied by the motherboard's PCIE lane.
Technical Specifications
| | |
| --- | --- |
| GPU | RTX 4070 |
| Card Dimensions | 305.1 x 119.4 x 39.9mm; 2 Slot |
| CUDA Cores | 5888 |
| RT Cores | 46 |
| GPU Boost Clock | 2475 MHz |
| Memory Data Rate | 21 Gbps |
| Memory Size | 12GB |
| Memory Interface | 192-Bit |
| Memory Bandwidth | 504 GBps |
| TDP | 200W |
Performance & Benchmarking
Test System
| | |
| --- | --- |
| Processor | AMD Ryzen 9 7900X |
| Motherboard | ASUS ROG Crosshair X670E Extreme |
| RAM | Kingston Fury Renegade 16GB X2 CL32 7000MHZ |
| Storage | 1TB Sabrent Rocket 4 Plus |
| GPU | PNY XLR8 GeForce RTX 4070 Epic X Verto |
| PSU | FSP Hydro G Pro 1000W |
| Case | Vector Bench Case |
| CPU Block | Alphacool XPX Aurora Pro Full Brass |
| Radiator | Alphacool NexXxos XT45 240mm |
Gaming
Nvidia's RTX 4070 series of graphics cards is specifically designed to cater to the demands of 1440P gaming. Our testing of the RTX 4070 Verto X model demonstrates its impressive performance, approaching the capabilities of its higher-end counterpart, the PNY RTX 4070ti. Notably, the RTX 4070 Verto X proves to be more than capable even when running games at 4K resolutions. In various titles, including demanding ones like Cyberpunk 2077 and Red Dead Redemption 2, the RTX 4070 Verto X consistently achieves an average frame rate exceeding 60, providing a smooth and enjoyable gaming experience.
Synthetic Benchmarking
The performance of the RTX 4070 Verto X in synthetic benchmarking for productivity tasks is equally impressive. This graphics card excels in assisting and pushing the boundaries of various productivity applications. Based on our tests, the RTX 4070 Verto X outperforms its predecessor, the RTX 3080, delivering enhanced performance and efficiency. This makes it a compelling choice for professionals seeking a powerful GPU to handle demanding workloads and achieve optimal productivity.
Thermals and Power Draw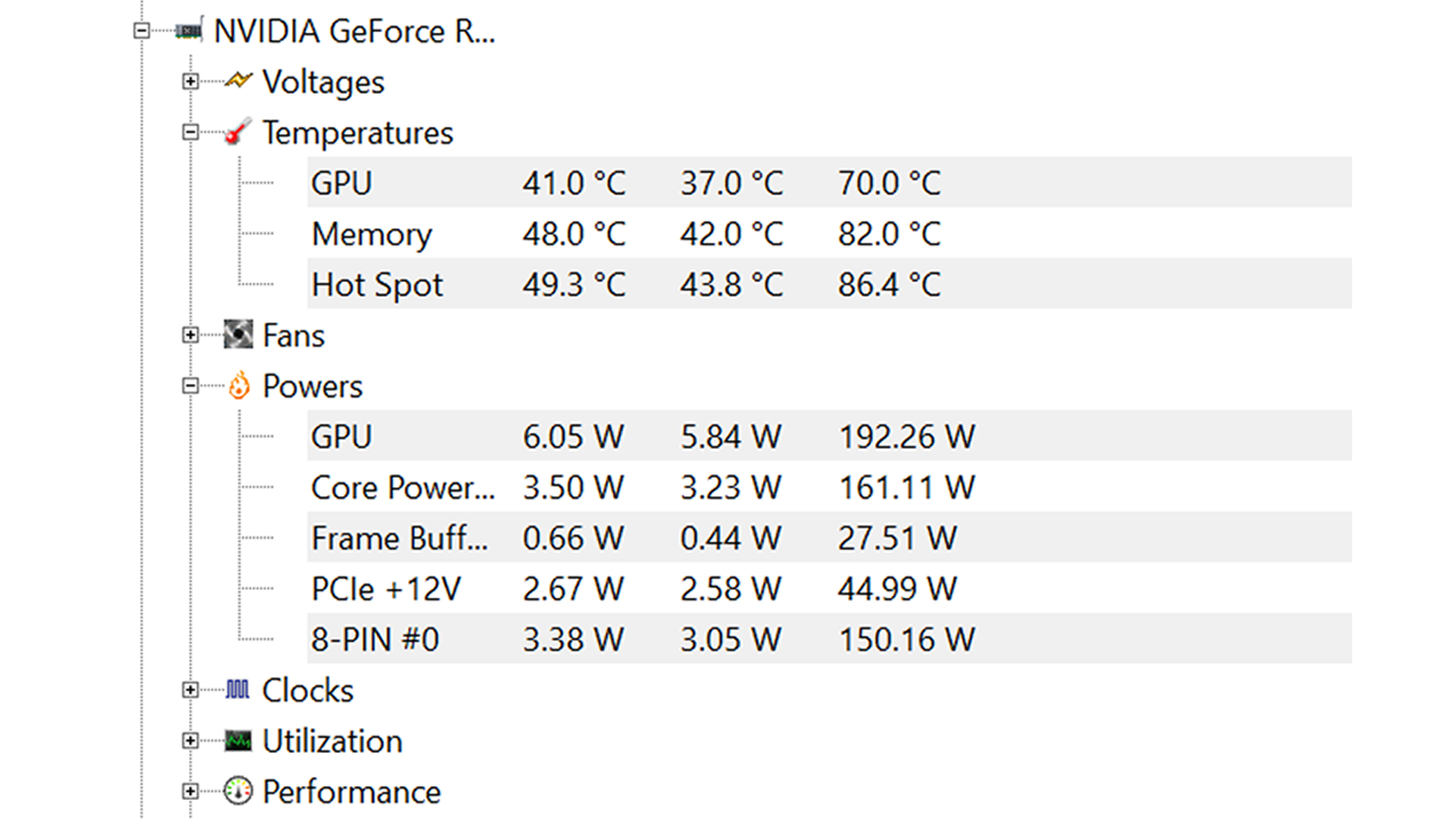 Moreover, staying true to the track record of the PNY Verto lineup, the cooling capacity of the RTX 4070 Verto X leaves no room for disappointment. Through a series of rigorous tests and gaming sessions, this GPU impressively maintains a remarkably low maximum temperature of just 70 degrees Celsius. This exceptional cooling performance ensures that the card operates smoothly and reliably under demanding conditions.
In terms of power consumption, the RTX 4070 Verto X exhibits an efficient design. It draws a maximum power of 192W, which not only contributes to its cooler operation but also alleviates concerns regarding excessive power usage. This power efficiency further solidifies the GPU's appeal, assuring users that it strikes an optimal balance between performance and energy consumption.
VelocityX Overclocking Software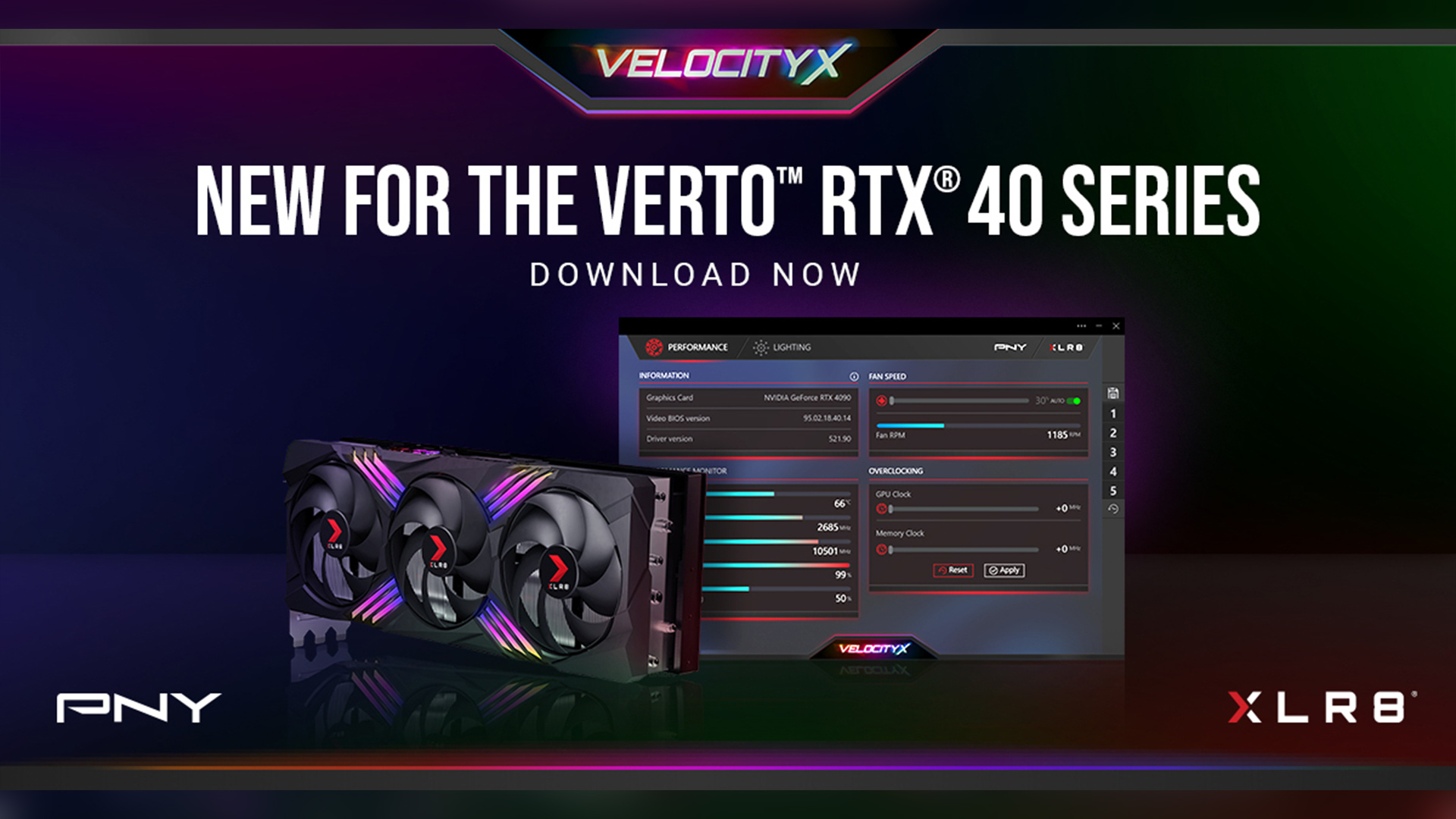 The VelocityX Overclocking Software by PNY has made a positive impact on my gaming experience with the RTX 4070 Verto X. Not only does it provide all the essential features for overclocking and GPU management, but it is also remarkably user-friendly and straightforward.
Like any reliable overclocking software, VelocityX offers real-time monitoring of crucial statistics such as clock speed and temperature. This, combined with its overclocking capabilities, equips me with the necessary information to fine-tune the balance between efficiency and power, resulting in improved gaming performance across various applications. Additionally, the software's fan control feature ensures efficient temperature management, preventing any performance throttling during intense gaming sessions.
One of the standout aspects of VelocityX is its ability to save multiple user profiles. This convenient feature allows me to effortlessly switch between personalized settings for different games or applications without the need to recreate them from scratch. Furthermore, the software's LED lighting customization adds a touch of individuality to my gaming setup, enhancing the visual appeal of my graphics card and overall gaming rig.
---
What I Liked
Slim profile and dual-slot design adds a touch of elegance to the card, making it visually appealing and allows for efficient space utilization.
Verto Cooling really makes a difference.
What I Wish Could Be Better
This time around I am indeed repeating the same concerns I had from the previous review.
PNY Naming nomenclature, it's just too long.
Shroud Aesthetics. I am not saying it looks bad, but there are room for improvement in terms of design theme. (This will help PNY stand out from the rest of its competitors as the exterior design of GPU in the market(regardless of brand) seems pretty similar nowadays)
---
Conclusion
In conclusion, based on my personal experience and assessment, the RTX 4070 Verto X stands as an excellent choice for those seeking to upgrade from the aging RTX 3080. Priced at RM3149, this graphics card delivers superior performance, higher FPS rates, and impressive RGB capabilities. One of its standout features is its slim profile, occupying just two slots, which adds to its overall appeal. Additionally, the Verto cooling system proves to be highly effective, keeping temperatures consistently low during demanding tasks and gaming sessions.
One noteworthy advantage of choosing the latest GPU instead of opting for the used market is the extended warranty period and the assurance of a non-abusive usage history. While purchasing used cards may save on costs, the added value of a longer warranty and the peace of mind regarding the card's condition cannot be overstated.
Among the aspects I appreciated about the RTX 4070 Verto X are its slim profile and the dual-slot design, which contribute to its sleek and space-efficient form. The cooling capabilities provided by the Verto system exceeded my expectations, ensuring optimal performance even under demanding conditions.
However, there are a couple of areas where I believe there is room for improvement. Firstly, the naming nomenclature used by PNY can be quite lengthy and complex, making it a bit cumbersome to refer to the card. Simplifying the naming system would enhance user convenience. Additionally, while the shroud aesthetics are not necessarily bad, I believe there is potential for further refinement in terms of the design theme. Making slight improvements in this aspect would enhance the overall visual appeal of the card.
Considering the impressive performance, energy efficiency, and attractive pricing, the RTX 4070 Verto X is undoubtedly a compelling option for gamers and professionals alike. It strikes a balance between power and affordability, making it a worthy investment for anyone seeking a high-performance graphics card.
Final Score : 8/10
(Again, the product name is just too long)
---
Product Page : https://www.pny.com/pny-geforce-rtx-4070-12gb-xlr8-gaming-verto-epic-x-rgb
As of writing this article, PNY Malaysia has also announced that every purchase of a qualified PNY GPU will be eligible for a free game from Ubisoft. More information on their official FB page : https://www.facebook.com/PNYMalaysia/posts/pfbid0A8rBTzMdadSypDwiWamo6dUAacCmAH7HzuVCd2b1Nvfe3mG8HXs4hYHksMjdawRZl
Warranty Claims can be made at Fusion Tech Supply Sdn Bhd as long as the PNY product carries the sticker below :