The ROG Ally is an exceptional windows pc cum console that offers an immersive gaming experience with its powerful hardware and cutting-edge features. To maximize your gaming setup and unlock the full potential of your ROG Ally, investing in the right accessories is crucial.
In this buyer's guide, we'll explore a range of essential accessories that are not only recommended by the members of the ROG Ally communities on Facebook and Reddit, it will also enhance your gaming experience, boost productivity, and protect your investment. Whether you're a casual gamer or a hardcore enthusiast, these accessories are designed to complement your ROG Ally and take your gaming setup to the next level.
Please note that we are not affiliated with any specific brands, and the links provided are purely the author's recommendations to share with readers. They are by no means the best options in the market nor are they official partners for the ROG Ally.
Power Bank
The power banks below are rated for 65w at the bare minimum and should work with the ROG Ally.
Baseus
I've personally used the GAN Chargers and 20W power banks from Baseus, and they've lasted my for quite a few years now, so they're first on my list for power banks. The 3 recoemmended power banks from Baseus are as below :-
Both the Amblight and Adaman are rated 65W while the Blade HD is rated 100W. While both the Amblight and Blade HD comes with 100W rated USB C to C cables, the Adaman only comes with a 60W cable which may not work with the ROG Ally.
You can find the Baseus Amblight 65W Portable Charger Power Bank, along with the Baseus Adaman 65W 20,000mAh USB-C Power Bank and the Blade HD, on Lazada and Shopee. Simply search for the keywords "baseus 65w 100w powerbank" to locate these power banks.
Anker
Anker gained recognition for their pioneering PowerCore series power banks, which were among the first in the market to provide portable power for the Nintendo Switch. Over the years, they have also become well-known for their budget-friendly and dependable SoundCore earbuds, offering an affordable audio solution without compromising on quality. The recommended are :-
The Anker 737 PowerCore is a high-performance portable charger offering ultra-powerful two-way charging capabilities. It features the latest Power Delivery 3.1 and bi-directional technology, allowing for quick recharging of the power bank or delivering a 140W charge. It has a 24,000mAh battery capacity and a smart digital display to provide easy-to-read information on the output and input power, as well as the estimated time for the power bank to fully recharge. In the package, you will find the Anker 737 Power Bank (PowerCore 24K), a 140W USB-C to USB-C cable.
On the other hand, the Anker 747 PowerCore is designed for ultimate power and versatility, specifically tailored for laptops and a wide range of devices. With a massive 25,600mAh capacity, it is also capable of dual charing with the 87W charge output from either of its USB-C ports, allowing you to power two ROG Ally at once.The package includes the Anker 747 Power Bank (PowerCore 26K for Laptop), and 65W rated USB-C to USB-C cable.
You can find these overkill power bricks on Lazada and Shopee as well. Simply search for the keywords "Anker 737 747 powerbank" to locate these power banks.
Screen Protector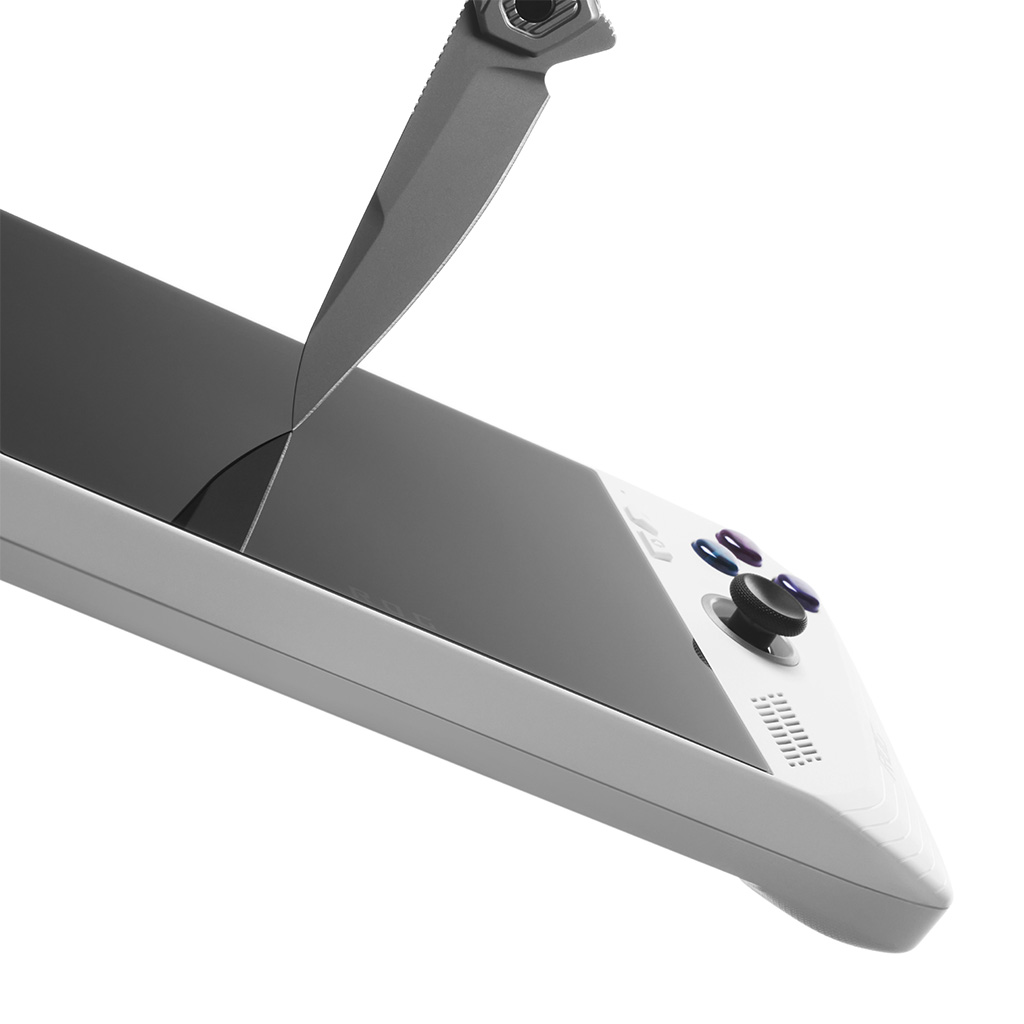 Currently, the ROG Ally Tempered Glass Protector made by Dbrand is the only well-known screen protector brand available for the ROG Ally. However, with a price tag of USD 24.95 (excluding shipping), it may seem too expensive for Malaysian consumers.
Fortunately, based on recommendations from the community, local mobile phone accessory stores like Ninjaz and MOSS offer custom-cut screen protectors that perfectly fit the ROG Ally at a more affordable price starting from RM 39.
Additionally, conducting a quick search using the keywords "ROG Ally Screen Protector" on popular e-commerce platforms like Shopee and Lazada will yield a wide range of results, although as of the current date (2nd July), none of them have comprehensive reviews or photos available.
Lazada Quick Link | Shopee Quick Link
Thumb Grips / Rocker Caps
Skull & Co Gaming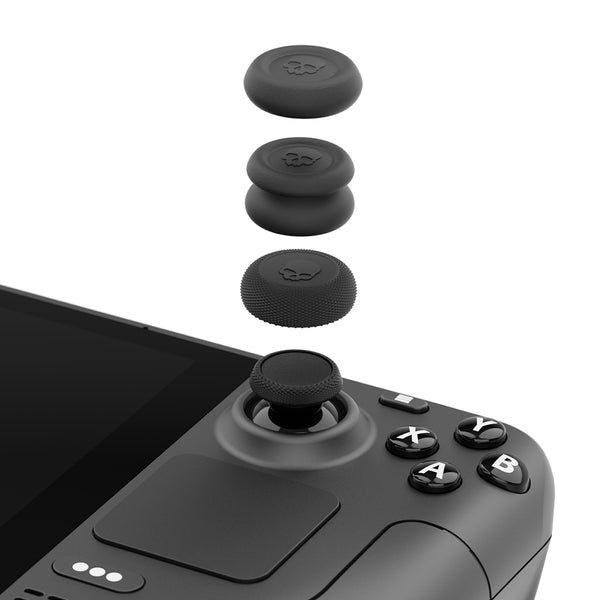 From what we've tested so far, one of the most form fitting caps for the ROG Ally that are available in Malaysia are the Thumb Grip Set by Skull & Co Gaming. These can be easily found on both Lazada and Shopee as well.
Official Link : https://skullnco.com/collections/steam-deck/products/thumb-grip-set-for-steam-deck?variant=43986875351332
Geekshare
Geekshare has become well-known for their adorable cat paw silicone accessories that were initially designed for the Nintendo Switch. However, they have now expanded their product range to include accessories for the Steam Deck, and some of these accessories are also compatible with the ROG Ally. Notably, their Silicone Thumb Grip Caps collection designed for the Steam Deck has been personally tested by me and found to fit securely and comfortably.
It's worth mentioning that while Geekshare's Silicone Thumb Grip Caps designed for the Nintendo Switch can also be used on the ROG Ally's analog sticks, they tend to have a tighter fit and may potentially come off when subjected to significant pressure.
These can all be found on both Lazada and Shopee with the keyword "Geekshare".
Official Link : https://geekshare.com/collections/steam-deck
Carry Case
Currently, the official carry case for the ROG Ally is considered the most reliable option available. While there are third-party brands offering carry cases made for the Steam Deck, there haven't been any specific carry cases designed to perfectly match the form factor of the ROG Ally. As a result, it is recommended to use the official carry case provided by ASUS for the best fit and protection for your ROG Ally.
Official ROG Ally Carry Case from ASUS
In my personal opinion, nothing else safeguards your ROG Ally better than the specially designed ROG Ally travel case. Constructed with a soft case material and a cozy fleece inner liner, this travel case ensures optimal protection for your device when stored in any bag or backpack. It offers all-weather protection with its water-repellent PU fabric, shielding your machine from accidental spills and inclement weather. The case is securely sealed with an ROG emblazoned YKK zipper, while the soft fleece inner liner provides a scratch-free environment for the screen.
Not only does the ROG Ally travel case offer protection, but it also serves as a convenient portable stand. By folding up the middle compartment, you can easily transform the case into a stable stand, allowing you to immerse yourself in the gaming action without any hassle. Additionally, the travel case provides ample storage space for credit-sized and MicroSD cards, ensuring that your essential accessories are securely organized and easily accessible when you need them.
Price : RM199
Official Link : https://rog.asus.com/my/gaming-handhelds/accessories/rog-ally-travel-case/
Charging Dock & Hub
ROG Gaming Charger Dock
The ROG Gaming Charger Dock is an all-in-one solution that combines charging, data transfer, and display output capabilities into a single device. Designed for the ROG Ally, this dock allows users to connect their device to a TV or external monitor using the HDMI port, enabling a larger screen gaming experience. The USB-A ports provide convenient connectivity for peripherals such as keyboards and mice, while the USB-C port allows for charging the ROG Ally during gameplay. With its versatile features, the ROG Gaming Charger Dock streamlines the gaming setup and enhances the gaming experience by offering seamless integration and efficient functionality.
Price : RM299
Official Link : https://rog.asus.com/my/power-protection-gadgets/chargers-and-adapters/rog-gaming-charger-dock/
JSaux Docking Station HB0603
Officially, the JSaux Docking Station is designed for the Steam Deck, but it has been proven to work for the ROG Ally as well. It provides 3 more additional USB-A ports for your 2.4ghz dongles on top of one PD USB-C and a 4k 60Hz / 2k 120Hz HDMI port. The JSaux Docking Station can be found on both Lazada and Shopee with "JSaux Hub" as the search keywords.
Official Link : https://jsaux.com/products/upgraded-docking-station-for-steam-deck
Other miscellaneous accessories on Taobao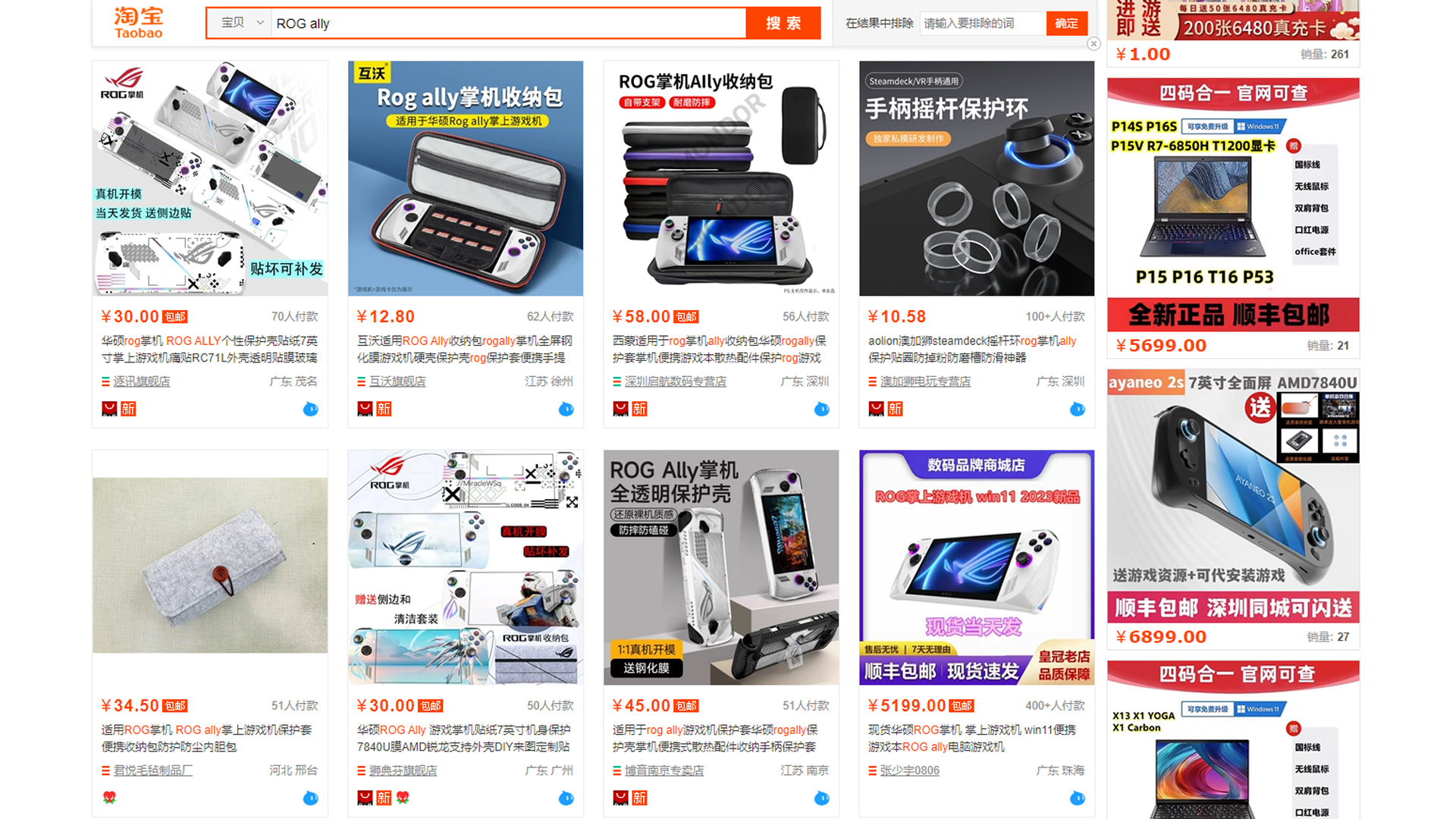 Lastly, for those who are savvy with web browser translation plugins or are fluent in Chinese, conducting a simple search using the keywords "ROG Ally" on Chinese online marketplaces will yield numerous results. I even came across sticker sets inspired by a well-known mecha anime that are specifically designed to cover the entire ROG Ally. Below are some links for reference. It's important to note that shopping on platforms like Taobao may initially appear overwhelming, but with a few attempts, it becomes comparable to using Lazada or Shopee. However, it is worth mentioning that dealing with warranty and returns on Taobao can be a tedious process.
Micro SD & SSD
Many of you may be wondering about the compatibility and performance of MicroSD and SSD options for the ROG Ally. Currently, we are in the process of benchmarking the available MicroSD cards in the Malaysian market to provide a comprehensive performance report. Additionally, we are also investigating the ongoing MicroSD issues to ensure a thorough understanding of the situation.
Fortunately, we have been unable to encounter any instances of MicroSD cards breaking during our testing. However, it's important to note that we still have several more benchmarks to conduct before we can provide a complete overview.
Regarding SSD options, we have encountered some limitations in obtaining 2230 sized NVMe SSDs directly from the brands. It appears that these SSDs are primarily intended for B2B projects rather than general retail availability. Although there are parallel imported options such as the WD SN740; as an official media, we cannot recommend them due to the lack of warranty coverage.
However, we have good news to share. We have officially purchased a Sabrent Rocket 2TB SSD, which is on its way to us. We are excited to conduct thorough testing and provide accurate and reliable information regarding SSD options for the ROG Ally. We appreciate your patience as we continue our investigations and remain dedicated to delivering comprehensive insights into MicroSD and SSD choices for the ROG Ally. Stay tuned for further updates.