After four years of hiatus, BlizzCon® is back and returning to Anaheim, California on 3 & 4 November. This year, BlizzCon® aims to become a one-of-a-kind immersive experience, bringing attendees into the universes of Warcraft®, Diablo®, and Overwatch® with massive installations, art, and thematic spaces where friends can connect.
"We are so excited to be welcoming everyone back to Anaheim for BlizzCon 2023. This year, we are doubling down on the community experience for both in-person and virtual attendees, with beautiful, immersive activations throughout the Anaheim Convention Center, as well as providing all BlizzCon on-stage content for free via livestream for our global community. We have so many exciting things planned, and we can't wait to see everyone there!"

April McKee – Executive Producer of BlizzCon
The first wave of tickets for BlizzCon will be available Saturday 8 July at 10 a.m. PDT via AXS at AXS.com, with the second wave of tickets available Saturday, July 22, at 10 a.m. PDT.
"Gaming is about making connections with others, creating memories, and above all else, having fun–BlizzCon is our celebration of that,"

"Our players are at the heart of what makes BlizzCon great, and whether our players are attending in person or joining us virtually, we're looking forward to showing them what's next for Blizzard."

Mike Ybarra – President of Blizzard Entertainment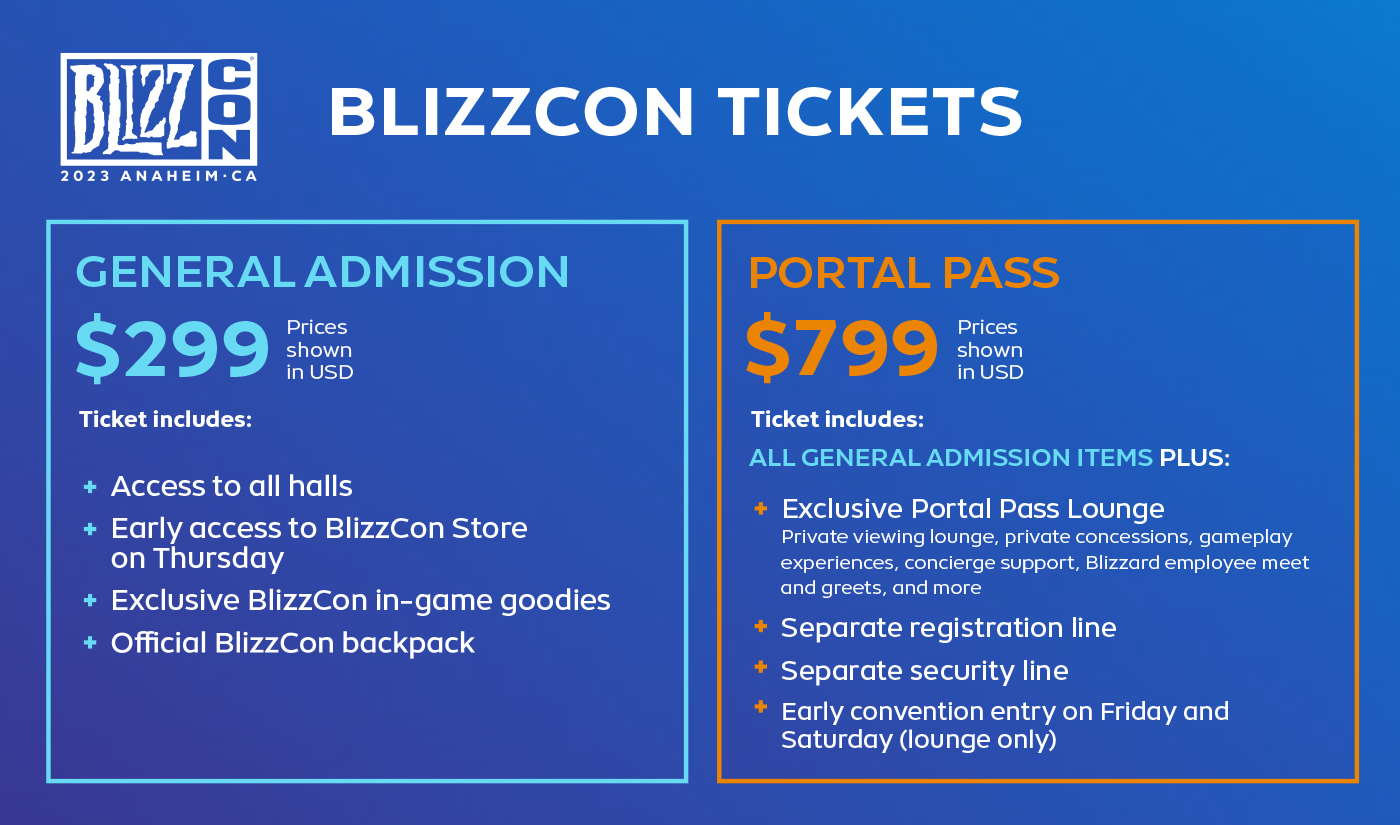 General Admission tickets can be purchased for $299 USD, which includes:
a live event ticket
in-game goodies
the official BlizzCon Backpack
early access to the BlizzCon Store
The Portal Pass is also available for $799 USD, which includes all the General Admission perks, and:
separate registration line
separate security line
exclusive Portal Pass Lounge access

private concessions, private viewing lounge, gameplay experiences, concierge support, and more

early entrance to Anaheim Convention Center (Lounge only – Friday and Saturday)