The new Samsung QN800C is part of the brand's latest NEO QLED 8K TV series for 2023, and it's every bit as impressive as we expected from a flagship product from the South Korean tech giant. With 33 million pixels thanks to its 7680 x 4320 resolutions, you'd get four times more details, information, overall sharpness, and definitely a better level of realism than you would have from a 4K TV. Needless to say, the difference is huge.
This TV can deliver a serious punch. But the question is, just how much can you make full use of its impressive specification? With the number of native 8K content still on the shy side today, most users will still end up watching 4K contents on their TV most of the time.
This is where the QN800C would negotiate using its superior processing power and ability to upscale 4K contents to the point they actually look better on this 8K TV than they would on a native 4K screen.
NEO QLED 8K TV 75" QN800C
In this review, we'll find out more about what the TV is actually capable of and most importantly, if it's worth the money.
This year's Samsung's NEO QLED 8K TV comes with 3 models – the QN700C that's the lowest in the range. The QN800C sits in the middle and is the one we are reviewing here. The final one that's also top of this range is the QN900C.
The 75" QN800C costs RM 22,209.00 or RM 616.92/month in the Samsung Store Malaysia. If don't need one this big, the 65" version would only claim RM 17,319 from you. And if you feel like going bigger, the 85" QN800C would cost you RM 31,999.
The amount speaks volumes that this TV is meant for two types of people – those seeking to get the best there is, and those looking to get themselves prepared for the inevitable arrival of the 8K content trend while comfortably enjoying their upscaled 4K contents.
With that handsome price tag in mind, here's what you'll physically receive with the purchase of the 75″ Neo QLED 8K QN800C TV (we are reviewing the 75")
What's In The Box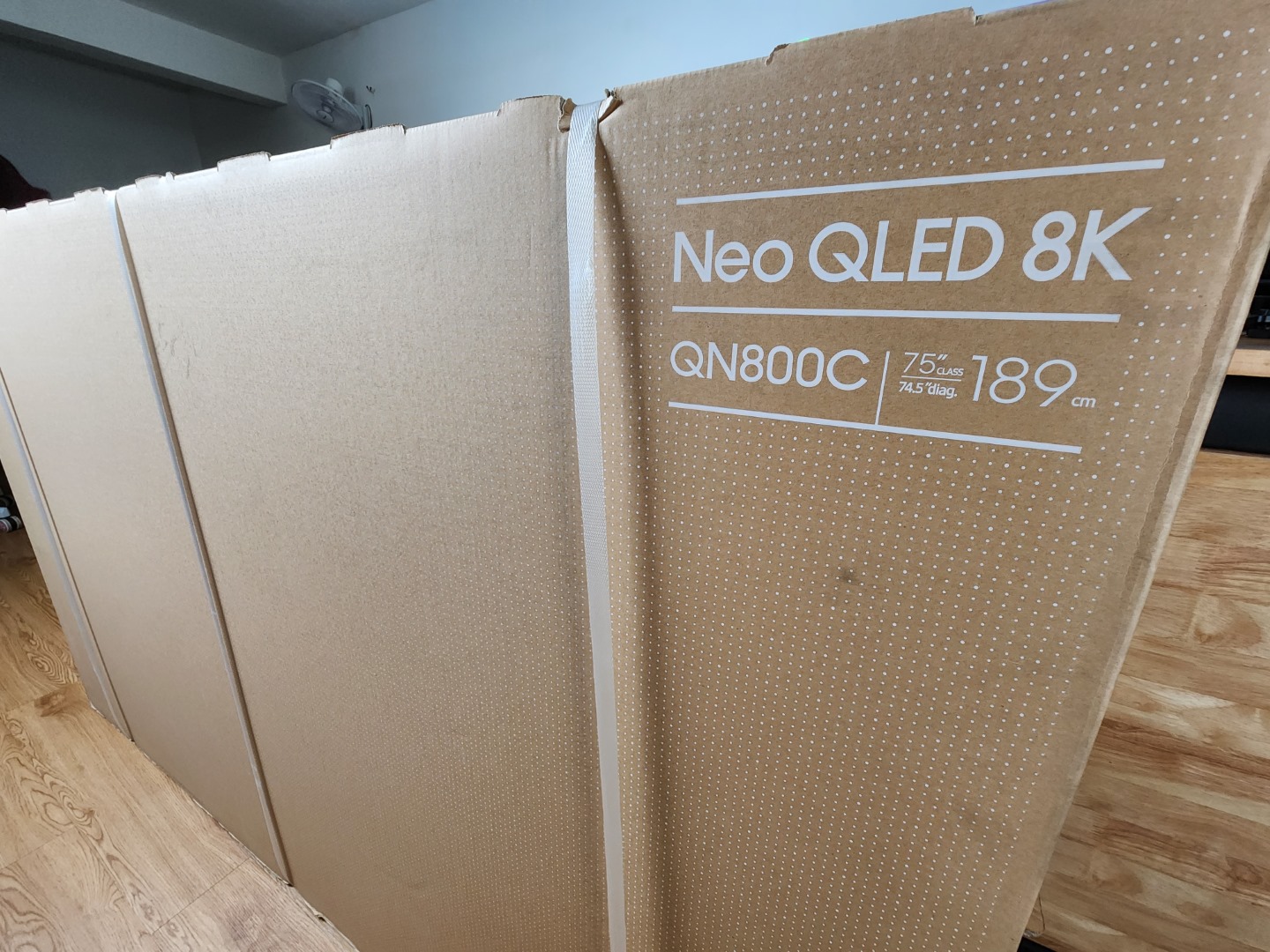 Samsung SolarCell Remote – TM2360E

Attachable Slim One Connect control box

Slim Fit Wall Mount Support

Optional One Connect Cable Support

Vesa Wall Mount Support

Full Motion Slim Wall Mount Y22

SlimFit Cam Support

Power Cable

Built-in Zigbee/Thread Module

User Manual

Polystyrene foam that doubles as a TV stand during installation

The

75″ Neo QLED 8K QN800C TV

itself
It's Heavy But Otherwise Easy To Install
The weight of the TV in the box is no joke. If you're wondering how much it weighs, the answer is 57 kilograms. You'd be better off relying on the installation guys to do the installation for you unless you are real men like us, who prefer to do things the hard, dumb way, and wrong way.
The entire packaging was cleverly designed in such a way that if the user follows its unboxing guide, the installation would be easy and anyone can set up and install the base to the TV on their own despite its weight and size.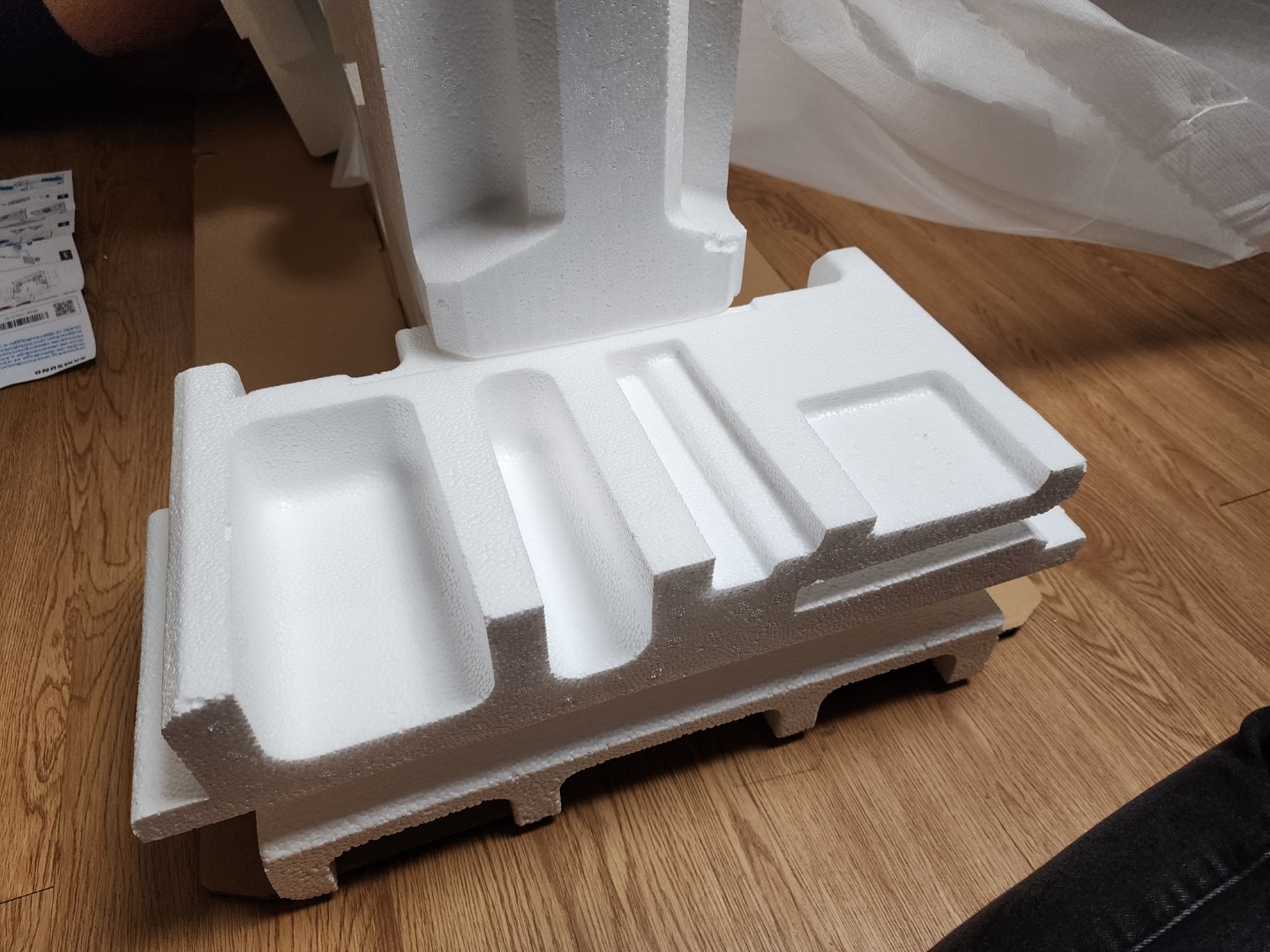 Part of the polystyrene foam used on top in the packaging can be reused back to attach onto the polystyrene foam clamping the bottom of the TV. This enlarges the foundation, allowing the TV to stand safely as you go about assembling the base before eventually attaching the base to the TV itself.
For safety purposes, you will need another person to just stand infront of the TV to make sure it doesn't fall flat in case you accidentally applied too much pressure when assembling the base.
The whole design and process were just genius and easy to understand. But after you completed the assembly, carrying the TV up and placing it in the space you intended for it (if you hadn't already set it up on a TV cabinet) would require at least 2 guys. This is not negotiable.
The TV plus the stand now minus the box, is 43.7 kilograms. So again, definitely go with the option to include installation with your delivery. There's no point trying to be a hero about this unless you have some really great and ready pals who don't mind giving you a hand.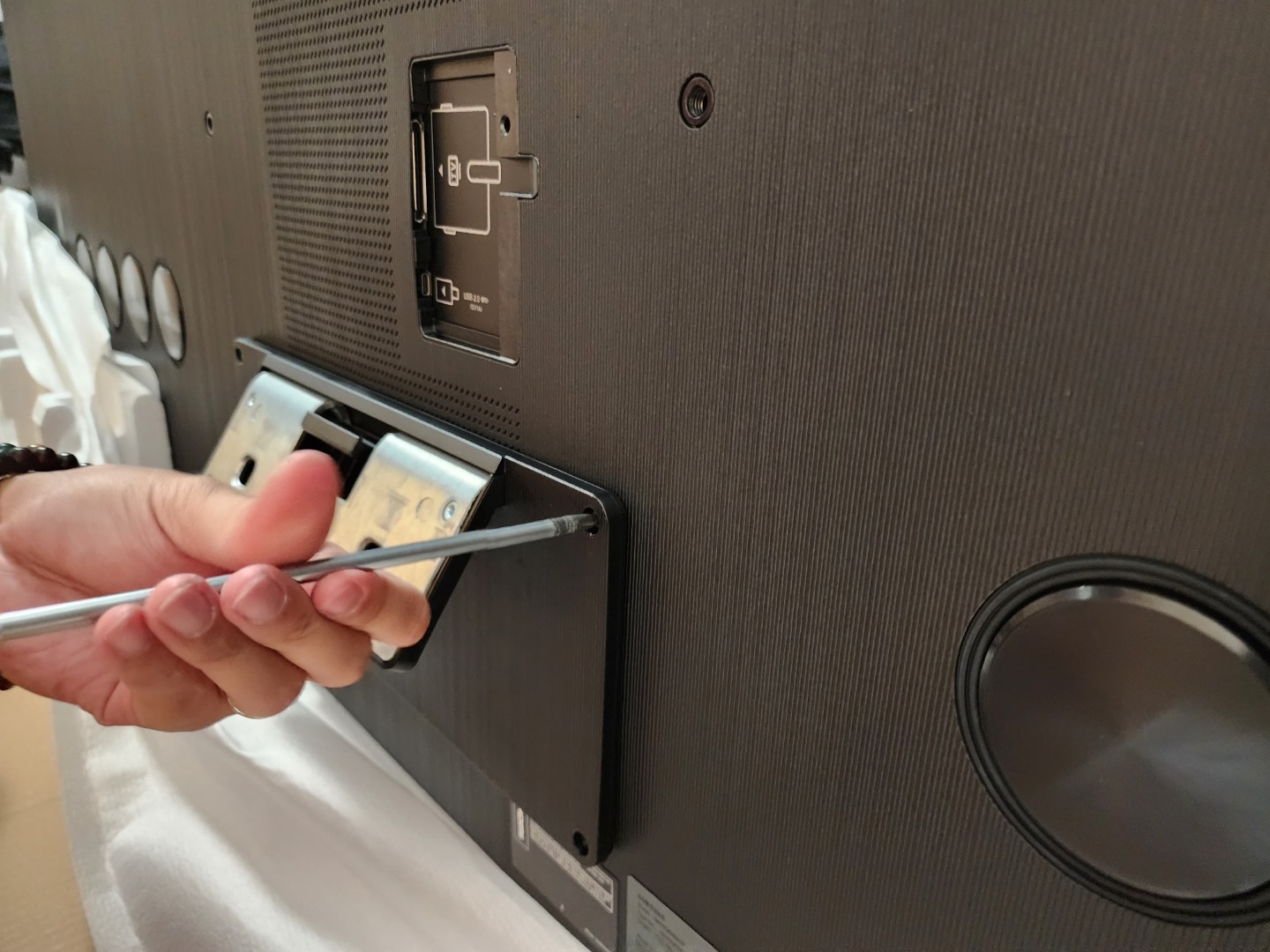 All in all, it took us two guys and lesser than 15 minutes to assemble the TV for use, and it would be another 5-10 minutes or so to set it up (connecting to the internet, first-time setup, etc).
Design And Build
When it comes to construct, the QN800C is a beautiful and mod TV that adds serious value to the living room's decoration. The top model in the range, the QN900C has a bezel-less Infinity Screen design, whereas the QN800C's Infinity One design sports a thin bezel at the edge but they are barely noticeable.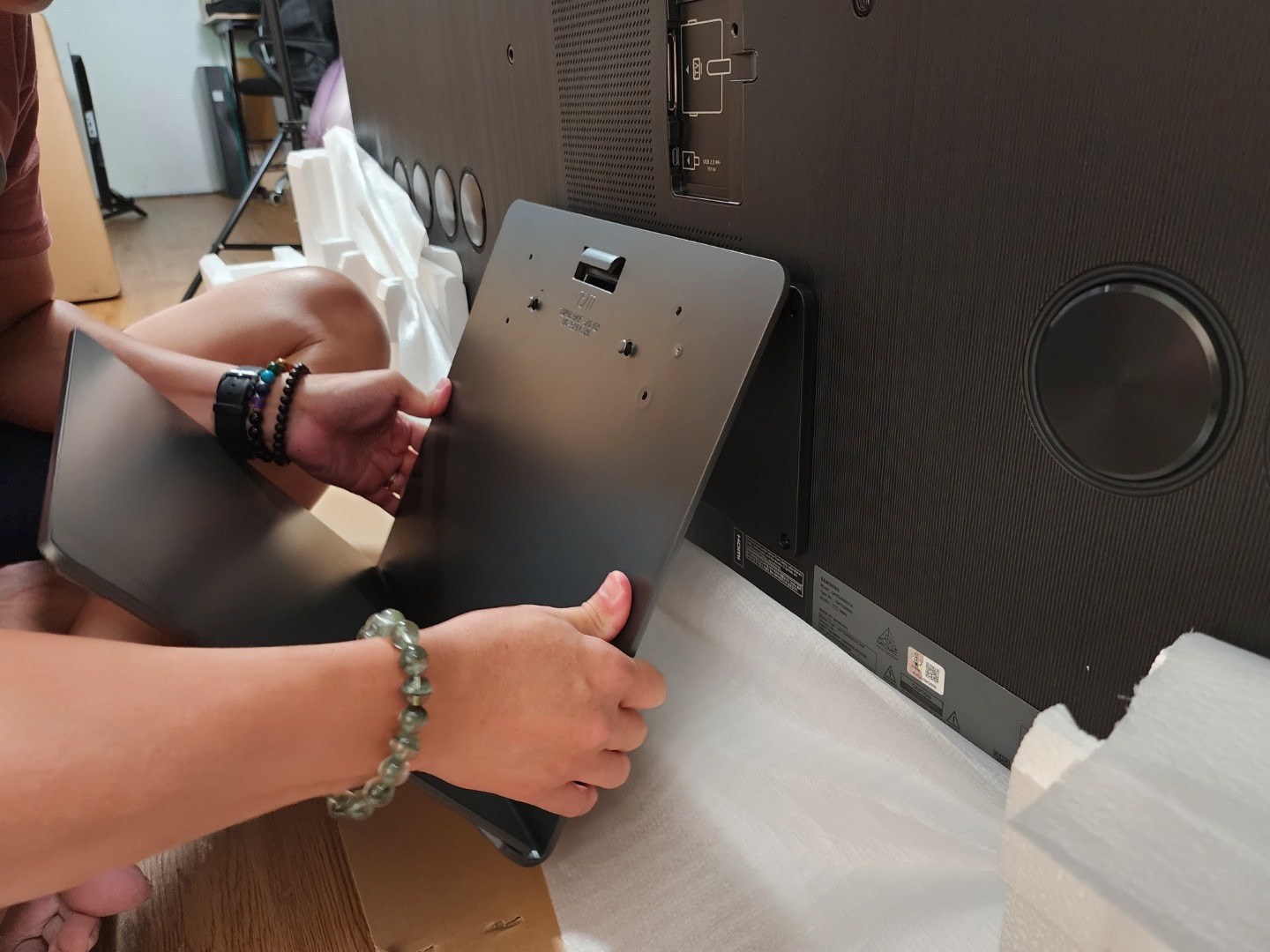 Despite its 75" construct, the strong metal base firmly supports the screen with bearable wobbling even as we shook the table we stood it on. At the back of the mount is a spot to house the Attachable Slim One Connect control box where all the cables and connections would go. But Samsung also provided a longer cable if you want to display or house the One Connect box somewhere else.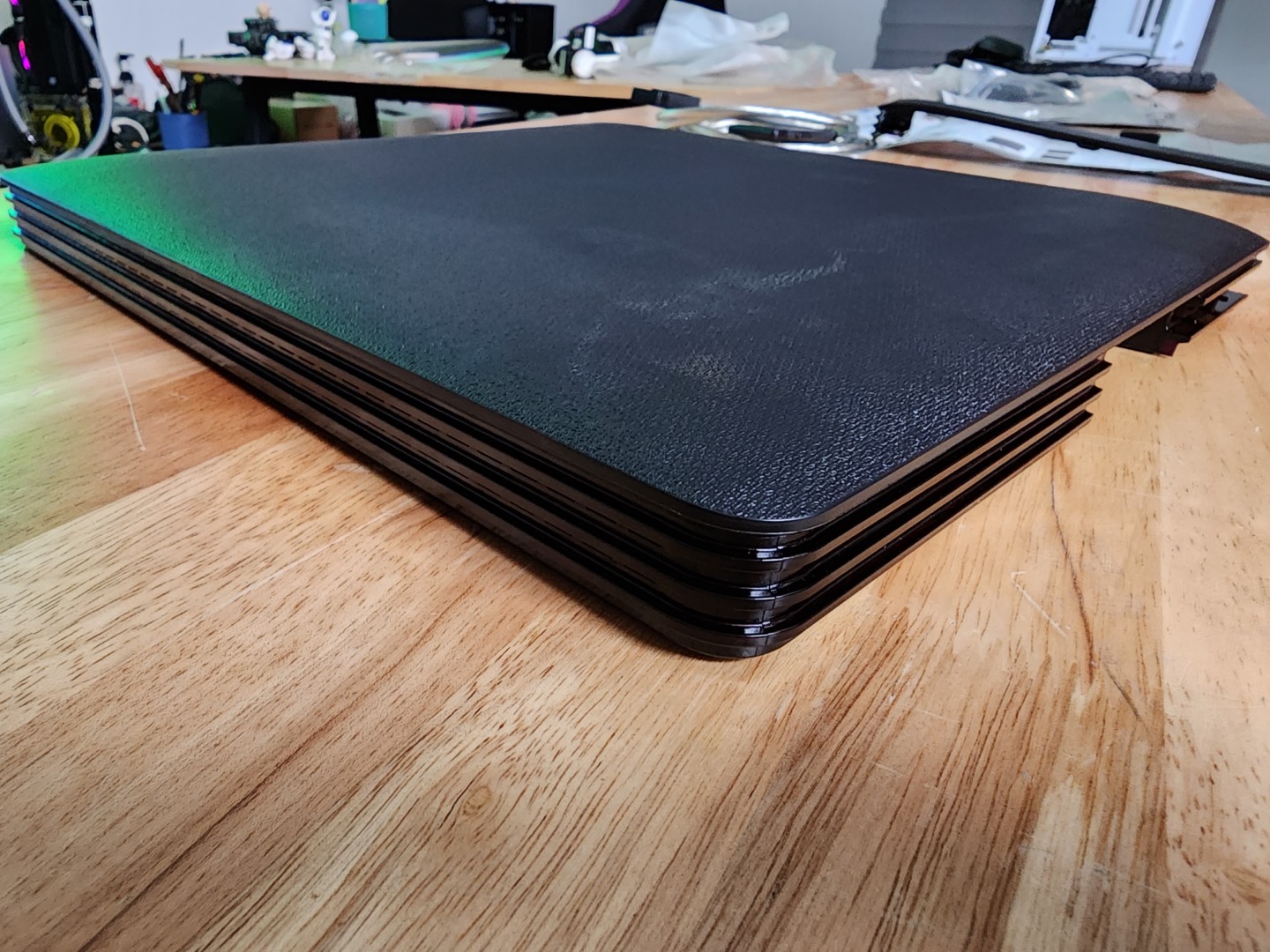 Since all the cables would connect to the One Connect box, this leaves just one cable between the box to the TV itself. So, for those of you who planned on mounting this TV, you'll end up with a clean and neat outcome rather than a messy medusa.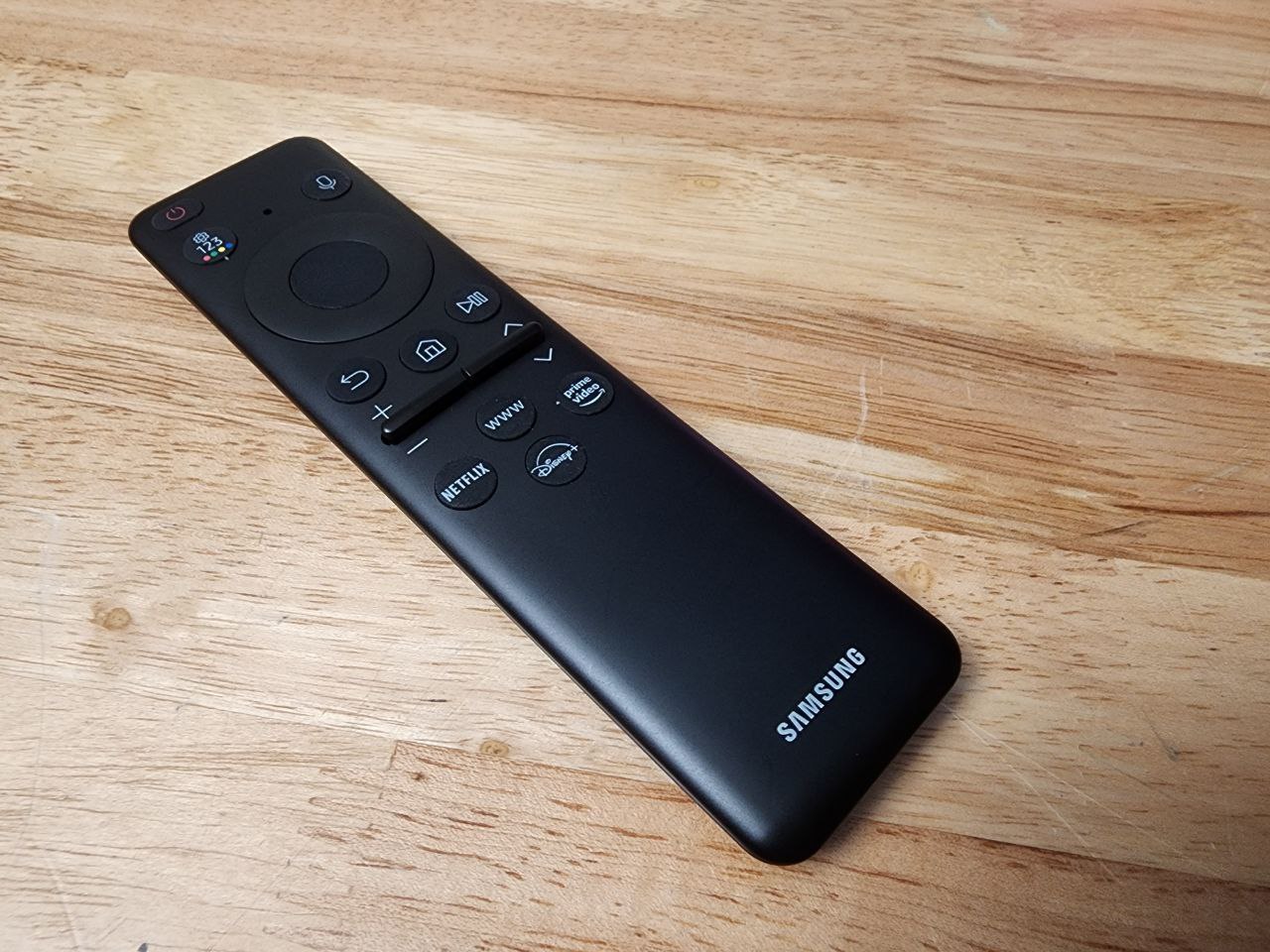 The One Remote control that comes with the TV doesn't have many buttons but it won't need more than it already has anyway. Navigating through the menu is quick and simple, with little delays between clicking the button to the actual action. Because it's a SolarCell remote, you won't have to worry about batteries and can just charge the remote via natural or artificial light from your living room.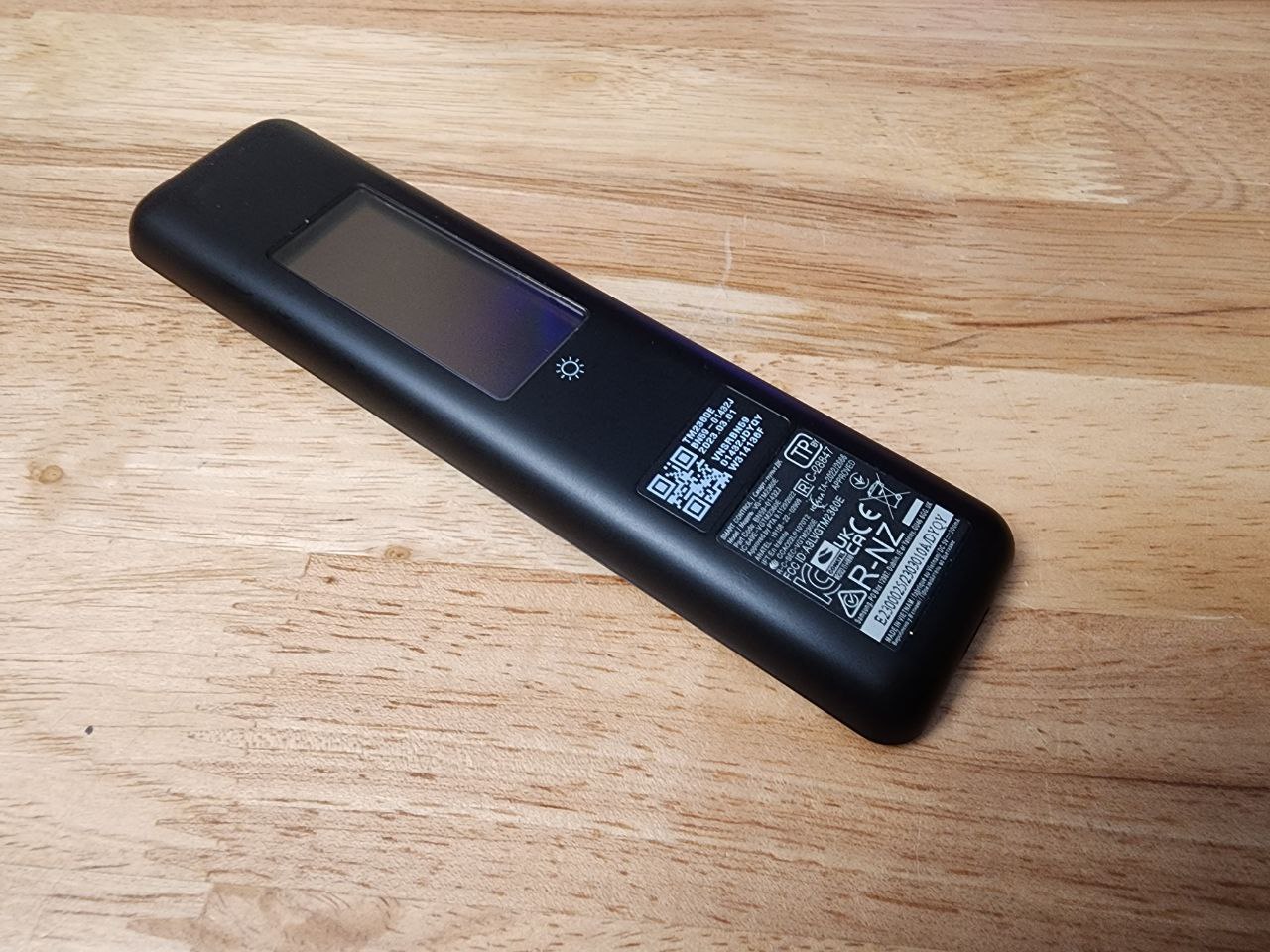 Operating System – Tizen OS 7.0
With the Tizen OS 7.0 as its foundation, the QN800C is more ready than ever to integrate with your smart home ecosystem. As you can with older Samsung TVs, connecting to this TV with your SmartThings app brings up more possibilities including using your smartphone as a remote control or effortless screen-sharing from your phone to your TV.
| | |
| --- | --- |
| Operating System | Tizen™ Smart TV |
| Bixby | US English, UK English, India English, Korean, French, German, Italian, Spanish, BR Portuguese (features vary by language) |
| Far-Field Voice Interaction | Yes |
| Web Browser | Yes |
| SmartThings | Yes |
| Media Home | Yes |
| Multi-Device Experience | TV to Mobile, Mobile to TV, TV initiate mirroring, TV Sound to Mobile, Sound Mirroring, Wireless TV On |
| Tap View | Yes |
| Video Communication | Google Meet |
| Multi-View | Up to 4 videos |
| Music Wall | Yes |
| Mobile Camera Support | Yes |
| Easy Setup | Yes |
| App Casting | Yes |
| Ambient Mode | Ambient Mode+ |
| Wireless Dex | Yes |
| Web Service | Microsoft 365 |
| NFT | Nifty Gateway |
Picture Quality
Key features:
Real 8K Resolution – 7,680 x 4,320 pixels (Four times more than 4K)

Neo Quantum HDR 8K+ – Powerful processor

Anti-Reflection – Minimises glare

Real Depth Enhancer Pro

PANTONE Validated – Excellent colour accuracy guaranteed

EyeComfort Mode – Auto brightness and colour adjustment

Auto HDR Remastering – Enjoy your SDR content in HDR-like quality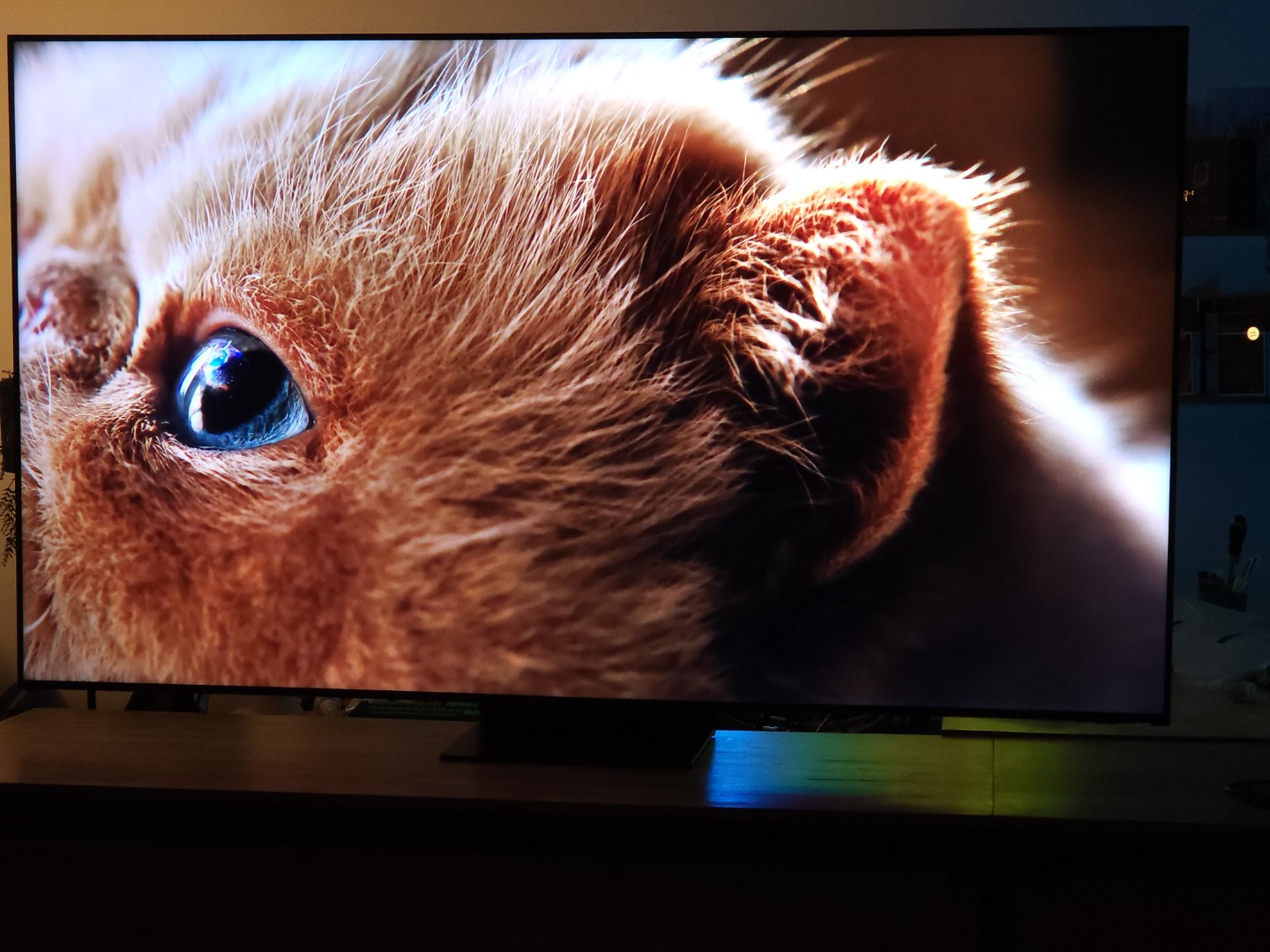 For the price you're paying for this TV, it would be absolutely horrendous if the quality is not up to par but thankfully, the truth is the exact polar opposite of horrendous.
On the component side of things, QN800C is more than impressive, in fact, owing to the fact that Samsung deployed the best LED panels in its arsenal for this range by using a mini LED backlight system. With LED bulbs 40 times smaller than the normal LED models, the miniaturised design makes finer control of lighting levels possible. This allows for smaller local dimming zones, lighting bleeds less (reduces blooming), and just overall greater accuracy thanks to thousands of these tiny LED bulbs.
On the image processing software side that controls those components, there is Samsung's 8K Neural Quantum Processor which is now more powerful than the last version. It now sports 64 neural networks, increased from 20 before, allowing the A.I. to furnish the screen with more details and produce more realistic pictures.
My concern was about the blooming effects, especially with HDR content. But the QN800C mitigates this with an improved specific algorithm that suppresses blooming by lowering the backlight level (APL) as a control to match the shape of the on-screen objects against a dark background. While it does not fully eliminates blooming like an OLED panel would, the suppression did a great job at preserving object clarity on-screen.
Product

QLED

Series

8

Display Information

75"




7,680 x 4,320 resolution




100Hz Refresh Rate




Anti-Reflection – Yes

Picture Engine

Neural Quantum Processor 8K

HDR

Neo Quantum HDR 8K Plus




HDR 10+




For Adaptive / Gaming

AI Upscale

Yes

HLG (Hybrid Log Gamma)

Yes

Contrast

Quantum Matrix Technology Pro

Colour

100% Colour Volume with Quantum Dot

Viewing Angle

Ultra

Brightness/Colour Detection

Yes

Micro Dimming

Ultimate 8K Dimming Pro

Contrast Enhancer

Real Depth Enhancer Pro

Film Mode

Yes

Motion Technology

Motion Xcelerator Turbo+

Picture Clarity

Yes

Smart Calibration

Basic/Professional

AI HDR Remastering

Auto HDR Remastering
When it comes to clean whites and deep blacks on the screen, the army of LED bulbs in the backlight works tirelessly to light up and dim according to the scene, providing good honest looking white and a convincing level of deep black. It won't be on the same level as an OLED panel, but as far as non-OLED goes, this is as good as it gets. On the brightness level, the TV is capable of blasting up to a respectable 2,000 nits.
Colour accuracy and fidelity of the QN800C is PANTONE validated, meaning there isn't any need to tweak around except to adjust for individual preferences. Over the course of my time with this TV, I haven't felt the need to change anything to make the colours show better. Objects enjoy a better three-dimensional appearance, thanks to the Real Depth Enhancer feature that increases the quality of realism from the perceived image.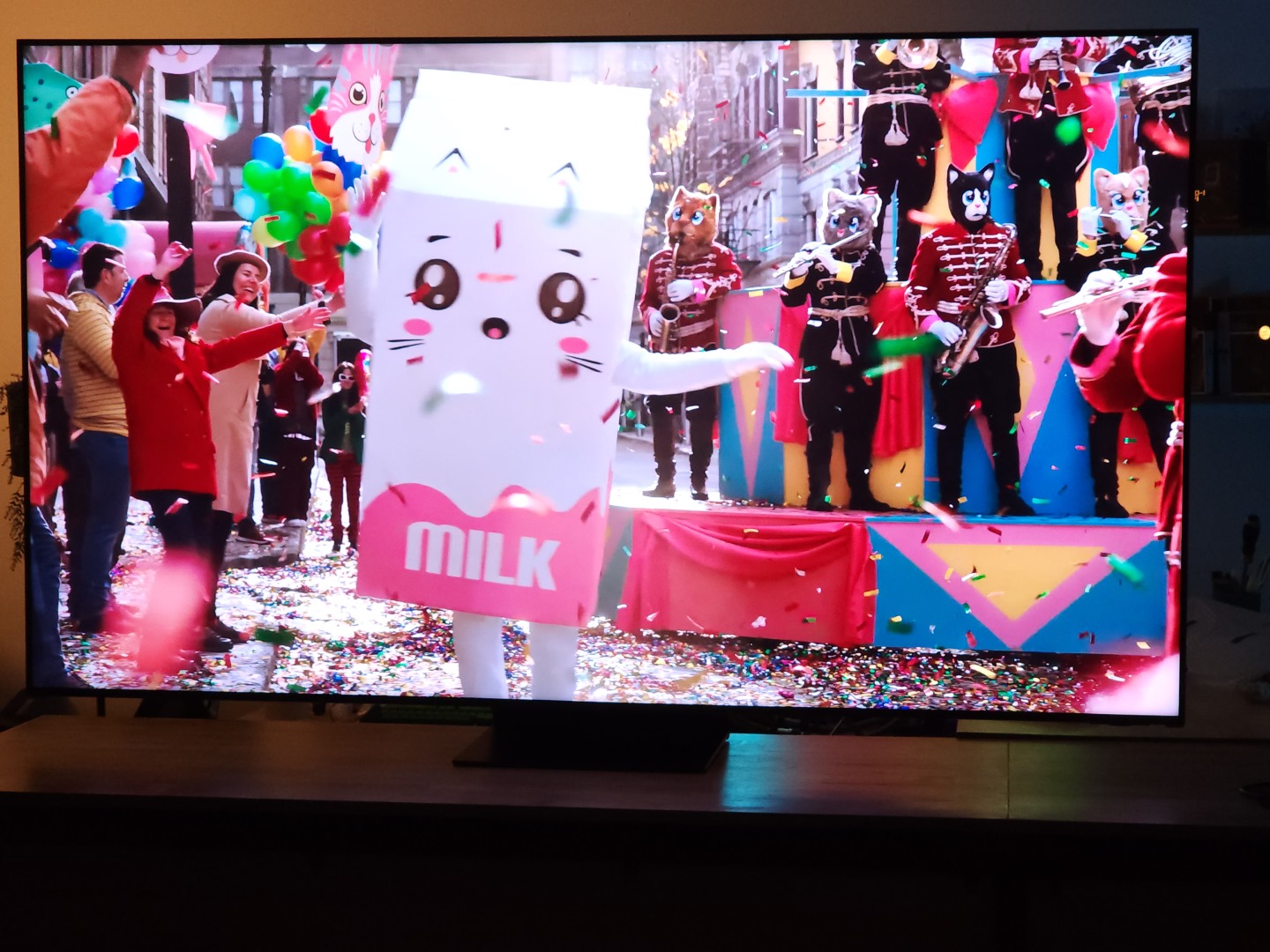 One of the things about big TVs is the bigger they are, the more likely it is for the surface to catch reflections. This is could easily ruin the viewing experience, especially in bright conditions. The QN800C comes with an Anti Reflection filter that does not entirely eliminate reflections, but what it does, instead, is minimizes the intrusion. To Samsung's credit, the filter did perform this task reasonably well and although there were still faint hints of glare, it's easy to ignore them completely after a short period of adjusting. The EyeComfort mode automatically detects and adjusts the TV's brightness accordingly during sunset or sunrise, adding more value to the quality of comfortable viewing.
This 8K TV is top of its class and needless to say, my movie experience on it had been amazing. Dark areas that would benefit from the screen expressing deep blacks have been a wonder with this TV. Watching the wild animals documentary on 8K where I felt like I could almost reach out and touch them because the sense of realism was just surreal. It was like watching them from a 75" window rather than a TV.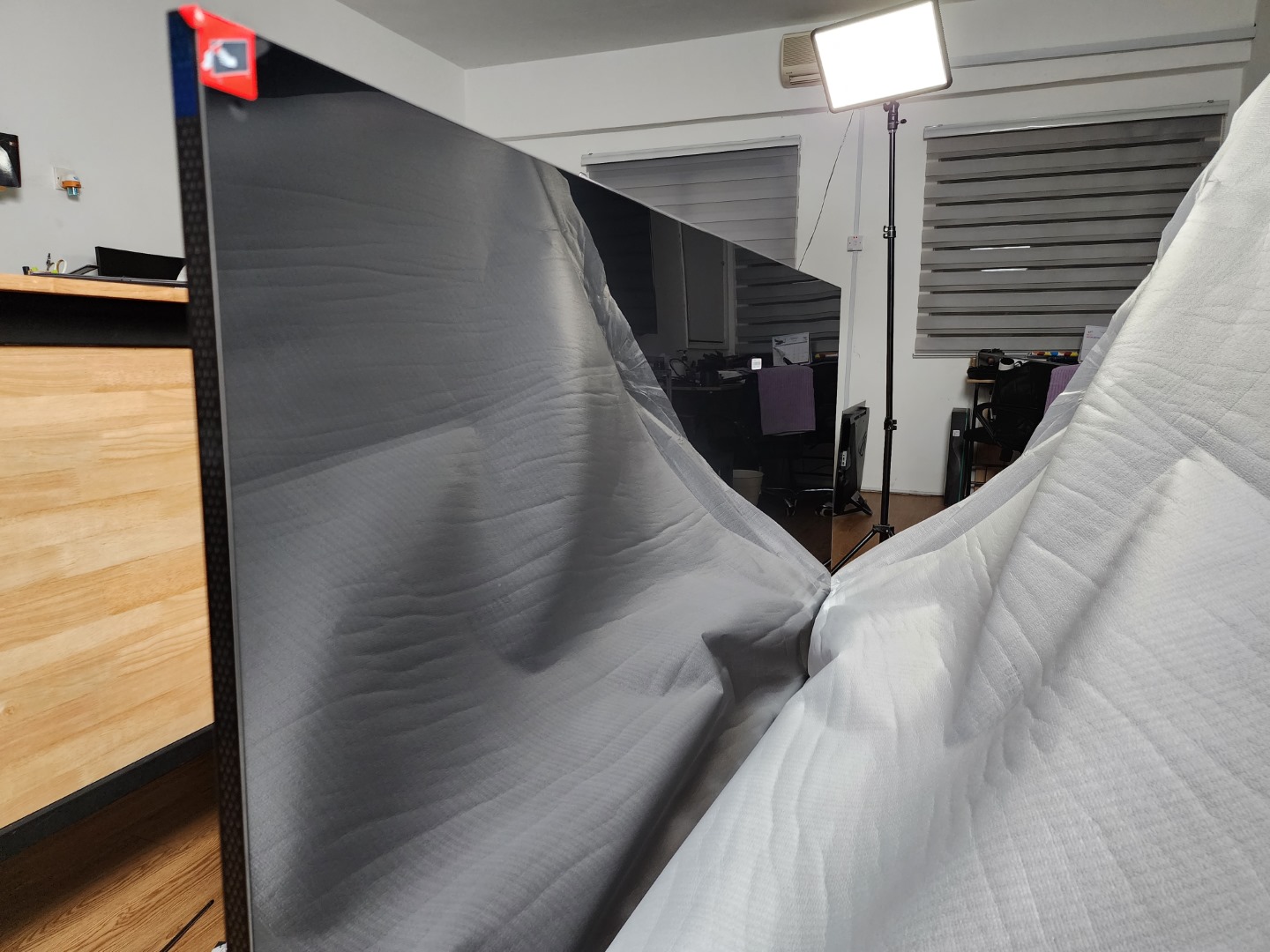 The only shame is as I've said earlier – that the amount of 8K contents available today is simply not a lot. But nevertheless, the QN800C is capable of rescaling any 4K and even Full HD content to the peak resolution of 33 million pixels. So whatever you think is good on your current 4K TV, this one is going to make it better. Although it is worth mentioning that if you are mainly watching SD and HD content, you will miss the whole point of this TV entirely.
Ports I/O & Connectivity
| | |
| --- | --- |
| HDMI | 4 |
| HDMI (High Frame Rate) | 4K 120Hz (for HDMI 1/2/3/4) |
| USB | 3 |
| USB-C (Camera Only) | 1 |
| Ethernet (LAN) | YES |
| Digital Audio Out (Optical) | 1 |
| RF In (Terrestrial / Cable input) | 1/1(Common Use for Terrestrial)/0 |
| Wireless LAN Built-in | Yes (WiFi6E) |
| Bluetooth | Yes (BT5.2) |
| Anynet+ (HDMI-CEC) | YES |
| HDMI Audio Return Channel | eARC |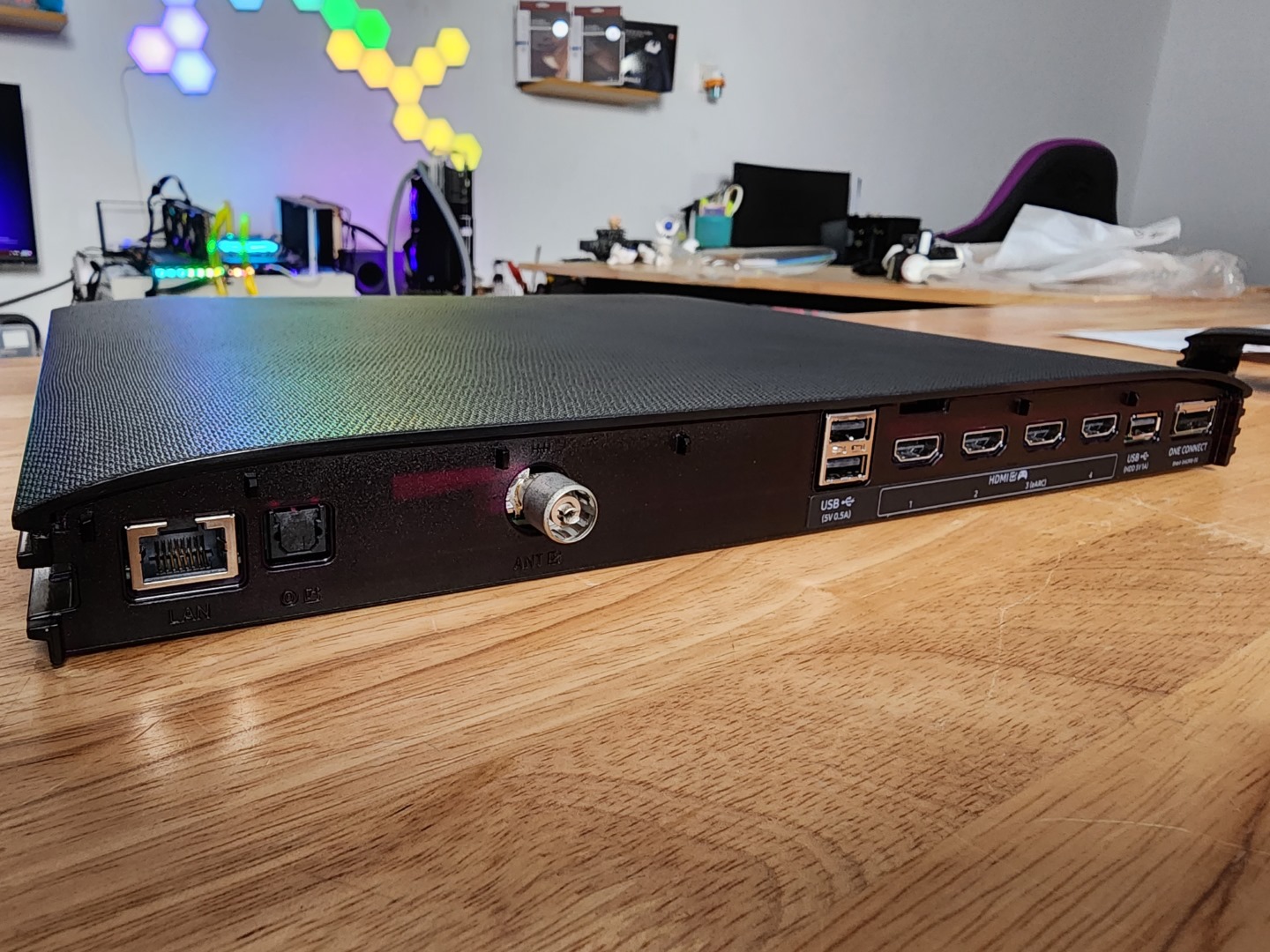 Gaming
Let's get the most important bit out of the way first – the TV has excellent response time.
With 4 HDMI ports, and get this, all 4 of them are ready with 4K120HZ, the days where you'd have to figure out which HDMI port your PS5 should connect to are gone. If you see an open slot, just (gently) slap your HDMI cable in and you are ready to play.
The Motion Xcelerator Turbo+ is meant to provide ultra-smooth gameplay without discernible input lag and motion blur. Playing on my PS5, there wasn't any noticeable lag but the motion blur part wasn't exactly impactful. Most games with fast-moving scenes already came with their natural anti-motion blur options. So, if the TV was helping in any way to prevent parts of the game where the blur should not occur, I just didn't notice it.
Just like some of the new gaming monitors, the TV has a new Game Bar 3.0 that inserts a frame rates counter, information on the resolution, and HDR status to name a few. I've been playing racing games like Gran Turismo 7 and F1 2023 a lot on this TV, mainly because of how racing genres would benefit more from a bigger screen.
GT7 which already looked great normally came out even better on the QN800C thanks to the improved black levels and more precise backlights from the Mini LED turning up and dimming at the right places. Driving from a first-person perspective, the lower part of the dashboard looked realistically darker with a different shade of shadows and the proper lumination level from the windscreen facing the light source were all sharply produced.
Sound Quality
Key features:
4.2.2 Channels

8 speakers 1 subwoofer

Output at 70W

Q-Symphony able

OTS+

Dolby Atmos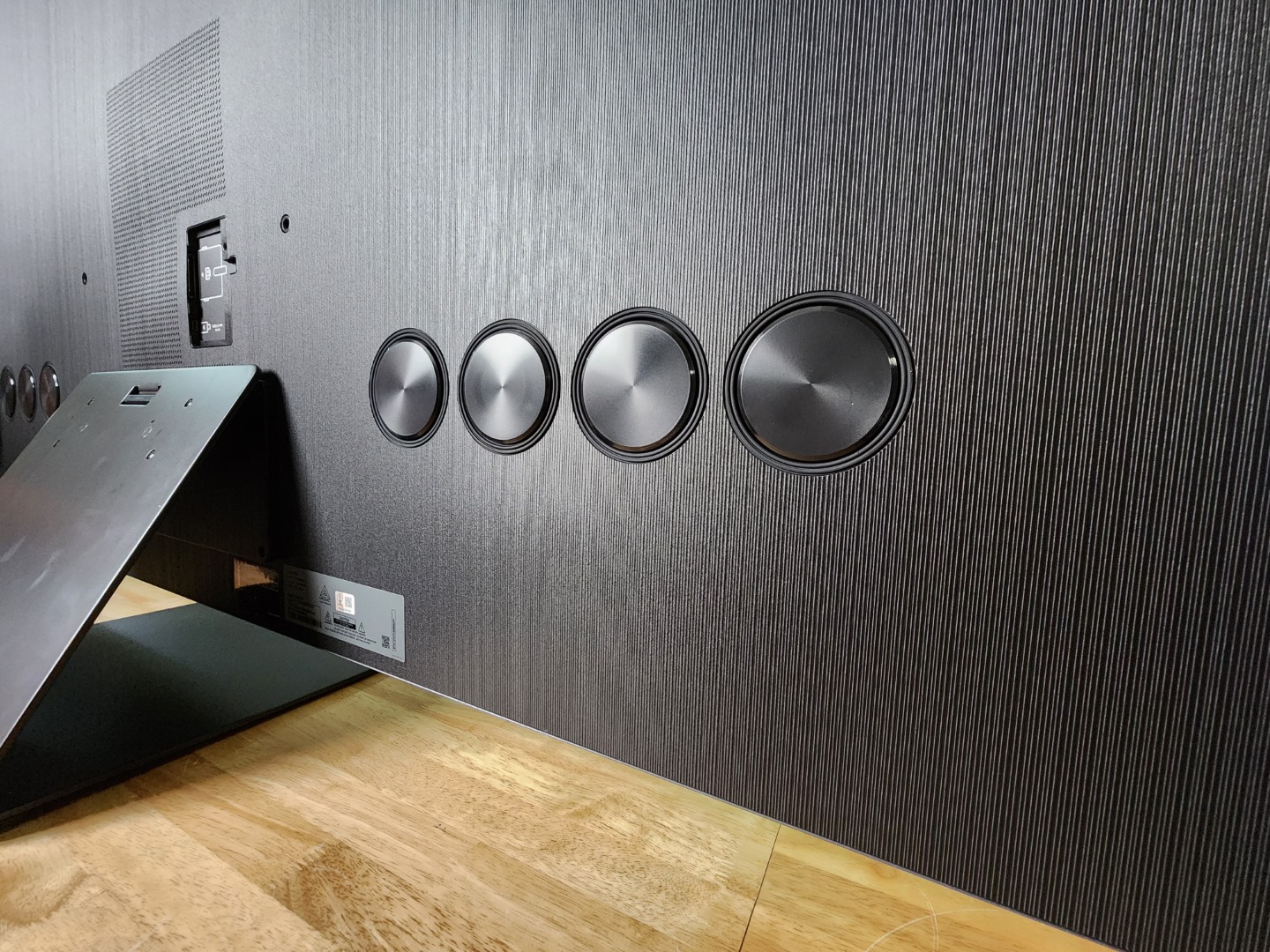 When it comes to the audio department, the Object Tracking Sound Plus (OTS+) and the sheer width of the TV's 75" frame gives it a broad soundstage. Thus when the sound moves from one direction to the other following an object, you'd easily detect it and it brings you closer to the action.
Couple this with the TV's 8 speakers making up a total of 70W output, the TV is more than capable of producing an immersive experience but you should also manage your expectations.
| | |
| --- | --- |
| Dolby Atmos | Yes |
| Adaptive Sound | Adaptive Sound Pro |
| Active Voice Amplifier | Yes |
| Object Tracking Sound | OTS+ |
| Q-Symphony | Yes |
| Sound Output (RMS) | 70W |
| Speaker Type | 4.2.2CH |
| Woofer | Yes |
| Multiroom Link | Yes |
| Bluetooth Audio | Yes |
| Dual Audio Support (Bluetooth) | Yes |
| Buds Auto Switch | Yes |
Because it's a flat TV and only at 70W, you won't get anywhere near a cinema's sound level. But the good thing is, if you are using Samsung soundbars, you can effortlessly integrate your TV's speakers to work with those of your soundbar with Q-Symphony to splendid effects. The bass is on the weak side, but then again, this is also the norm for TV audio.
---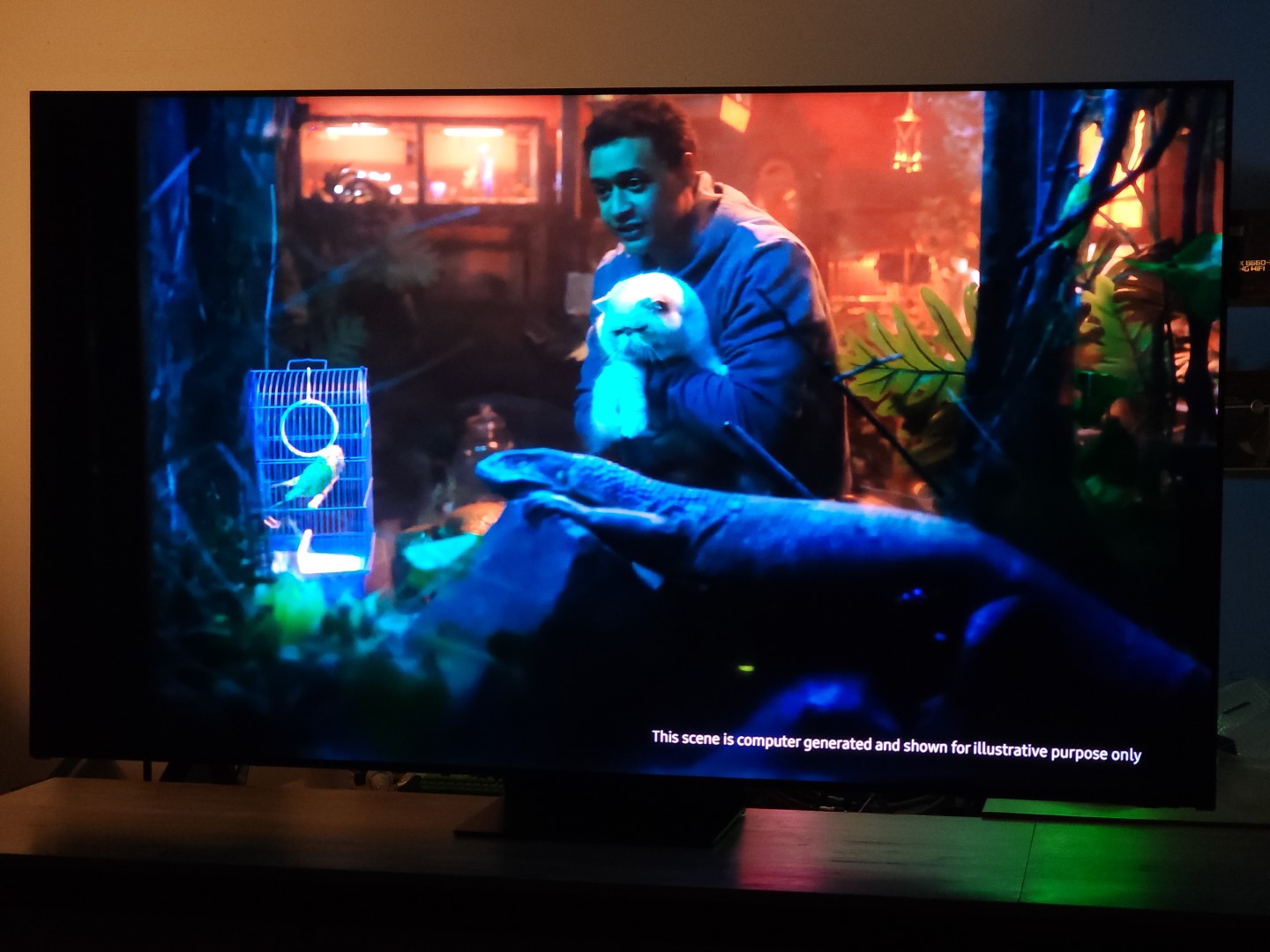 What I Really Liked About The Samsung 75″ Neo QLED 8K QN800C TV
Good looking TV overall

Easy to install and setup

Neat cable management via One Connect Box

Ready-to-go colour accuracy, no need to calibrate.

The anti-Glare filter is good

Great Black levels

OTS+

8K Ready

Solid overall quality and performance
What Would Have Been Better:
If there were more 8K contents
---
Verdict
The 75″ Neo QLED 8K QN800C is powerful TV suitable for every imaginable need. Be it for family use, to satisfy the most enthusiastic movie fan, or even the most demanding gamer seeking a powerful TV, it has both the confidence and power to fulfill them all. It's a pricey TV, no doubt. But with good reasons. Its good looks plus overall solid performance on every important ground including excellent picture qualities, great black levels, workable anti-glare, and ability to produce surreal 8K level realism just makes it so easy to recommend a purchase. If there were more 8K contents today, this TV will be flying off the shelves like hotcakes. But even so, those who get it now will still enjoy the benefit of better quality 4K content thanks to its powerful processor and upscaling.
Final Score : 10/10