When I agreed to do this review and substituted my 55″ TV with the 42″ ROG Swift OLED PG42UQ monitor for my PS5, the experience should feel like a downgrade by right. But instead, the monitor ended up being an overkill. And now, after being pampered by the monitor for a whole 2 weeks I found myself in a difficult position and reluctant to revert back to my TV using days.
Let's talk about the monitor. At 42″, the ROG Swift OLED PG42UQ (hereafter known as the PG42UQ) is a huge monitor that as I've said, can easily substitute a Tv. For a monitor of this size, users would have to mind their sitting distance from the display unit to get the best viewing experience hence why I used it for my PS5 instead of my PC. This is not to say the monitor isn't great for PC because it is, but I've just been playing more on my console lately and thought I'd give it a go in this direction.
Price-wise, this sweety will set you back by RM 7,988. That's 3 times more expensive than the PS5 that I'm testing this monitor with, but it will soon be obvious why this monitor costs this much.
Box, design & build
The packaging itself has a dimension of 1070 x 870 x 188mm. That's 1m x 0.87m in length and width alone, mind you. To carry this monitor, you have to be physically ready to carry a weight of 20kg.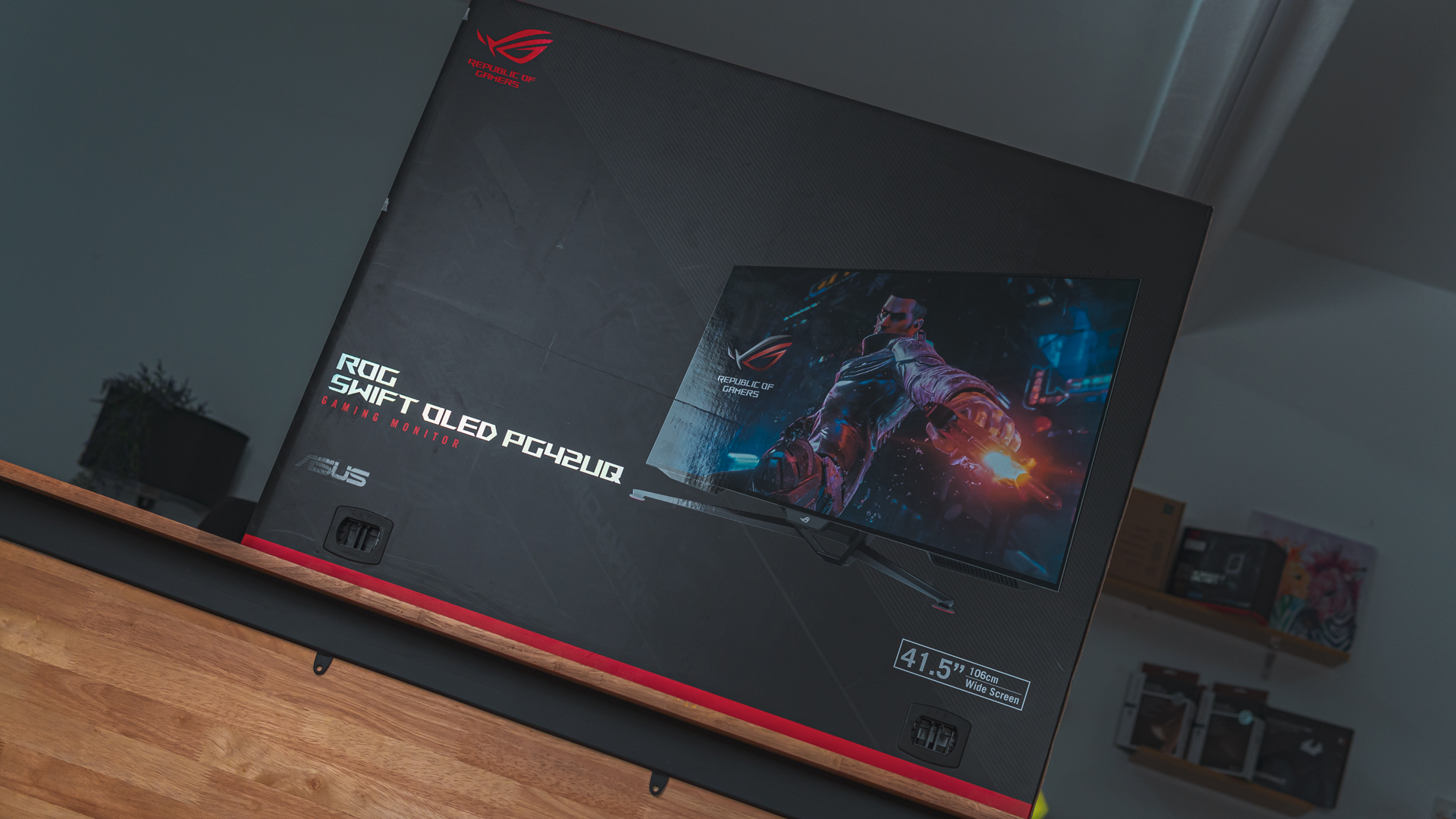 Once installed with its stand and all, the monitor weighs almost 15kg at 14.77kg, which is kinda heavy. So again, make sure that you are physically ready before you attempt to carry/lift this monitor around. Because if this monitor falls on your foot, the hefty price tag you just paid for this monitor may just pale in comparison to your foot's medical bill.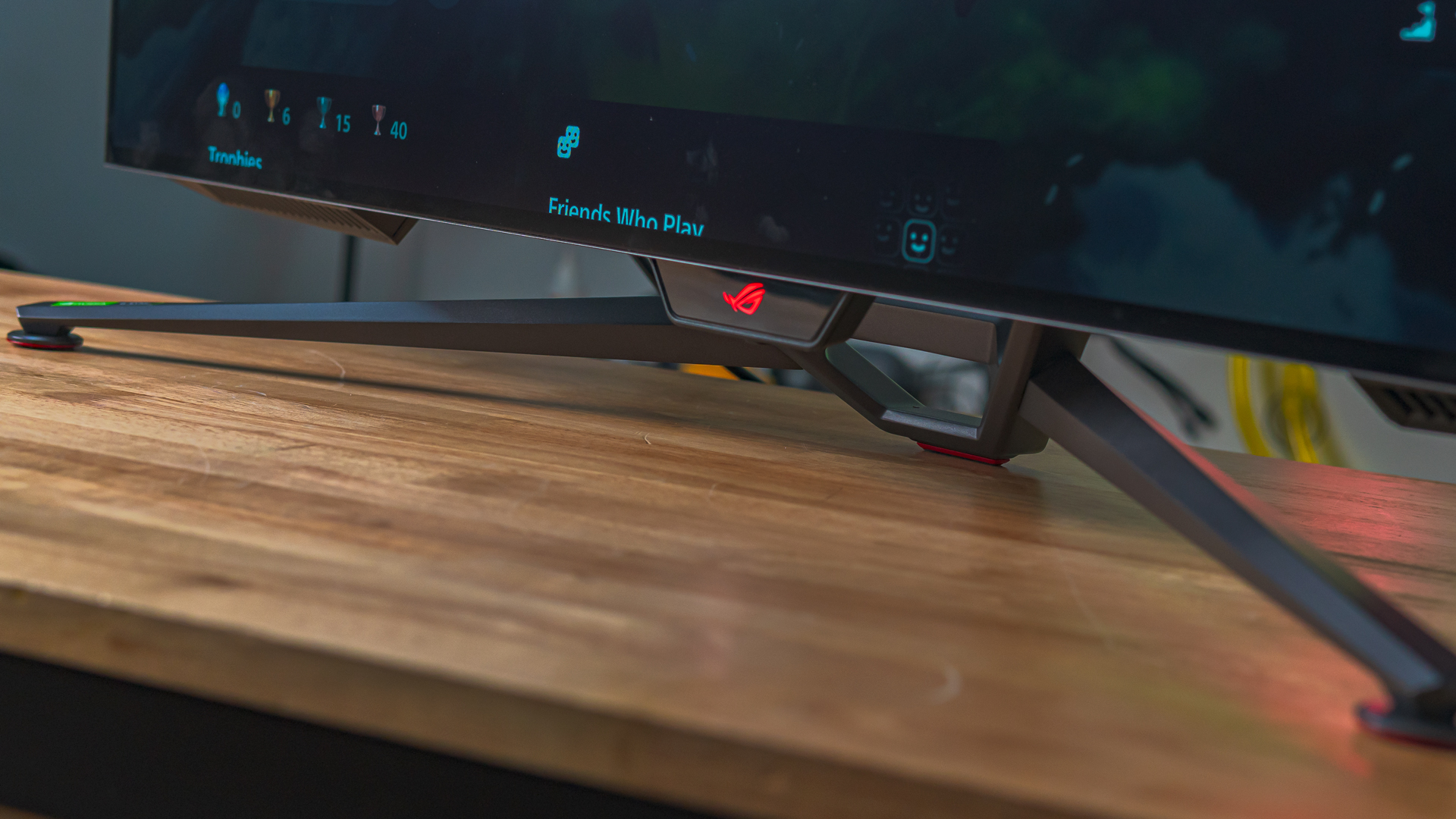 But the good thing is, despite its somewhat slim panels and huge screen, carrying the monitor around didn't feel unsafe. The structure at the bottom of the monitor provided a solid spot for whenever I needed to lift the monitor around, and the stand is sturdy as long as it's properly installed – providing a confident base to support the monitor. The only complaint I have about its overall design and stand is there's no height and swivel adjustment.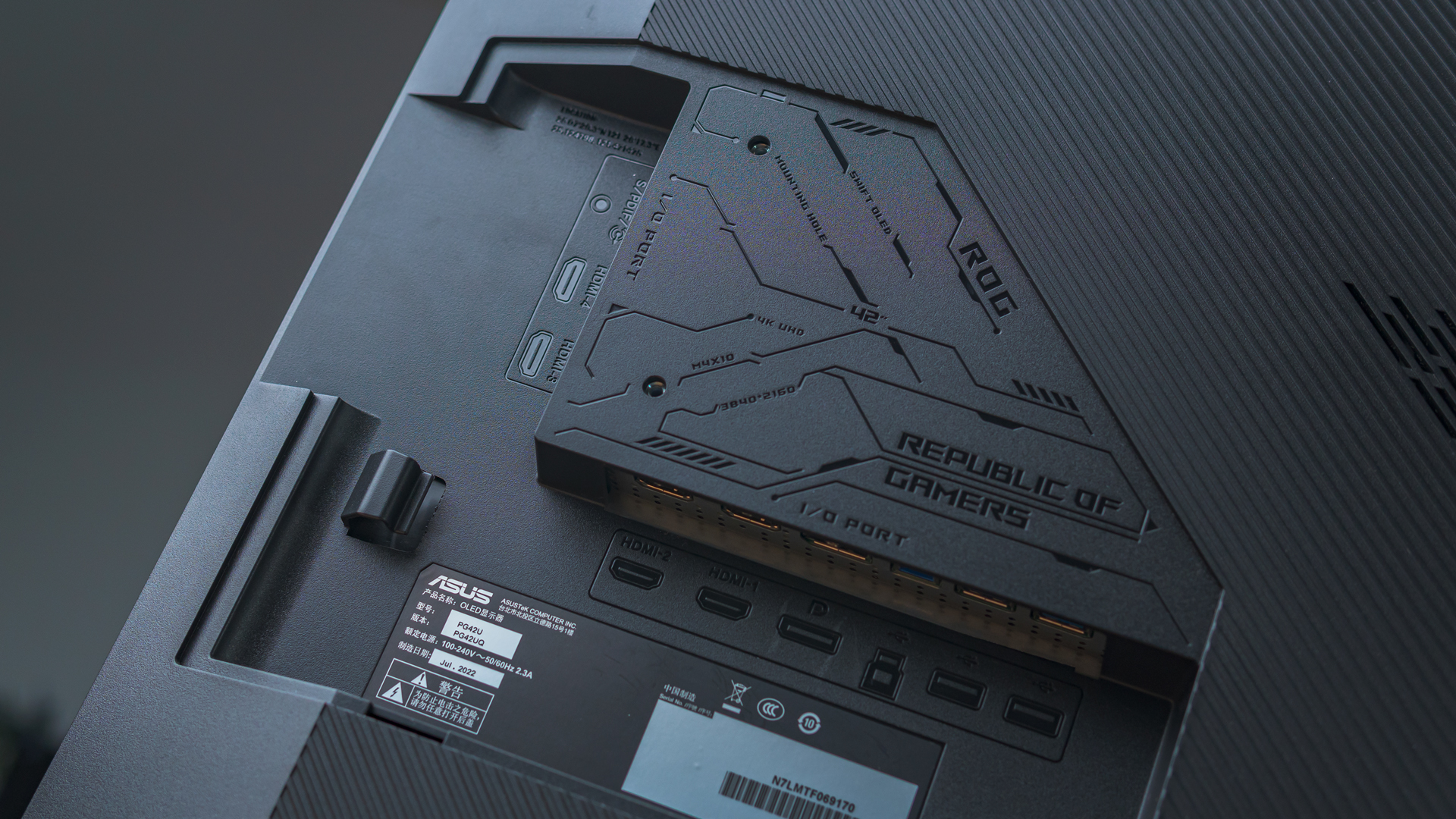 Other than the stand, the PG42UQ also comes with its own remote control, a HDMI Ultra High-Speed Cable, a Display Port Cable, a USB 3.0 cable, a cute ROG pouch, and of course its own Power Cord cable. At the back of the monitor, we have 1x DisplayPort 1.4 DSC, 2x HDMI 2.0, 2x HDMI 2.1, an earphone jack, 4x USB 3.2 Gen 2 Type-A ports, 1x USB 3.0 for Signal port, and a SPDIF Out.
Specification sheet for the spec lords
Display Information

Panel Size (inch) : 41.5
Aspect Ratio : 16:9
Color Space (DCI-P3) : 98%
Color Space (sRGB) : 133%
Panel Type : OLED
True Resolution : 3840×2160
Display Viewing Area (HxV) : 919.68 x 517.32 mm
Display Surface : Non-Glare
Pixel Pitch : 0.2395mm
Brightness (Typ.) : 450 nits
Contrast Ratio (Typ.) : 135,000:1
Contrast Ratio (HDR, Max) : 1,500,000:1
Viewing Angle (CR≧10) : 178°/ 178°
Response Time : 0.1ms(GTG)
Display Colors : 1073.7M (10 bit)
Flicker free : Yes
HDR (High Dynamic Range) Support : HDR10
Refresh Rate (max)

: 138Hz

Video Feature and Technology

Trace Free Technology : Yes
Color Accuracy : ?E< 2
GamePlus : Yes
Low Blue Light : Yes (Hardware Solution)
HDCP Support : Yes, 2.3
Game Visual : Yes
VRR Technology : Yes (Adaptive-Sync)
HDR Mode : Yes
Shadow Boost : Yes
PIP (PbP) Technology

: Yes

In/Out Ports

DisplayPort 1.4 DSC x 1
HDMI (v2.0) x 2
HDMI (v2.1)

x 2


Earphone jack : Yes
USB Hub : 4x USB 3.2 Gen 2 Type-A
USB 3.0 (Signal) x 1
SPDIF out (Optical Digital Audio Out)

: Yes

Audio Features &
Digital Signal Frequency

DP: 30~311KHz(H) / 48-138 Hz(V)
HDMI 2.1 : 30~311KHz(H) / 48-138 Hz(V)
HDMI 2.0

: 30~135KHz(H) / 48-60 Hz(V)

Power Consumption

Power Consumption : <220W
Power Saving Mode : <0.5W
Power Off Mode : <0.3W
Voltage

: 100-240V, 50/60Hz

Mechanical Design

1/4″ Tripod Socket : Yes
Tilt : Yes (+5° ~ -5°)
Height Adjustment : No
VESA Wall Mounting : 300x300mm
Kensington Lock

: Yes

Dimensions and Weight

With Stand : 932.08 x 611.3 x 255.4 mm (14.77kg)
Without Stand: 932.08 x 551.96 x 37.38 mm ( 13.58kg)

Accessories (vary by regions)

Color pre-calibration report
DisplayPort cable
HDMI Ultra High Speed Cable
Power cord
Quick start guide
Remote Controller
ROG pouch
USB 3.0 cable


Warranty Card

Certificates

TÜV Flicker-free
TÜV Low Blue Light (Hardware Solution)


G-SYNC Compatible
Colour Calibration Unnecessary
Connecting the monitor to my PS5 was effortless. All I had to do was connect my PS5 to the monitor with a 2.1 HDMI cable and it was good to go. Sensing a new display unit, my PS5 prompted me to adjust the size and brightness of the viewing panel. What surprised me the most here is the moment we went into my PS5's home screen, the colour accuracy was already up to par and didn't require any adjusting/calibration.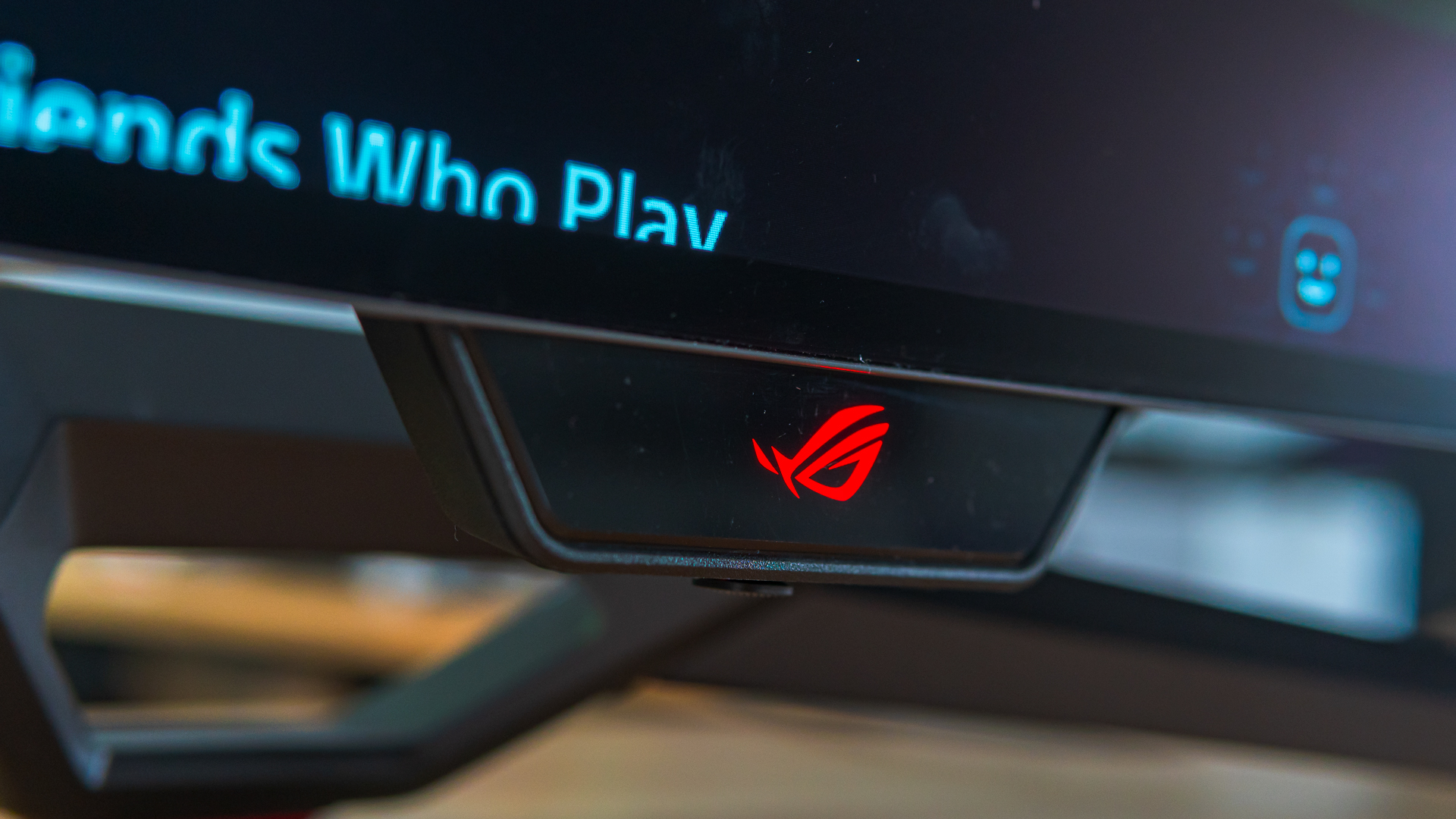 Great for games
The PG42UQ is a 4K OLED monitor with a 0.1ms (2ms GTG) response time, it's G-Sync ready, and impressively, capable of 138Hz refresh. There's also an option to include an FPS counter which is useful for those looking to measure the difference between using graphical modes, especially for those on the PS5 where they really measure Performance vs Quality modes.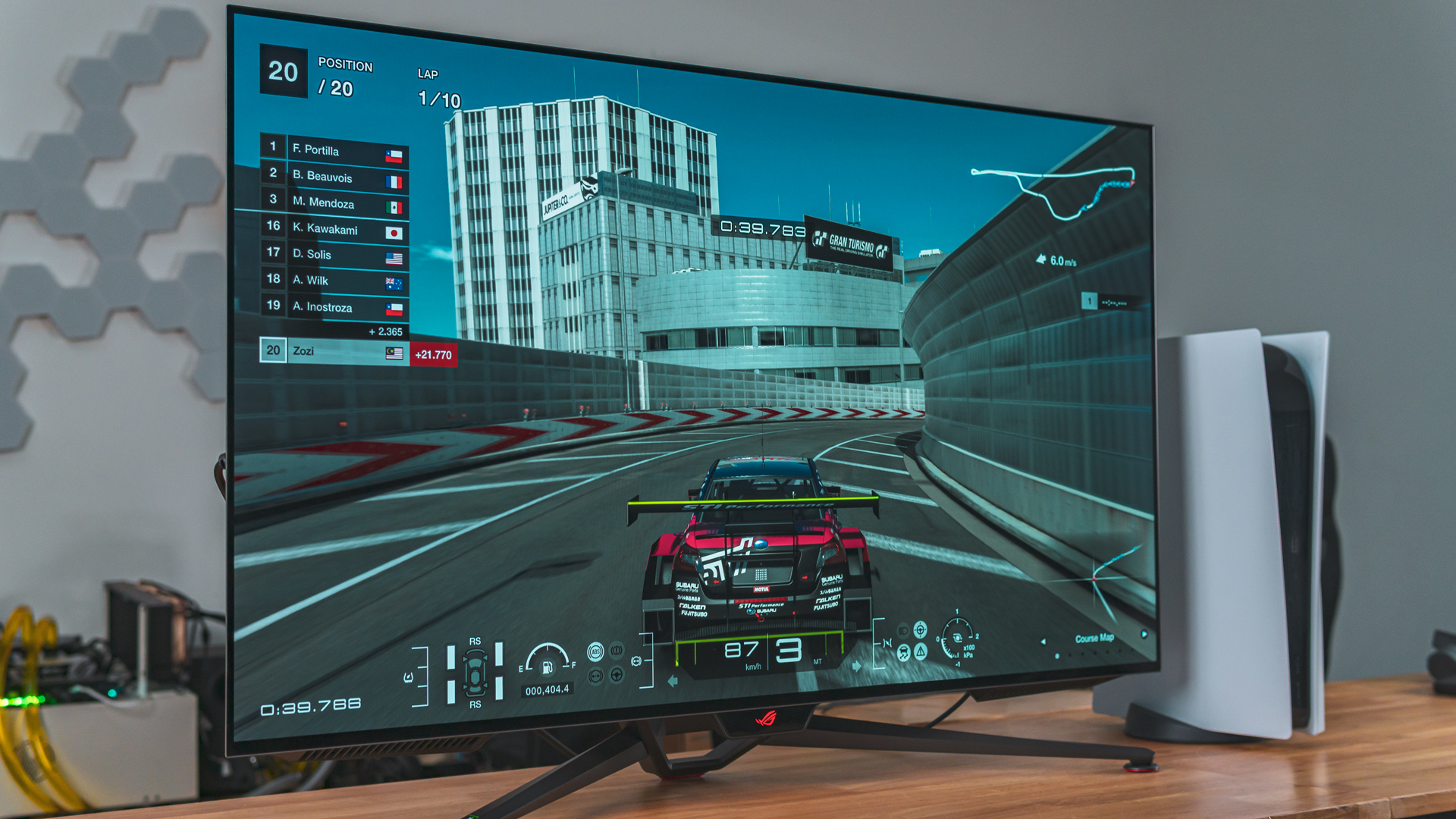 I can even slap a permanent crosshair to appear in the middle of the screen if I want to if I feel it'll help my shooting game. All these tweaks can be done by using the small joystick under the monitor to navigate the monitor's built-in system and options menu.
When it comes to HDR, the monitor supports HDR10 over two HDMI and DisplayPort, and the result it delivers are stunning. Passing through the dark sewer area in Dead Island 2 sent a genuine chill down my spine due to how spooky the whole experience was thanks to the OLED panel can do when showing black/dark areas.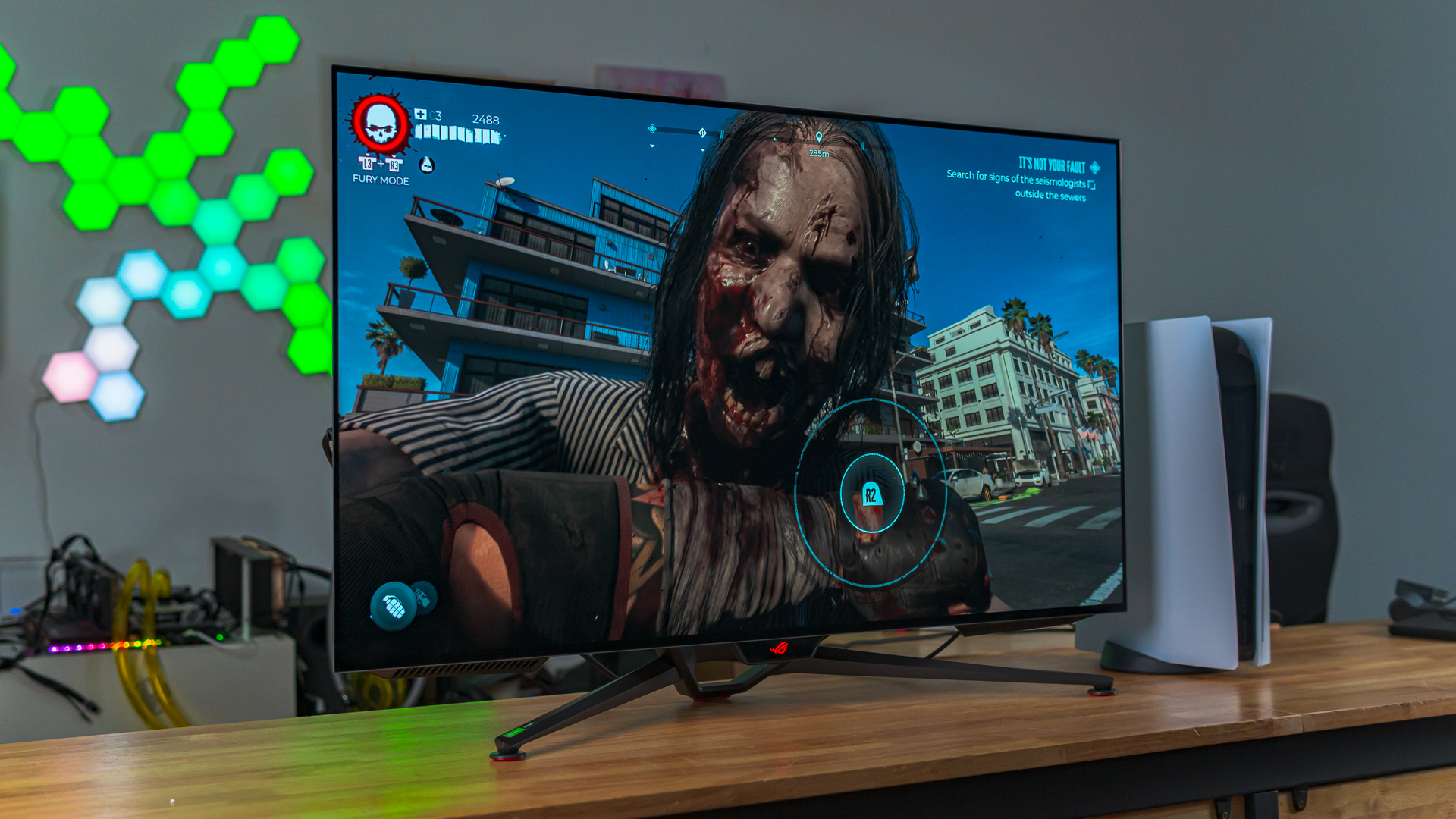 Genshin Impact, a game known for its clever use of vibrant and lush colours to decorate its game world looked amazing on this monitor but that is to be expected for a monitor packing this much power and costing this much. But what got me really excited was surprisingly NBA 2K23.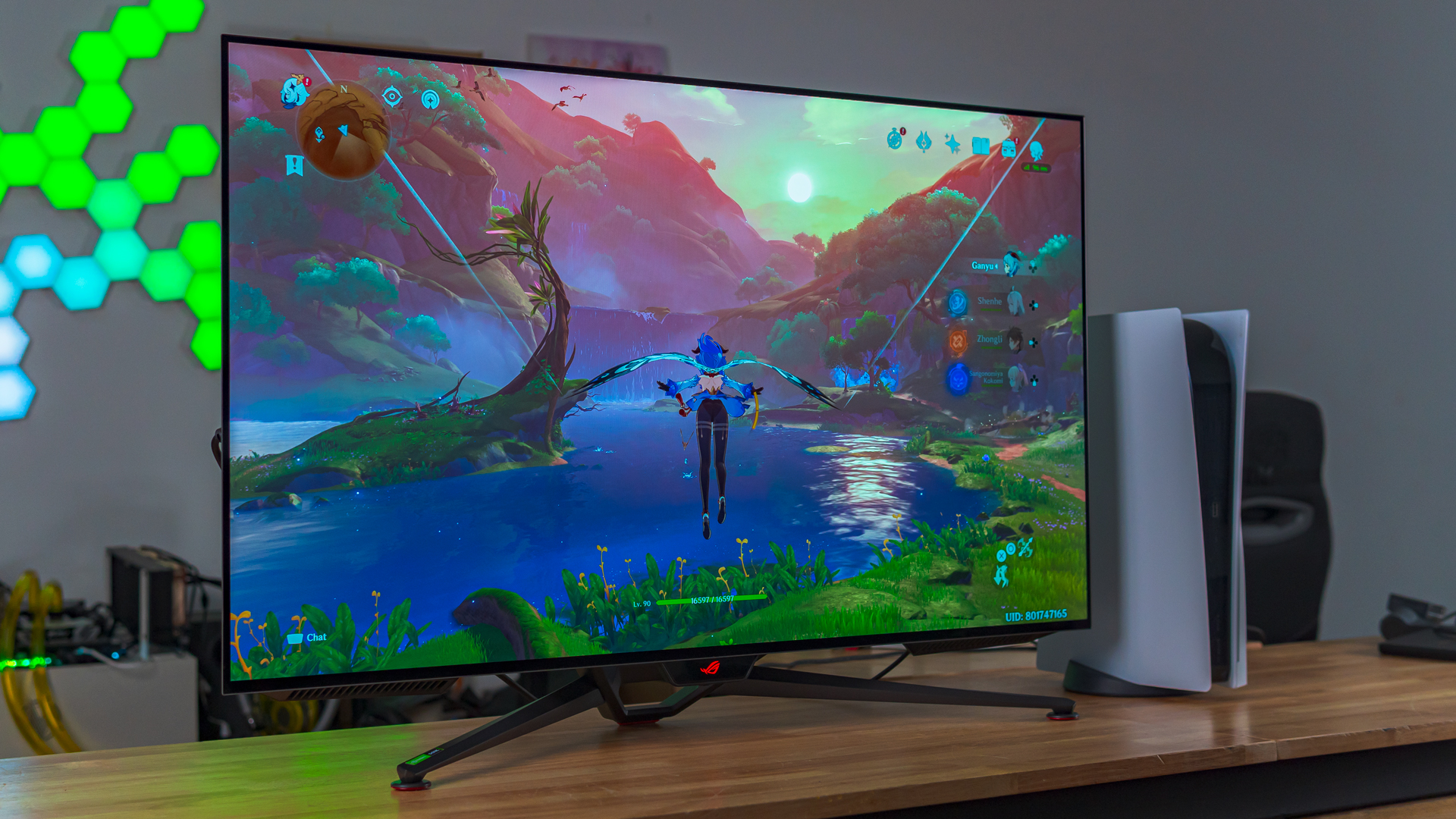 The 2K Basketball title had always had a knack for producing a convincing-looking and feeling stadium atmosphere that looked great on-screen. But when I tried it on the PG42UQ, somehow the vibrant colours, absence of glare, and the darker black than what I was accustomed to, just made the game look so much more improved and closer to realism than it already did.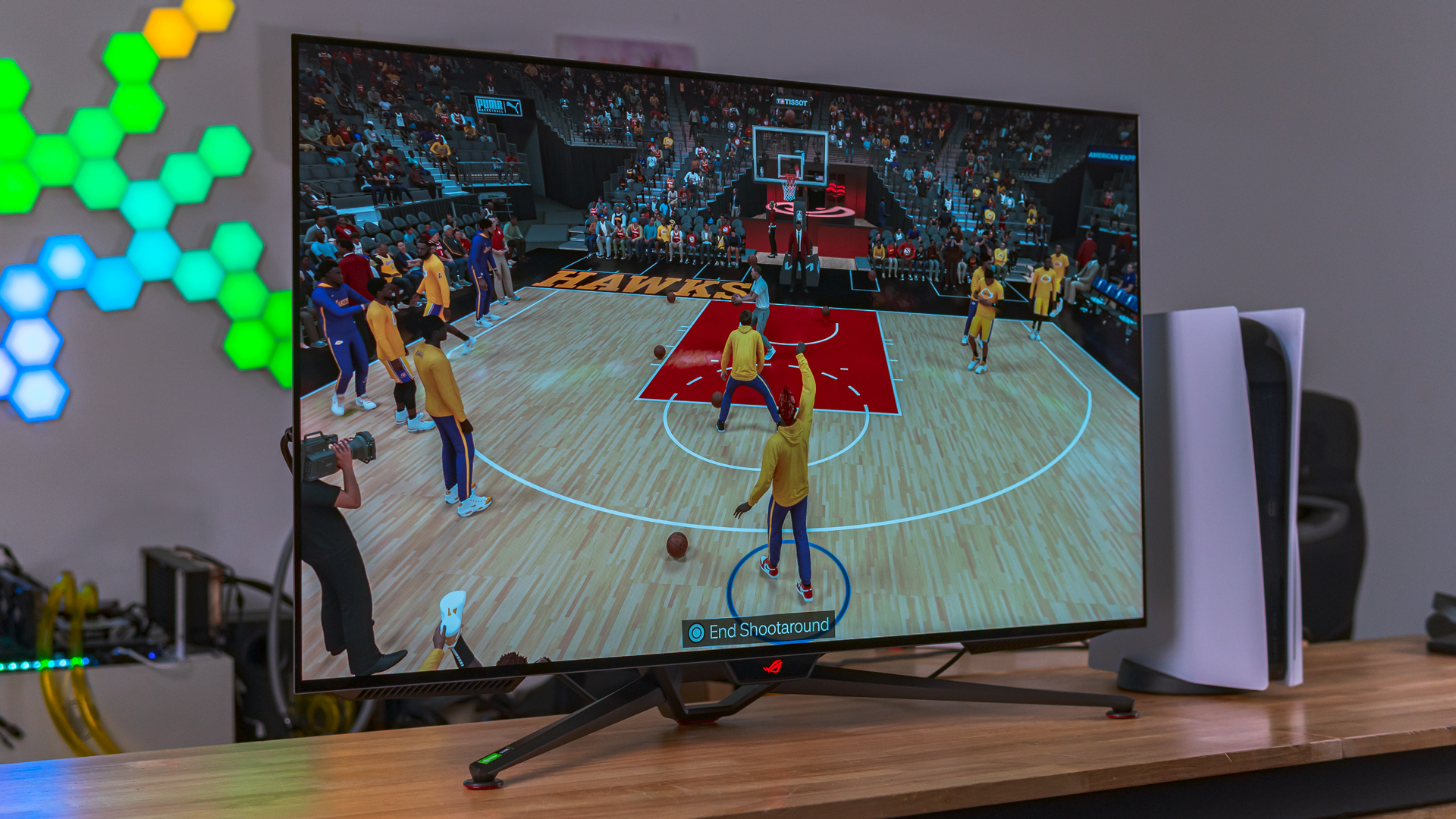 Other than the visual quality this monitor is capable of delivering, its sound quality is surprisingly good too which is something I did not expect from a gaming monitor.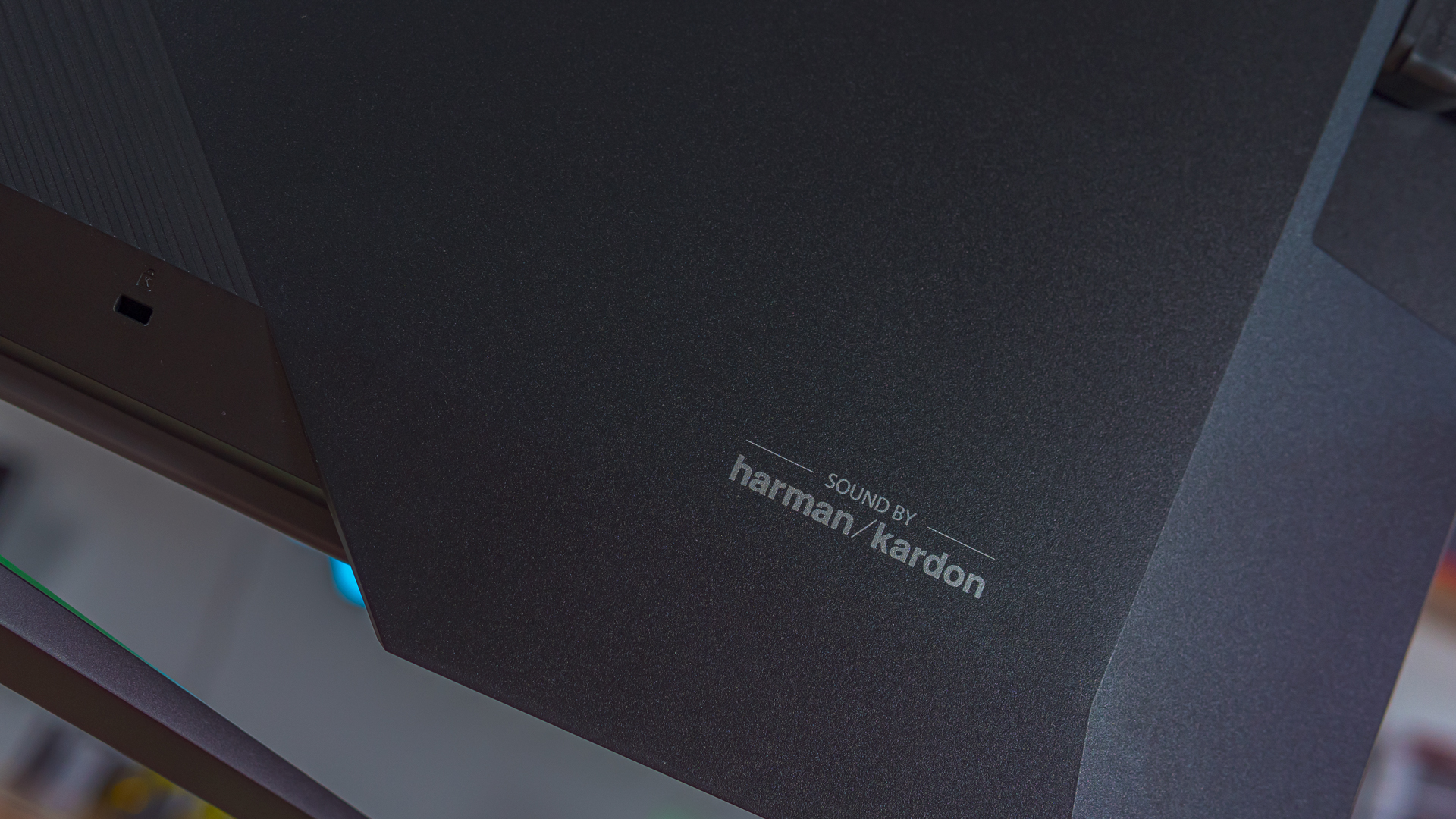 Most of the monitors that come with speakers that I've encountered are just so-so in quality and none had the impact on me like the ROG Swift did. Armed with Harman-Kardon speakers, this monitor has good clarity, volume, and a decent amount of bass that got both my games and movie going.
---
What I really liked about this monitor:
Overall great specs for gaming, colour work, and editing.
Solid build quality and design.
Ready-to-go colour accuracy, no need to calibrate.
Surprisingly good speaker quality.
4K OLED.
What I wished was better:
Slightly friendlier price tag.
Adjustable height and swivel.
---
Verdict
This is one of those rare reviews that I've written where I have so few dislikes to share about a product's quality. Be it the monitor's sharp contrast, ready-to-go colour accuracy, impressive black level, good overall brightness level, clean motion processing, actually great sound quality, or the fact that its matte display performed admirably in rejecting annoying reflections, there just hasn't been a lot to dislike about the PG42UQ monitor so far when it comes to overall quality and design. Its price tag may shun away some people, but it will also attract those with a serious desire to acquire the best there is. After all, there aren't many 4K OLED monitors that can claim to run 138Hz in the market today.
Final Score : 9/10