The Pokémon Company has released new information about Pokémon Sleep, a mobile app redevelopment for iOS and Android.
The next challenge for Pokémon games is to bring fresh entertainment to sleeping. The core gameplay of Pokémon Sleep is simple: You place your smart device by your pillow, then go to sleep. Just like that, waking up in the morning becomes something to look forward to.
Your adventure takes place on a cluster of small islands somewhere in the world. Together with large Snorlax who live on the islands, and Neroli, a professor studying Pokémon sleeping habits, you'll carry out research into how Pokémon sleep. Day by day, and the bigger Snorlax becomes, the more Pokémon you'll be able to meet, and the more sleep styles you'll be able to discover.
In Pokémon Sleep, you'll be assigned a "sleep score" based on how long you've slept. You'll get 100 points when you sleep for at least 8.5 hours. The longer you sleep, the greater Snorlax's Drowsy Power will become. The greater this Drowsy Power grows, the more Pokémon will gather, giving you more opportunities to befriend them.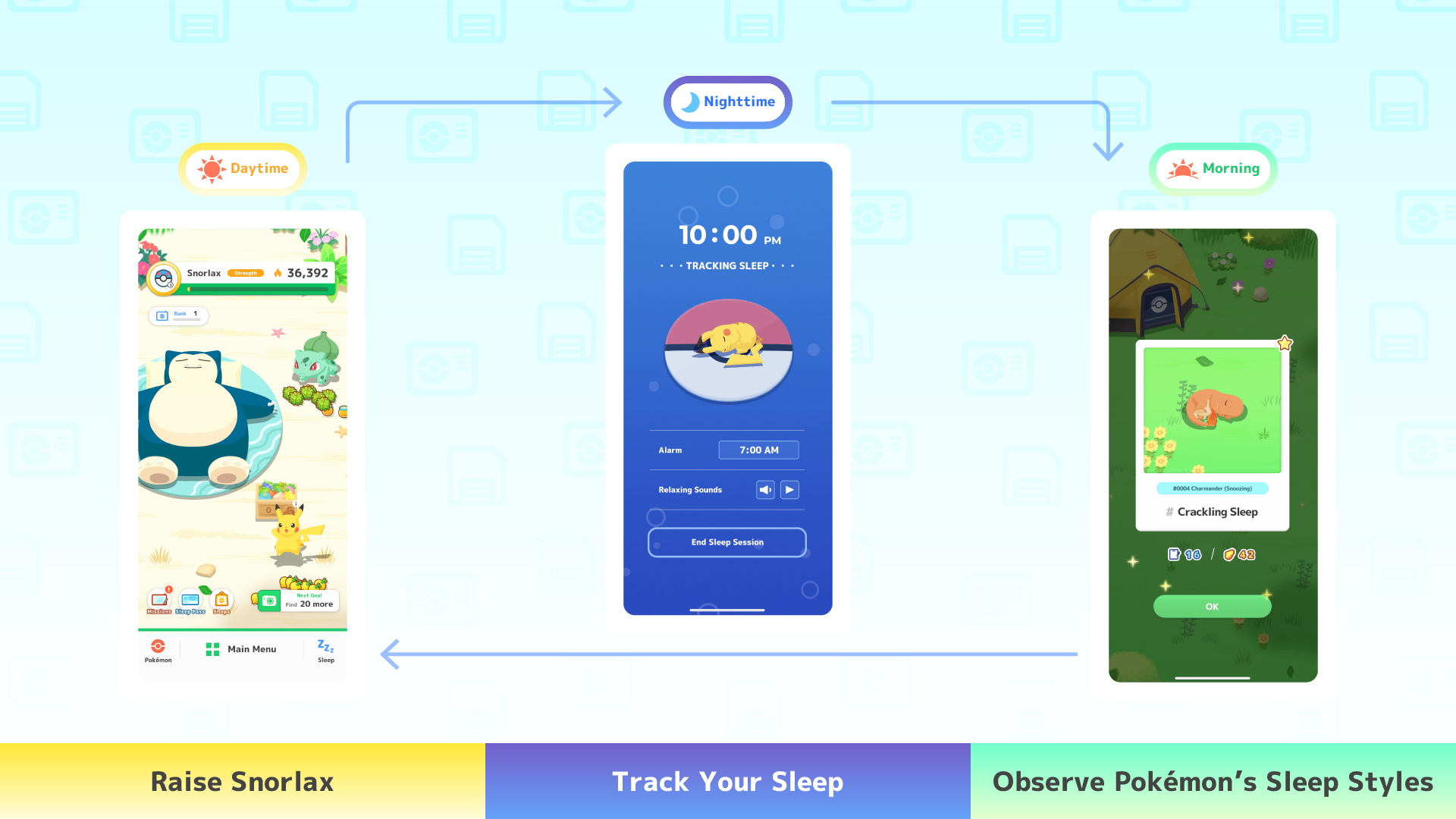 Your sleep consistency (in other words, your sleeping habits) is evaluated based on a week-long sleep tracking period that begins every Monday. The app has a "bedtime" feature that helps you get into the habit of consistent sleeping by letting you set a target time to go to bed. If you go to bed at your target time, you can earn a stamp in your stamp card and receive rewards.
During the development of Pokémon Sleep, sleep-related information was provided under the supervision of world-renowned sleep researcher Dr. Masashi Yanagisawa. Dr. Yanagisawa founded S'UIMIN Inc. in 2017 and currently serves as CEO.
Pokémon Sleep pre-registration begins this Thursday, 6th July 2023 on the App Store and Google Play Store.