As a follow-up to our report last month on this game, Spike Chunsoft has just announced a Limited Edition for Steins;Gate Elite, coming on February 19, 2019, for the PlayStation 4 and Nintendo Switch.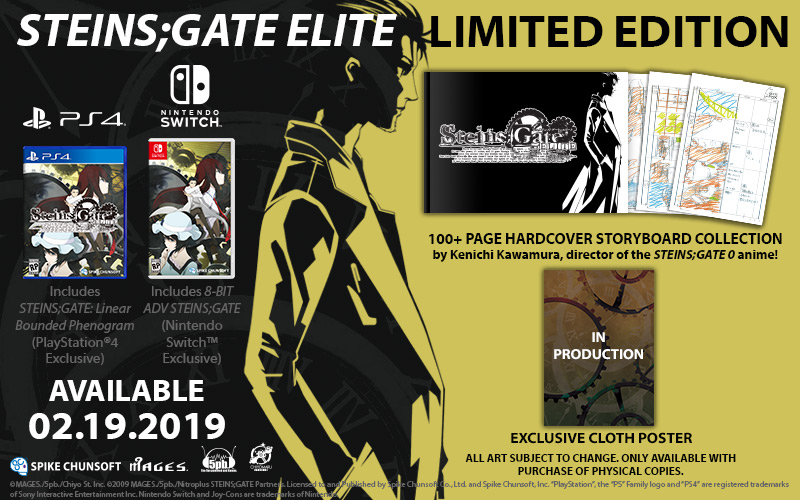 The Limited Edition
Fans will be thrilled (I know I am) to learn that the Limited Edition comes with an impressive 100+ page Hardcover Artbook. The book not only includes the beautiful artworks of the game but also lets buyers dive deeper into the STEINS;GATE-Universe with its Storyboard collection created by Kenichi Kawamura, the director of the STEINS;GATE 0 anime! How amazing is that really? Alongside this, the Limited Edition will contain a cloth poster, a custom outer box, and exclusive Bonus games: STEINS;GATE: Linear Bounded Phenogram for PlayStation®4 and 8-BIT ADV STEINS;GATE for Nintendo Switch™.
About the game.
STEINS;GATE ELITE is a fully remastered version of the original STEINS;GATE with animated scenes from the anime, creating a brand new, immersive experience. Follows a group of young, tech-savvy "lab members" who discover the means of changing the past via e-mail using a modified microwave. Their experiments in pushing the boundaries of time begin to spiral out of control as they become entangled in a conspiracy surrounding SERN, the organization behind the Large Hadron Collider, and John Titor, who claims to be from a dystopian future.
Launch Info.
STEINS;GATE ELITE launches on February 19, 2019, on the PlayStation 4 and Nintendo Switch.
[Best_Wordpress_Gallery id="179″ gal_title="STEINS;GATE ELITE"]