This month's indie titles especially during the Summer Game Fest 2022 showcased a plethora of different upcoming titles that have piqued my interest. After some reflections and thought processes, I shaved off and filtered out six titles that I find the most interesting. These titles are either filled with flavorful action, gore, or even hitting the most imaginative, fun, and interesting.
---
Ronin Trail
Devpachi's upcoming samurai slashing title makes way with a new Kickstarter. At the point of this writing, the project has hit the mark of $ 26,920 USD way above the pledged $15,000 USD goal. It goes to show that the project concept has also garner the interest of many, which presents an open-world wandering samurai adventure. Reminding me so much of Lego-type designs with a blend of stance-like action like The Way Of Samurai. Ronin Trail will be initially available on Steam for PC only (Mac and Windows).
Source: devpachi
Features as shared on Steam:
Explore lively environments filled with wildlife and lush vegetation. Catch fish and bugs, hunt animals, and forage for mushrooms. Record unique species in your critter book.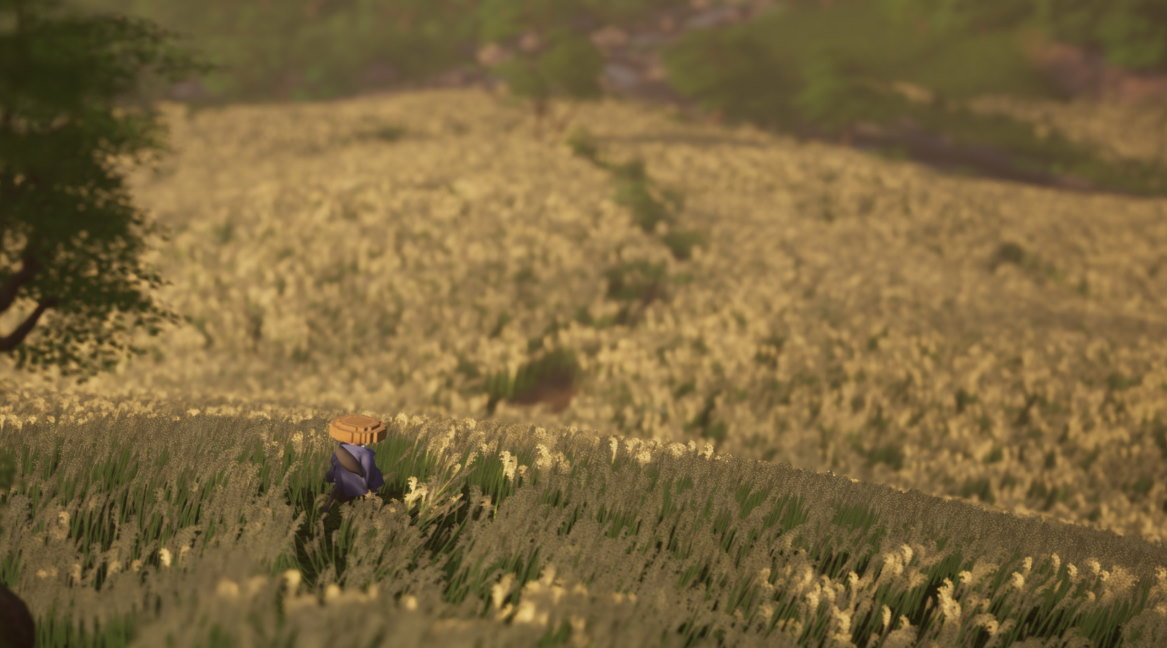 Customize your character with hats, clothing, and katanas as you explore the world and defeat foes. Style your outfits to your liking with dyes and different clothing combinations.
Survive off the land by building campfires and cooking fish. Equip thicker clothing to survive in the cold as you travel north towards snowy environments. Maintain your katana's steel by cleaning the blood and sharpening it with whetstones.
Cut down your foes with your trusty katana. Learn techniques and hone your mastery with the skill-based combat system. Challenge dojos, accept duels, and hunt down bounties on your journey to become the greatest swordsman.
---
Cookie Cutter
Developer Subcult Joint LTD and publisher Rogue Games, Inc's upcoming badass title Cookie Cutter, a techno-pop-punk 2D hand-drawn Metroidvania plays as a thicc android named Cherry. She will come for revenge in 2023 on Pc Steam.
Source: Rogue Games, Inc.
Features as shared on Steam:
A Metroidvania Like No Other – Designed for mature players–unabashedly bloody and irreverent, Cherry, a badass android on a love-driven quest to find Shinji, beats the ever-living crap out of anyone who hurt her.
Action-Packed World – Explore and retraverse a massive and gorgeous dystopian world, battle outrageous enemies and absolutely huge bosses as you form allies with a large cast of over-the-top characters. Experience a visually-stunning adventure filled with mad weapons, humor, and awesome gameplay presented in an accessible fashion, ensuring players of all capabilities can join in the fray.
Unique Combat System – Transform Cherry by unlocking a robust variety of new abilities and weapons like chainsaws, plasma cannons, guitar-slides, mecha fists, and motorcycles.
All-Out Spectacle – From pulse-pounding combat in dynamic areas to a constant stream of weird enemies, immerse yourself in the ever-evolving gameplay mechanics as well as a trippy narrative featuring over-the-top characters, rich environments, and whacked-out dialogue. And the experience delivers all the depth, platforming, puzzle-solving, and combat that Metroidvania fans expect from the very best in the genre.
Cookie Cutter features hybrid fighting/ platforming traversal gameplay – With highly stylized environments and objectives serving as the backdrop for fast-paced combat. On the way to victory, the player tangles with environmental hazards, baddies, bosses, and an unfolding plotline told through successive areas, meant to be enjoyed over longer gaming sessions. Leverage Cherry's considerable fighting skills to beat an outrageous cast of enemies to bloody pulps, unlock spectacular new abilities, gain access to new regions of the expansive world, interact with charismatic allies, battle epic bosses, and so much more as you experience the benchmark 2D Metroidvania inspired by Japanese manga, Quentin Tarantino films, and HP Lovecraft.
---
Runewatch
D4 Studio's FPS magic shooter title Runewatch has players as an elementalist making use of their magic abilities while exploring randomly generated dungeons and defeating enemies. Runewatch is set to release in July 2022 release on PC.
Source: Pedro Marques
Features
Great variety of elemental spells available to the player, thus being able to create several builds and having the possibility of having a completely different strategy with each new game.
Randomly generated game map on each playthrough, changing the number of rooms the player finds and the loot they have.
A stylized environment with a strong focus on VFX.
A variety of enemies influences the player to think through their spell choices on each playthrough.
---
Ocnus Theory
If Katamari Damachi is a 3D puzzle-platformer, Ocnus Theory is the next thing that will tease and challenge players' creativity and reflexes to reach the peak. Picking up stuff to match the length and shape needed for the climb. Ocnus Theory will be coming to PC with no release date yet.
Source: Gawkfish Studios
Features as shared on Steam:
Physics-based platforming relies on careful movement to avoid disaster. Every second counts, as an accidental fall can occur at any moment.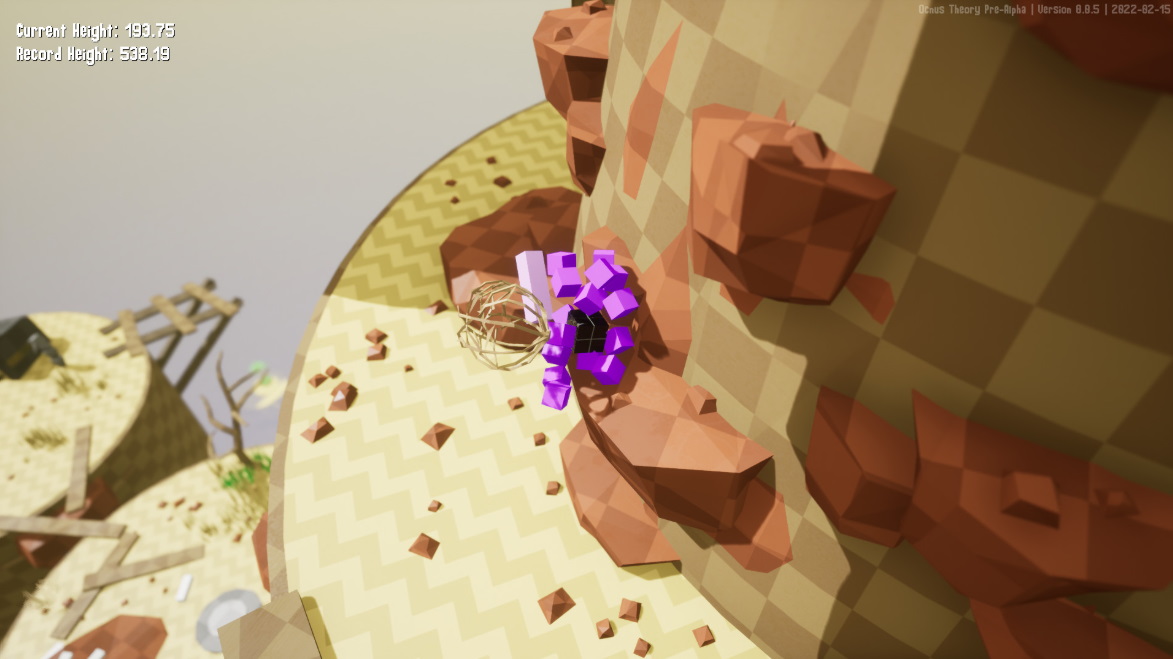 Change your physics, size, and shape by picking up and dropping blocks and other objects such as fish, pumpkins, candles, and more.
Explore a complex environment split into many diverse regions, each with their own themes and challenges.
Tackle your problems with a sandbox approach, where no challenge has a single solution. Experiment and break things!
A challenging but fair checkpoint system, to ease with the difficult climb.
For those that want an even greater challenge, harder difficulties limit the number of blocks and checkpoints available in the world. There's even a no-checkpoint Legendary Mode for those that really want to suffer.
Customize your look with unlockable colors and hats. Low in practicality but high in fun.
A challenge mode with unlockable micro challenges that can be completed outside of the main game.
Fishing! If by fishing you mean ramming into fish and sticking them to yourself. Don't worry, they love it. Probably.
A darker world than appearances may suggest. Climbing to the peak may reveal truths that some would wish remained secret. Just who or what are Ocnus anyway?
---
Tchia
A tropical soul-searching adventure by developer Awaceb and Kepler Interactive, coming early next year to PC, PlayStation 5, and PlayStation 4. Play as Tchia as she traverses around the tropical island, gliding your way across a vast archipelago with additional ability to take control of any animal or object.
Features as shared on Steam
SOUL JUMPING – Tchia's special gift lets you take control of any animal or object you can find. Use their unique gameplays and abilities to travel, solve puzzles and uncover secrets. Fly around as a bird, explore the ocean as a fish or dig treasures as a dog. Over 30 playable animals and hundreds of objects.
EXPLORATION & TRAVERSAL – Jump and glide your way across a vast archipelago and use the Tricks system for cool stunts and dives. The free climbing mechanic lets you ascend anything in the world without restriction including any physics-driven tree. Sail your customizable boat on turquoise lagoons and dive around coral reefs and shipwrecks.
UKULELE – Just jamming by yourself or playing alongside NPCs, your fully playable ukulele will be a trusty companion throughout the game. Use it at key story moments during rhythm sections, or play unlockable melodies at any point in the open world to trigger special events such as attracting animals, triggering rainfall…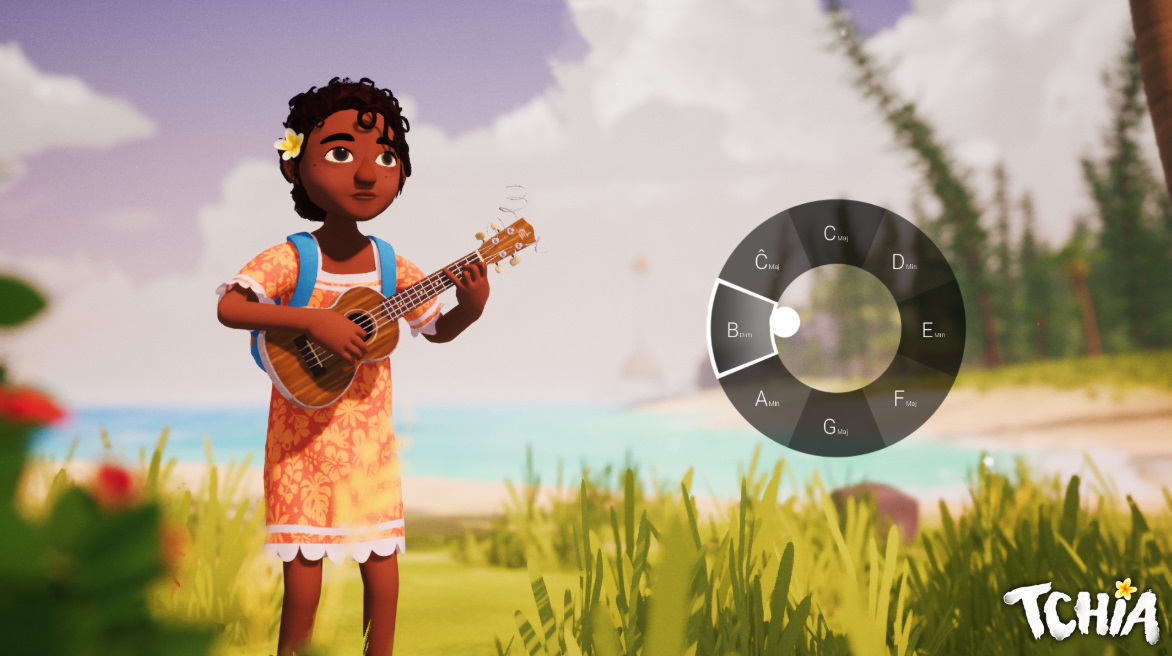 STORY & MUSIC – Take Tchia on a heartfelt adventure and meet a diverse cast of characters inspired by New Caledonian cultures. Fully animated cutscenes voiced in traditional language will punctuate your journey while an original orchestral score infused with local sounds creates a unique and immersive world.
CUSTOMIZATION & ITEMS – Stylize Tchia's clothing and boat with hundreds of unlockable cosmetic items ranging from a traditional look to the most over the top options. You will also unlock useful and fun tools along the way such as a flashlight, slingshot, compass, camera…
NEW CALEDONIA – The world of Tchia was inspired by New Caledonia, A tiny island in the Pacific Ocean, homeland of Awaceb's co-founders. Inspiration was taken from the rich and varied local landscapes, cultures, music, languages, folklores and traditions and was used to create a fictional world and to tell a universal story that anyone can understand and enjoy. The characters are voiced by local talent in traditional languages, and subtitled in many languages including English, French, Russian, Chinese, German, and more.
To celebrate #NationalSelfieDay here's a sneak peek at Tchia's old but trusty Film Camera 📸

You can setup a tripod and use the timer to get the perfect shot, and choose from several film stock options for different looks (yes, you have to develop your pictures in-game!) 🖼️ pic.twitter.com/BWQwIFcO42

— Tchia (Awaceb) – Wishlist it! (@awaceb) June 21, 2022
---
No Place for Bravery
Developer Glitch Factory and publisher Ysbryd Games introduce this pixel gory glory ARPG title, No Place For Bravery. Taking on the shoes of thorn as he takes up a sword and hacks away in a fast-paced, punishing combat. React quickly dodge, parry, and strike swiftly as you cut down the brutes in pixel gore as they stood in Thorn's way. No Place For Bravery launches on September 22nd, 2022, on Nintendo Switch and Steam for PC.
Source: Glitch Factory
Throughout Thorn's odyssey, find new weapons and items to turn the messy throes of desperate combat into a choreographed dance. While a striking, devastated low-fantasy land begs to be explored—every hand-painted, pixel-art inch conquered—Thorn will paint the earth crimson in his wake. What guardian isn't a malevolent beast when their children are threatened?
The fantastical spaces of video games allow us to explore important questions about our real-life roles and responsibilities – In the exaggerated fantasy of Dewr, we can test Thorn's role as a father against extreme conditions you can't replicate in the real world. At those extremes, No Place for Bravery ponders the difference between a rescue mission and a vengeful crusade

Matheus Queiroz – developer at Glitch Factory