Sloclap took advantage of gamescom's Opening Night Live to announce the release date of its leaping Kung Fu game: Sifu will be released next year February 22nd on PlayStation consoles, and on PC via the Epic Games Store. The second title of the Parisian studio – after Absolver – offers an explosive cocktail of realistic martial arts coupled with a cathartic quest for revenge and redemption.
In this new trailer, Sloclap unveils new gameplay sequences that perfectly showcase the sharp, searing fighting style that the studio is famous for. New environments have been unveiled: fight on the rooftops of a slum plagued by drug dealers and junkies, but also in the immaculate rooms of a contemporary art museum or in a fiery back alley that seems to have come directly from the pass.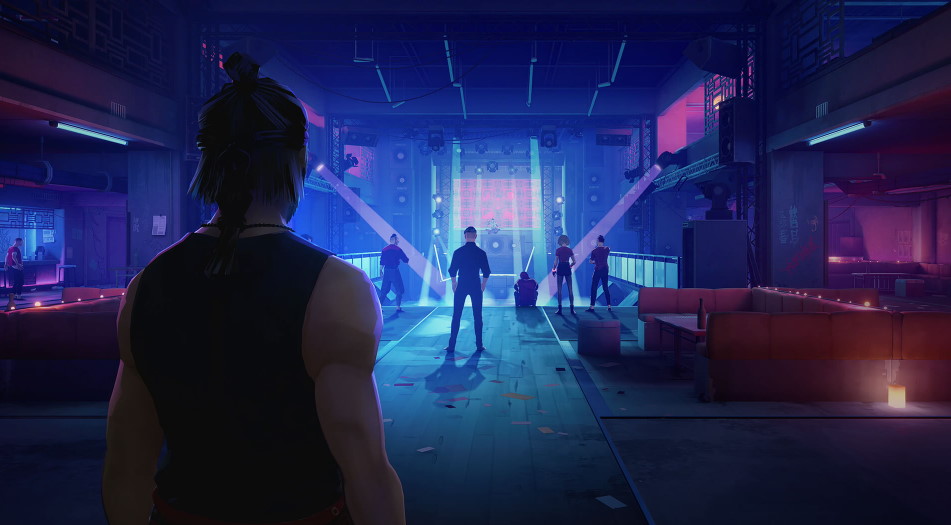 Sifu takes on the vibrant intensity of kung fu movie classics, with raw and realistic combat. It tells the story of a young apprentice who has spent his entire life training to avenge his family, brutally killed by a mysterious squad of assassins. Hunt down murderers one by one through dark gang-plagued suburbs, shady alleys, and cold, disembodied hallways of office buildings. Your ability to adapt and your science of positioning are the keys to your success, and you should use everything at your disposal to magnify the millennial culture that is expressed through your movements.
Ouch… a bit rusty after the break.
And we've still got a few things to show before summer is over.
Tune in this Wednesday on #OpeningNightLive for some exciting news about #SifuGame pic.twitter.com/5N2PcNBK0r

— SifuGame (@SifuGame) August 21, 2021
Sifu's unique gameplay finds its essence at the crossroads of two popular and established genres, blending the timeless intensity and thrill of beat'em up with the abounding freedom of third-person 3D action games. In a fictional Chinese city, you will lift the veil on an ancient mystery through a series of perilous clashes that will put your talents to the test, to the limit. To reverse this desperate situation, you will have to rely on your mastery of kung fu, but also on a magical pendant that brings life back to life in case of failure. The counterpart is not trivial, since you will age significantly with each resurrection: time is the price to pay for your revenge.
Recess is over boys. ??#SifuGame pic.twitter.com/QwbG621qpG

— SifuGame (@SifuGame) August 13, 2021
The 'handmade' visual style and washed-out colour palette hark back to the great classics of kung fu film, where revenge and redemption perpetually intertwine to blend into the demanding gameplay of Sloclap, whose excellence martial arts expertise is well established. Sifu offers a unique playful approach to kung fu for a stunning solo adventure; a real journey to the essential.
Kung Fu is the harmony between body and mind. Learn from your mistakes, unlock new skills, and find the resources deep within yourself to master the devastating techniques of Pak-Mei kung fu. Your family's legacy depends on it.
Two versions are available for pre-order: a Standard Edition priced at € 39.99, and a Deluxe Edition priced at € 49.99. Special bonuses are offered to players who pre-order the game.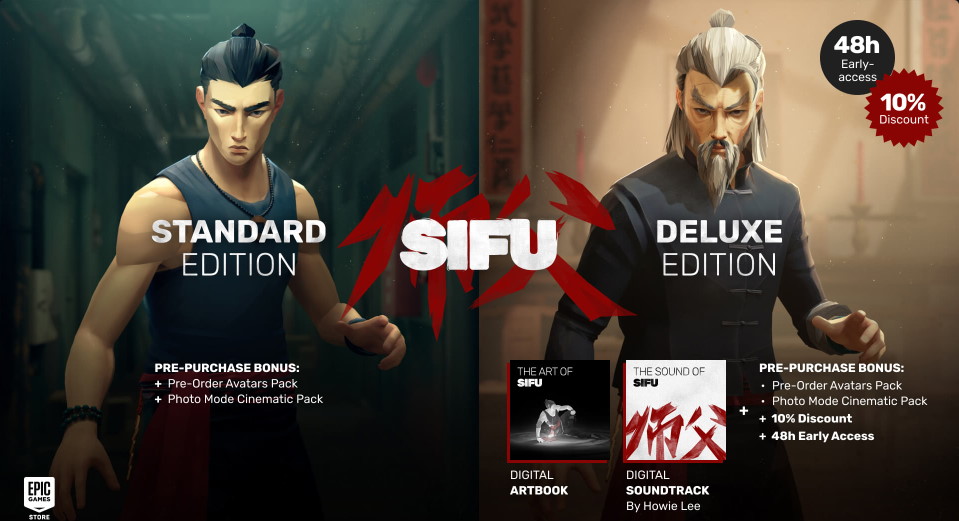 Pre-orders are on: fans can enjoy glitzy pre-order bonuses on both versions of Sifu, as soon as the first back kicks are unleashed on PlayStation and PC next year:
Standard Edition (39.99 €)
Special Avatar Pack
Exclusive: Photomode Cinematic Pack
Deluxe Edition (49.99 € + special 10% pre-order discount)
All the bonuses of the Standard Edition
48 hours early access prior to the game's release on February 22, 2022
A magnificent digital art book "The Art of Sifu"
The explosive soundtrack of the game by Howie Lee, Beijing composer who collaborated with Sloclap for the music of Sifu