At the Summer Game Fest 2022 event, Naughty Dog and Sony Interactive Entertainment shared some updates on The Last of Us franchise: the standalone multiplayer, the HBO series, and the complete remake of The Last of Us releasing on 2nd September 2022 for the PlayStation 5 console and in development for PC.
For The Last of Us Part I (PS5), Naughty Dog has implemented modernized gameplay, improved controls, and expanded accessibility options in this single-player experience to allow even more individuals to enjoy the game. Effects, exploration, and combat have all been enhanced. Leveraging the PS5's powerful hardware, the studio also implemented 3D Audio, haptics, and adaptive triggers. Both returning fans and new players alike will have the opportunity to experience both The Last of Us Part I and its prequel story Left Behind in a whole new way.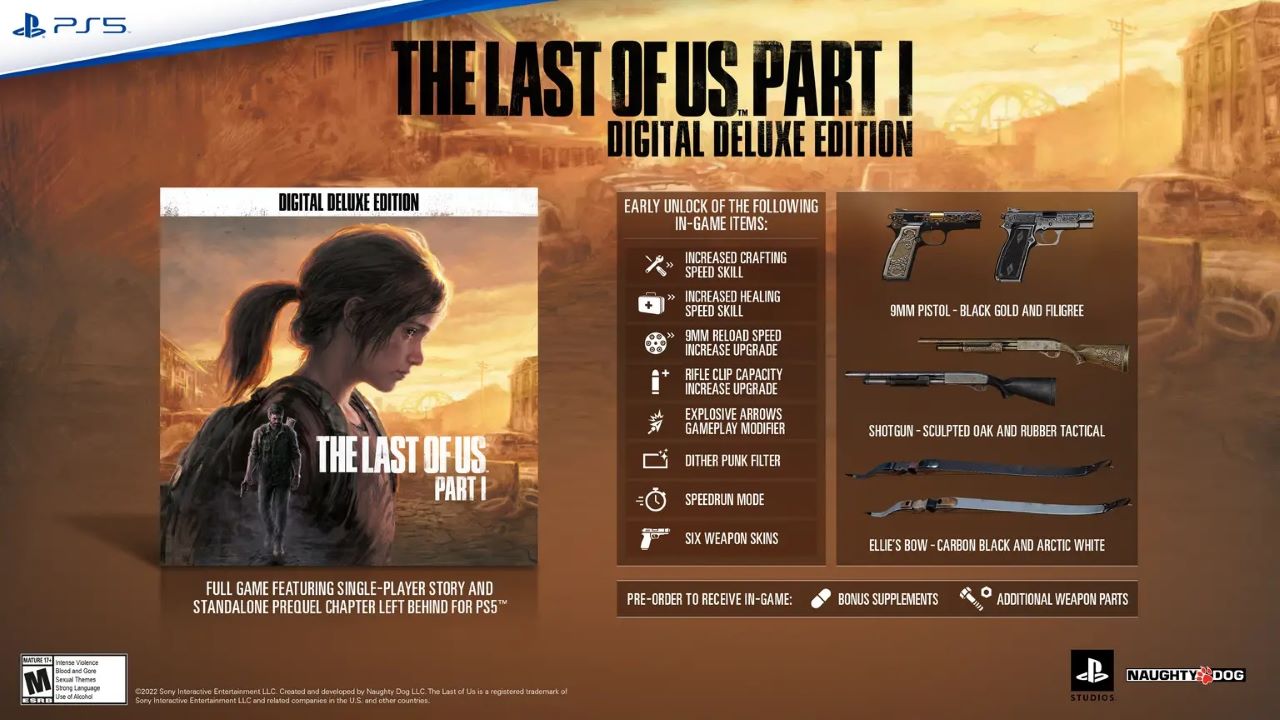 The Last of Us Part I (PS5) is available now to preorder from the PlayStation Store with two different editions;
The Last of Us Part I Standard Edition (SGD97.9 / MYR299 / IDR1,029,000 / THB2,290 / PHP3,490 / VND 1,799,000).
The Last of Us Part I The Digital Deluxe (SGD109 / MYR339 / IDR1,179,000 / THB2,590) includes an early unlock of the following in-game items:
Increased Crafting Speed Skill
Increased Healing Speed Skill
9mm Reload Speed Increase Upgrade
Rifle Clip Capacity Increase Upgrade
Explosive Arrows Gameplay Modifier
Dither Punk Filter
Speedrun Mode
Six Weapon Skins: Black Gold 9mm Pistol, Silver Filigree 9mm Pistol, Rubber Tactical Shotgun, Sculpted Oak Shotgun, Arctic White Bow, Carbon Black Bow
For more information on the development of the HBO series, standalone multiplayer and The Last of us part 1 game check out the official blog post here: https://blog.playstation.com/2022/06/09/20220609-tlour/.