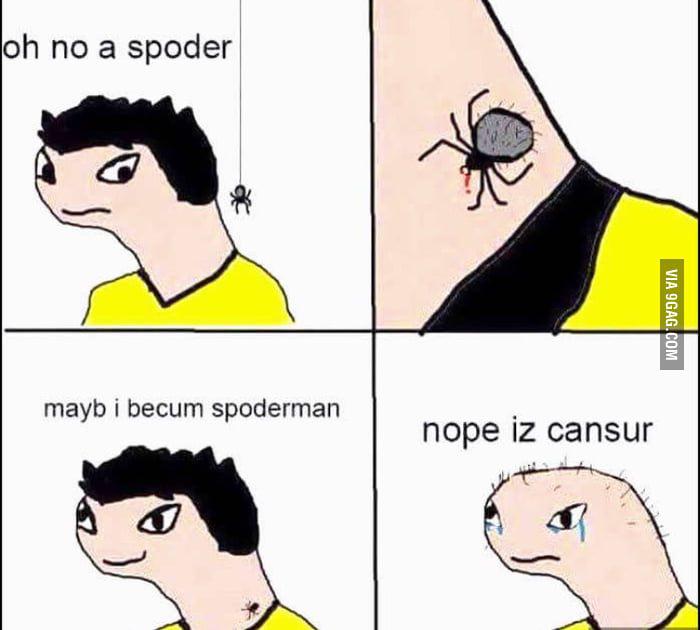 Marvel's Spider-Man, not Spoderman.
Enough of the silly 4-grid comic above, let's talk about Sony's latest upcoming exclusive title, Marvel's Spider-Man. This is the game that has got everybody moving their lips about (for good reasons), especially after Sony's recent PlayStation Conference at this year's E3. Everyone who saw the gameplay showcased by Insomniac Games walked away impressed and eager for the game's release. For seasoned video gamers, however, scepticism would always crawl its way into questioning on whether or not the game would disappoint. This is only fair since Spider-Man has a huge fan following and nobody really wants to see it go south. In this First Impression piece, I will share about my hands-on experience after trying out the first 2-hours of the game. NO SPOILERS on the story at all. Not on the friends or foes. Just pure gameplay EXPERIENCE.
A gameplay video is one thing, what about the actual gameplay itself?
In a private function held for the media, I had the opportunity to play the first 2-hours of the game. However, in the first 40 minutes itself, most of my worries for the game were already eliminated. I'll do a brief breakdown of what I was looking out for in particular.
Open World – With Open World Games, I always have this worry that the world settings may be too boring and offers too little for exploration. Some may be huge in size but fall short in content and detail. Marvel's Spider-Man however, got me hooked within the first 15 minutes of gameplay. Streets filled with A.I and vehicles, tall skyscrapers wherever you look, realistic landscape, and an almost as far as you can see draw distance. New York's Manhattan came alive right before my eyes. Fans looking forward to the Photo-Mode are in for a treat! Oh, make sure to check out some of the notable landmarks that you can actually travel to, like the Empire State Building. Wait, what? You don't care about the Empire State Building? Well, who cares about that building, to be honest? But what about the Avengers Tower? Ahaa! Be sure to take a selfie and share it here when you're up there 😉
Swinging around while shouting like Tarzan – Oooohhh ohhhhhooo ohhhhhoooo. I really wanted to, but I didn't want to embarrass myself in front of other media colleagues. Web swinging was on the top of my list of worries. 'Will the controls be clunky while you're web-slinging? What about between swings, will it be awkward?' I was thinking about that a lot before I sat down, but eventually, the game persuaded me on this part as well. Insomniac Games definitely did some extensive studies and tweaking for the web swinging part for it to feel natural and fluid. Yes, yes, you can wall run and it's bloody amazing to do that, especially how your character handles himself when wall-running into a fire escape staircase. Other than swinging around, the web also offers a series of attacking moves which are super fun to execute. Like attaching your web unto the garbage can and sending it flying into your enemy's face (hohoho) or you know, actually using them to disable your enemies and leaving them for the cops, just like the actual friendly neighbourhood Spider-Man.
Combat and Combos – *snickers* So, wanna know if you'd feel like an actual Spider-Man while fighting? Yes. At least I did. Fights are medium paced, but the number of enemies surrounding and attacking you at the same time will require you to respond quickly and carefully; hence at times, it could feel like its fast. Combos and dodges are excellent in this game but most importantly, the execution feels flawlessly smooth. Dodge an enemy attack via a back somersault, side roll, web swinging away OR slide between the legs of your enemy to get behind them and punch them behind their head – my favourite move. Combat wise, punches and kicks are your modus operandi but Insomniac Games did a good job in putting in some flairs into these actions. Each of your melee attacks is paired with Spider-Man's acrobatic stunts, creating a silky smooth fighting style as a result. Garbage cans, drain covers, car doors and most of the random objects are all at your disposal. Just latch it unto your web and send em weeping! Your Web Slinger can also be upgraded to give you more attacking options.

Graphics – Overall? Amazeballs! Standing on top of a building looking around is the second best thing you can do to treat your eyes in this game. The best is definitely web swinging between buildings while the civilians below you are busy carrying on with their mundane lives. Details on the building and landscape are totally off the chart, everything looked so surreal that I'd sometimes forget I was playing a video game – I AM NOT exaggerating.

Activities – Upon completing the first main mission, I unlocked some side missions that gave me even more reasons to explore the open world. You can literally use your spidey sense to help you "sense" for on-going crimes and save the helpless citizens. There are collectibles hidden all around you, so do spend some time hunting. Finding them rewards some useful stuff and reveals additional lore.

Storyline.
NOT SPOILING IT FOR YOU! THIS GAME IS WORTH YOUR TIME!
So far..
Those were all I've managed to spend my time on. Well actually, I spent most of my time swinging around the city doing an imaginary Ohhhhhhh ohhhhhhoooo shout in my head. I also tried to swim across the shore (but failed 'cos the developer restricted the area). In fact, I wasn't the only excited one there, the person who sat behind me got so darn excited he literally swung his two hands backwards so hard, he knocked my head (ouch!) and my headset fell off. I don't blame him though, after 2-hours into the game I walked away impressed and hoping to play some more while being oblivious to the numb on my head.