The PlayStation State of Play is an episodic program by Sony PlayStation to showcase their latest upcoming games and projects. The program aired its first episode on March 25, 2019, at 2.00pm Pacific Time. The first episode focused mainly on the upcoming PSVR titles and some new trailers of upcoming games. We've embedded the entire announcement video below for those of you who prefer watching, and for those who prefer reading, we've highlighted all the games that were announced.
---
Marvel's Iron Man VR – Coming to PSVR this year.
Yes, you read it right, you will be able to play as billionaire Tony Stark in the upcoming Marvel's Iron Man VR game! Confront ghosts from Tony's past—powerful forces who seek to ruin him and everything he stands for. By fully embracing the magic of PlayStation VR, players will come face-to-face with iconic allies and Super Villains as they jet around the globe on a heroic mission to save not only Stark Industries but the world itself.
---
PS4 Exclusive Retro Content for Crash Team Racing: Nitro Fueled!
Crash Team Racing fans on the PS4 will be treated to a PS4 Exclusive bonus content that will bring the best of their CTR memories to present day! The bonus Retro content will feature retro skins and karts for Crash, Coco and Cortex. On top of that, Thomas Wilson, Co-Studio Head at Beenox, says that – "we will be providing PS4 players with a retro track in the game as well, to really drive nostalgia into high gear! We can't wait to show that off for fans soon." Woot! So we'll be getting a bonus Retro track as well =)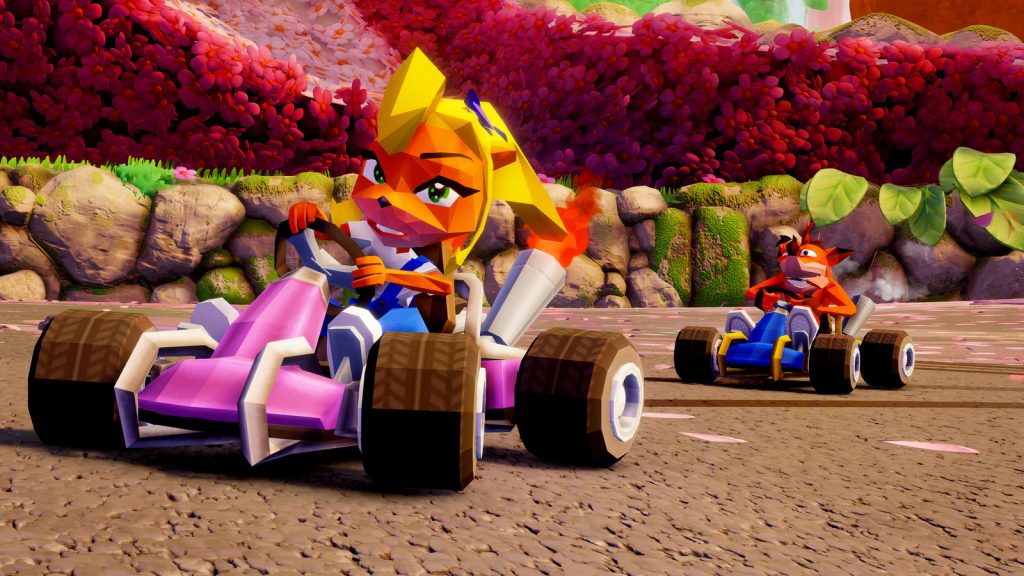 ---
No Man's Sky Receives Full PlayStation 4 VR Support This Summer!
Hey hey hey! Remember this game? This space exploration game that boasts an infinitely huge game world will be receiving a full PlayStation VR support come this summer. Here is the best bit, the VR mode will be completely free for existing No Man's Sky owners! 😉
---
Introducing, ReadySet Heroes!
This fluid looking top-down view 3D dungeon crawler is the latest work of Robot Entertainment, the studio behind Orcs Must Die! series. ReadySet Heroes will be a timed PS4 exclusive and offers both PvE and PvP gameplay moments. The game is meant for a multiplayer couch play experience but can be played online even if you do not have an active PS Plus subscription. Ready? Set? GO!
---
PSVR Exclusive Blood and Truth Coming on May 28, 2019!
Hey, do you remember PlayStation VR World? A collection of mini PSVR games that came out when the PSVR was first launched? There was a London Heist game in that collection where you could play with 2 PS Move controllers and it made such a huge impression to those who tried it. The developer has decided to make a full VR game based on what fans love in London Heist and it's called Blood and Truth. Blood and Truth will be a PlayStation VR exclusive, launching on May 28, 2019.
---
Observation. Play as a Space Station… on your PlayStation…
In this narrative thriller, sci-fi adventure game, you take on a rather peculiar role, as S.A.M, an A.I system on a Space Station. A mysterious event has caused the station to lose power and S.A.M (You) to reboot. With most of SAM's systems offline, SAM must work with the only crew member he can find, Dr Emma Fisher, and attempt to restore his systems and discover the fate of the station and its crew. Observation is coming this May. *Dramatic music fades in…*

---
Five Nights at Freddy's VR: Help Wanted
"Five Nights at Freddy's VR: Help Wanted is a collection of VR experiences based on the original Five Nights at Freddy's games, but it includes several new experiences as well. Some may think this is just a port of the original game – it's far from it. For the first time, characters and situations from the entire Five Nights at Freddy's series can be experienced in VR. Some games that seem familiar may surprise you in new terrifying ways " says the developer
---
New story trailer out for – Concrete Genie.
A new story trailer of Concrete Genie was shown at the PlayStation State of Play and on top of that, the developer further announced that Concrete Genie will come with 2 additional PSVR Modes! Concrete Genie is a PlayStation 4 exclusive and is coming in the Fall of 2019. This new story trailer tells of Ash's heartwarming story in the game. He's a bullied kid, who despite the tough time he's having, is determined to use the power of creativity to make the world a better place. His hometown of Denska – a once-bustling seaside town – has been polluted by a mysterious Darkness, and it's up to Ash to paint the town back to life.
---
Days Gone – A new Story Trailer.
Ahead of its April 26 launch, Bend Studio has released a new story trailer of their upcoming title, Days Gone, at the PlayStation State of Play.
---
Mortal Kombat 11 – Past Meets Present
What happens with Mortal Kombat characters from the past meets their present selves? Check out this Mortal Kombat 11 – Old Skool vs New Skool trailer!
---