Starting from October 12th, the PlayStation 4 Pro price will drop to 39,980 yen (MYR 1452) from the current price of 44,980 yen (MYR1633) in Japan, announced by Sony Interactive Entertainment Japan Asia.
The Glacier White PlayStation 4 Pro which was released in limited quantities back in March will also be available as a standard colour option aside from the Jet Black one. Kingdom Hearts III PlayStation 4 Pro Limited Edition, previously announced to cost 53,780 yen (MYR1953), will also be reduced to 48,780 yen (MYR1772). Sony has also announced a campaign whereby users who purchase a PS4 Pro as well as Call of Duty: Black Ops IIII as a set between October 12 to 21 will see reductions from 47,880 yen (MYR1739) to 42,280 yen (MYR1536).
Takashi Mochizuki of the Wall Street Journal tweeted to Sony regarding a price drop outside the country of Japan only to be met with a vague and non-confirming response;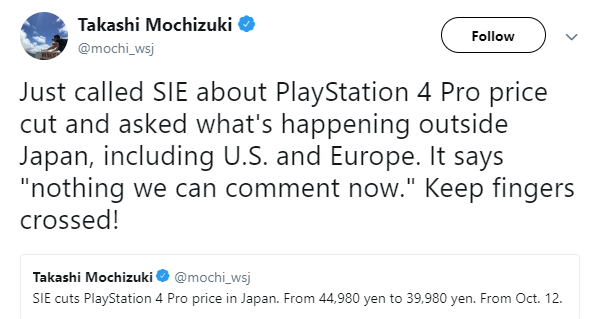 How soon will the price cuts be reaching your country we wonder?