Bandai Namco Entertainment and Limbic Entertainment announced that they are partnering with mod.io to offer a cross-platform user-generated content (UGC) sharing platform to players for the upcoming Park Beyond. mod.io will make its debut in the game in August 2023.
Source: Hori-Games
mod.io is a cross-platform UGC solution powering over 150 games' User Generated Content for players on PC and consoles. Whether it be full parks, buildings or any other kind of creations, players of Park Beyond will be able to share them and download creations from others directly in the game or through impossify.com.
To ensure perfectly set up services, all mod.io's features for the game will be implemented in August 2023.
Crazy content will also come from the Park Beyond team with DLCs as part of the Season Pass, as well as free DLCs starting from the release of the game. From this August, players can expect fantastic new theme, 3 new entertainers, prefabs, 50+ scenery items, making their parks even more unique. September will bring two new modules for coaster creation, followed this fall with the introduction of challenge maps for expert park managers to tackle. And of course, the holiday seasons will bring some free content; players can look forward to pirates dropping anchor in their park. In between and after, Park Beyond will welcome more unannounced content for players to let their creativity loose and spend countless hours playing.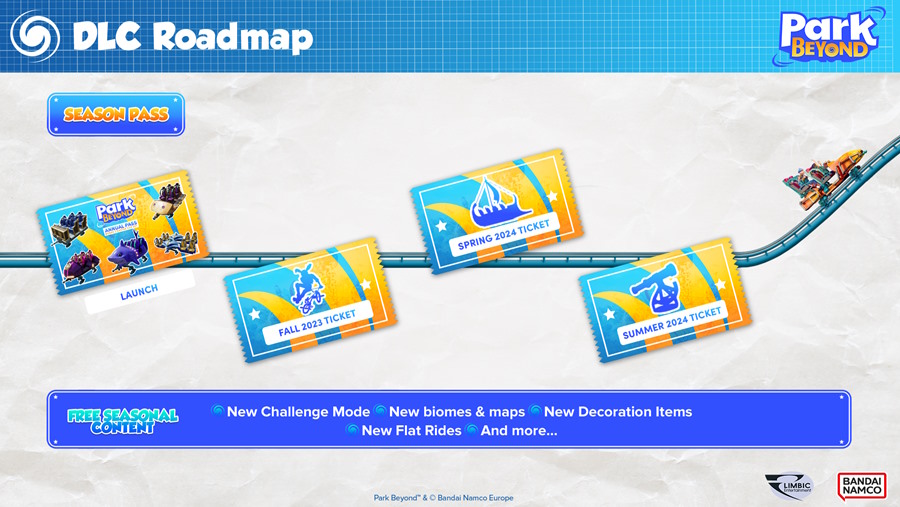 Finally, after the Closed Beta Test in May and gaining valuable feedback from players, Park Beyond will run an Open Beta Test from June 7th to June 16th. This will be the last chance to experience Park Beyond before release and get the Golden Omnicar, the Beta participation bonus.
Digital pre-orders are also open on Bandai Namco Entertainment Asia's e-store.Each pre-order comes with a special bonus: the PAC-MAN Impossification Set, consisting of exclusive flat rides, shops, entertainers, and decorative items.
Park Beyond will release on June 16th, 2023, for PlayStation 5, Xbox Series X|S, and PC via STEAM.
The closed beta of #ParkBeyond is over. To shorten the time until release we will have a new stream today.

Join us and experience the birth of the Impossifications in Mission 3!???

It begins today at 7:00 PM CEST/ 10:00 AM PST.

Stream Link: https://t.co/rE1AldnioO pic.twitter.com/raUYG7alhY

— Park Beyond (@parkbeyondgame) May 24, 2023