SQUARE ENIX has announced Octopath Traveler II will launch on February 24, 2023 on Nintendo Switch, PlayStation 5, PlayStation 4, and PC via Steam on February 25, 2023. This game is a brand-new entry in the Octopath Traveler series, the first installment of which was initially released in 2018 and sold over 3 million copies worldwide.
It takes the series' HD-2D graphics, a fusion of retro pixel art and 3DCG, to even greater heights. In the world of Solistia, eight new travelers venture forth into an exciting new era.
New World, New Tales
The story takes place in Solistia, a land comprising an eastern and western continent divided by the sea. It is a bustling era, wherein large vessels navigate busy sea routes and the power of steam gives birth to new technologies.
This slideshow requires JavaScript.
Some people thrill to glamorous stars of the stage and industry, while others are brought to tears by war, plague, and poverty. In this faraway realm, eight travelers hailing from different regions venture forth for their own reasons. Step into their shoes and explore the land as you see fit.
Characters in Partitio's Tale
Partitio Yellowil
Papp
Roque
Ori
Characters in Osvald's Tale
OsvaldV. Vanstein
Harvey
Emerald
Lady Clarissa
This slideshow requires JavaScript.
New Features:
Travel on the Water – In this installment, you can board canoes to explore towns
and caverns like never before. Traverse both land and sea to
venture to every corner of the realm.
A Vessel All Your Own – Advance through the story, and you can obtain your own nautical
vessel. Use it to journey between continents, or chart your own
course out to sea and disembark on unexplored islands. The world is
yours to explore.
Crossed Paths

Osvald and Partitio – This installment includes Crossed Paths,
which are stories involving two travelers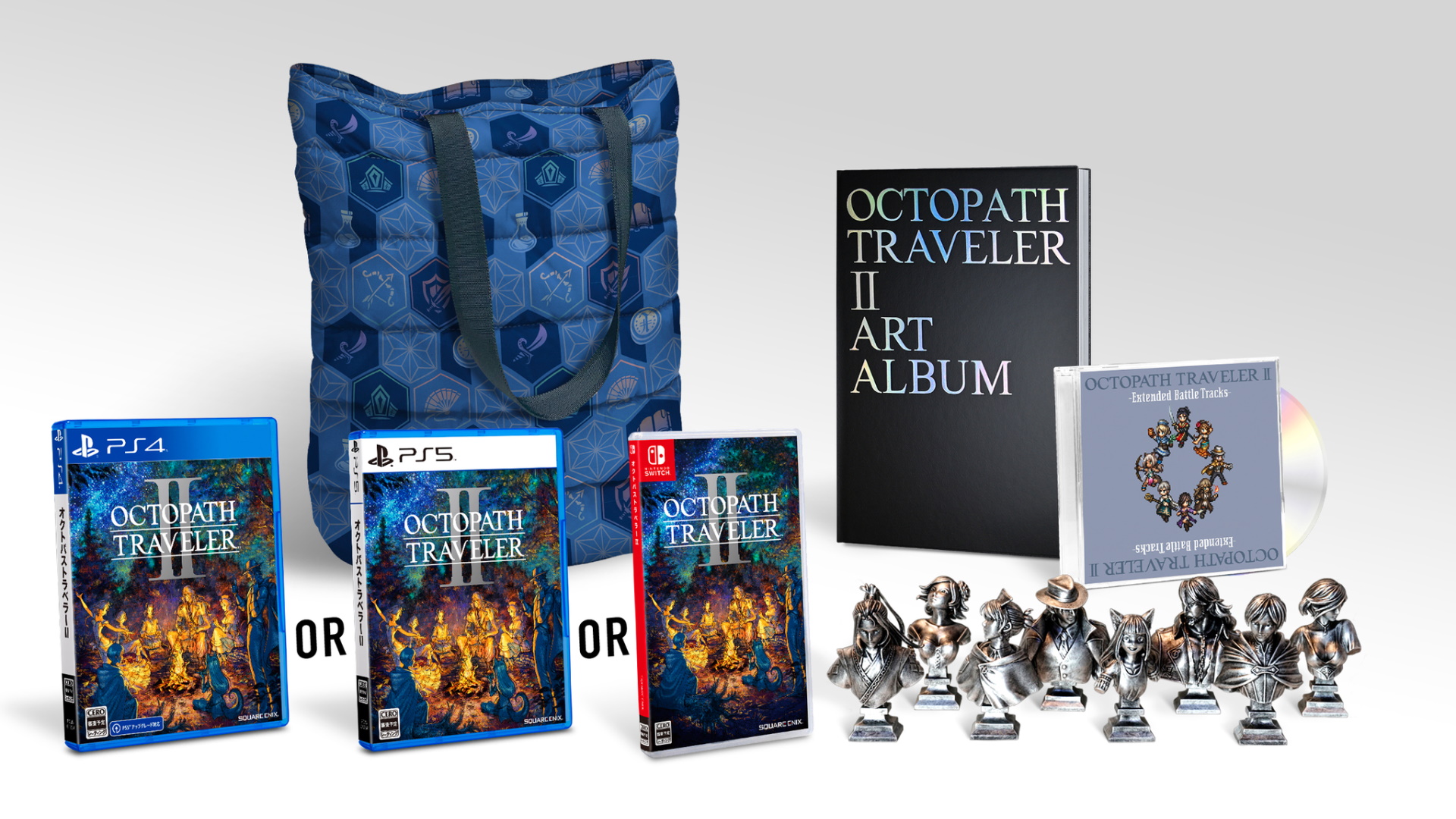 Collector's Edition Set Contents
OCTOPATH TRAVELER II Standard Edition Game
Bust figurines of the eight protagonists
Art book (44 pages)
Extended battle tracks CD
Original quilted bag