Ever since the announcement of Firewall Ultra, the next evolution of the Firewall franchise, last year on the PlayStation Blog, the outpour of encouragement from the community has been nothing short of amazing. The pure excitement in all the comments, messages, tweets, and posts has made the dev motivated to make the game as great as it can be.
Here are the new gameplay trailer featuring fresh PvP gameplay footage!
And to cap off the excitement the pre-orders are officially live for Firewall Ultra starting today with a launch date of August 24, 2023 at 10PM (Bangkok/Jakarta) / 11 PM (Singapore/Kuala Lumpur/Hong Kong/Taiwan) / August 25, 2023 at 12AM (Seoul).
Firewall Ultra puts the next-gen VR features embedded in the PS VR2 front and center to deliver a compelling and immersive first-person shooter experience. This includes eye-tracking for innovative use cases like closing your eyes to avoid the effects of a flashbang, incredible haptic feedback in the PlayStation VR2 Sense controllers for realistic weapon feedback, headset feedback when you take damage or toggle on night vision goggles, and so much more.
What is Firewall Ultra?
Firewall Ultra is the next evolution of the Firewall franchise following the 2018 hit PS VR shooter, Firewall Zero Hour. The primary PvP game mode called Contracts pits two teams of four against each other in a best-of-three series of matches that feature tense tactical combat across a variety of maps.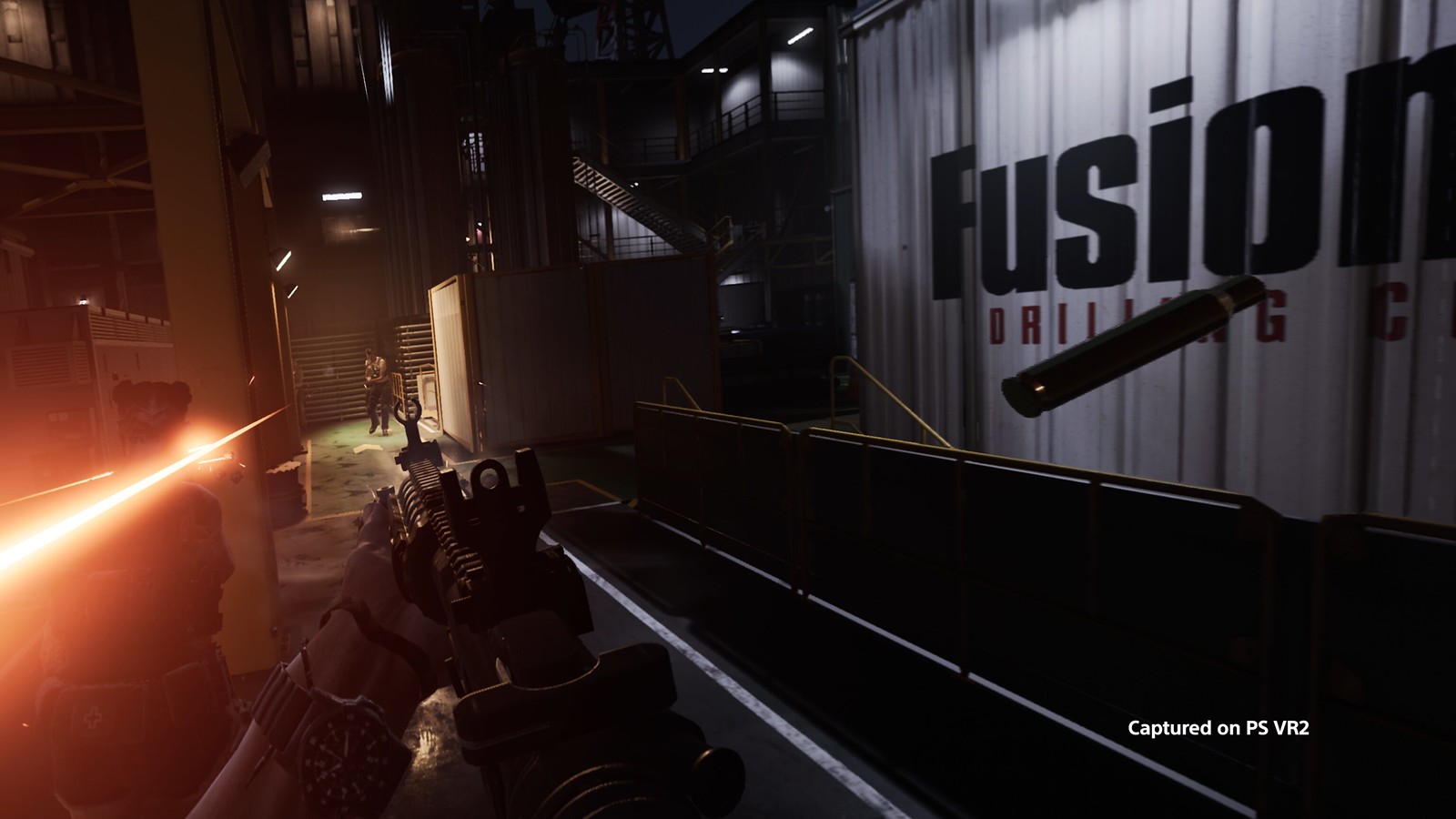 In each match a defending team must protect a laptop full of classified intel using an assortment of gadgets and weaponry while the attacking team attempts to bypass the security access points and hack the laptop. Tools at your disposal include proximity mines you can place in crafty locations to catch attackers by surprise, door blockers to fortify your position, and many more. Attackers need to tread carefully around maps and work as a team to decrypt the intel before time expires.
Cutting-edge FPS immersion
By using eye tracking in a number of ways to enhance actual gameplay in Firewall Ultra. For example, you can close your eyes physically to avoid the blinding light of a flashlight. You can also close your non-dominant eye when aiming down the sight of a gun to make the view even tighter for slightly more precision. These are both natural things players find themselves doing while playing, so they reward you for getting lost in the experience, having a sense of presence, and giving into the immersion.
Choose between the Firewall Ultra Standard Edition for SGD 54.90 / MYR 169 / IDR 579,000 / THB 1,290 which includes access to the full game or the Digital Deluxe Edition for SGD 79.90 / MYR 249 / IDR 879,000 / THB 1,990. When you pre-order Firewall Ultra before launch, you'll get access to one of the favorite legendary weapons: the Reaper X75. This is included for both Standard and Digital Deluxe Editions when pre-ordered.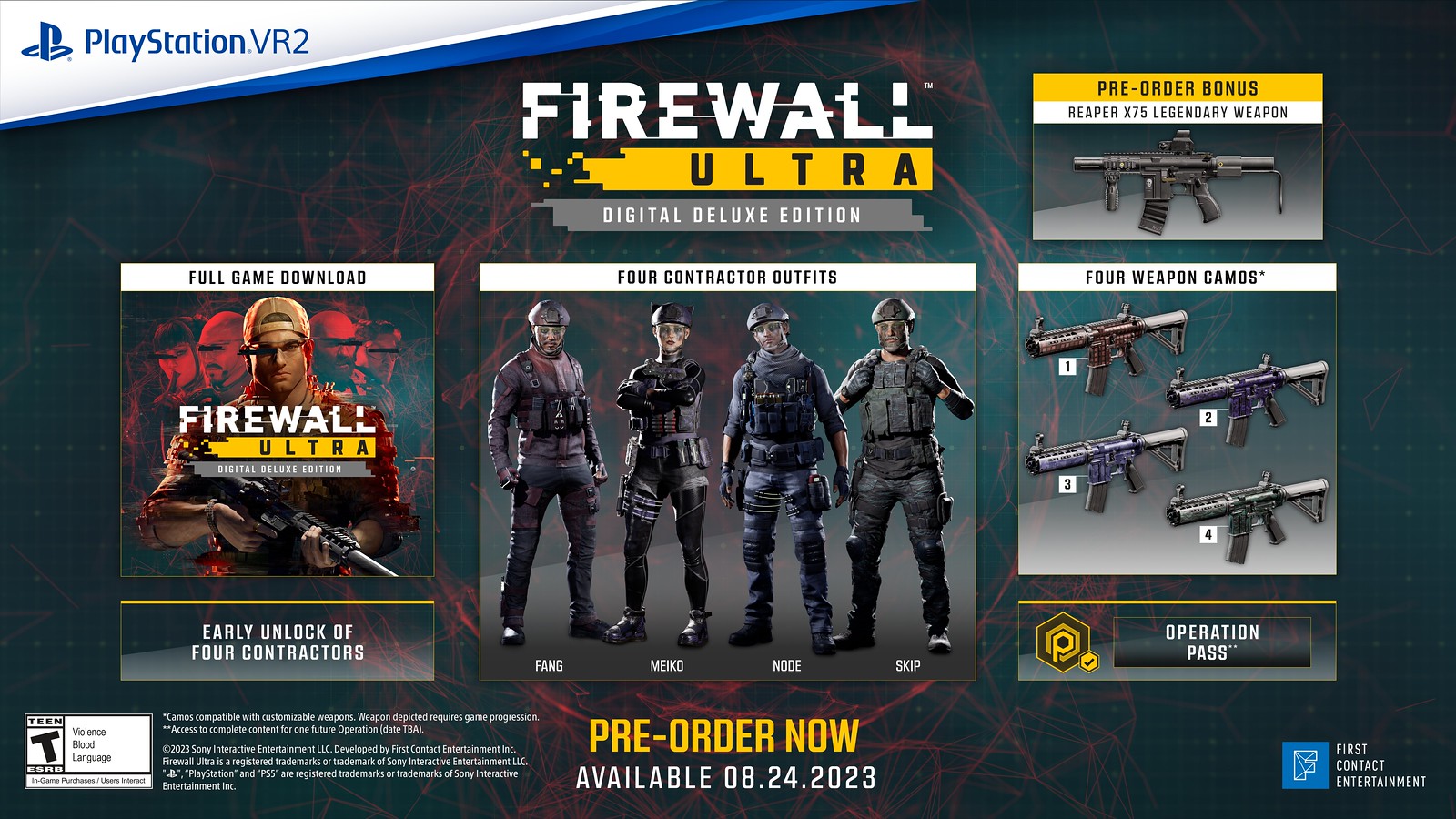 For those that purchase the Digital Deluxe Edition, you'll receive an early unlock of four of the game's contractors (Meiko, Skip, Fang, and Node—pictured above,) which includes their unique skills, as well as alternate outfits for each contractor. The Digital Deluxe Edition will also include four weapon camos that can be applied to customizable weapons in the game. You get access to one post-launch Operation Pass*** for Firewall Ultra.
---
*** Access to complete content for one future Operation (date TBA).