Masketeers: Idle Has Fallen is celebrates its first anniversary of fighting the good fight against the demons of society! Share the joy with sweet Cupcakes and amazing rewards in our latest Anniversary Event today!
Masketeers: Idle Has Fallen by Appxplore (iCandy) has joined almost a million players globally to take a stand against evil. Since its official launch in October 2020, the game has pushed the boundaries of the idle RPG genre with its enhanced elements and revolutionary orb-matching feature. Over the past year, the game has been updated and improved, including the multiplayer Guild feature, localization in Korean, Japanese, Simplified and Traditional Chinese, monthly seasonal events and countless live-ops, with more to come in the future. Appxplore thanks all new and veteran players for their continued support as they celebrate this significant milestone.
During the Anniversary Event, our loyal allies the Koi and the mini Trader of Fates are giving out Cupcakes that can be exchanged for superb prizes. Stuff your face full of the sweet treats and get rewarded with Crystals, Dust, Wisps, Runes, and limited seasonal Visages!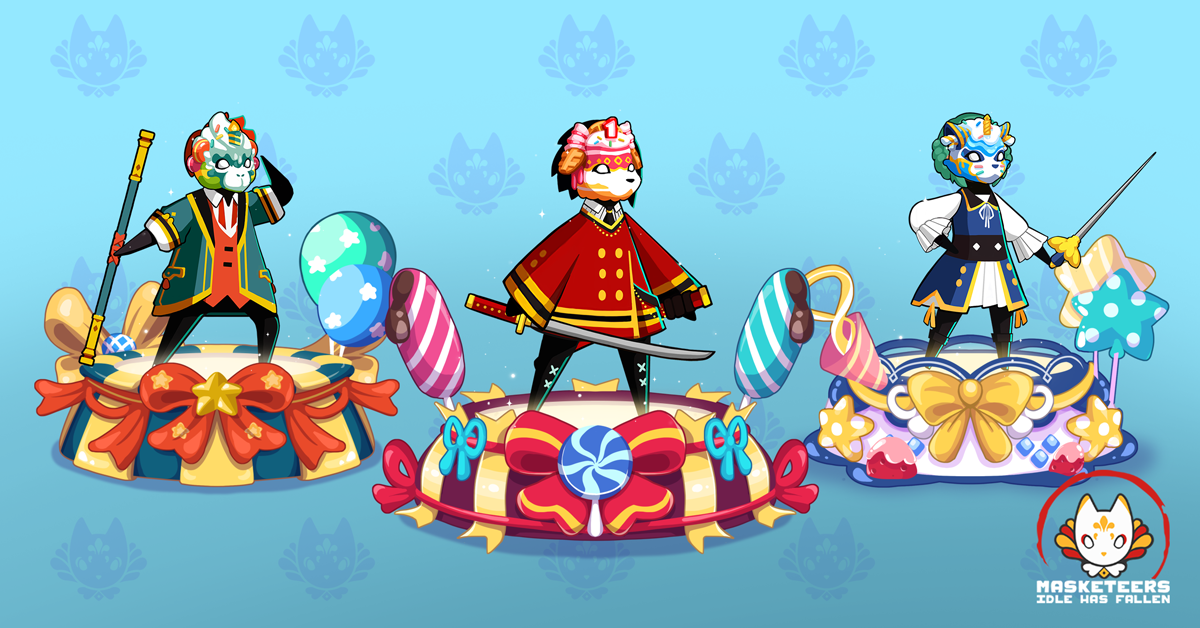 What's an anniversary without cake and new Visages? Caine's Jolly Canis Visage, Felina's Jovial Feline Visage and King's Merry Gibbon Visage are all topped with delicious icing and sprinkles to mark the special occasion. Grab these Visages and add some sweetness during the endless fight against evil!
This slideshow requires JavaScript.
Additionally, Titan and Falcon are getting a full wardrobe makeover with Costume sets! The Urban Ursine Costume for Titan is adorned with his signature purple and gold colours, while Falcon's Urban Hawk Costume sports the blue and gold that makes up his elegant and polished stature. These lavish costumes will only be available during the anniversary celebrations, so don't miss out on this opportunity!
Finally, Appxplore will also be hosting an anniversary giveaway on the Masketeers: Idle Has Fallen social media channels! Grab free Crystals and Fate Tokens during the giveaways and take your battle to the next level! Join the official communities now and grab your freebies: Facebook | Twitter | Instagram | Discord
The war against darkness will never end. Stand your ground in the face of adversity and join the fight now on Masketeers: Idle Has Fallen!