T1 has once again proven their dominance in League of Legends eSports by clinching the League of Legends Worlds 2023 championship on their home turf in Seoul, Korea. The current T1 roster comprises Zeus, Oner, Faker, Gumayusi, Keria, and team coach Roach.
The journey for T1 was far from smooth, starting with a setback in the LCK Summer 2023 finals against Gen.G, where they lost in three consecutive matches, leading them to enter Worlds 2023 as LCK's second seed. The challenges continued in the Swiss Stage opening match against North America's Team Liquid, with last year's world champion Pyosik leading the charge. Fortunately, T1 staged a comeback and secured their first win.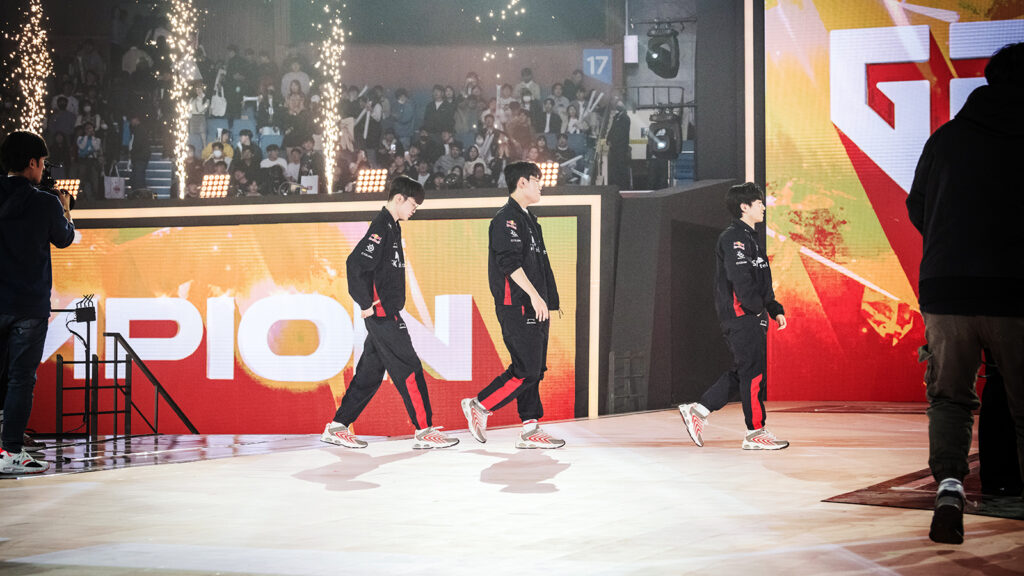 In their World Championship debut, they faced Gen.G once again, the team that had previously defeated them in the LCK finals. Unfortunately, history repeated itself as T1 lost the match, casting doubt on their performance in Worlds 2023. The next draw matched them against North American Cloud9 (C9), a match many thought would be close. Despite C9's origin from the perceived weaker North American region, T1 secured an impressive 15-0 kills victory. However, scepticism lingered among fans.
With a record of 2 wins and 1 loss, T1 needed one more win to advance to the quarterfinals. Their next opponent was Bilibili Gaming (BLG), LPL's 2nd seed and a tournament favourite. BLG's aggressive start, invading T1's jungle, resulted in giving up first blood and two kills to T1. Despite BLG fighting back, T1's early advantage allowed them to secure the first game. The second game saw BLG with a good start, but T1's strategic team fights turned the tide, leading to another victory and securing a spot in the quarterfinals.
In the quarterfinals, T1 faced LPL's 3rd seed, Li-Ning Gaming (LNG), and swiftly secured a 3-0 victory, setting the stage for a showdown with LPL's 1st seed, JD Gaming (JDG). As both BLG and JDG eliminated other Korean teams, T1 became the last Korean team in the semifinals. JDG, the tournament favourite, gave T1 a tough challenge, but Faker's comeback play in Game 3 during one of JDG's push in the middle lane, turned the tide of the game completely and helped secure T1's victory in the series.
Moving on to the finals, T1 faced LPL's 4th seed, Weibo Gaming (WBG), which surprisingly eliminated BLG. Korean fans flooded the Gocheok Sky Dome in Seoul, South Korea, passionately supporting their local favourite, T1. Attendees were treated to a performance by the League of Legends virtual group HEARTSTEEL, featuring EXO's Baekhyun as one of the singers. Following that, there was a rendition of the Worlds 2018 theme song 'Rise' by a surprise performer, The Glitch Mob. The highly anticipated performance by the K-pop girl group New Jeans showcased this year's Worlds theme song 'GODS,' concluding with the unveiling of the players and the trophy crafted by Tiffany & Co.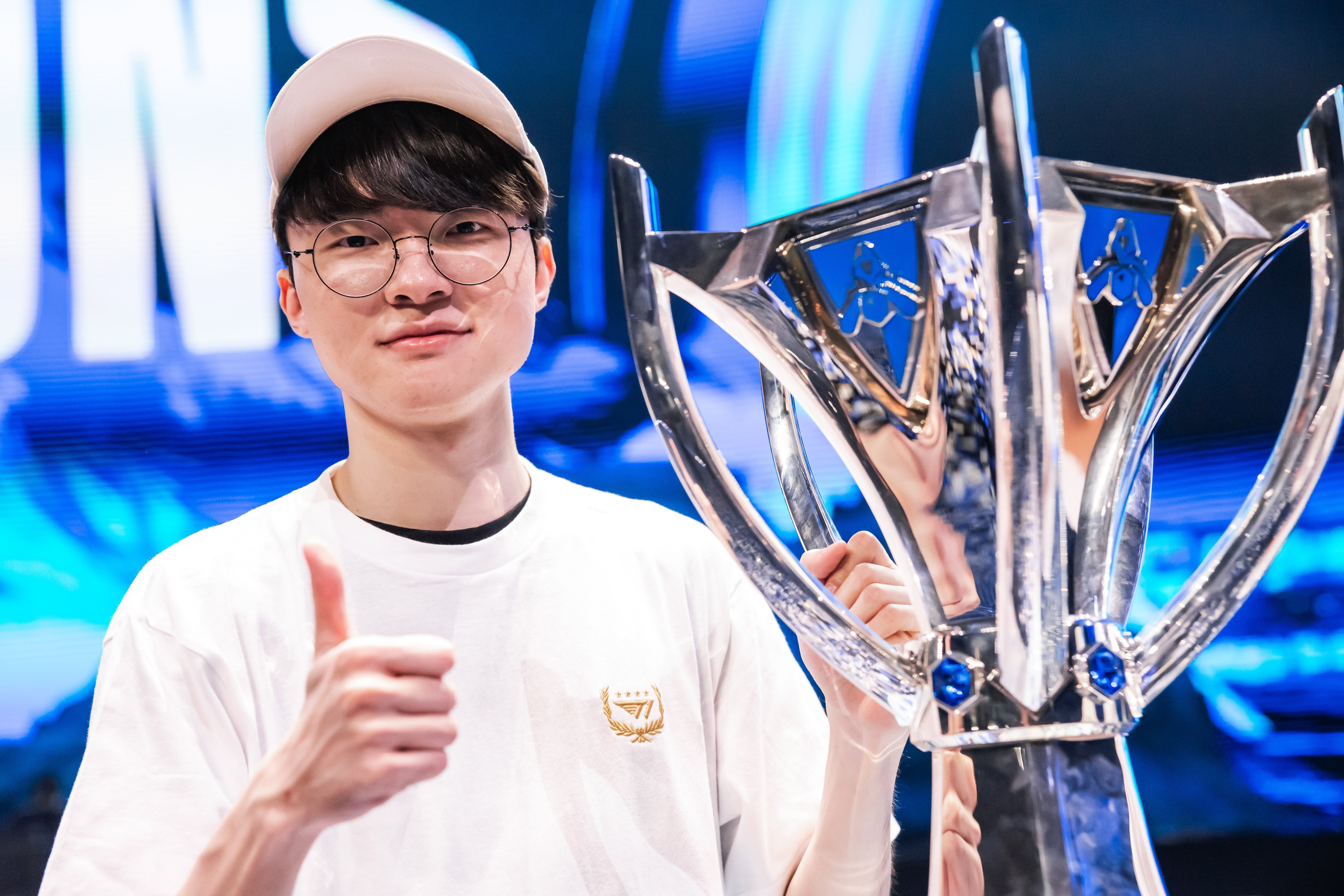 Having already confronted the 1st seed LPL team, JDG, in the semi-final, many Korean fans held high hopes for T1's victory this year, and they were not disappointed. T1 showcased their readiness and superiority, proving to be the better team in all three games and securing a 3-0 victory against Weibo Gaming. With this triumph, a decade after the initial lift of the trophy by TI (formerly SKT1), they repeated the feat, with only Faker remaining from the original team.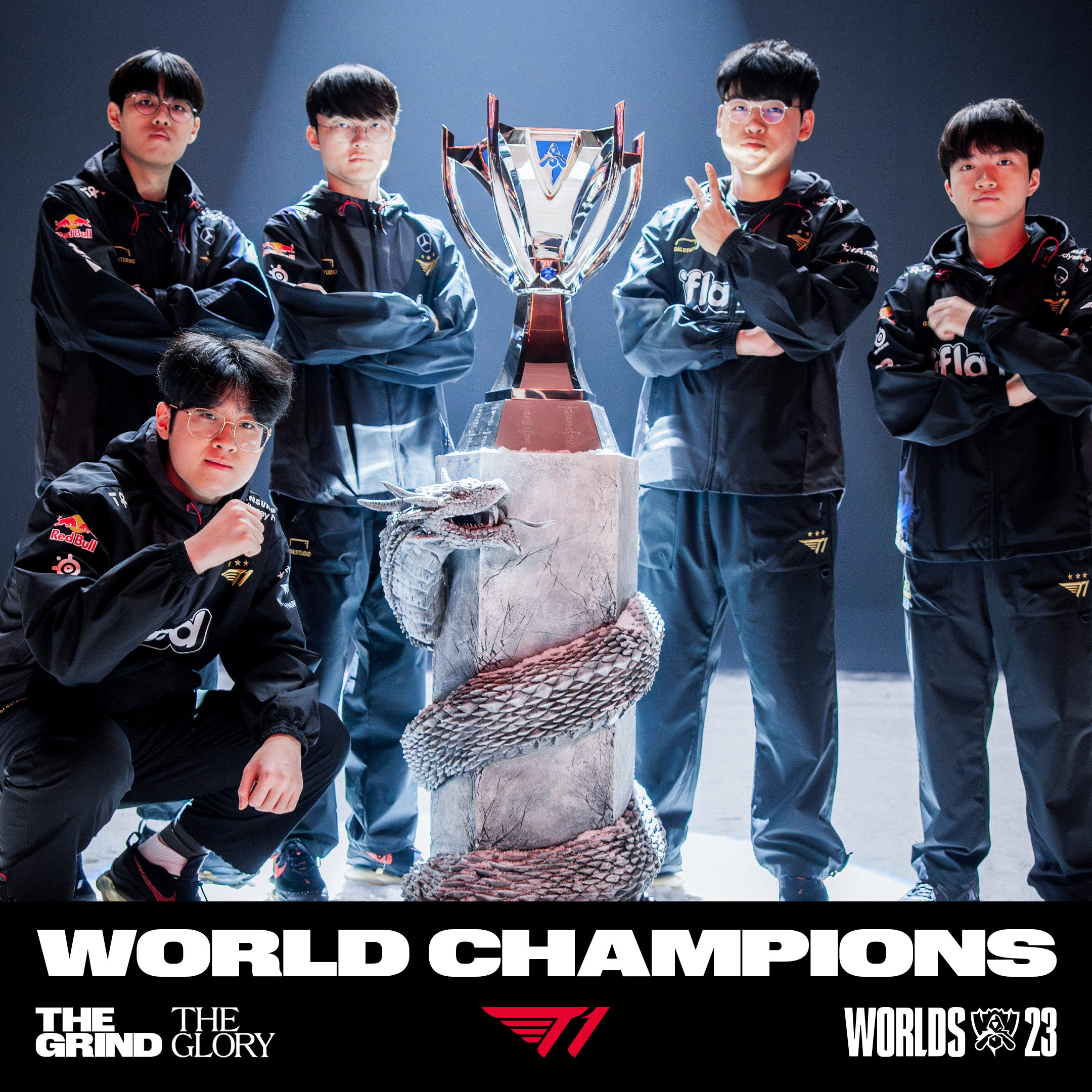 This achievement marks T1's fourth Worlds title, with Faker securing his fourth Worlds win, solidifying the Korean team T1 as the most dominant force in League of Legends history. Congratulations to T1 for their outstanding victory in League of Legends Worlds 2023.