Korean developer and publisher Pearl Abyss announced several major updates across Black Desert Console and Black Desert Mobile. Imoogi, the powerful serpentine boss from Black Desert's critically acclaimed expansion Land of the Morning Light, slithers its way to PlayStation and Xbox now. Black Desert Mobile players can now wield powerful magic as the new Wizard class, Igneous Ascension.
Source: GameTrailers
TEST YOUR COMBAT SKILLS WITH IMOOGI, THE FEARSOME SERPENT BOSS
Featuring massive fangs and a spine-chilling roar, Imoogi is the latest boss to arrive in the Land of the Morning Light on the console. Players can challenge Imoogi after successfully completing all preceding Tales in Land of the Morning Light. Imoogi requires a different strategy to defeat as the serpent delivers wide area-of-effect attacks. Players must avoid Imoogi's attacks and focus on destroying an altar in the center of the arena.
FREE PEN GEAR AND NEW QUALITY-OF-LIFE UPDATES
Starting Wednesday, August 9, players can obtain "Wuju's Gift for the Traveler of the Abyss" after completing the quest [The Magnus] Chest from the Abyss. Wuju's Gift for the Traveler of the Abyss contains eight pieces of boss armor that you can choose from:
PEN (V) Griffon's Helmet
PEN (V) Giath's Helmet
PEN (V) Dim Tree Spirit's Armor
PEN (V) Red Nose's Armor
PEN (V) Bheg's Gloves
PEN (V) Leebur's Gloves
PEN (V) Urugon's Shoes
PEN (V) Muskan's Shoes
Other quality-of-life updates include:
Increased chance to obtain Garmoth's Heart x40 from defeating Crimson Dragon Garmoth. This applies to both Guild Boss Raid and Solo Boss.
Decreased solo Garmoth's max HP by 40%.
Players can now retrieve items from the "Find My Item" menu without going through their inventory.
All new Adventurers can access the "Newbie Inventory", an exclusive new inventory to help new players get going!
Faster Monster Respawns: The respawn time of monsters in several monster zones is now twice as fast to accommodate more Adventurers.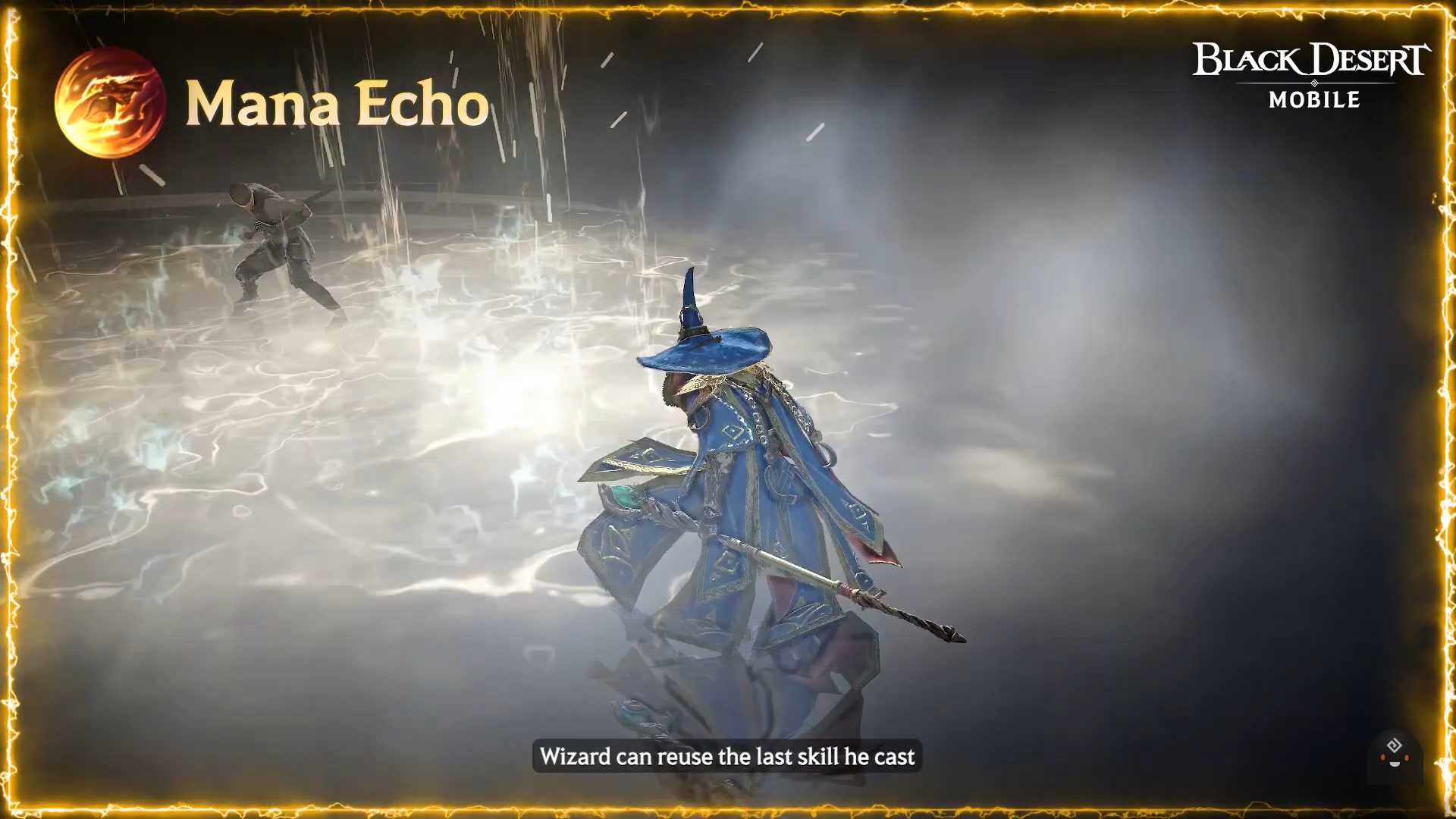 NEW WIZARD CLASS: IGNEOUS ASCENSION
Black Desert Mobile players can now embrace the Wizard class, casting powerful magic attacks with his Rod and Knife. Wizard bombards his enemies with deadly elemental powers, making him most effective in large-scale battles.
Lightning Storm: The Wizard summons lightning from above, striking down his enemies within a certain range. He can continuously perform attacks using extra mana.
Mana Echo: The Wizard reuses the last skill he casted, enabling him to use the same skill repeatedly. Players can strategize to use this ability to deal deadly, unrelenting attacks.
Teleportation: The Wizard teleports and bypasses enemies in front of him across a certain distance. With enough Mana, he can teleport up to four times when paired with the 'Mana Echo' skill.
Elemental Flow: The Wizard uses this passive skill to gather more mana. Elemental Flow stacks up to five times and can be combined with 'Mana Echo' to boost the reused skill and the Wizard's defense.
To celebrate the arrival of the Wizard class, an array of events await players. Through the daily mission event, players can collect Magic Staves and exchange them for valuable items, such as Chaos Jewel x1/Ah'krad x3 Selection Chest Bundle and Combat Plus (7 Days). Players can also participate in a login event until Monday, September 4th, to obtain Sun Crystals and Black Pearls, which will help their journey in Black Desert Mobile.
Find more information on Black Desert Console and Black Desert Mobile on the official website. To stay up to date with the latest events in Black Desert, follow the game on Facebook, Twitter, and YouTube.