IKEA Malaysia has shared more information regarding its gaming range furniture including the types and their prices that are launching this November 11 across all IKEA Malaysia stores.
There will be five product families, namely; UPPSPEL, LÅNESPELARE, MATCHSPEL, UTESPELARE, and HUVUDSPELARE.
The UPPSPEL line of products is the result of IKEA's collaboration with ROG (Republic of Gamers, whereas the other four series were developed by IKEA itself, inspired by the insights and knowledge they gained from ROG on what gamers look for. We've prepared a table with the products and prices below. Read on.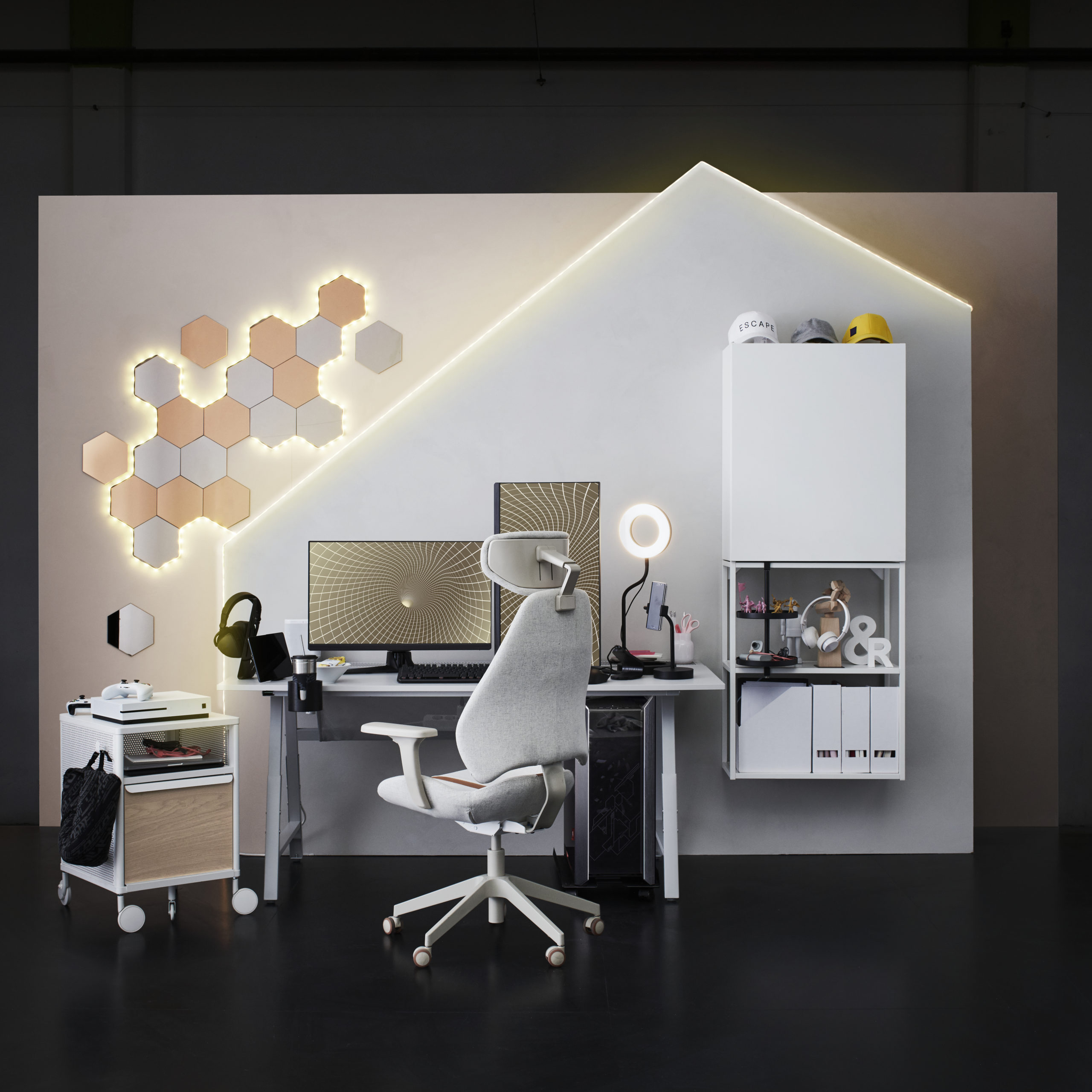 At IKEA, we've always believed in making our homes count, especially even more so after having spent most of our time in the comfort of our own homes during the lockdown. We continuously want to create meaningful spaces for everyone by understanding their wants and dreams for their haven – their homes.
With this, the launch of the IKEA Gaming range marks our first foray into the gaming world, offering modern, functional and affordable end-to-end solutions for all gamers to enjoy,' said Gerard Jansen, Country Retail Director (Malaysia), IKEA Southeast Asia.
Starting on 11 November 2021, in collaboration with ASUS Republic of Gamers Malaysia, IKEA Family members will be entitled to redeem a limited-edition ROG t-shirt with a minimum in-store purchase of RM500 in a single receipt transaction on IKEA's gaming range. *This exclusive promotion is limited to the first 100 members per store while stocks last.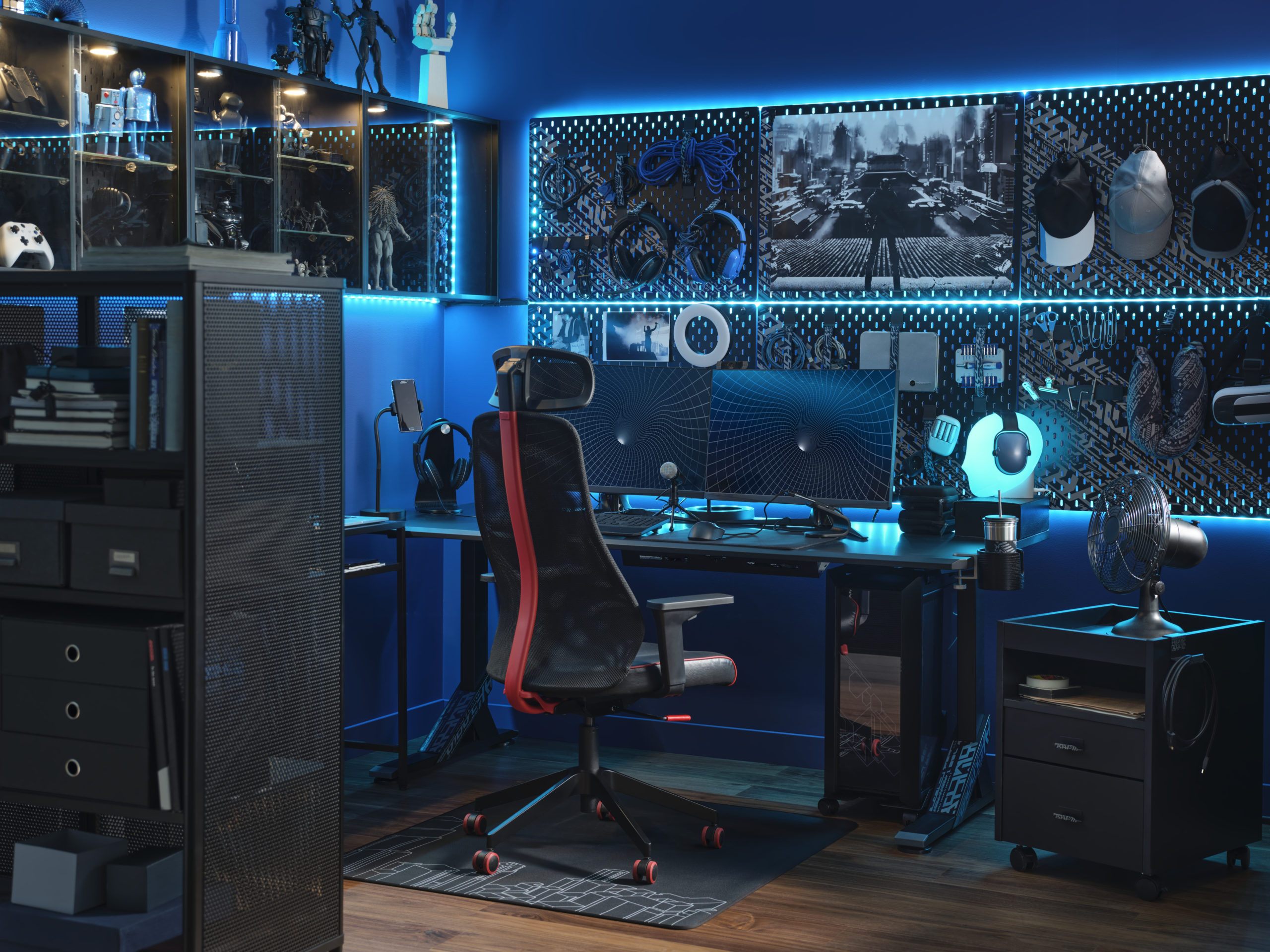 For in-store purchases from 11 – 13 November 2021, each customer is limited to purchasing up to 2 units of gaming furniture and 3 units of gaming accessories in a single purchase.*
Product Name

Product Description

Price per unit

All desks and chairs from the IKEA Gaming range come with a 3-year product guarantee (*Terms apply)

MATCHSPEL gaming chair (Black / White)

The MATCHSPEL gaming chair helps you play at the top of your game. This chair features a backrest made of breathable mesh, coupled with built-in lumbar support, adjustable height, and armrests so you can sit comfy when the game begins.

RM699

UTESPELARE gaming chair

The UTESPELARE gaming chair gives your body ergonomic support with a synchronized seat and back tilt that follows your movements during the entire match. There's also a pocket located on the back of the chair where you can put the items you need while gaming. It's practical, leather-like upholstery is durable and easy-to-wipe clean. After playing, you can sit back, relax and recharge.

RM499

HUVUDSPELARE gaming chair

Adjust the height and angle to sit comfortably and let the game begin. The backrest gives you good lumbar support – and even when the game heats up, you stay cool thanks to the mesh net.

RM299

UPPSPEL Gaming Desk

(L140 /180cm)

UPPSPEL gaming desk helps you perform at your best.

It's large, durable and sturdy. You can also quickly and easily adjust the height to so that you can enjoy the optimal position during the match – with the option to stand or sit when gaming. This desk features a built-in-USB port to charge your device on-the-game!

To suit your gaming needs, the UPPSPEL Gaming Desk is available in 2 sizes, with a length of 140cm or 180cm.

L140cm: RM2,299

L180cm: RM2,499

UTESPELARE gaming desk (black & light grey)

Raise the large, sturdy UTESPELARE gaming desk to a height that optimally suits you. The metal mesh of the tabletop allows air to circulate and cool your PC when the match heats up.

RM499

FREDDE Gaming Desk

Holds up 2 units of 24" screens.

Can fit 32" computer or TV by removing the shelf above the tabletop. The high-side panels also help prevent a distracting glare from your monitor, complete with built-in dedicated cable management compartments to keep your cables neat and accessible.

RM999

LÅNESPELARE mouse bungee black AP

When every hundredth of a second counts, of course, you don't want any cords getting in the way. The bungee keeps your mouse cord in order and gives you the full freedom of movement needed to win the game.

RM49

LÅNESPELARE Headset Stand

Here you can hang and show off your cool headset while having it close at hand when the game begins. An easy way to keep your desk neat and tidy.

RM79

LÅNESPELARE mug holder

You can easily clamp this mug holder to your desk and have something refreshing to drink within reach while playing – at a safe distance from both the keyboard and mouse.

RM49

LÅNESPELARE mug with lid and straw

A cool stainless-steel mug that keeps your beverage cold for longer – and with a lid and straw so you can drink without spilling. The silicone sleeve provides a good grip and keeps your fingertips dry.

It also comes with a cleaning brush to keep your mug spick and span!

RM30
Speaking on the collaboration, Johnny Chan, ASUS Republic of Gamers designer shared;
"We know a lot about gamer needs, pain points and expectations, and we want to design solutions for ultimate, immersive gaming experiences."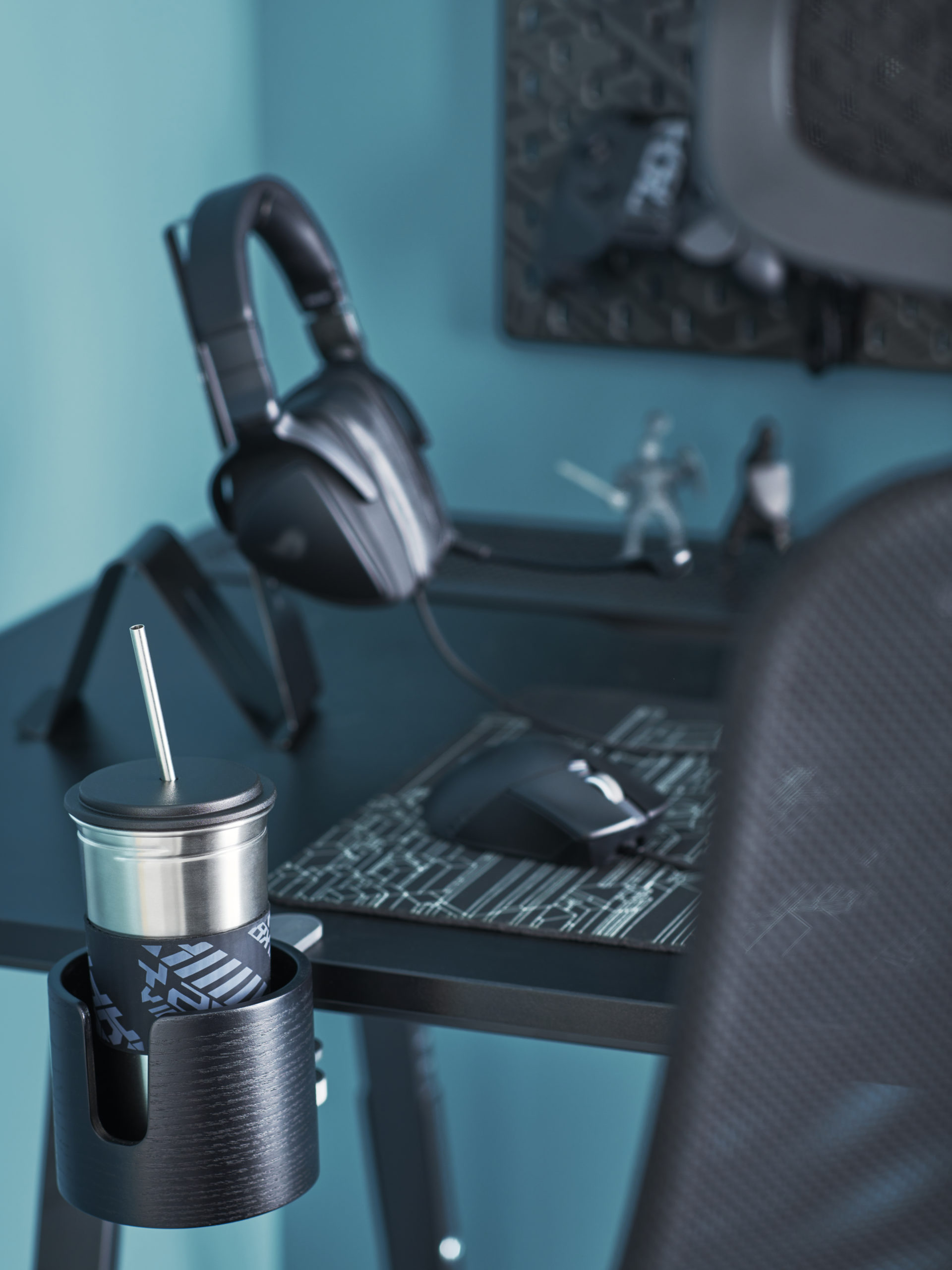 The IKEA Gaming Range is available in-store from 11 November 2021 and for online purchase via IKEA.my/gaming from 14 November 2021 onwards.