iOS users can now pre-order Call of Duty: Warzone Mobile on their devices from the App Store. Join millions of others in preparing for a world-class Battle Royale experience all in the palm of your hands, featuring the classic Verdansk map and shared Battle Pass and cross-progression across Call of Duty: Modern Warfare II and Call of Duty: Warzone 2.0.
Additionally, in celebration of having just reached 25 million pre-registrations, Activision will be announcing a new reward soon. All players who pre-order on the App Store or pre-register on Google Play before the global launch will unlock all previously announced milestones rewards when the title launches next year, but can the community rally to 35 million pre-registrations? Read on for more.
25 Million Pre-Reg Milestone Achieved — More at 35 Million!
Hot on the heels of being the fastest Activision, Blizzard and King mobile game to top 15 million pre-registrations on Google Play*, thanks to the incredible support of the community, the goal of reaching 25 million pre-registrations for Call of Duty: Warzone Mobile has been achieved! Everyone who pre-orders on the App Store or pre-register on Google Play will unlock all of the following milestone rewards when the game launches globally next year:
"Ghost — Condemned" Operator Skin
"Prince of Hell" X12 Weapon Blueprint
"Archfiend" M4 Weapon Blueprint
"Dark Familiar" Emblem
"Foe's Flame" Vinyl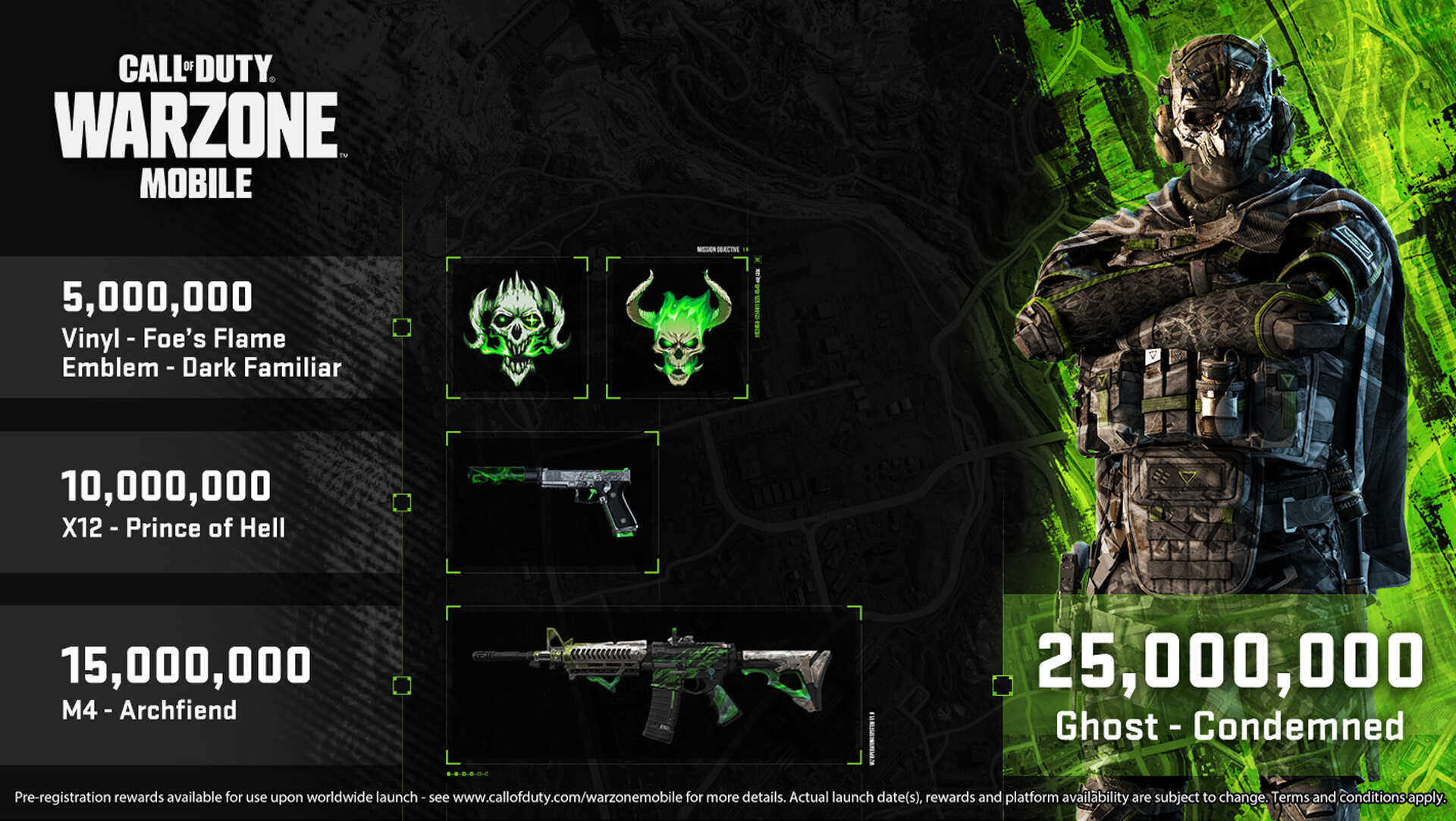 With excitement and momentum for Call of Duty: Warzone Mobile off the charts, Activision is offering another milestone reward at 35 million pre-registrations. Hitting this milestone will reward everyone with something different from all previously shared rewards, and they cannot wait to share more soon! Encourage your friends and family to pre-pre-register on their devices to help reach this goal and ensure you've got a full squad when it's time to deploy in 2023.
Pre-Order Today!
Head over to the Call of Duty: Warzone Mobile website to pre-order for Call of Duty: Warzone Mobile today. It's not too late for Android users to pre-register, either, so sign up, get rewarded, and prepare for an epic mobile Battle Royale as you've never experienced before.
PRE-ORDER REWARDS TERMS AND CONDITIONS
Call of Duty: Warzone Mobile pre-orders will be available on the App Store beginning November 17, 2022. Pre-orders available on Google Play beginning September 15, 2022. Pre-order rewards are available for use upon worldwide launch – see www.callofduty.com/warzonemobile for more details. Actual launch date(s), rewards and platform availability are subject to change. Available rewards are subject to the total number of pre-orders at the worldwide launch. Terms and conditions apply; valid in eligible countries only. Limited time only. Internet connection required.