Strategic mobile RPG Arknights is having a new collaboration event with the well-known Chinese animation series "The Legend of Luo Xiaohei". The main character "Luo Xiaohei", who is a black kitten spirit, will become a playable operator in Rhodes Island. Doctors can redeem him for free in this event. This update also offers a brand new collaboration skin featuring "Luo Xiaohei" for both Suzuran and Rockrock. Come join this lovely adventure and acquire more rewards now!
About It's Been A While
"It's Been A While" begins on April 7, 2023, 10:00 (UTC-7) and will end on April 17, 2023, 03:59 (UTC-7). In this event, the black kitten Luo Xiaohei and his friends come to the land of Terra. Together in Lungmen, they help a Beckbeast unite with its owner, find a living place for a Musbeast and figure out the story among a stray Storm Cloudbeast, its owner and former owner. Doctors can use Information Fragments to unlock stories in the current and previous story collections.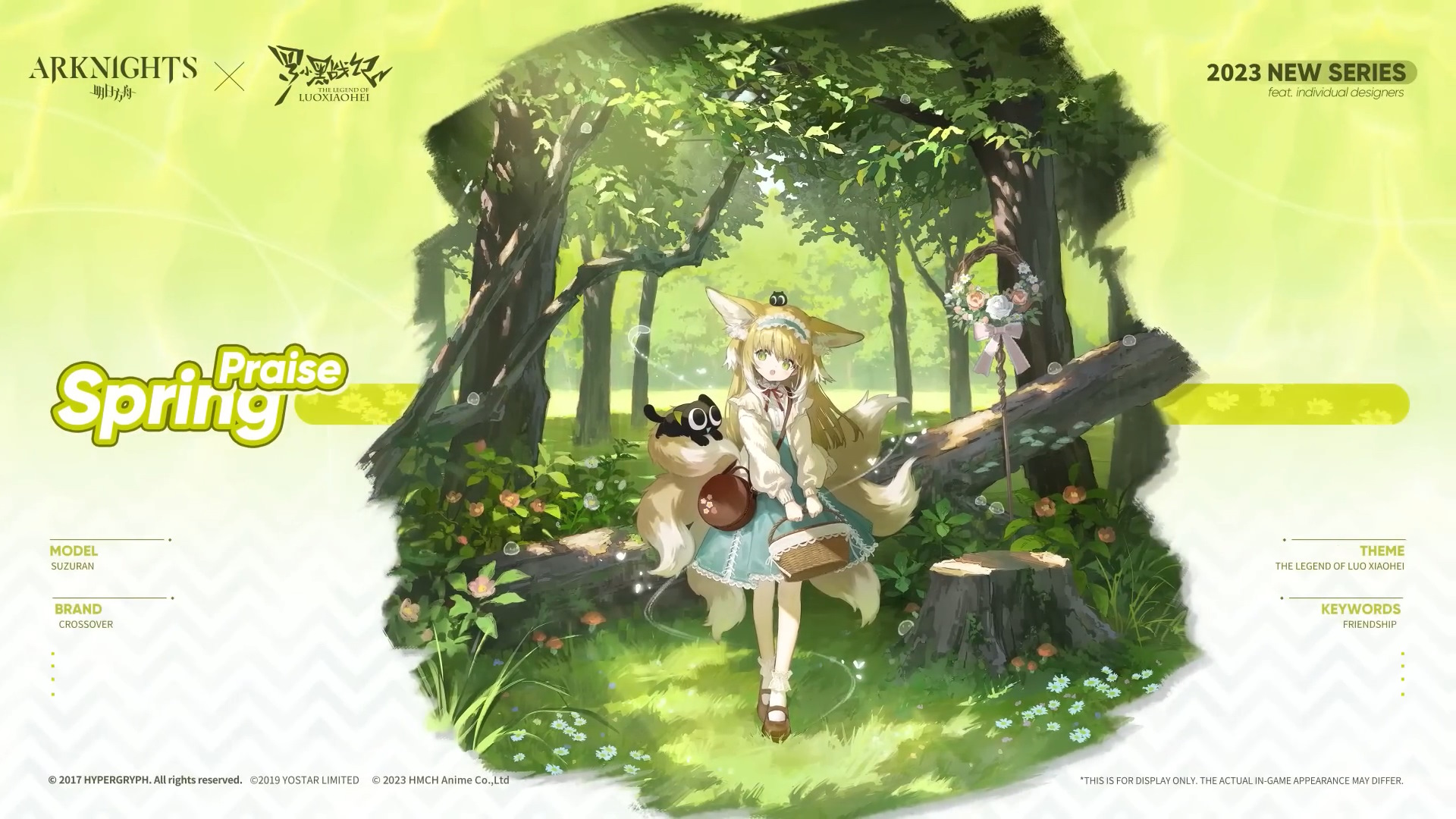 Event Rewards
During the event period, event stages are available. Doctors can obtain event currency "Nutritional Pet Food Tin" from any stage except for Annihilation, and Extreme Modes. The collaboration 4-star operator, Luo Xiaohei, Information Fragments and many other rewards such as Module Data Blocks, LMD, and Battle Records are available to be redeemed at the event shop "Stray Animal Shelter".
New Collaboration Operator
4-star Operator Luo Xiaohei can be obtained freely in this collaboration event. As a Lord, he can launch Ranged Attacks that deal a certain percent of normal attack. When he activates his second skill, his Attack increases with ranged attacks no longer being reduced and he adds an additional attack ignoring part of the enemy's Defense when the target's HP is below half.
New Crossover Outfits
Two new Crossover Series outfits, "Spring Praise" for Suzuran and "Before Singing" for Rockrock will be available for purchase in the Shop during the event period. Both outfits feature Luo Xiaohei and many other related black kitten design elements. Don't miss out on these adorable outfits!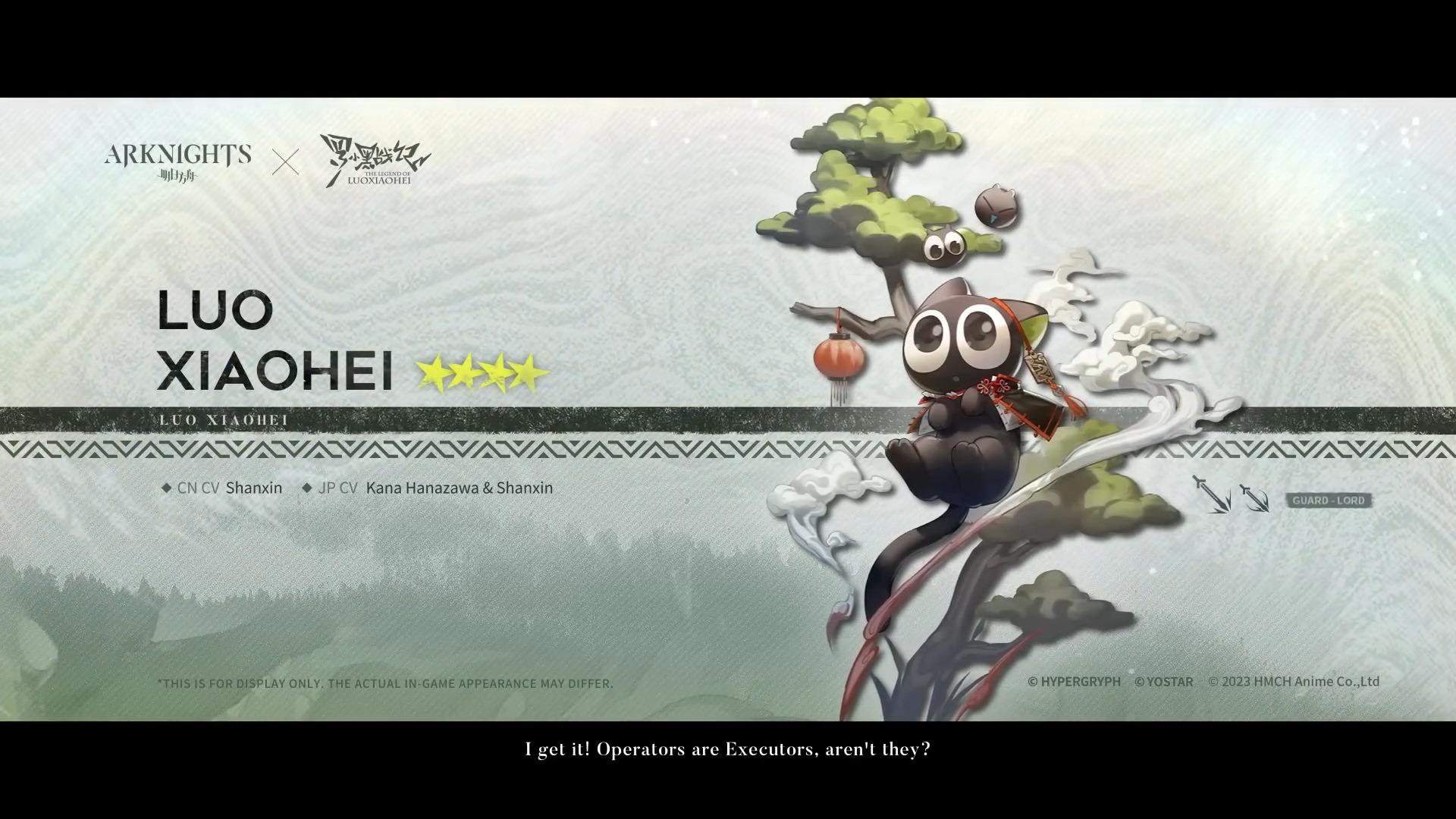 About The Legend of Luo Xiaohei
The Legend of Luo Xiaohei is a flash animation and webtoon developed by Chinese artist MTJJ. It derives from an animated series that was mainly broadcast online in March 2011. The story begins on a rainy night when Luo Xiaohei, a cat spirit, is badly injured after stealing Laojun's pearl artifact. As a result, he is transformed from his humanoid form to become a black kitten. He is then saved by a young girl named Luo Xiaobai, who takes him home. Luo Xiaobai and Luo Xiaohei become good friends and their adventure begins. They live in a world where people, spirits, and gods coexist.