Bandai Namco Entertainment Asia has announced the Nintendo Switch™ release for Ace Angler: Fishing Spirits in 2022.
This title, set in an aquarium-themed amusement park, represents a sequel to the global hit, Ace Angler, which was released in 2019 and had sold over 800,00 copies worldwide.
Apart from being able to play the famous Ace Angler arcade game in the comfort of players' homes in Medal Mode, the title also includes a wide array of other fun features.
Follow the quest to clean the world's oceans for a sustainable future in Story Mode, play aquatic-themed medal pusher games, enjoy multiplayer games like Gator Panic and Goldfish Scooping in Party Mode, and even wage online battles for the first time in the series.
Players can collect Medals in each of these games and aim to complete their aquarium by gathering over 250 types of fish that are available in the title.

Catch and Play in Marine Medal Mania
The game is set in Marine Medal Mania, an aquarium-themed amusement park
With a giant shark marking the aquarium at its centre, Marine Medal Mania is an amusement park featuring five fun attractions.
Players can enjoy playing in these five attractions by catching fish and playing games to earn Medals. These Medals can then be used to spin the Fish Gacha, which unlocks new species and will help players in their quest to complete the aquarium.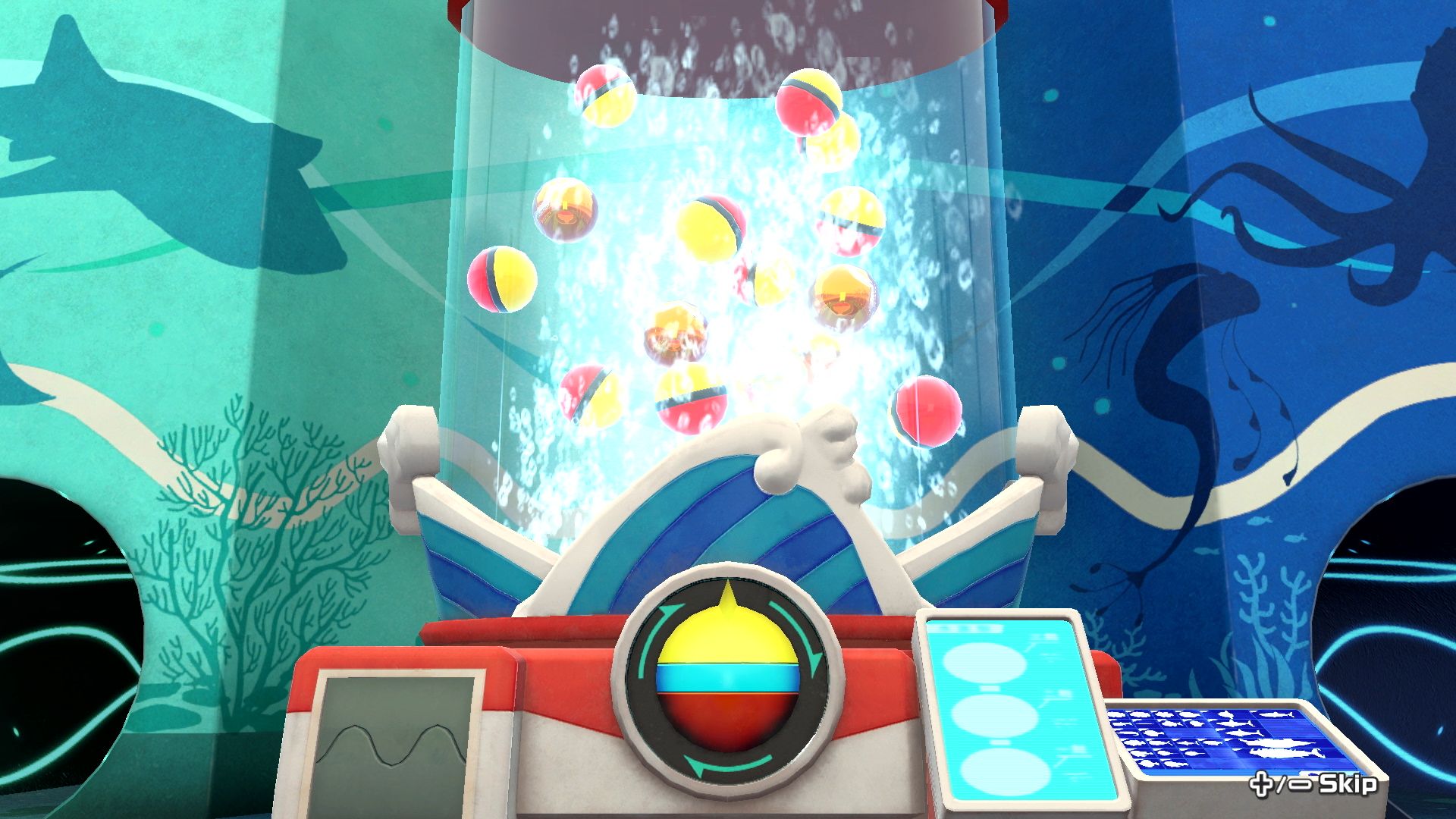 Marine Medal Mania's Five Fun Attractions
1. Ace Angler +, the Fishing Medal Game
This attraction allows players to play the famous arcade version of Ace Angler in the comfort of their own homes. Players can shake and spin their Joy-Con and feel like they're out on the ocean waves battling mighty marine monsters.
All stages that are available in the previous title will be included, as well as newly added arcade stages such as "Frog Pond" and "Ephemeral Maelstrom", and Nintendo Switch™ version originals such as the "Poison Flowerbed". A maximum of four payers can play this mode at once.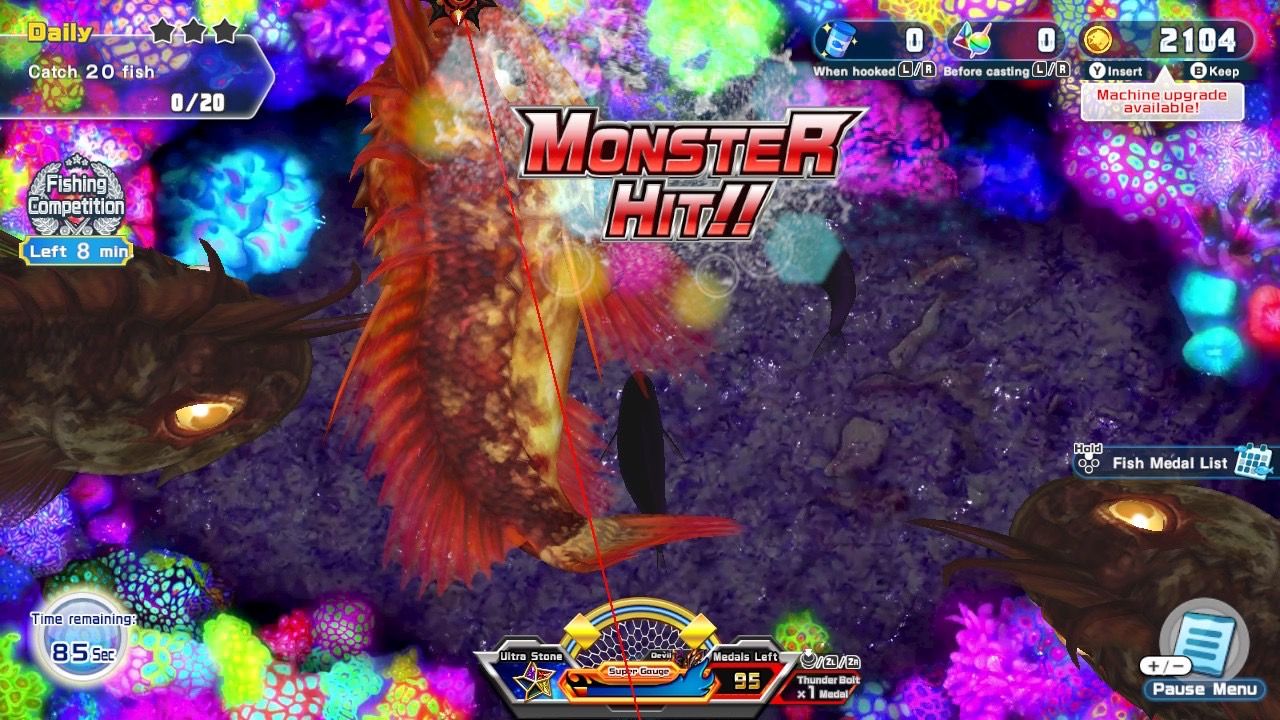 2. Story Mode: Legend of the Poisoned Seas
Players will use their fishing skills to rescue the oceans from the poison and garbage that threaten to ruin them forever. Travel across the globe in a grand adventure to save the oceans for future generations. Clear time-sensitive missions to advance through the story, as players learn fascinating facts about actual marine life.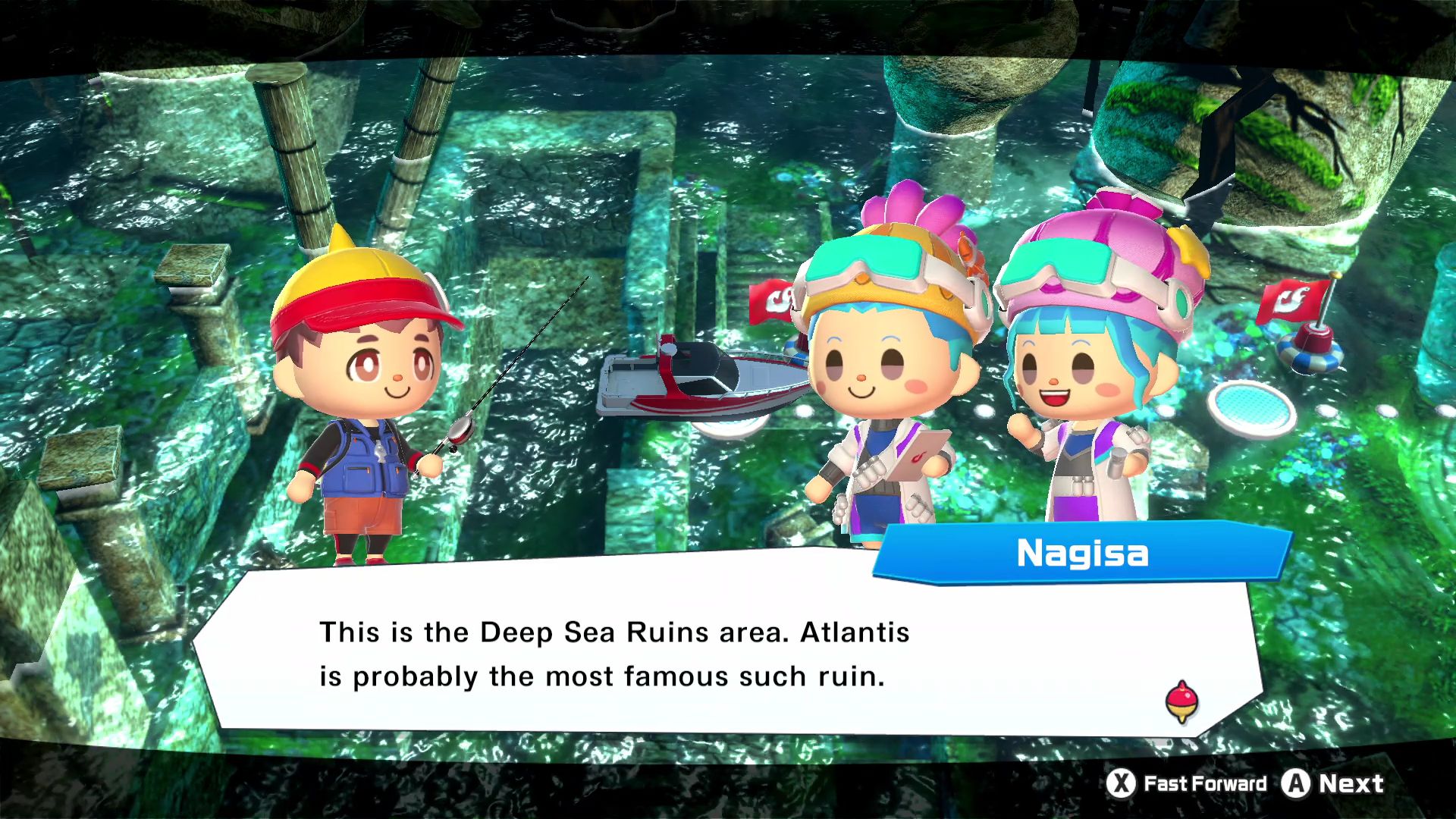 3. The Ultimate Online Angler Competition
Engage in fishing battles with rivals from around the world and play online matches with up to four people, collect stars for each victory the player earns, and aim to become the Ultimate Angler. Use Password Match to play against friends and family even when you are apart.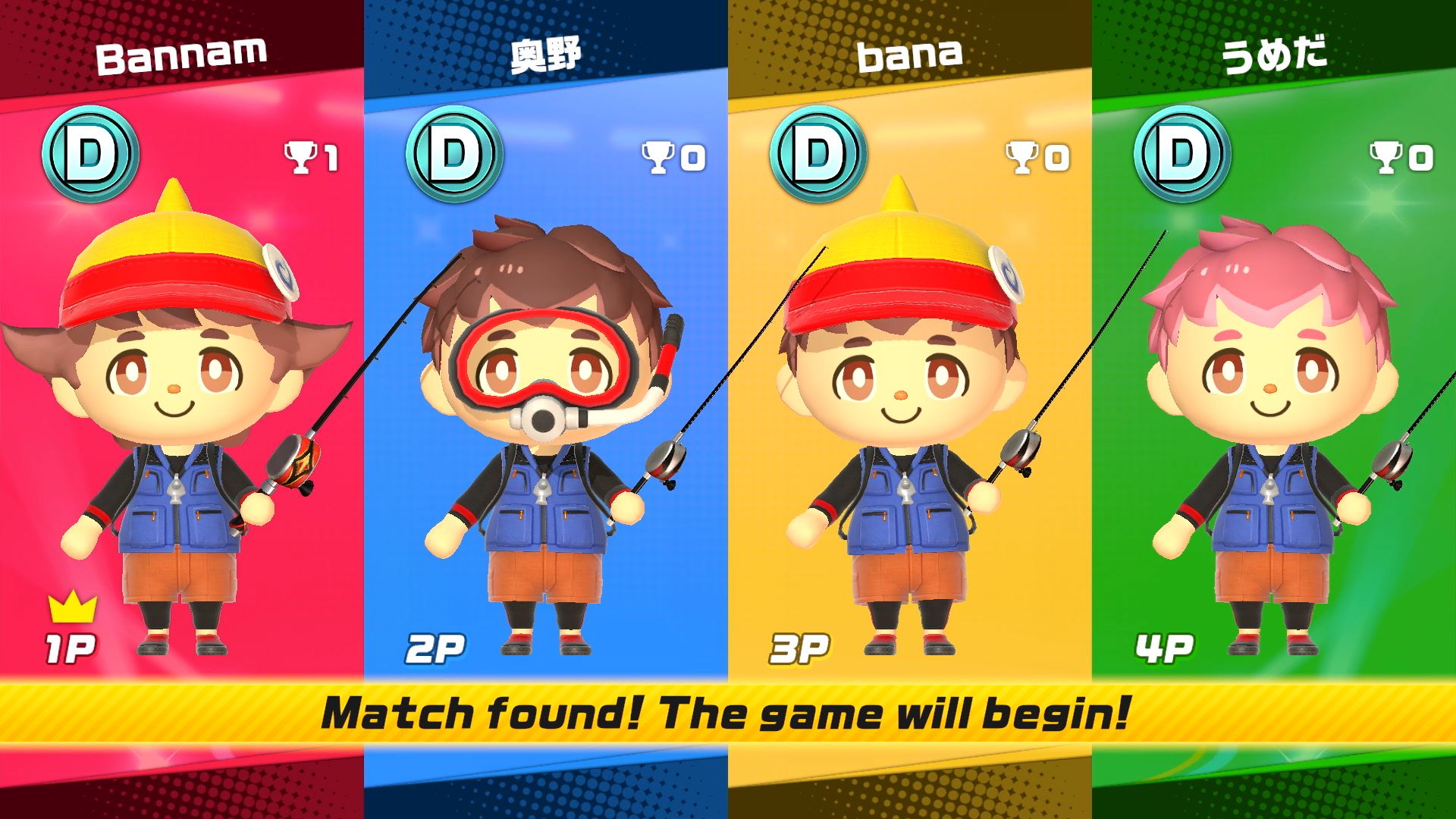 *A Nintendo Switch™ Online subscription (sold separately) is required to play "Online Mode".
4. Fishing Mini-Games: Ace Angler Party
Ace Angler Party features 12 marine-themed party games such as Gator Panic, Goldfish Scooping, and Harpoon Hunt. It also includes other fishing competitions in which players can compete to catch the heaviest or most expensive fish.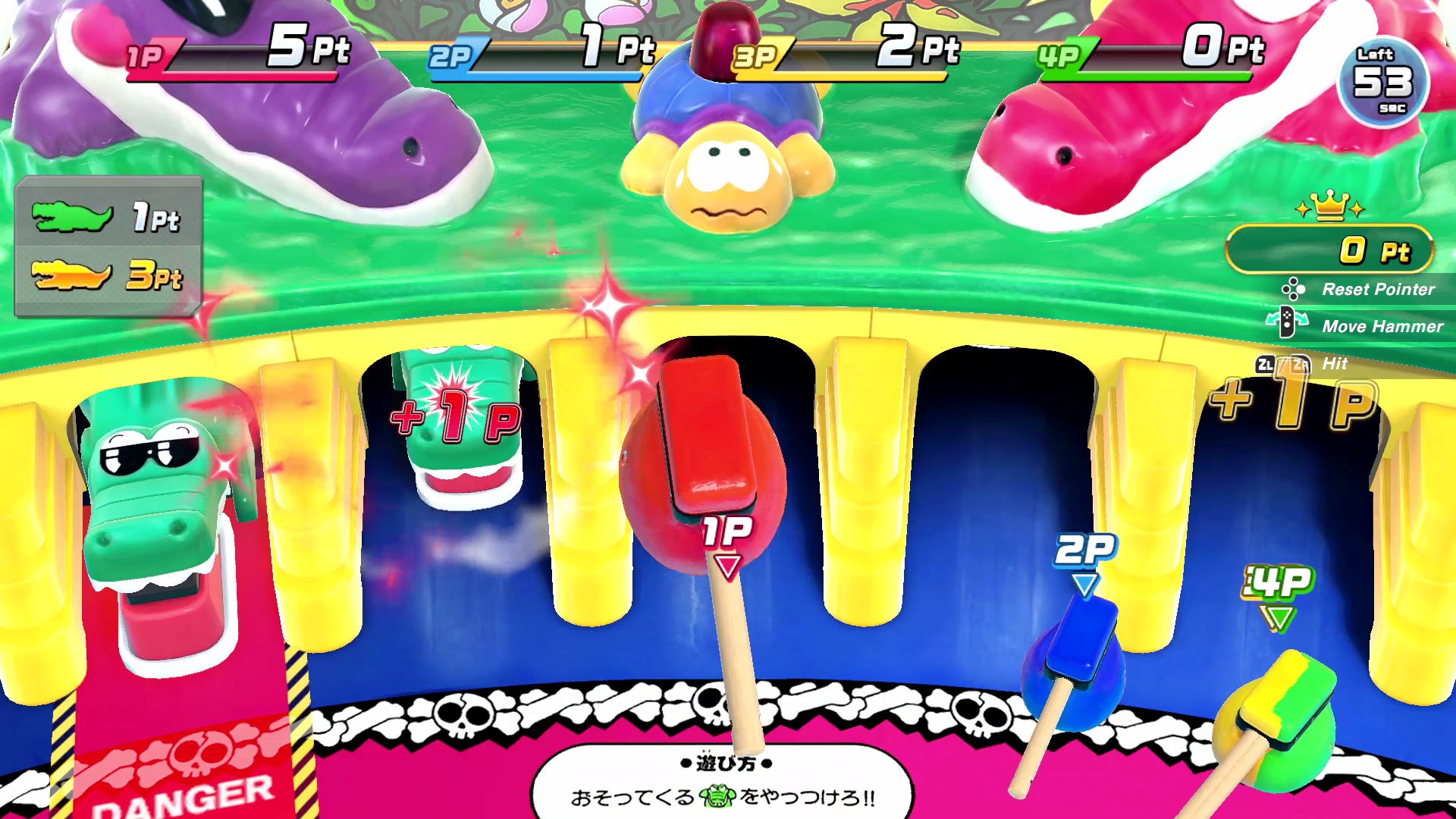 5. Medal Pusher Game: Shark Fever
This attraction is a medal pusher game, where players' ultimate goal is to scoop a huge haul by catching a great white shark! Knockdown 5 balls to trigger a Shark Battle and land the shark to scoop a huge haul of Medals.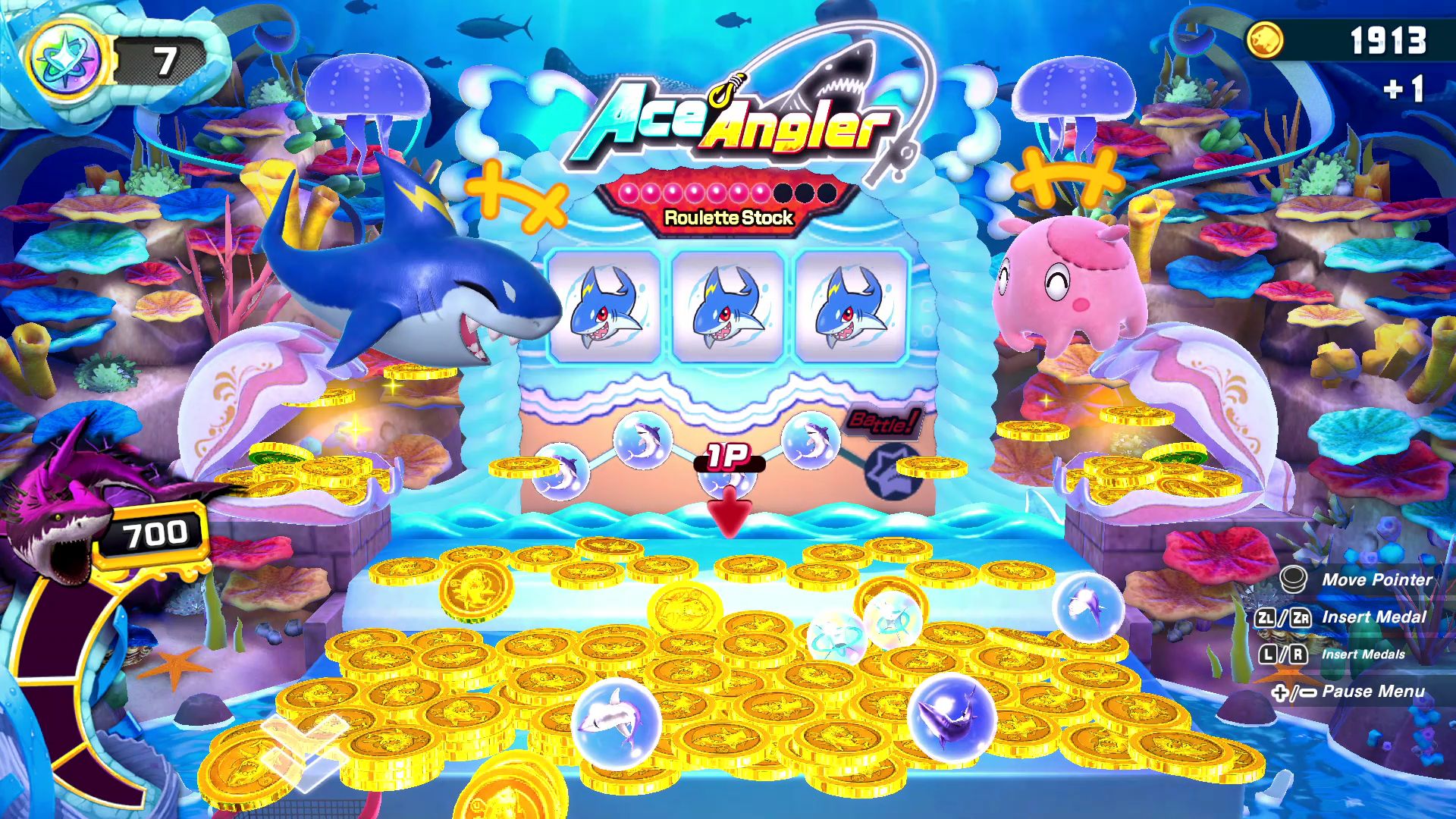 View the Fishes of Ace Angler: Fishing Spirits in Your Very Own Aquarium!
Players can obtain new fish for their aquarium by collecting as many Medals as they can and enjoy the unique experience of watching mighty marine beasts such as the great white shark and the giant squid swimming before their eyes.
There are more than 250 different species of fish to collect. Use the fish observation camera to inspect them at close range and learn all sorts of fascinating information about each species.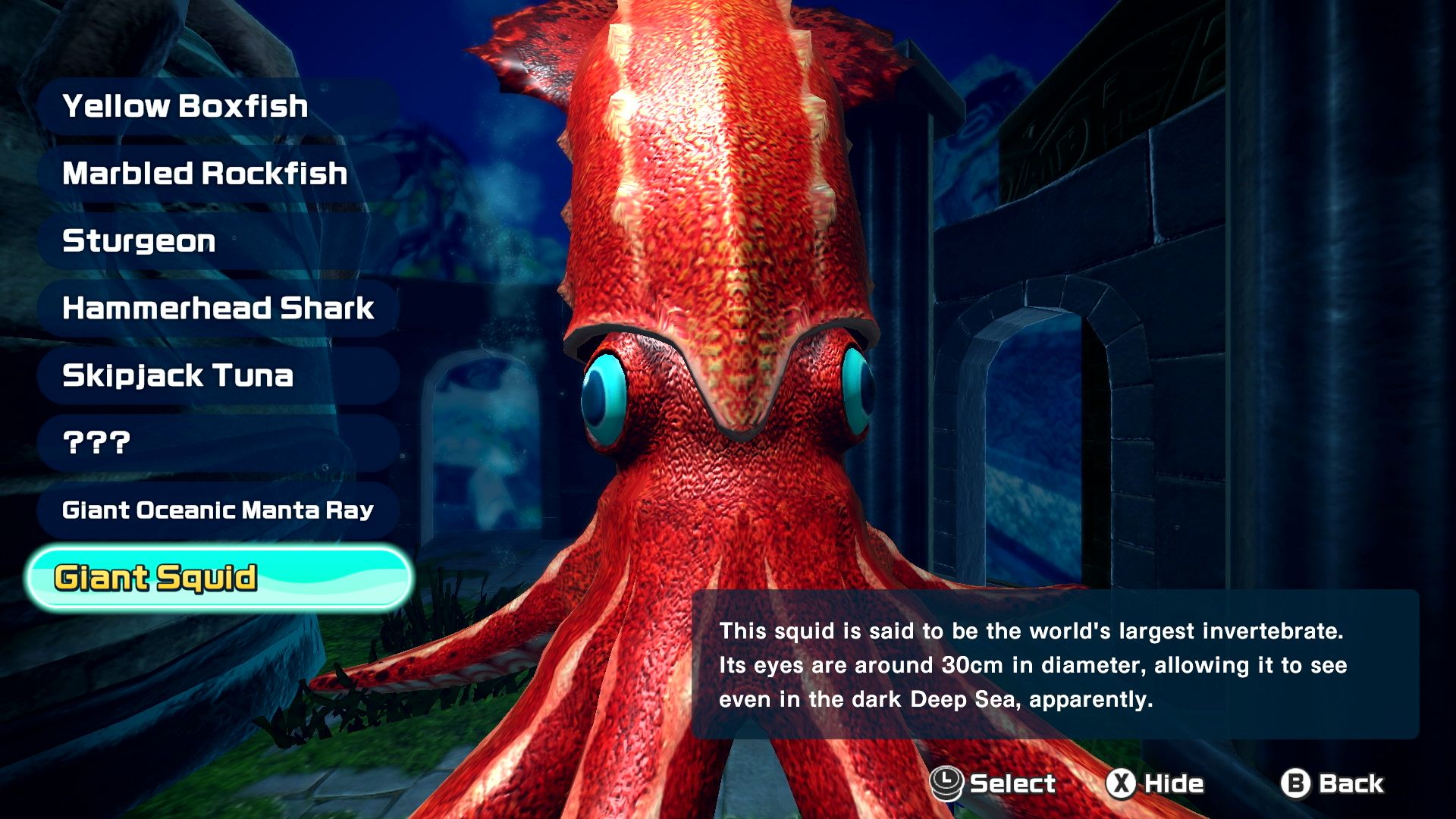 For more information on the game, visit the Ace Angler: Fishing Spirits website. The game is slated for a 2022 release on the Nintendo Switch™