Two point Hospital, a business simulation game has pointed out a new release date on August 30th 2018 for PC, Linux and Mac.
I know, we barely touch PC games however this is a one of those games, that I feel needs to be pointed out. Because it is a spiritual successor of Theme Hospital. Yes, the wacky characters, building sim like theme park game.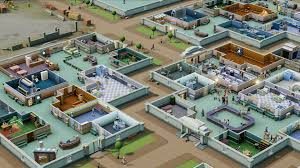 This non linear hospital game allows players to build a hospital from scratch within a limited space and manage it however they like. Design your own hospital in order to increase patients happiness and cash flow, from arranging trees, arcade, corridors, doors, training rooms, receptionist, cleaning staff all the way to research rooms. Death is possible as well with patients becoming ghosts, haunting the area which needs another specialist to exorcist the ghost.
The wacky humorous patients and illnesses will make a return with funny whimsical treatments.
Here's a new trailer of a few illnesses and a new trailer below, check it out:
Trevoe first illness
Trevor New illness
8 minutes gameplay