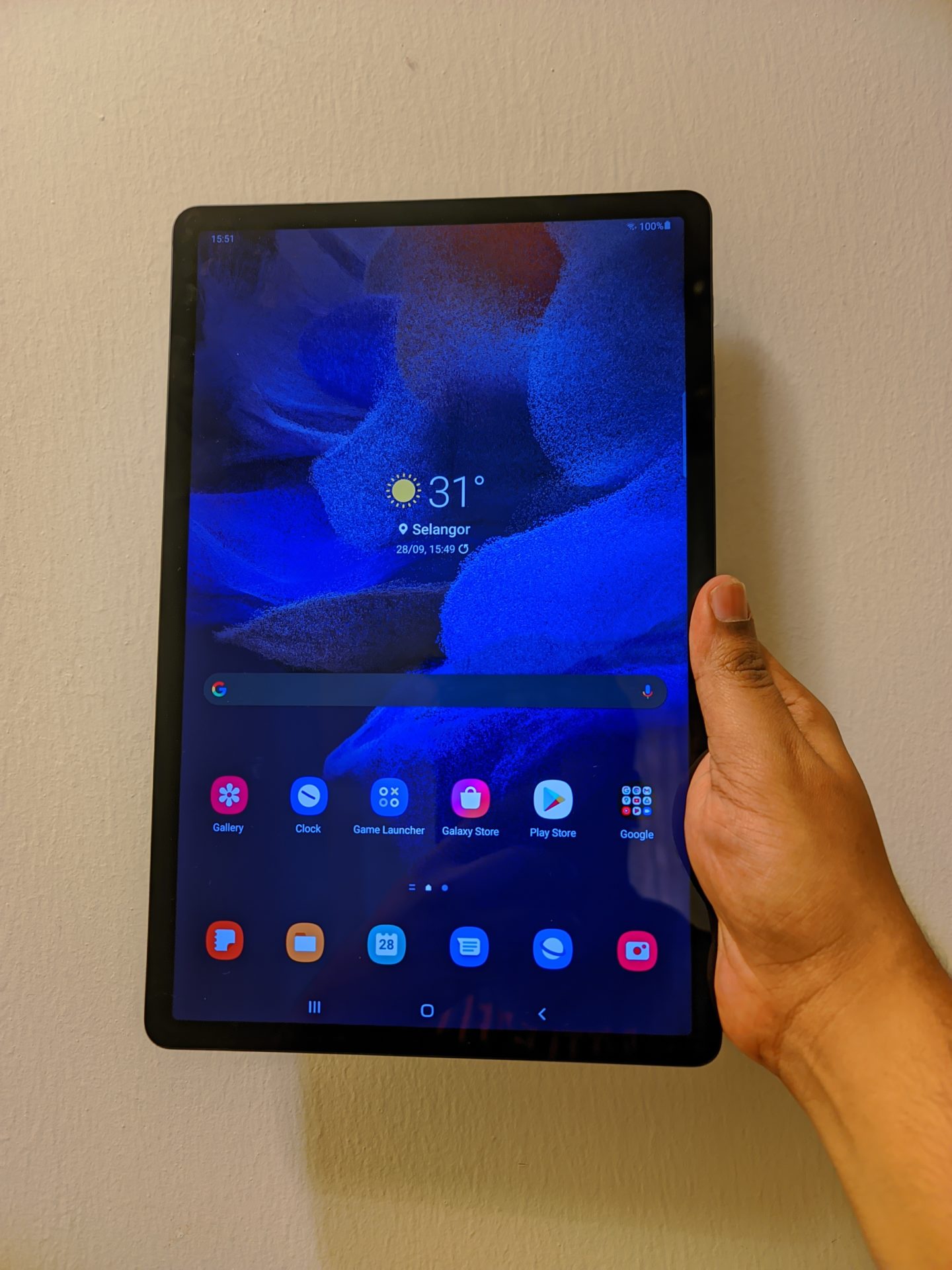 Samsung's tablet lineup has always been a mixed bag of interesting feature-filled devices. With the new S7 Tab FE, it has proven to be a step up in some cases when comparing it to the S7 Plus version. Bigger screen, a premium finish, Samsung Dex capabilities and the welcomed S Pen make this "Fan Edition" truly a version someone would look for when it comes to the new generation perks. But, at what cost? let us take a look at where Samsung made sacrifices in order to make the FE the more affordable and appealing tablet to regular consumers.
As for tech specs go, here they are:
Display: 12.4 Inch TFT Screen, 1600x2560px resolution, 14.4:9 aspect ratio, 243ppi
Chipset: Qualcomm SM7225 Snapdragon 778G 5G (8nm): Octa-core (2×2.2 GHz Kryo 570 & 6×1.8 GHz Kryo 570); Adreno 642L.
Memory: 64GB 4GB RAM, 128GB 6GB RAM, 256 GB 8GB RAM; microSDXC (dedicated slot).
OS/Software: Android 11, One UI 3.1.
Rear camera: 8 Megapixels
Front camera: 5 Megapixels
Video capture: Rear camera: 1080p@30fps; Front camera: 1080p@30fps.
Battery: 10090mAh; Up to 45W Fast Charging
Misc: Accelerometer, gyro, proximity, a compass; Samsung DeX functionality.
Being priced below the more premium tablet models, it is expected for the S7 Tab FE to have mid-range level specifications, especially with the chipset. Samsung also has cut corners when it came to the screen type, which is now an LCD screen, rather than the usual OLED screen we see on more flagship-level devices.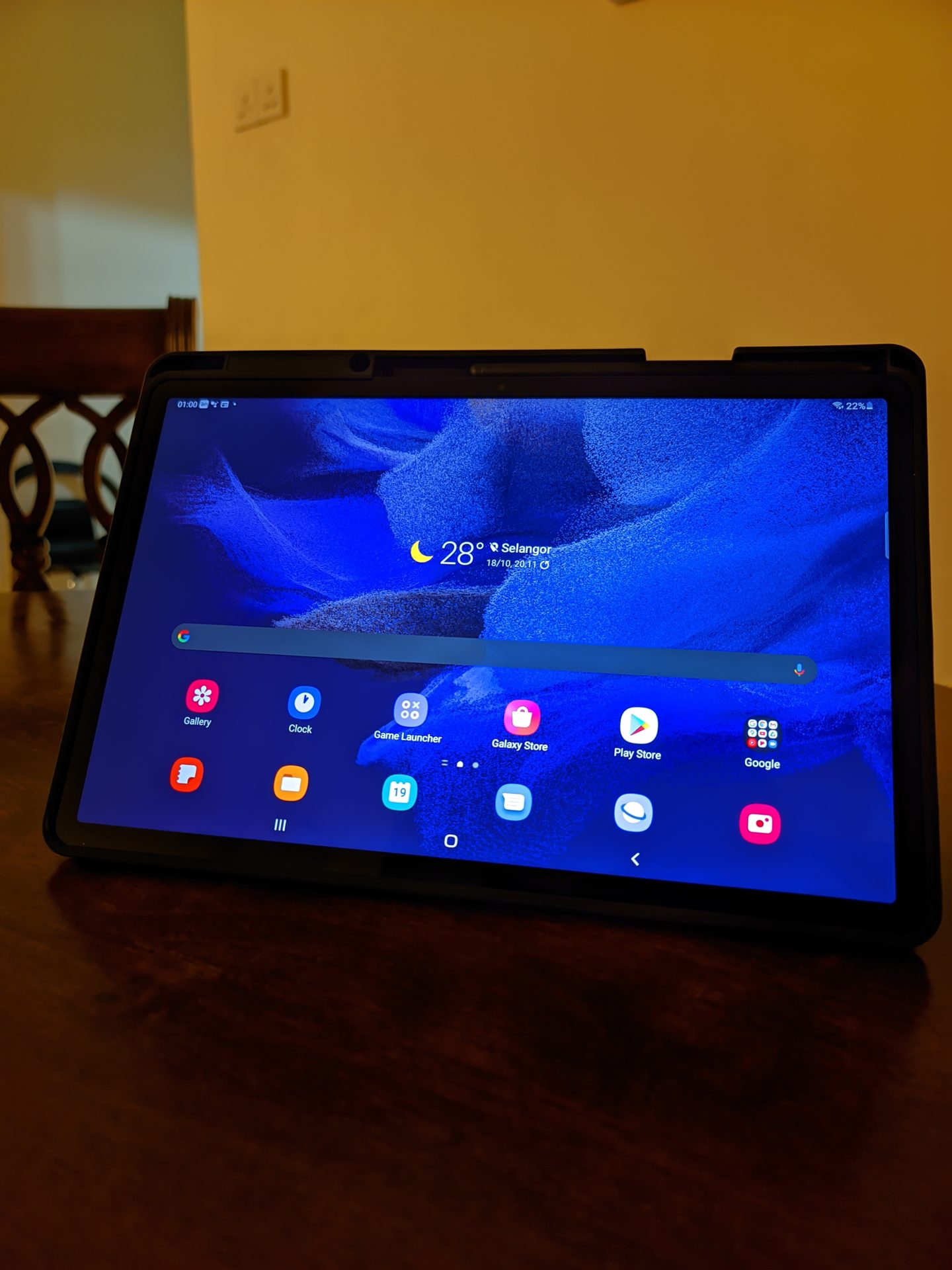 Boasting a 12.4-inch screen, the tablet is perfect for daily media consumption, providing good screen aesthetics, clarity and also with the option for widescreen support based on the application the user is currently in.
Build quality is also a tad better than its brothers. With an aluminium chassis around it, the premium feel isn't far off when handling this tablet. Also, the aluminium body allows the S Pen to magnetically attach itself on the side of the device, making carrying around the S Pen that much easier.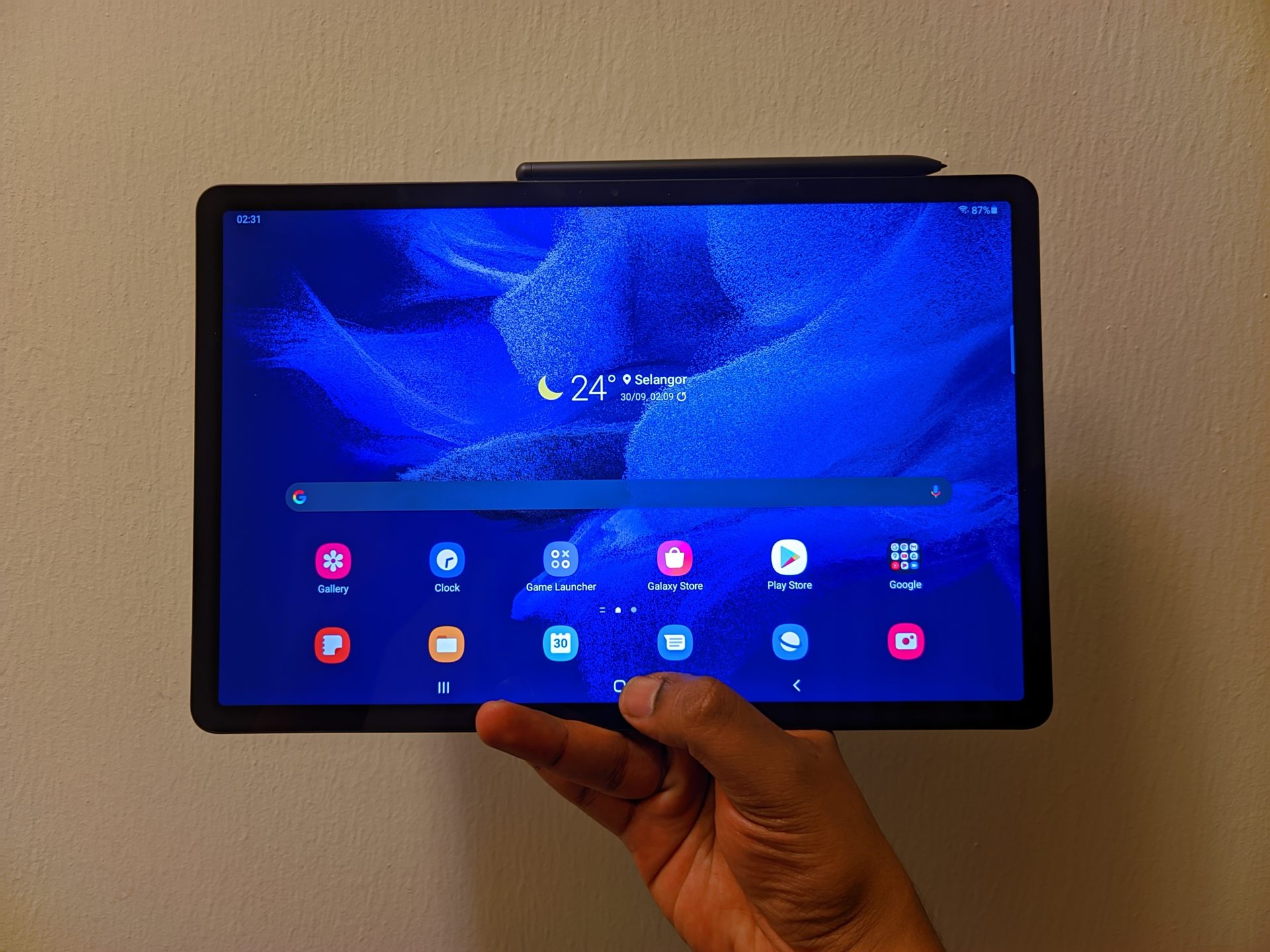 The absence of a fingerprint scanner does mean that unlocking the device is strictly reliant on either on-screen unlocking methods or via face detection. The face detection can be a little finicky depending on lighting situations.
Built For The Mainstream Consumer
Mainstream consumers are always on the lookout for devices that can seamlessly make their daily tasks better and that much more enjoyable. Bigger device screens make media consumption that much better, and the Tab S7 FE has 12.4 incher that doesn't disappoint!
Unlike the Galaxy Tab S7 Plus, the FE has a standard LCD screen instead of a Super AMOLED panel. The resolution of 2560 x 1600 pixels is the same, which still makes the text look very sharp.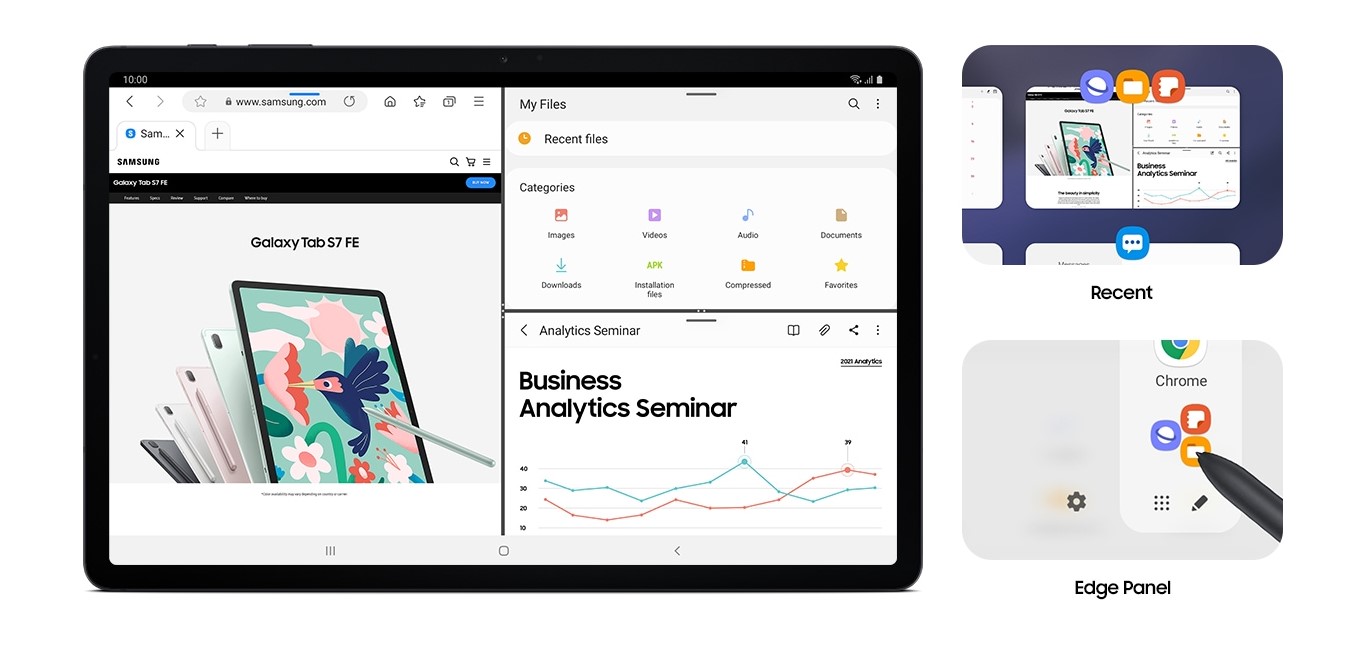 Contrast also may be on the lower side with a darker brightness level compared to the Galaxy Tab S7 which also uses an LCD screen. Screen refresh rate also seems to be a feature Samsung cut from the FE version to the dismay of many, which means animations and transitions won't look as smooth as they should in 2021. Then again, the tab does fit the bill when looking at its price compared to the more advanced and more expensive options. This won't be a dealbreaker for the average media consumer.
Coupling the great screen is the greatly paired speakers that come on both its side. Though 2 fewer speakers when compared to the 4 speakers on the S7 Tab+, the FE version does still sound good even with the volumes all maxed out. Some games and application jingles might cause some distortions though, do take note. I personally have not had the tab's volume maxed out and it still sounds good as it is.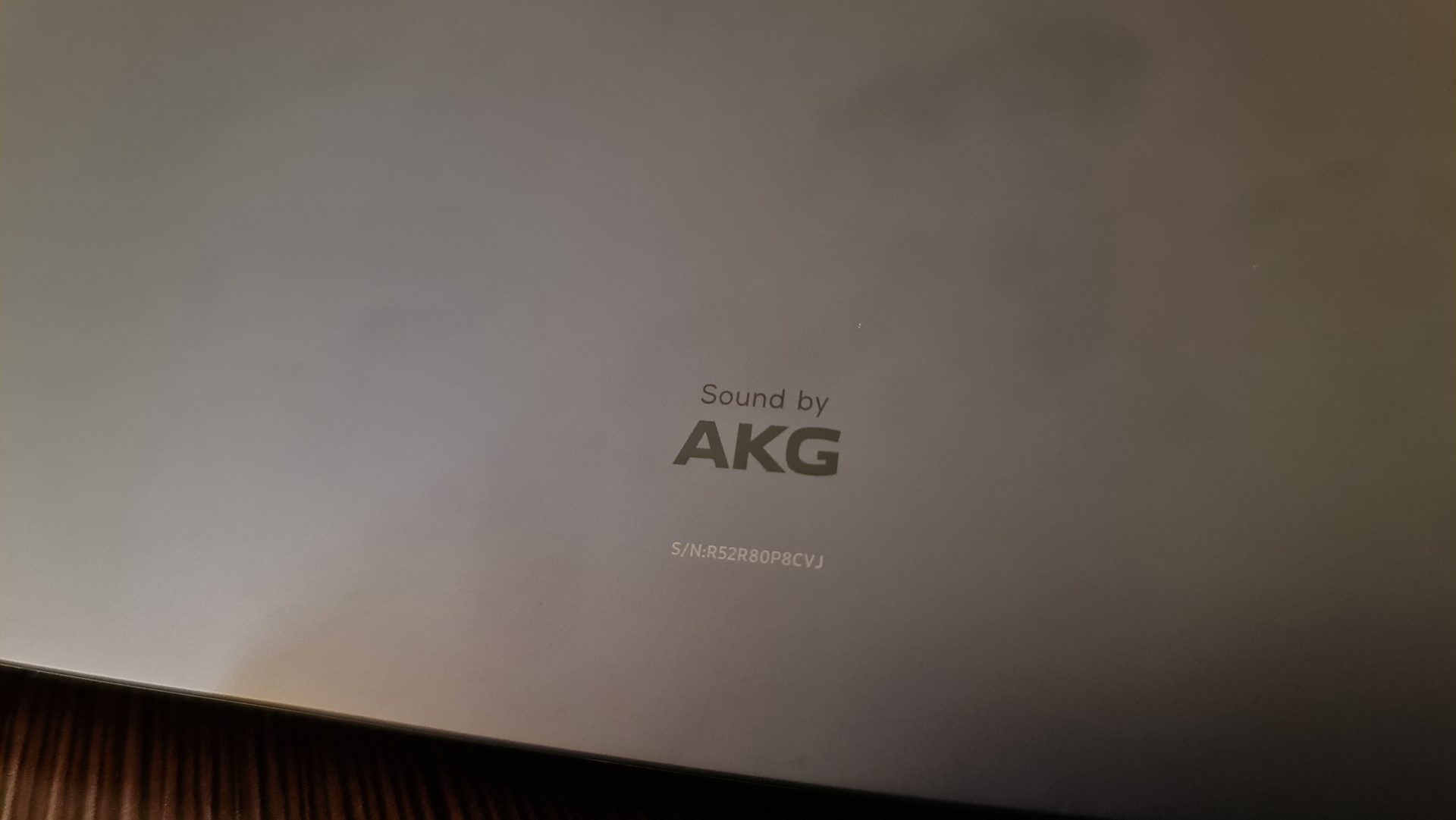 Cameras Are Hit And Miss
The cameras on tablets have always been a hit and miss issue when it comes to quality and versatility, and the FE version is no exception to this. with only an 8 Megapixel shooter at the back, there's limited potential when it comes to photography on this device.
Daylight photos are decent, given proper lighting conditions. As the surroundings dim and darken, the camera struggles to collect as much light as possible with the limited capabilities of the main sensor's aperture system.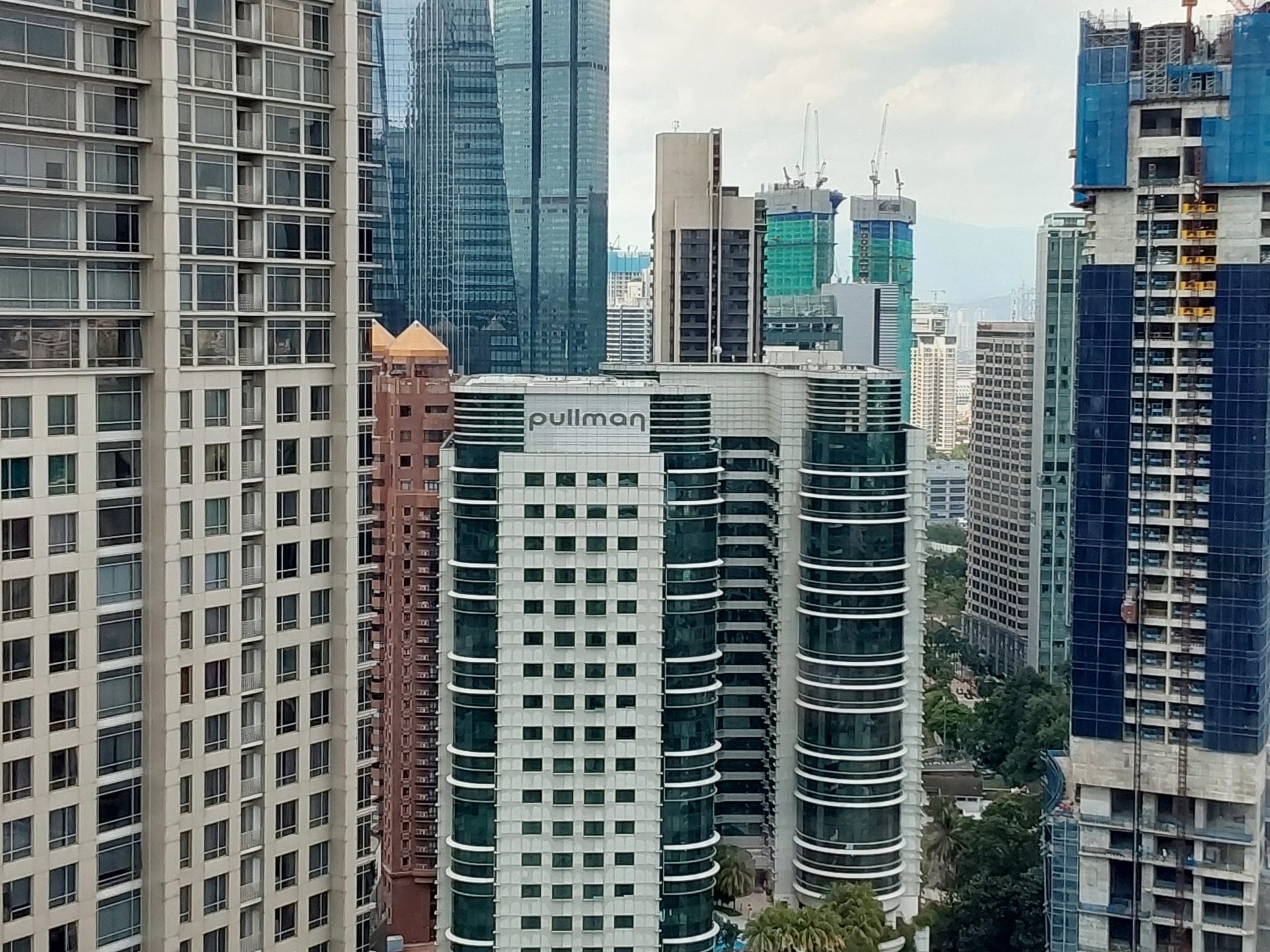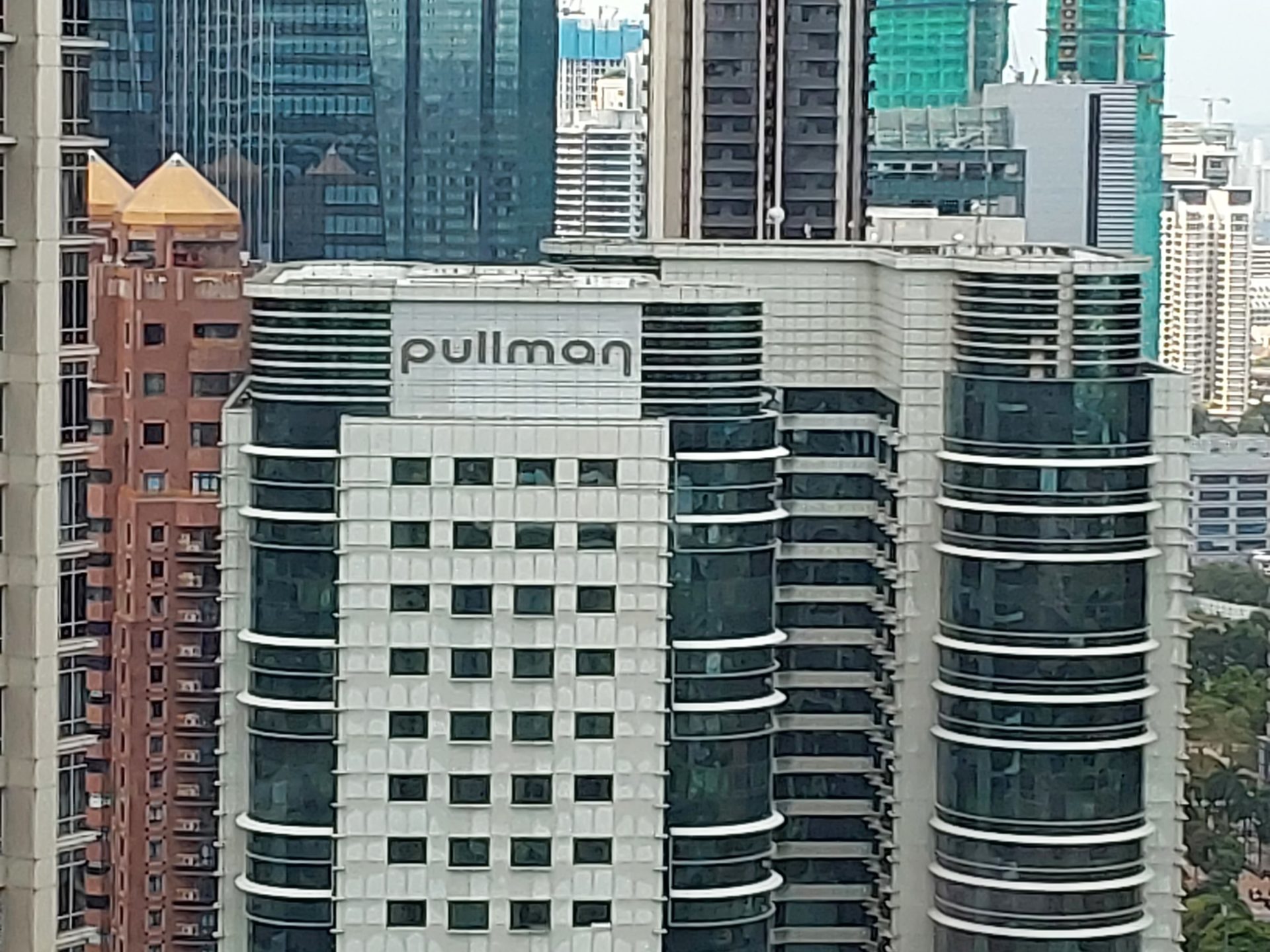 Samsungs dedicated Night Mode does help a little to capture that little bit of light available in slightly dimmer conditions. Dont expect to be snapping perfectly conditioned night mode photos with the FE tab. Honestly, I'm pretty sure whatever smartphone you have in your pocket right now would probably do a better job taking photos than the tablet itself. Would probably stick to photos with the FE tab only when absolutely necessary only.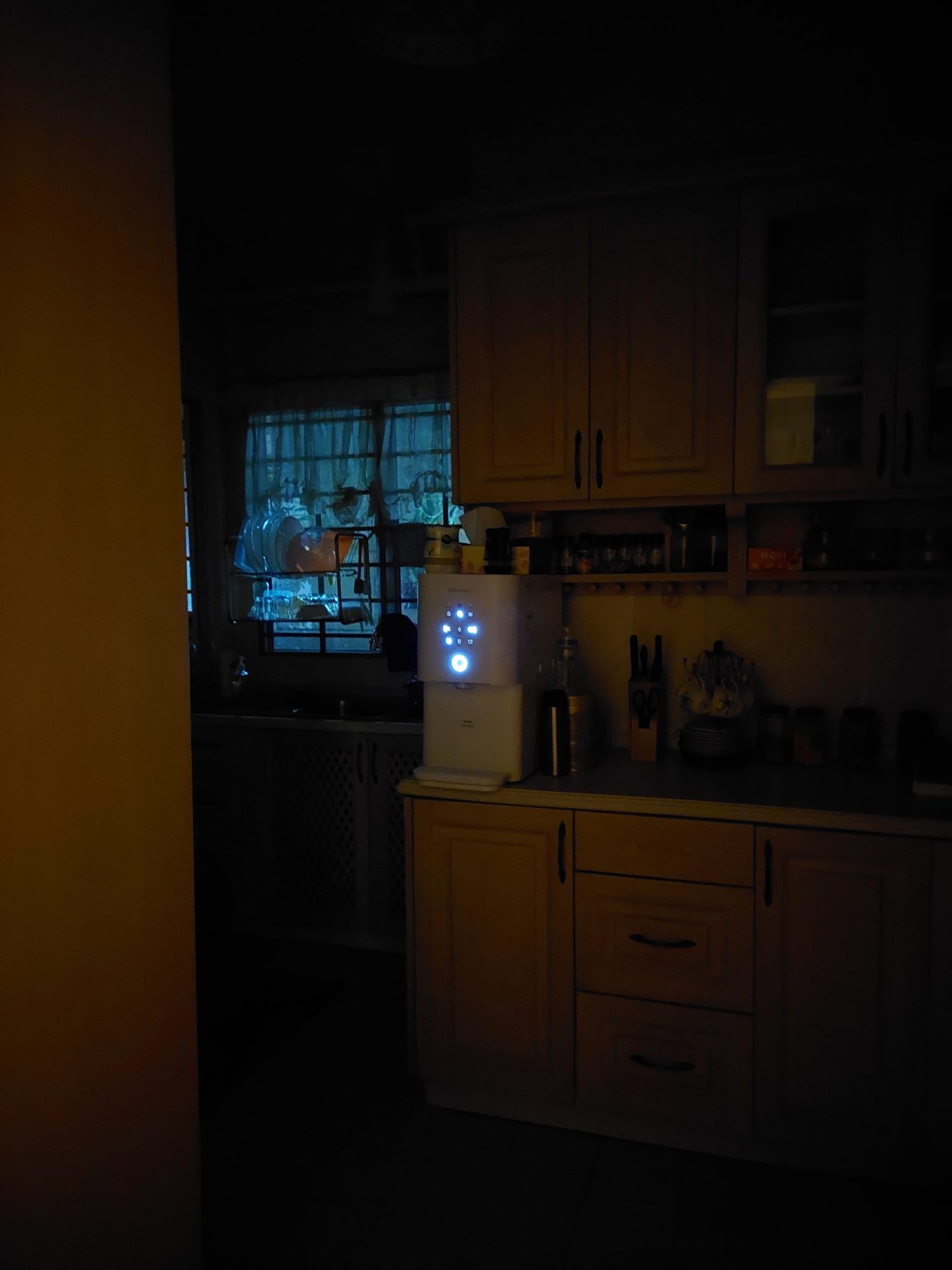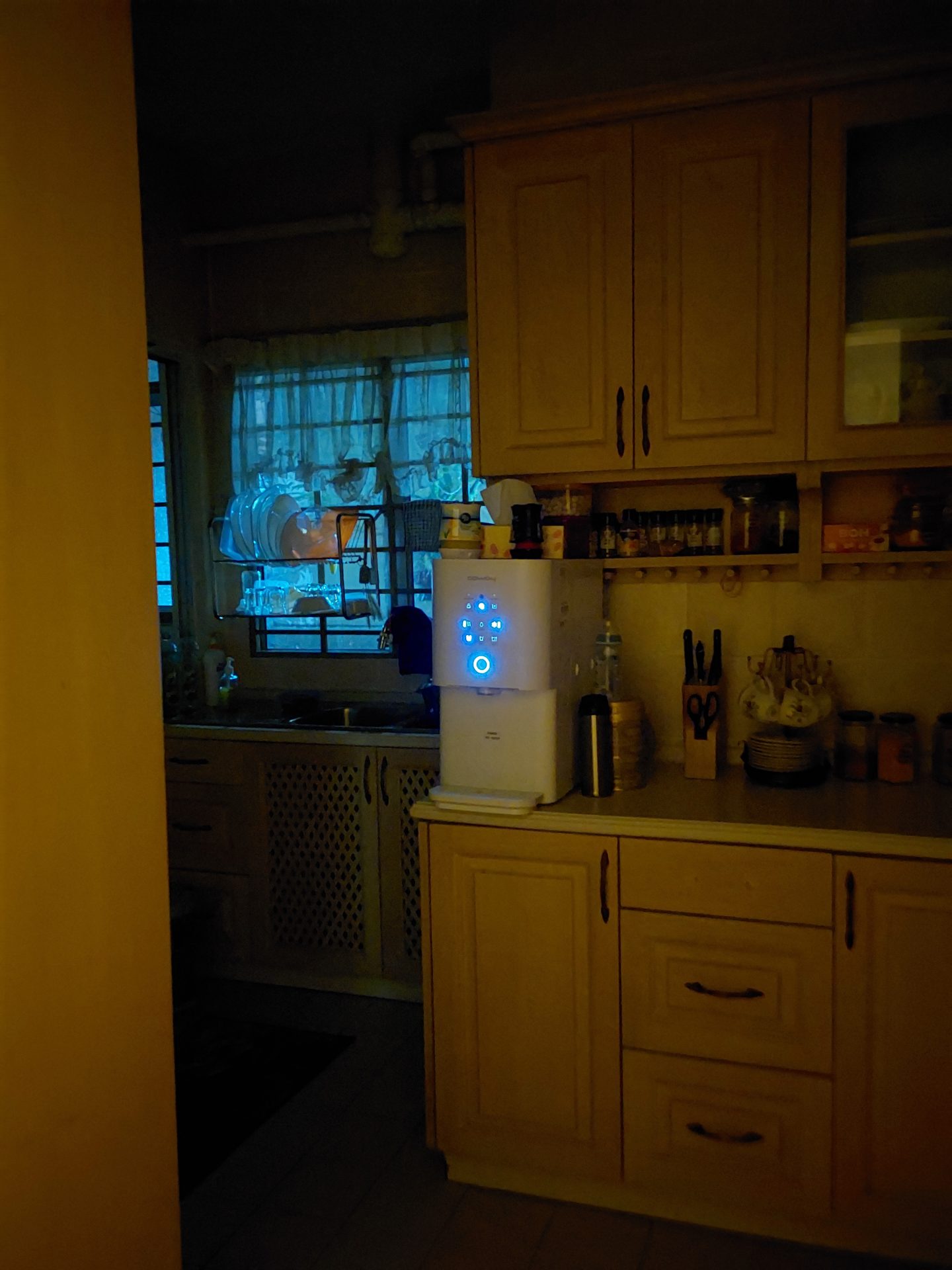 The front camera does an adequate job of taking selfie shots. Again, in good lighting conditions, the camera would get the job done. Widen your selfies with a tap of a button to fit more people into your shots (digitally cropped in and out). Testing the front camera for video conference calls is what the camera was made for.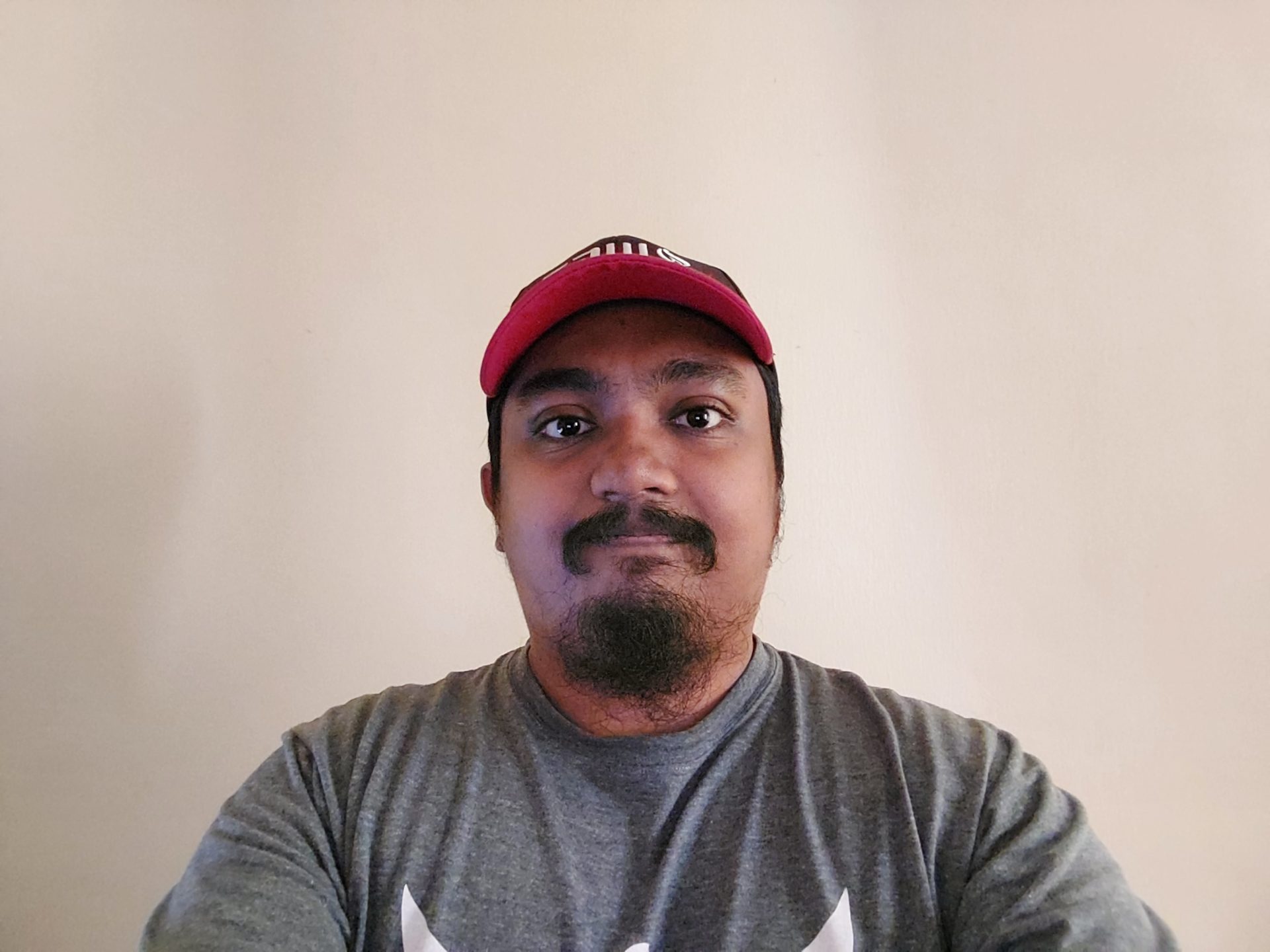 As the camera is mounted on the side of the device, placing the tab in a landscape orientation gets the most out of the features of the application and make full use of the front-facing camera.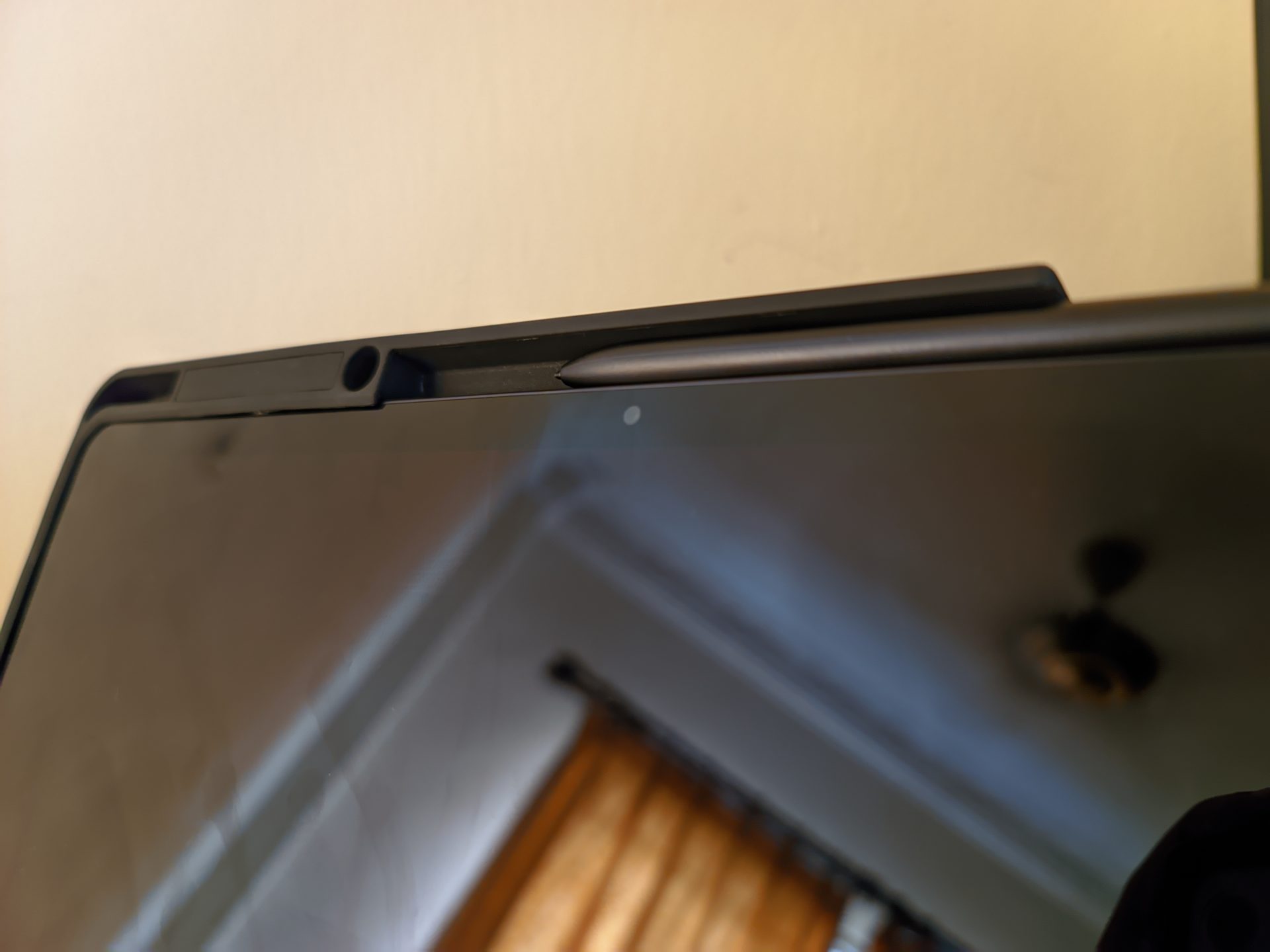 S Pen Compatibility Paired With Multitasking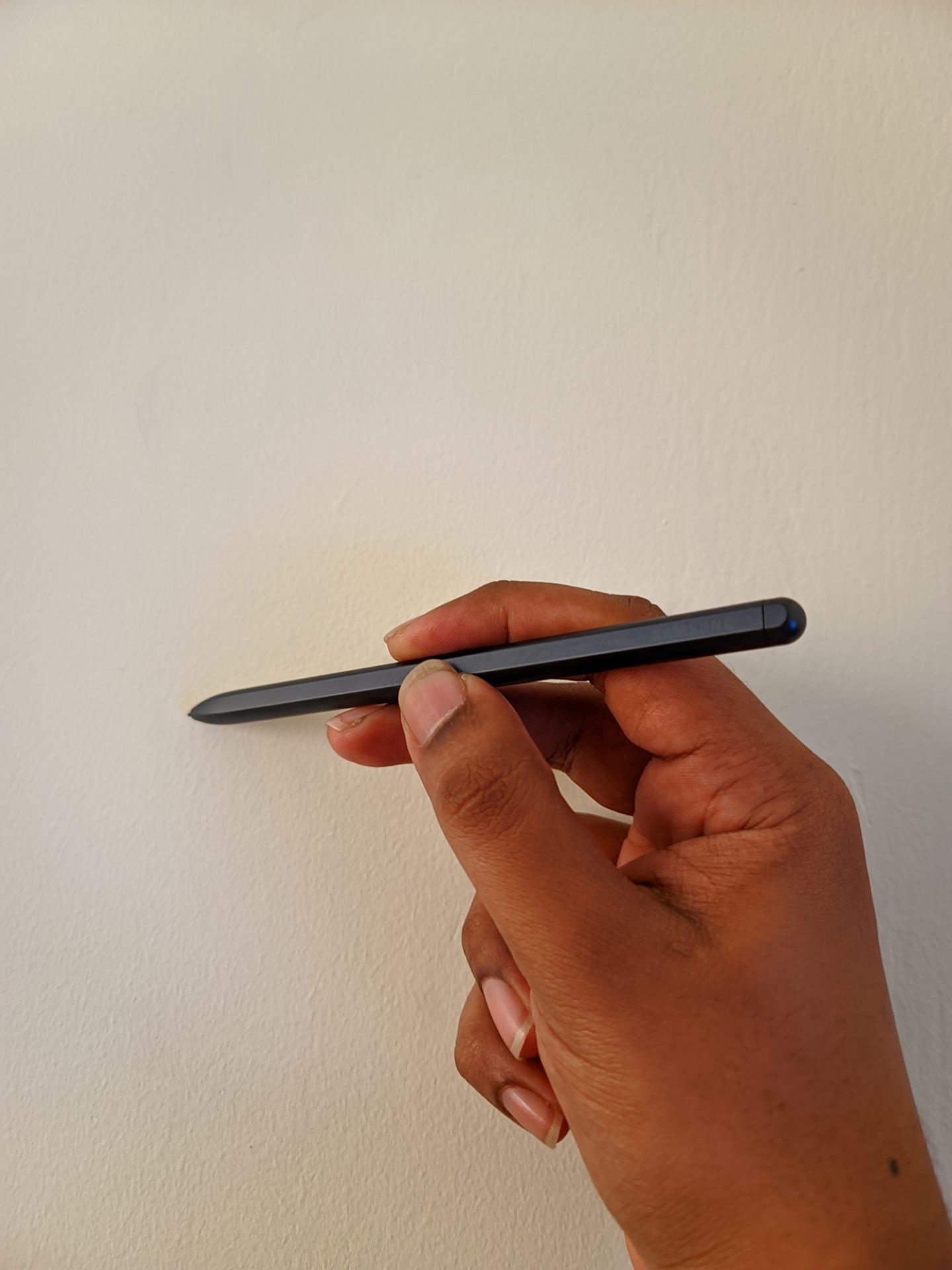 The S Pen features are where the FE Tab shines. Like the other tablet series, the S Pen is included, so you don't have to buy it separately. At first sight, it looks identical to the pens for the S7 and S7+. Since all S Pens are interchangeable, you can use the stylus for the S7 FE with the S7+ and the other way around. I love how Samsung has made it easier to connect within the ecosystem of other devices with the S Pen.
The sole difference between these S Pens is that the FE's version doesn't have a built-in battery inside, so air gestures are out of the question. You won't miss it though, as I personally dont use air gestures as much and usually just make full use of what the pen is capable of on-screen. With the case I got for the FE, the S Pen has a special housing at its magnetic base and also a holder area for when you are using your tablet in landscape mode.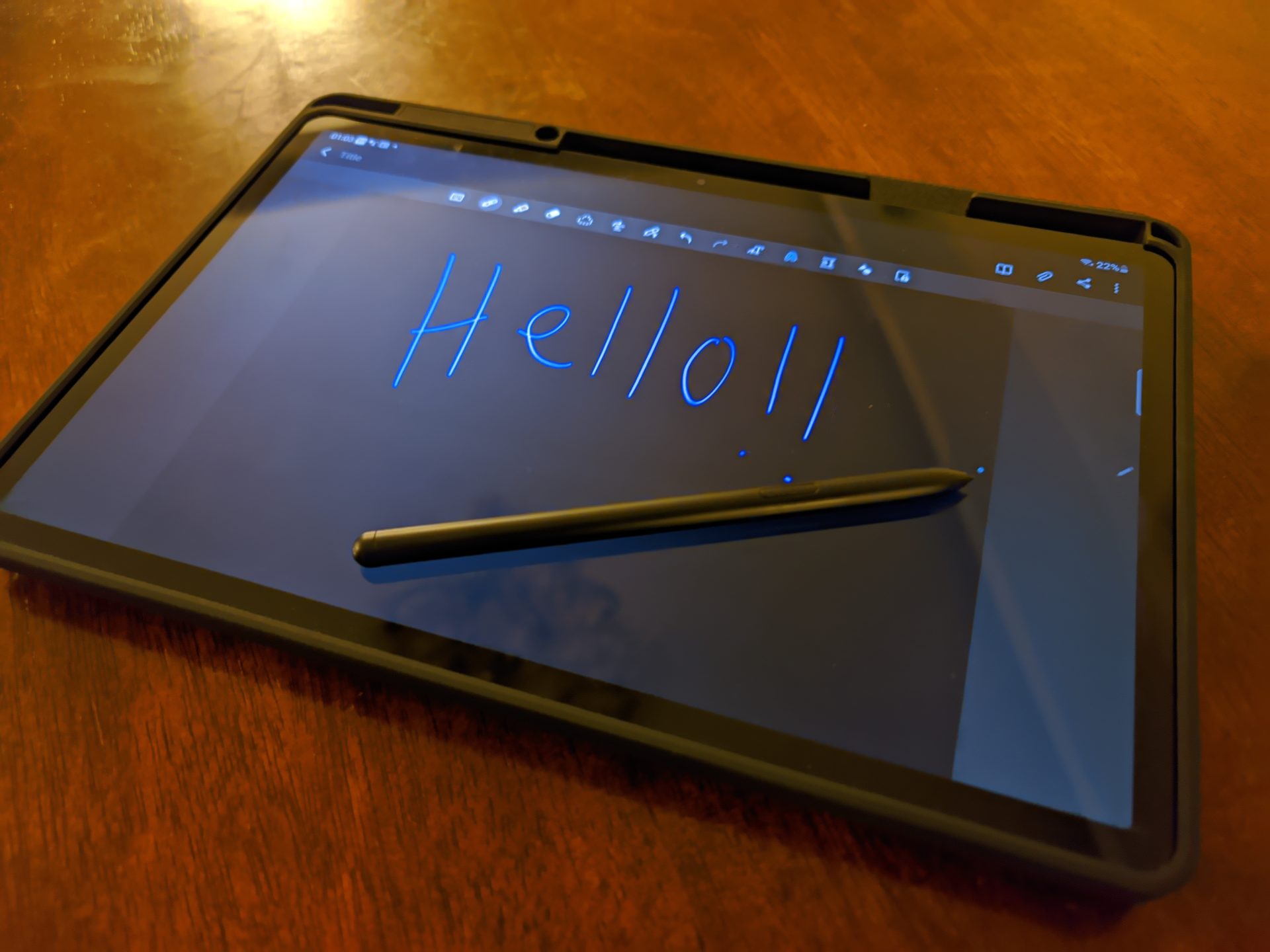 Overall the best feature of the S Pen is the writing and drawing prowess. The low latency time for when the pen touches the screen and tab registers the touch is significantly low, so it feels almost as good as writing/drawing on paper. That added "pencil scratch" sound when your writing or drawing, makes the experience even more believable. This will be a nitpick from me, but since the screen only offers a 60hz refresh rate, it kind of feels like your drawings dont animate fast enough when compared to a flagship device. But that's just me.
Multitasking is also a great key aspect of the FE tab. Having the ability to open up to 3 apps simultaneously via split view makes it all the much easier to take down your notes, paying bills and banking purposes and whatnot. Coupling the multitasking with the S Pen, jotting down notes directly onto your documents as you refer to another app has never been easier.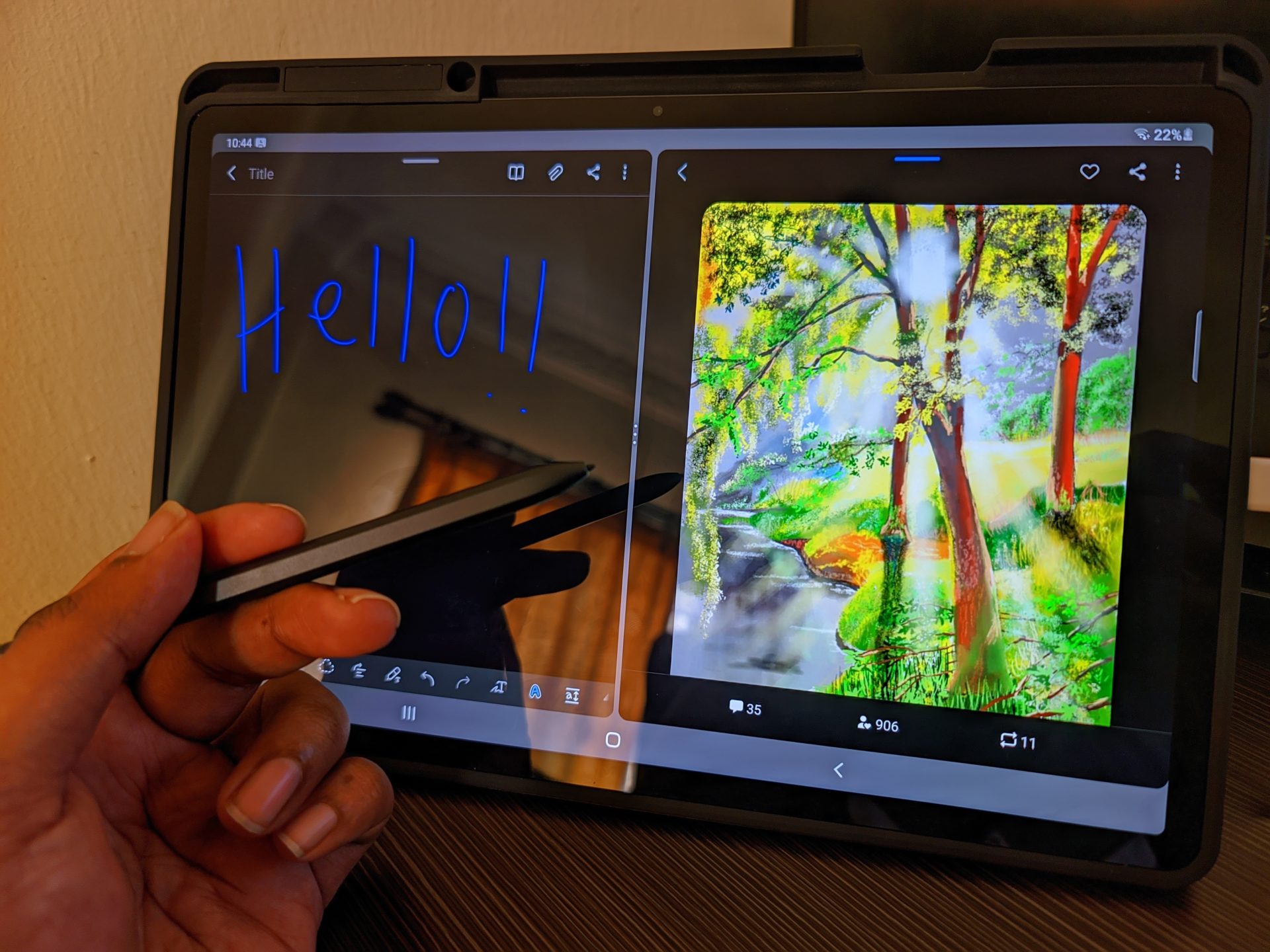 Also present in the FE is the Samsung Dex compatibility, where users can turn their tab into a working laptop. With connectors at the side for an external keyboard, turning on the Dex feature lets the user command the tablet in a more laptop-style layout. Given the screen aesthetic, it's perfect for an on-the-go work device given the right apps are installed for work purposes.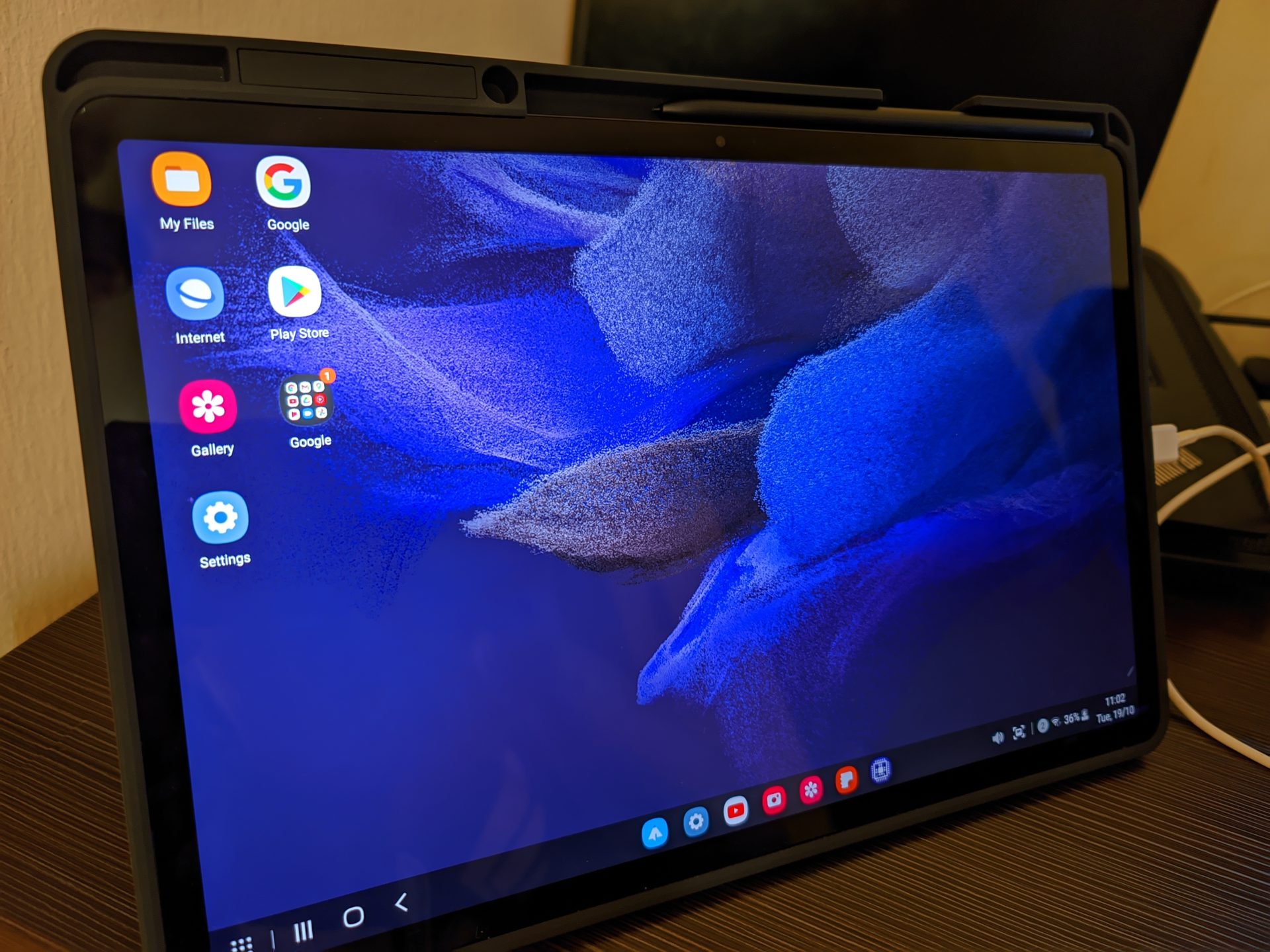 Performance And Internals That Could Have Been Better
Seeing how the previous S7+ had beefy specs packed into it, I wished they would have maintained the same chipsets in the FE, but I guess that was just wishful thinking. The price point for the FE tab means that it would retain mid-tier level internals which is definitely able to cater to many. But maybe for the eagle-eyed enthusiasts, many things will look dumbed down and less appealing.
Sporting a Qualcomm Snapdragon 778G paired with an Adreno 642L, performance is alright when it comes to daily tasks and media consumption. Gaming on the other hand is pretty sluggish. Seeing how this chip combo is an average performer when it comes to gaming on a smartphone, expect it to perform a little slower knowing that it needs to push out those frames and details on a much bigger screen. You can pretty much get away with regular gaming, just dont expect high framerates coming your way on this device.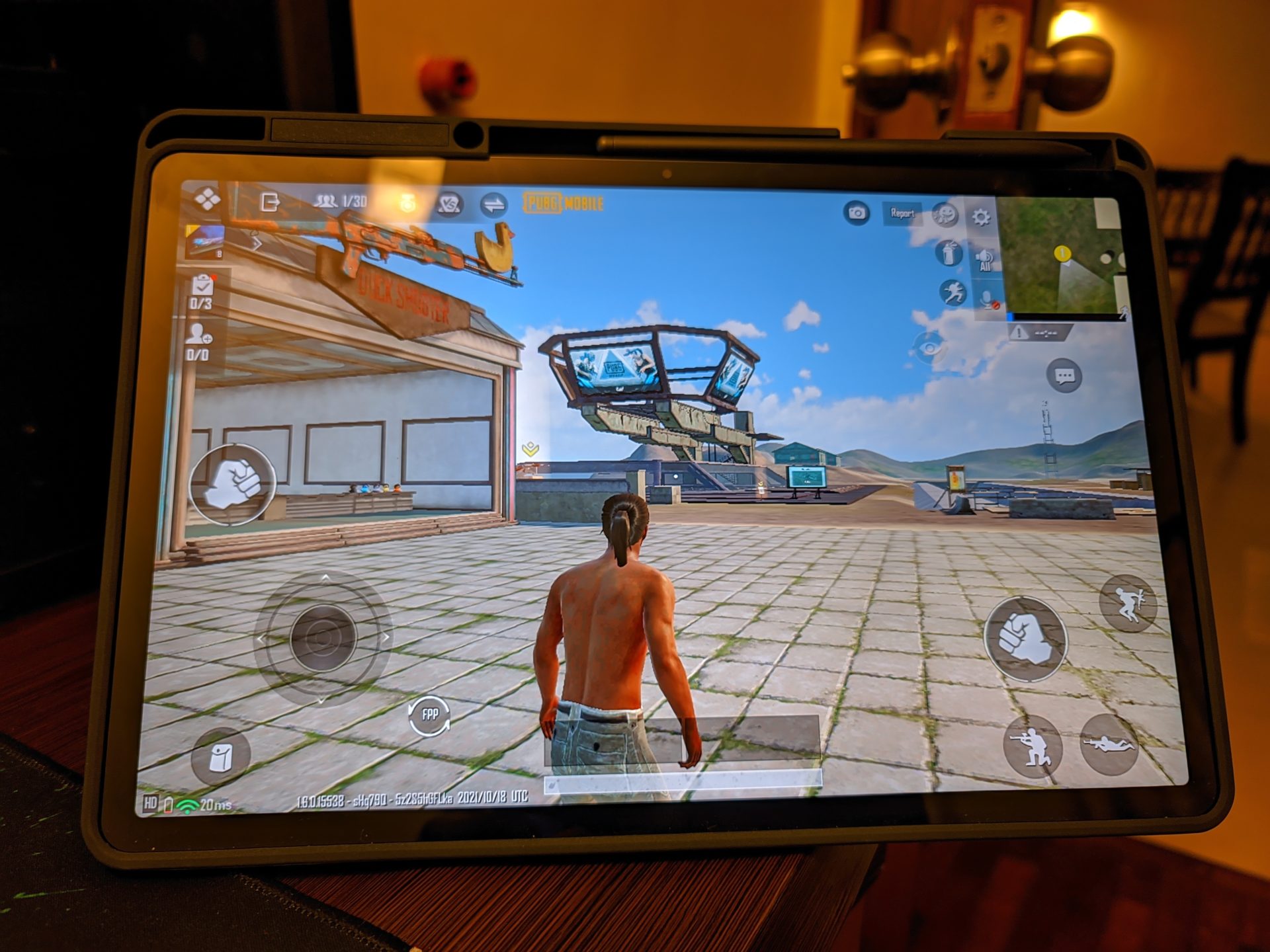 The battery life on the other hand has been pretty much stellar for me. This tab personally to me has been one of the few tabs I've used in many years and coming from how long smartphones last, this FE tab is basically a marathon runner with a capacity of 10090 mAh. Up to 7 hours of screen on time while having videos played, and a standby time of up to 7 days. You won't have to be looking for a charger very much especially if you are a light user.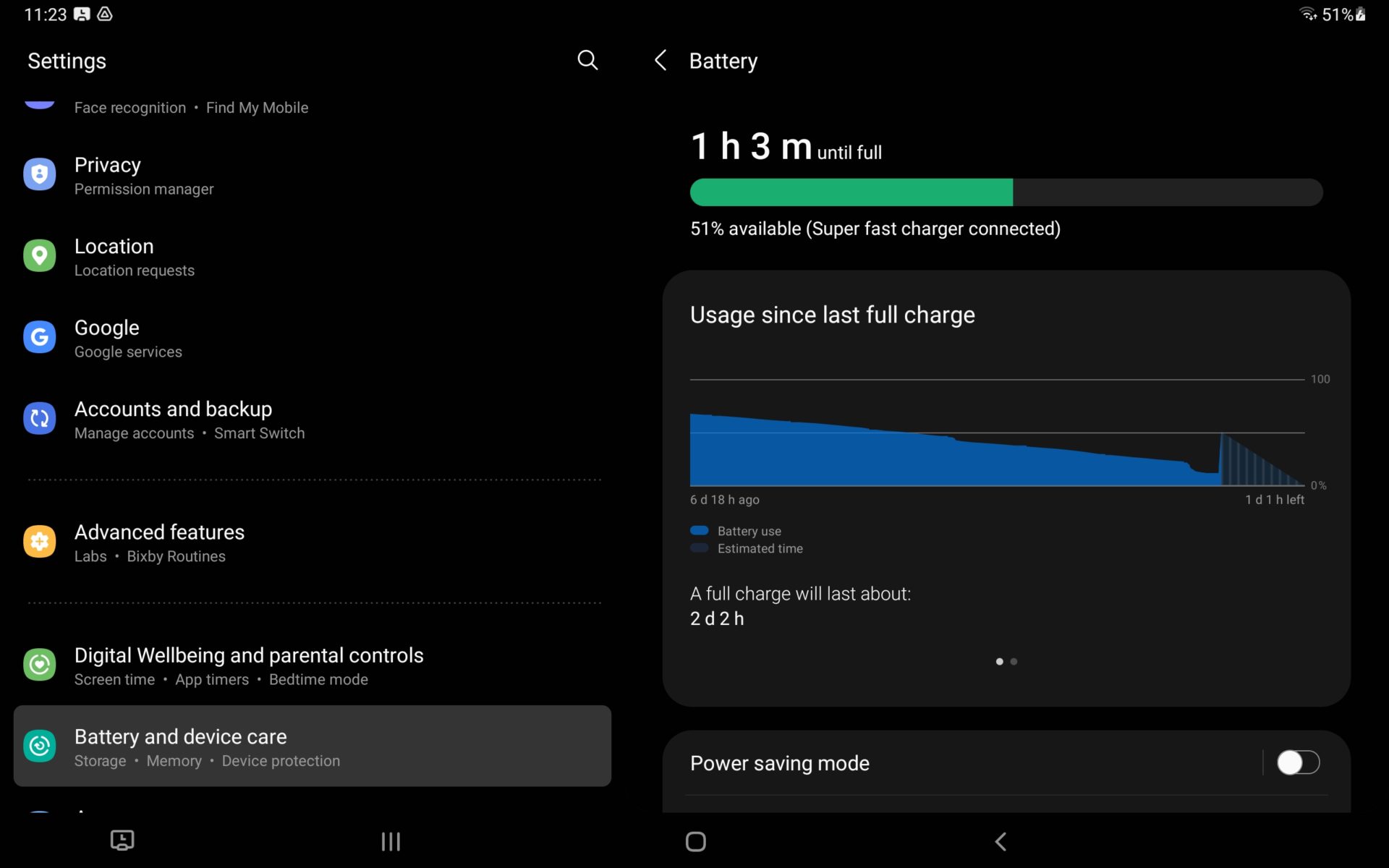 With such a big battery, you would think that the included charger should be adequate enough to charge the device at a substantial rate per hour. But unfortunately, only a 15w power brick is provided in the box, which would take 3 hours to fully charge from 0%. That's pretty much unacceptable in 2021, seeing how many devices now come with at least a 25w charger.
Additionally, the FE tab does support Super Fast Charging when coupled with either the 25w or 45w charging brick sold separately. I do recommend spending a little extra to get a more powerful charger to better suit the device.
What Is Good
– Included S Pen
– Great build quality
– Huge display to work with
– Great battery life
What Could be Better
– Takes ages to get a full charge
– The absence of a high refresh rate on such a nice looking screen
– Processor and GPU combo can be a little sluggish
Verdict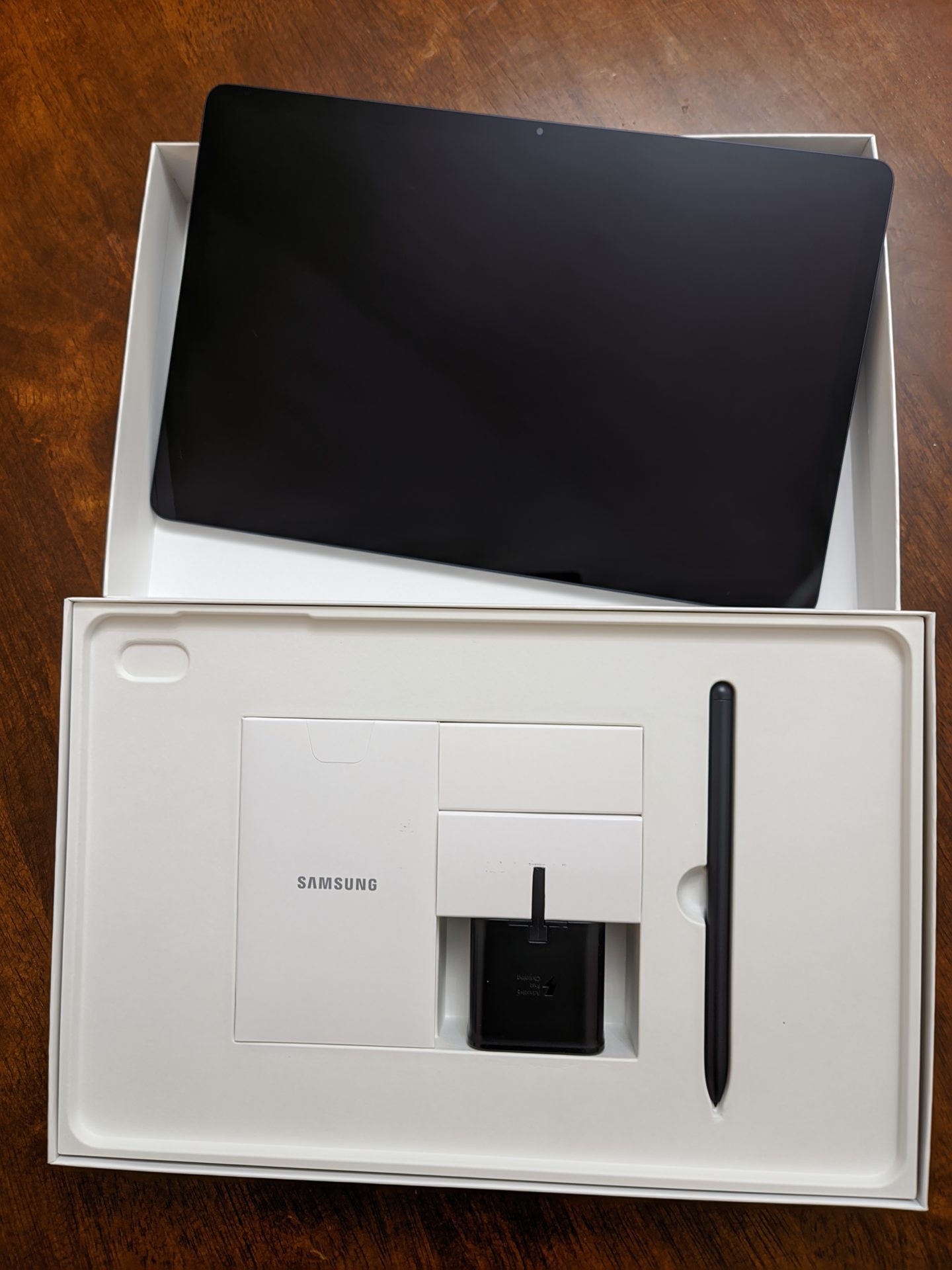 It wouldn't be fair to compare the Samsung Galaxy Tab S7 FE to higher tier rivals such as the new iPad Pro, Microsoft Surface 3 or even its bigger brother, the S7+. The FE is meant to meet the requirements of a broader spectrum of users by aiming to be affordable, but also maintaining its quality aspects as well. Honestly, at this price point, the FE can afford a little more punch to its processing and graphical power and screen quality, but again, that's probably just me nitpicking. For the average user having a budget of below the RM2,000 mark, the FE would probably do it all for them, and that's the true definition of a "Fan Edition" device.