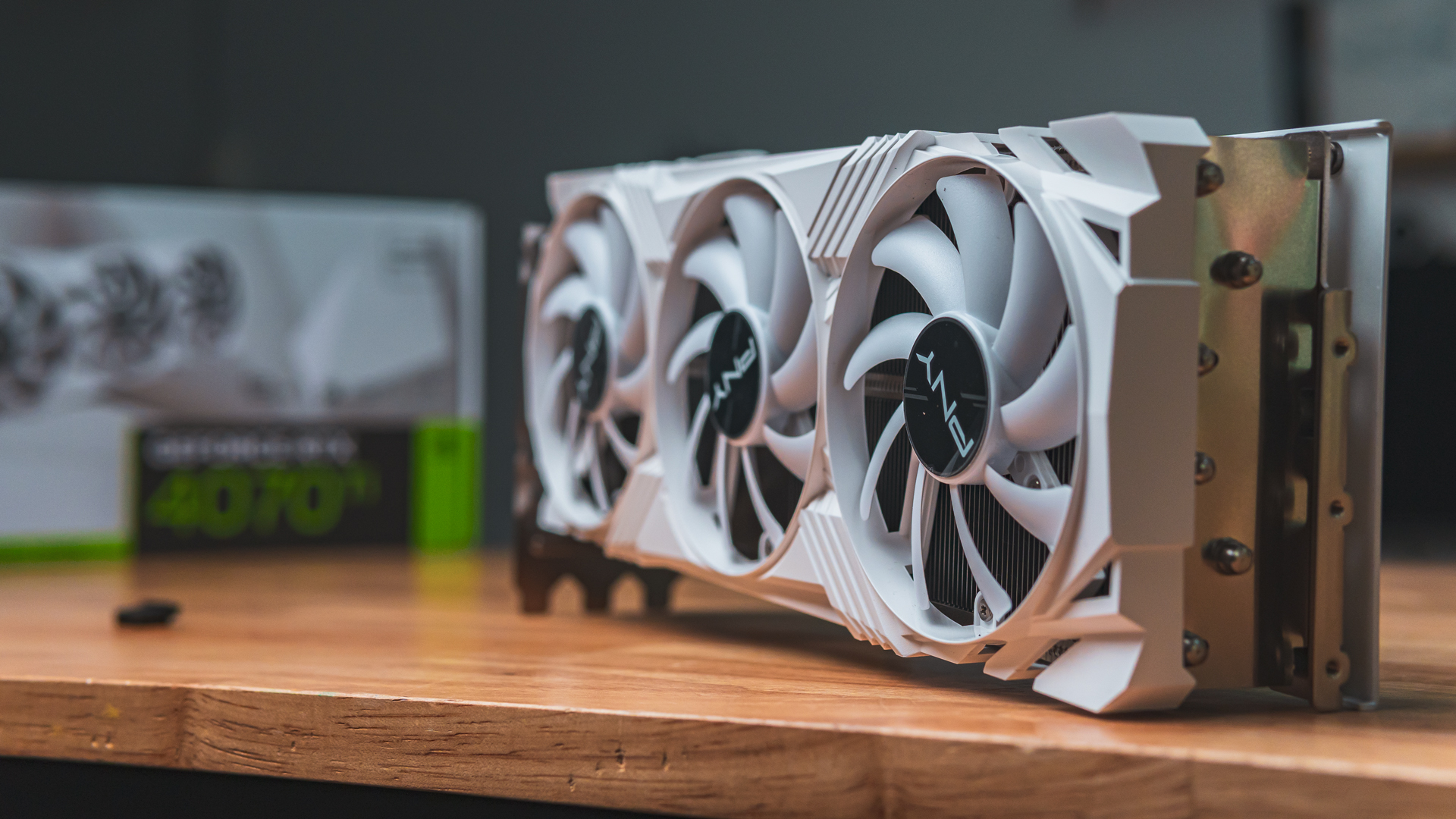 PNY Technologies had sent us their new Verto family member, the 4070 TI Verto White edition. This is a scaled down version from the Epic X variant and has almost next to no RGB on it. Given it has a white shroud and white backplate, I certainly admire the bold look PNY Technologies has gone for with their first foray into the white graphics processing unit(GPU) segment. The GPU comes with a price tag of MYR 4039 and is already available for sale at various stores in the country.
First Looks
Packaging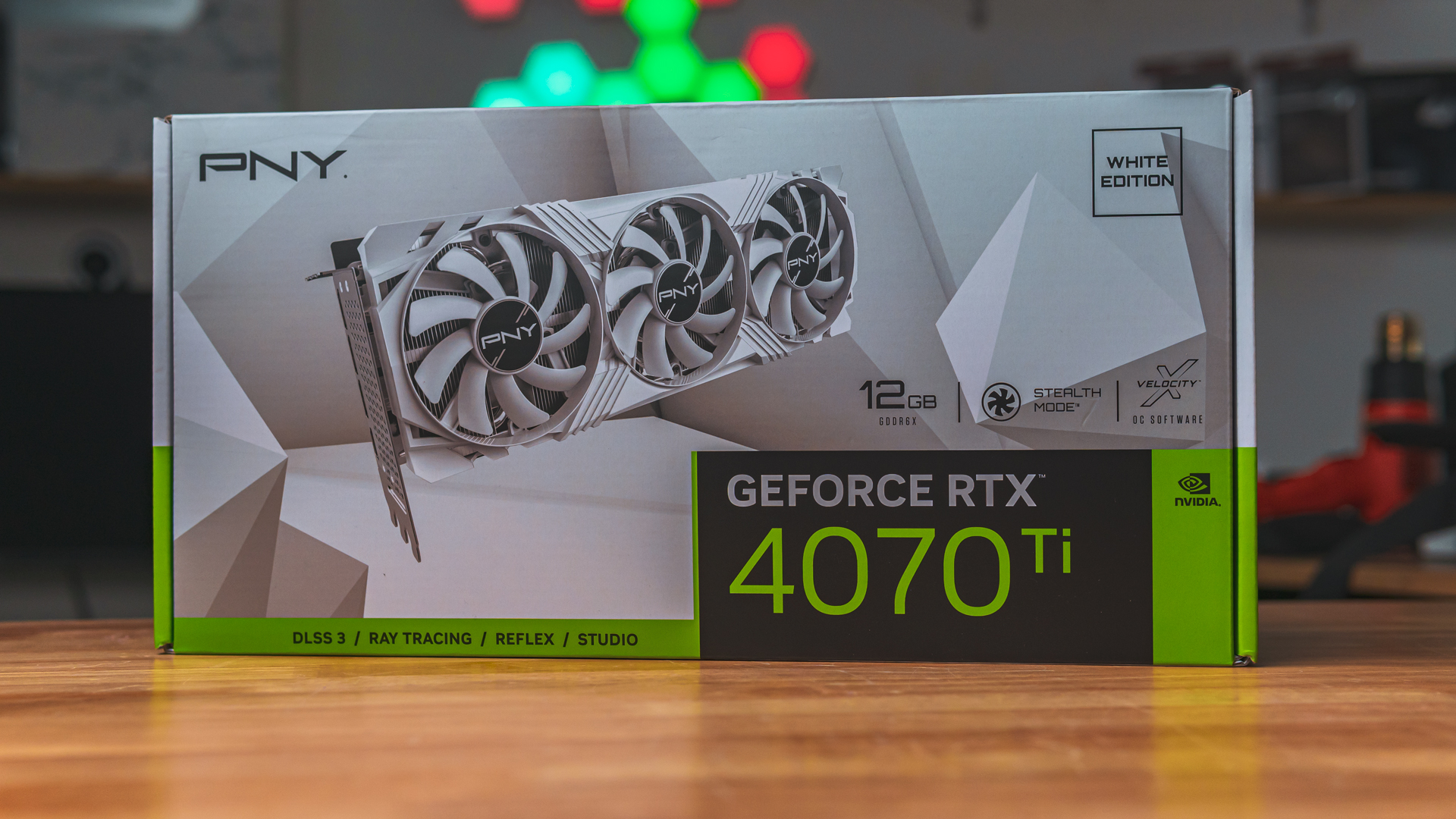 The GPU comes in the generic cardboard box. However, it has a white base color and supplemented by the Nvidia GeForce RTX labelling and colors. Bundled together is a Nvidia 12VHPWR adapter powered by two 8pin PCIE power cables for those without an ATX 3.0 power supply.
Design & Aethetics

The shroud of the card is an all white plast with three 90mm fans attached to it. There are no traces of RGB lights all over the card except for the white LED light situated on the PNY logo just before the GeForce RTX print out on the top of the card. I personally find the lack of lighting a unique feature of the card. This further improves the aesthetic needs for those who are going for an all white PC build.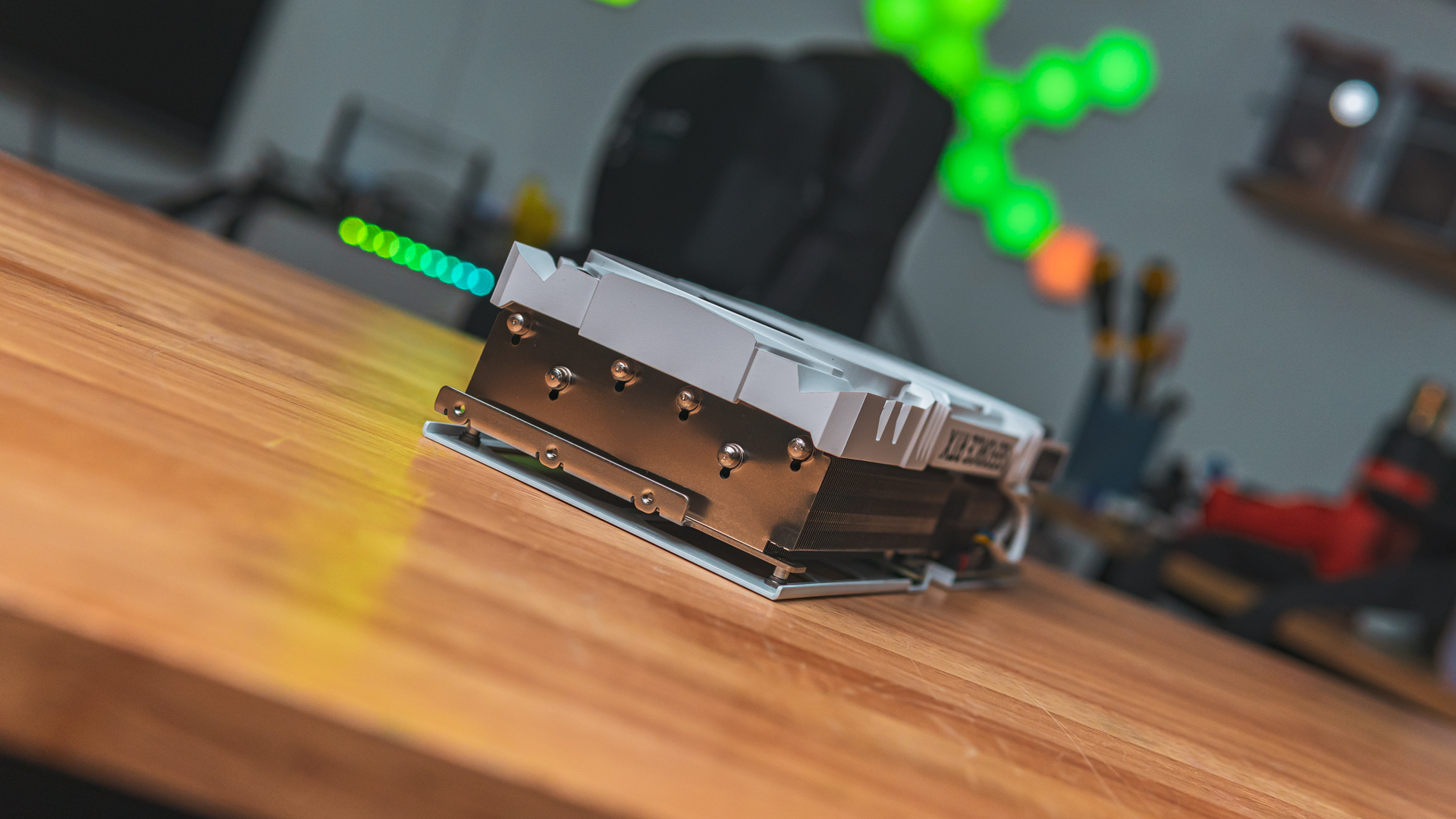 The dimensions of the card fall into the thick category, in line with what has come to be seen as the "new normal" with the RTX 40 series. It measures 305.1 x 119.4 x 60.6mm and takes up three slots of PCIE brackets in a casing. The bulk of the thickness of the card comes from the heatsink. The heatsink is composed of six heat pipes and extremely dense fins, allowing for greater cooling capacity as they increase heat dissipation. These in-house designed cooling solutions are what make the Verto lineup from PNY great cards with impressive thermal readouts.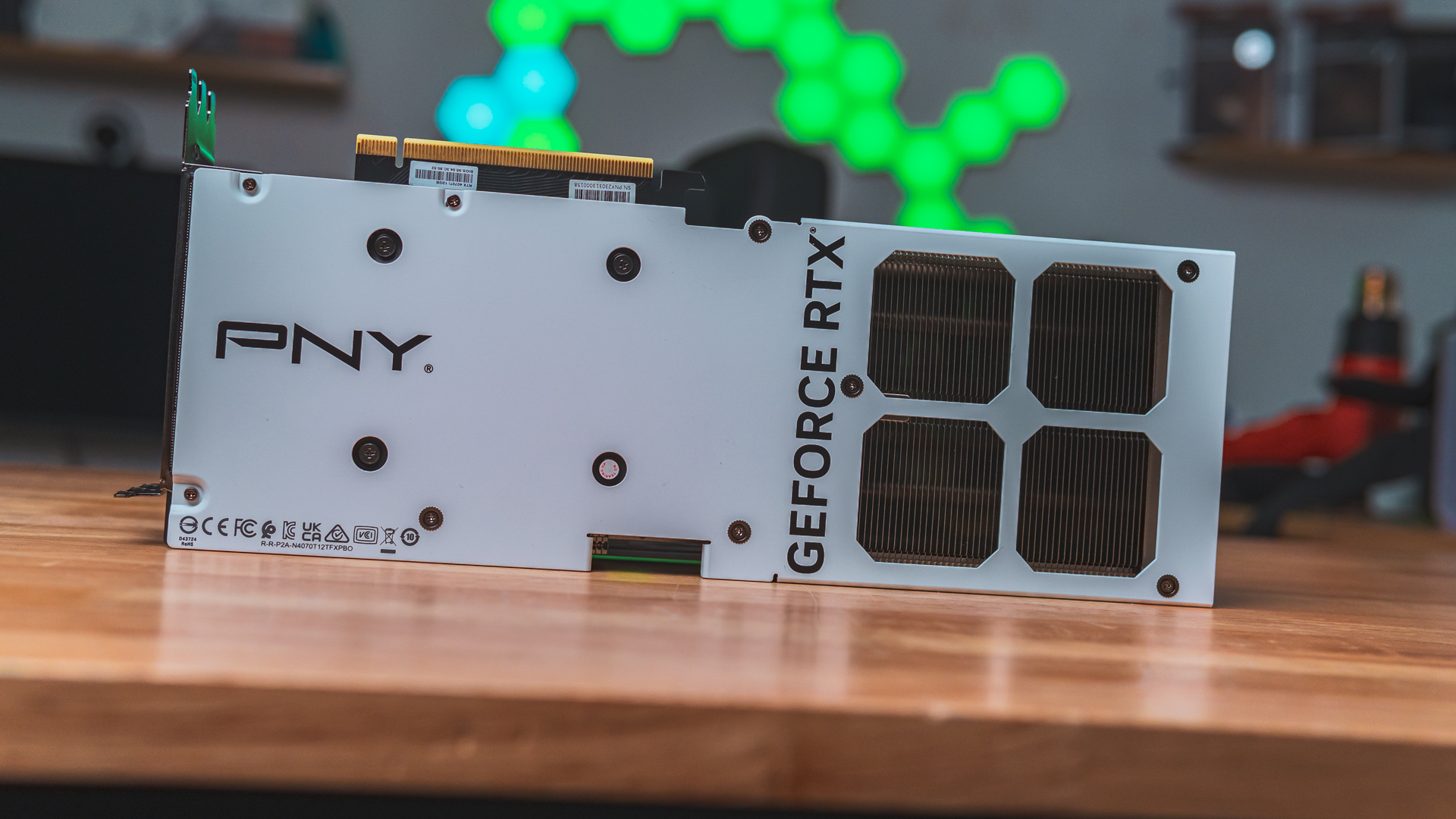 To further improve the already great cooling capabilities of this card, it comes fitted with an aluminium backplate. The backplate also consists of strategically placed cut outs for optimized air flow.
Technical Specifications
| | |
| --- | --- |
| GPU | RTX 4070ti |
| Card Dimensions | 305.1 x 119.4 x 60.6mm; 3 Slot |
| CUDA Cores | 7680 |
| RT Cores | 60 |
| GPU Boost Clock | 2610 MHz |
| Memory Data Rate | 21 Gbps |
| Memory Size | 12GB |
| Memory Interface | 192-Bit |
| Memory Bandwidth | 504 GBps |
| TDP | 285W |
Performance & Benchmarking
Test System
| | |
| --- | --- |
| Processor | AMD Ryzen 9 7900X |
| Motherboard | ASUS ROG Crosshair X670E Extreme |
| RAM | Kingston Fury Renegade 16GB X2 CL32 7000MHZ |
| Storage | 1TB Sabrent Rocket 4 Plus |
| GPU | PNY GeForce RTX 4070ti Verto White 12GB |
| PSU | FSP Hydro G Pro 1000W |
| Case | Vector Bench Case |
| CPU Block | Alphacool XPX Aurora Pro Full Brass |
| Radiator | Alphacool NexXxos XT45 240mm |
Gaming
The PNY GeForce RTX 4070 Ti Verto easily excels in all three common resolutions of today. Be it 1080P or 4K, the GPU is packed with an assortment of features and is fully capable at ensuring users get really exceptional results for gaming. Additionally, with 4K gaming, the GPU achieves admirable framerates that ensures a stable and smooth gaming experience as tested on demanding titles such as Cyberpunk 2077 and others.
Synthetic Benchmarking
Furthermore, for those seeking a GPU that excels not only in gaming but also in productivity, the PNY GeForce RTX 4070 Ti Verto proves to be a worthy contender. Its core scalability for handling demanding tasks is commendable, as evidenced by the results obtained from our benchmarking tests, as shown in the images above.
Surprisingly, when it comes to tasks that don't require more than 12GB of VRAM, the 4070 Ti outperforms the previous generation's flagship RTX 3090. Only in scenarios where VRAM-intensive performance is crucial does the 4070 Ti slightly fall behind the RTX 3090 due to the latter's larger VRAM capacity.
Thermals & Power Draw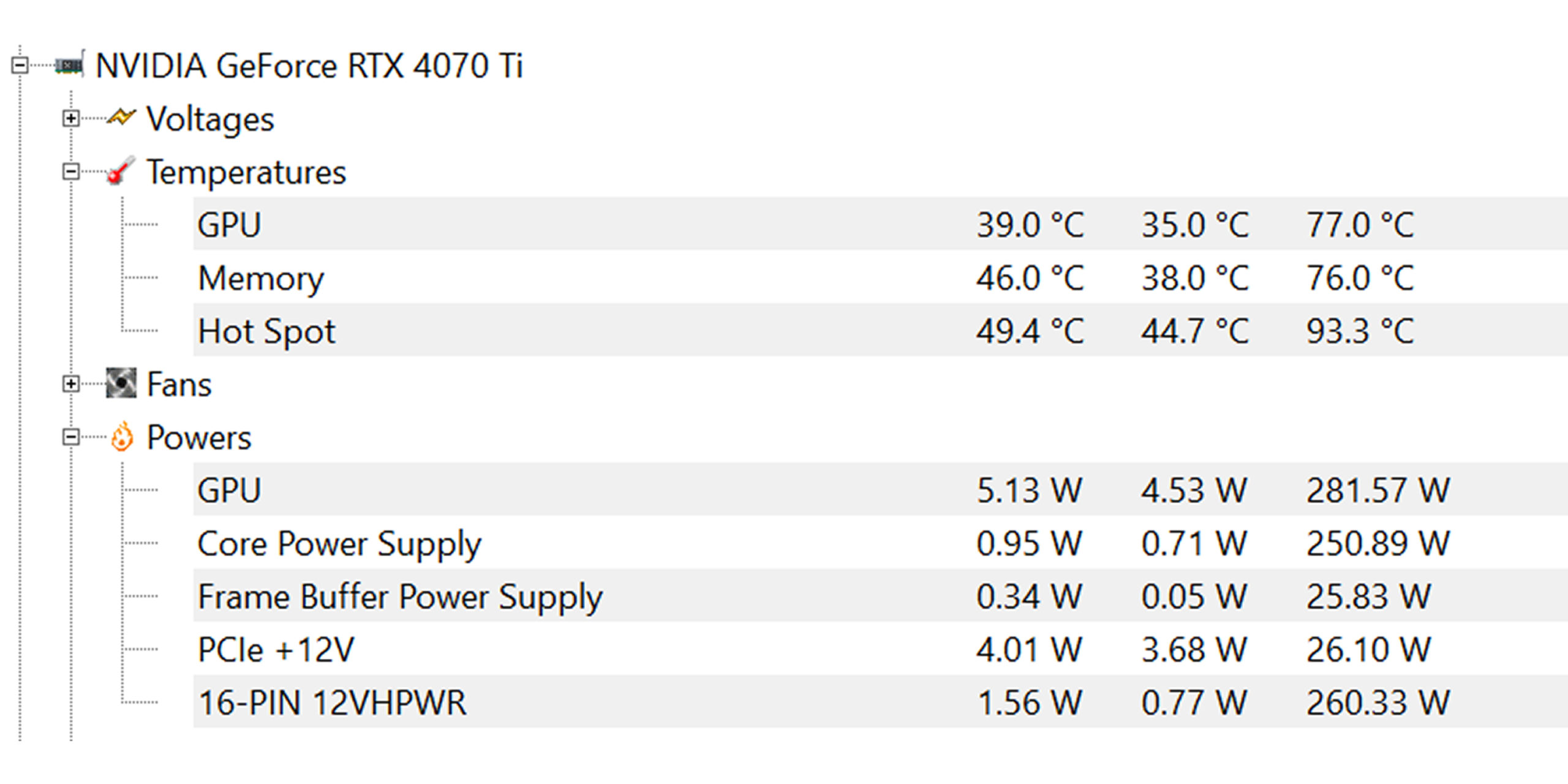 Thermals are truly the domain where the PNY GeForce RTX 4070 Ti Verto unleashes its brilliance! This extraordinary GPU effortlessly maintains a staggering maximum temperature of a mere 77 degrees Celsius during an array of rigorous tests and demanding games. Even the memory remains cool and composed, with only a trifling concern in the form of the negligible hot spot temperature.
Regarding power consumption, under rigorous benchmarking conditions, the PNY GeForce RTX 4070 Ti Verto demonstrated a maximum draw of 282W. However, during gaming sessions, it displayed a more modest power draw ranging from 250W to 260W, representing a decrease of approximately 30W compared to the maximum draw.
---
What I Liked
All White Layout
Verto Cooling Capability
What I Wish Could Be Better
PNY Naming nomenclature, it's just too long.
Shroud Aesthetics, the card has room for improvement in terms of its looks. I am not saying it looks bad, but there is still some room for improvement in terms of design theme.
---
Conclusion
In my books, the PNY Verto 4070 Ti White edition is an attractive white GPU.. With its sleek white shroud and backplate, it presents a bold and aesthetically pleasing design, making it a great choice for users aiming for an all-white PC build.
In terms of performance, the GPU delivers exceptional results across common resolutions, excelling in both 1080P and 4K gaming. With its assortment of features and impressive framerates, it ensures a stable and smooth gaming experience even in demanding titles.
Furthermore, the Verto 4070 Ti demonstrates its versatility as a productivity tool, offering scalability and efficient core performance for demanding tasks. In synthetic benchmarking tests, it outperforms the previous generation flagship, RTX 3090, in tasks that do not require more than 12GB of VRAM. Only in tasks demanding higher VRAM performance does it marginally lose to the RTX 3090 due to the latter's greater VRAM capacity.
The Verto 4070 Ti also impresses with its cooling capabilities, as it maintains low temperatures during operation, peaking at a maximum of 77°C. Power consumption is also reasonable, with the GPU drawing around 250W-260W during gaming sessions.
While the GPU offers a compelling package at its price point, there are a couple of aspects that could be improved. The naming nomenclature employed by PNY could be simplified, as it tends to be overly long. Additionally, although the shroud aesthetics are decent, there is room for enhancement to further elevate the card's visual appeal.
Overall, PNY has done a commendable job in creating an attractive white GPU for the market with the Verto 4070 TI White edition. It delivers solid performance, impressive cooling, and an appealing design, making it a highly recommended option for individuals seeking a white GPU without breaking the bank.
Final Score : 8/10
(Seriously, the name is just too long)
---
Product Page : https://www.pny.com.tw/en/products-detail/geforce-rtx-4070Ti-12G-TF-white-edition/
Warranty Claims can be made at Fusion Tech Supply Sdn Bhd as long as the PNY product carries the sticker below :