Fusion Tech Supply Sdn Bhd is thrilled to announce the Loctek DLB504-2 dual monitor arm to enhance productivity and gaming experience.
The Loctek DLB504-2 dual monitor arm is designed to accommodate the needs of professionals, content creators, and avid gamers. With the increasing demand for multi-monitor setups, this product enables users to seamlessly integrate two monitors ranging from 10 inches to 27 inches in size. This versatility enhances productivity, immersive gaming experiences, and efficient multitasking.
Featuring a robust design, each arm of the DLB504-2 can effortlessly hold monitors with a payload of up to 5 kilograms, ensuring the stawbility and security of your valuable displays. Furthermore, the DLB504-2 offers a plethora of ergonomic adjustments to cater to the individual needs of users. With the ability to tilt, swivel, and rotate the monitors and adjust the height and viewing angles, this dual monitor arm provides optimal comfort, reducing strain and enhancing posture.
The Loctek DLB504-2 boasts a user-friendly assembly process with VESA mount compatibility that simplifies the installation. Each dual monitor arm comes with a step-by-step setup guide, ensuring a hassle-free setup for users of all technical levels.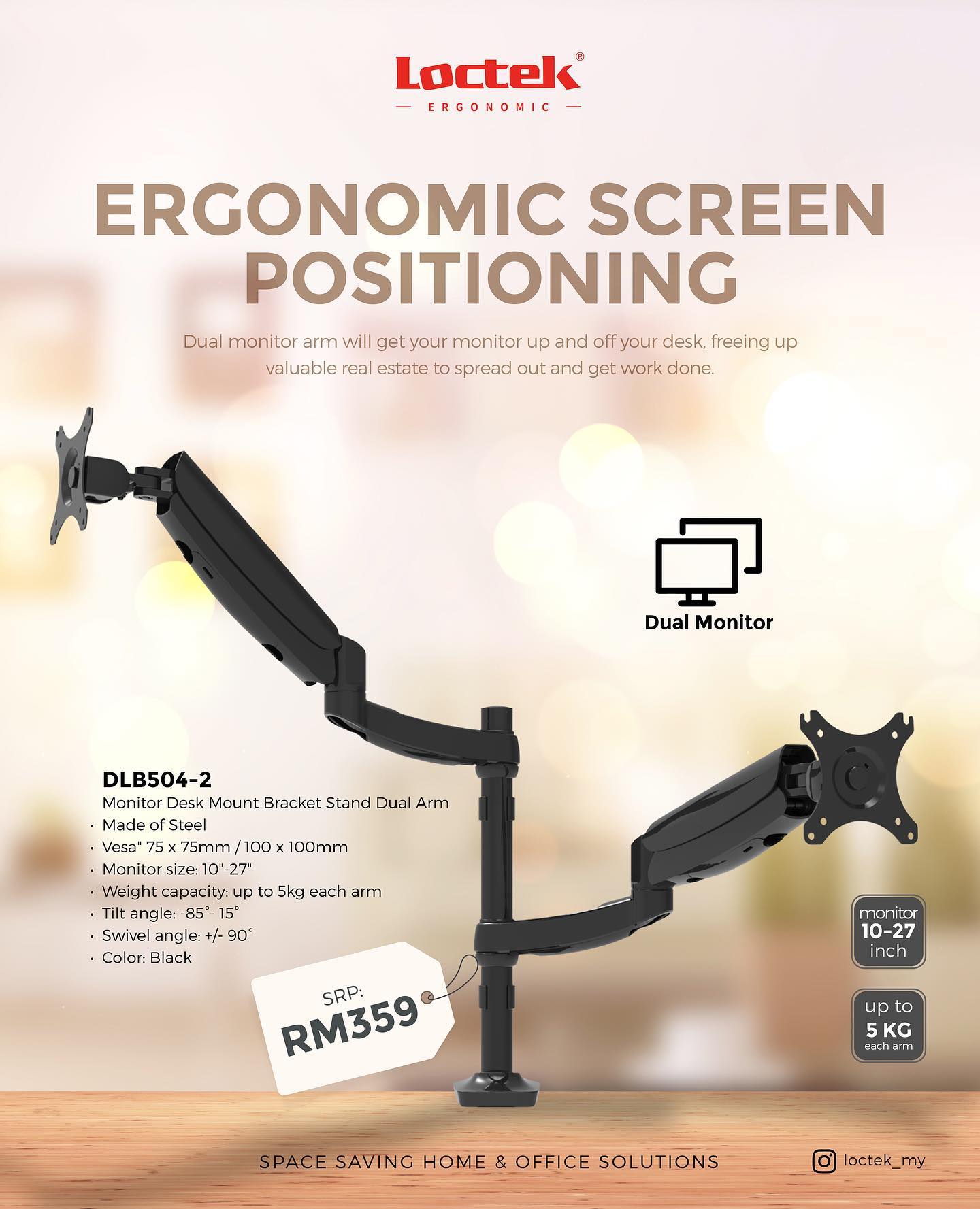 Loctek understands the importance of accessibility and affordability. Priced at an attractive MYR 359, the DLB504-2 dual monitor arm offers exceptional value for money. Despite its competitive price, this product does not compromise quality, durability, or functionality. Loctek remains committed to delivering premium ergonomic solutions at affordable prices, making them accessible to many customers.