The realme GT Neo 3 is a beautiful and sporty-looking mobile phone with a special emphasis on "Speed" like the 'GT' in its name and racing stripes on its body have suggested. The phone made a good impression on paper with its flagship-liked specs and the price looked affordable too. So I was really curious it how it'd perform as my day-to-day phone, and whether the 'impressive' specs on paper were really as good as they claimed.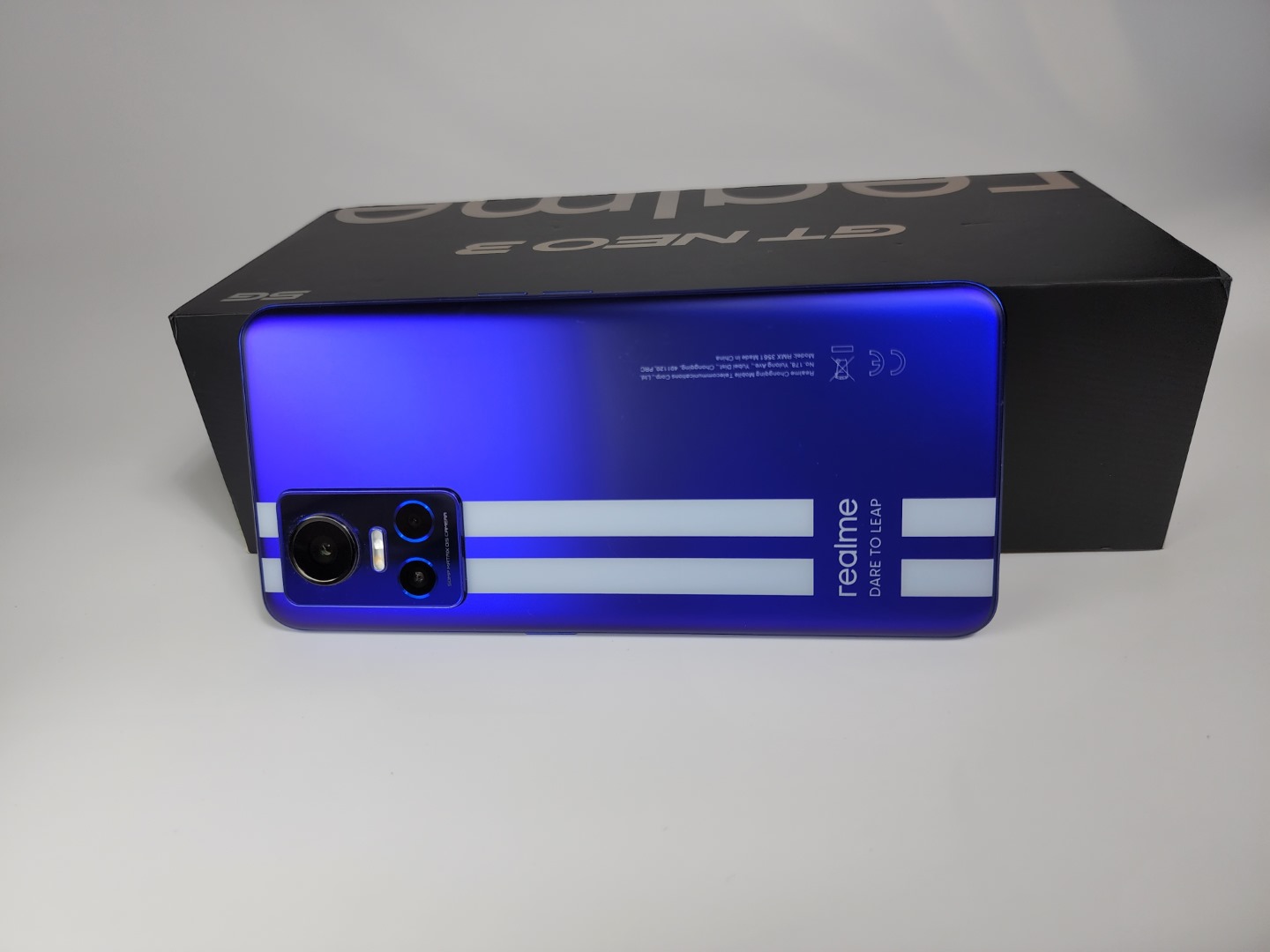 Build and Design
With the body dimension of 6.43inches x 2.98inches x 0.32inches, the GT Neo 3 looks like any other modern phone today, except, of course, for its striking anti-glare gradient blue base colour and the fierce racing stripes running down the back of its body.
The racing stripes design can be appealing to those who agree with this kind of creativity in design but so far, I've met more people who disliked it than those who do. "But it's racing stripes, like those on a Shelby Cobra", I'd say. Only to be greeted with replies like, "Yeah, or like a pair of Adidas track pants".
Creativity and appeals in design are subjective and thankfully in today's age, whatever agreement or disagreement one may have over their phone's looks can be remedied by getting an appropriate phone cover or without.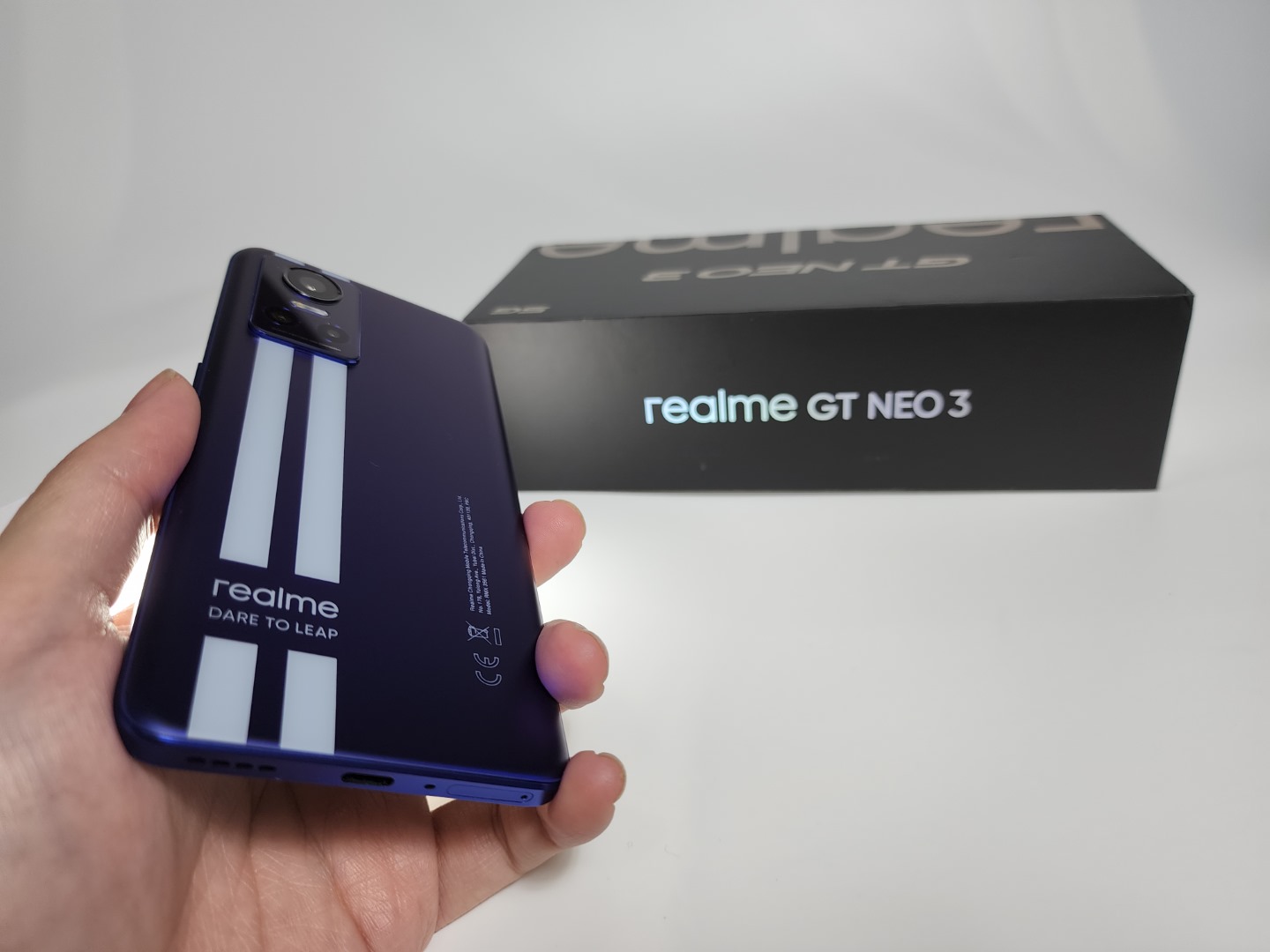 The phone weighs 188g with a screen size of 6.7inches providing a screen-to-body ratio of 94.2%. I like how this is a big phone but it doesn't burden me like one The back surface of the phone is made of curved glass with a matt finish which relieved me from all the fingerprint wiping necessities. The side of the phone, however, is made of plastic, which is the only physical element on the phone I dislike. If anything, the plastic sides made the GT Neo 3 that otherwise looked and felt great, now feel kinda cheap.
In terms of its buttons and ports, we have the standard Type-C Port at the bottom, 2 microphones and 2 speakers, 2 Nano SIM Card Slots, the Power and Volume buttons, and of course, no headphone jacks.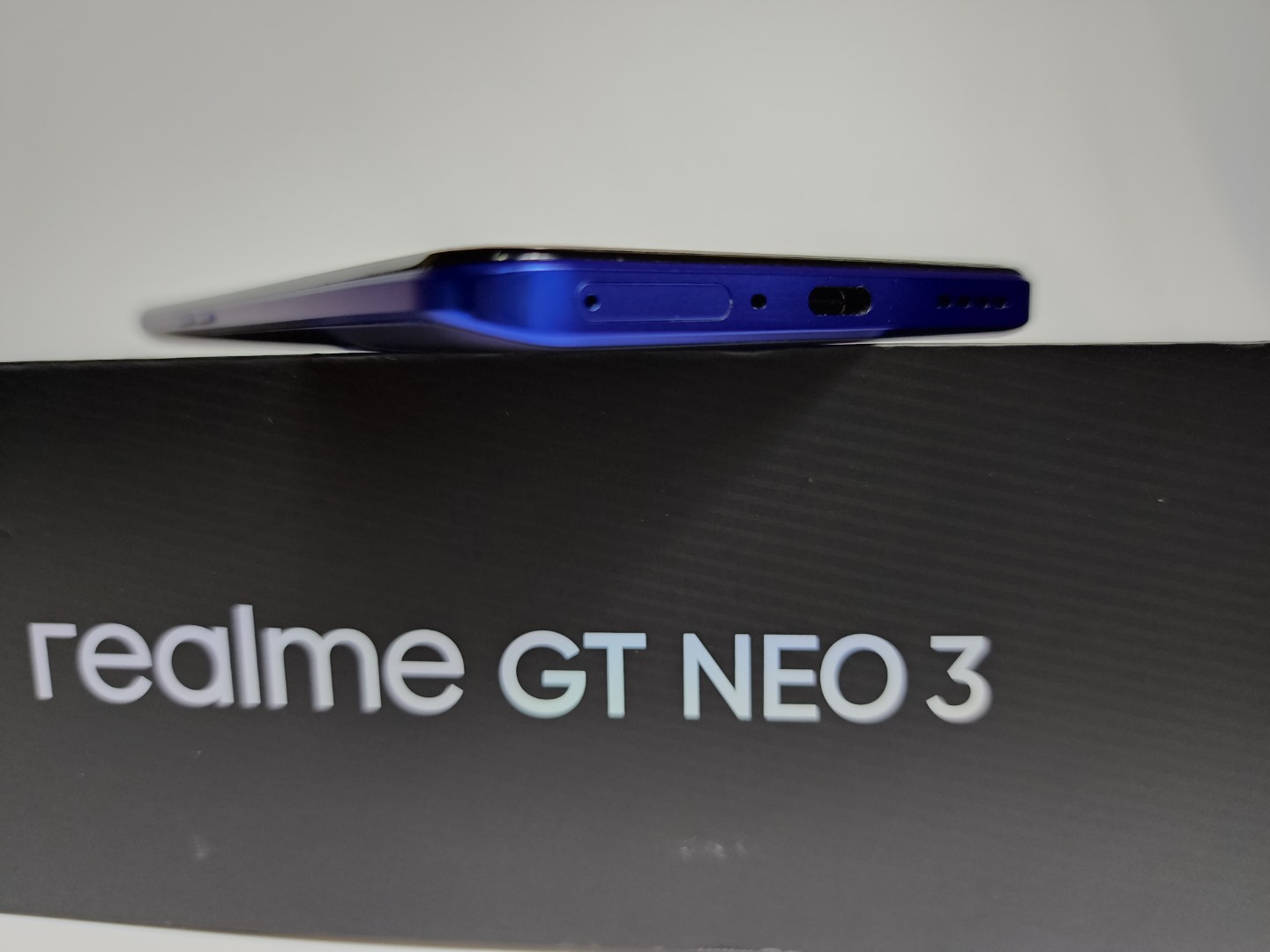 In Malaysia, the GT Neo 3 is available in 8GB RAM / 256 ROM and in either Nitro Blue or Sprint White, both with striking racing stripes running down the back. Pricing-wise, the phone is going for RM 2,099 in Malaysia.
Display and Sound
The 6.7″ panel of the GT Neo 3 comes with a 120Hz capable OLED screen with HDR+10 support. The picture quality when using it as a mobile streaming device and photo viewing was good enough. The images and colours produced by this phone are sharp and match its price tag. Audio-wise, the phone comes with stereo support but is otherwise general in quality. The display and sound department aren't the strongest out there but yeah, at least it's a 120Hz screen.
Camera
In the camera department, the GT Neo 3 didn't strike me as a particularly impressive device but that isn't to say that it's a bad camera phone because it isn't. The main 50MP camera the phone comes with uses Sony's IMX766 sensor that guarantees satisfying results under daylight conditions. Other than the 50MP (wide) main camera, the phone's rear also carries an 8MP (ultrawide), and a 2MP (macro). On the front, we have the 16MP(wide). The rear section is capturing videos up to 4K@30FPS whereas the selfie cam at 1080P@30FPS.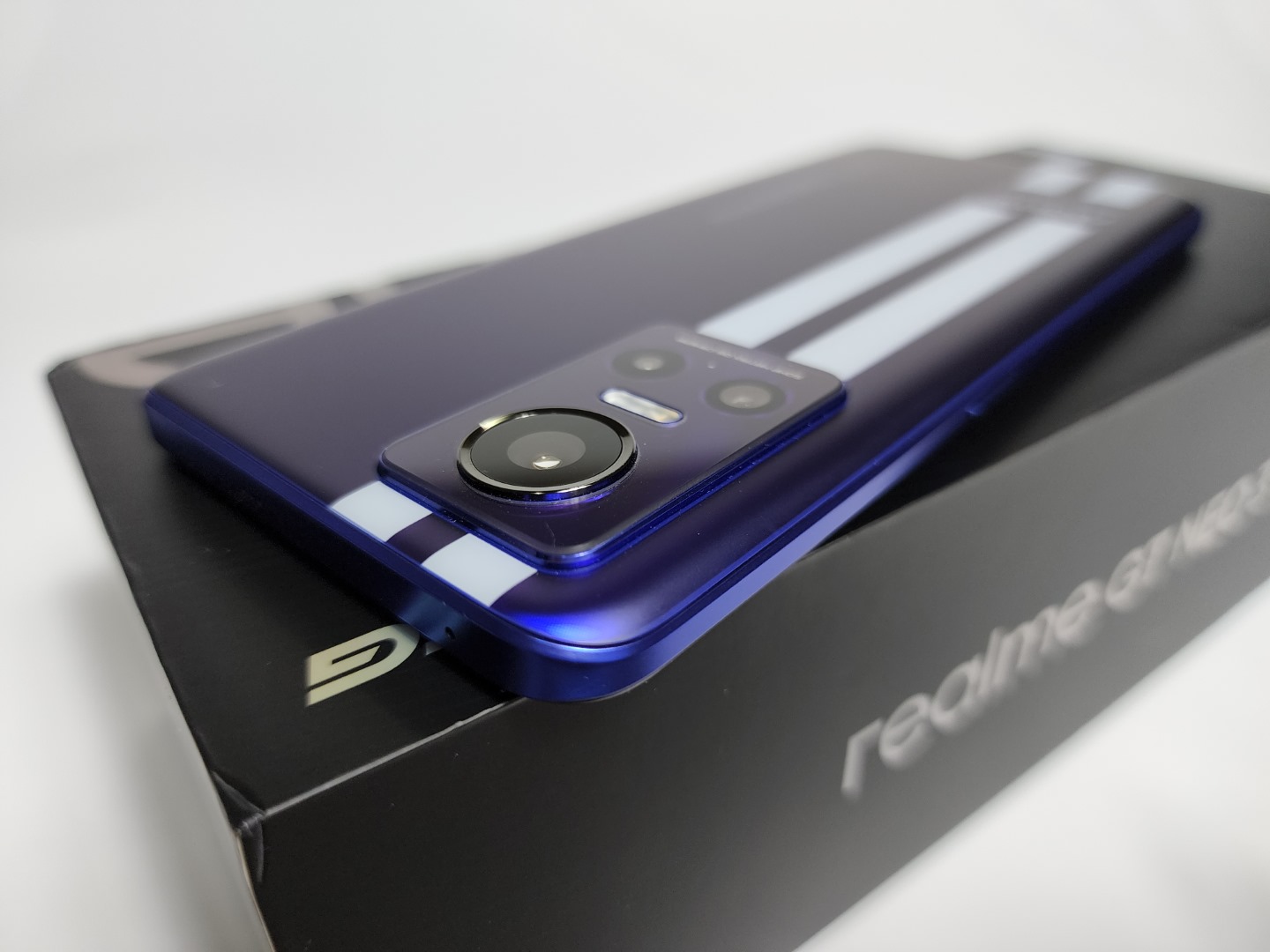 On paper, these really aren't bad but they are also not the most powerful line-up of cameras you'd find out there for an upper mid-range phone. The 8MP and 2MP rear cameras are a bit underwhelming with an obvious deterioration in details when shots are taken on the ultrawide. The so-called 2MP macro camera is something that users can just do without since the main 50MP camera takes quality shots that still look better after digitally zooming in than the 2MP macro shots. Also the GT Neo 3 does not come with a telephoto lens, so this isn't the phone that you can expect to do multiple zoom-ins and expect quality shots out of.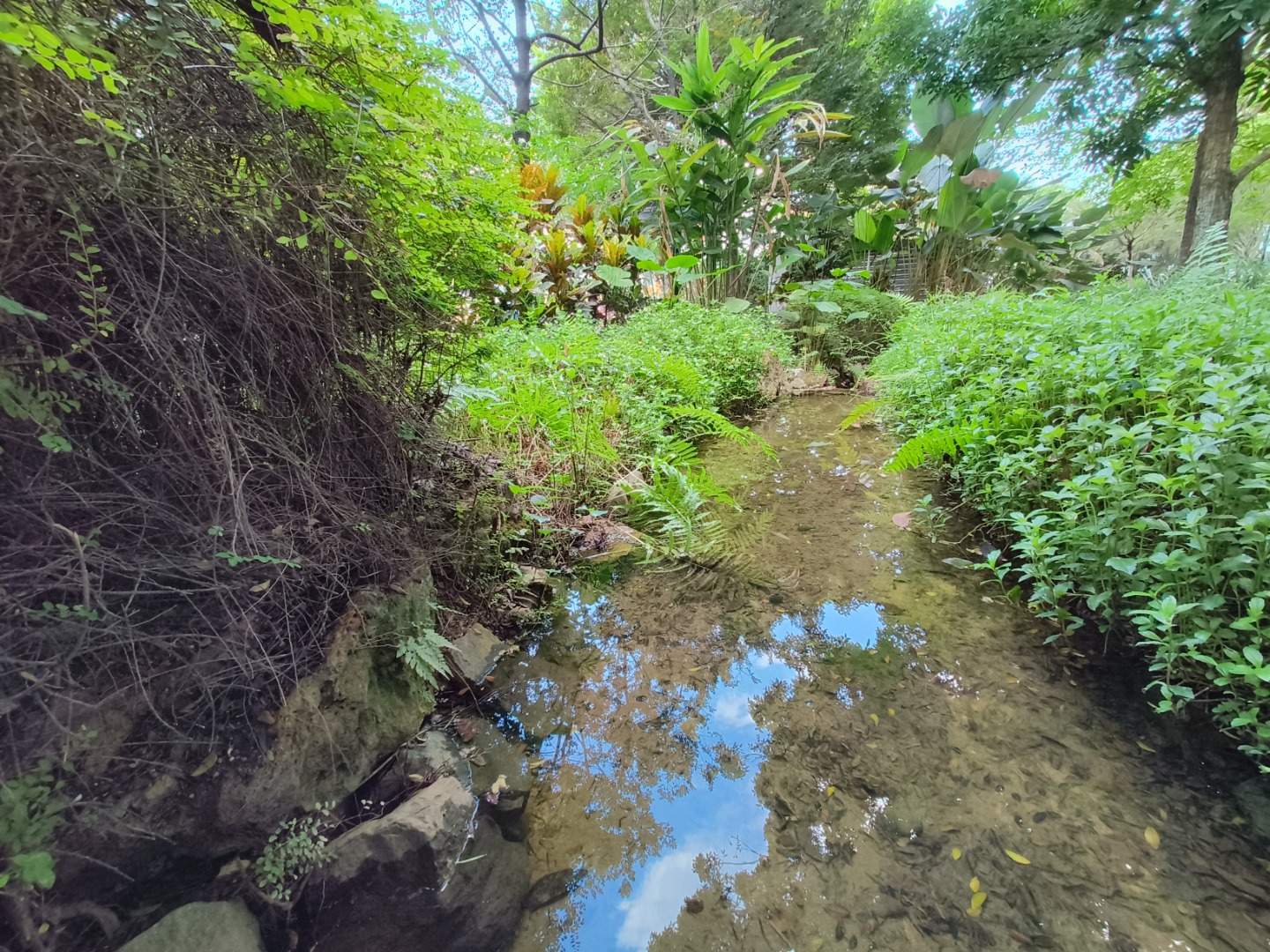 But selfie enthusiasts will at least find some joy in the better-performing front 16MP camera that shoots in quality miles better than the 8 and 2MPs. The bokeh effect from the portrait mode isn't necessarily the most clinical around the edges but the overall quality is still impressive. The active filters allow virtual and instant plastic surgery to be done on-screen before shots are taken so if you're a little pale that day or under the weather but still need to have a photo of yourself taken for unavoidable reasons, then the GT Neo 3 Selfie Cam may just give you the rescue you need.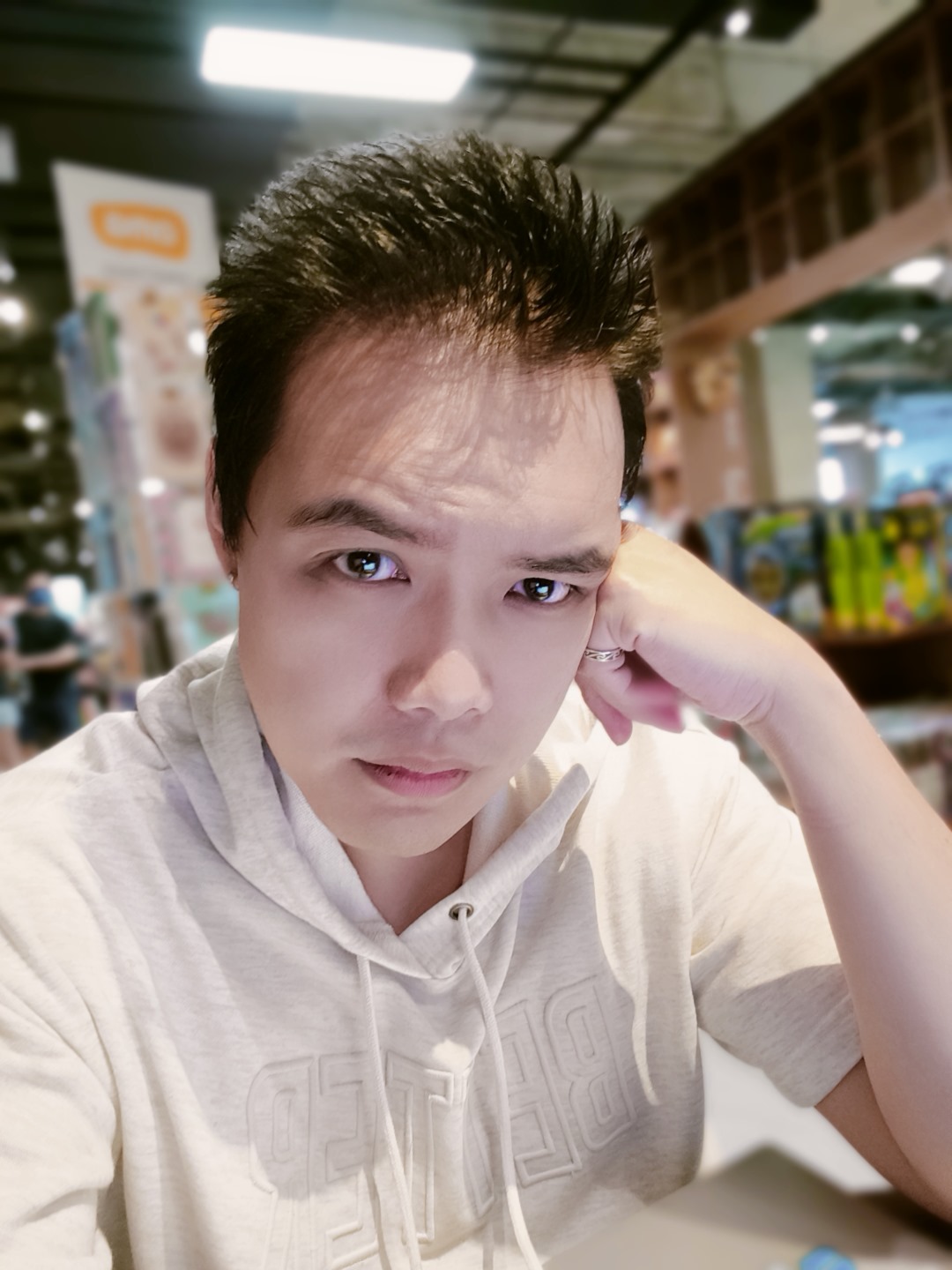 The A.I's handling of colours was a little too strong for my liking but there are both pros and cons to this. The pros are photos taken on this phone automatically look lively and colourful as the A.I tend to enhance colour presentations. So if you are one who likes to take cheerful images this could be good for you. However, this also means that if you are one who prefers a more natural colour scheme, the GT Neo 3's overly enthusiastic colour presentation can be a little annoying but the quality can be remedied by the phone's built-in editor, or by just snapping those photos via Pro mode in the first place if you're a seasoned phone-photographer.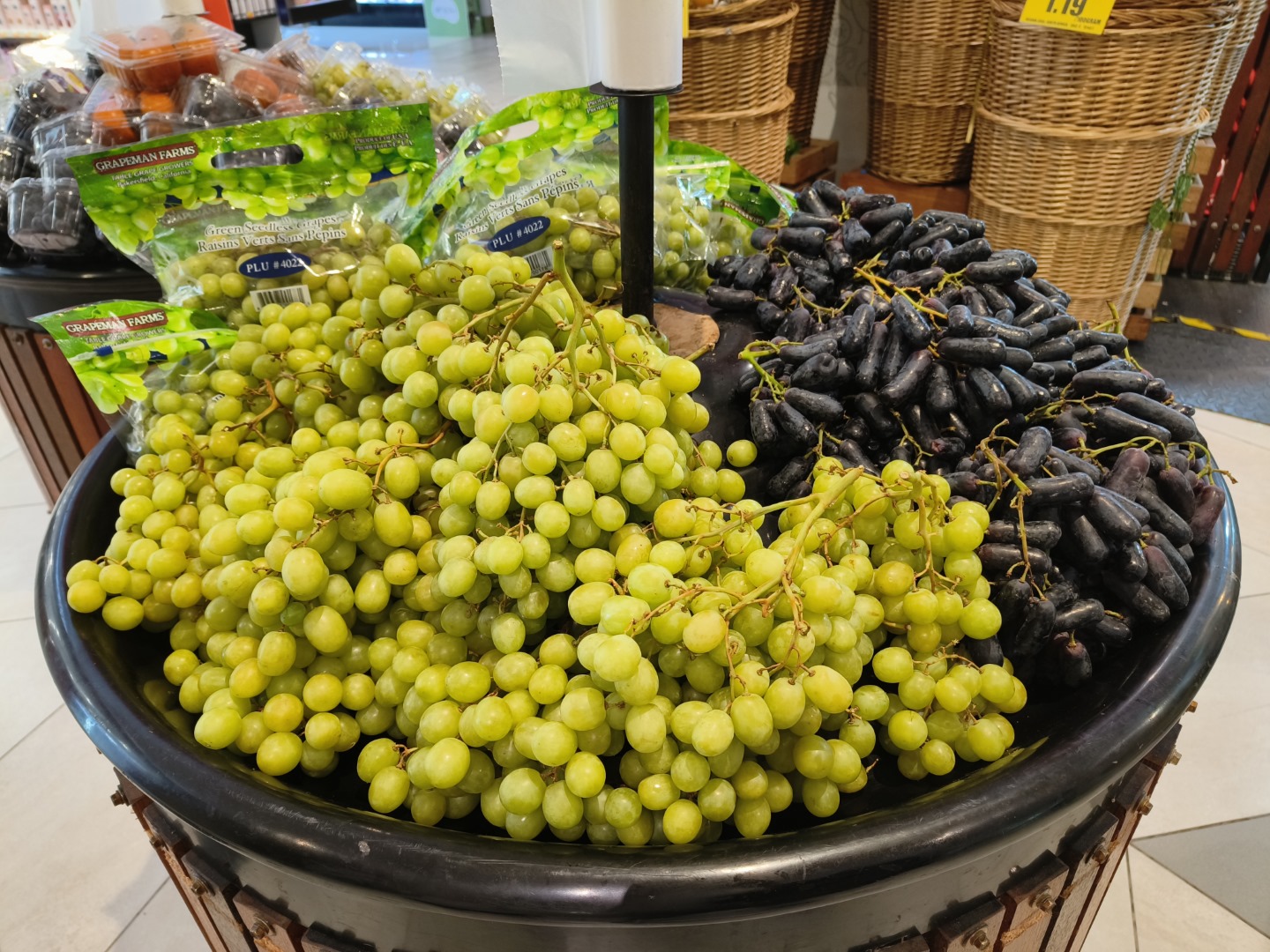 Photography in night mode is doable and the results are actually passable provided you adjust your expectations. The sky at night would look unnaturally bright when taken on auto mode but the camera does detect, capture, and present streetlights ambience in respectable quality. To lower the sensitivity to light in night mode, users can only opt for Pro mode where they gain direct access to ISO and Shutter Speed settings. It can be a little tedious but it does allow for better night photography, especially if you need parts that are supposed to be dark to remain and look naturally so.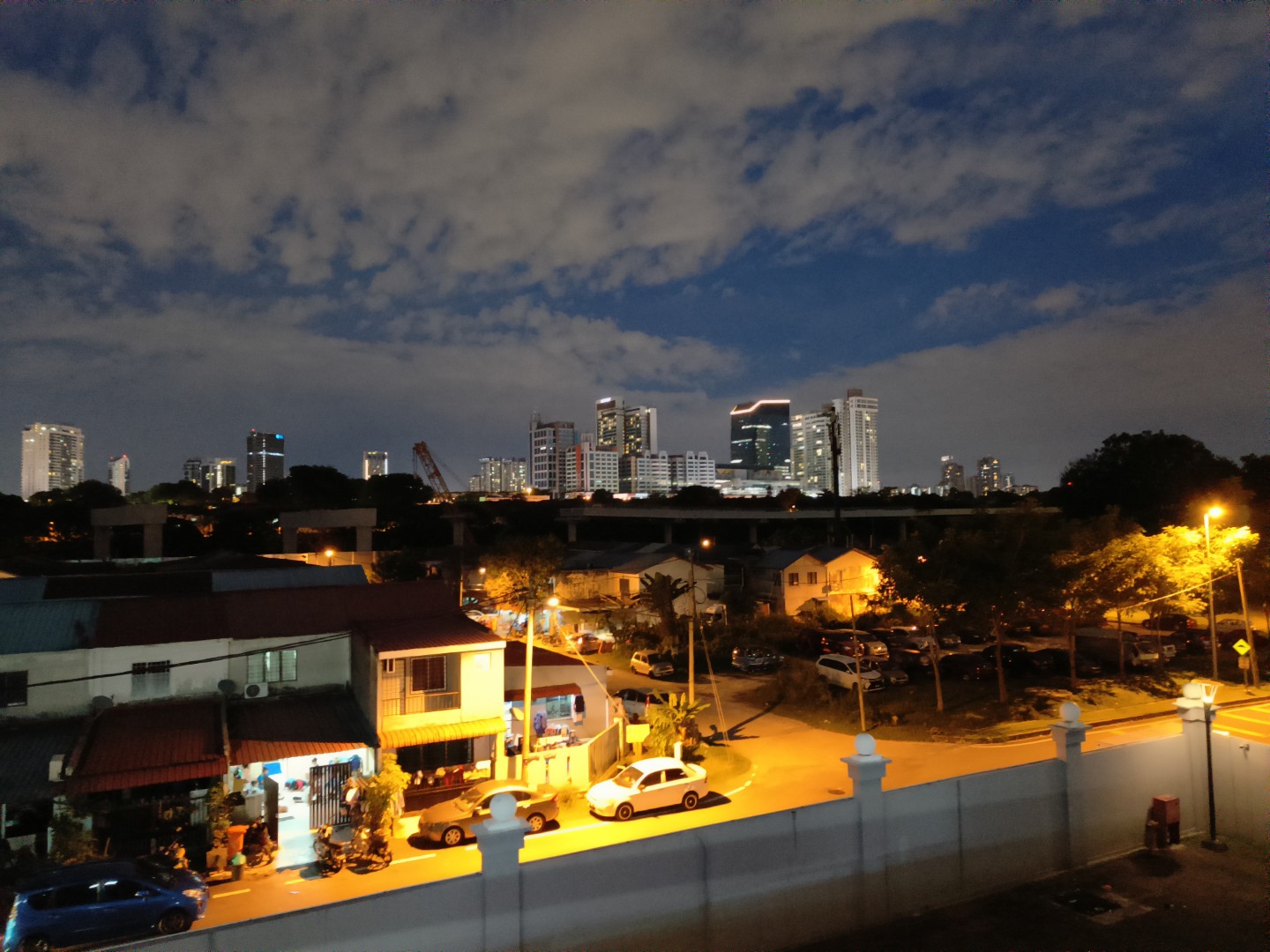 Gaming and Performance
This phone is equipped with the latest MediaTek Dimenity 8100 5G processor built on a 5nm process, with an 8GB RAM. Performance-wise, the GT Neo 3 offers little to complain about. Bear in mind, that this is still a mid-range phone but it has enough power in its glove to punch above its weight limit, hurting even some of its flagship rivals in the market. On AnTuTu, the phone has a benchmark score of 820,539, which is impressive considering the iPhone 13 Pro only scored 819,845.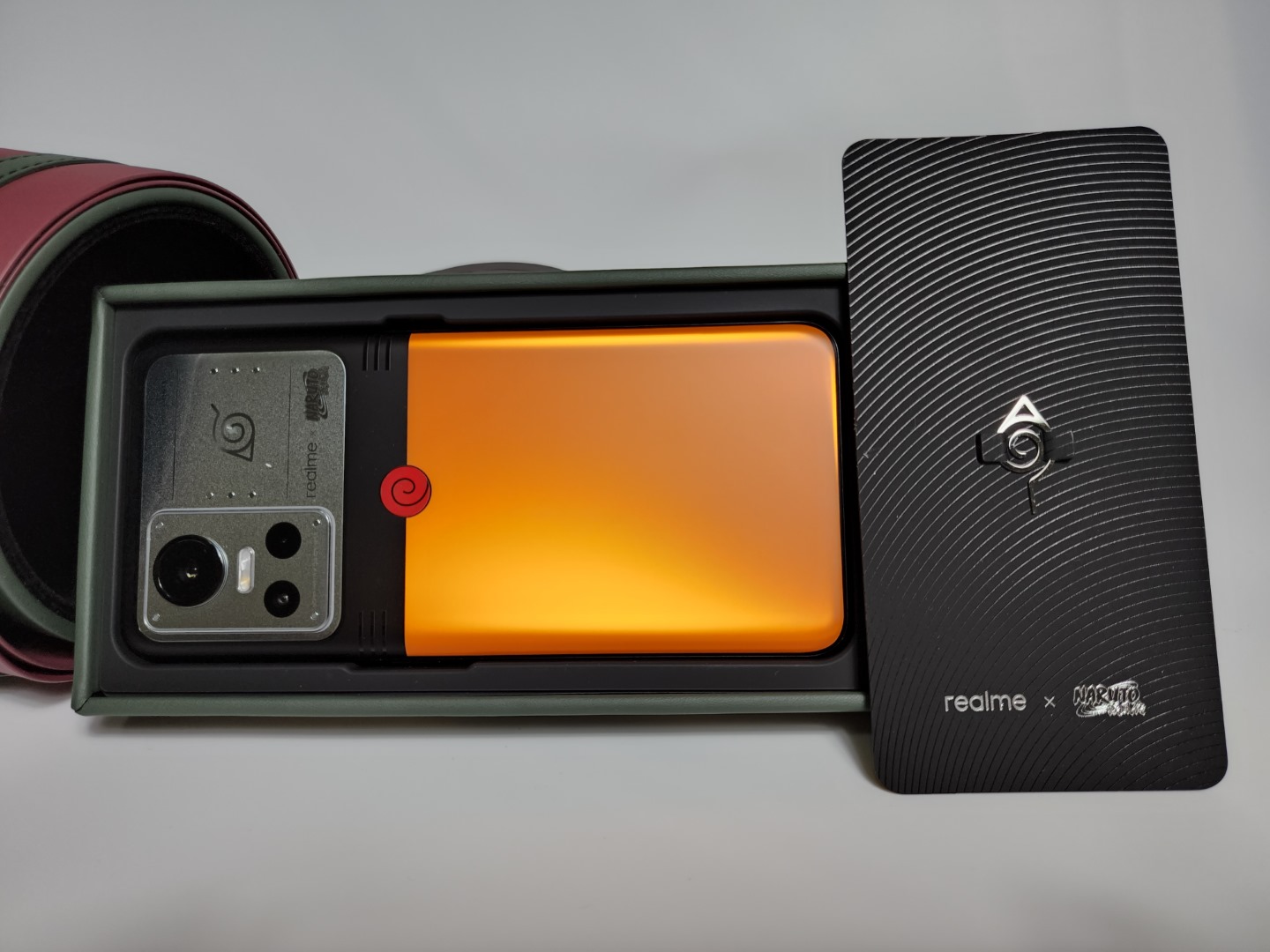 My daily usage experience of the GT Neo 3 has produced little to no problems with screens scrolling and flying through smoothly on 120hz. Apps started well and quickly with no delays and the phone even handled me running multiple taxing apps simultaneously without so much of a hiccup. To be honest, it's hard to believe that a phone with flagship performance is available at this price tag but I won't be surprised to see future devices heading towards this trend where what we know to be flagship performances today become available at lower tier models with a friendlier price tag.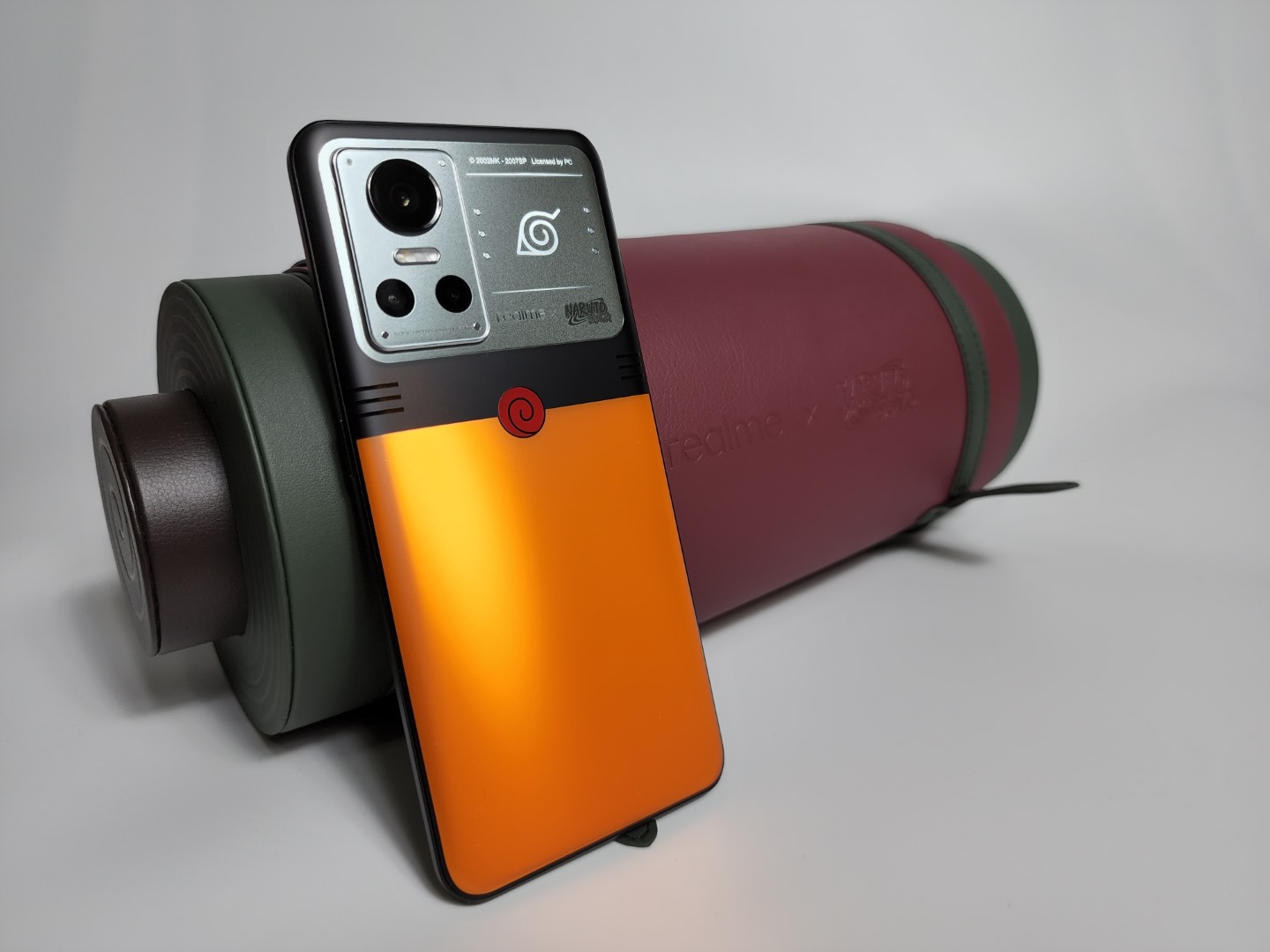 Gaming on it has been a smooth-sailing experience thus far. There hasn't been a wave too high that the GT Neo 3 ship cannot confidently cut through yet. I was having a blast on Genshin Impact and Pearl Abyss' Black Desert Mobile was run and handled like a pro by the phone. Even Activision-Blizzard's latest Diablo Immortal with the game's screen usually busy with effects and animations was cut through like a block of butter met with a red hot knife.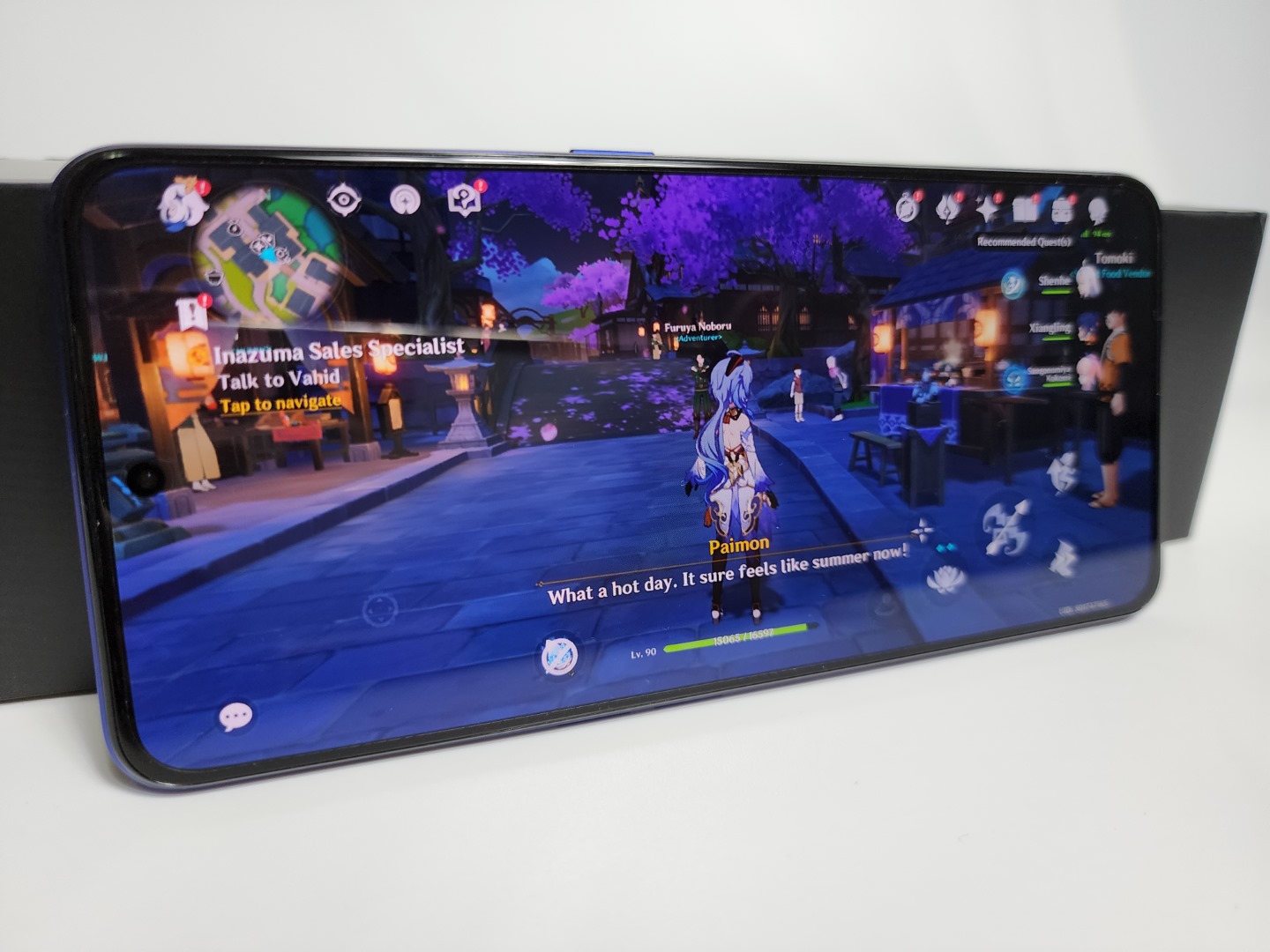 Battery life doesn't drop as fast as I've expected when gaming but the phone does warm up rather quickly especially when GT Mode is turned on. GT mode lets the phone boost the game up another notch but I've rarely felt the need to do it mainly because I didn't want the phone to heat up even more.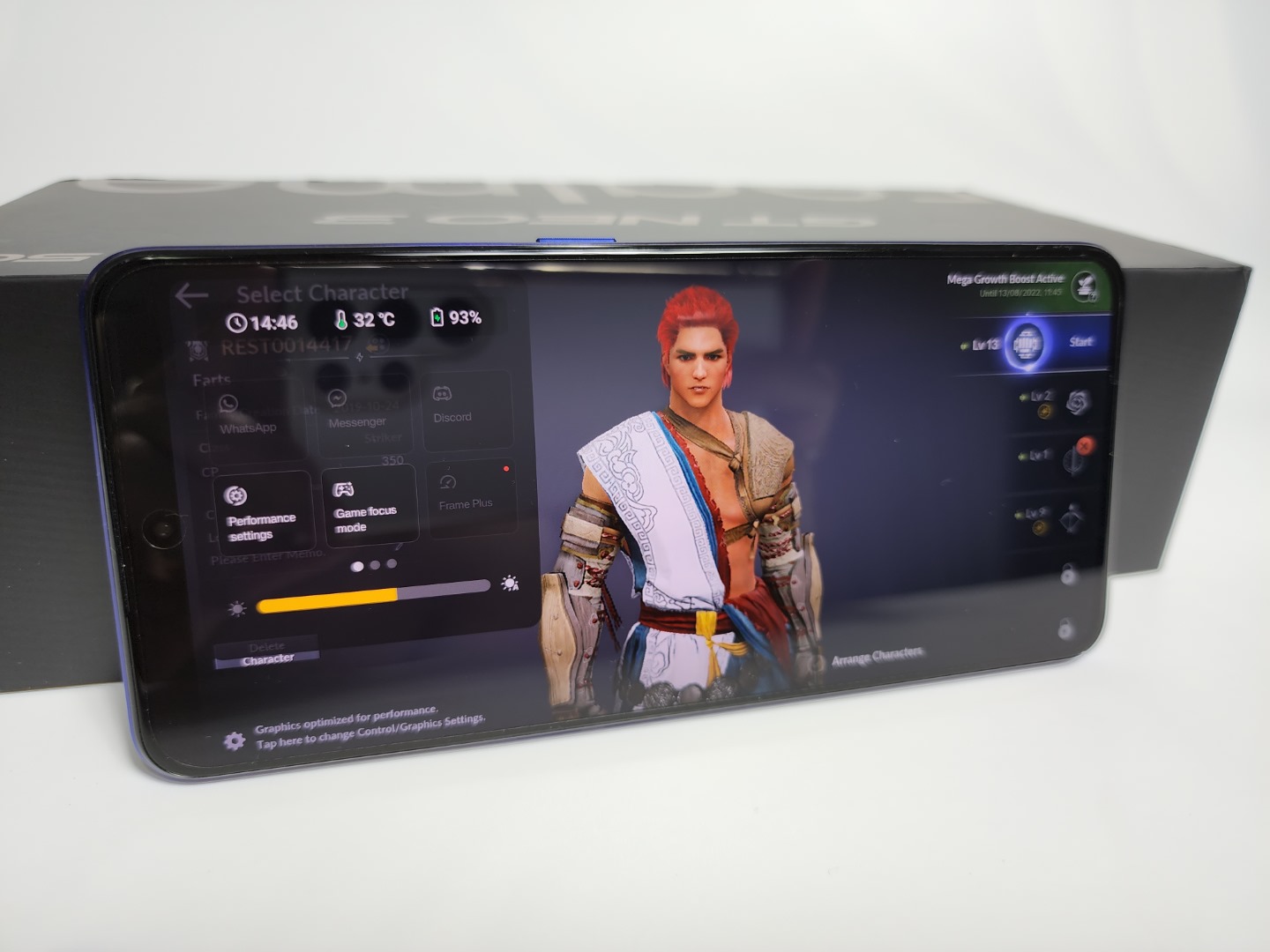 Battery Life and Charging Speed
In terms of battery, the GT Neo 3 has a battery capacity of 5,000 mAh, which isn't special considering most phones are running at this standard of capacity anyway. But where it truly shines is the fact that it can be fully charged to 100% in just 32 minutes via its 80W SuperDart charging.
The GT Neo 3 in some countries can support an even faster speed at 150W, almost twice that in Malaysia, but they come with a smaller-sized battery at only 4,500 mAh. To be honest, I am quite disappointed that Malaysia isn't getting the 150W version, it would have been an epic experience to see it charge at that speed, qualifying itself to wear those racing stripes and the word GT in its name. But the 80W SuperDart charging isn't so bad, it's still faster than most phones out there including Samsung's latest flagship Galaxy S-Series.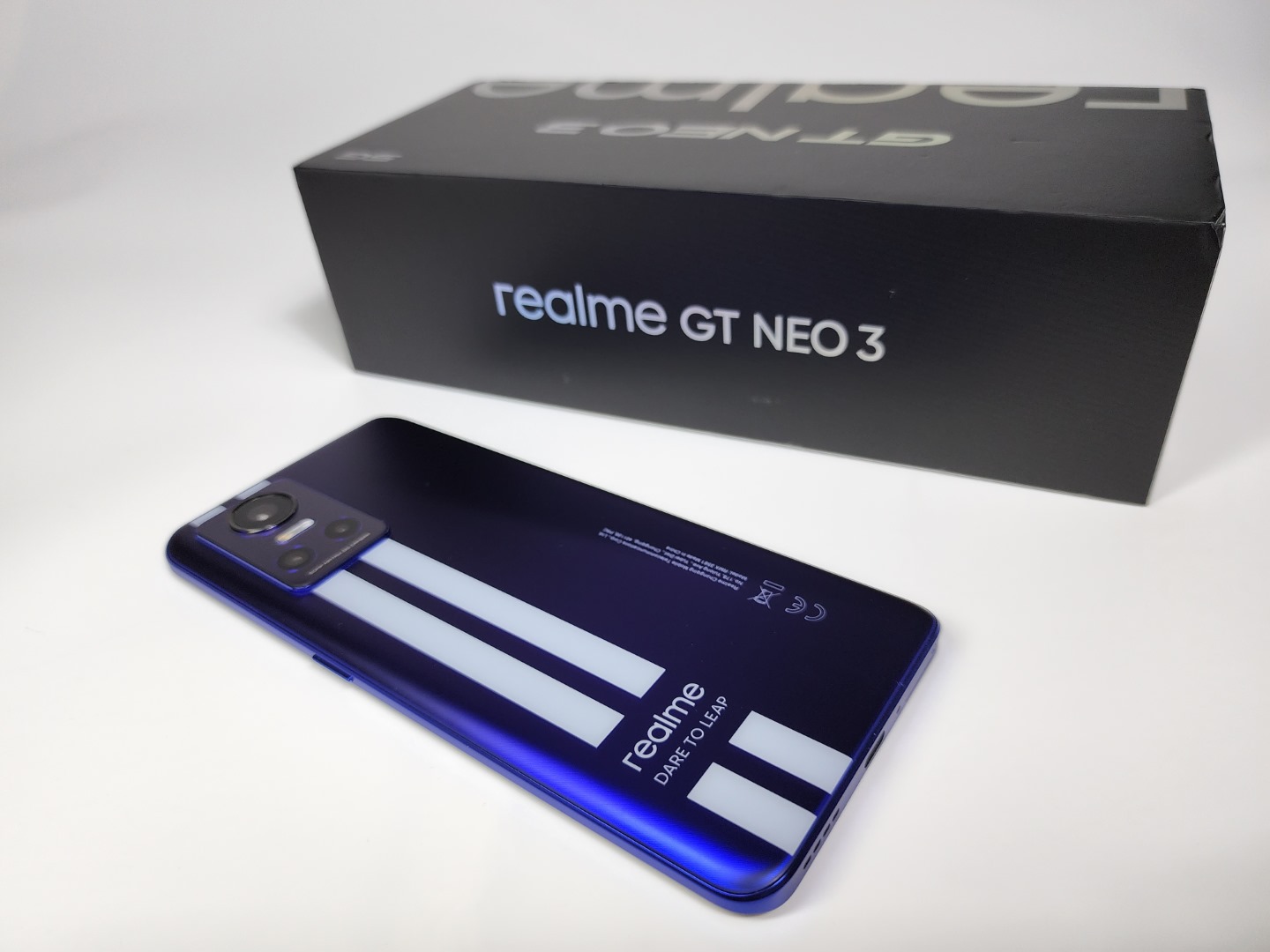 What I Liked About The realme GT Neo 3
Main camera
Device performance
Charging speed
Sporty and racing-inspired design
What I Wished Was Better:
Plastic sides
The other cameras are just so-so
Warms up rather fast
Lacks telephoto lens
Verdict
The realme GT Neo 3 is an upper-mid-range phone selling at RM 2,099 but with the overall performance of a flagship-worthy phone. For this reason alone, the phone is worth the recommendation to buy if you're looking for Power and some form of reliability that comes in the form of a 5000mAh battery and an 80W SuperDart charging. The camera department is a little disappointing for auto users but if you don't mind learning a few tricks on the Pro mode, the phone's camera can still be of good service. The plastic body isn't kidding anybody but at least the design and colour looked (subjectively) beautiful to me.