The ASUS TUF Gaming F15 (2022) and TUF Gaming A15 (2022) models are both good 15.6″ mid-range gaming laptops. They will allow users to confidently game at 1080p, as well as get their work done thanks to the laptops' prowess in handling productivity tasks as well.
For this side-by-side comparison and review, we have the ASUS TUF Gaming F15 (2022) – FX507Z-EHN055W model and the ASUS TUF Gaming A15 (2022) – FA507R-CHN038W. These two laptops are identical in almost all of the comparable areas except the F15 variant carries an Intel chip in it and the A15 has an AMD Ryzen chip.
The biggest question of which one is better for you will ultimately come down to which software ecosystem you are currently using because when it comes to gaming experience and performances, they are equally admirable. But we'll talk more about that as we cover the different areas of the laptop.
Specs Overview
ASUS TUF GAMING F15
(FX507Z-EHN055W)
ASUS TUF GAMING A15
(FA507R-CHN038W)
Windows 11 Home
Windows 11 Home
12th Gen Intel® Core™ i7-12700H Processor 2.3 GHz (24M Cache, up to 4.7 GHz, 14 cores: 6 P-cores and 8 E-cores)
AMD Ryzen™ 7 6800H Mobile Processor (8-core/16-thread, 20MB cache, up to 4.7 GHz max boost)
NVIDIA® GeForce RTX™ 3050 Ti
4GB GDDR6
NVIDIA® GeForce RTX™ 3050 4GB GDDR6
DDR5 4800 8G*1
DDR5 4800 8G*1
15.6-inch, FHD (1920 x 1080) 16:9, anti-glare display, sRGB:62.5%, Adobe:47.34%, Refresh Rate:144Hz, Value IPS-level, Adaptive-Sync, MUX Switch + Optimus

15.6-inch, FHD (1920 x 1080) 16:9, anti-glare display, sRGB:62.5%, Adobe:47.34%, Refresh Rate:144Hz, Value IPS-level, Adaptive-Sync, MUX Switch + Optimus
512GB PCIe® 3.0 NVMe™ M.2 SSD
512GB PCIe® 3.0 NVMe™ M.2 SSD
Wi-Fi 6(802.11ax)+Bluetooth 5.2 (Dual band) 2*2
Wi-Fi 6(802.11ax)+Bluetooth 5.2 (Dual band) 2*2
1x 3.5mm Combo Audio Jack
1x HDMI 2.0b
1x USB 3.2 Gen 1 Type-C
2x USB 3.2 Gen 1 Type-A
1x RJ45 LAN port
1x USB 3.2 Gen 1 Type-C support DisplayPort™ / G-SYNC
1x 3.5mm Combo Audio Jack
1x HDMI 2.0b
1x USB 3.2 Gen 1 Type-C
2x USB 3.2 Gen 1 Type-A
1x RJ45 LAN port
1x USB 3.2 Gen 1 Type-C support DisplayPort™ / G-SYNC
Backlit Chiclet Keyboard 1-Zone RGB
Touchpad
Backlit Chiclet Keyboard 1-Zone RGB
Touchpad
720P HD camera
720P HD camera
35.4 x 25.1 x 2.24 ~ 2.49 cm (13.94″ x 9.88″ x 0.88″ ~ 0.98″)
35.4 x 25.1 x 2.24 ~ 2.49 cm (13.94″ x 9.88″ x 0.88″ ~ 0.98″)
2.20 Kg (4.85 lbs)
2.20 Kg (4.85 lbs)
Pricing and Models
The F15 (2022) – FX507Z-EHN055W model that we have will set you back RM 5,599 whereas the Gaming A15 (2022) – FA507R-CHN038W will cost you RM 4,999 which is noticeably lesser, but that is because the A15 we have only come with an RTX 3050 compared to the F15's RTX 3050 Ti.
If you go for the same RTX 3050 Ti for your A15, you'll have to top up another RM 200 for the luxury bringing the price up to RM 5,199. With the same GPU in both, the Intel version of the laptop is still more expensive than its Ryzen counterpart by RM 400.
Design and Build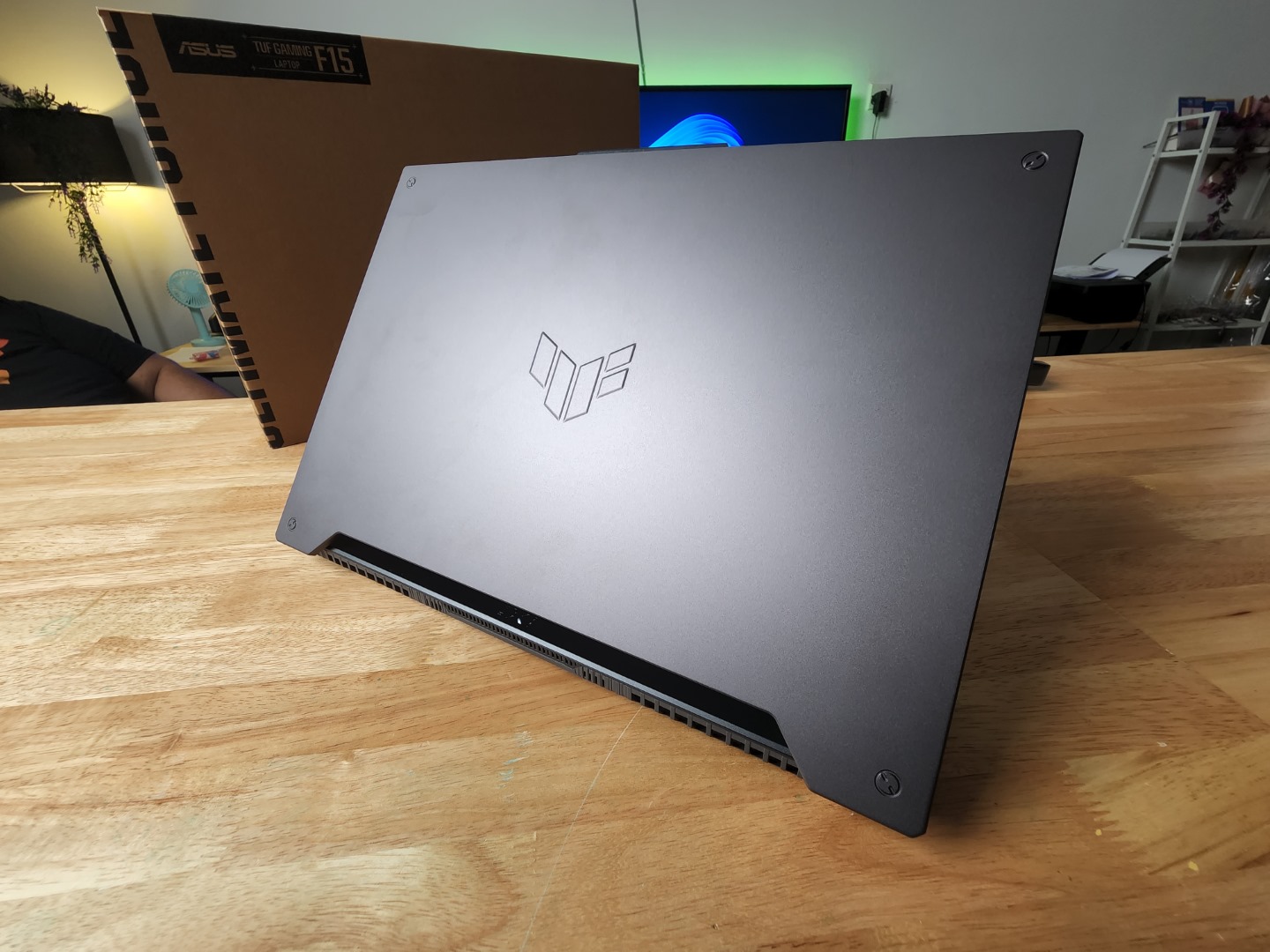 In the style department, the TUF Gaming F15/A15 looks sleek and professional in its gunmetal Mecha Gray colour. With just the TUF shield logo and fake screws on four corners of their lids, the laptops don't cry for attention. Compared to other gaming laptops in the market, I actually prefer the more refined and cleaner looks of the F15/A15 than the typical gamer-ish fashion that usually looks too eager to impress.
With the F15/A15, even if you sometimes need them for a professional environment where you need to show your laptop in a meeting room or business discussion, it won't distract any attention – until the lid is opened that is.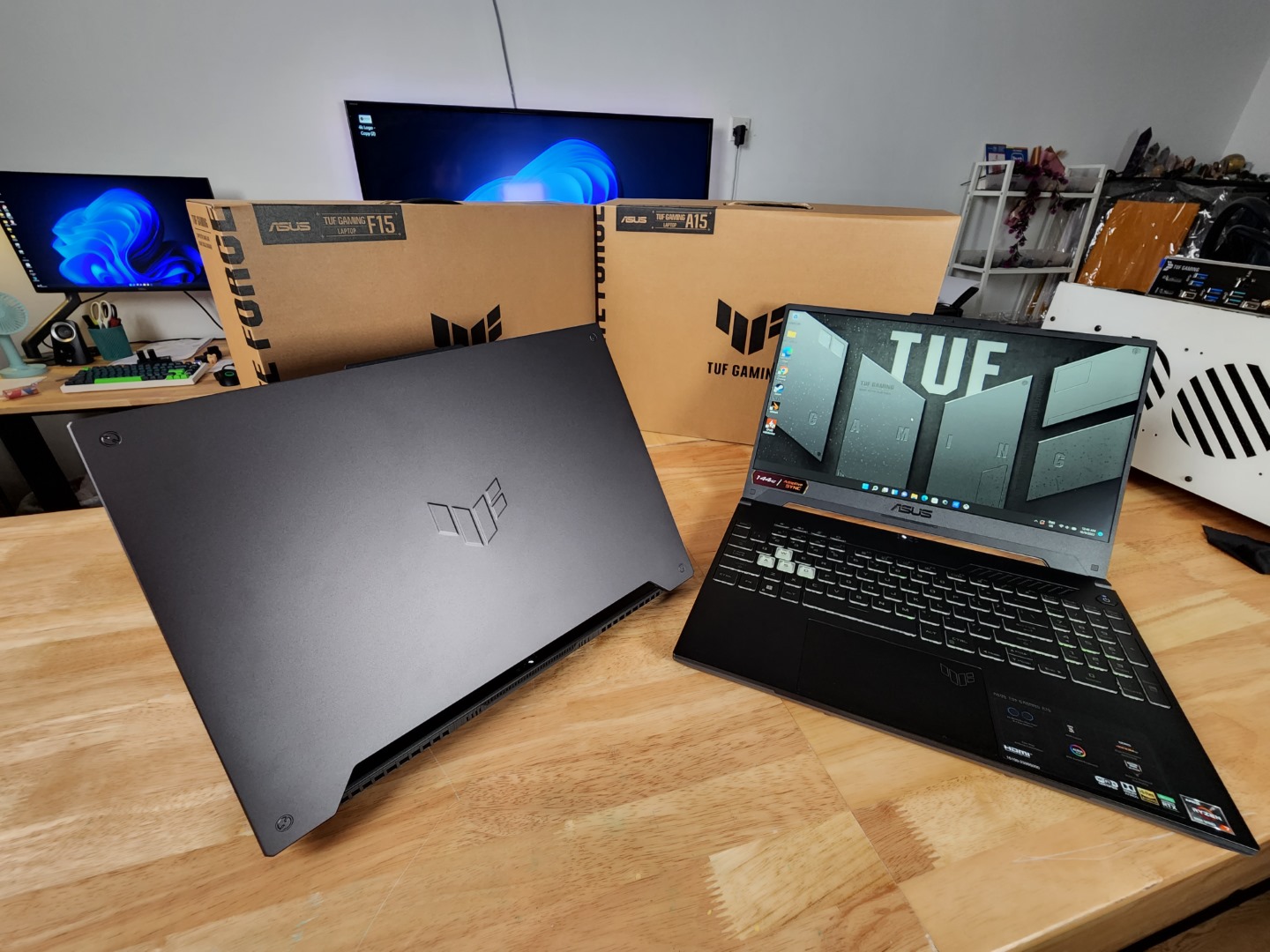 The F15/A15's gaming DNA quickly shows once the lid is opened. The WASD keys are in clear caps as if to make an immediate statement on the laptop's gaming design. I found them to be a little overconfident at first but they quickly grew into me. The laptop's handsome and brightly lit full keyboard layout complete with a number pad was also eye-pleasing, to say the least.
No matter which one you go for, both the TUF Gaming F15 and A15 have a built dimension of 354mm x 250mm x 19.81mm and weigh 2.20kg – which isn't exactly light for a 15.6″ build but they are also not burdening to carry. The laptops also feature a single 720p webcam sitting at the top notch.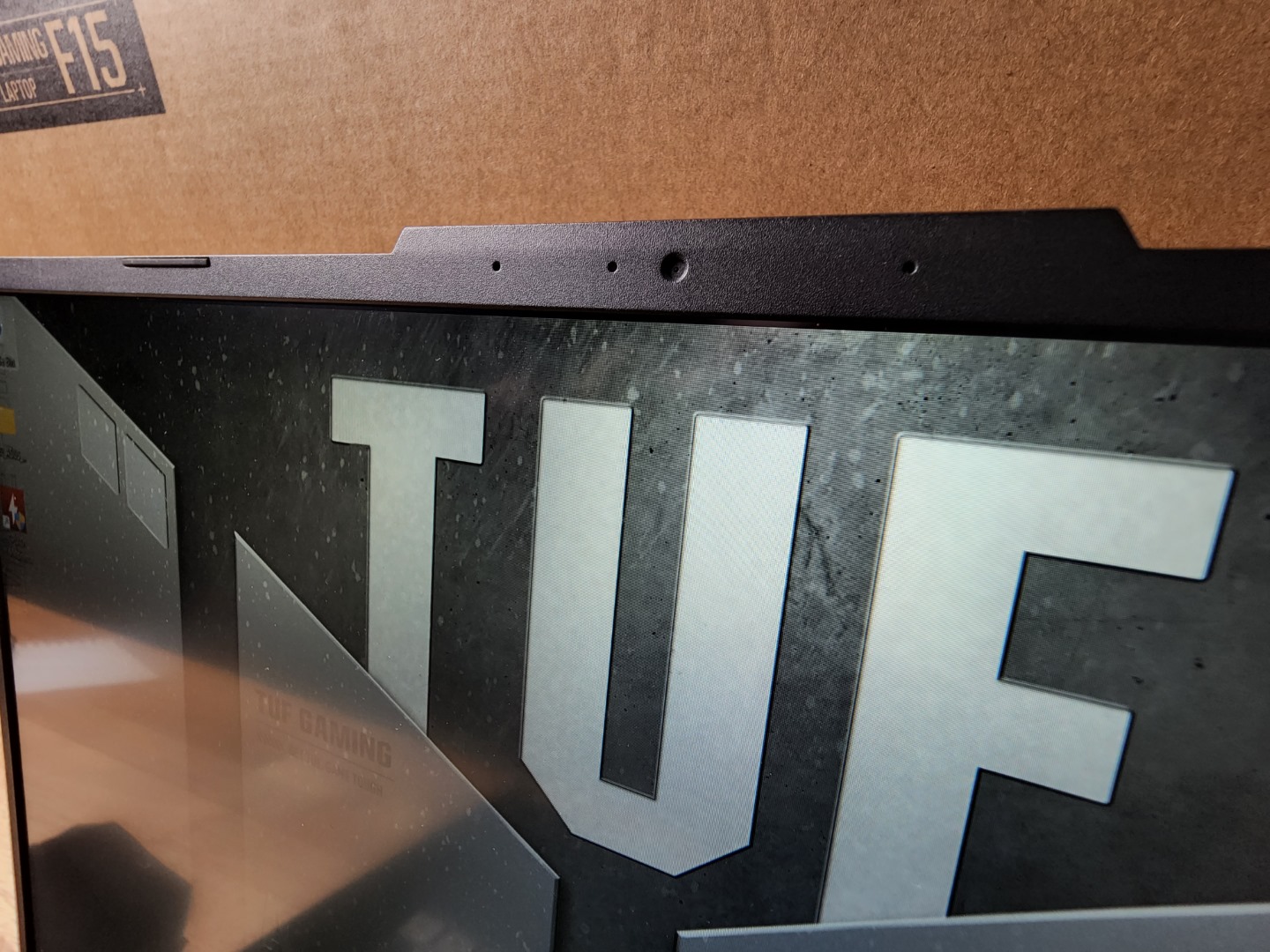 On both sides of the laptops are a healthy amount I/O ports;
1x 3.5mm Combo Audio Jack
1x HDMI 2.0b
2x USB 3.2 Gen 1 Type-A
1x USB 3.2 Gen 2 Type-C support DisplayPort / G-SYNC
1x RJ45 LAN port
1x Thunderbolt 4 support DisplayPort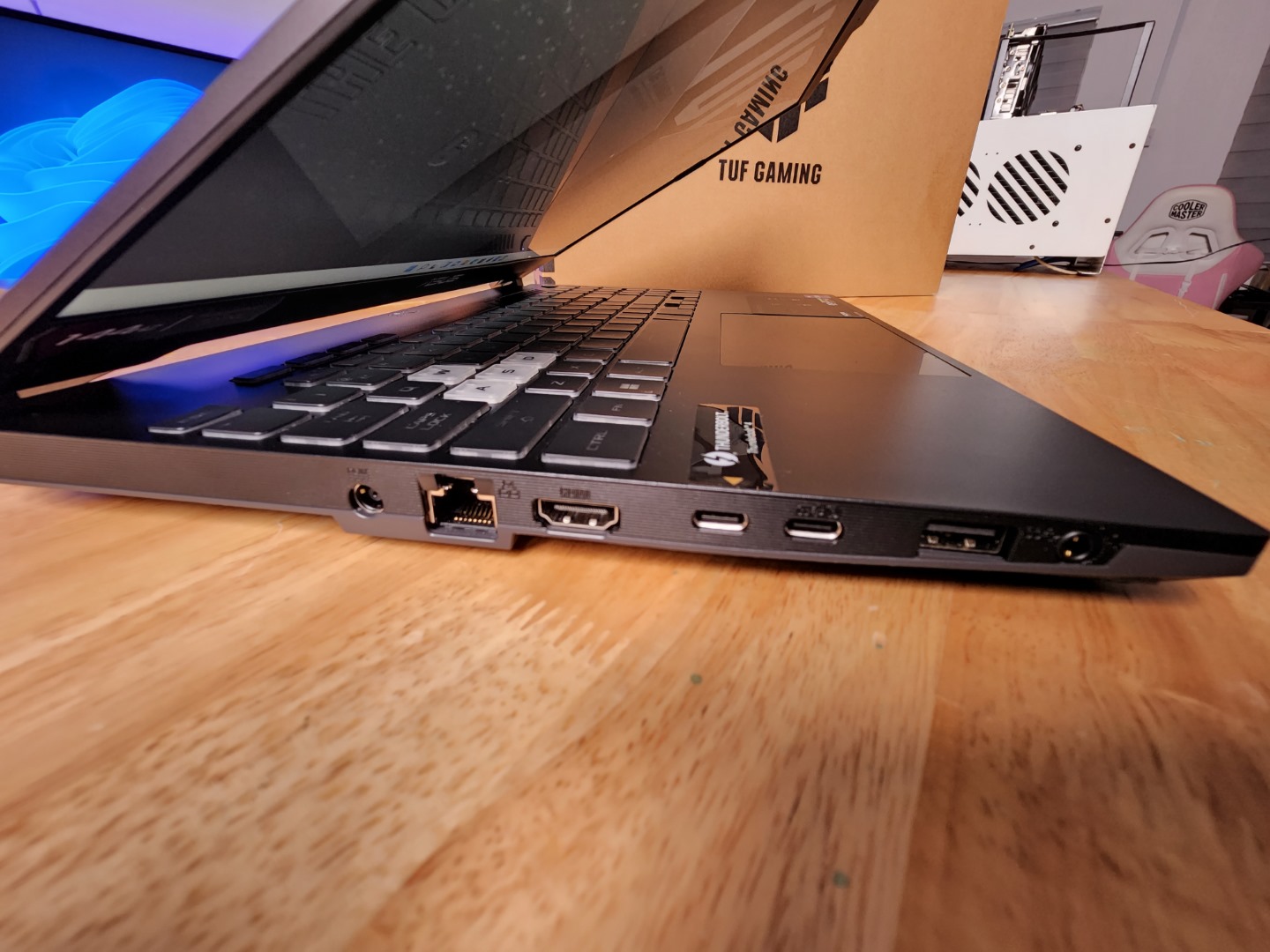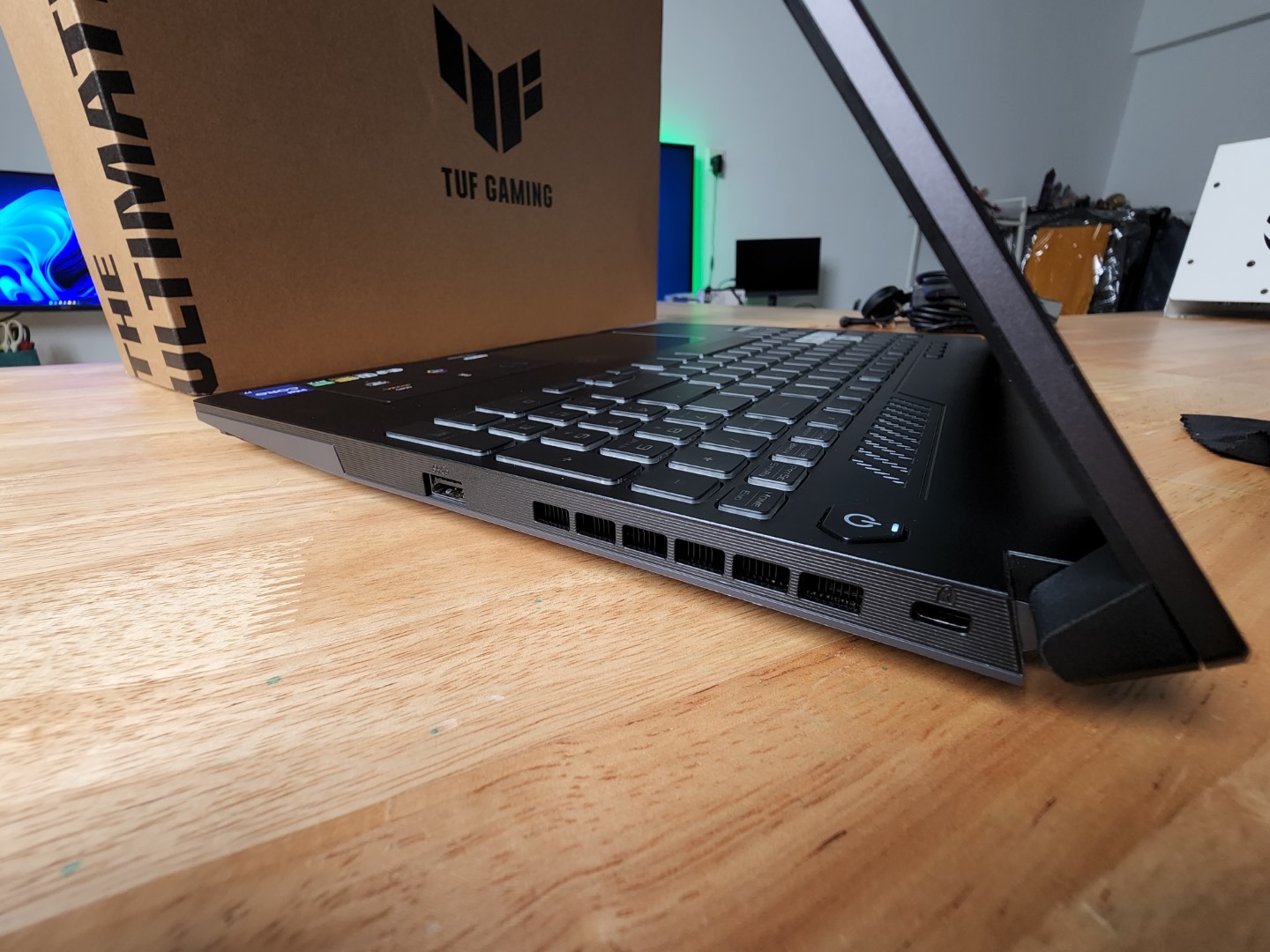 Physically, both laptops are well-built, feel sturdy, and are identical in looks. In fact, it's actually hard to tell them apart unless you are good at 'Spot the difference!' type of games and immediately notice the small AMD Ryzen or Intel Core sticker sitting at the bottom right corner of the panel.
Screen and Display
Both laptops have a 15.6″ panel but their quality varies according to the model that you get. Our units of the F15 and A15 come with a 15.6″ FHD IPS panel showing up to 1920 x 1080p on a 16:9 ratio with a refresh rate of 144Hz. Like all TUF Gaming laptops that came out this year, they also come with Adaptive-Sync technology along with the MUX Switch that connects the GPU directly to the display. This gives better and more stable framerates but you're trading it with your battery life.
On the user experience level, these panels are not top-shelved qualities but they are good for a mid-range gaming laptop. Movies and games look good and the colours are vibrant, although the brightness isn't exactly great.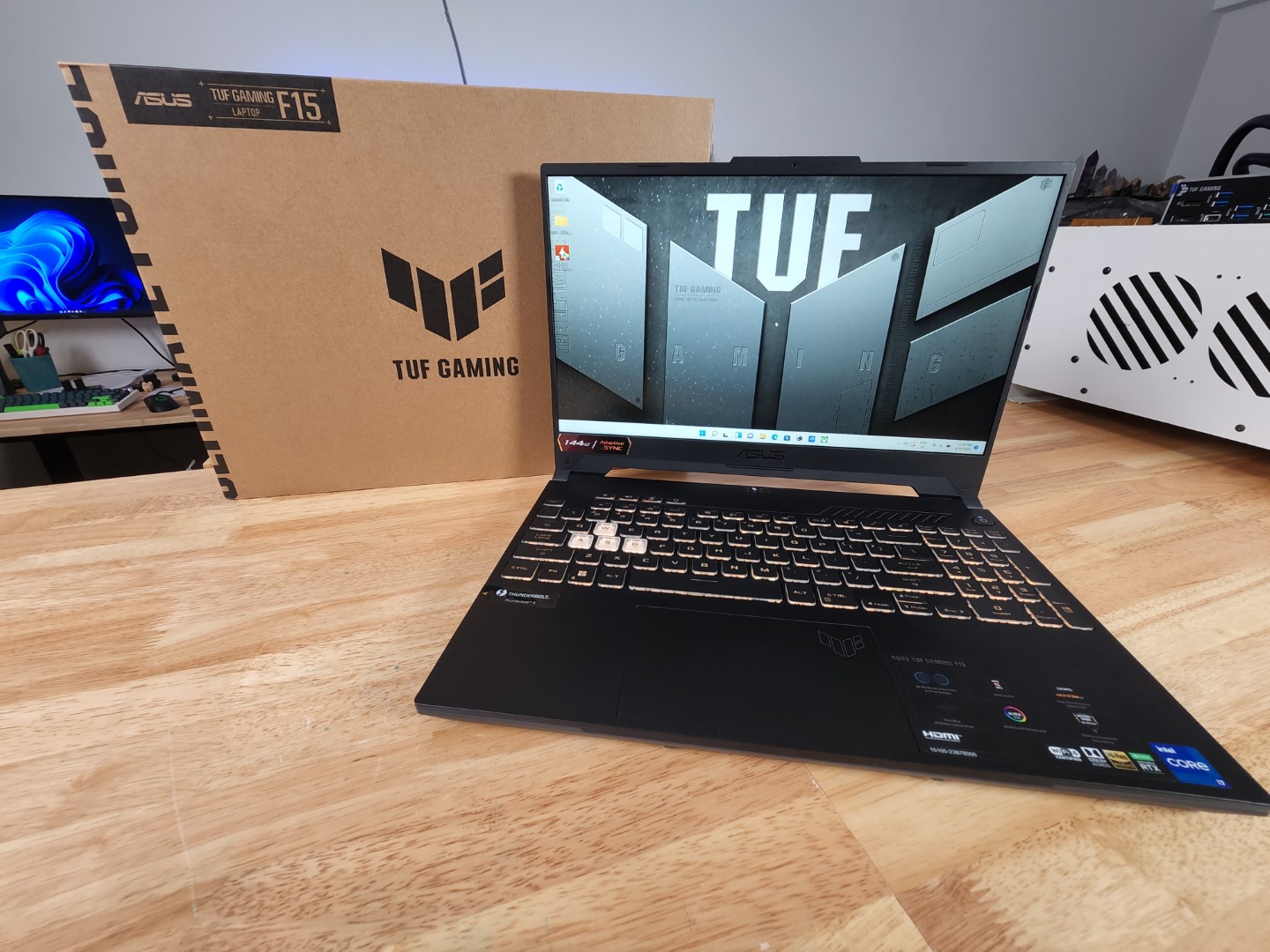 If you want a better display, the A15 has a model that offers 300Hz on 1080p but will cost you RM 6,699 to own, and the F15 has a WQHD screen that hits 165Hz on a 2560 x 1440 resolution and while we do not have information yet on how much the 165Hz model will cost, it's safe to assume that it will be quite a jump from its base price if it's available in Malaysia.
Keyboard and Trackpad
The F15 and A15 both have a membrane full keyboard complete with a number pad (thank god!). I dislike membrane keyboards with a passion but I like how the switches here felt confidently responsive when I type and game. There's this nice little snappy sensation when I type that just lands and take off so well and they don't feel spongy.
There are four dedicated keys at the top for convenient adjustment of volumes, muting and a shortcut key to opening Asus' own Armoury Crate software. The full number pad made the keyboard layout look a little cramped but I didn't mind it at all. I rather trade being cramped for a full numb pad than have more room without it. It didn't take long before my fingers acclimatise to the smaller layout anyway, and I comfortably registered 72 words on 10fastfingers.com compared to my older 75-78 normal score.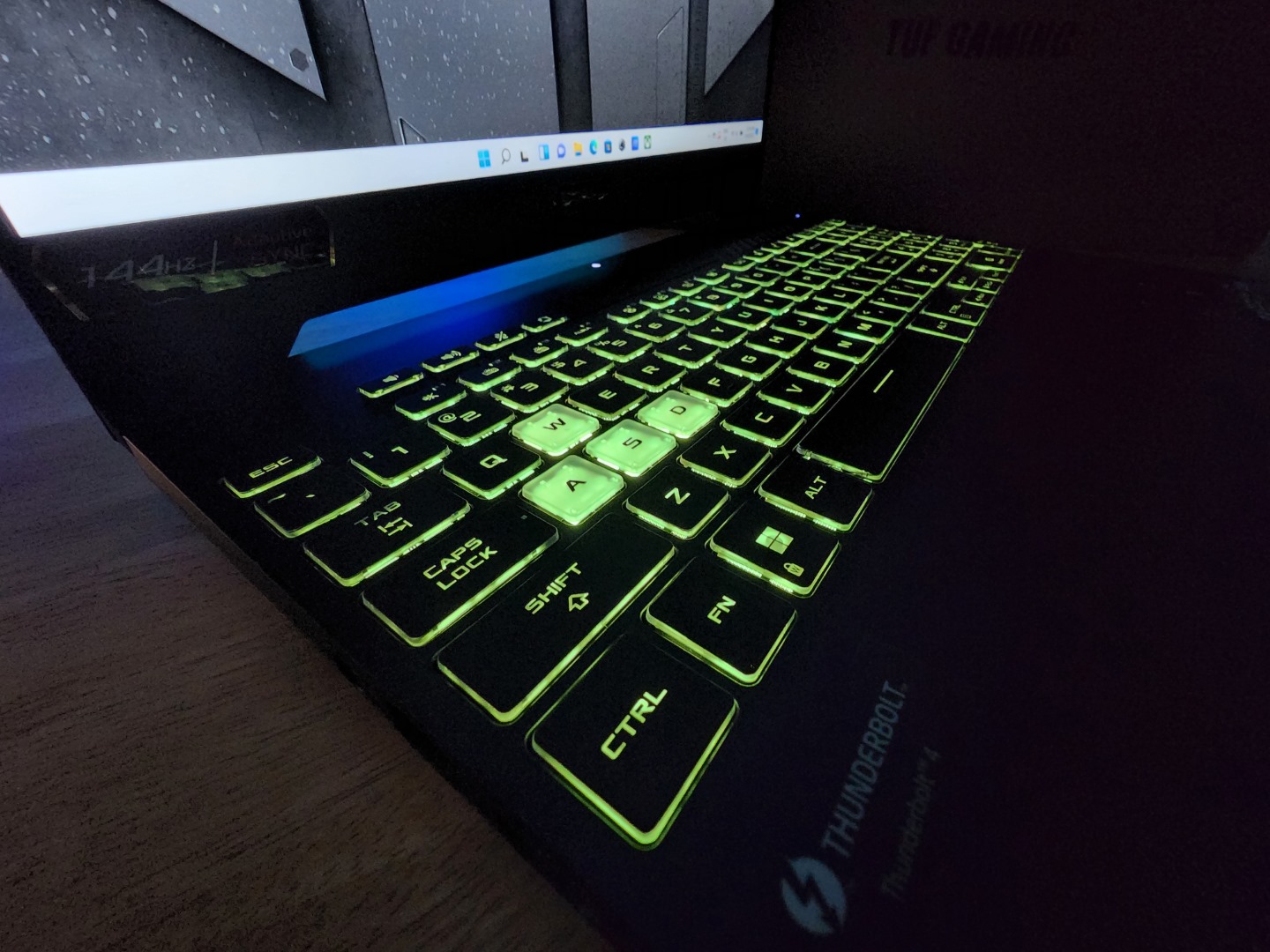 The trackpad, however, is a different story. It actually feels weirdly hard to click on it especially double clicks. Clicking on the trackpad felt like landing on an old sponge that sucks you in rather than bouncing you right back like a new trampoline.
Performance
Based on the results from our synthetic benchmarks, the TUF F15 model outperforms its TUF A15 sibling entirely. The TUF F15 may come with a slightly better RTX 3050Ti GPU, the Intel i7-12700H outperformed the Ryzen 7 6800H in CPU benchmarks as well.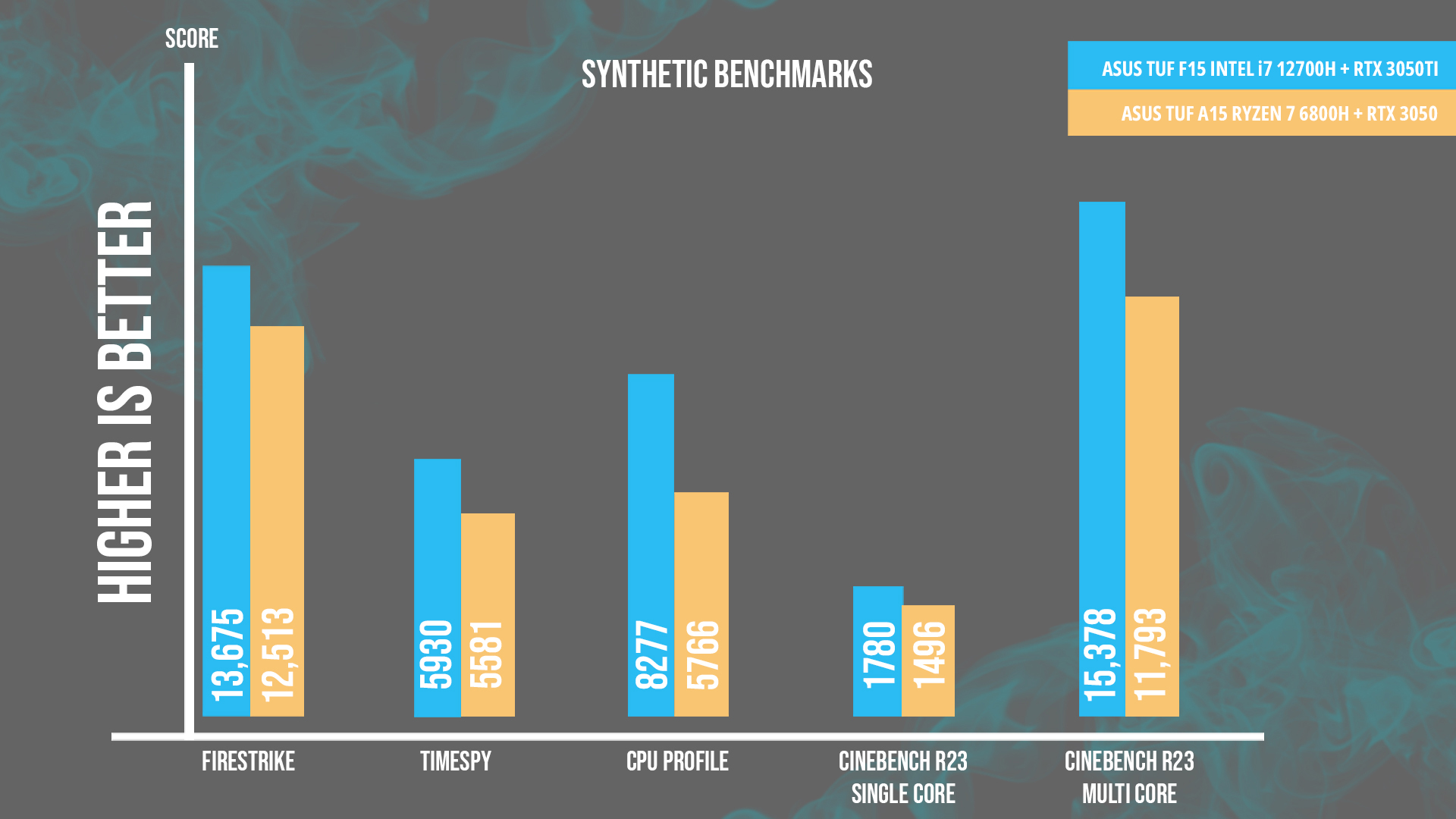 As shown in the graph above, the TUF F15 outperformed the TUF A15 with a large gap in both the CPU Profile and Cinebench R23 multi-core benchmarks. This did not come as a surprise as the 12th generation Intel's hybrid technology provides better compute efficiency and workload optimization for multi-core usage. The TUF F15 performed better in the single-core Cinebench R23 as well but with a marginal difference only.
As entry-level GPUs, both the 3050 Ti and 3050 performed relatively well. A score above 5500 in Timespy puts both the 3050s on par with the mobile edition RTX 2060. The differences in the benchmark scores between the two were negligible as well. As shown in the Firestrike and Timespy benchmark results, the 3050 Ti only had a minor increment in scores over its non Ti sibling.
Based on synthetic results alone, the TUF F15 variant does perform better than the TUF A15 variant, but these numbers do not reflect our hands-on experience. We've used each laptop for two weeks for daily gaming and word usage, and the differences are not noticeable at all. They both performed very well, as expected from a high-end mobile CPU. There is however a slight difference in battery performance, with the A15 having noticeably better power efficiency as Ryzens are proven to consume less power.
Gaming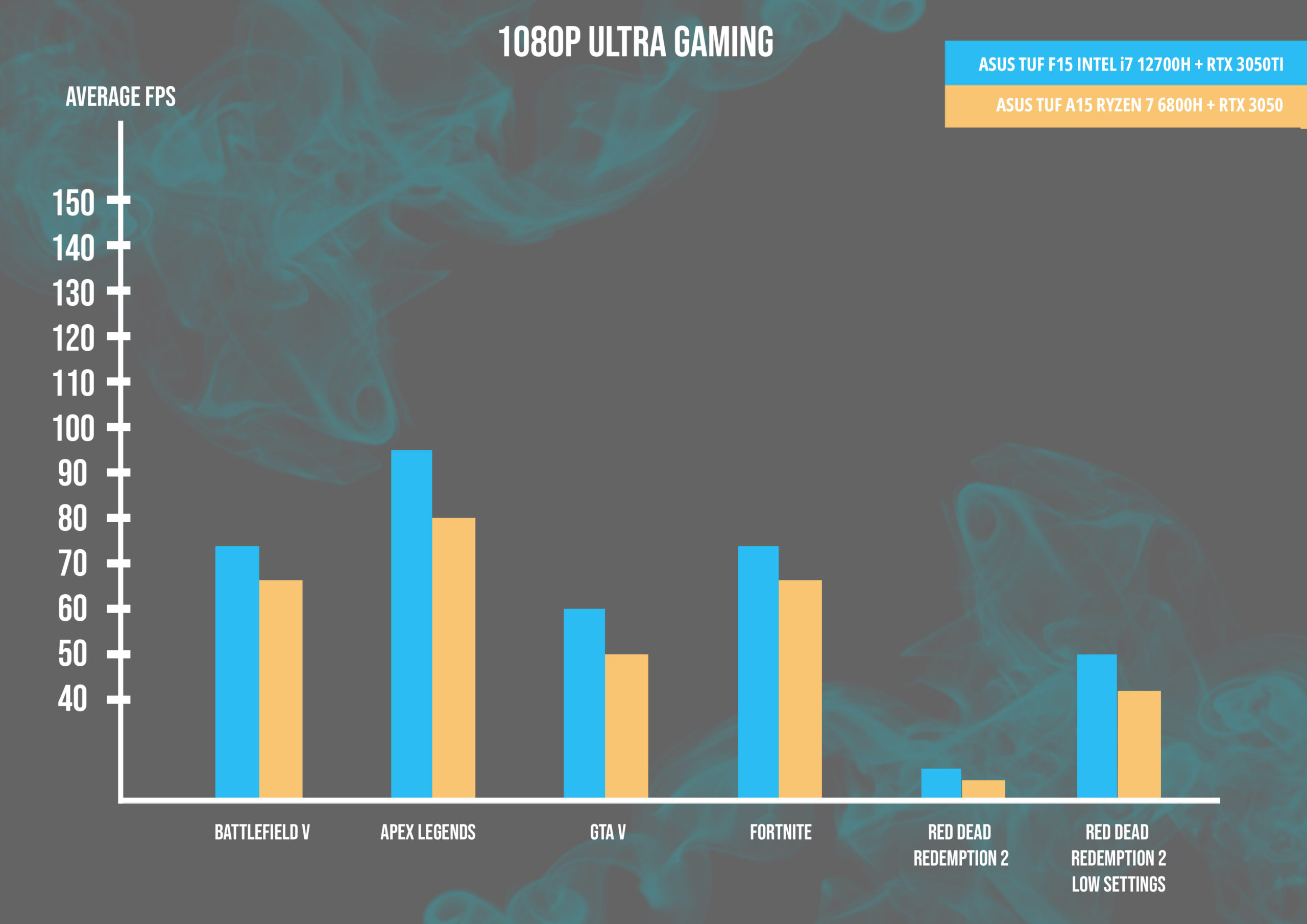 We've tested both laptops on Battlefield V, Apex Legends, GTA V, Fortnite, and Red Dead Redemption 2. All the games were set at 1080p resolution and with maximum graphic settings – except for Red Dead Redemption 2 where a second run-through was required in the lowest settings. The 3050 Ti performed better than the RTX 3050 in general but with only a small lead for all test cases.
Based on our test results, both laptops will run most games that don't require intensive graphic processing. The performance on multiplayer titles such as Battlefield V, Fortnite and Apex Legends are acceptable as both GPUs manage to score higher than 60FPS for all three titles. The scores achieved by the TUF F15 for these titles are also good enough to qualify them for semi-competitive gaming usage.
Both the GPUS struggled to bring out their best when it comes to graphic-intensive games such as GTA V, Assassins Creed Valhalla, and Forza Horizon 5. We've recorded an average of 40 to 60 FPS when it comes to playing these games at maximum settings, with Red Dead Redemption breaking the pattern at 20 to 30 FP. To obtain a stable 50-60 FPS range, we had to decrease the graphic settings to medium for most of the titles, and the lowest available for games such as Cyberpunk 2077 and Red Dead Redemption 2.
---
All-in-all – Which one should you get?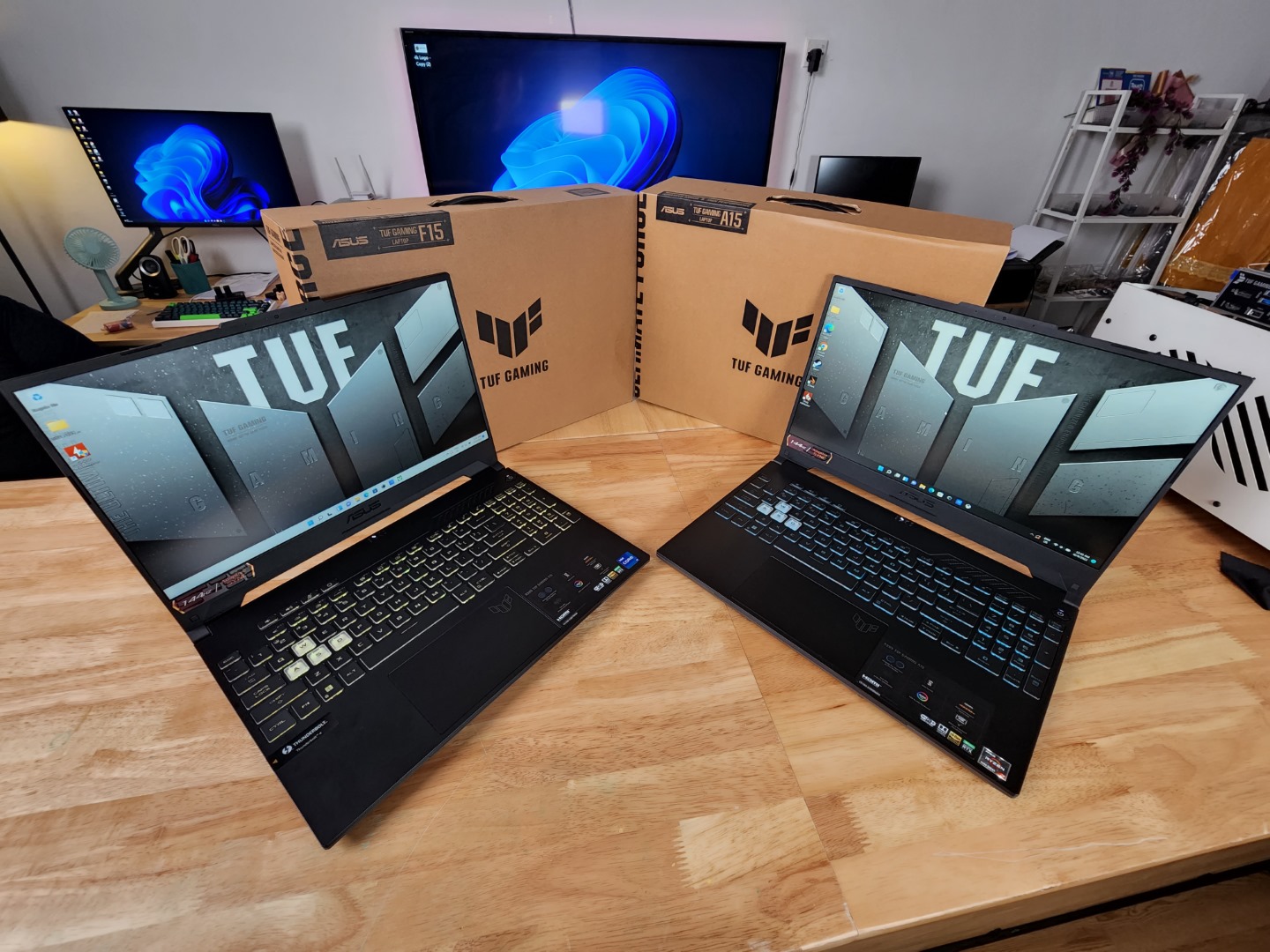 If you are looking for a reliable upgrade from your entry-level gaming laptops or are just looking to buy a decent mid-tier gaming laptop without breaking the bank, then both the ASUS TUF Gaming F15 (2022) – FX507Z-EHN055W and the ASUS TUF Gaming A15 (2022) – FA507R-CHN038W models present a solid choice.
No doubt, the Intel chip's multi-core construct works better for most software especially if you are into photo and video editing like Adobe Premier, Photoshop, 3D Modelling, or any rendering tasks as required in AutoCAD, Solidworks, etc. So, if you are in the line of work that requires the above-mentioned work done on top of wanting a laptop that plays games, then the F15 is definitely the better companion for you.
Don't get me wrong, though. The A15 will still get your editing and rendering work done should you need it to, but the Intel-armed F15 will just excel in them better. However, if you are just mostly watching movies, casual browsing, and playing games, then why not opt for the Ryzen model? The A15 will still get all these done just as effortlessly and even saves you some money in the process, and with better power efficiency as well.
---

For those interested, these laptops can be purchased from the links below:
ASUS: https://www.asus.com/my/store/Laptops/For-Gaming/
Lazada: https://www.lazada.com.my/shop/asus-laptop-store/
Shopee: https://shopee.com.my/asus_laptop.os