Introducing the ASUS ROG Hyperion GR701, a cutting-edge PC case designed by ASUS to replace its predecessor, the ROG Helios. According to reports, the ROG Hyperion is the ultimate in PC case technology. Rather than simply regurgitating specs, I will provide my personal interpretation of what the ROG Hyperion represents.
In case if you're interested in a video based overview, here's a video of the case from our friends at Kopi & Tech.
First Look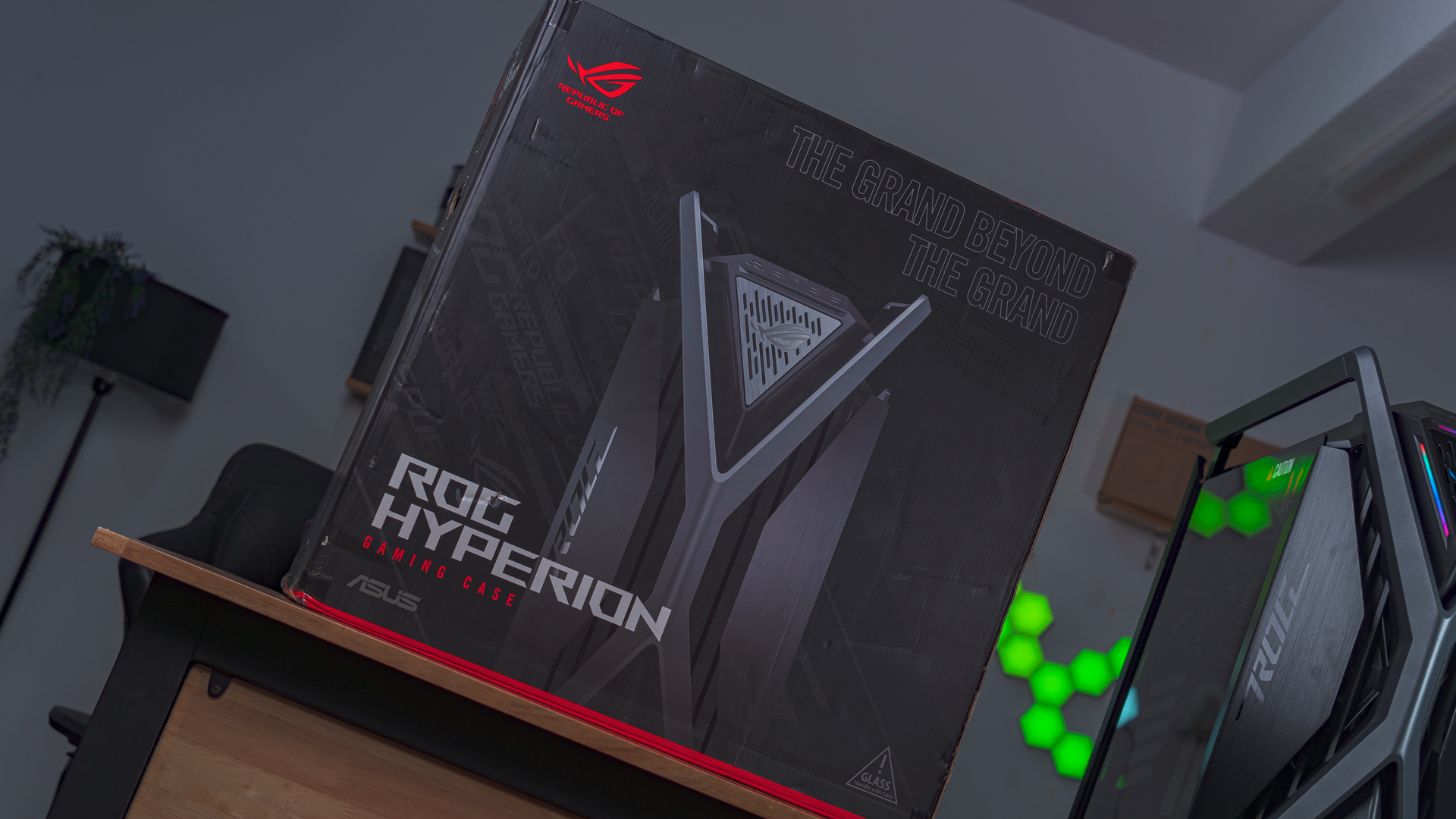 The ASUS ROG Hyperion GR701 is packaged in the iconic black and red theme that has become synonymous with the ASUS brand. The sheer size of the box is massive beyond words, weighing in at 22KG when including the foam and materials. For safety reasons (for both the casing and the courier personnel), two of us at the office had to assist in carrying the box up to our studio. Although the casing itself weighs 20.8KG, it feels much lighter and is easily maneuverable once the two tempered glass panels are removed.
Two features stand out prominently on the ASUS ROG Hyperion GR701 casing, immediately drawing the eye of any observer. The first is the pair of tempered glass panels located on either side of the casing. These panels are particularly striking due to their size and unique design, which complements the overall shape of the casing. The second standout feature is the X-Frame, which runs from the rear of the casing all the way to the bottom front. Despite its unconventional appearance, this frame is remarkably well-built and performs its function admirably, providing a sense of security and satisfaction to the user. I will elaborate further on this feature as you read on.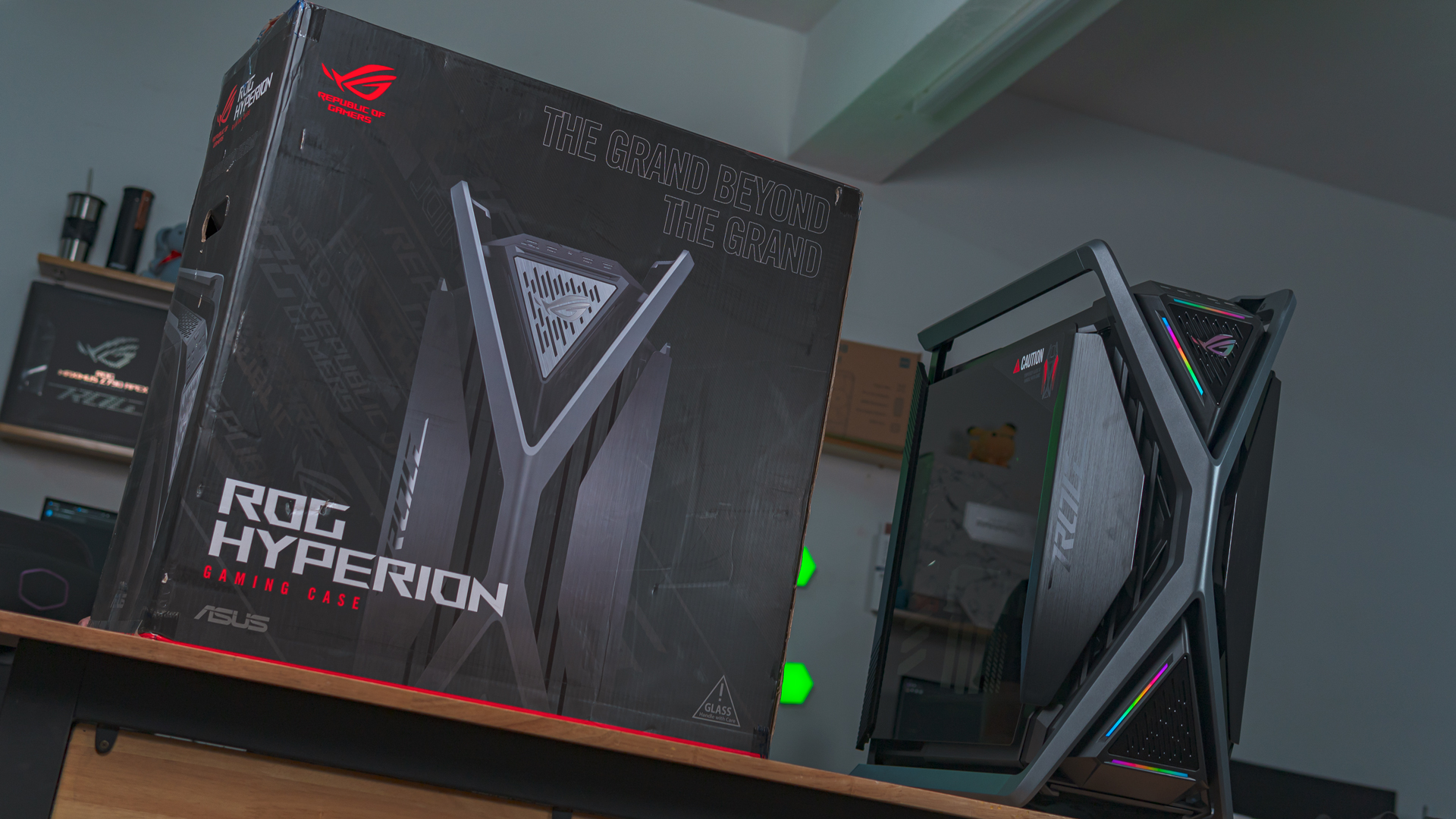 Technical Specifications
Motherboard Support

EATX (12″x10.9″)


ATX

Micro-ATX

Mini-ITX

Drive Bays

5 x 2.5″ Bay

2 x 2.5″/3.5″ Combo Bay

Expansion Slots

9

3 (via vertical bracket)

Front I/O Port

1 x headphone / Microphone

4 x USB 3.2Gen1

1 x USB 3.2 Gen2 Type C

LED Control Button

Reset Button

1 x USB 4.0 Type C or 1 x USB 3.2 Gen 2×2 Type C

Tempered Glass

Radiator Support (Front)

Up to 420 mm

Up to

360 mm

Radiator Support (Top)

Up to 420 mm

Up to

360 mm

Radiator Support (Rear)

Cooling Support (Front)

Cooling Support (Top)

Cooling Support (Rear)

Pre-installed Fans (Front)

3 x 140 mm PWM

Pre-installed Fans (Rear)

1 x 140 mm PWM

Maximum CPU Cooler Height

190 mm

Maximum GPU Length

460 mm

Maximum PSU Length

240 mm

Removable Dust Filters

Maximum Cable Management Space

34 mm

Dimensions

268 * 639 * 659 mm

Weight

20.8 Kg
Design & Structure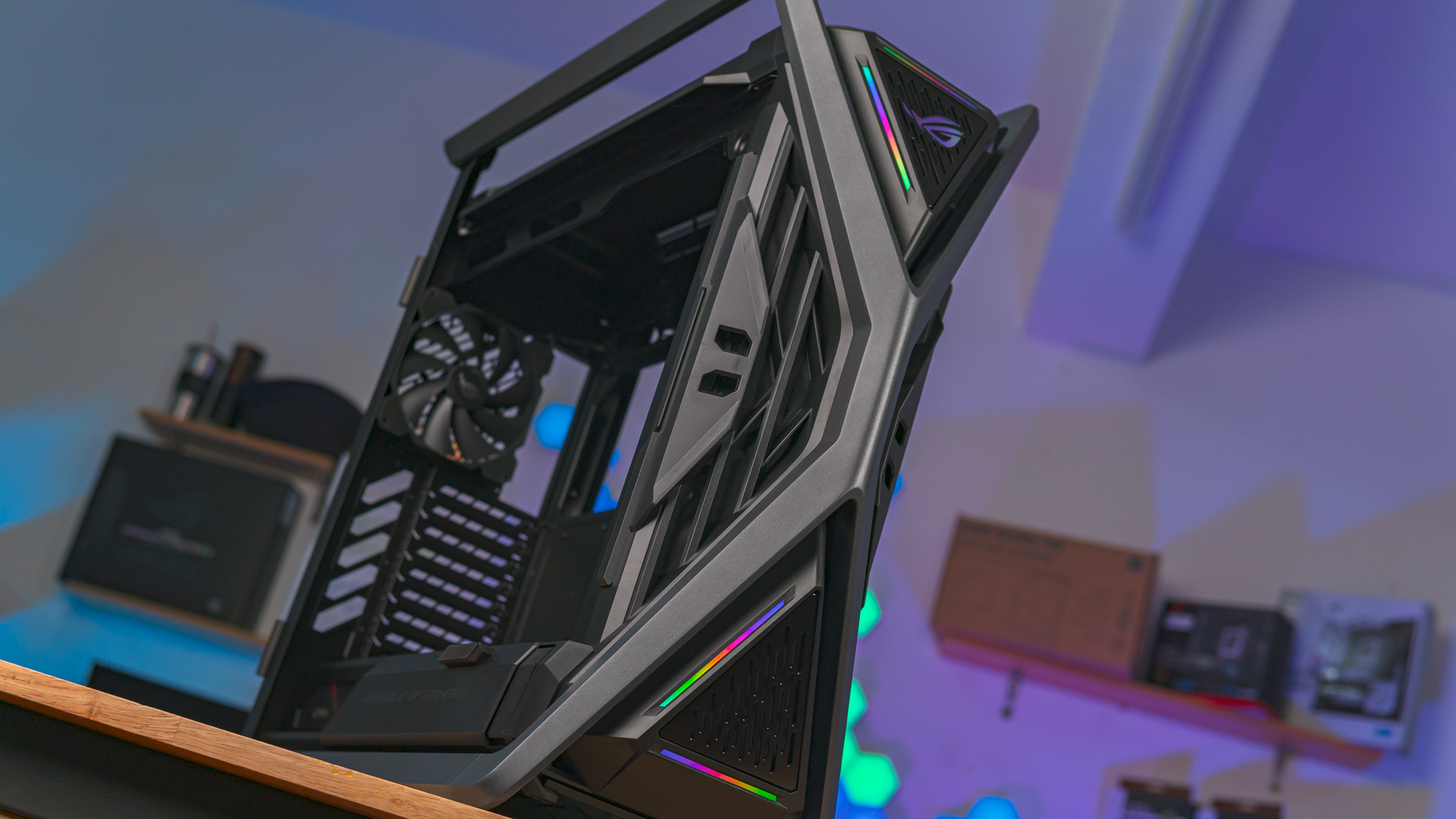 The ROG Hyperion sports an aggressive looking front fascia. This hits me in such a way that I truly appreciate this design over the previous flagship ROG Helios. The main structure holding the entire case is the X frame that starts from the rear and all the way down. The X Frame is sturdy and rigid and certainly is the best possible way to lift or move the casing around. I tried swinging the case without the glass panels and it did not break away at all. ASUS has also verified that the this frame can support up to 80KG in hardware weight.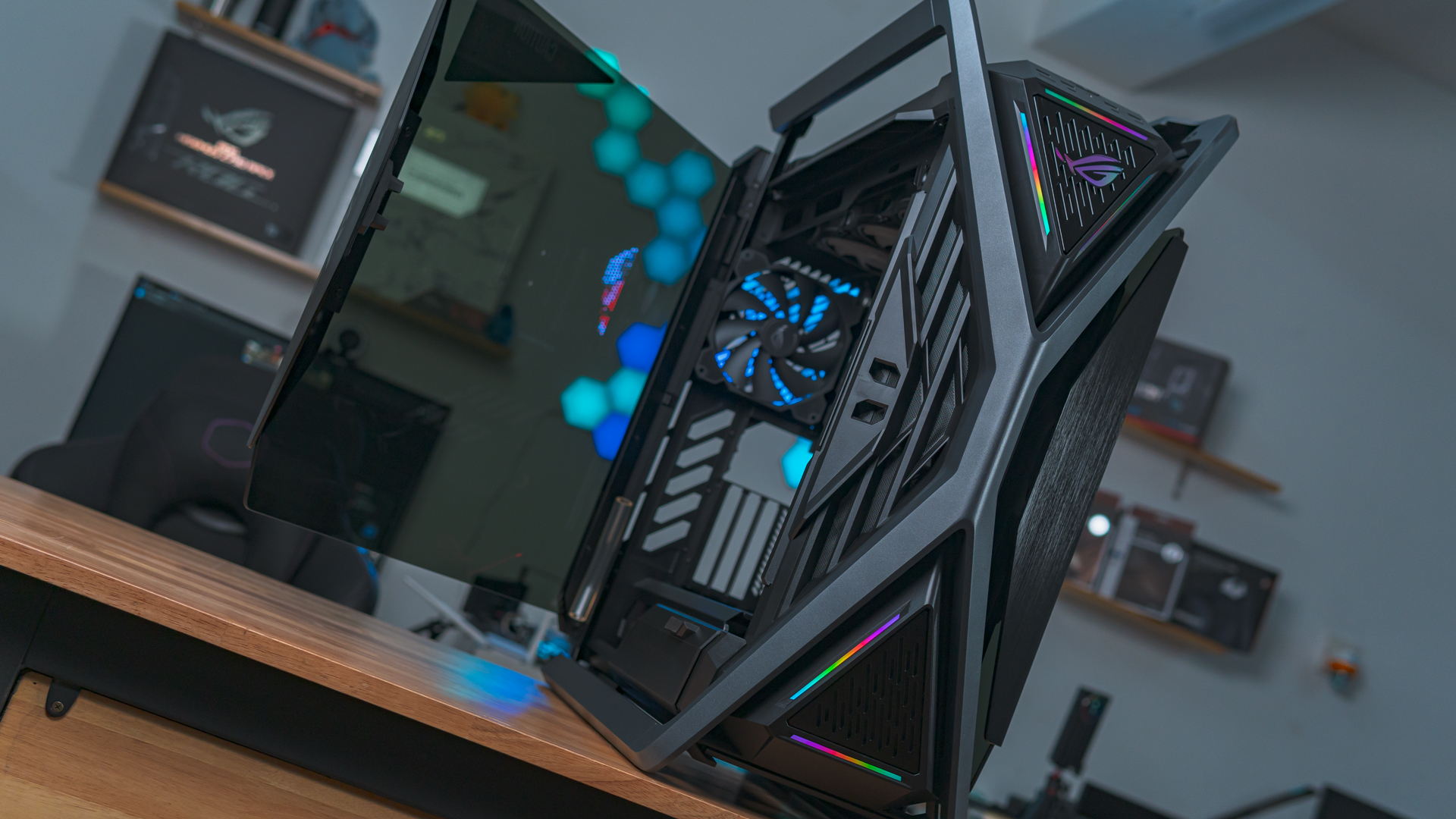 The dark tinted tempered glass panels are 4mm thick and are further secured with black anodized aluminium panels that give off a very premium feel to it. These panels are then secured to the casing via magnets that prevent them from moving around. The tempered glass panels can be removed or fastened with no difficulties as they are using a hinge door mechanism. I like the fact that ASUS is keeping up with trends and decided to not go for the old conventional thumbscrew fasteners. However, due to the panels being secured by magnets, it is highly advisable to not transport the case with the panels attached as they can easily swing open and cause a catastrophe.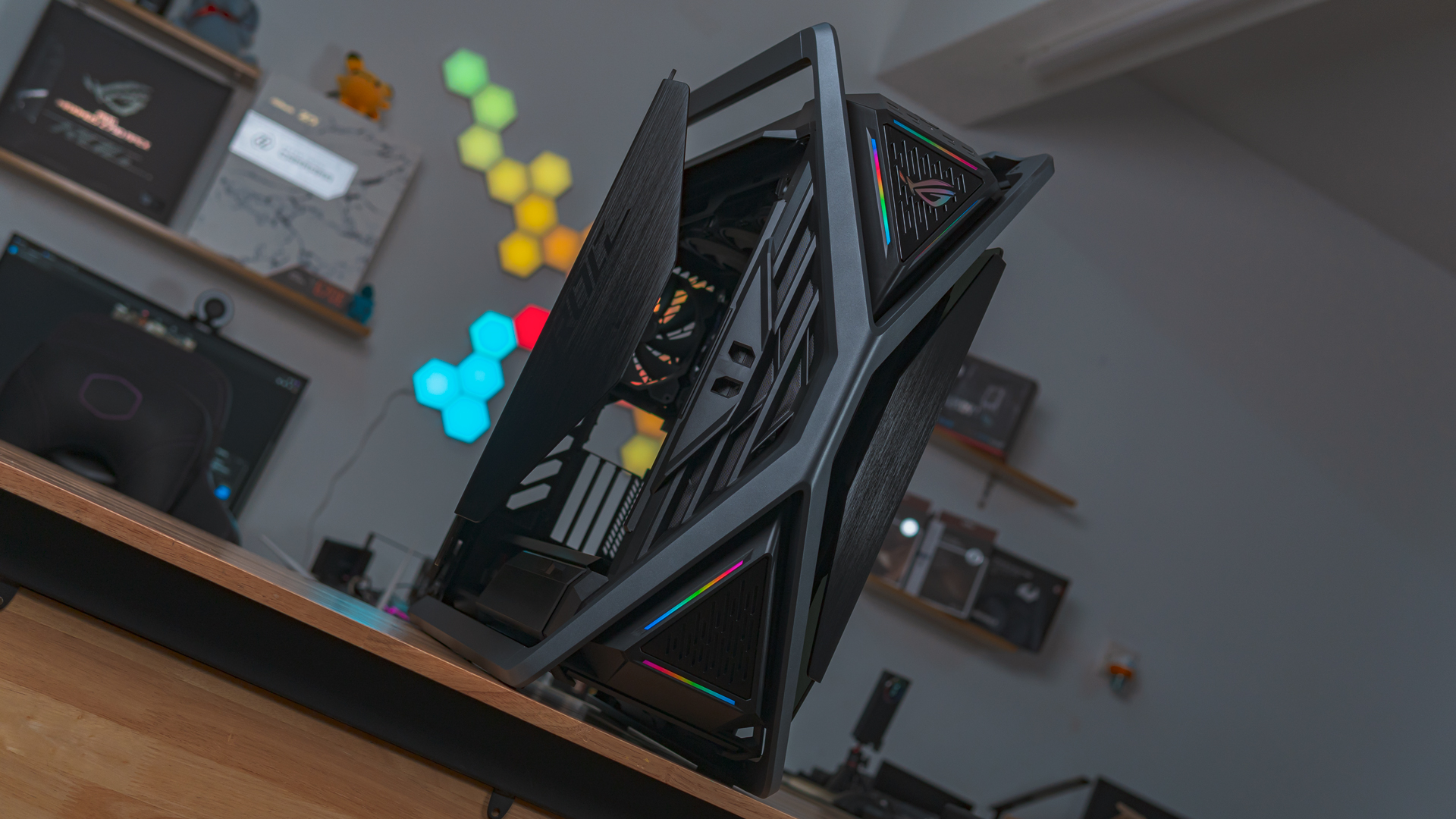 The front also spots two ROG logo diamond shaped panels that can be lit up. This slight touch of RGB gives the Hyperion an elegant and majestic feel as they are not overpowering in any form or matter. In between these two panels are vents or cutouts that are not too obvious for airflow and behind it are the fan mounts.
Features
The team at ASUS is serving up multiple X-Factors this time around with the release of the ROG Hyperion. Packed with an abundance of features and compatibilities, this casing is sure to satisfy the cravings of every enthusiast seeking the ultimate PC case.
Build Quality
First of which is the materials used for the construction of the casing. Multiple types of materials were used, such as tempered glass, anodized aluminium, high quality plastic, aluminium alloys, among others, all of which meet stringent standards for quality and durability. ASUS has achieved a perfect balance between the materials used as there is not too much of plastic nor glass while maintaining the perfect amount of aluminium to prevent the casing from weighing a ton.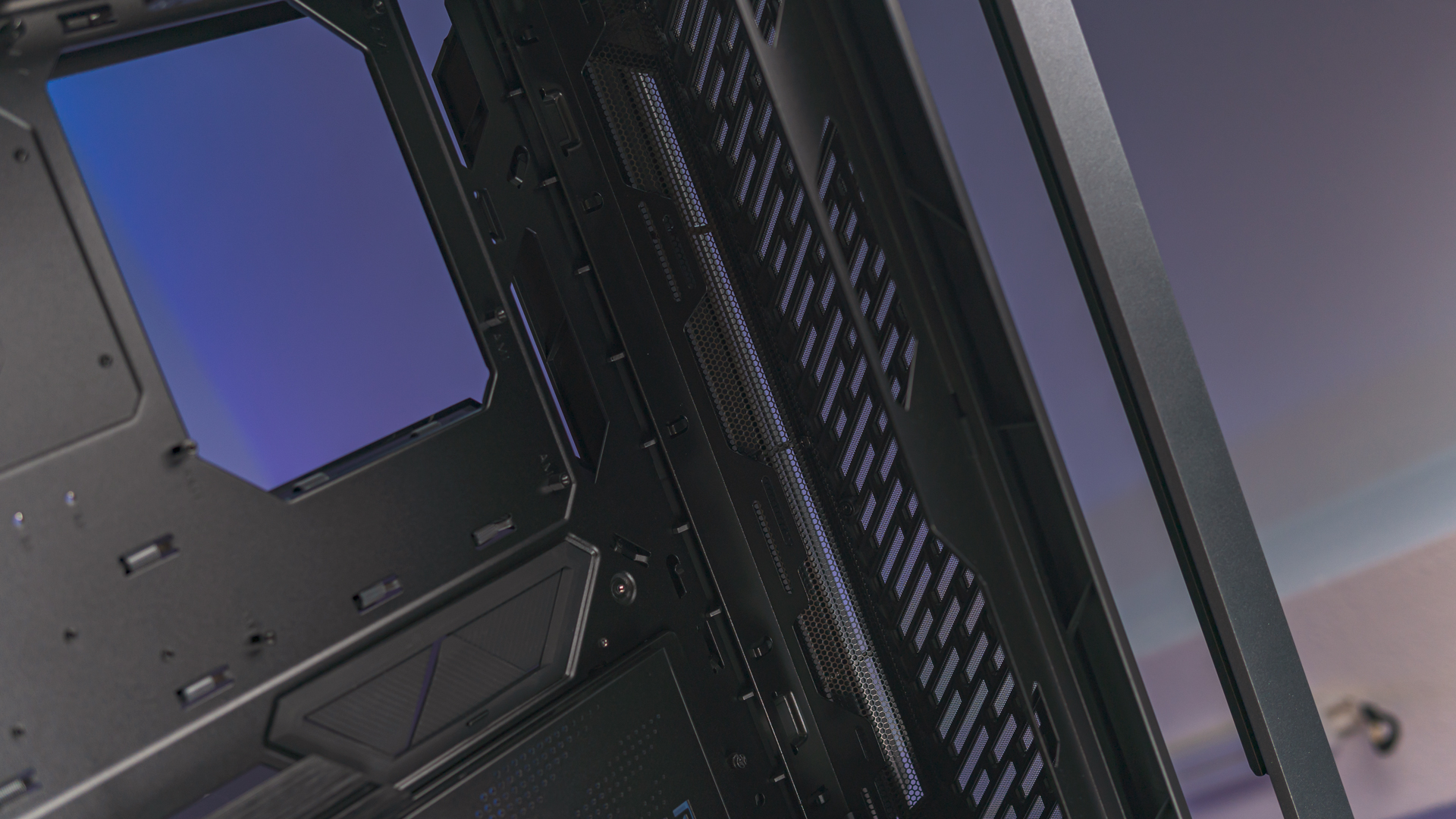 Internal Space
The ASUS ROG Hyperion GR701 casing boasts an impressive capacity for liquid cooling. The inner compartment has great clearance for a multitude of options when it comes to choosing your radiator sizes and configurations. The top panel has room for 420mm or 360mm radiators with a push pull configuration, where clearance is roughly up to 85mm. Consequently, this gives room for using up to 60mm thick radiators on either the top or front side of the casing as the front clearance is also around the same range from the front fan/radiator bracket.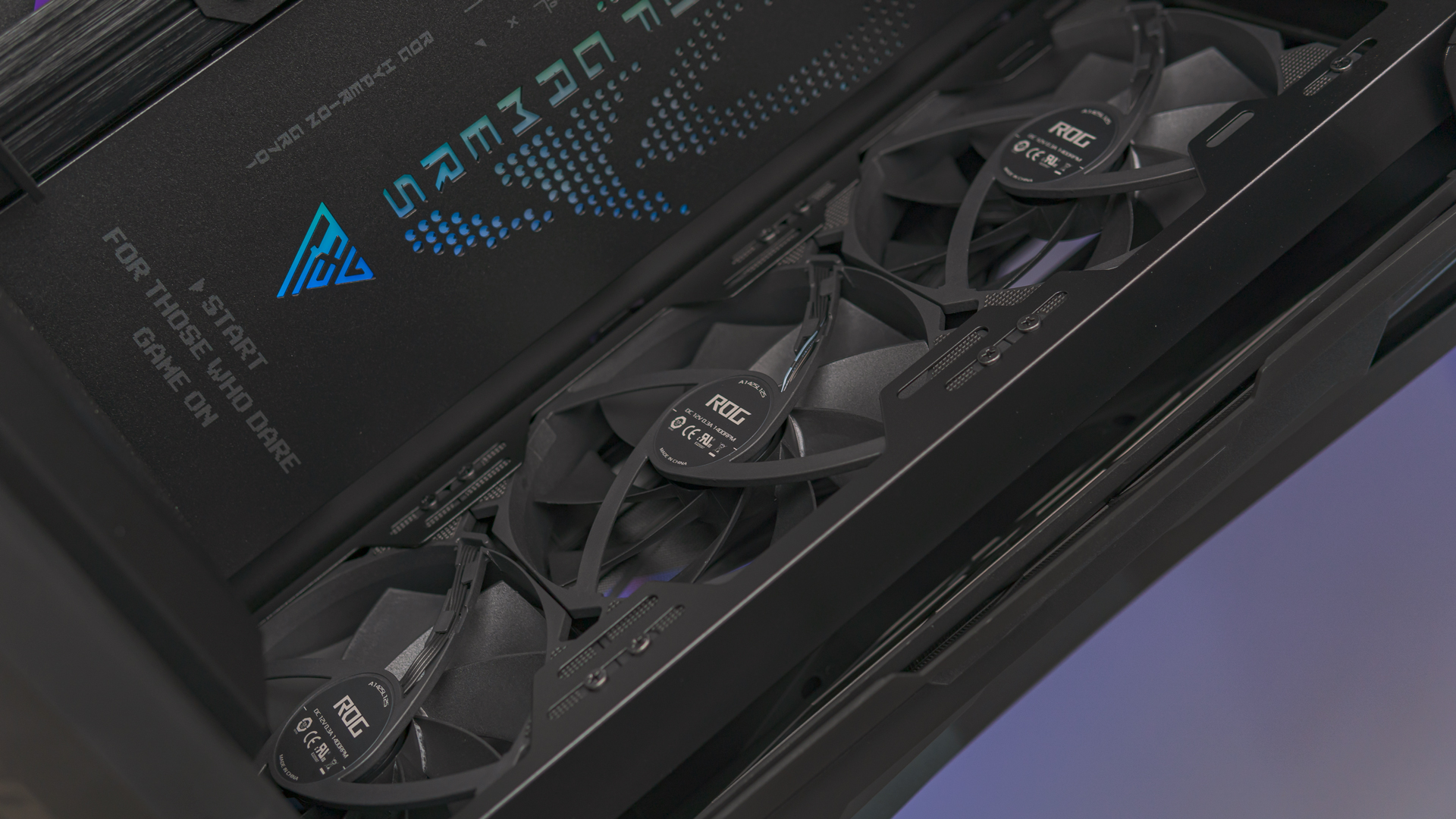 Additionally, users may also find another neat aesthetic pleasure inside the case itself. This is the Republic Of Gamers RGB panel that can be removed for three additional 120mm fan mounting options. It is however possible to mount a radiator on this side, but the total length of the radiator has to be shorter than 400mm. Take note as well as there are no 140mm fan mounting options on this side panel.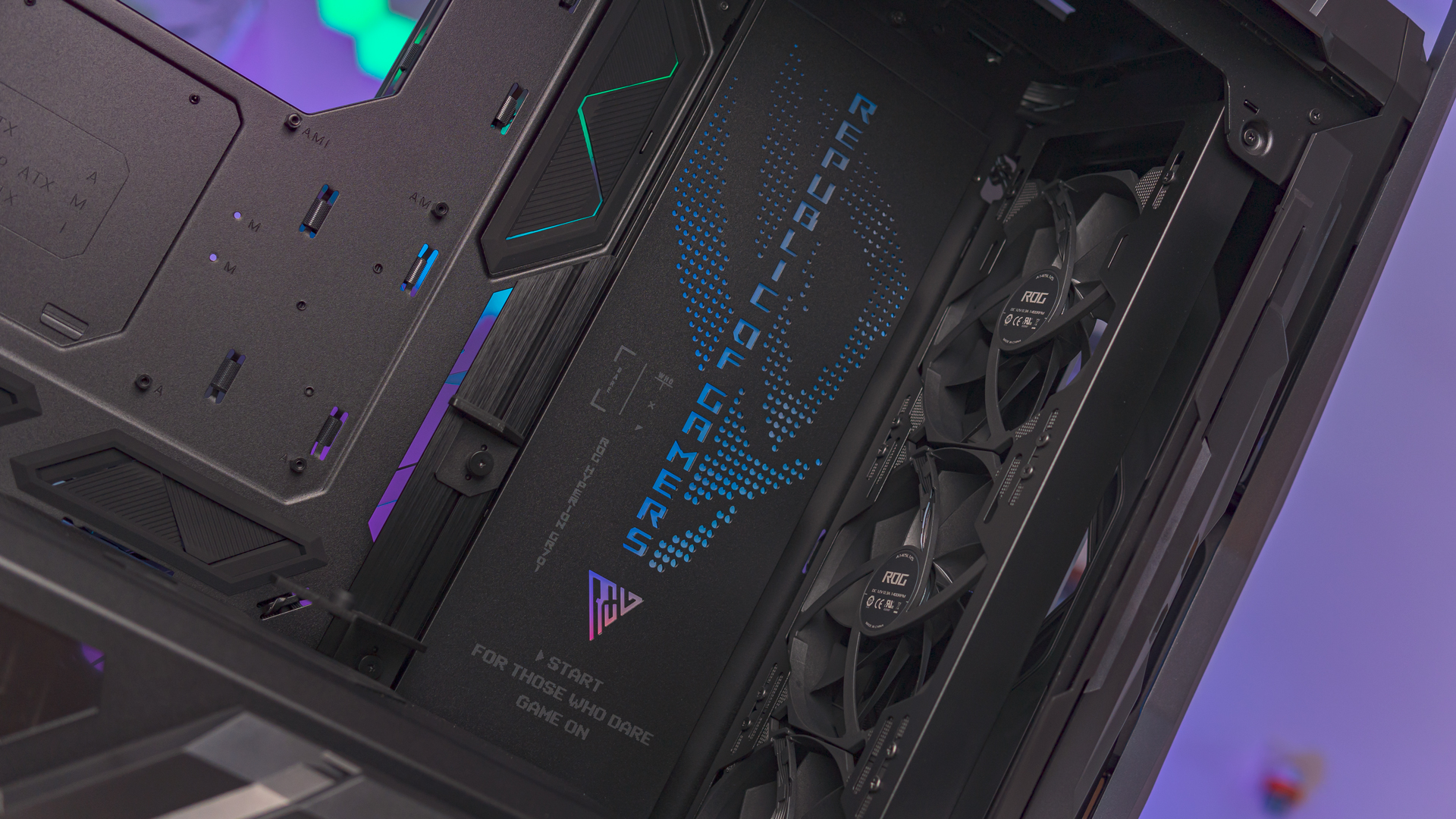 E-ATX motherboards are an easy fit in this casing as there is ample of clearance. The only possible caveat here is that an E-ATX motherboard may partially cover off the rubber grommet for the 24pin ATX connection but this not really a troublesome issue at all. ASUS has also provided a shield for SATA and other connectors below the 24pin ATX connector. This shield hides those hideous cables and provides an overall cleaner looking setup for those who are chasing the aesthetics. Attached on to the shield are also two more GPU support brackets. These incorporated support brackets prevents GPU sag on virtually all graphics cards, regardless of whether they are mounted horizontally or vertically.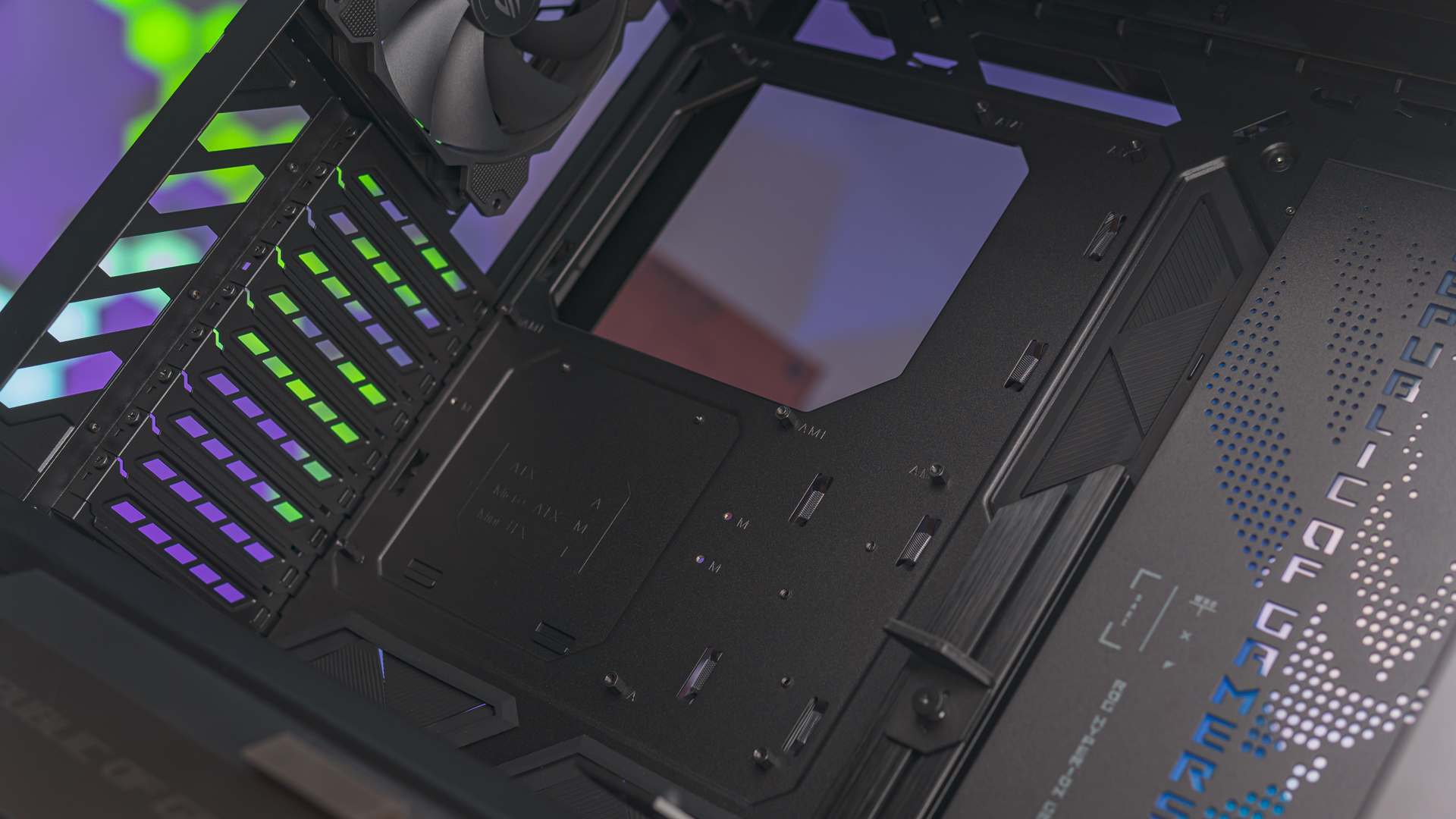 Tool Drawer
Another hidden gem in the ASUS ROG Hyperion GR701 is the compartment located discreetly at the bottom of the casing. A hidden tray slides out to the left on the PSU shroud, providing users with a convenient space to store screws, PCIE cutouts, and other items of suitable size. I guess the guys at ASUS really loves a good game of hide-and-seek.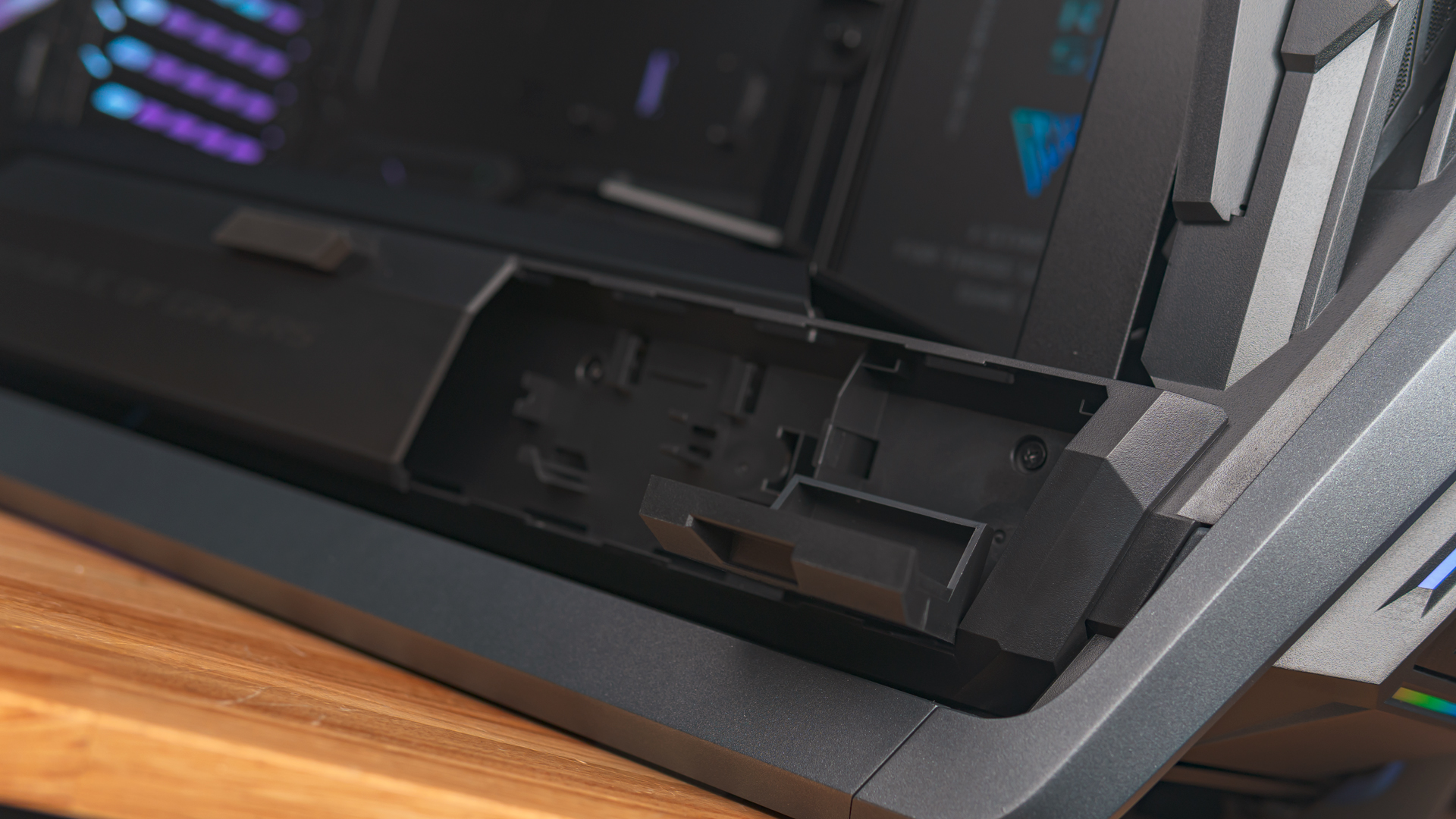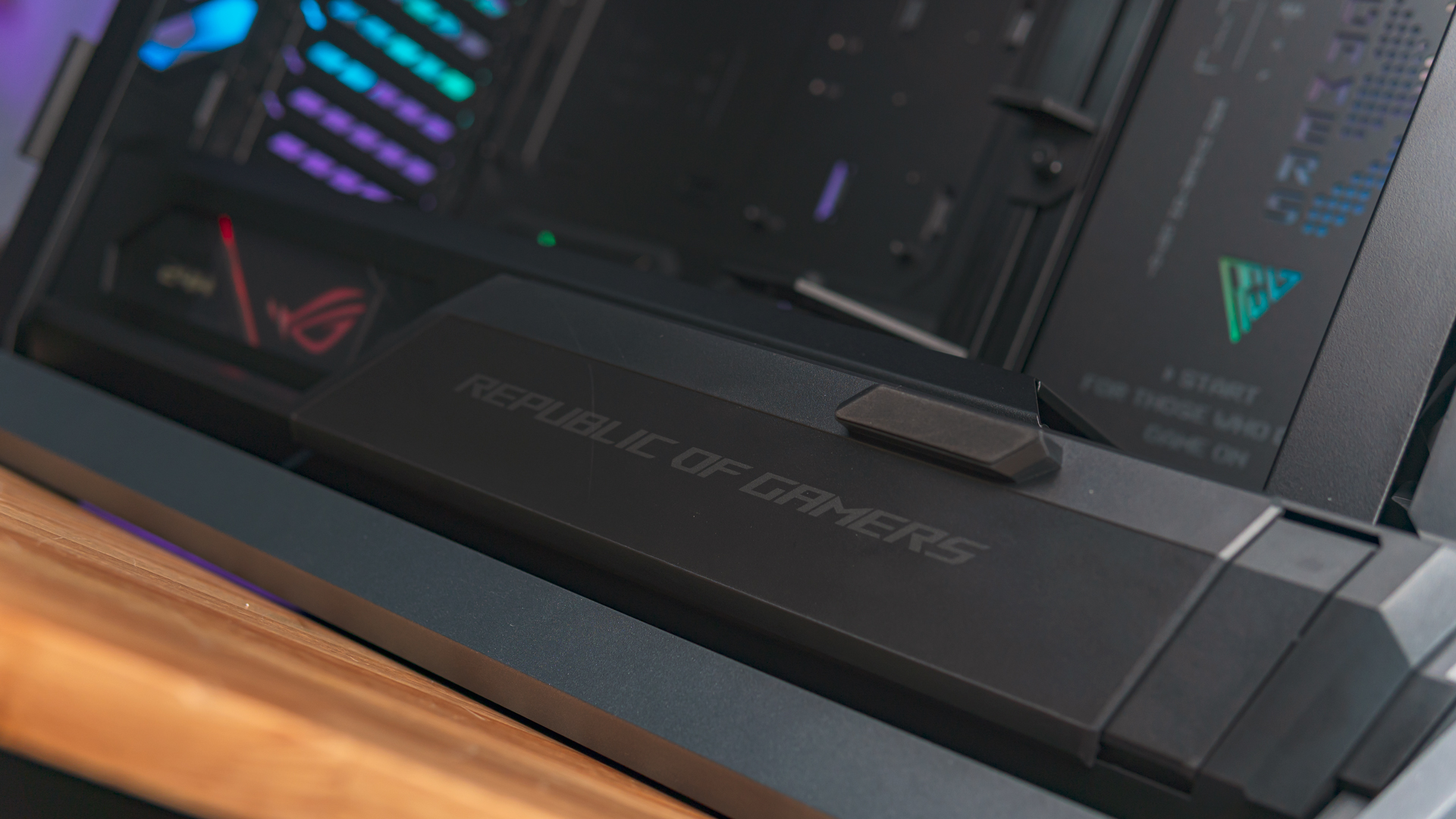 Back Section
The back section of the ASUS ROG Hyperion GR701 is where things get even more exciting. ASUS has thoughtfully included a fan and RGB hub, enabling users to connect up to 6PWM fans and 8ARGB headers seamlessly. The hub can then be connected to the motherboard ports, allowing for synchronization via Armoury Crate. The color scheme of the controller hub, with its black and gold theme, is particularly pleasing to the eye.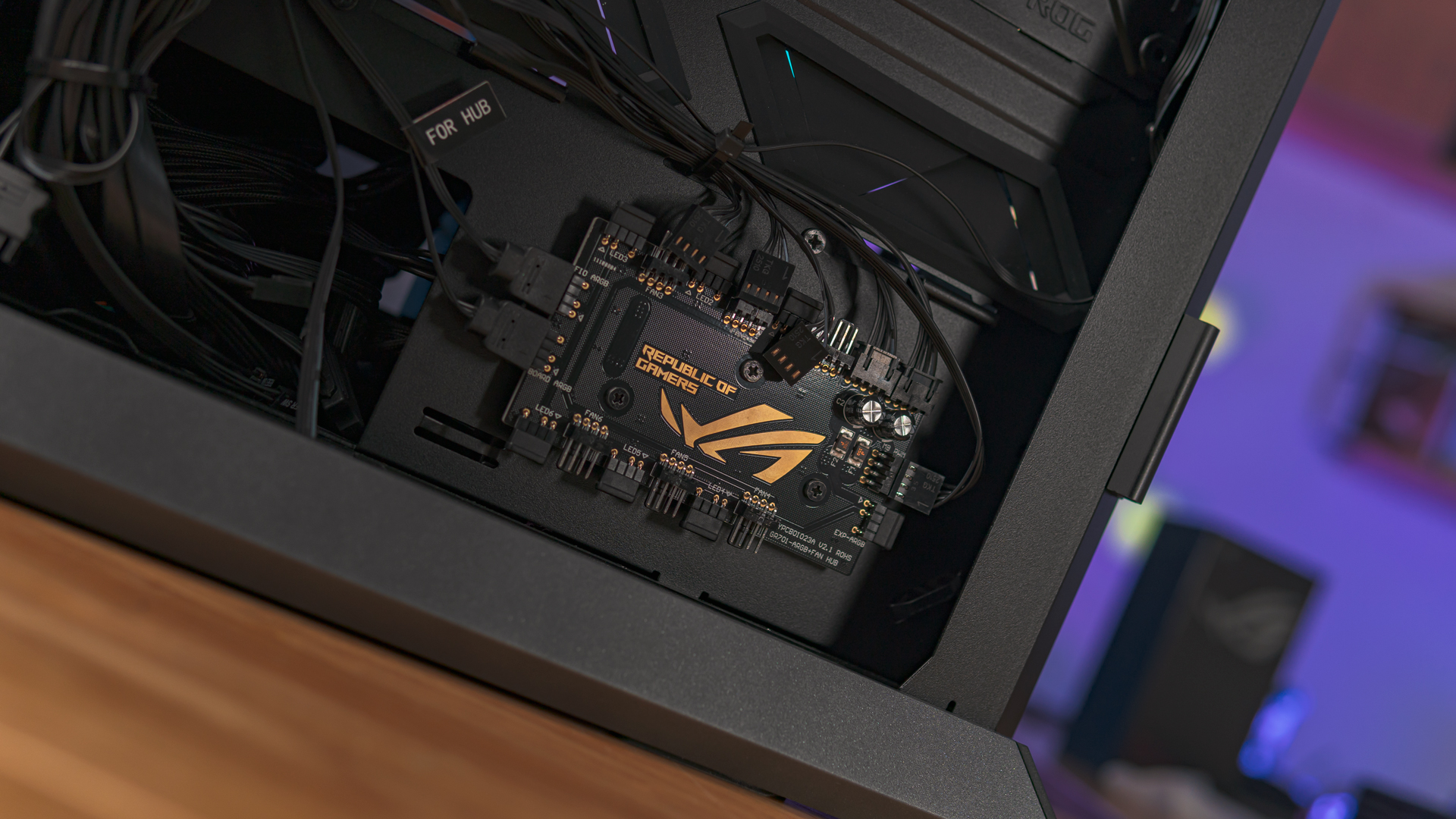 Equally important are the aesthetics at the back, as to which ASUS has included a plastic cover that will mask half the casing and the cables from looking like a mess for those who are inept at cable management. This cover is removable just like the tempered glass panels as it is also secured via hinges and 2 screws. Usage of this cover will ensure that the back portion of the casing will look compartmentalized and give it an extra look of luxury without any disorganization present.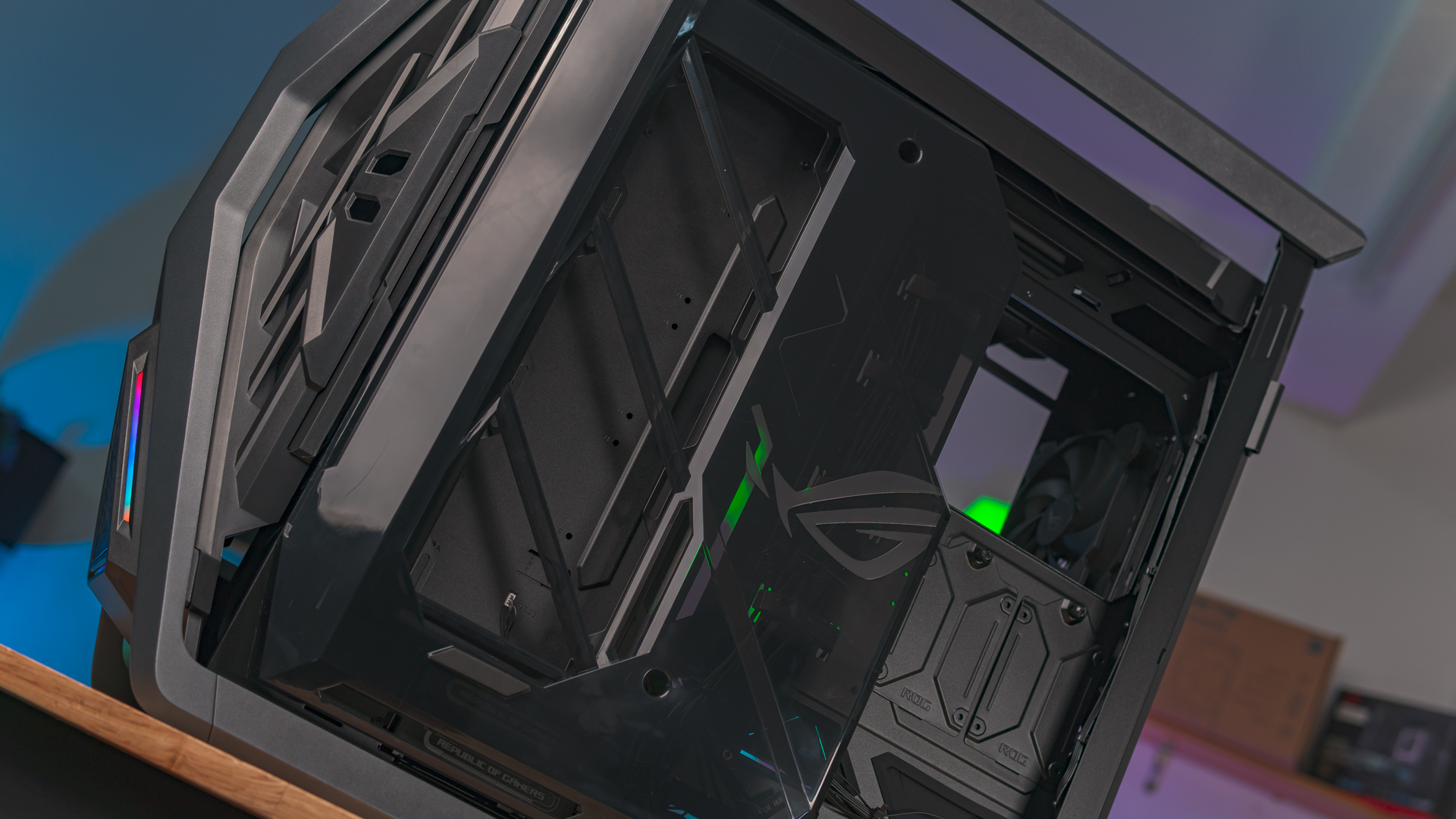 Dust Filters
As for removable dust filters, there are a total of four present. One at the top radiator mount, one under the PSU shroud and two at the front. The two at the front are somewhat neatly hidden and those who are not eagle eyed will tend to miss it. These two dust filters are drawer styled and are present of each side of the front. To me, they somehow resemble angel wings and provides a nice dash of styling to the casing instead of those magnetic rectangular strips that are all too common for 2023 already.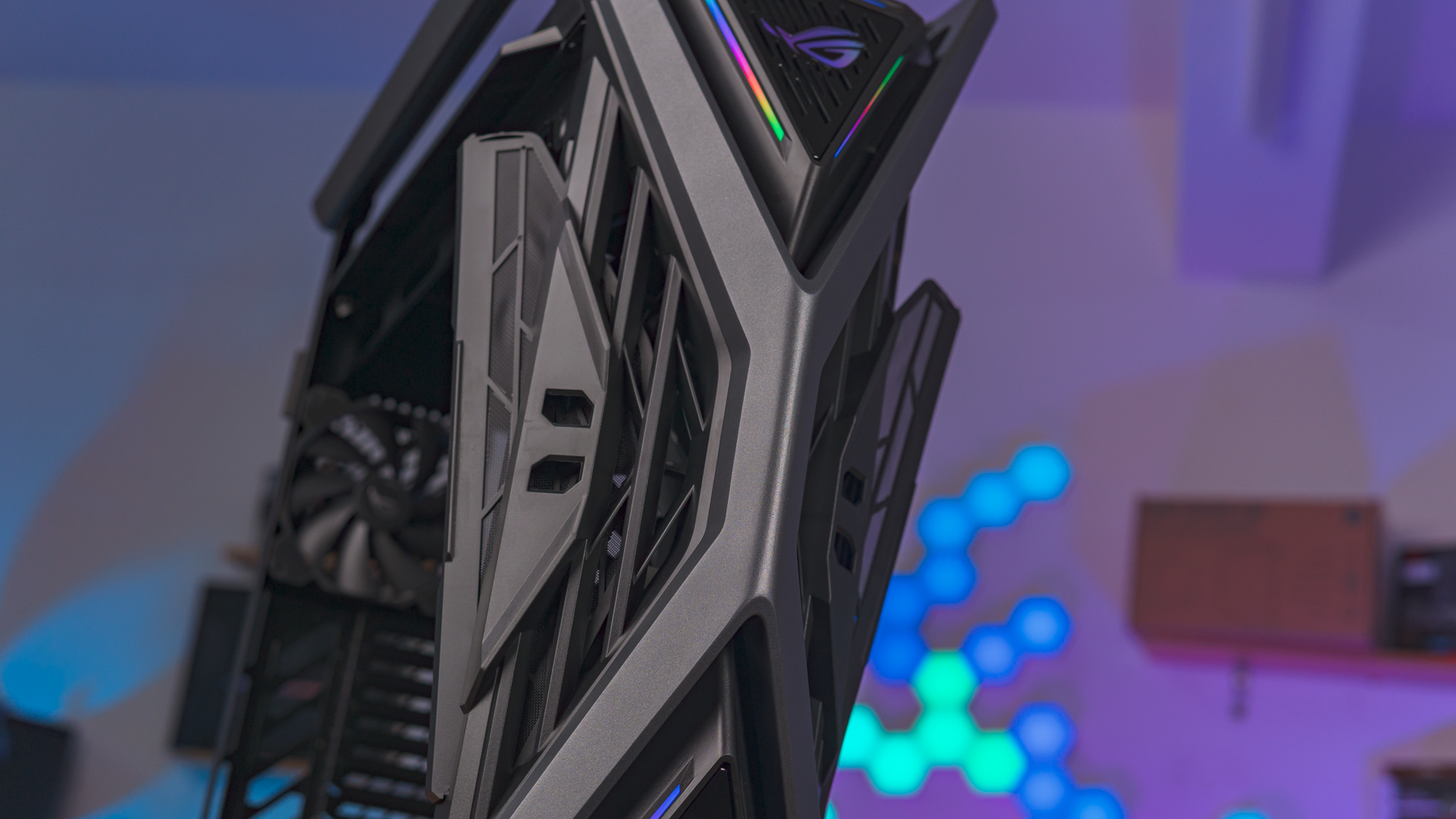 When it comes to the front panel connectors, ASUS has gone with the extra power route. The front of the casing has to offer a host of connectors, and the ROG Hyperion adds to the tradition with two USB Type-C connectors that can offer up to 20 Gbps of data transfer and up 60 watts of fast charging with a compatible motherboard. Additional for the USB needy, there are 4 more USB 3.0 ports present as well as a 3.5mm audio jack, a reset switch, power on button and a led mode switch.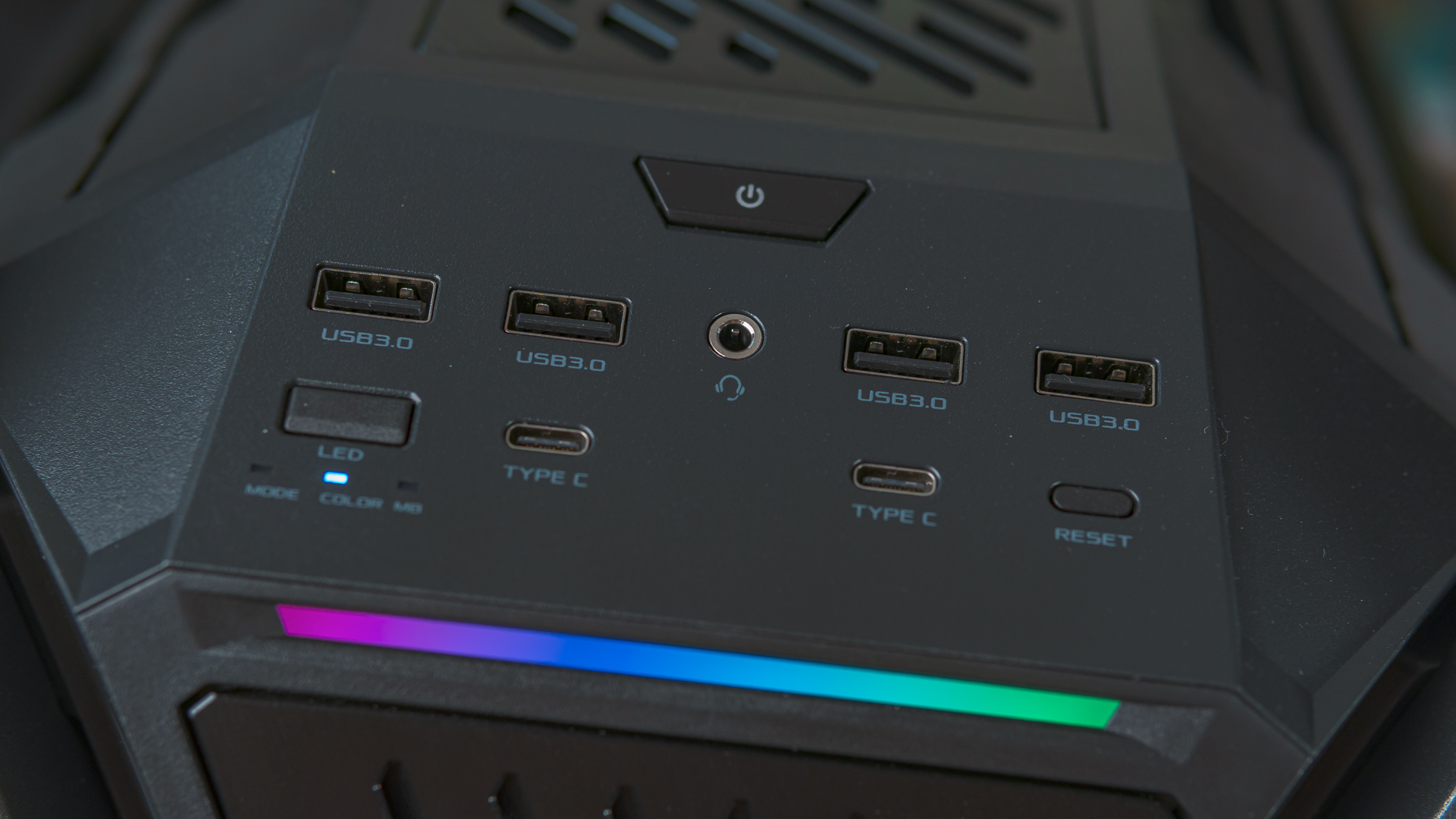 Accessories
Undoubtedly, the casing comes with a host of accessories. ASUS has gone to the extra mile in ensuring that the casing comes with a detachable vertical GPU bracket. However there is no PCIE riser included but can be purchased as a separate add on. Furthermore, a ROG screw container is included for users to store any unnecessary screws, cable ties etc. Owing to the issues the previous ROG Helios faced with EPS connectors being placed too far away, ASUS this time has included two, I really mean TWO more braided sleeved EPS 8 pin extension cables as well to negate this problem. I must say that this is a terrific job of taking the pain and unleashing it into something greater.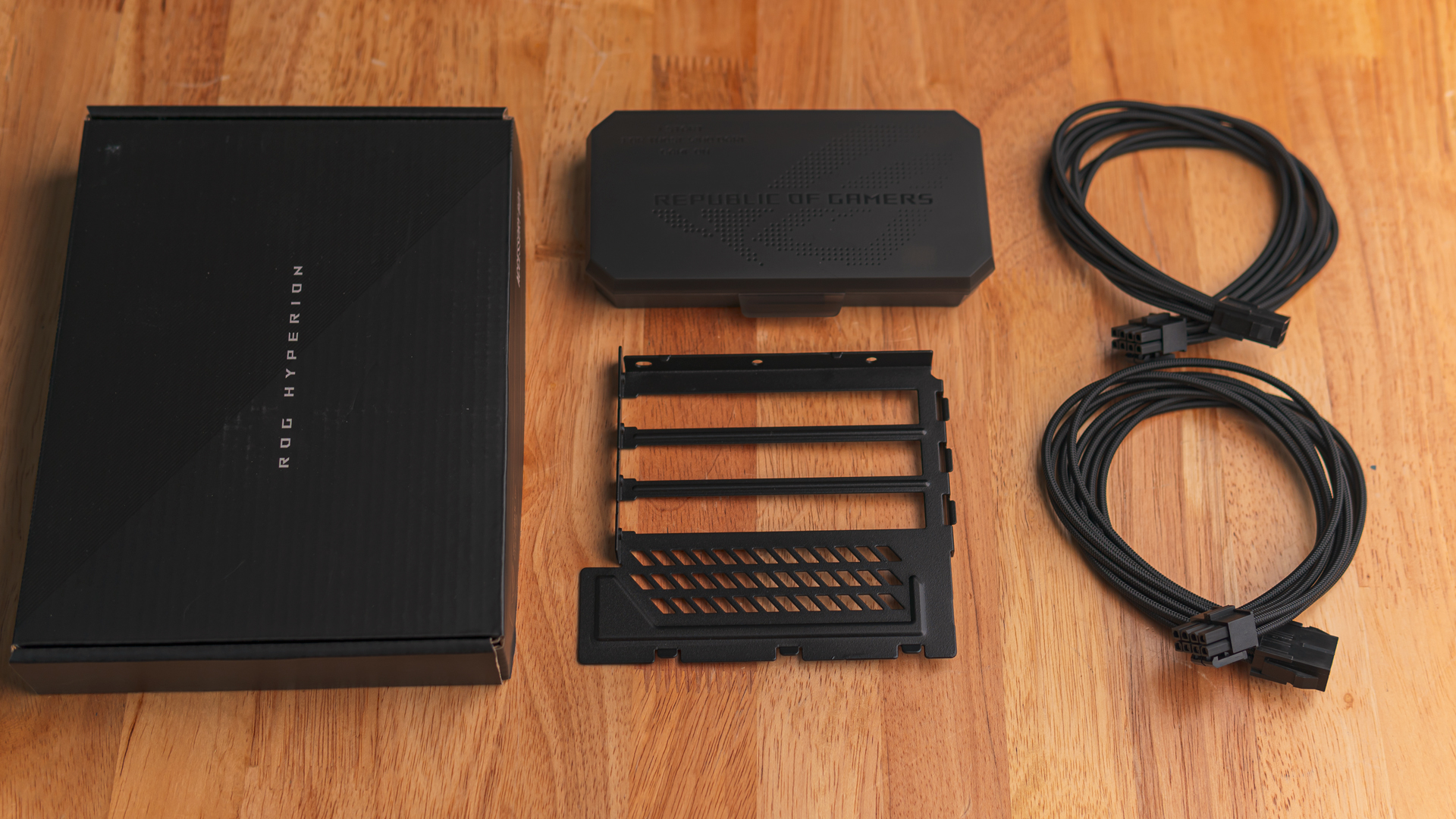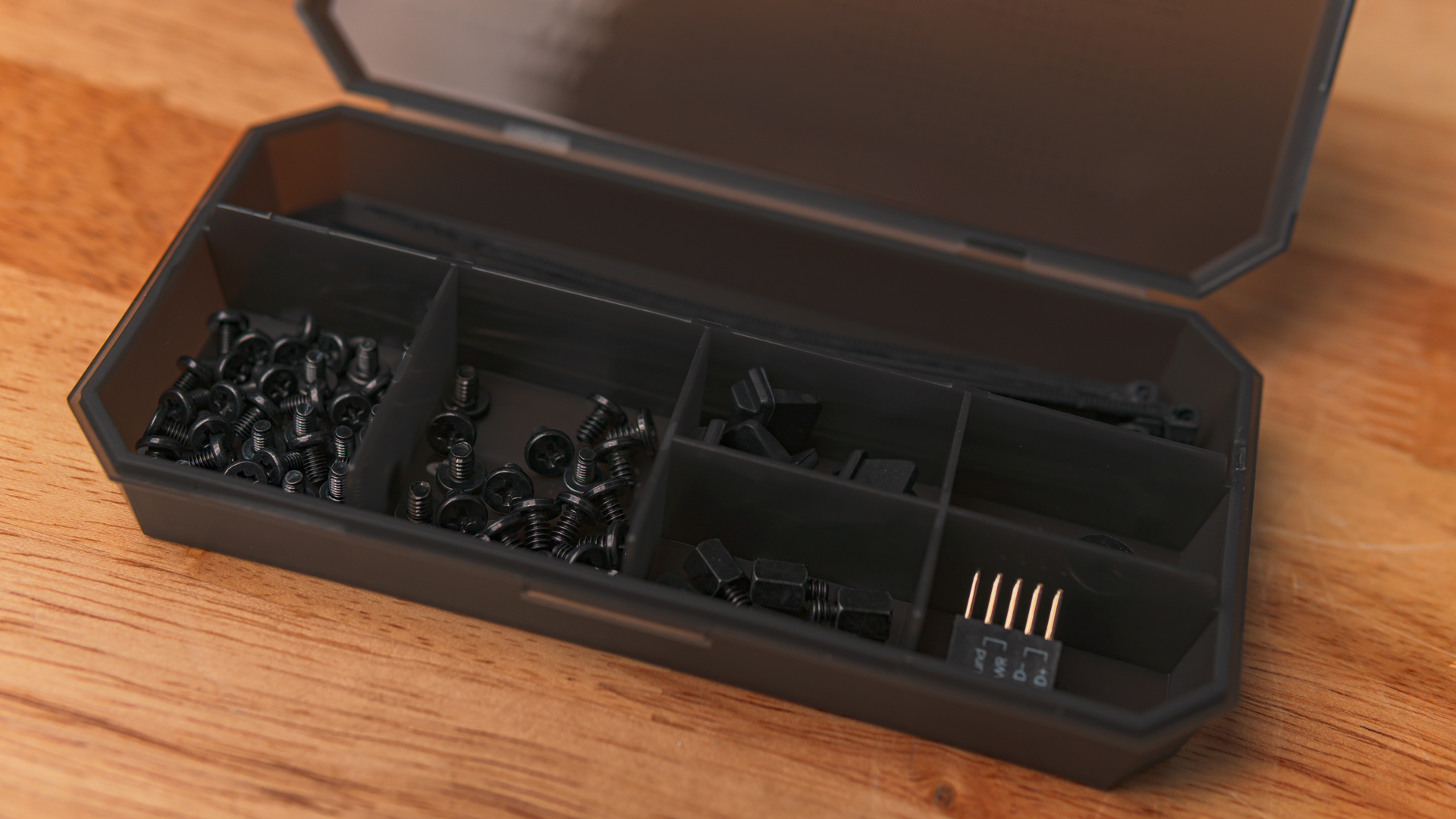 ---
What I Love About The ROG Hyperion GR701
What's not to love? It has everything that you can ask for in a casing. Literally!
Built in ARGB features.
Massive internal space to accomodate any hardware that you can think of. Talk about future-proofing!
Great solid build.
What I Think They Can Improve On
The frames of the side and bottom dust filters feels a little flimsy in contrast to the quality of the entire casing
Power supply installation requires way more steps than it should.
Future Expectations
Make an ITX SFF version of this! Call it the MiniMe Hyperion or something?
---
Verdict
While the ASUS ROG Hyperion GR701 is a flagship casing with many standout features, the power supply installation method could have been simplified to avoid having to remove the shrouds. Beyond that, the ROG Hyperion is indeed what a flagship casing is meant to be.
The ROG Hyperion is certainly marking the spot with all of its X's via extra cooling capacity, extra space, extra convenience, extra power, and being extra stylish. The added features hugely complements its endless possibilities of hardware configuration and compatibility, and this casing is sure to be many builders preferred choice of selection. The casing will be retailing for MYR1999 and is scheduled to be available this coming April 2023 in Malaysia.
FINAL SCORE: 9.5 / 10
---
Product Page : https://rog.asus.com/my/cases/rog-hyperion-gr701-model/
Official FB : https://www.facebook.com/asusrogmalaysia
Video Based Overview : https://youtu.be/7NCWLENsp8g