Immerse yourself in the world of precise color accuracy and top-notch performance with the Asus ProArt PA329CV. As a professional-grade monitor meticulously designed to cater to the needs of creative enthusiasts, this display has been my daily driver for the past two months. Thanks to Asus Malaysia's generosity, I had the opportunity to thoroughly explore and evaluate its features, making this review a guide for those seeking a high-quality monitor for creative endeavors. With a stunning 32-inch IPS panel offering 4K UHD resolution, exceptional color reproduction, and a range of connectivity options, the ProArt PA329CV promises an outstanding visual experience. Let's delve into the depths of its design, performance, and additional features to uncover the true potential of this monitor.
Design & Build Quality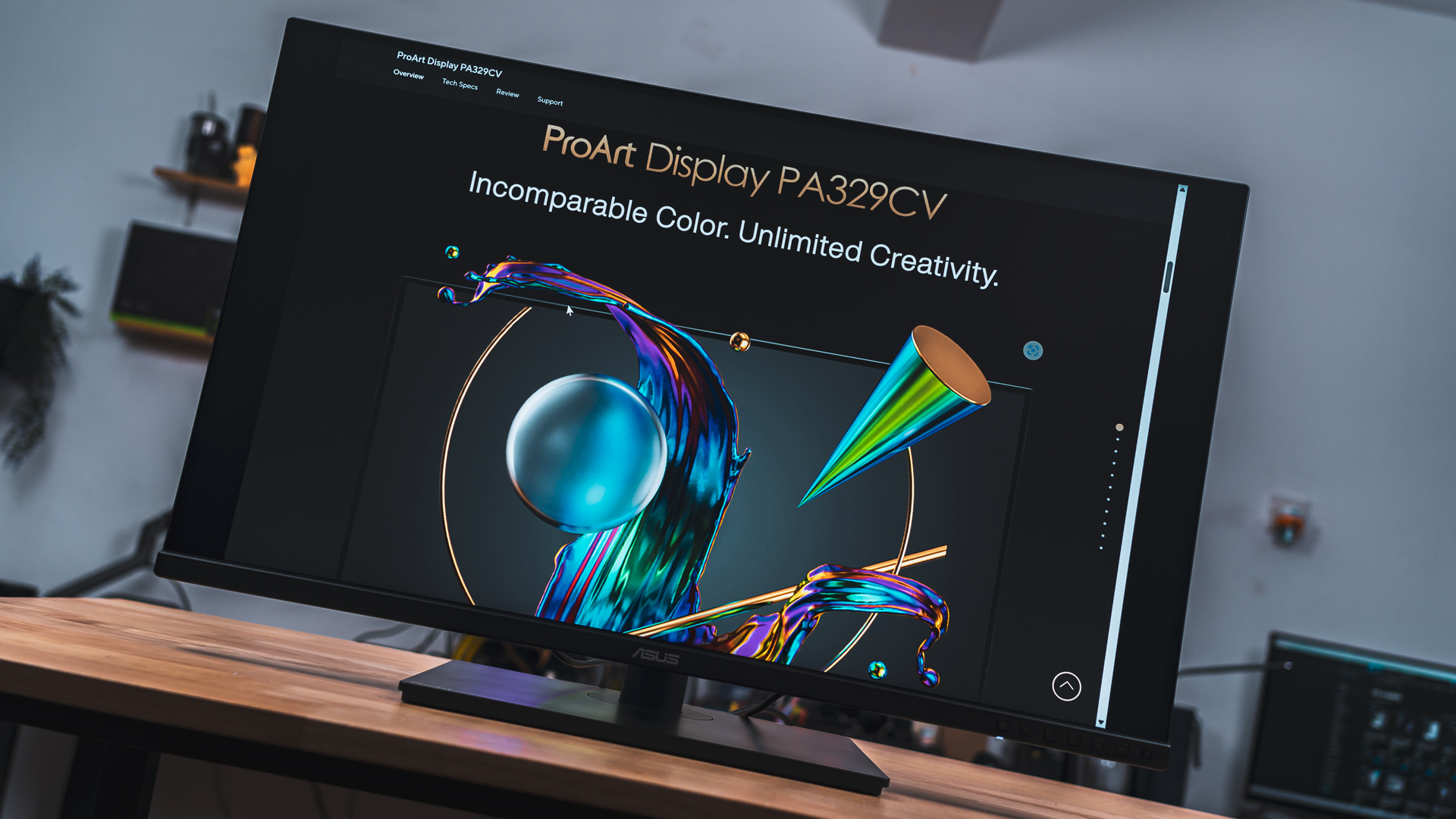 From the moment I unboxed the Asus ProArt PA329CV, I could tell that it was a monitor crafted with meticulous attention to both functionality and aesthetics. Its sleek and modern design, adorned with slim bezels, immediately caught my eye, and I envisioned how seamlessly it would fit into my dream multi-monitor setup. The build quality surpassed my expectations, exuding robustness and durability, ensuring that this monitor would stand the test of time in my creative workspace.
What truly impressed me was Asus's dedication to user comfort in the design of the ProArt PA329CV. The ergonomic features of the monitor stand were a game-changer for my daily work routine. Adjusting the height, tilt, swivel, and pivot of the screen was a breeze, allowing me to find my perfect viewing angle and reducing strain during those marathon editing sessions. With such a versatile range of adjustments, I could easily tailor the monitor to my various desk setups, ensuring an ergonomically-friendly workspace that promoted better posture and productivity.
Regrettably, I wasn't able to test the included desk clamp stand as my desk setup lacked the required clearance for it. However, the standard stand provided more than made up for it with its stability and adaptability. Despite not being able to explore the clamp stand option, I found the default stand to be more than satisfactory, granting me the comfort and flexibility I needed for long hours of creative work.
Connectivity
Upon exploring the connectivity options of the Asus ProArt PA329CV, I was thoroughly impressed with the comprehensive set of ports at my disposal. The monitor offered a myriad of connections, including two HDMI 2.0 ports, one DisplayPort 1.2, one USB Type-C port with Power Delivery (PD), and four USB 3.0 ports. This extensive array of options catered to all my connectivity needs, ensuring seamless integration with various devices and peripherals.
The USB Type-C port was undoubtedly a standout feature for me. With its Power Delivery capability, it provided a convenient one-cable solution for connecting my laptop to the monitor while supporting data transfer, video, and power delivery. This streamlined my setup significantly, eliminating the need for multiple cables and reducing clutter on my desk. Not only did it simplify my workspace, but it also enhanced overall efficiency in my creative workflow.
Alongside these connectivity options, the IO panel slots also included the power port that fueled the monitor. The inclusion of this port further demonstrated the monitor's versatility and ensured that it received the necessary power to deliver its outstanding performance consistently. Asus left no stone unturned in providing a wide range of connectivity choices, making the ProArt PA329CV a highly adaptable monitor that seamlessly integrated with my preferred devices and tools.
Display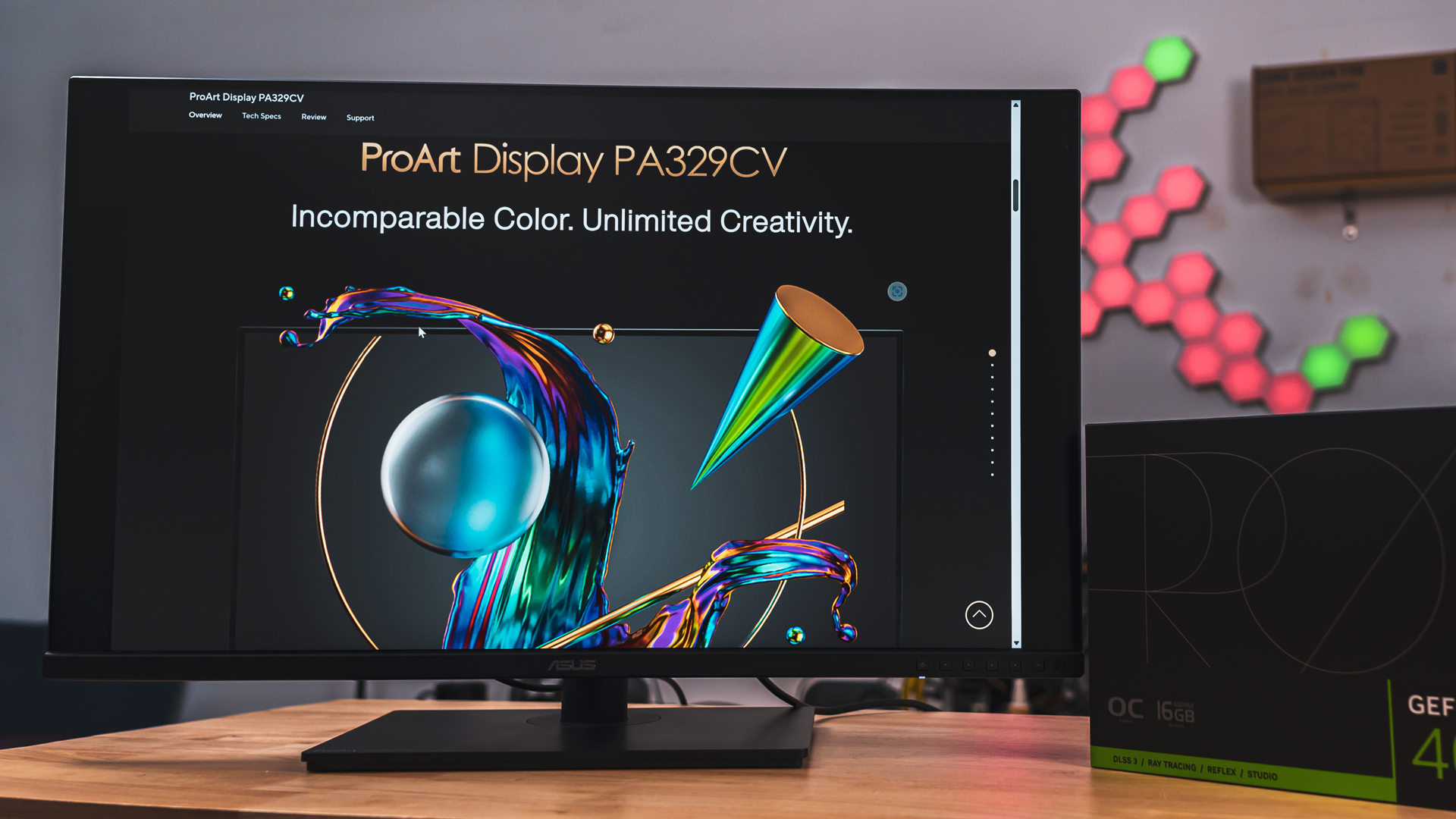 The highlight of the Asus ProArt PA329CV is undeniably its stunning display performance. This monitor boasts a 32-inch IPS panel with a magnificent 4K UHD resolution, offering an impressive 3840 x 2160 pixels. With a pixel density of 138 PPI, the visuals delivered were nothing short of breathtaking, exhibiting crispness and sharpness that breathed life into every image and video I worked on. As a content creator, I found this display to be perfect for my photo and video editing, graphic design, and other creative tasks.
Color accuracy on the ProArt PA329CV was nothing short of exceptional. The monitor's color gamut coverage was extensive, encompassing 100% of the sRGB and Adobe RGB color spaces, along with 95% DCI-P3 and Rec. 709. This wide color gamut ensured that my work appeared vibrant and true to life, making it an ideal choice for professional content creators and designers seeking precise color reproduction.
What impressed me even further was that the monitor was factory-calibrated for Delta E<2. This meant that right out of the box, the colors displayed were consistent and accurate, sparing me the hassle of manual calibration and ensuring a delightful experience from the very first moment I powered it on.
With its 10-bit color depth, the ProArt PA329CV supported over a billion colors. This resulted in smooth gradients and impeccable color reproduction, allowing me to appreciate the subtleties and nuances in my creative projects. The viewing angles were just as remarkable, with a wide 178-degree range, guaranteeing consistent colors and eliminating any color shift, even when viewed from different angles.
The monitor's HDR10 compatibility was yet another commendable feature. Though it might not reach the peak brightness levels seen in some high-end HDR monitors, the HDR support still brought improved contrast and brighter highlights to compatible content. This added depth and realism to images and multimedia content, enhancing my viewing experience and immersing me deeper into my creative work.
Performance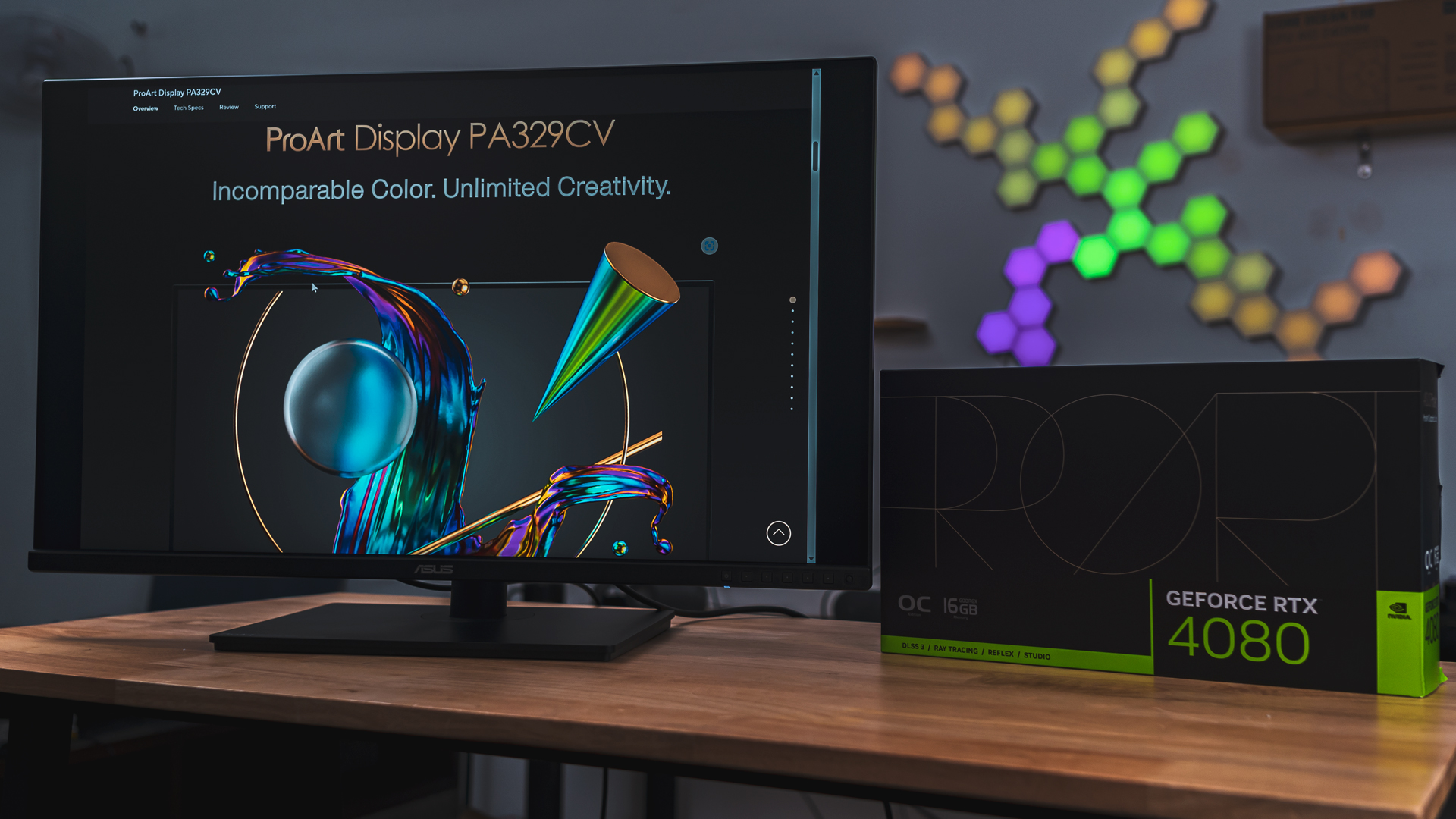 The ProArt PA329CV's display performance doesn't end with its stunning visuals and color accuracy. It also boasts a 5ms response time, a standard for IPS panels. While this response time might not be optimized for gaming or fast-paced content, it strikes a perfect balance between accurate color reproduction and responsiveness. During my professional tasks, I noticed that the monitor handled motion smoothly, making it a reliable companion for my photo editing, graphic design, and video projects. Even for casual gaming, the 5ms response time was more than sufficient to provide an enjoyable and immersive experience.
Moving on to the refresh rate, the ProArt PA329CV offers a 60Hz refresh rate, which is standard for most professional-grade displays. Although it might not match the higher refresh rates found in gaming monitors, it delivered a fluid visual experience for my general tasks and multimedia content. As a content creator, this refresh rate proved more than adequate for my creative endeavors, ensuring smooth transitions and visual coherence in my work.
In essence, while the ProArt PA329CV might not be specifically tailored for gaming, its 5ms response time and 60Hz refresh rate provided an impressive performance that complemented its overall display capabilities. For my professional needs, the monitor's responsiveness and fluidity in handling motion were more than satisfactory, making it a dependable and versatile tool for both work and casual gaming.
Color Accuracy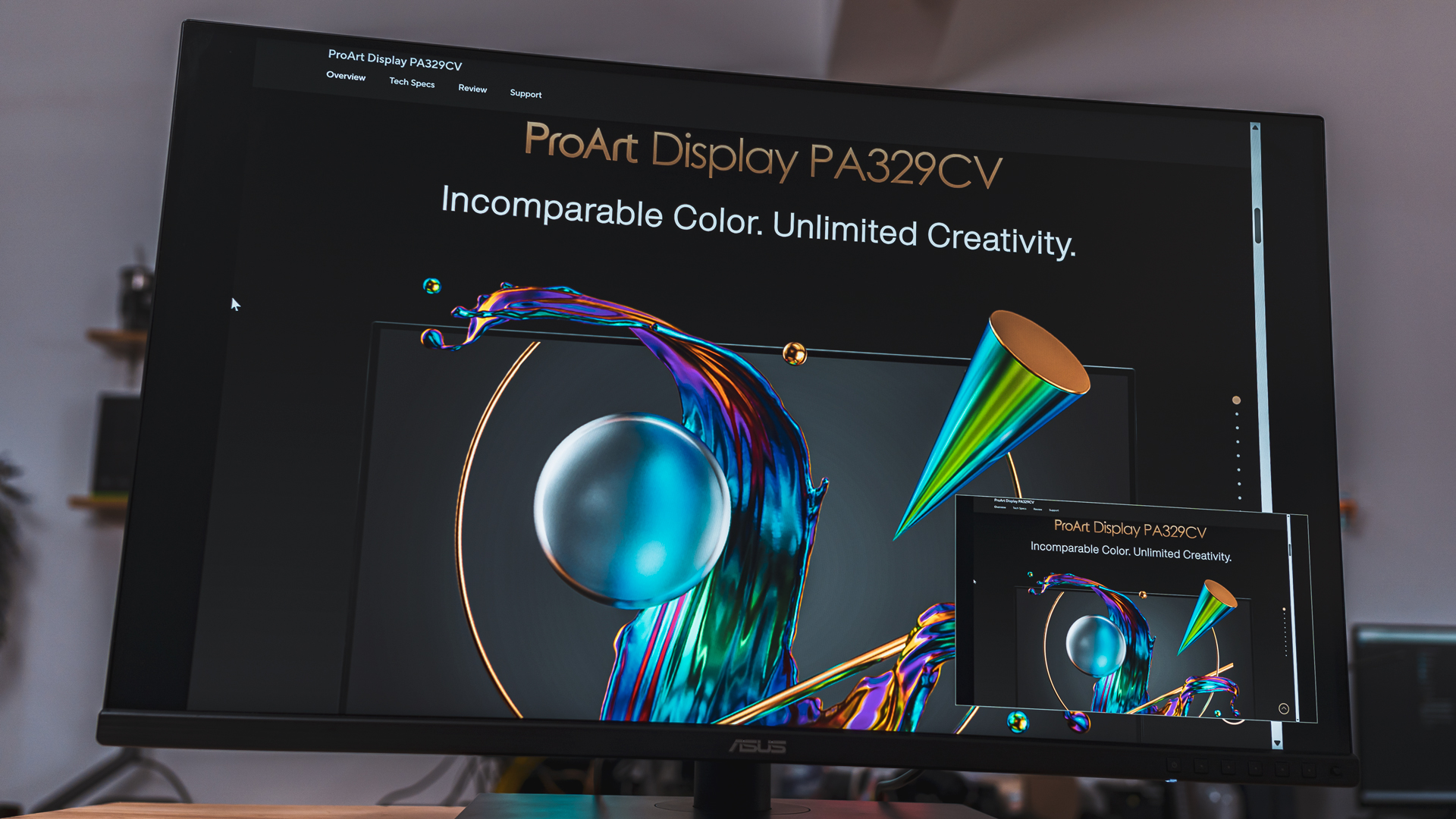 Asus takes color accuracy seriously with the ProArt PA329CV. The monitor is factory-calibrated to achieve a Delta E<2 rating, which means that the color difference between the displayed colors and the actual reference colors is almost indistinguishable to the human eye. This calibration ensures that the monitor provides accurate and consistent colors right out of the box. Additionally, Asus includes a color calibration report in the packaging, certifying the monitor's calibration data.
Moreover, Asus also equips the ProArt PA329CV with their ProArt Calibration technology, allowing users to perform hardware calibration easily. This feature allows you to fine-tune the monitor's color accuracy to meet specific requirements or calibrate it for different color spaces. By utilizing compatible calibration devices, you can achieve even more precise color reproduction for your professional projects.
On Screen Display & Additional Features
There is a set of buttons and a joy stick to toggle and control the OSD. The overall configurations is extremely easy to use and has no drawbacks whatsoever.
Asus includes a variety of additional features and software to enhance the ProArt PA329CV's functionality. Some of these features include:
Asus QuickFit Virtual Scale: This feature overlays commonly used design formats, such as grid patterns and alignment markers, directly onto the screen. This tool helps users preview their work accurately without the need to switch between applications or software.
ASUS MultiFrame Management: This software utility allows you to divide your screen into multiple frames, effectively creating virtual monitors within the main display. Users can allocate applications or windows to specific frames, improving multitasking efficiency.
ASUS ProArt Palette: This software provides users with color management tools, allowing them to fine-tune color settings, create custom color profiles, and calibrate the monitor more precisely.
Speakers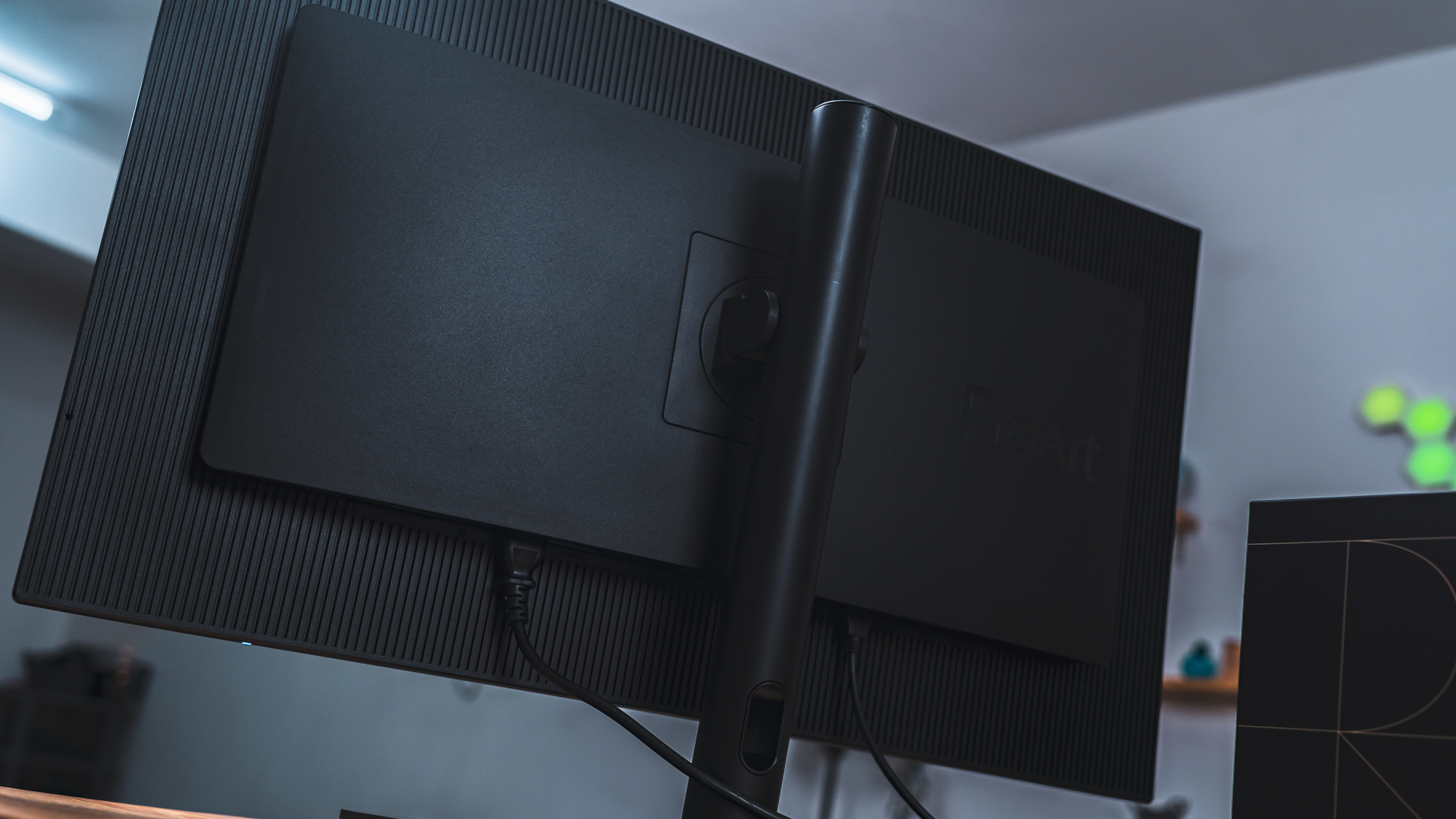 The integrated stereo speakers(2W x2) offers convenience for tasks that require audio, such as video conferences, casual video playback, or general system sounds. However, for audio professionals or those seeking high-quality sound, dedicated external speakers or headphones are recommended.
---
What I Like About the ASUS ProArt PA329CV
Superior Color Accuracy: The monitor's factory-calibrated IPS panel, with a Delta E<2 rating, ensures exceptional color accuracy, making it suitable for professional content creators who require precise color reproduction. The wide color gamut coverage, including 100% sRGB, Adobe RGB, 95% DCI-P3, and Rec. 709, further enhances its capabilities for tasks like photo and video editing and graphic design.
Comprehensive Connectivity: The ProArt PA329CV offers a variety of connectivity options, including HDMI 2.0, DisplayPort 1.2, USB Type-C with Power Delivery (PD), and multiple USB 3.0 ports. This versatile selection allows for seamless connections to various devices, offering a convenient and clutter-free setup.
Ergonomic Design: The monitor's ergonomic design allows users to adjust the height, tilt, swivel, and pivot of the screen, providing a customizable and comfortable viewing experience. This feature is particularly beneficial for professionals who spend long hours working on their monitors, as it helps reduce strain and improve productivity.
What can be Improved for future models
Refresh Rate and Response Time: While the ProArt PA329CV's 60Hz refresh rate and 5ms response time are sufficient for most professional tasks, they may not be ideal for gaming or fast-paced content. Gamers and users requiring smoother motion handling might prefer a monitor with a higher refresh rate and lower response time.
HDR Peak Brightness: While the monitor is HDR10-compatible, it may not offer the peak brightness levels seen in some high-end HDR monitors. This can affect the overall HDR experience, especially for viewing HDR content in brightly lit environments where higher peak brightness is desirable for more impactful highlights and contrast. Improving the peak brightness levels would enhance the monitor's HDR capabilities.
---
Conclusion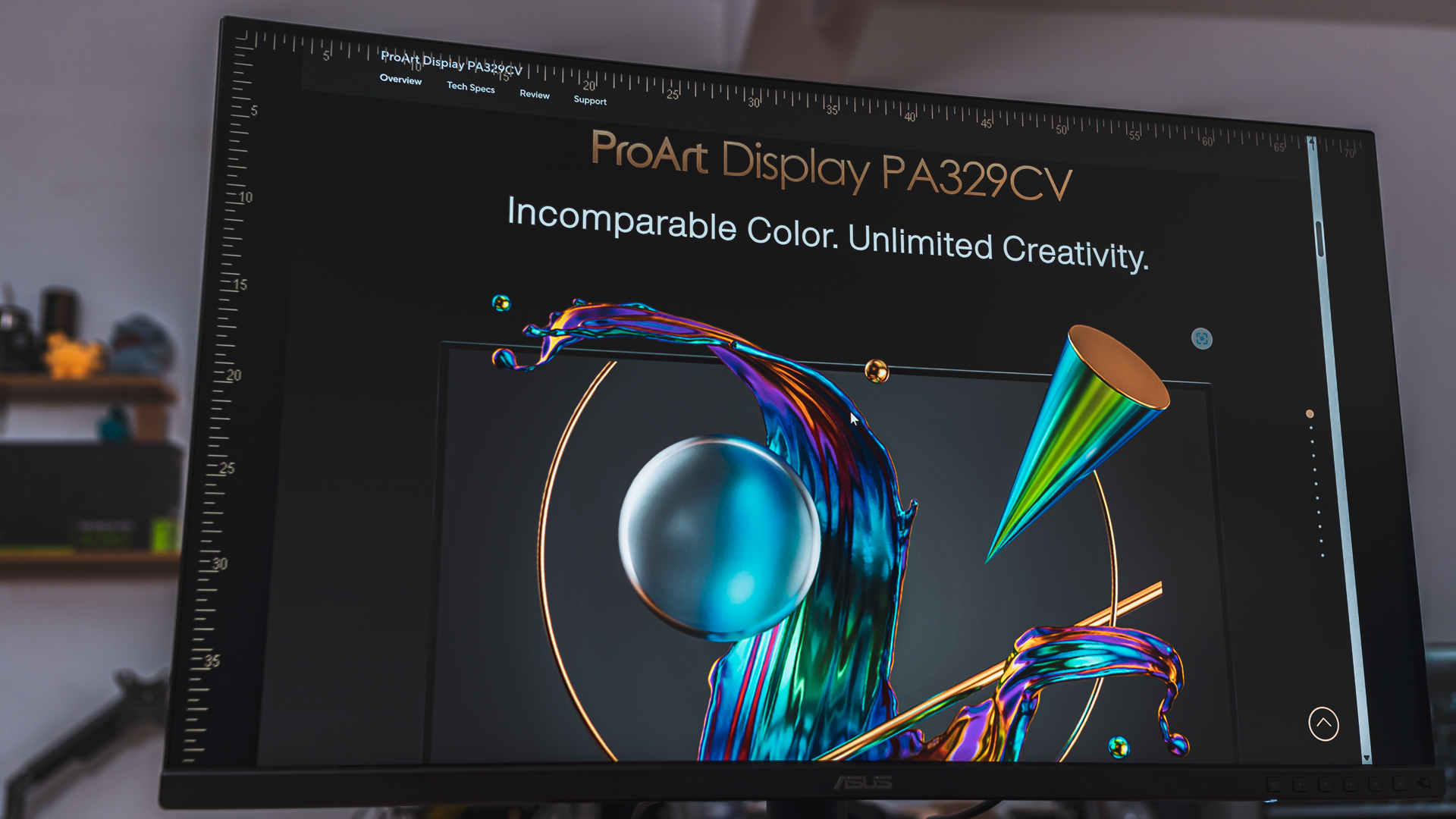 The Asus ProArt PA329CV is an exceptional monitor designed to cater to the needs of creative professionals who demand precise color accuracy and reliable performance. Its IPS panel technology, extensive color gamut coverage, hardware calibration capabilities, and ergonomic design make it an ideal tool for graphic designers, photographers, video editors, and other content creators.
While it may not have all the gaming-oriented features found in gaming monitors, its focus on color accuracy, connectivity options, and additional software functionalities more than compensates for the slight trade-off in gaming performance. Whether you're working on color-critical projects or simply seeking a high-quality display for multimedia consumption, the Asus ProArt PA329CV delivers an outstanding visual experience and is a worthy investment for any creative professional.
The monitor is compatible with a wide range of operating systems, including Windows, macOS, and various Linux distributions. Compatibility extends to professional software suites commonly used in design, photo editing, and video editing, ensuring smooth integration with your preferred tools as well.
The Asus ProArt PA329CV is available for only RM3268 and comes with a three-year limited warranty. This further demonstrates Asus's confidence in the product's build quality and reliability. Additionally, Asus is known for its responsive customer support, offering users peace of mind in case of any issues.
Final Score : 9/10
---
Official Link : https://www.asus.com/my/displays-desktops/monitors/proart/proart-display-pa329cv/