Intel and AMD are trading blows on introducing flagship processors. In some instances these processors tend to be overpowering monsters, churning out more than 200W of power in the cases of the Intel Core I9 12900K and few other high end processors. Due to this, manufacturers of CPU coolers are encouraging their research and development teams to design several coolers to control these beastly processors.
In light of that, Alphacool recently sent us a version of their new Eisblock XPX Pro Aurora. The Eisblock XPX Pro Aurora comes in a few variants. Namely Full Brass Chrome, Full Brass Black, Acrylic Chrome, Acrylic Black and the Aurora Pro Light Acrylic. The variant received by us is the Full Brass Chrome. I am impressed with the variant that Alphacool has sent us, particularly because of its chrome profile, which has earned the brand some extra points in my book.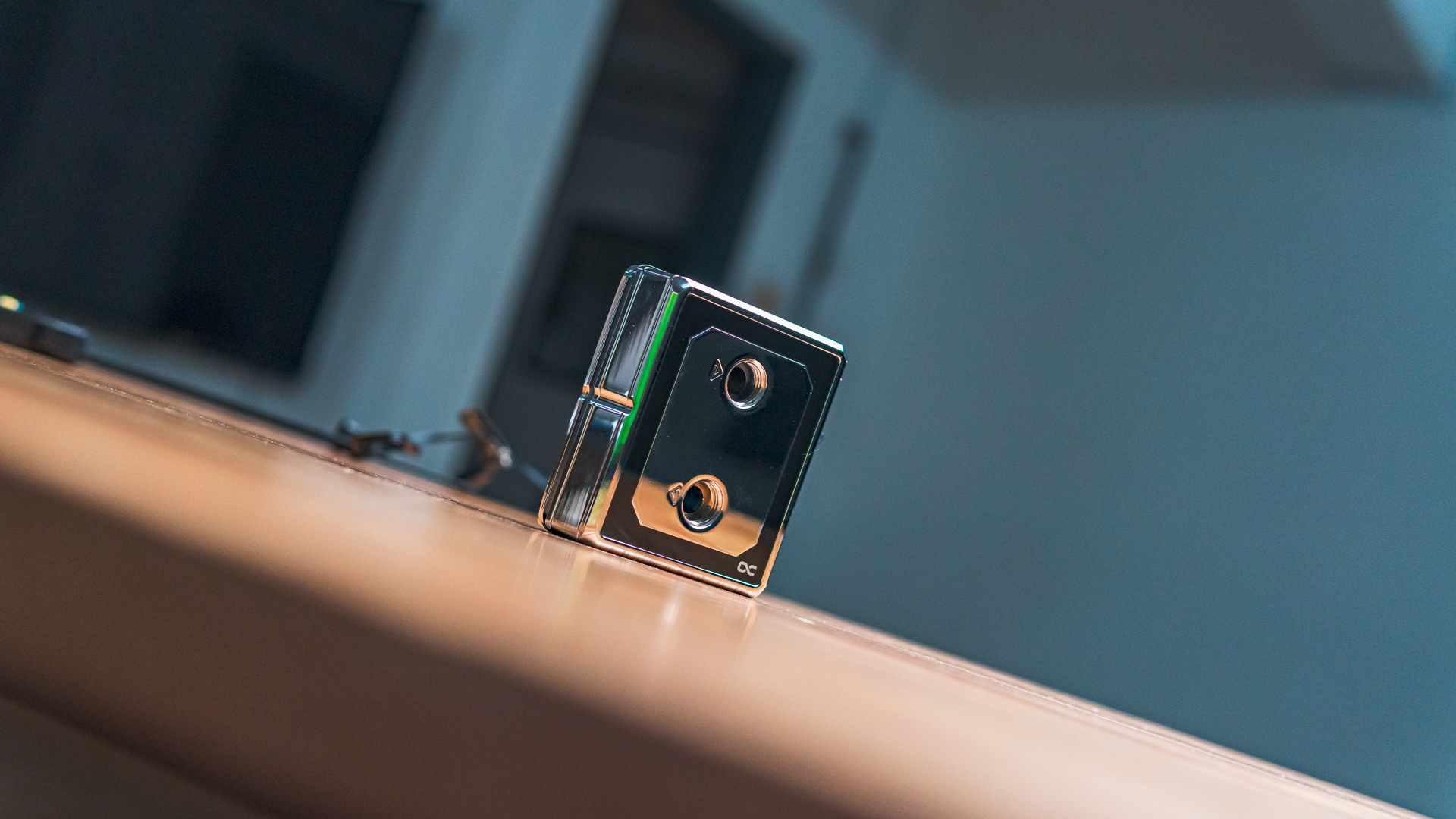 Packaging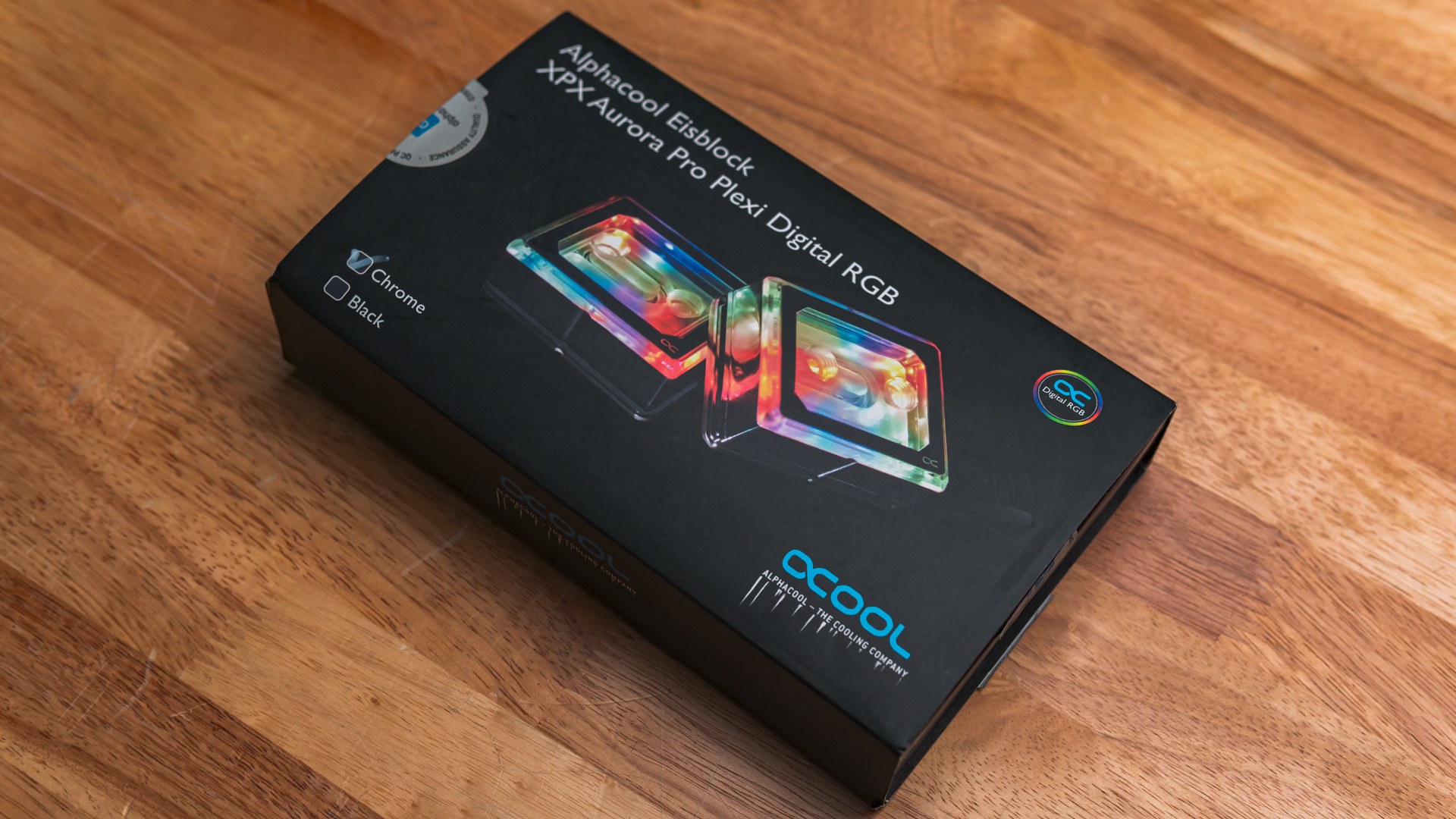 The Eisblock XPX Pro Aurora comes in a fairly small to medium sized box. The box has matte black finishing with the product name printed at the top left and its variant at the bottom left. Alphacool indeed has stuck to the notion of good things come in small packages. The overall package weighs at about 1KG.
Although the packaging has plexi printed across, do not be fooled by it. My assumption is that Alphacool is using the same boxes and packaging designed to either maintain or lower their production costs.
Inside The Box
The CPU block comes with a host of accessories. From multiple socket brackets to multiple screws. This is largely due to the Eisblock XPX Pro Aurora having full support for a wide variety of sockets.
List of Supported Sockets
| | |
| --- | --- |
| AMD | Intel |
| AM4 | LGA 1700 |
| AM5 | LGA 1200 |
| TRX40 | LGA 115x |
| SP3 | LGA 4189 |
| sWRX8 | LGA 3647 |
| | LGA 2066 |
| | LGA 2011 |
The mounting hardware that comes with the Eisblock XPX Pro Aurora is fairly easy to assemble and along with the installation manual, everything is straight to the point and a literally a few clicks away. Also included is a metal backplate for both the LGA 1700 and LGA 1200 and a syringe of Alphacool Subzero Thermal Paste with a 17W/mK rating.
Design And Structure
Weight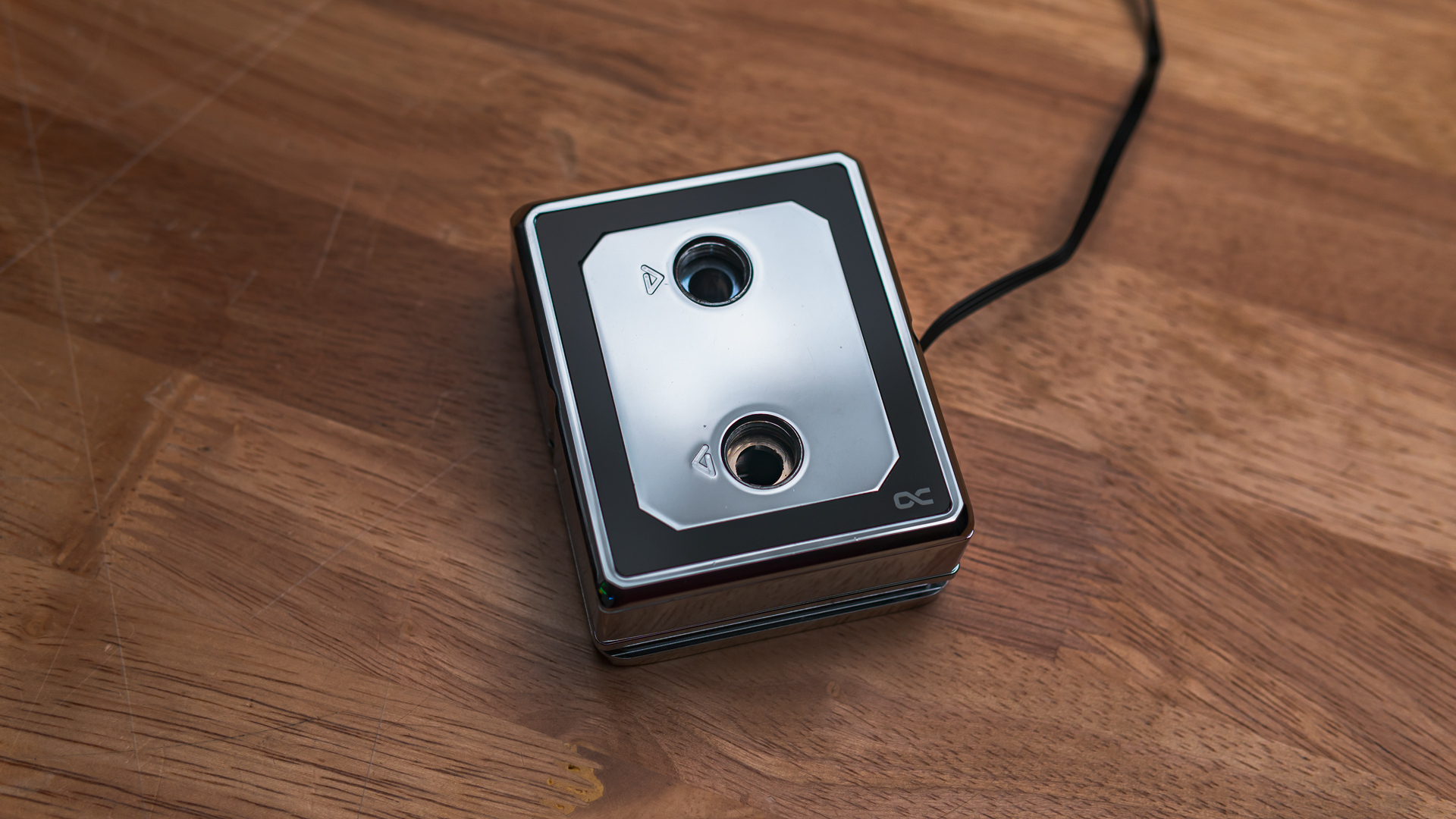 The CPU block on its own weighs at about 700g, listing it on the category of heavyweight water blocks. It is worth noting that the majority of the weight can be attributed to the usage of brass in the construction of the block. When compared to the acrylic variants of this series, there is a significant difference of almost 150g, as the acrylic ones weigh around 545g.
Dimensions
Another crucial aspect to consider, besides the weight, is the dimensions of the CPU block. According to Alphacool, the block measures 76.5×63.5x31mm, but my measurements showed a slightly smaller size. Nonetheless, the measurements I obtained are within the acceptable margin of error, and I am confident that Alphacool has produced the block to be as close as possible to their reported dimensions.
ARGB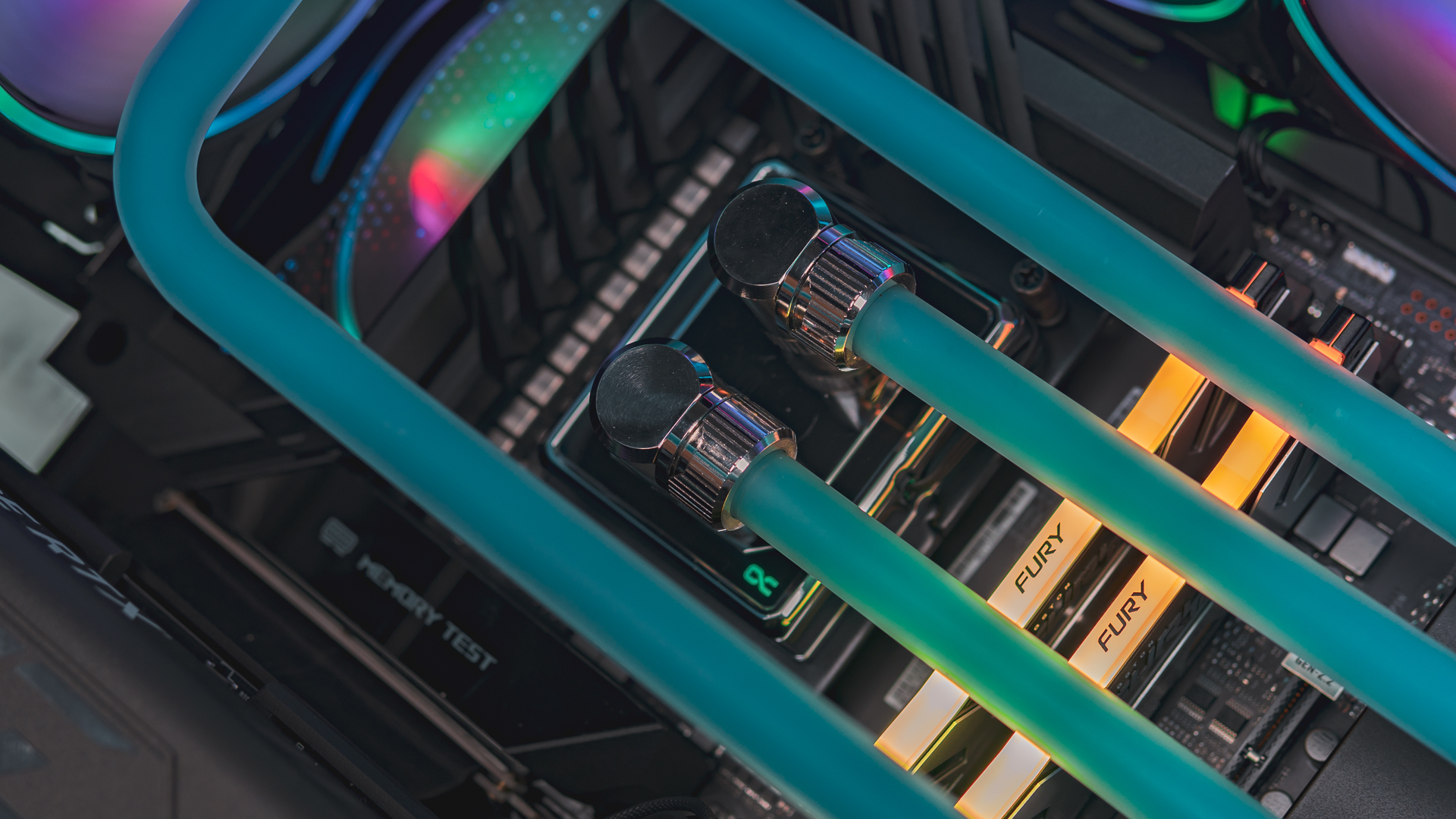 The Eisblock XPX Pro Aurora is entirely composed of brass, with the exception of the jet plate and top cover. The top cover is made of black plexi or acrylic, and is illuminated only by the two ARGB LEDs that display the Alphacool logo. The ARGB lighting can be controlled using the proprietary JST and daisy chain link. However, Alphacool has also included a JST to 5V 3pin converter to enable control through any motherboard software.
Build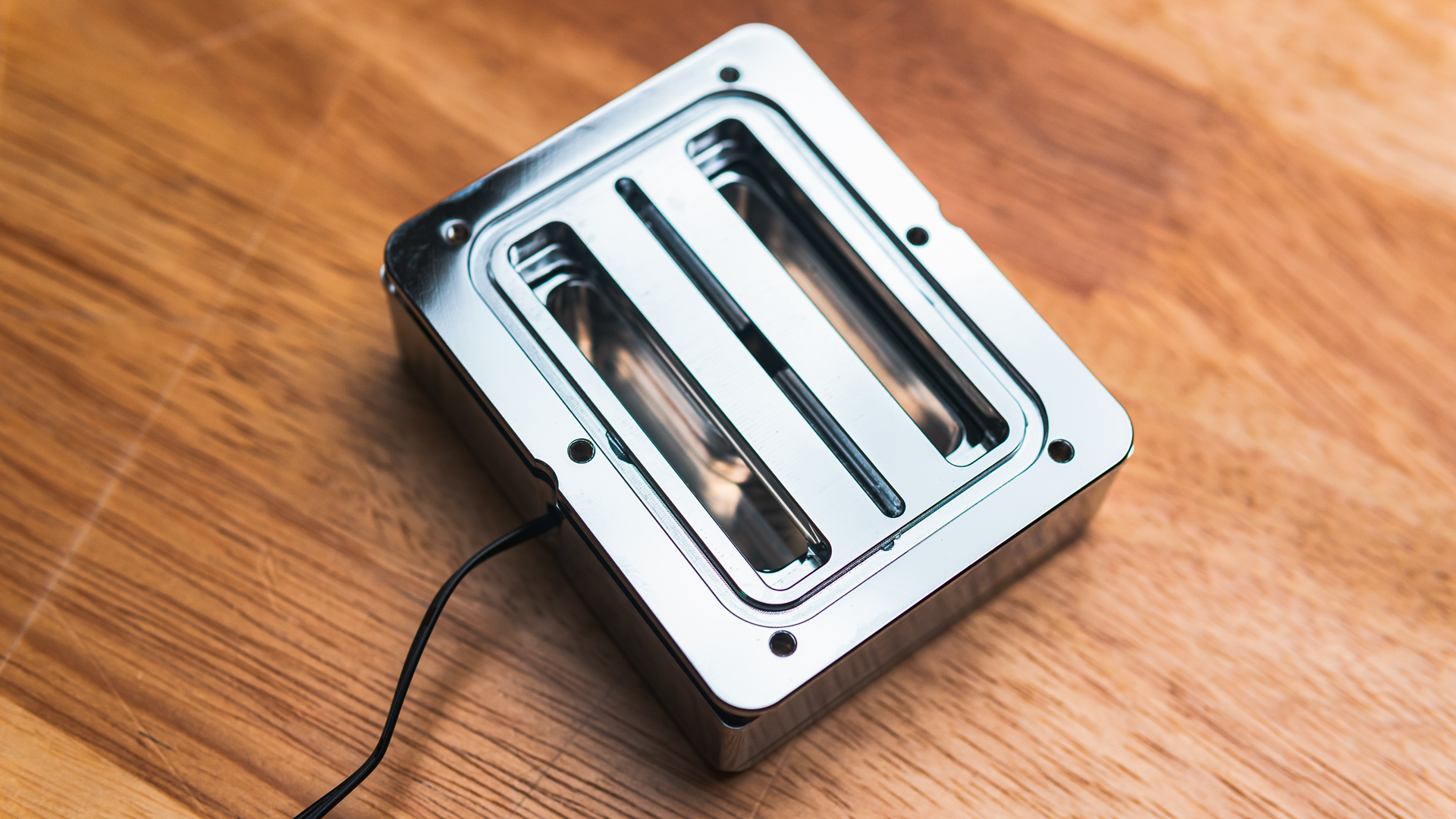 What makes the Eisblock XPX Pro Aurora even more fascinating is that it is created by CNC milling an entire block of brass. There were no visible polishing marks, and the workmanship was outstanding. Therefore, I would like to extend my congratulations to Alphacool for their exceptional manufacturing capabilities, as the finished product resembles a piece of art from Leonardo Da Vinci's finest paintings.
For the lower portion of the block, Alphacool has utilized nickel-plated copper to construct the singular jet and cold plate. Moreover, the jet plate features 147 microchannels that are 0.2mm thick, which assists in improving the cooling efficiency. If it becomes necessary to disassemble the lower plate, one can simply remove the six screws that hold it in place.
Performance
Methodology
To put the Alphacool Eisblock XPX Pro Aurora through its paces, we installed it alongside two other blocks on our test bench. The system will be subjected to three consecutive runs of Cinebench R23, with each run lasting 10 minutes. We will record the peak temperature of each run and then calculate the average from the three readings. This testing methodology will provide us with a reliable and accurate assessment of the block's performance under high performance conditions.
Test System
| | |
| --- | --- |
| Processor | AMD Ryzen 9 7900X |
| Motherboard | ASUS ROG Crosshair X670E Extreme |
| RAM | Kingston Fury Renegade 16GB X2 CL32 7000MHZ |
| Storage | 1TB Sabrent Rocket 4 Plus |
| GPU | ASUS ROG Strix GeForce RTX 4080 16GB GDDR6X OC |
| PSU | FSP Hydro G Pro 1000W |
| Case | Vector Bench Case |
| CPU Block | Alphacool Eisblock XPX Aurora Pro Full Brass / EKWB Quantum Velocity² / Bykski XPR CM |
| Radiator | Alphacool NexXxos XT45 360mm (review here) |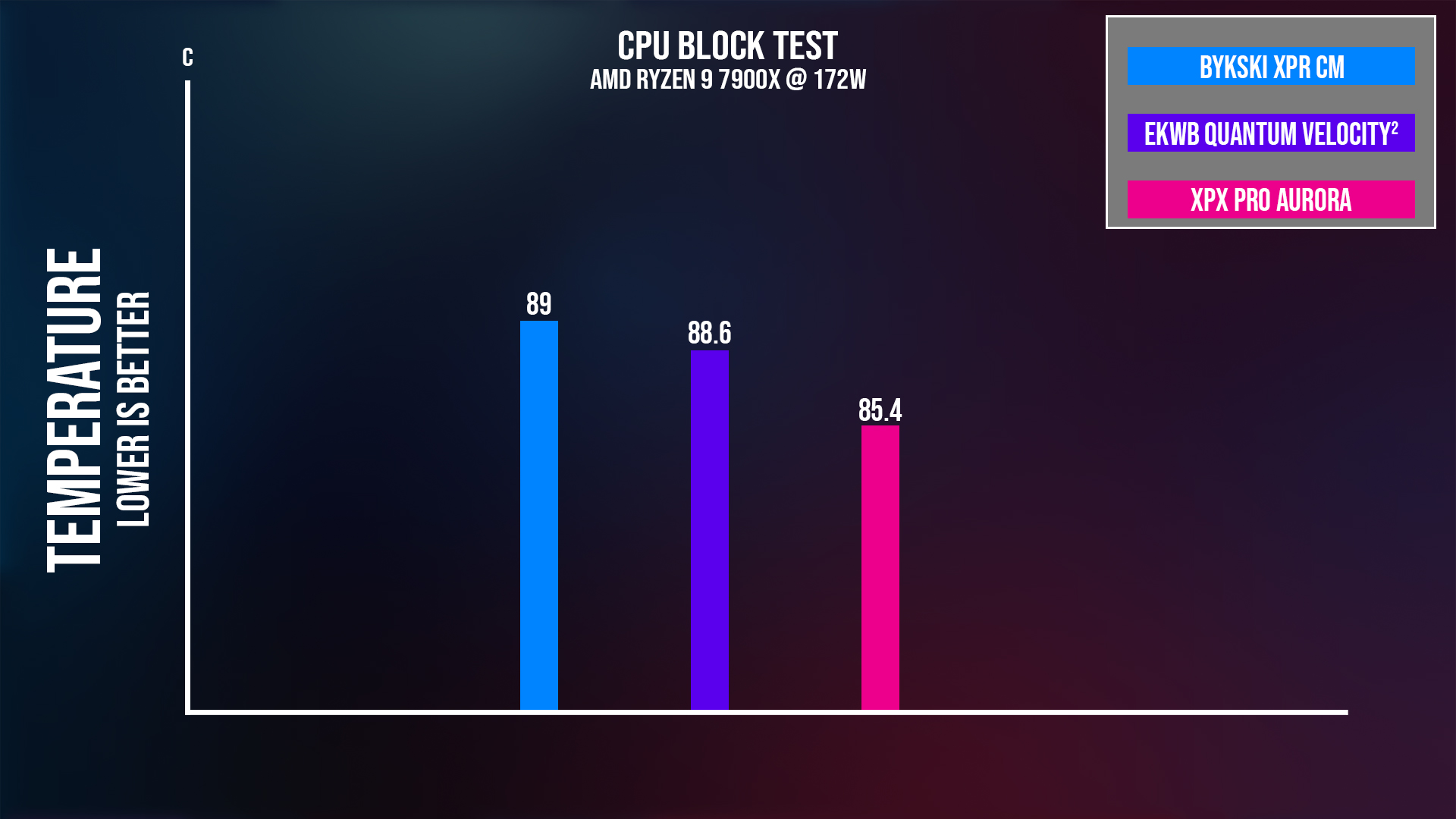 As seen in the chart above, the Eisblock XPX Pro Aurora outperformed two of the most commonly used blocks in terms of thermal performance. In our average data recorded, the Eisblock XPX Pro Aurora managed to achieve a fairly low temperature of only 85.4C while the competitors were achieving slightly higher average temperatures over the testing period.
Furthermore, I believe that the lowest average is achieved due to the reason that the block is made up of entirely brass and and a nickel plated copper base. The use of brass throughout the block and a nickel-plated copper base allows for more effective heat transfer than blocks with acrylic or acetal tops.
---
What I Liked About The Eisblock XPX Pro Aurora
Single piece construction which leads to a better heat transfer.
Compatible with many older generation of CPU.
Surprisingly better performance
ARGB 5v3pin adapter included!
What Could Be Better
Removing JST entirely and stick to the current industrial motherboard standard of 5v3pin for ARGB. (no need for adapter & removes unnecessary cost)
The mounting mechanism is a little tricky to dismantle from the block.
---
Verdict
Overall, the Eisblock XPX Pro Aurora is a great choice for those who are looking for a high-quality and efficient option. It also supports a wide range of CPU sockets which makes it an available choice to old and new PC owners alike.
Priced at €130 (MYR 637), the Eisblock XPX Pro Aurora provides impressive performance that justifies its cost. When compared to the EKWB Quantum Velocity², which is priced at €134 (MYR 654) and made up of acrylic, the Alphacool block seems like a better bargain. The block's brass construction and dual platform support for AMD and Intel processors are notable features that add value.
Based on the testing conducted and the features of the block, I would highly recommend it to others. It is undoubtedly a top performer and offers exceptional value for its price point.
Final Score : 9/10
---
Product Page : https://www.alphacool.com/shop/cpu-wasserkuehler/amd/tr4-strx4/29982/alphacool-eisblock-xpx-pro-aurora-full-brass-chrome-digital-rgb