The ASUS Formula motherboards have a long and rich history with enthusiasts, gamers and custom liquid cooling lovers. While the last Formula motherboard for the Intel processors was last seen in 2022(ASUS ROG Maximus Z690 Formula) for the Intel 12th generation of processors, nothing was set in stone for the 13th generation of processors. Amid speculations and rumors, there has been confirmation from the ASUS camp that in October a new Z790 Formula motherboard will be launching.
A huge thank you goes out to ASUS Malaysia in seeding their latest Z790 Formula board to us. So lets not waste much time, and dive right in on what's new and innovative.
Packaging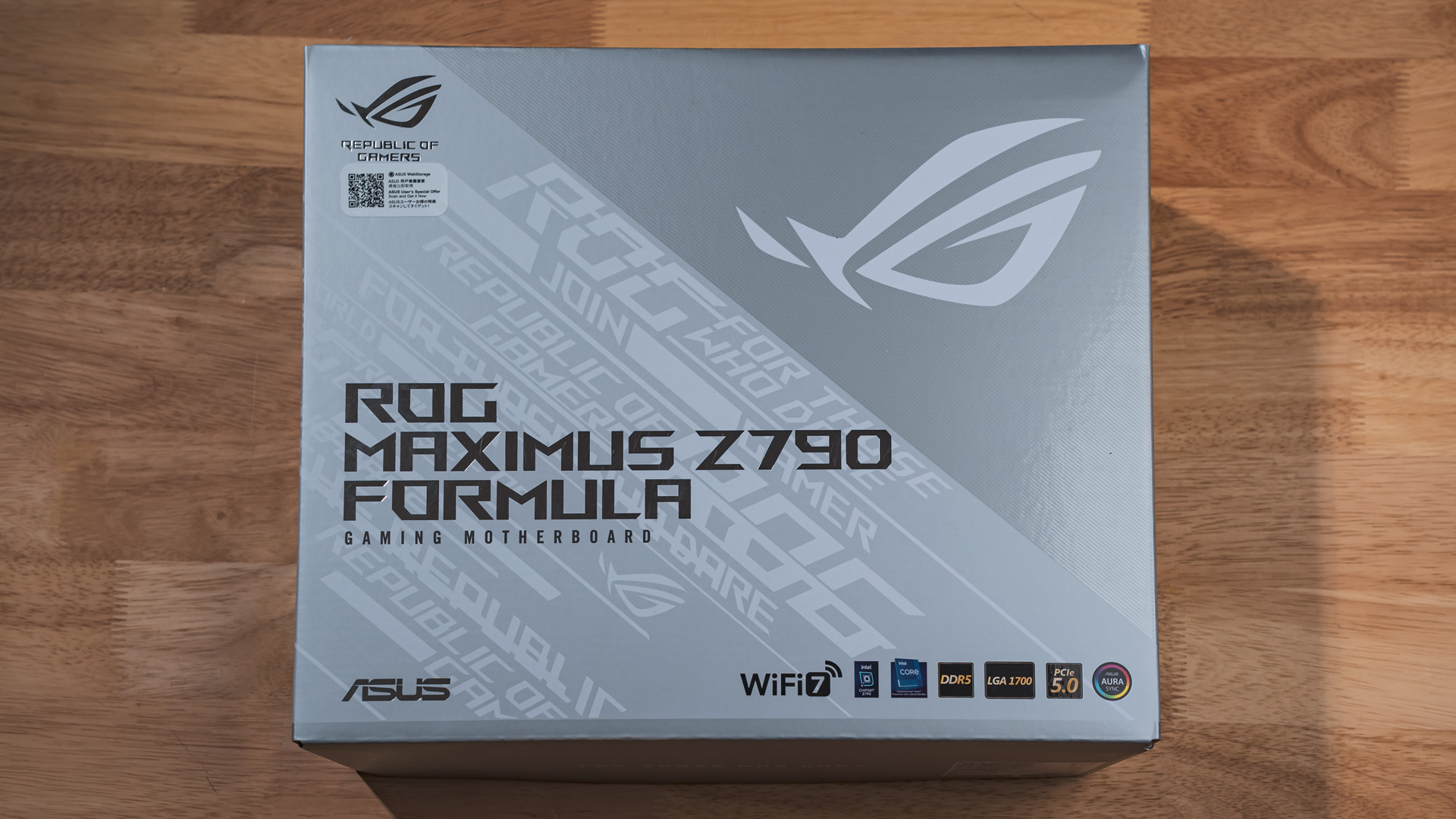 The ROG Maximus Z790 Formula comes in the regular motherboard box. It sports an all white look. Furthermore, a detailed specification printout can be found on the back of the box. There isn't much going around with the packaging as ASUS is keeping it straight to the point.
Contents
This time around the Z790 formula does not come with a host of accessories. The contents are fairly minimal and standard. You get a quick start guide, some stickers, a lanyard, a USB stick with necessary drivers and a host of other miscellaneous accessories. In addition to that, ASUS has not provided a ROG Hyper M.2 Card unlike the Z690 Formula. Interestingly, gone are the days of those thick manuals and in its place is the new quick start guide. The quick start guide is a good addition as it's concise and fairly simple.
Design & Aesthetics
As a matter of fact, the new Z790 Formula is only available in a single color scheme. Consequently, Asus has decided to maintain the white theme from the Z690 Formula with subtle differences made to further enhance the beauty of the board while maintaining it's enthusiast grade performance.
Standout Features
CPU Support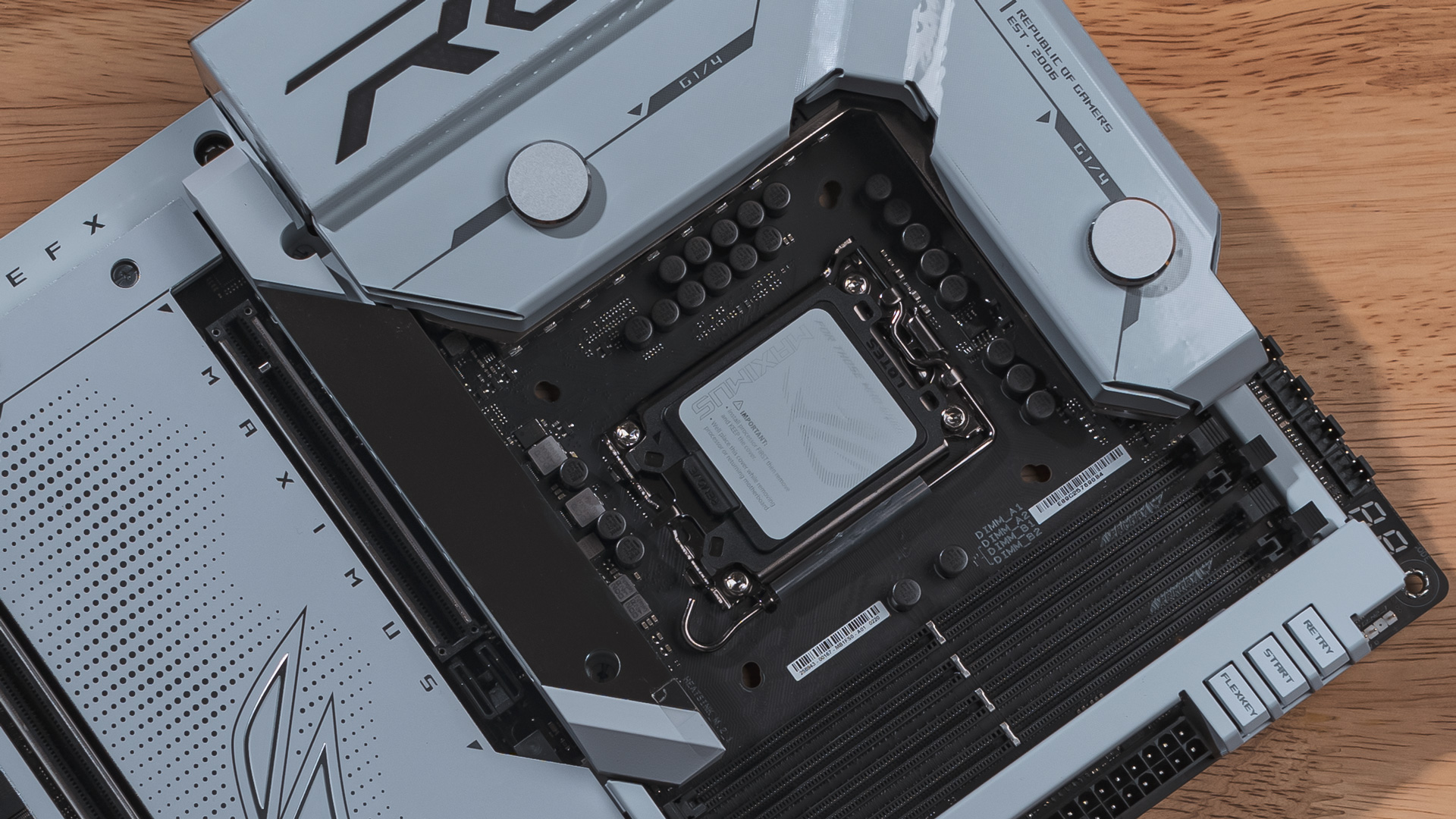 First and foremost, this is a major breakthrough for Intel and motherboard manufacturers all over the world. With the launch of the 14th generation of Intel processors, the LGA 1700 platform is able to support a total of 3 generations of processors. Conveniently, the Z790 Formula is able to support processors from the 12th generation all the way to the upcoming 14th generation.
Memory Support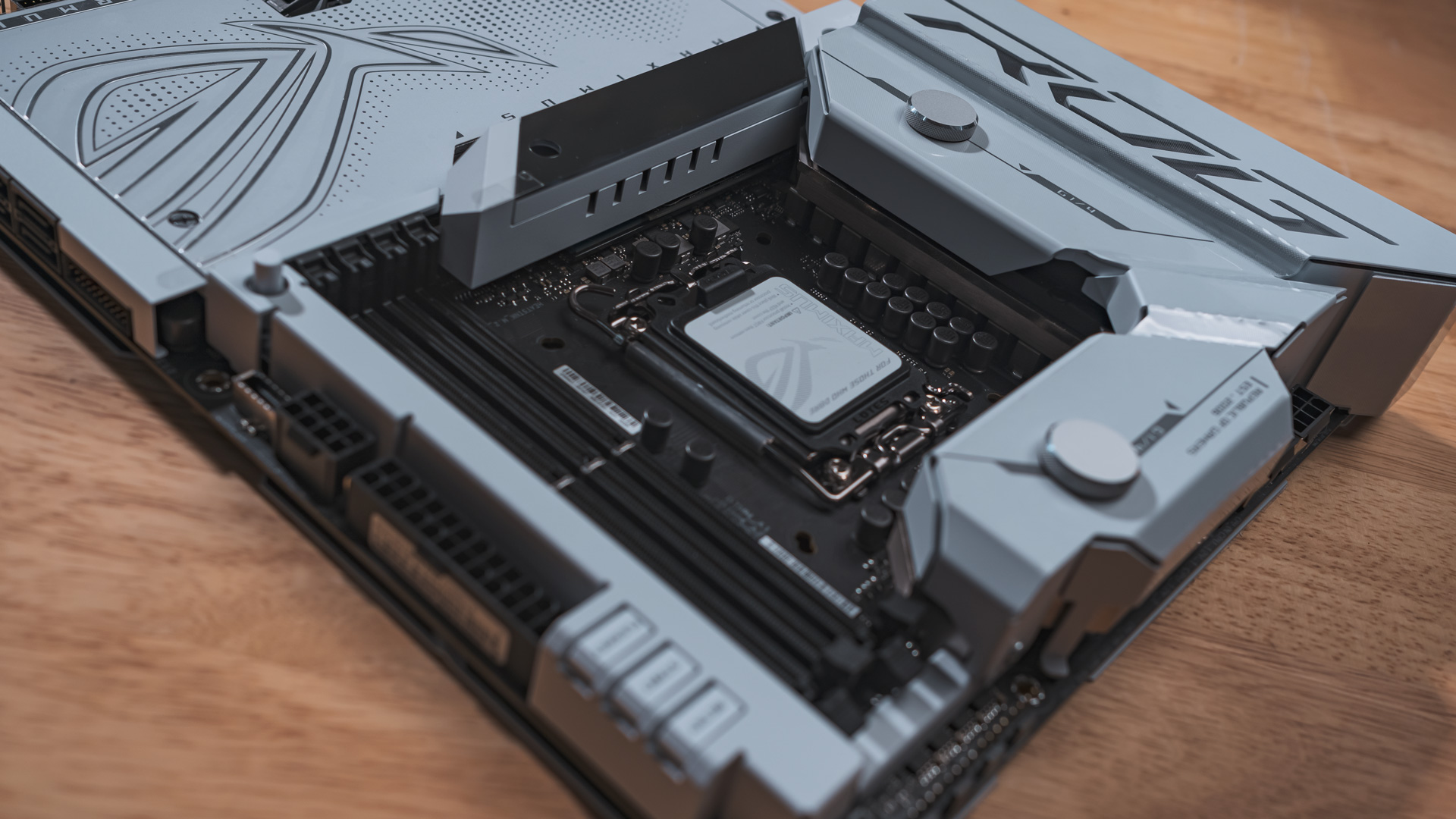 Memory support is as easy as pie for the Z790 Formula. All XMP certified kits are sure to be able to achieve their advertised speeds as internal tests have validated these claims. Furthermore, if your ram kits happen to run Hynix ICs, ASUS has a new feature called DIMM Flex. DIMM Flex utilizes an onboard thermal sensor(situated at the back of the motherboard, underneath the memory slots) and microcontroller to monitor temperature and dynamically adjust the memory refresh rate on the fly to boost performance.
Additionally, ASUS claims that the Z790 Formula can accommodate up to 192GB worth of memory and speeds of up to 8000mhz. Anything higher will require you to overclock the memory. It is important to note that pushing boundaries has never been easier with the new Z790 Formula. One only has to attach a water block to the kits and hook up to the existing liquid cooling system and results will definitely skyrocket.
HybridChill VRM Block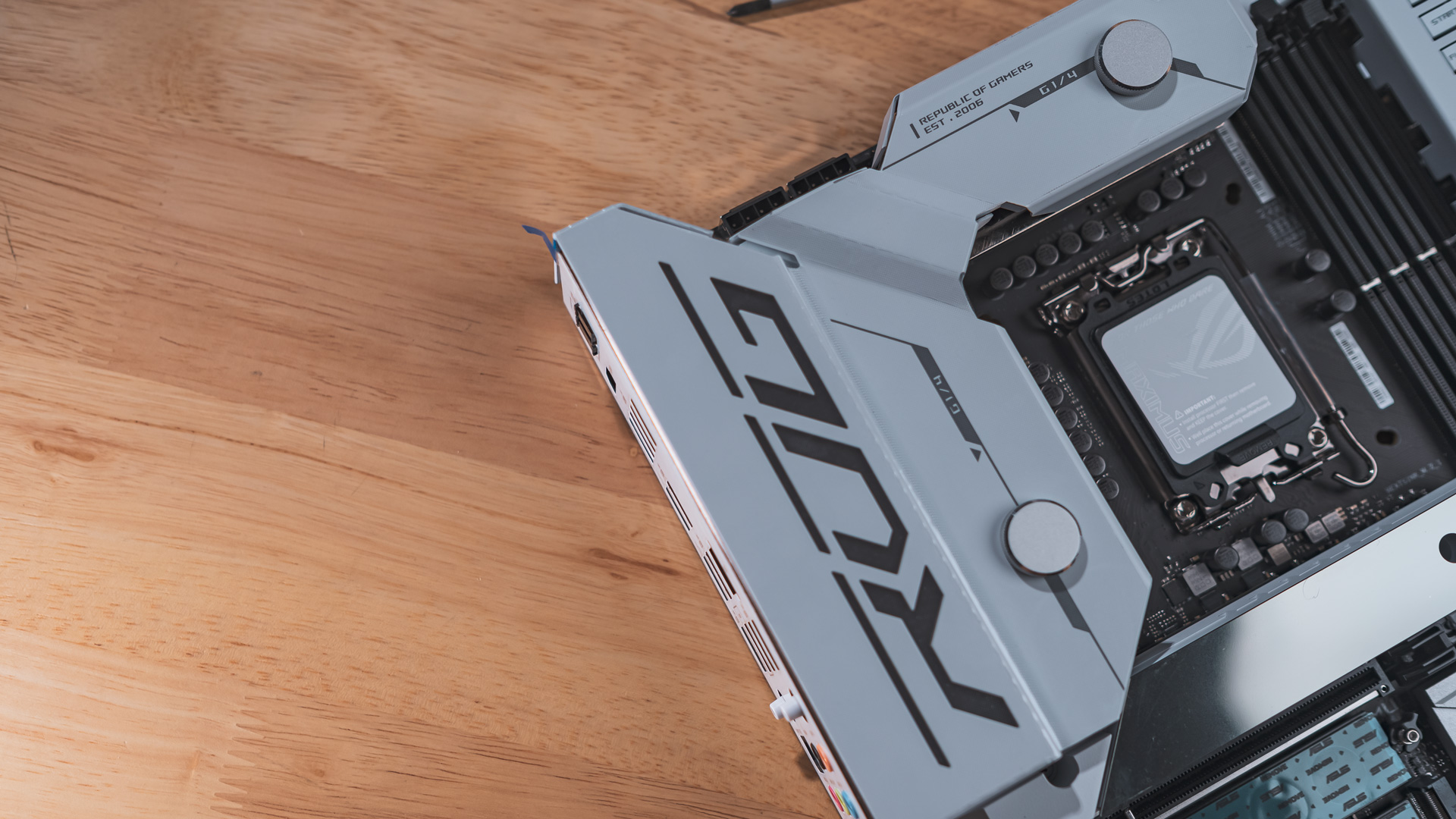 Moving on, CPU power delivery on the board is over the top but in a very positive manner. The VRM Configuration is 20+1+2(Core+GT+VCCIN) and backed up by a 10 phase supply count with 105A and 70A power stages. Equally important here is the HybridChill VRM Block and the ROG Watercooling Zone.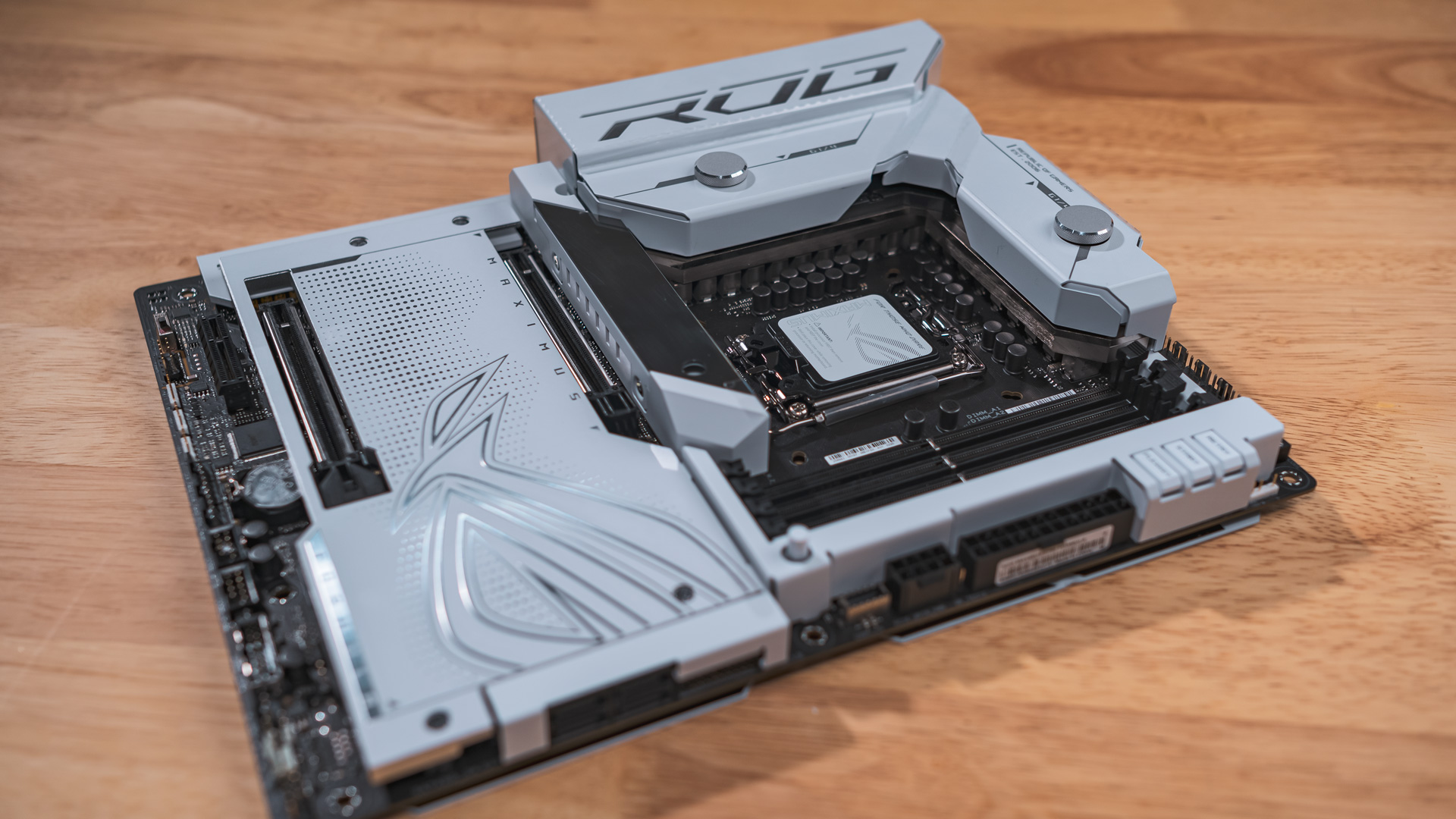 An ambition to maximize performance calls for an appropriately powerful platform. Behold the HybdridChill VRM block, empowering enthusiasts to break the limits of conventional voltage regulation with a hybrid cooling system that sails past the core power requirements of processors while maintaining rock-steady thermals.
Storage & PCIE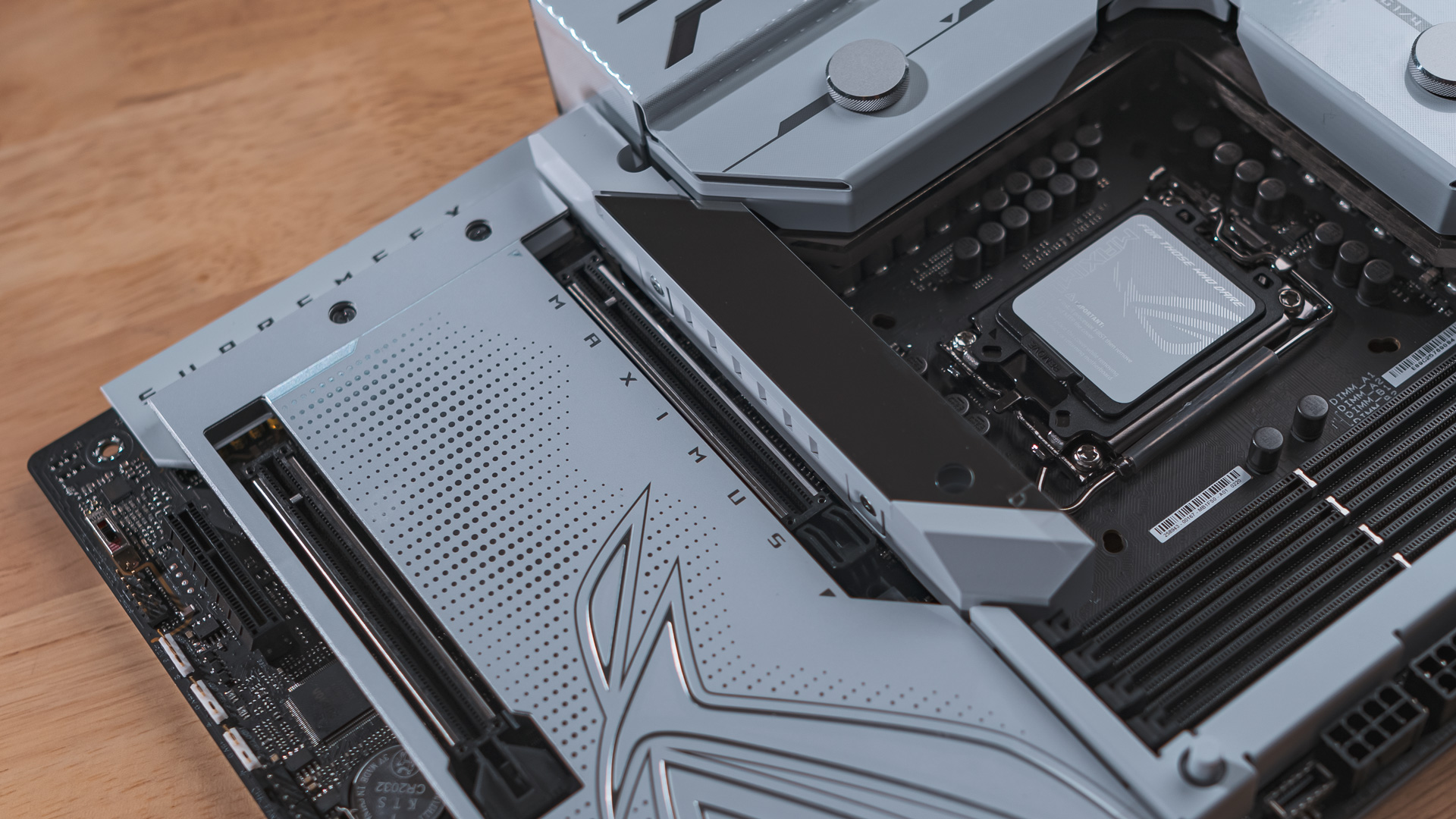 The first wave of Z790 motherboards utilized a plug in PCIe Gen 5 card for M.2 drives. With the rise of beefy graphics cards, the Z790 Formula features an onboard Gen 5 M.2 slot that is positioned just below the CPU socket. In essence of that, ASUS has included a genuinely generously sized heatsink that cools the drive. Furthermore, it also comes with a 2″ Livedash OLED display for multiple purposes or an aesthetic point.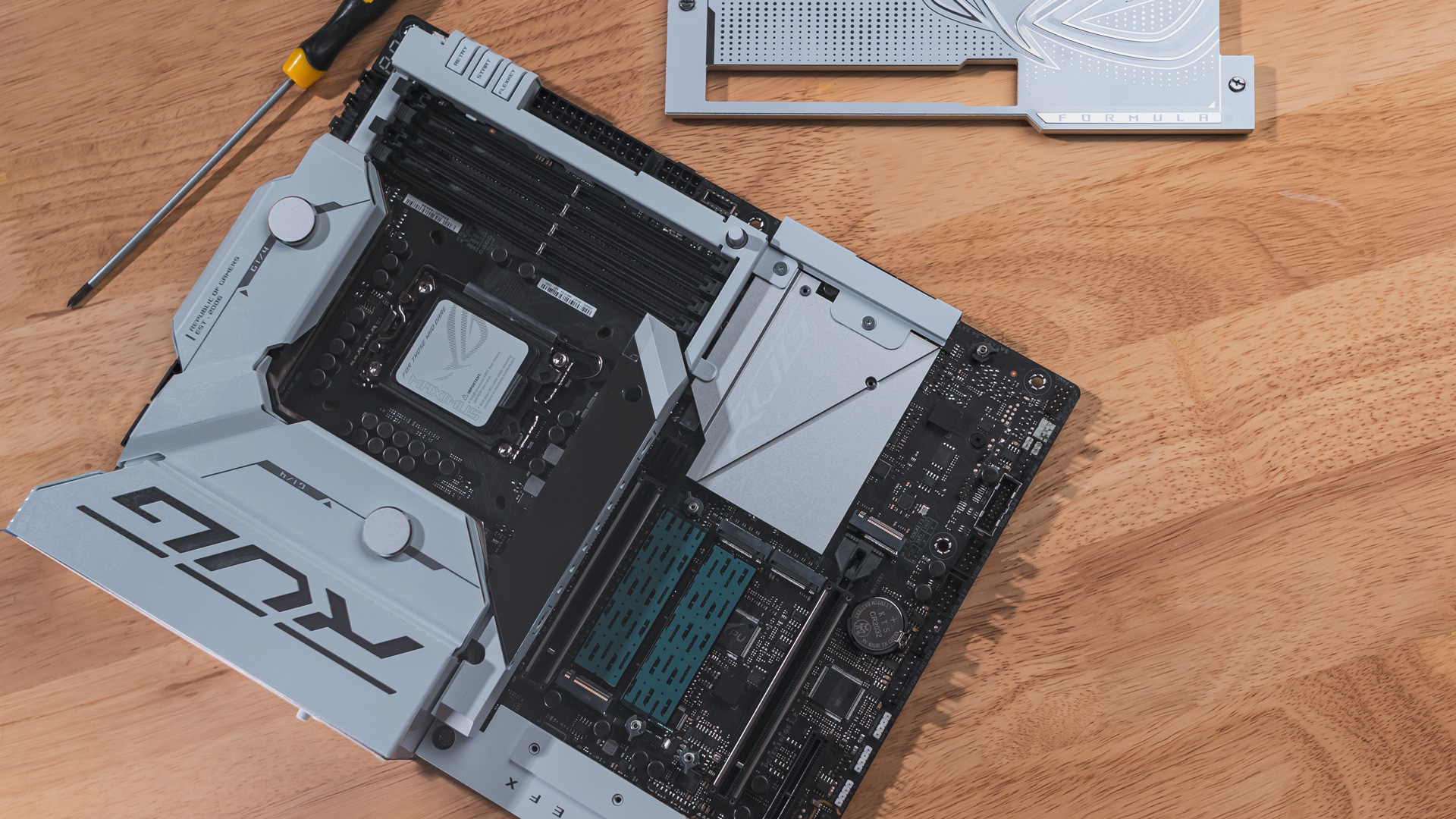 Additionally, four more Gen 4 M.2 slots can be found right under the heatsink with ROG Eye. Each slot has thermal pads and Q-latches to make installing a drive an easy task. As for the expansion slots for PCIe, both are reinforced by metal and are PCIe 5.0 X16 slots which can be operated at X16 or X8 & X8 bandwidths.
Wi-Fi 7 With Q-Antenna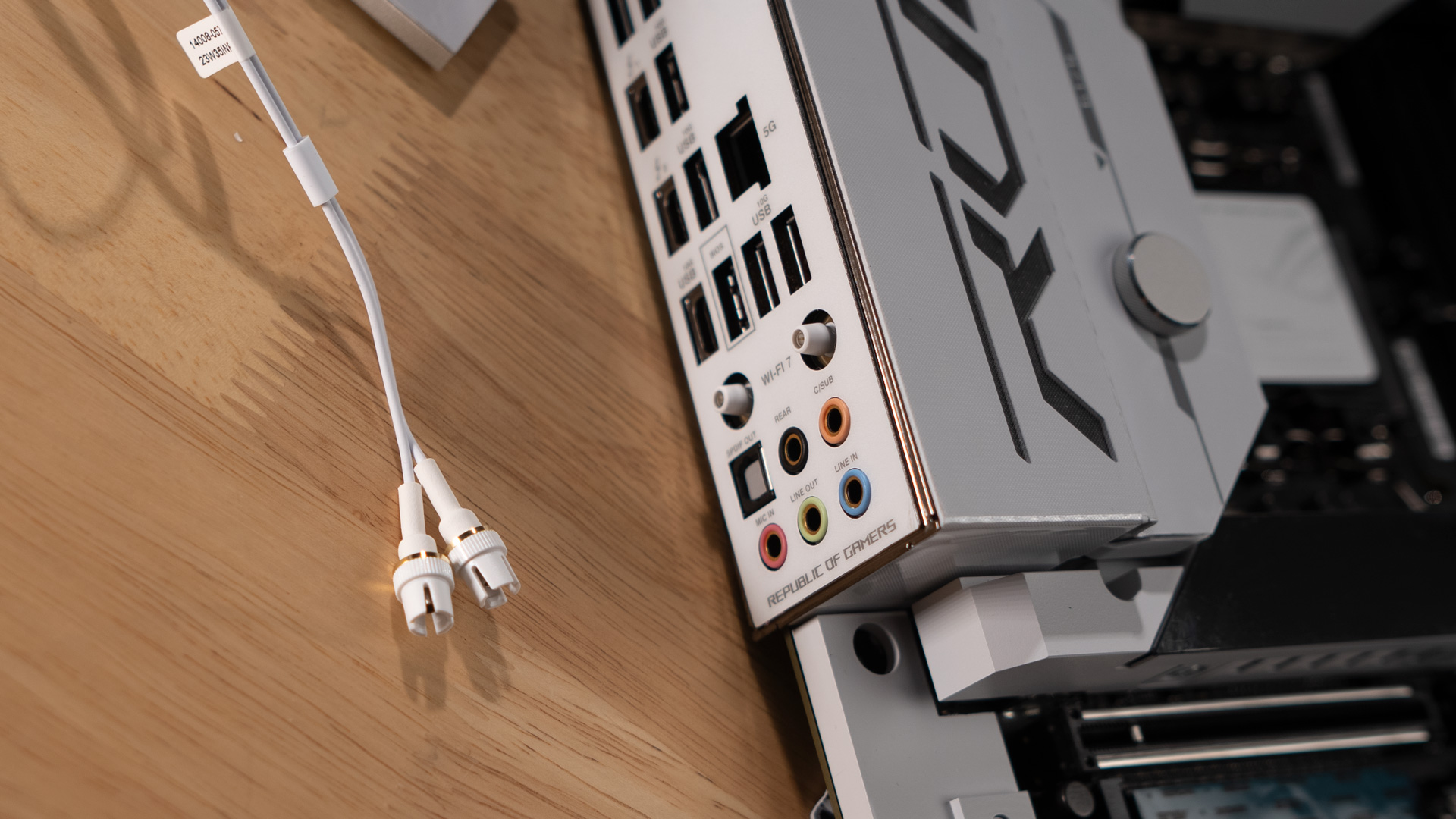 We are now only moving on to Wi-Fi 6 but here is ASUS implementing Wi-Fi 7 on this motherboard. Uniquely, what's innovative here is the antenna system. ASUS has introduced a new Q-Antenna system which is clearly revolutionizing. The new antenna simplifies the setup by attaching the Q-Antenna cables to the motherboard with a proprietary push in connector instead of the age old fiddly nut used on traditional SMA fittings.
To top it off, Armory Crate now includes a utility which guides and assists users optimize their Q-Antenna placement and direction for the best possible signal strength and to accommodate the blazing fast Wi-Fi 7 speeds and bands.
Food For Thought
Well, it is impossible to deny that the ASUS ROG Maximus Z790 Formula is a one of a kind and unique motherboard. Given the standout features and functions, I am sure that this will be a favourite companion to many feature builds for enthusiasts and gamers alike. Additionally, as to how it performs and whatever benefits that the motherboard provides is still being tested at the time of writing. I will be publishing the results pretty soon enough.