U Mobile's Mobile Legends Campus Championship Season 3 (UMMLCC S3) has recently completed the West Malaysia states tournament following a strong start in Central which received a rousing return this year. The tournament had more than 130 teams from Perak, Penang, Kedah, Perlis, Terengganu, Pahang, and Kelantan waiting excitedly for the finals to reach their respective states. This year there was double excitement for the players, as the event was not just about the tournament but additional activities for the universities, fans and supporters as well.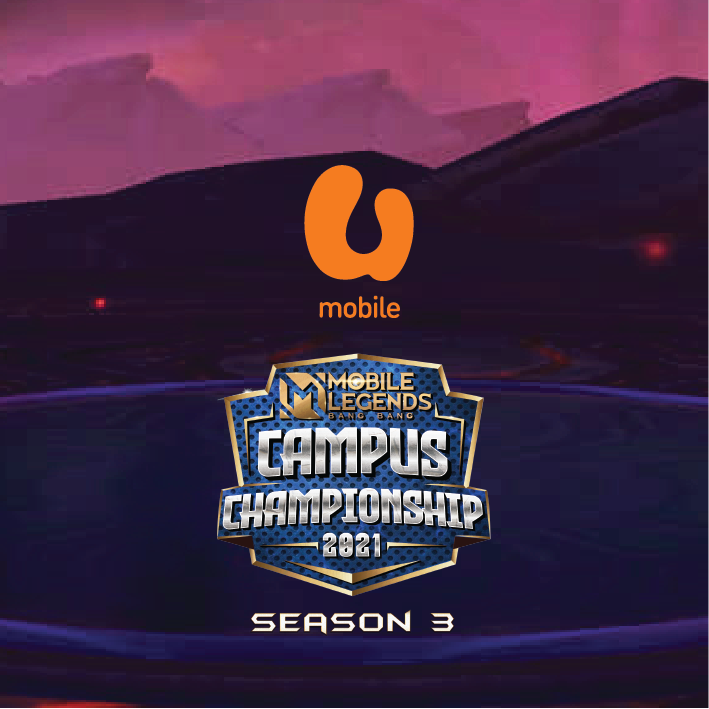 For the tournament, which was streamed live via the U Mobile MLCC Facebook page, followers were ever supportive in cheering for their teams as the students fought till the end to make their university proud. Beginning with Perak, after a hard-fought battle, U Mobile finally crowned NO REGRETS from Politeknik Ungku Omar as Champion and Universiti Teknologi Petronas's UTP GRIFFIN ALPHA in second place.
Penang as always never fails to live up to its reputation, as mighty PROXY ALLIANCE of Universiti Sains Malaysia took the lead in style and pushed all the way to the top while Politeknik Balik Pulau's PBU TERBANG came in at a commendable second placing.
Next, the joint three days competition held for Kedah and Perlis saw another tough fight between Politeknik Sultanah Bahiyah and UiTM Kedah. For the Champion in Kedah, CHOCOWEH X PTSB from Politeknik Sultanah Bahiyah, came out victorious whereas REVENGE from UiTM Kedah got second place. As for Perlis, PTSS RUSHER from Politeknik Tuanku Syed Sirajuddin came in first place with UNIMAP PIXY from Universiti Malaysia Perlis won second place.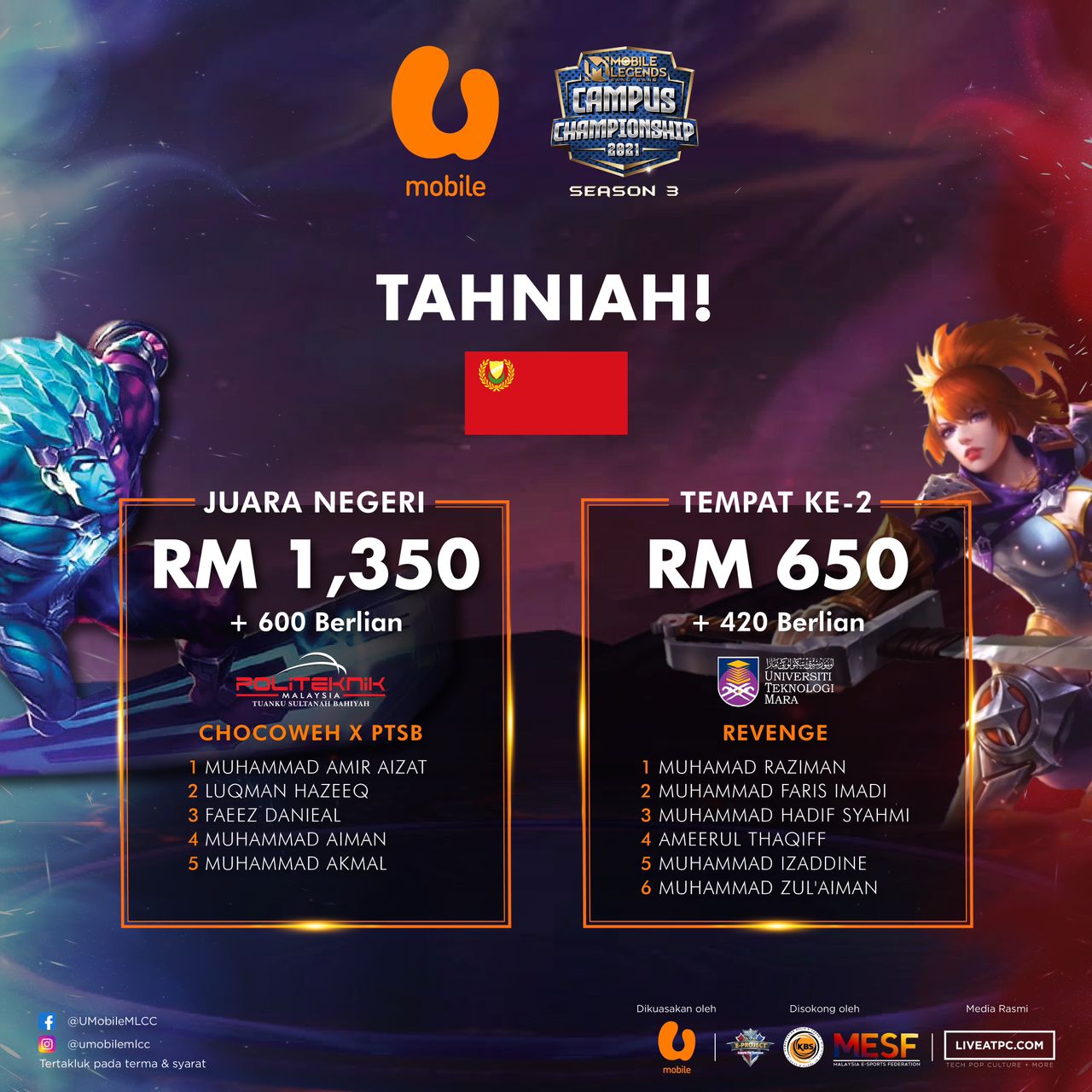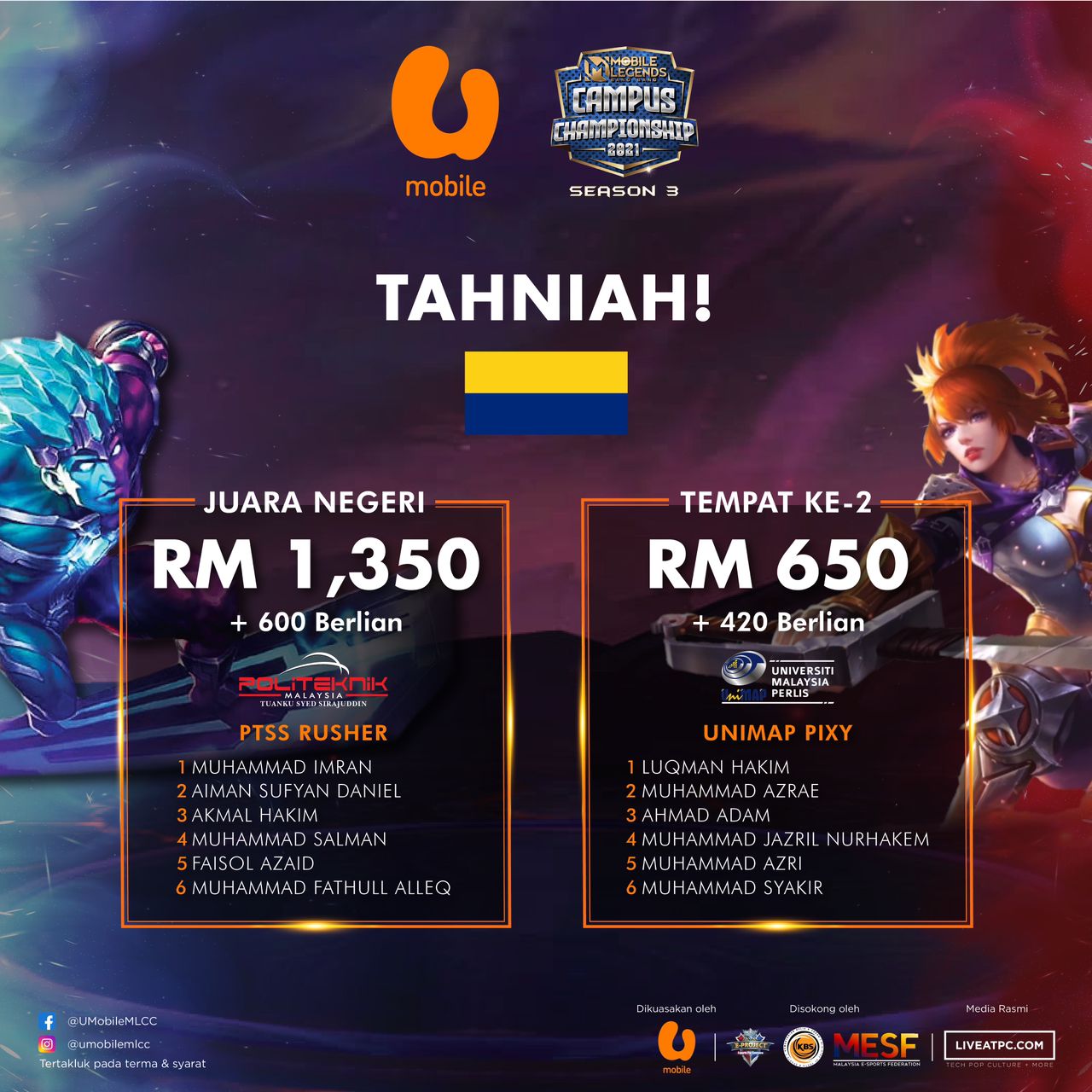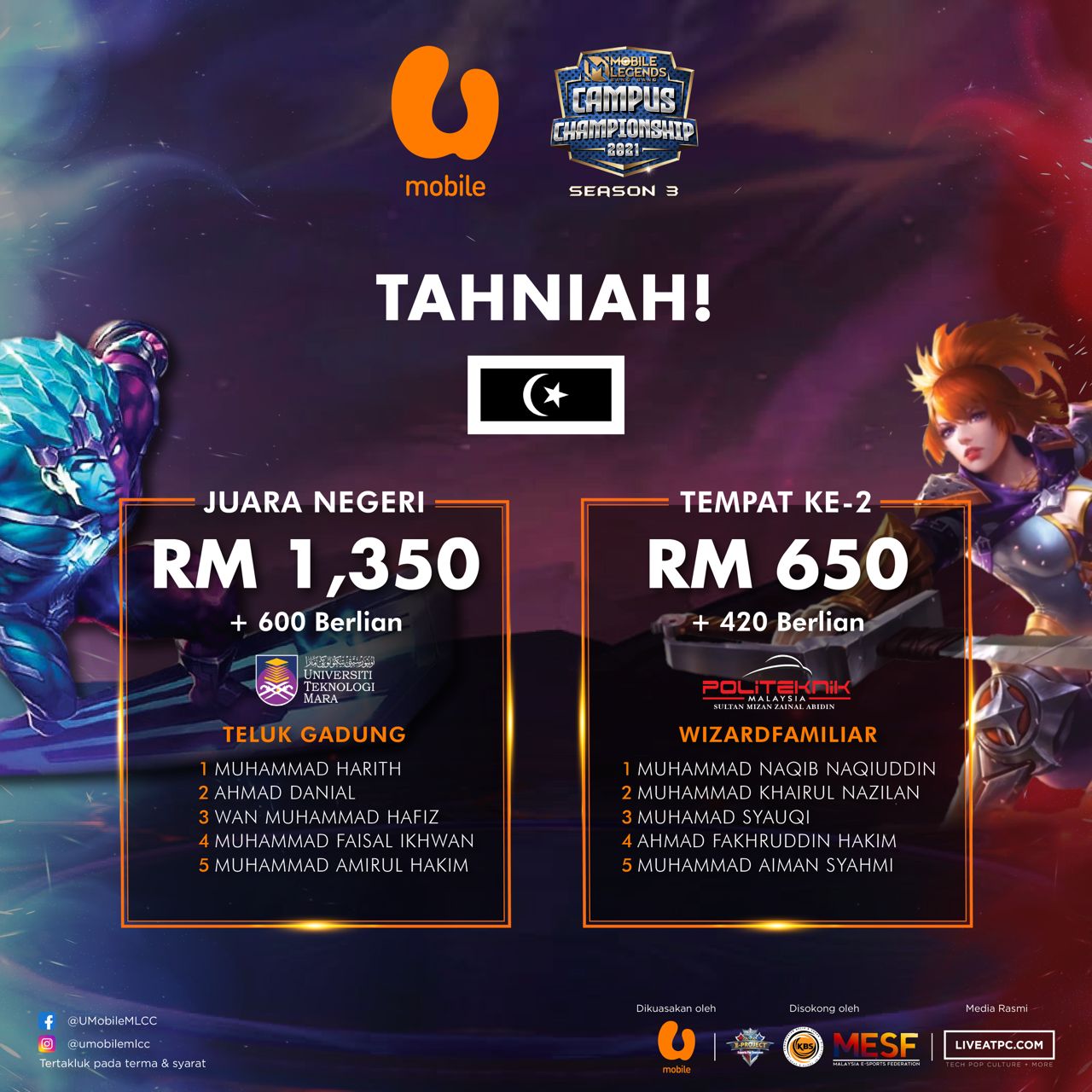 As of now, 12 states have been completed with just East Malaysia states left in the National League before the anxious teams prepare to face their contenders for the National Championship in November. The stake could not be higher with U Mobile upping the prize pool to RM60,000, the highest ever for a Mobile Legends campus tournament. However, winners for this season are no longer just the players, the event is also bringing special elements into the tournament for fans and supporters.
Also, that has been introduced is the U Mobile University Awards 2021. This unique program was conceived especially for UMMLCC S3 for the varsities to support their students who had participated in the tournament. All varsities nationwide can take part in this programme by simply getting their students and administrators to support the event by sharing postings and cheering their team during the live stream.
The event has been a runaway success with more than 20 participating universities from different states having joined and actively organising with their internal team to meet the criteria and supporting the UMMLCC S3 event.
Currently, the top three universities leading the awards are Kolej Universiti Islam Selangor, Universiti Teknikal Malaysia Melaka and Politeknik Balik Pulau, from the Central Zone, Southern Zone and Northern Zone respectively. Students and administrators from these universities really put their all into supporting their teams.
The participating University just need to meet these three simple criteria in order to take part:
Share & post UMMLCC S3 postings on the university's official Facebook or Instagram accounts
Get the highest number of registrations from the GoPayz application downloaded by campus students by using the university's unique campaign code specifically for their campus
Get as many students to support their campus team players by watching the live stream of the State Tournament and remember to hashtag #campusname in U Mobile MLCC Facebook. The more hashtags a campus has, the higher the chances to win!
Two categories will be under this program, Best Supporting University and Best Supporting Personnel. One university from each zone will be winning in the following categories:
Category 1 – Best Supporting University (5 Winners)
1 X Grand Winner: RM2,300 Cash Prize, RM500 Shopping Vouchers & 1 X ViewSonic Monitor worth RM1,200
4 X Winner: RM2,000 Cash Prize & RM500 Shopping Vouchers
Category 2 – Best Supportive Personnel
5 X Winner: RM200 Shopping Vouchers
As for the MLCC eSports Masterclass Workshop, U Mobile took the lead in recognizing the educational aspect of sports vital to nurture talents and grow the industry positively in Malaysia.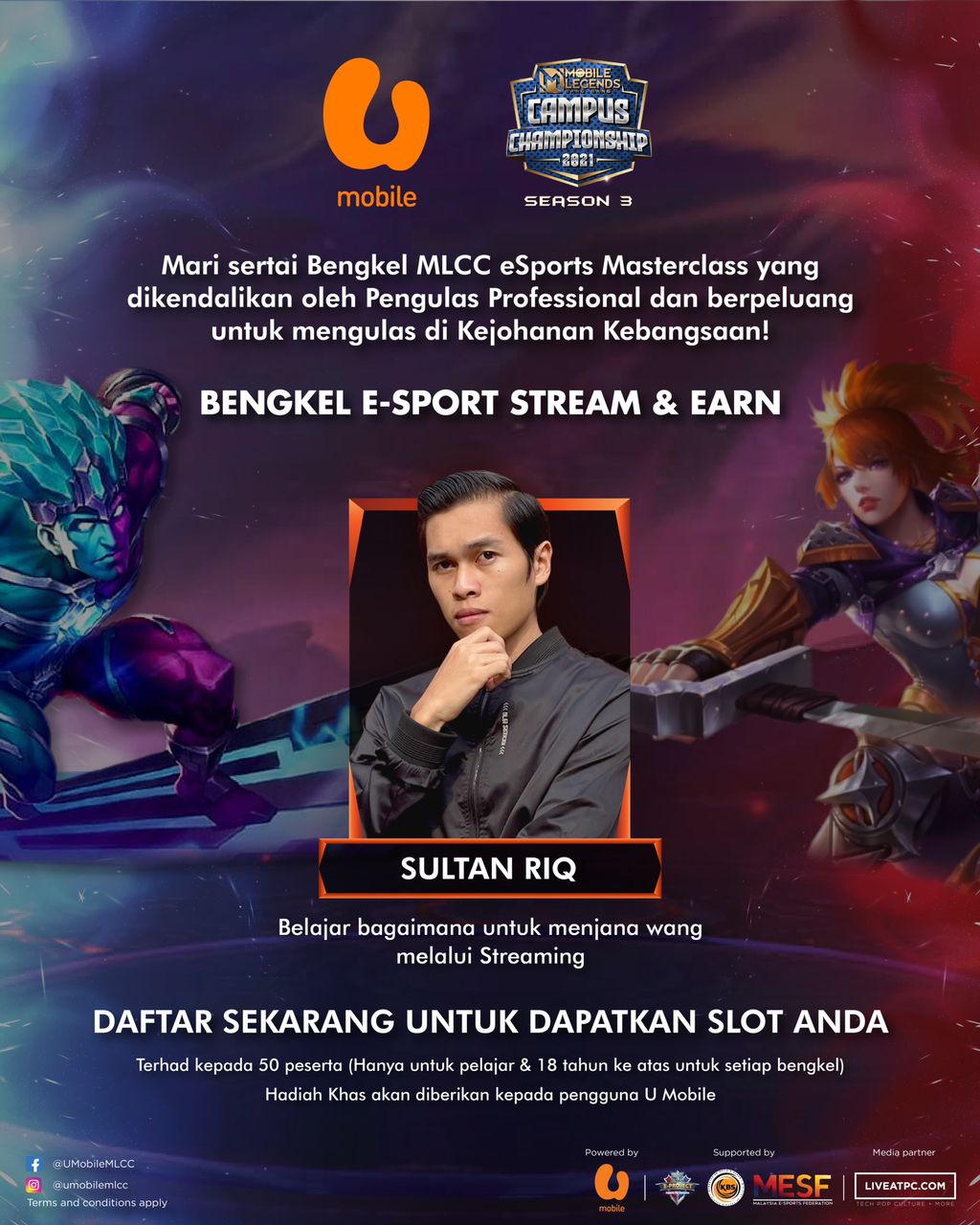 The 'Cast Like A Pro' workshop was coached by Celebrity caster Ikuto in July and August while the 'Stream & Earn' workshop by Syameer Deon was conducted in July, and the August session was conducted by Sultan Riq. It was an overwhelming response as students who have attended this Masterclass said that they enjoyed it immensely and have learned a lot from the engaging speakers. Additionally, registered students who are also U Mobile users, will get complimentary F&B vouchers worth RM7.
To find out more, stay connected with the latest updates and catch the tournament live streams on MLCC's official Facebook and Instagram.